Katsu curry is considered to be a national dish in Japan, my chicken katsu curry comes with a perfectly fried chicken breast and a wonderful curry sauce.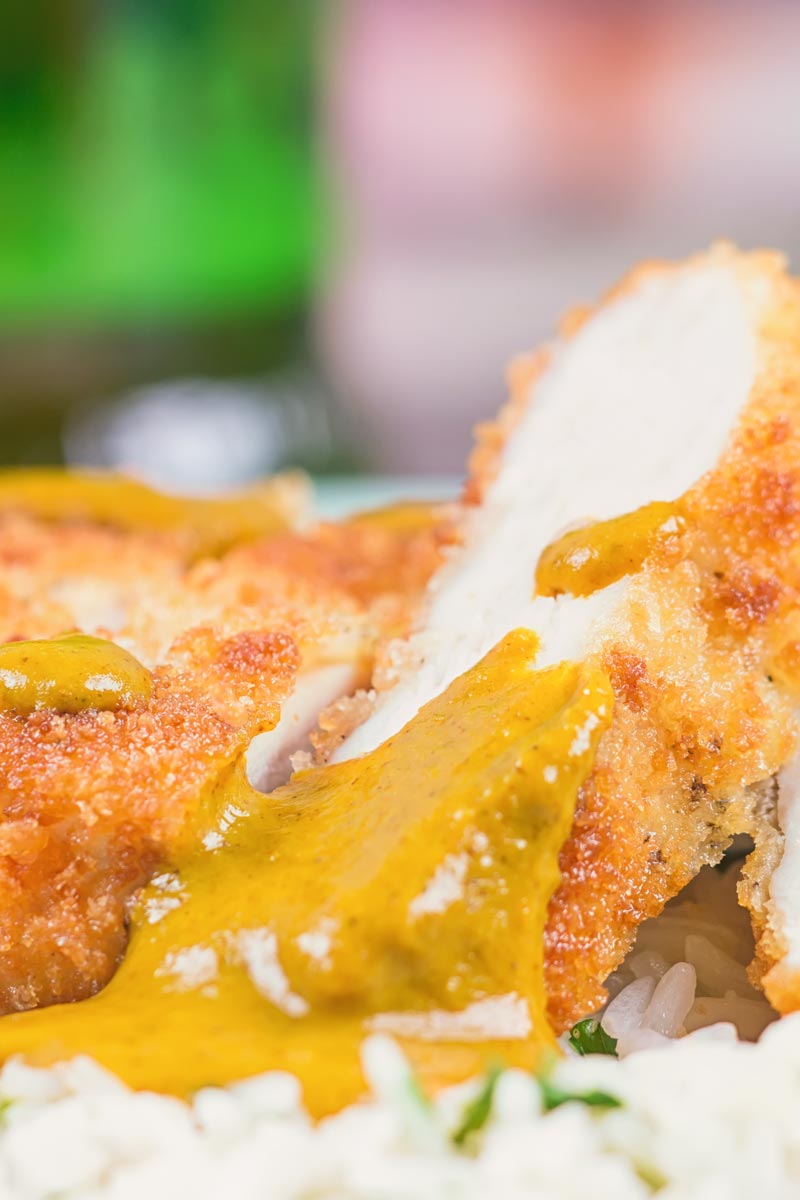 Chicken Katsu Curry.
Curry arrived in Japan at the end of the 19th Century, via the Brits and the Indian Raj and is seen by many to be a national dish.
This katsu curry or katsu kare as it would be called in Japan, is a follow-up recipe to my tonkatsu recipe.
The concept of a breaded and fried piece of meat is so familiar to Europeans that this very this feels like a familiar old friend of a recipe.
Of course, speaking as a Brit who is very slightly curry obsessed, the curry aspect makes me feel very at home too!
Having said that, this curry sauce is very different from my usual curry fare. The sauces you will find in my madras curry recipe or even my Balti recipe are much more complex.
This katsu curry sauce is much more simple. In fact, it has much more in common with the curry sauce I grew up with from the chip shop.
It is however still gloriously delicious, probably because of its simplicity!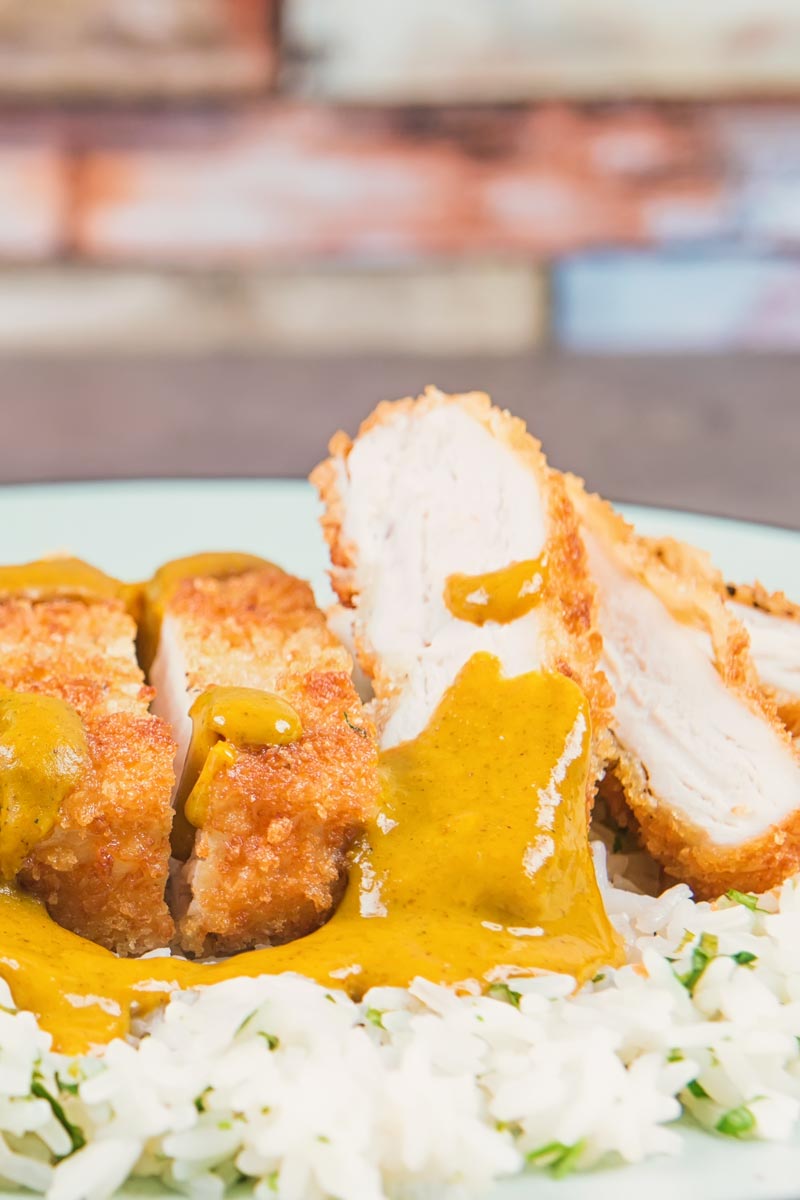 How To Choose The Curry Powder.
This katsu recipe is very much a rarity in my curry line up! I actually advocate the use of curry powder here. Something I have only done once before in my reboot of Coronation Chicken.
If you are the sort of person that makes their own curry powders, fill your boots. I'll not try to teach you something you do not know already. But go mild and hold back the urge to add fenugreek.
If you are going to the store to buy a curry powder and you do not use it often, buy the smallest packet you can!
Once opened ground spice blends lose their flavour very quickly.
The next thing you are looking for is a curry powder that is quite mild. Avoid the likes of powders that claim to be Madras or Vindaloo powders.
If you are from the UK, you may even be able to find a curry powder called 'Chinese' curry powder. That would be perfect.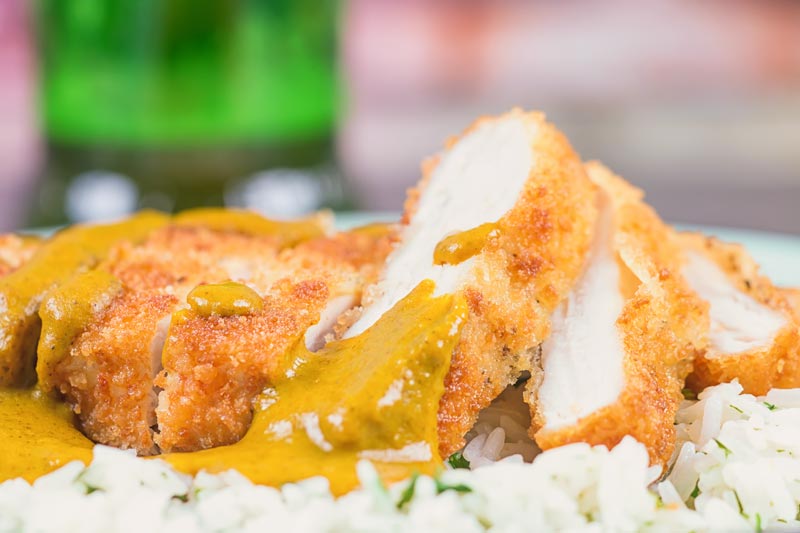 What to Serve With Katsu Curry.
I like to keep my sides with this recipe really simple… It is, after all, a very simple recipe.
I usually go for a simply boiled basmati rice with plenty of coriander in it.
However, on occasions, I like to change it up and love this served with chips. Or fries as my American readers would call them.
This katsu curry sauce as I mentioned earlier is almost reminiscent of the curry sauce I could get from our local chip shop.
The chips, however, need to be proper fried chips. Not skinny little things but proper British chip shop style chips.
Chicken and chips always takes me back to my childhood!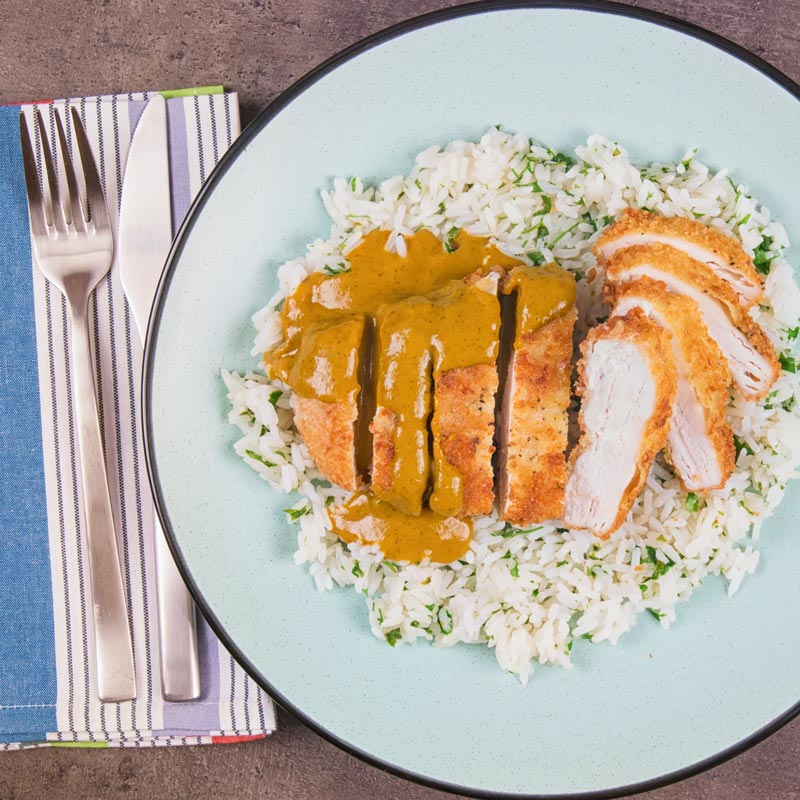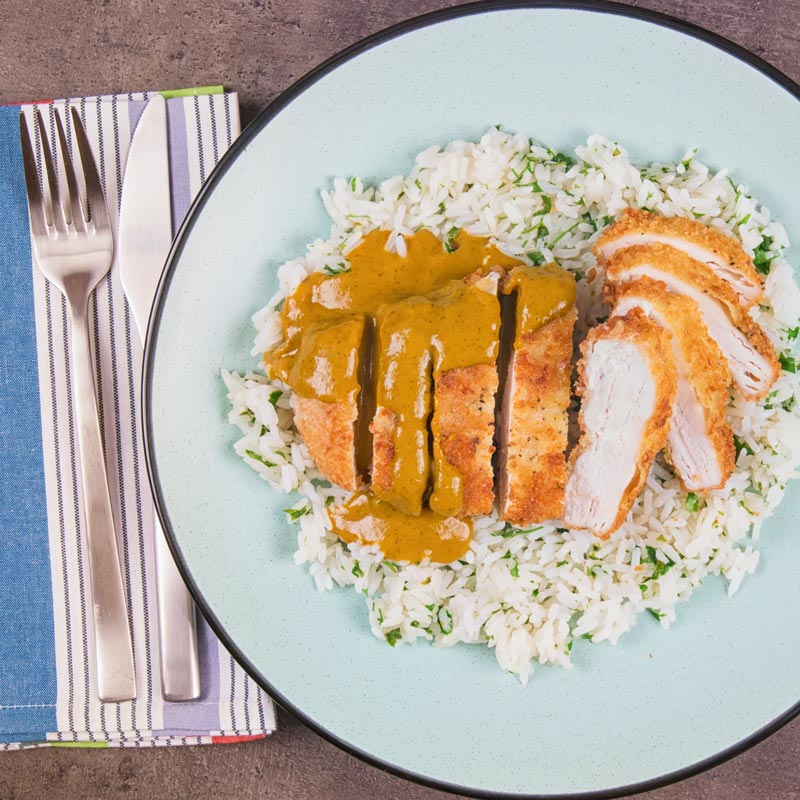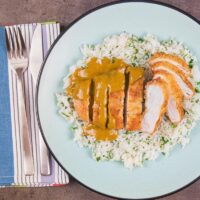 Chicken Katsu Curry
When presented with the word curry it is easy to leap to India or South East Asia... However, Chicken Katsu Curry is considered to be a national food of Japan. It is super simple to make and is a real crowd pleaser.
Ingredients
2 Chicken Breasts, Without the skin
4 Tbsp Flour
1 Egg
50 g Bread Crumbs
Salt and Pepper
Oil for frying.
For the Curry Sauce:
100 g Onion
2 Cloves Garlic
1 Tbsp Flour
1 Tbsp Curry Powder, Chinese curry powder if you can
1/2 Tbsp Turmeric
1 Tsp Rice Wine Vinegar
1/2 Tbsp Brown Sugar
1 Tbsp Soy Sauce
250 ml Chicken stock
Instructions
Finely dice the onion and sweat down in a pan with a little oil for 10 minutes. You do not want to add any colour.
Finely slice the garlic and add it to the softened onions and cook for a further minute.
Add in the flour and stir for 60-90 seconds to begin cooking out the flour.
Then add in the remaining ingredients for the curry sauce and cook at a simmer for 15-20 minutes.
When the sauce has cooked and is a nice sauce texture I like to blend and pass through a fine-mesh sieve, although this step is optional.
Whilst the sauce is cooking bash out the chicken breasts so that they are an even thickness.
Dredge the chicken breasts in well-seasoned flour.
Dip into the egg which has been beaten and finally into the breadcrumbs.
Shallow fry the chicken for 5-6 minutes on each side in oil over a medium-high heat.
Slice the chicken and nap over the sauce.
Notes
Serve with some simple basmati rice with lots of coriander through it.
Nutrition Information:
Yield:

2
Serving Size:

1
Amount Per Serving:
Calories:

774
Total Fat:

18g
Saturated Fat:

3g
Trans Fat:

0g
Unsaturated Fat:

13g
Cholesterol:

199mg
Sodium:

1082mg
Carbohydrates:

51g
Fiber:

5g
Sugar:

9g
Protein:

51g
Calorific details are provided by a third-party application and are to be used as indicative figures only.