Chicken Katsu curry is considered to be a national dish in Japan, it features a crisp fried chicken cutlet and a wonderful curry sauce.
This is a recipe that feels exotic and unusual, but homely and familiar all at the same time, it is glorious!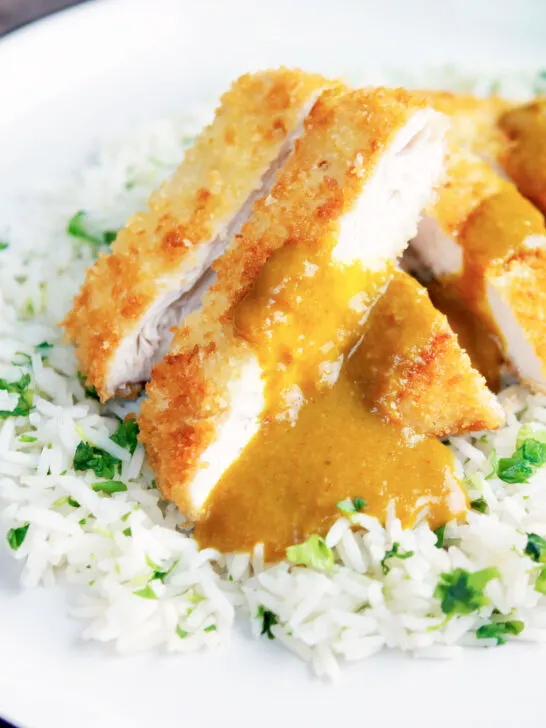 Crispy Fried Chicken Cutlet Curry
Curry arrived in Japan at the end of the 19th Century, via the Brits and the Indian Raj and is seen by many to be a national dish.
I first stumbled across chicken katsu curry on the menu Wagamama and remember being less than impressed at the time. However, it grew on me and I love this version!
This simple recipe would be called katsu kare in Japan and it is a follow-up recipe to my tonkatsu recipe. I also have a vegetarian tofu katsu curry that complements this recipe.
The concept of a breaded and fried piece of meat is so familiar to Europeans, this very this feels like a familiar old friend of a recipe.
Of course, speaking as a Brit who is very slightly curry obsessed, the curry aspect makes me feel very at home too!
Having said that, this curry sauce is very different from my usual curry fare. The sauces you will find in my madras curry recipe or even my Balti recipe are much more complex.
This katsu curry sauce is much more simple. In fact, it has much more in common with the chip shop curry sauce or the sauce in my Chinese takeaway style chicken curry that I grew up loving.
It is however still gloriously delicious, probably because of its simplicity!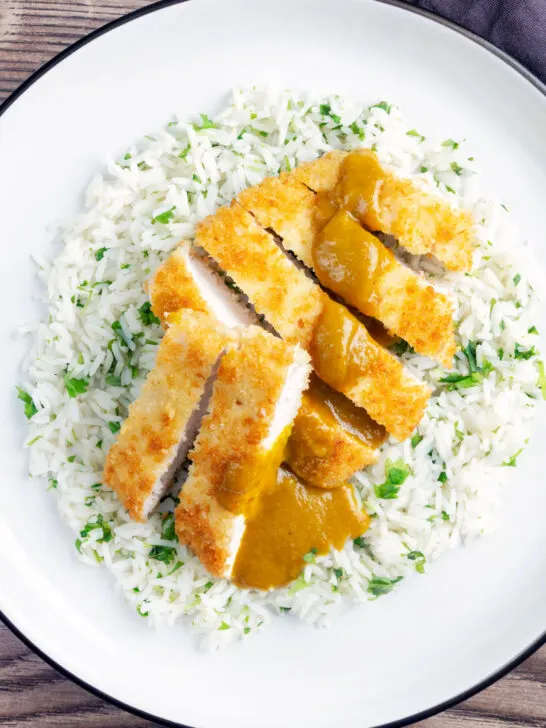 Frequently Asked Questions
What sort of curry powder should I use?
You want a curry powder that is relatively mild and you can buy Japanese or Chinese curry powders in some stores that work well for this recipe.

I don't use a lot of curry powder in my cooking, so a small packet is also high in my priorities because curry powder changes flavour very quickly when it has been opened.

Finally, try and get something that is light on fenugreek. Take a look at the ingredient list, you want that name to be as far down the list as possible!
Do I have to fry the chicken?
I very much prefer frying the chicken but you can get away with both baking and air frying the chicken cutlet.

Bake in the oven at 200°C or 400°F for 20-25 minutes or until the internal temperature reaches 73°C or 165°F. Air fry at 200°C or 400°F for 15-20 minutes, again ensuring that the internal temperature reaches 73°C or 165°F.

In both of these instances, you want to toast the breadcrumbs prior to cooking the chicken because they will not crisp up when baked.
Can I make this in advance?
The katsu curry sauce can be made 2-3 days in advance and stored in the fridge in an airtight container.

I would not cook the chicken in advance, the crisp crumb will not come back when it is reheated.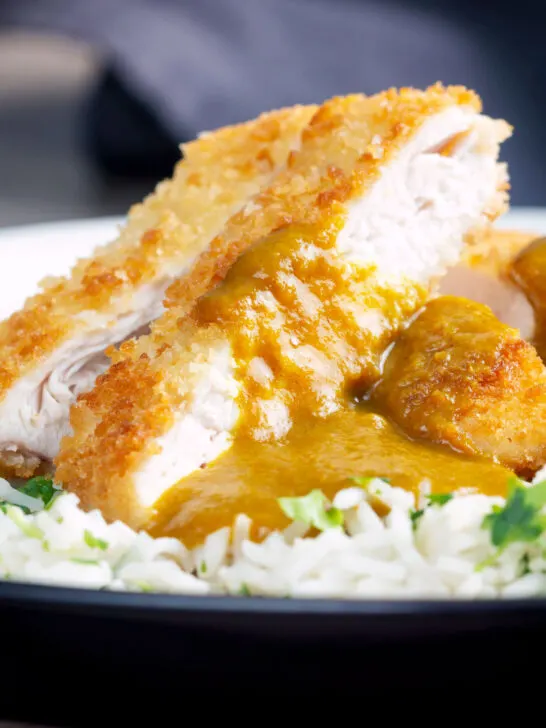 Serving Suggestions
I like to keep my sides with this crispy katsu curry recipe really simple… It is, after all, a very simple dish.
I usually go for a simply boiled basmati rice with plenty of coriander in it although it also works well with coconut rice.
However, on occasions, I like to change it up and love this served with chips. Or fries as my American readers would call them.
The chips, however, need to be proper fried chips. Not skinny little things but proper British chip shop style chips.
Chicken and chips always takes me back to my childhood!
And if you really wanted to step out there, why not try my Cornflake chicken for a crispy coating for this recipe?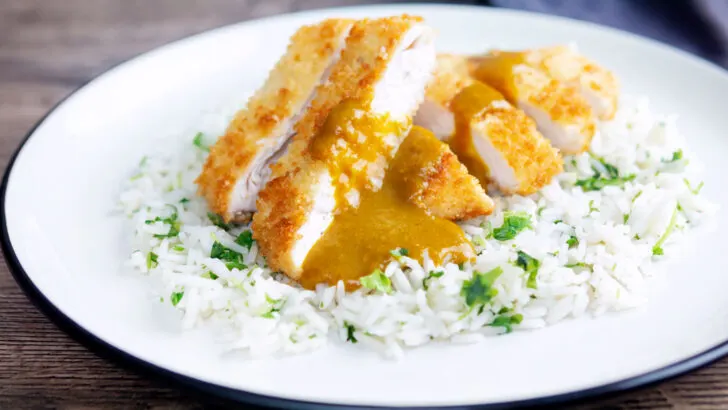 Equipment Used
I only name-check brands of equipment if I think that they make a material difference to a recipe. But if you have any questions feel free to ask them in the comments section below the recipe.
Stovetop.
28cm or 11″ frying pan.
30cm or 12″ frying pan.
Blender.
Fine mesh sieve (optional).
Meat mallet or rolling pin.
Kitchen knife.
Chopping board.
Stirring spoons, serving spoons and kitchen tongs.
Weighing scales and or measuring jug, cups and spoons.
Plates to place the ingredients to coat the chicken.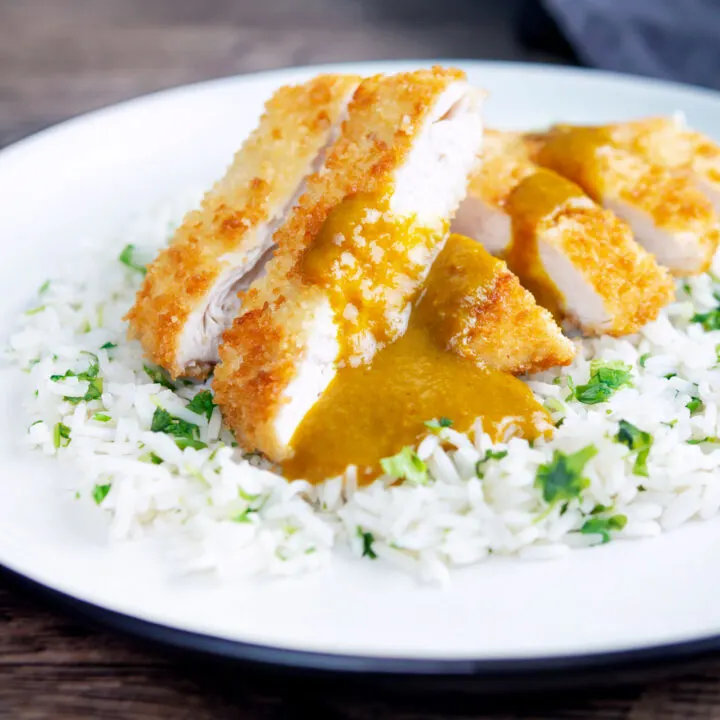 Yield:

2 Servings
Chicken Katsu Curry Recipe with Homemade Sauce
When presented with the word curry it is easy to leap to India or South East Asia... However, Chicken Katsu Curry is considered to be a national food of Japan. It is super simple to make and is a real crowd pleaser.
Ingredients
2 Skinless Chicken Breasts
4 Tbsp Flour
1 Egg
50g (½ Cup) Bread Crumbs
Salt and Pepper
Oil for frying.
For the Curry Sauce:
100g (⅔ Cup) Onion
2 Cloves Garlic
1 Tbsp Flour
1 Tbsp Curry Powder
½ Tbsp Turmeric
1 Tbsp Shaoxing Wine
½ Tbsp Brown Sugar
1 Tbsp Soy Sauce
250ml (1 Cup) Chicken stock
1 Tbsp Cooking Oil
Instructions
Peel and finely dice the onion for the curry sauce.
Heat a 28cm or 11" frying pan a medium heat and when it is hot add the oil and onions. Cook gently for 10 minutes, you do not want to add any colour.
Peel and finely slice the garlic, add it to the softened onions and cook for a further minute.
Add in the flour and stir for 60-90 seconds to begin cooking out the flour.
Add in the remaining ingredients for the curry sauce and cook at a simmer for 15-20 minutes.
When the sauce has cooked and has a nice sauce texture I like to blend and pass through a fine-mesh sieve, although this step is optional.
Whilst the sauce is cooking bash out the chicken breasts so that they are an even thickness. Aim for around 1cm.
Dredge the chicken breasts in well-seasoned flour.
Dip into the egg which has been beaten and finally into the breadcrumbs.
Shallow fry the chicken for 3-4 minutes on each side in 5mm-1cm (¼-½") oil that has been heated to 170°C or 340°F in a 30cm or 12" frying pan.
Slice the chicken and pour over the sauce.
Notes
Serve with some simple basmati rice with lots of coriander through it.
Nutrition Information:
Yield:
2
Serving Size:
1
Amount Per Serving:
Calories:

576
Total Fat:

17g
Saturated Fat:

3g
Trans Fat:

0g
Unsaturated Fat:

12g
Cholesterol:

199mg
Sodium:

1081mg
Carbohydrates:

50g
Fiber:

5g
Sugar:

9g
Protein:

51g
Calorific details are provided by a third-party application and are to be used as indicative figures only.