A Chinese chicken curry is a British takeaway institution, a fragrant but not too spicy silky curry sauce, juicy & soft meat and sweet peas.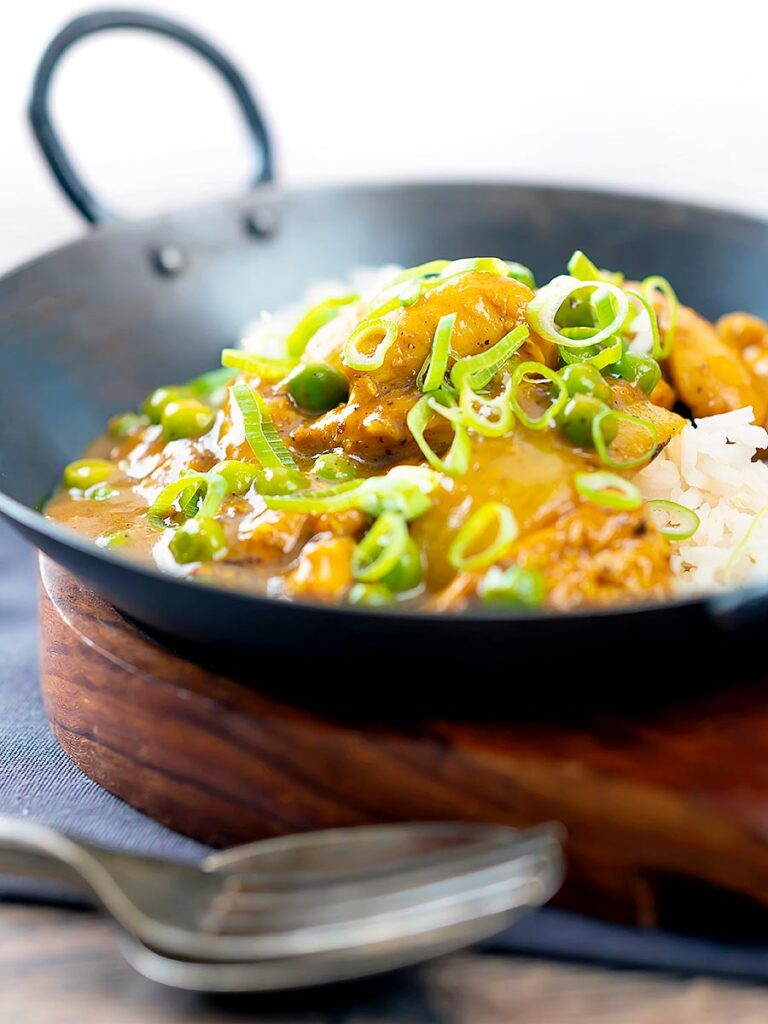 Takeaway Curries.
I cook lots of curries, I eat lots of curries and the first rule of making curry is that none will taste like your local takeaway!
That is because they taste like my local takeaway, or more accurately, of the memories of my favourites local takeaways.
This simple and really quick Chinese takeway chicken curry is no different to any of my takeaway recipes. It does not matter if it is my Chicken Balti or my Chinese Chicken and Mushroom recipe!
It features a silky curry sauce that is lifted with Chinese five spice, rice wine, rice wine vinegar and soy sauce.
Indo Chinese, Sino Indian or rather playfully Chindian food has been around for around 100 years. But it has only recently gained any "reasonable traction" in food circles in the last decade or so.
But the British takeaway Chinese curry has been popular for as long as I can remember.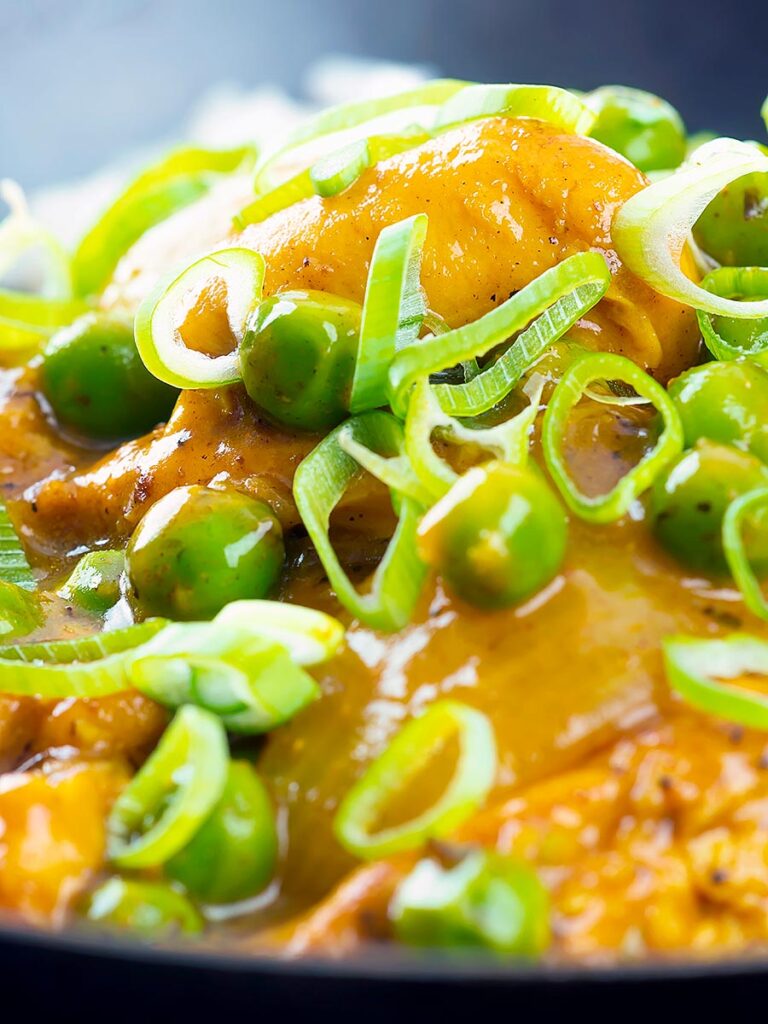 Homemade Chinese Curry Sauce.
The Chinese curry sauces of my memories have a very different flavour profile to most Indian curry sauces.
In the main, this is due to the addition of soy and rice wine and or rice wine vinegar. But the spicing is slightly different too!
For me it needs to have that little fizz that you get from Szechuan pepper, the dominant flavour in kung pao chicken, and cloves.
I make my own curry powder for dishes like this or my Katsu curry as below. Just toast off the whole seeds and grind it all up.
1 Tablespoon Cumin Seeds
1 Tablespoon Coriander Seeds
2 Bay Leaves
1 Tablespoon Turmeric
1 Teaspoon Chinese 5 Spice
0.5-1 Teaspoon Dried Chilli Flakes
You can use a store bought curry powder. Look for something mild and read the ingredients, you want to have as little fenugreek in the mix as possible.
The further down the list of ingredients it is the less dominant a flavour it will be.
If you are making my curry powder mix you need to omit the Chinese five spice in the recipe below!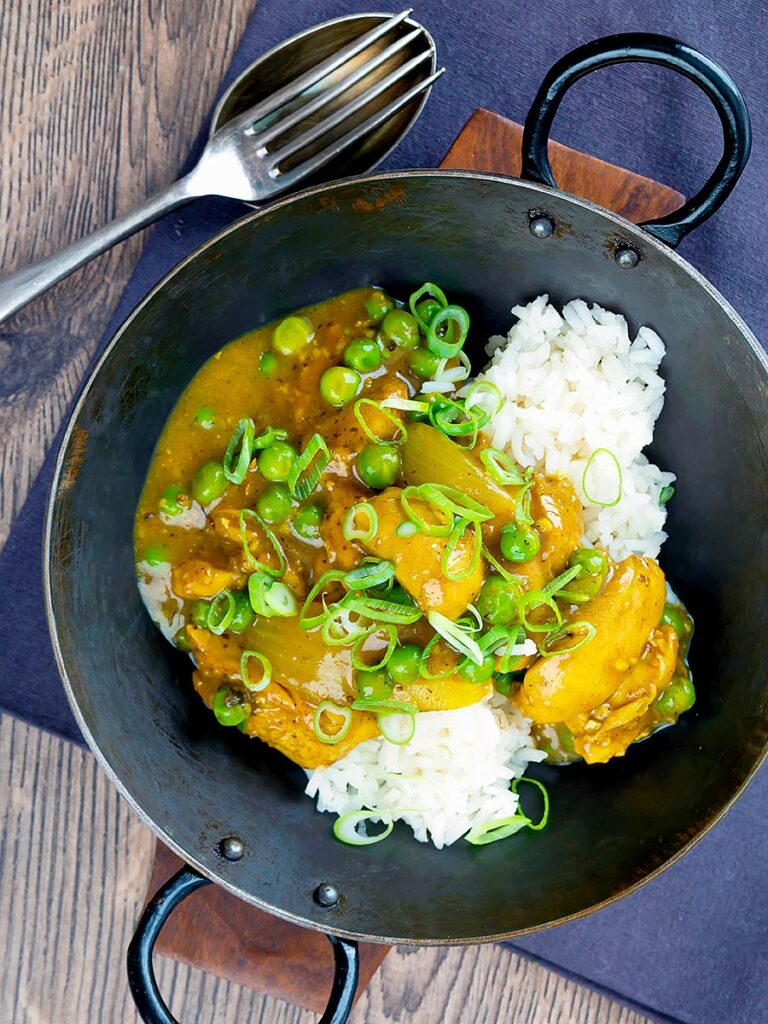 Serving Suggestions.
I usually serve this recipe with my favourite stalwart side, simply boiled or steamed rice. An egg fried rice would also work really well!
However growing up I would ALWAYS have ordered this with chips.
Chips from the Chinese takeaway were always great, very similar to chip shop chips but without the salt and vinegar.
Let me tell you, this Chinese curry sauce is heavenly with proper chips dipped into it!
And if you liked this recipe you really mush check out my Vietnamese chicken curry recipe.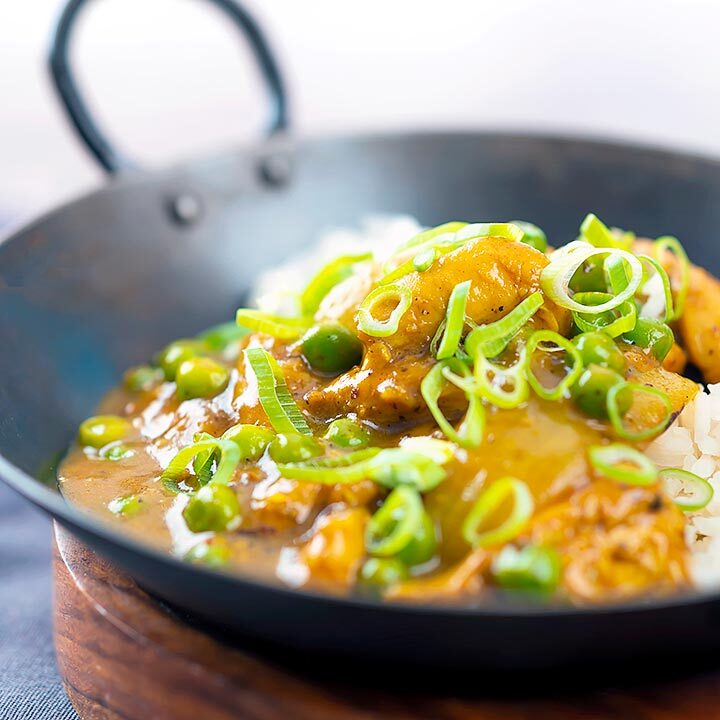 Yield:

2 Servings
Easy Chinese Chicken Curry Recipe
Every Chinese takeaway had a Chinese chicken curry on the menu when I was growing up, this is my ode to the dish that I would order all of the time!
Ingredients
350 g (12 oz) Chicken Thighs
225 g (1 1/2 Cups) Onion
150 g (1 Cup) Frozen Peas
5 Garlic Cloves
2 Tbsp Grated Ginger
1 Tbsp Mild Curry Powder
1 Green Chilli Pepper
1/2 Tsp Chinese 5 Spice (Omit if using Chinese curry powder or my mix above)
2 Tbsp Cornflour
1/2 Tsp Sugar
1 Tbsp Light Soy Sauce
1 Tbsp Rice Wine
1 Tsp Rice Wine Vinegar
250 ml (1 Cup) Chicken Stock
1 Tbsp Cooking Oil
Instructions
Mix together the cornflower with the light soy sauce, rice wine and rice wine vinegar.
Cut the chicken thighs into bite sized pieces and add to the bowl with the cornflour mix.
Top and tail the onion, then peel it and cut into 8 wedges.
Mince the garlic.
Grate the ginger.
Remover the seeds from the chilli and slice it thinly.
Just before you start cooking remove the chicken from the marinade and pour hot chicken stock into the remaining marinade.
Add the curry powder and five-spice and whisk to combine.
Heat a wok over a high heat, when it shimmers add the cooking oil.
Throw in the onions and stir fry for 2 minutes.
Add the chicken, chicken, garlic and ginger and stir fry for 3-4 minutes.
Pour in the sauce and cook for a further 3-4 minutes.
Add the peas and cook for a final 60 seconds before serving.
Nutrition Information:
Yield:
2
Serving Size:
1
Amount Per Serving:
Calories:

634
Total Fat:

34g
Saturated Fat:

8g
Trans Fat:

0g
Unsaturated Fat:

25g
Cholesterol:

228mg
Sodium:

1092mg
Carbohydrates:

34g
Fiber:

7g
Sugar:

11g
Protein:

51g
Calorific details are provided by a third-party application and are to be used as indicative figures only.