A Chicken Balti is the pride of Birmingham and a curry not of Indian but Anglo Indian heritage dating from the late 1970's and went global!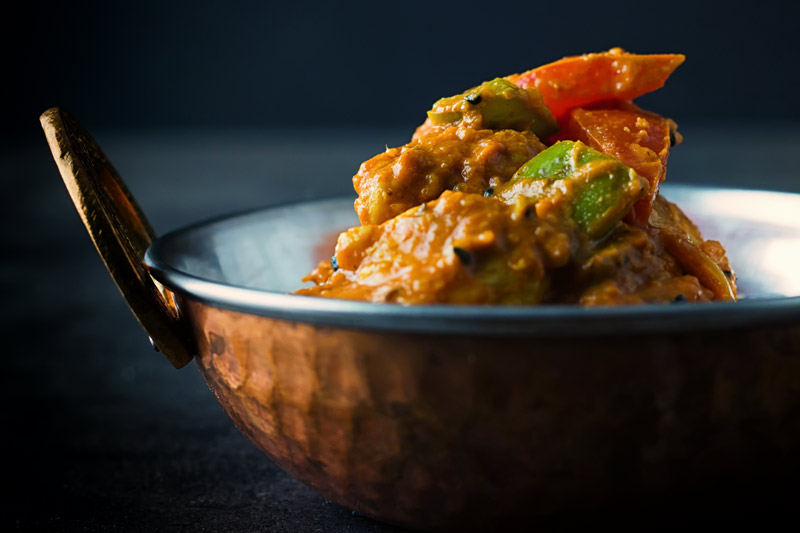 Chicken Balti The Original Brummie Curry.
This Balti Curry recipe definitely says more about where and when I was raised than any other recipe here on Krumpli.
I was born in the mid-1970's in Birmingham. If it were to be a Country its national dish would almost certainly be a Balti!
As with many foods, there are arguments about the origin and I will stay away from most of that nonsense.
However, the Balti is 'officially' credited as being 'created' in a place called Adils in 1977.
A place now noted as the Balti triangle, a place I remember very well indeed.
A place where classic Indian curries like chicken saag and lamb rogan josh are second on the bill!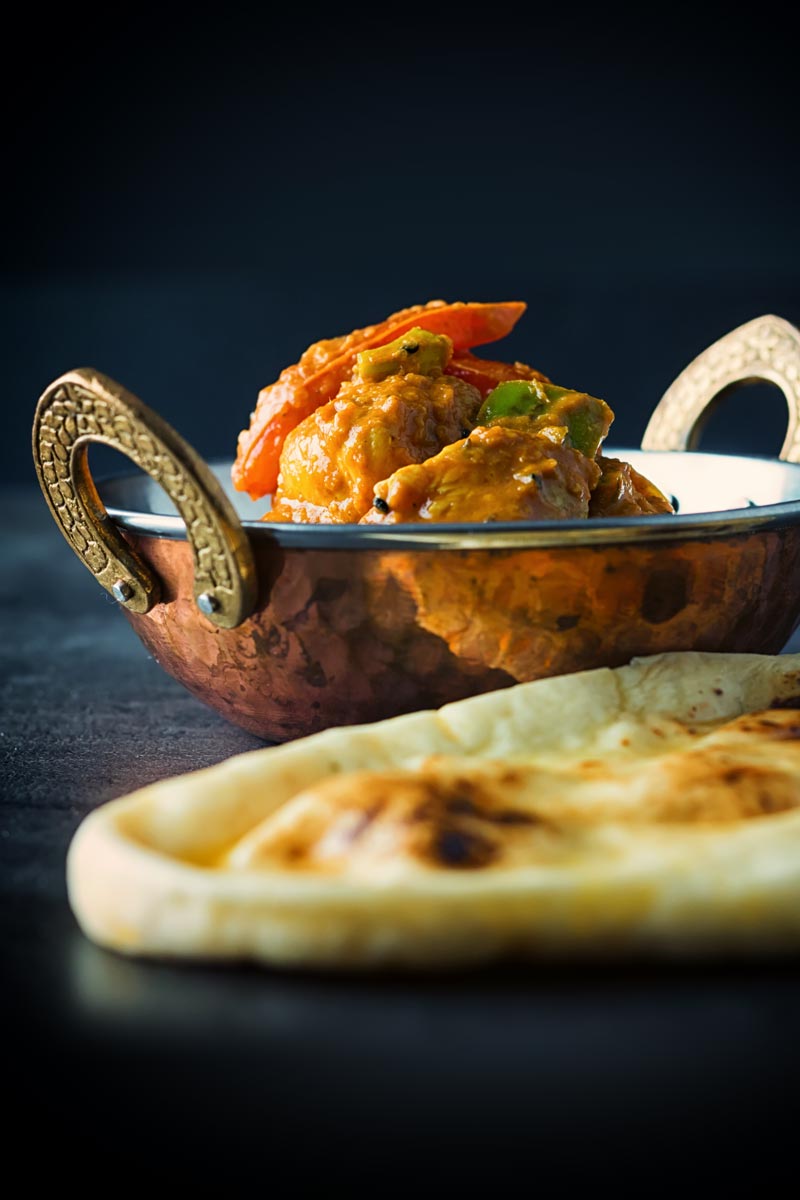 Recipe Heritage.
So what is a Balti Curry? All Balti curries have an Anglo Indian heritage.
They are born of Indian blood but it is definitely a Brummie child.
The name Balti actually refers to the bowl that the curry is cooked and served in rather than the curry itself.
Although a Balti usually follows a common theme of either meat or vegetables in a thick tomato-based balti sauce.
That thick heavy balti sauce left in the bottom of your Balti dish must be cleared with a naan bread.
Ordering anything else in an Indian Restaurant in Birmingham would have resulted in raised eyebrows.
Apart from that the flavour of your balti will vary massively depending on where you eat it!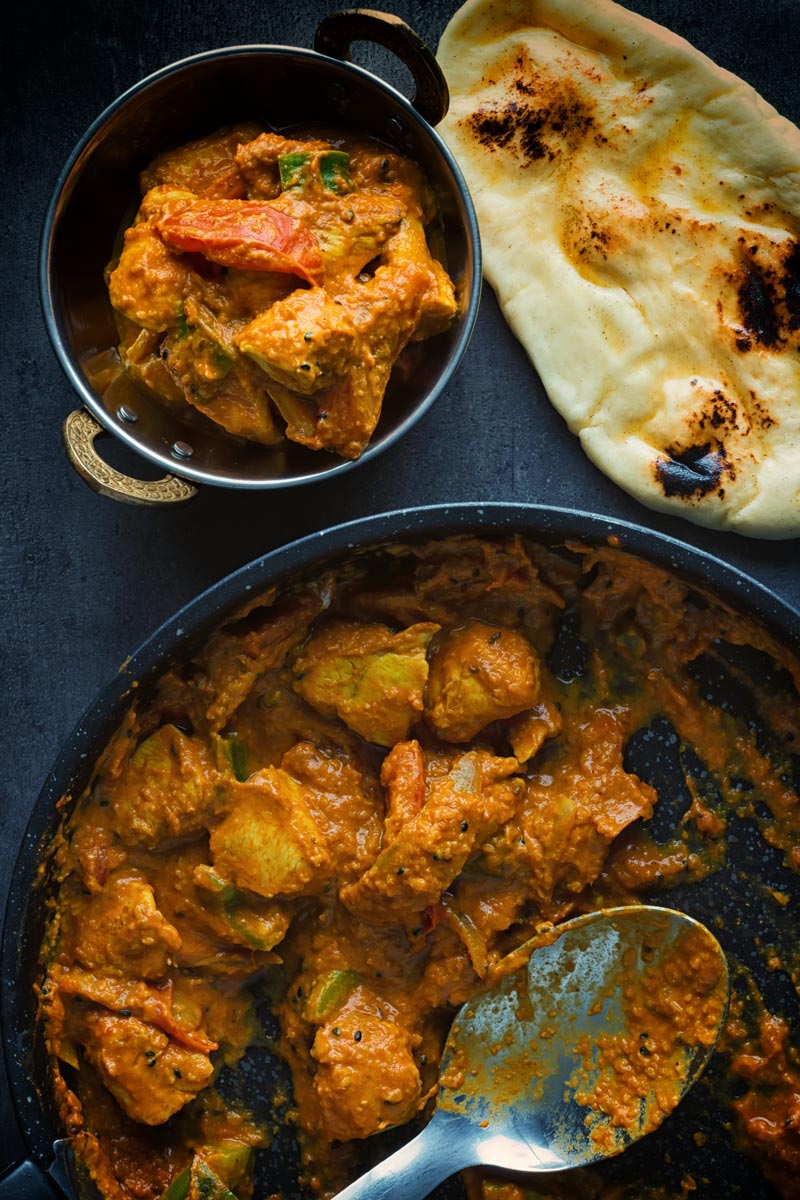 The Changing Face of Anglo Indian Food.
Everything things change with time and Anglo Indian food is no different.
The scene in Birmingham has changed beyond recognition with a smorgasbord of regional specialities appearing in new restaurant.
Not to mention a number of very high-end Indian Restaurants.
But the humble Brummie curry has gone from strength to strength and has been exported around the world.
With 'Balti' restaurants spread as far as the US and Australia and has even been exported back to India and Pakistan.
A good Balti has all of the flavours that Indian food is known for. You could say that it is a bit of a "greatest hits" recipe.
Asafoetida, turmeric and Fenugreek for the comforting back end, then chilli for heat, which of course you can vary.
In the middle you have the cumin, coriander, garlic and ginger holding it all together.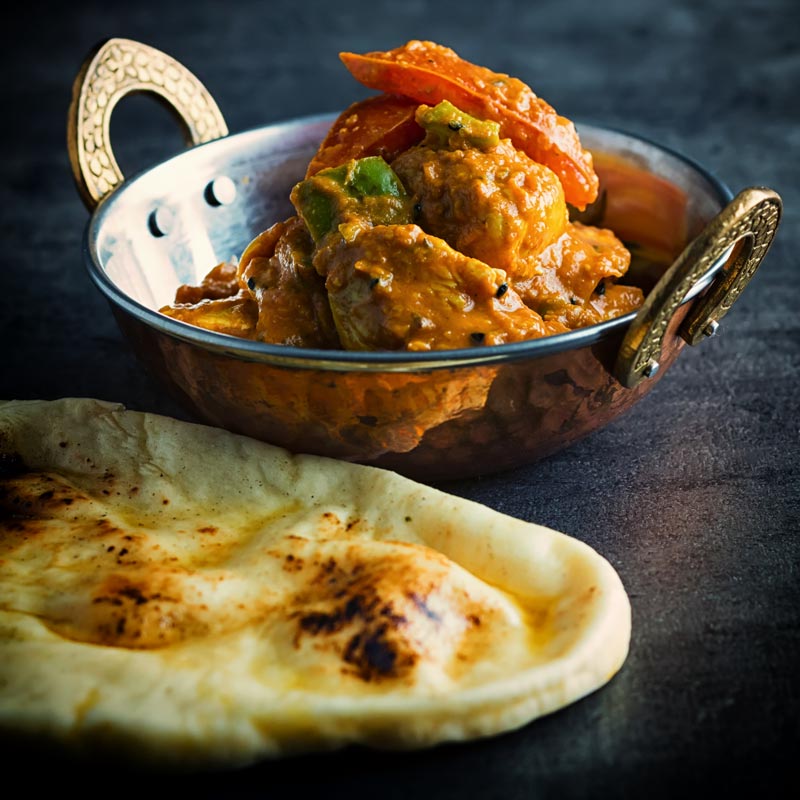 Recipe Variations.
This recipe is very simple to tweak and change, in fact, my addition of yoghurt is very much an addition and is optional.
One of the most common variants of this recipe is a chicken tikka balti.
You may not be shocked to know that it is identical to this recipe but it uses chicken tikka rather than raw chicken.
If you want to try it then just use the chicken tikka part of my chicken tikka masala recipe.
As for the vegetables, knock yourself out, chuck in anything that is good!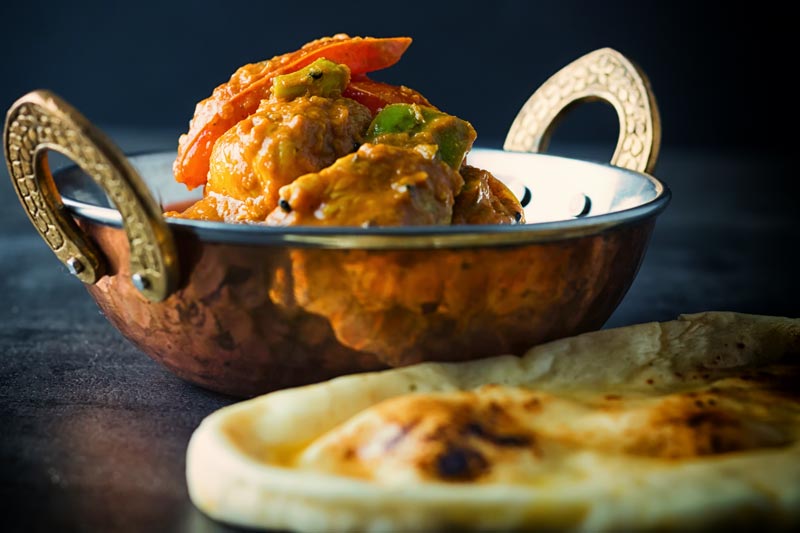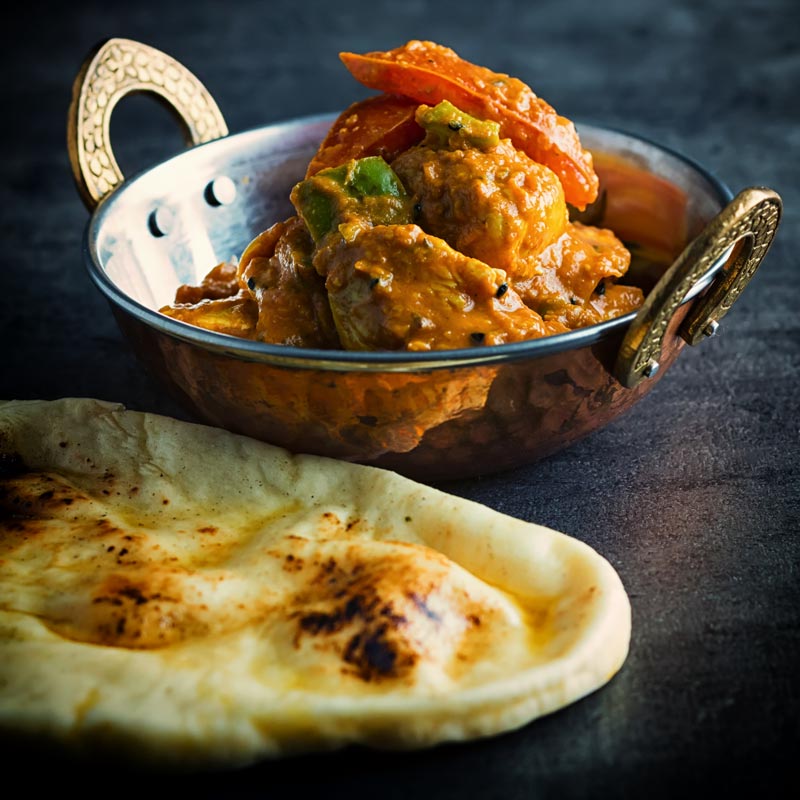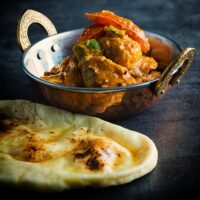 Simple Balti Chicken Curry Recipe
This chicken balti recipe is a chicken curry recipe that screams of its home town, Birmingham in the UK and it is a recipe I am very proud of!
Ingredients
For the Gravy
1/2 Large Onion
2 Cloves Garlic
1 Chili
20 g Ginger
1 Tbsp Vegetable Oil
1/8 Tsp Asafoetida
1/2 Tsp Black Onion Seeds
1/2 Tsp Cumin Seeds
1 Tsp Ground Corriander
1 Tsp Ground Turmeric
1/2 Tsp Ground Fenugreek
1 Tablespoon Tomato Puree
200 ml Tomato Passata
1 Tsp Honey
100 ml Water
For the Curry
1/8 Teaspoon Asafoetida
2 Tomatoes
2 Chicken Breasts
1/4 Tsp Salt
2 Tsp Garam Masala
1/2 Green Pepper
1 Onion
50 ml Natural Yogurt (Optional)
Instructions
Roughly chop the half onion for the sauce and place in a blender.
Peel the garlic and ginger and add to the onion.
Throw in the chilli and blend to a smooth paste.
Heat a wok over a high to medium heat with 1 tbsp of vegetable oil.
Add the asafoetida, black onion seeds and Cumin seeds and fry for 30 seconds to a minute
Then add the onion paste all allow to cook out for 3-5 minutes.
Now add the ground spices and cook out for 1 minute.
Add the tomato puree, tomato passata, water and honey then allow to cook down for 5 minutes.
Now is a good time to check the gravy for spice, if you want it a little hotter add some Kashmiri chilli powder.
Set this gravy aside and clean out your wok.
Roughly chop the green pepper and cut the remaining onion into quarters.
Heat some oil and then throw in the green pepper and the onion into a hot wok.
Cook until the edges begin to catch which should take 2 or 3 minutes.
Cut the chicken into large chunks and cut your tomatoes into wedges then deseed them.
Add the chicken and stir for a couple of minutes and season with some salt.
Then add your gravy and tomatoes then turn down the heat to medium and cook until the chicken is tender which should take about 20-25 mins.
Once cooked remove from the heat and add your Garam Masala and natural yoghurt.
Stir and allow to sit for a minute before serving.
Notes
Needless to say this should definitely be served with Naan Bread or the whole of Birmingham will collectively sigh in disapproval 😉
Nutrition Information:
Yield:

2
Serving Size:

1
Amount Per Serving:
Calories:

676
Total Fat:

30g
Saturated Fat:

8g
Trans Fat:

0g
Unsaturated Fat:

16g
Cholesterol:

154mg
Sodium:

1408mg
Carbohydrates:

43g
Fiber:

7g
Sugar:

17g
Protein:

61g
Calorific details are provided by a third-party application and are to be used as indicative figures only.