A vegetable terrine can be as special as a meat terrine, this wonderfully light and elegant pea and potato combination is summer on a plate for me.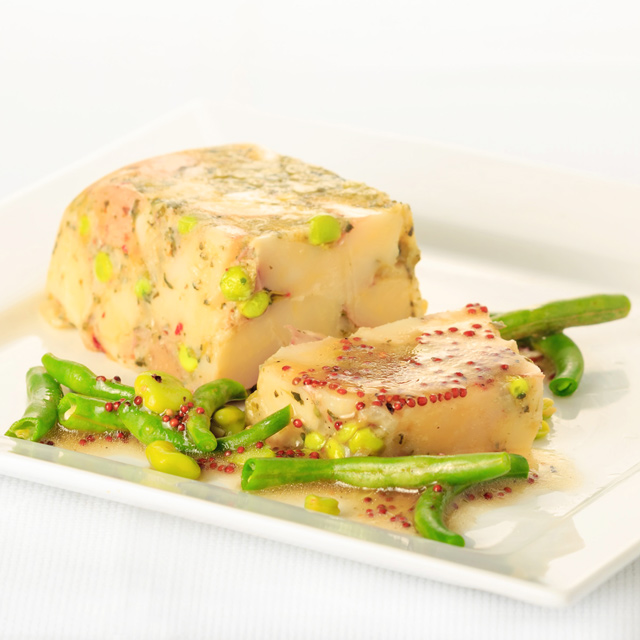 My pea & potato vegetable terrine kinda came up by accident and I am really glad it did, a friend in a Facebook group posted the 'original' recipe to this and the moment I saw it I knew that I wanted to put my own little spin on it and make it my own.
Minted peas and potatoes are heavenly and the idea of putting all that into a vegetable terrine made my belly crumble and heart beat a little quicker. So when a group of other food bloggers suggested that we should do a little 'group challenge' taking one core ingredient, in this case potato and all do something based around it there was only one thing I was going to choose.
My only regret is sitting on this recipe for a couple of weeks holding off to our agreed publication date, this recipe is stonkingly good. Buttery potato goodness with little sweet explosions of pea and just the slightest of chili heat at the very end. As a result this is definitely a recipe that will be staying around for some time in the Jones household.
When I saw this I was in a bit of a quandary, our little group challenge set out a caveat of cooking vegetarian food for this particular challenge and know this would work wonderfully with a bit of bacon running through it. However I did save one of the vegetable terrine for breakfast the following day and fried it off in a pan and served it with a couple of slices of streaky bacon and a poached egg and it worked incredibly well!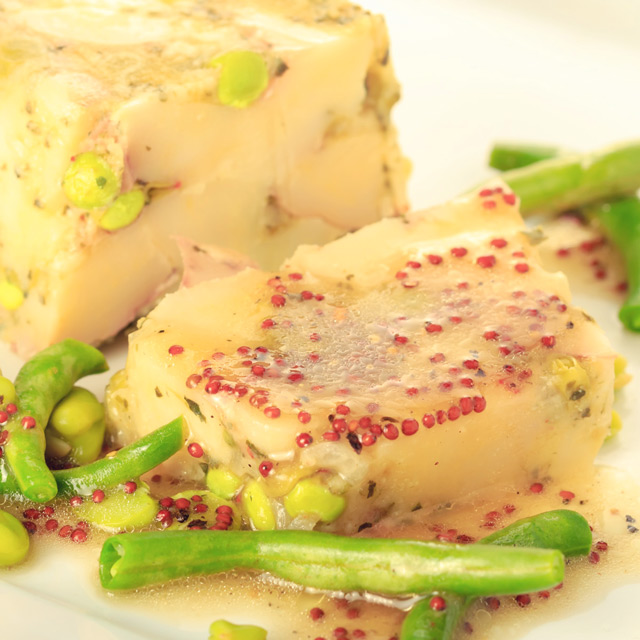 As a slight side note, I guess this post is somewhat rather apt to release a little bit of 'privileged' information. My web blog name does actually mean something, it is a colloquial Hungarian term for the humble potato, think like Spud in English. It was chosen as my name as it is just one of those words that make me smile. You have to say it properly though in a good old fashioned Hungarian way and ensure you are 'rrrrrolling yourrrrr rrrrrrs' 😀
I have never really considered doing a vegetable terrine before seeing this, I have made dozens of meat terrines but the idea of this really floated my boat and can now see myself playing with this idea much more often. Particularly given the amount and variety of vegetables we have in the garden. For instance I think it would work wonderfully with roasted squash and some North African flavours later on in the year.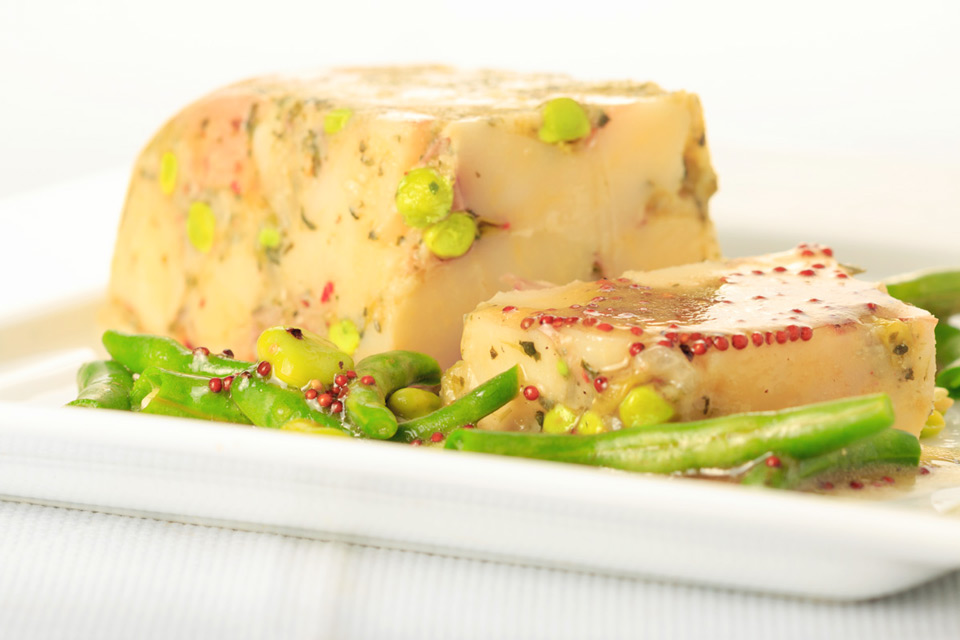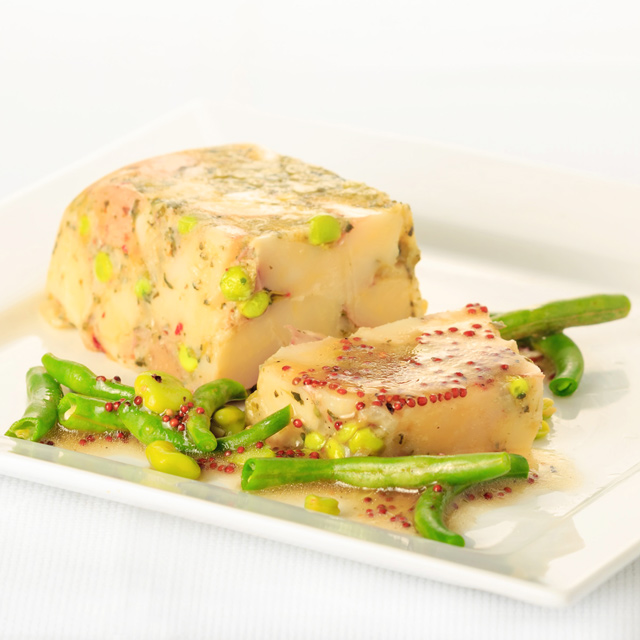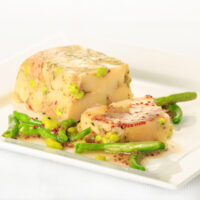 Pea & Potato Vegetable Terrine
A vegetable terrine can be as special as a meat terrine, this wonderfully light and elegant pea and potato combination is summer on a plate for me.
Ingredients
For the Terrine
500 g Potatoes, You want a waxy firm variety for this dish, Charlotte would be ideal
125 g Peas, Fresh are ideal but frozen work just as well
100g Onion, Diced as finely as you can
125 g Butter
10 g Fresh mint leaves, Finely chopped
5 g Sugar
1 Tsp Cider Vinegar
1/2 Tsp Dried Chili Flakes
For the Dressing
1 Tbsp Cider Vinegar
3 Tbsp Olive Oil
1 Tsp Whole Grain Mustard
Salt, To taste
Instructions
Begin by cutting the potatoes until they are roughly even in size and then boil in a large pan of salted water until cooked which should take between 15-20 minutes
Whilst the potatoes are cooking place the Butter in a frying pan over a low-medium heat and add the finely diced onion and allow to sweat, ensure that the onions are not beginning to colour or the butter to brown. Cook for 10-15 minutes until translucent
Finely chop the mint and mix with the chili flakes sugar and vinegar
Just before the potatoes are cooked you will want to cook you peas for a couple of minutes in boiling salted water and when cooked drain and refresh in iced water immediately so that they keep their colour
To Assemble
Mix all of the prepared ingredients together apart from those for the dressing in a large pan and ensure everything is well combined and coated in the butter
Then line your terrine with cling film and spoon in your potato and pea mixture, taking care to try and mix the ingredients up as much as possible
Fold the remaining cling film over the top of the potato mixture and cut a piece of cardboard to the same size as the terrine mould, place it on to and then use either kitchen weights or tinned food to press the terrine
When cooled place in a fridge overnight with the weights in place
Serve the following day either as a starter or as a side with the dressing which you have mixed together and shaken in an empty jar to emulsify
Notes
I used two separate mini loaf tins that hold 275ml of water for mine but you could use a larger 500g terrine if you wished.
The second of the two I fried up for breakfast the following morning and served with a poached egg and it makes the most wonderful luxurious hash!
Adapted from Frances Atkins
Nutrition Information:
Yield:

4
Serving Size:

1
Amount Per Serving:
Calories:

476
Total Fat:

36g
Saturated Fat:

18g
Trans Fat:

1g
Unsaturated Fat:

16g
Cholesterol:

67mg
Sodium:

378mg
Carbohydrates:

35g
Fiber:

5g
Sugar:

6g
Protein:

6g
Calorific details are provided by a third-party application and are to be used as indicative figures only.