A vegetable terrine can be as special as a meat terrine, this elegant pea and potato number is a dream for vegetarians and carnivores alike.
A Vegetarian Terrine?
Buttery potato goodness with little sweet explosions of pea and just the slightest chilli heat at the very end. This recipe is an absolute barnstormer.
Like many people when I think of a terrine I often think of meat or specifically offal.
However, when I stumbled on this potato press recipe by Francis Atkins my mind was blown! It reminds me of a refined Hungarian rakott krumpli in some ways.
It is fantastic and so versatile, it is one of those things that is great to have in the fridge as it lasts for around a week.
I'll serve a slice of it in the summer with a mustard dressing and some fresh beans and salad. Increase the sides and it will make a great vegetarian main.
It makes a great side dish for anything from chicken to pork.
I've even taken a slice and fried it for breakfast! If potatoes for breakfast is your thing you really must check out my Irish Boxty recipe.
It is a fantastic option to keep in the fridge over the holiday periods like Christmas, New Year, Easter and Thanksgiving to offer something really different!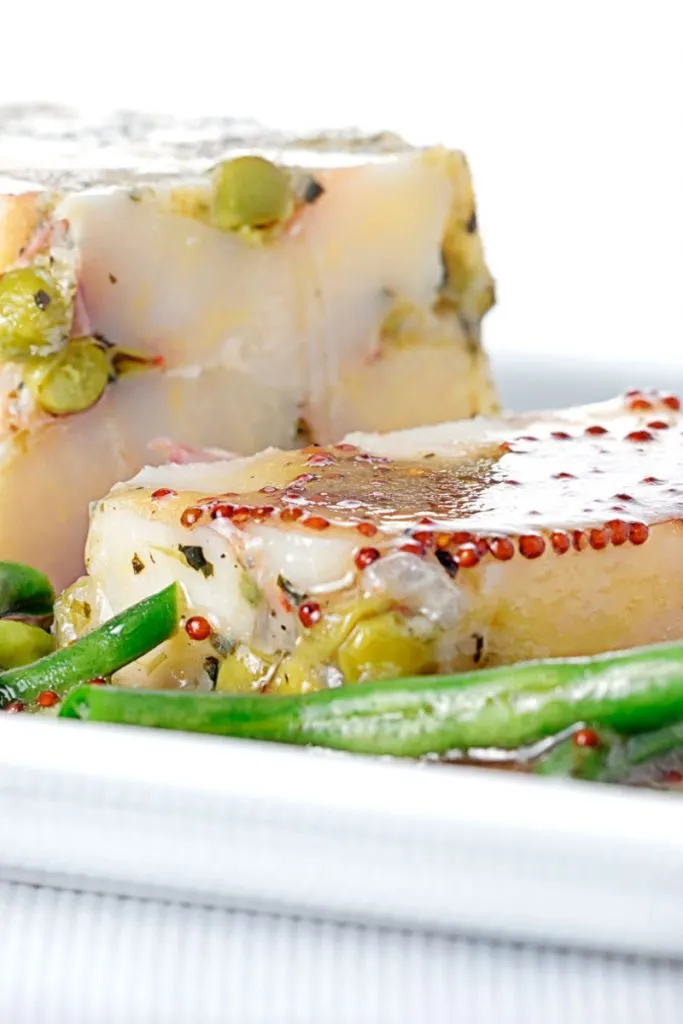 Ingredient Guide.
Naturally the star of this dish are the potatoes and choosing them is important.
You are looking for waxy new potatoes, the small ones often labelled as salad potatoes.
These hold enough of their shape when cooked and will not compress into a homogenous lump.
Varieties to look for are something like charlotte or Jersey Royals.
Do not peel them, just give them a light scrub with a nail brush, there is a load of flavour in the skin!
Frozen peas are absolutely fine, just defrost them first. The quickest way to do this is to put them in a colander under running cold water.
They will defrost in 5 or 6 minutes.
I use two separate mini loaf tins that hold 275ml of water to assemble these vegetarian terrines.
It offers a nicer sized slice, but you can use a single 500g loaf tin if you like.
Please don't be tempted to skip the pressing phase, this dish is so much better properly pressed and rested for a day.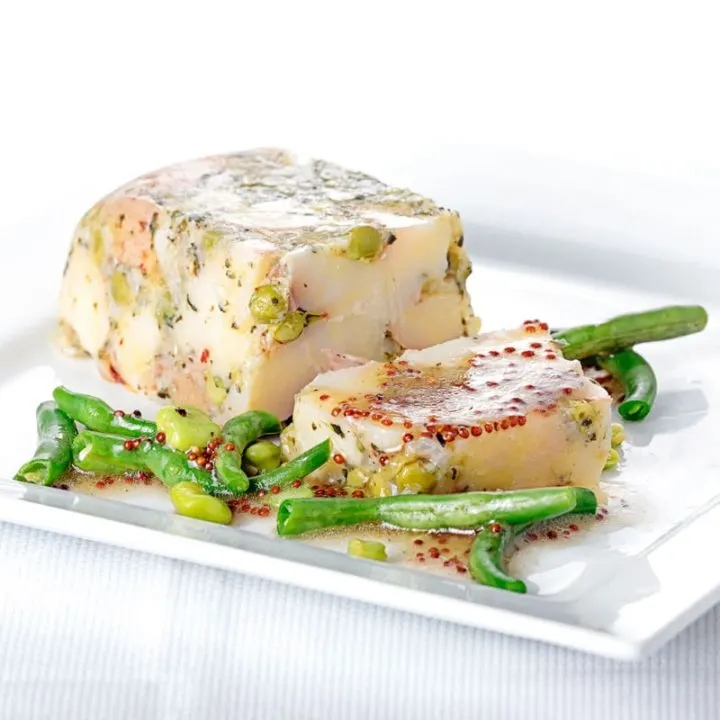 Yield:

4 Servings
Pea & Potato Vegetable Terrine
Total Time:
1 day
50 minutes
Whether you eat it for Lunch, Breakfast or Dinner this pea and potato vegetable terrine is a real winner!
Ingredients
500 g Waxy Potatoes
125 g Garden Peas
100g Shallots
125 g Butter
10 g Fresh mint leaves
5 g Sugar
1 Tsp Cider Vinegar
1/2 Tsp Dried Chilli Flakes
Instructions
Cutting the potatoes until they are roughly even in size, you want something around about 1.5-2.5cm.
Boil them in a pan of generously salted water until cooked which should take between 20-25 minutes .
Dice the shallot as finely as you can.
Place the butter in a frying pan over a low-medium heat.
When the butter has melted add the Shallot and allow them to sweat for 10-15 minutes.
Ensure that the shallots do not begin to colour or the butter to brown.
Finely chop the mint and mix with the chilli flakes sugar and vinegar.
Add the peas to the potatoes for the final minute of cooking.
To Assemble
Mix all of the prepared ingredients together making sure everything is coated in the butter.
Line your terrine or loaf tins with cling film.
Spoon in your potato and pea mixture, taking care to try and mix the ingredients up as much as possible.
Fold the remaining cling film over the top of the potato mixture.
Cut a piece of cardboard to the same size as the terrine mould, place it on to and then use either kitchen weights or tinned food to press the terrine.
When cooled place in a fridge overnight with the weights in place.
Nutrition Information:
Yield:
4
Serving Size:
1
Amount Per Serving:
Calories:

392
Total Fat:

26g
Saturated Fat:

16g
Trans Fat:

1g
Unsaturated Fat:

8g
Cholesterol:

67mg
Sodium:

221mg
Carbohydrates:

37g
Fiber:

5g
Sugar:

7g
Protein:

6g
Calorific details are provided by a third-party application and are to be used as indicative figures only.