A chicken saag or saagwala curry one of my favourite Indian dishes and my recipe makes it really easy to make at home!

It is a recipe that is one of the ever-present dishes on the old school British Indian curry house. Iron-rich spinach may take the top billing but the star is the boldly flavoured spicy gravy.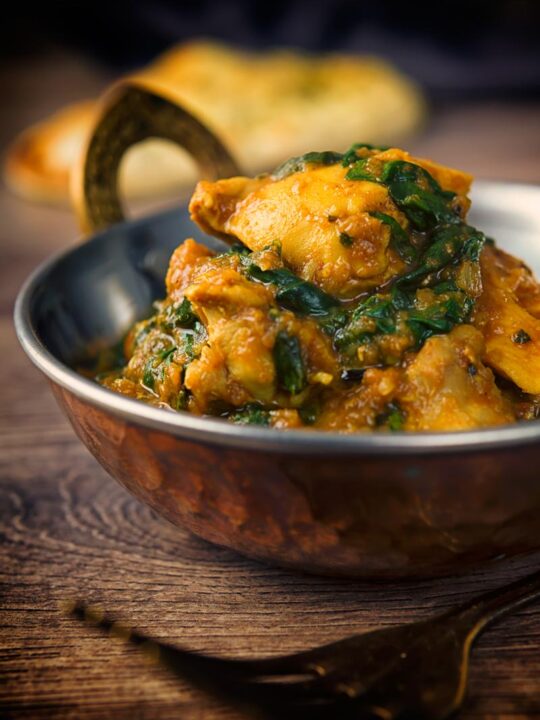 Easy Chicken and Spinach Curry.
Despite the exotic name, this is nothing more than a chicken and spinach curry.
This chicken saag recipe joins other British Indian restaurant favourites like garlic chilli chicken, chicken tikka masala and chicken Chettinad here on my site.
When cooking this curry make sure you use a pan that is way too big for a curry for two.
If you do not you will inevitably pile in the spinach and then discover your pan is not large enough… Then you will have to swap pans and your wife will moan about washing up!
I'm not kidding, initially, the amount of spinach in this recipe looks ridiculous however it cooks down to form a perfectly portioned size dish.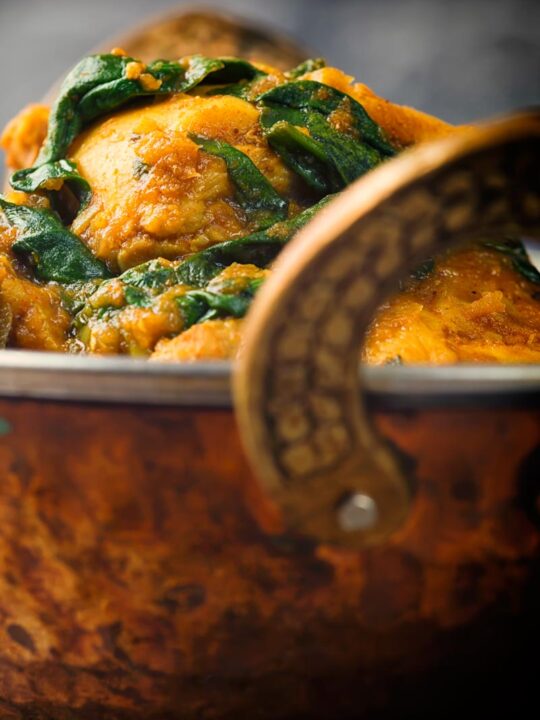 How Spicy is a Chicken Saag?
Like all curry recipes, how spicy they are depends on you, the cook. You can adjust the spice levels to your own taste.
Having said that, in a restaurant, this dish would fall firmly in the 'medium' curry range.
It would probably fall between a Chicken Jalfrezi or Chicken Pathia on the hotter side and a Chicken Pasanda on the milder side.
All of the heat in this recipe comes from Kashmiri chili powder. It also uses far fewer spices than many of my curry recipes.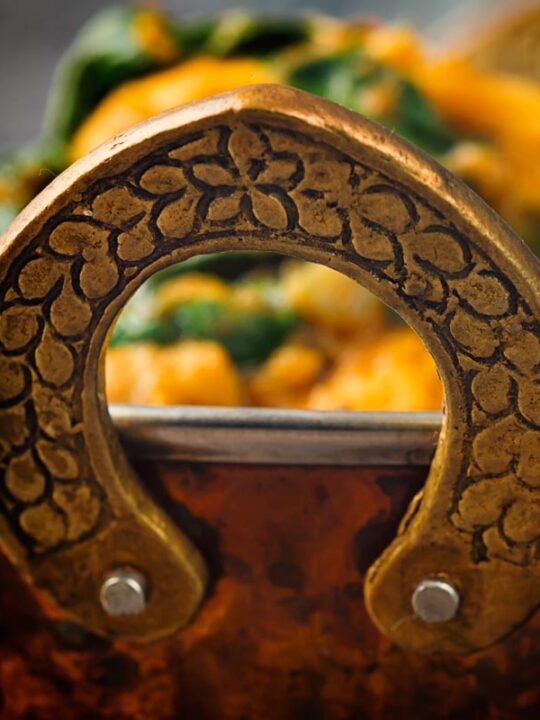 What is the Difference Between a Saag, Saagwala and Sag?
Quite simply the answer to this question is nothing.
They are the same names for the same curry, although as with all recipes there are subtle differences between cooks.
What is Saag? Saag translates to 'leaf greens' in Hindi and can be made with any greens.
For instance, my saag aloo recipe uses Swiss Chard as the leafy element. Palak is the word that explicitly refers to spinach and it features in my classic palak paneer recipe.
In this way, it is perfectly possible to subtly change the flavour of your saagwala by changing the leafy green element.
Just to add more confusion this recipe is often called chicken palak. That is more strictly defined as spinach rather than greens.
This recipe contains a couple of unusual additions at the end of the cooking process.
I urge you not to skip or add these ingredients earlier in the process.
Adding ghee and the ginger for the final 5 minutes of this chicken sag completely changes the texture and the flavour of this recipe.
The ginger adds a wonderful and vibrant flavour to what is a very 'earthy' curry.
The ghee lends a richness to a recipe that could otherwise be a little 'light'.
This is a relatively new idea I picked up from floating around a Pakistani cooking forum. Yes folks, that's the sort of place that I hang out online, living large hey?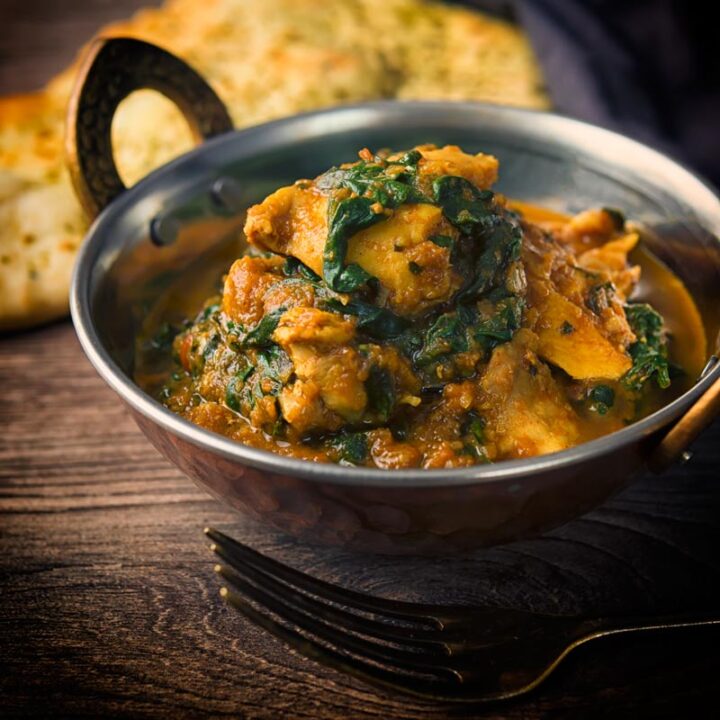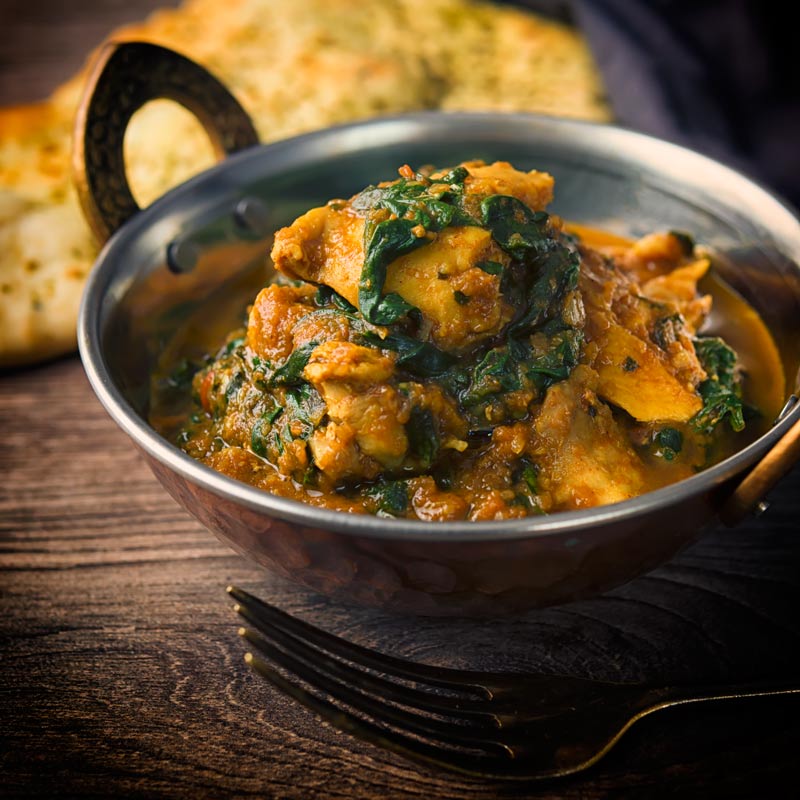 Yield:

2 Servings
Chicken Saag Curry Recipe
A Chicken Saag is also known as a Chicken Saagwala or even chicken Sag, it is essentially a chicken and spinach curry. It is medium spiced and really easy to cook at home!
Ingredients
350 g (12.5 oz) Skinless Chicken Thighs
150 g (1 Cup) Onion
6 Garlic Cloves
100 g (1/3 Cup) Tomato Passata
1 Tbsp Coriander Powder
1 Tsp Kashmiri Chili Powder
1/2 Tsp Turmeric
1/2 Tsp Amchoor
1 Tsp Garam Masala
1 Tbsp Dried Fenugreek
250 g (8-10 Cups) Baby Spinach
1 Tbsp Grated Ginger
3 Tbsp Ghee
Instructions
Blend the onion and garlic with just enough water to form a paste.
Add this onion to a pan over a high heat with half of the ghee and cook off the water, this should take 5-10 minutes.
Now reduce the heat to medium and cook for 10 minutes until golden brown.
Add in the spices and stir for 60 seconds.
Chuck in the tomato passata, salt and 250ml of water and cook for 5 minutes over a medium heat.
Use this time to dice the chicken into bite sized pieces and roughly chop the spinach.
Add the spinach and chicken to the pan along with salt and pepper to taste, don't worry if it looks like a lot of spinach, it will cook down.
Add a lid and cook for 25 minutes over a medium heat.
Grate the ginger.
After 25 minutes remove the lid and add the remaining ghee and ginger stir and cook for 5 more minutes or until the curry thickens.
Notes
Serve with naan bread and maybe a little rice if you are feeling greedy!
Nutrition Information:
Yield:
2
Serving Size:
1
Amount Per Serving:
Calories:

636
Total Fat:

40g
Saturated Fat:

20g
Trans Fat:

0g
Unsaturated Fat:

18g
Cholesterol:

278mg
Sodium:

450mg
Carbohydrates:

26g
Fiber:

8g
Sugar:

6g
Protein:

50g
Calorific details are provided by a third-party application and are to be used as indicative figures only.