Simple and wholesome store cupboard staples are at the heart of this delicious and simple lentil and bacon Pottage!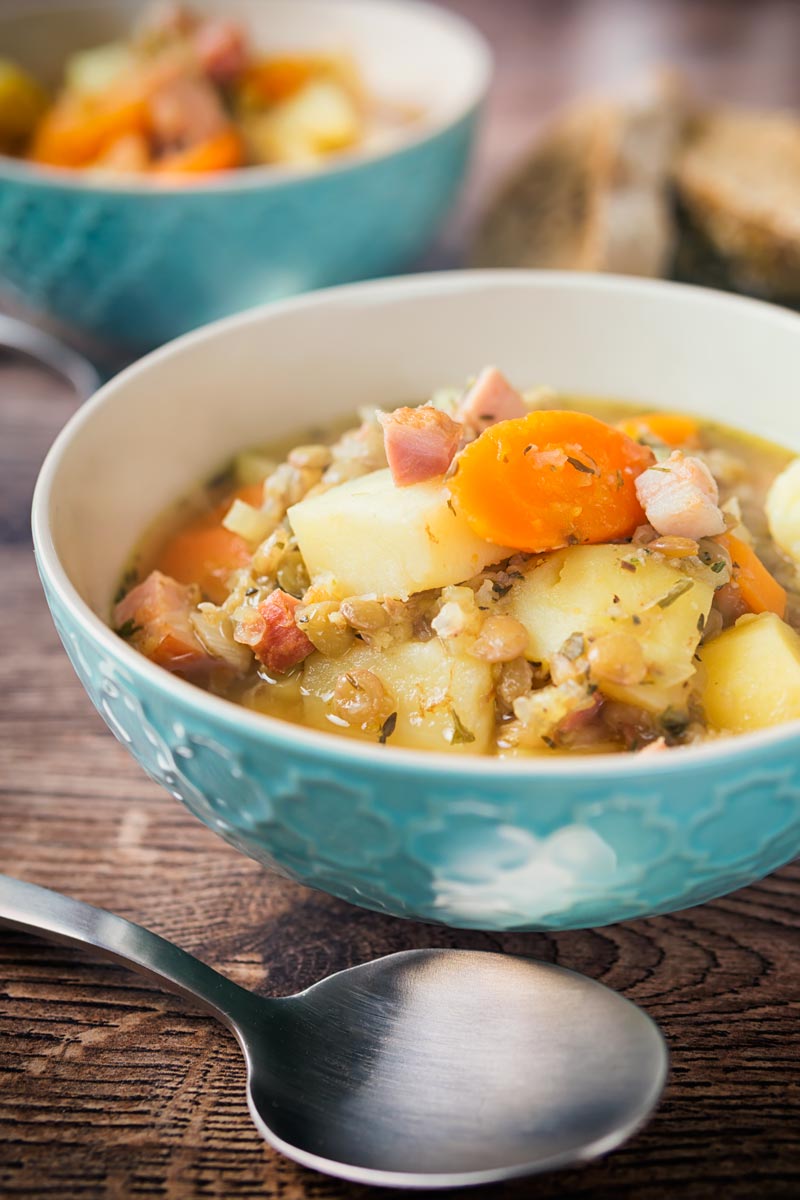 Frugal Cooking with Staple Ingredients.
I have just deleted the opening paragraph I wrote for this soup because I found myself using a phrase that I find increasingly odious. There was some wordy nonsense about his hearty soup being made from 'humble ingredients
I re-read it and thought "what on earth does that rubbish mean"?
This is loaded with fantastic seasonal root vegetables rounded out with lentil and bacon.
Why on earth would ingredients like this need to be humble?
They are cheap, nutritious, readily available and most importantly really tasty.
Minestrone soup may get all of the plaudits, but this classic European pottage style soup is absolutely delicious, even if it ain't a looker!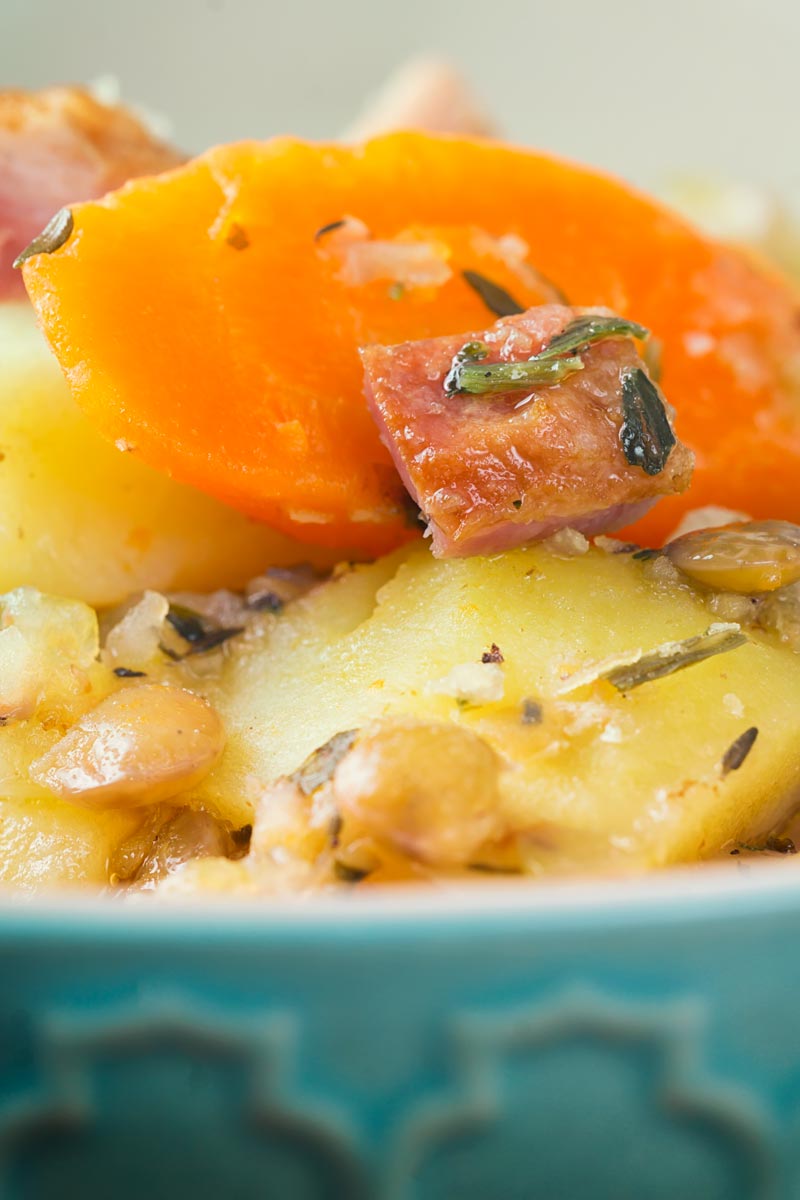 What is Pottage?
Pottage dates back to the time of the bible and it was essentially grains, vegetables and possibly meat boiled up until it was mush.
Sounds great right? Well with the passage of time that grew into meaning any thick stew or soup.
Again it contained pretty much whatever was good.
It still exists under many names across Europe today, dishes like Welsh Cawl and Hungarian Főzelék are essentially a pottage.
Even the much-vaunted Indian Dhal shares much in common with this simple cooking method.
It is hearty, simple peasant food that tastes fantastic, add a big hunk of bread and you are set!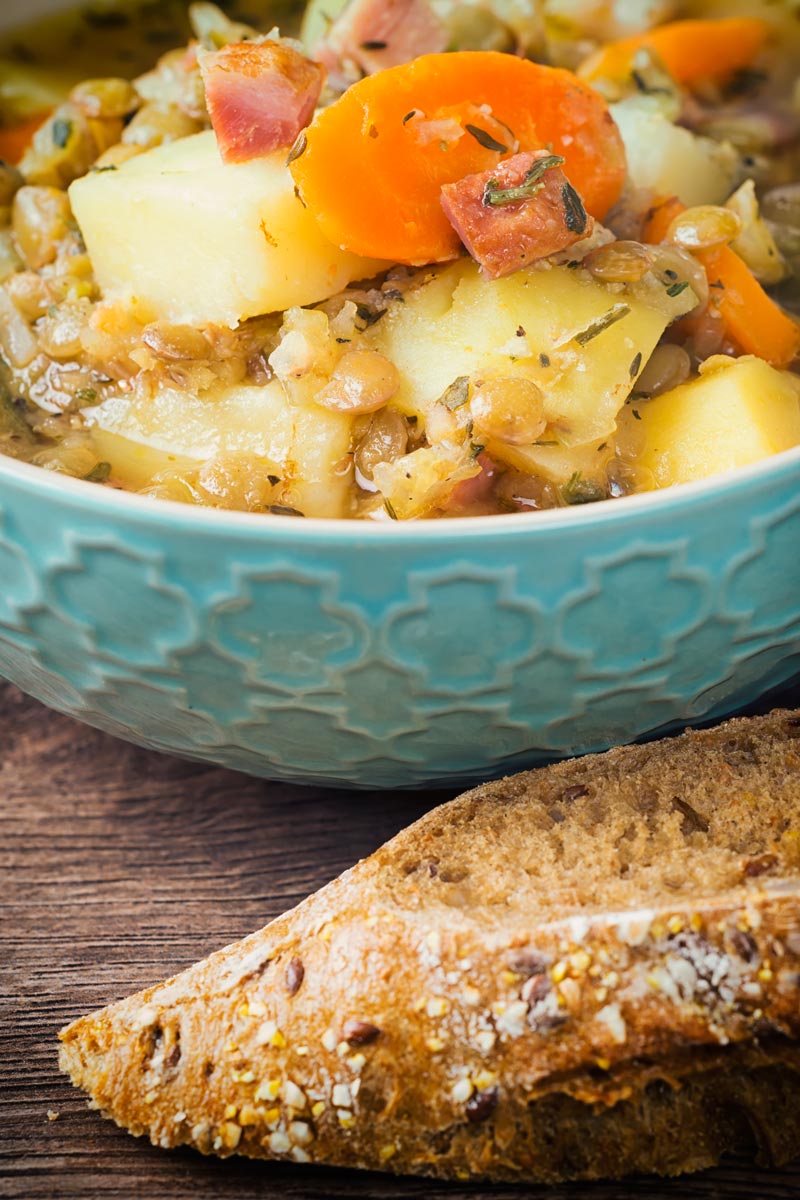 Buying the Ingredients.
Whilst this is a store cupboard recipe the choice of ingredient really does help make this recipe the best it can be.
The bacon is best if it is unsliced, streaky bacon.
The bacon should have a healthy fat content because there is no oil added to this recipe. That means that we rely on the rendered bacon for flavour and "cooking oil".
Also, you should avoid the cheap stuff because it is pumped full of water, flavourings and has never been anywhere near any smoke.
I recommend prefer green lentils in this recipe but changing them out would do no harm.
Green, Brown or even the Puy lentils I use in this lentil salad recipe will stay whole in this soup recipe and add texture.
Swapping out for yellow or red lentils will lead to a much thicker soup more akin to my Dhansak Curry. This is because they break down when cooked.
Finally, the potatoes, go for something floury because they will add starch into the soup.
Asa a result, this will help create that thick and luxurious mouthfeel epitomised by a great pottage style soup.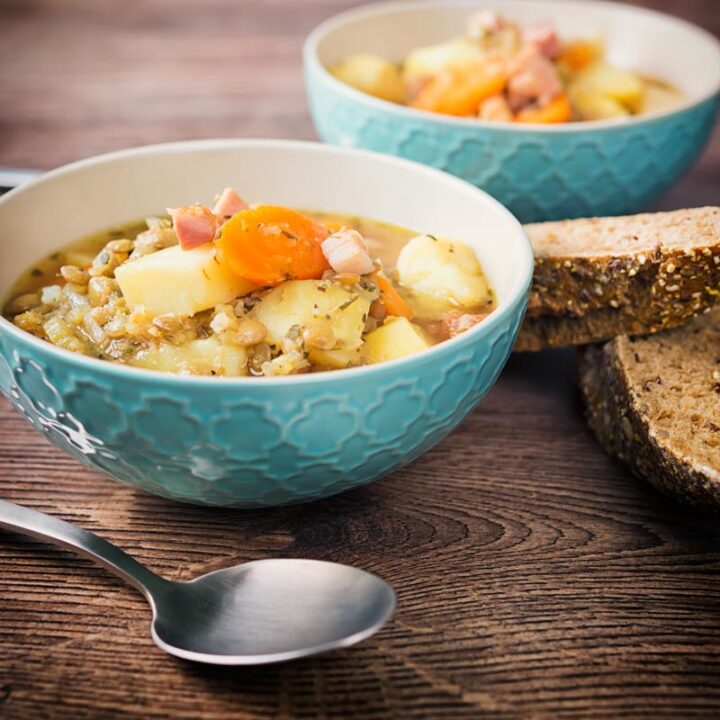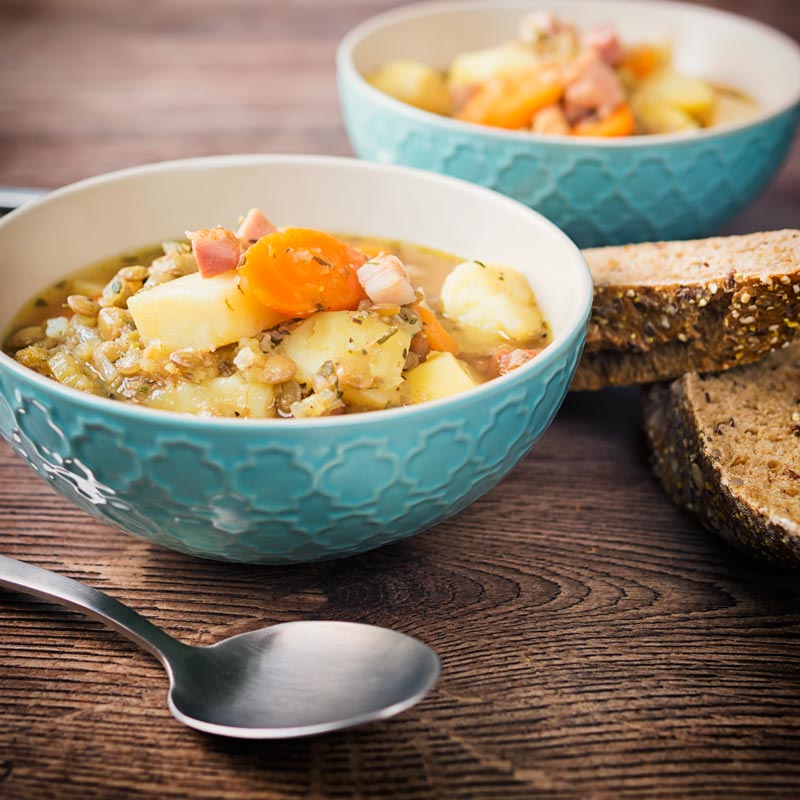 Yield:

2 Servings
Lentil and Bacon Pottage Recipe
Cooking Time:
1 hour
10 minutes
Total Time:
1 hour
15 minutes
The simple and basic ingredients in this lentil and bacon pottage combine to create an insanely tasty and simple soup that is both warming and filling!
Ingredients
200g Smoked Bacon
100g Onion
2 Garlic Cloves
30g Celery
200g Potato
100g Parsnip
100g Carrot
50g Green Lentils
1 Bay Leaf
1/2 Tsp Dried Lovage
1/2 Tsp Dried Thyme
Salt and Pepper, to taste
Instructions
Cut the bacon in to a 5mm dice.
Heat a pan over a medium heat and add the bacon and cook for 5 minutes to allow the fat begin to soften.
Whilst this is happening finely dice the onion.
Finely slice the garlic.
Slice the celery into 2-3mm slices
Dice the potato and parsnip into 2cm dice.
Slice the carrot into 5mm coins.
Add the onion, celery and garlic to the bacon and cook for 2 minutes.
Add the parsnip, potato and carrot and cook for another 2 minutes.
Throw in the lentils and add enough water to just cover, this should be around 500ml.
Add in the bay leaf, lovage and thyme as well as salt and pepper.
Bring to a boil, then add a lid reduce the temperature to low and simmer for an hour.
Notes
Serve with some dark seeded bread!
Nutrition Information:
Yield:
2
Serving Size:
1
Amount Per Serving:
Calories:

673
Total Fat:

36g
Saturated Fat:

12g
Trans Fat:

0g
Unsaturated Fat:

22g
Cholesterol:

99mg
Sodium:

1951mg
Carbohydrates:

47g
Fiber:

9g
Sugar:

9g
Protein:

41g