Easy chicken tikka kebab skewers are an essential part of any Indian "smorgasbord" and can be cooked in the oven, air fryer, grill, or BBQ.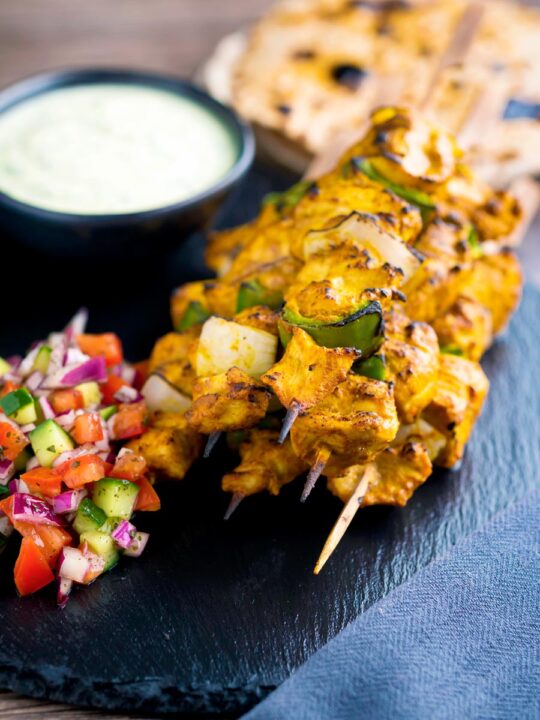 Indian Chicken Kababs.
If your gonna be cooking Indian food at home and want to rock the British Curry house vibe you need your own chicken tikka recipe.
It is an essential part of dishes like chicken tikka masala as well as butter chicken.
But it's also a superb stand alone dish as these chicken tikka kebabs show.
Chicken tikka is a dry dish and it is essentially Tandoori chicken without the bones.
My simple tikka marinade features all of the classic Indian flavours, from fenugreek to cumin.
I also add a little amchur for a tart edge, this replaces lemon or lime. Amchur is made from dried green mango and I love the complex flavour it adds to recipes.
If you are still on the fence about making these, I have instructions for BBQ, Oven, Grill and Air Fryer. Now after all the sacrifice (it wasn't really a sacrifice), surely you've gotta try these once?
And don't get hung on chicken, I also have a lamb tikka, a vegetarian paneer tikka and a salmon tikka. Lamb tikka masala really does rival chicken tikka masala for flavour!
I also have a stunning Amritsari fish fry which are nuggets of cod fried in a well-spiced batter. A dish guaranteed to delight the lovers of tikka!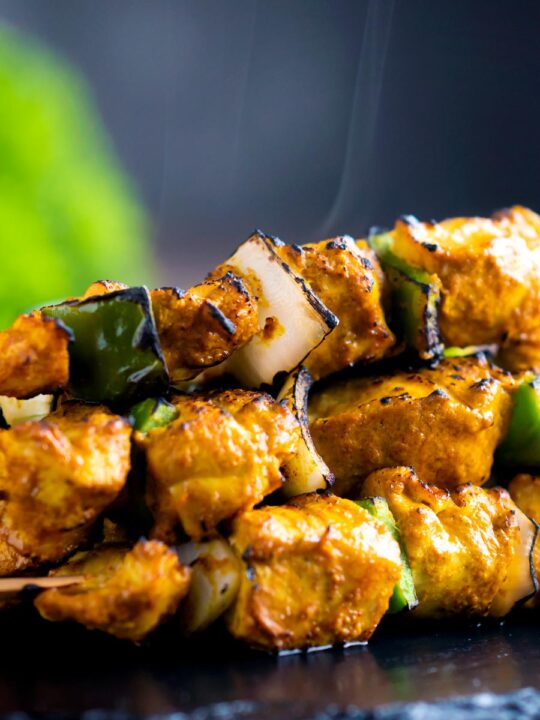 Frequently Asked Questions.
Can I use chicken thighs?
Yes, of course. In some ways, the deeper flavour of chicken thighs works better.
But from a practical point of view getting evenly sized pieces of chicken can lead to more waste or kebabs that are not evenly cooked.
What's the best way to cook them?
If I had to choose I would say on the BBQ, but this is an all year round dish.
So if it is cold, wet, raining, windy or I just can't be bothered to make fire, then I would choose sliding them under the grill.
The air fryer comes third because it is a pain to clean and finally the oven.
But they are all gloriously tasty!
Why is it not red?
Many cultures around the world use food colourings to give dishes a tone that fits with cultural norms.
I do not use food colouring, if something does not add to the flavour of a dish it does not go in.
If you want red chicken tikka add some red food colouring. Beetroot powder is a decent natural option.
A final hint!
If you are not getting little caramalised crispy bits on the edges, give your kebabs a quick blast with a blow torch.
Yes, you heard me, you'll not believe how much those wee black bits add!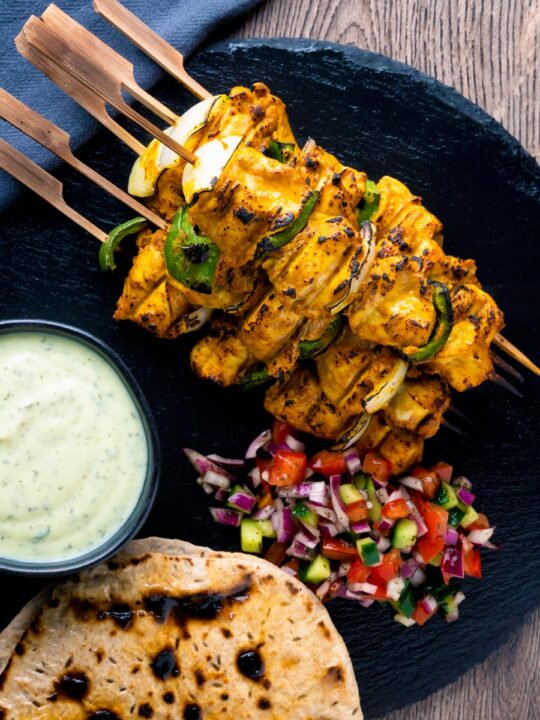 Serving Suggestions.
So what do I like to serve with my chicken tikka kebab?
Well as you can see from the pictures I start with flat bread and as chuicken tikka is a dry dish, I prefer chapatis.
Then I add a salad and for me that means kachumber salad, and for a sauce I make my mint and cucumber raita, but omit the cucumber.
You can also use this chicken tikka as a base for a corking biryani!
If you want to run with a vegetable side then this Keralan cabbage thoran would be perfect!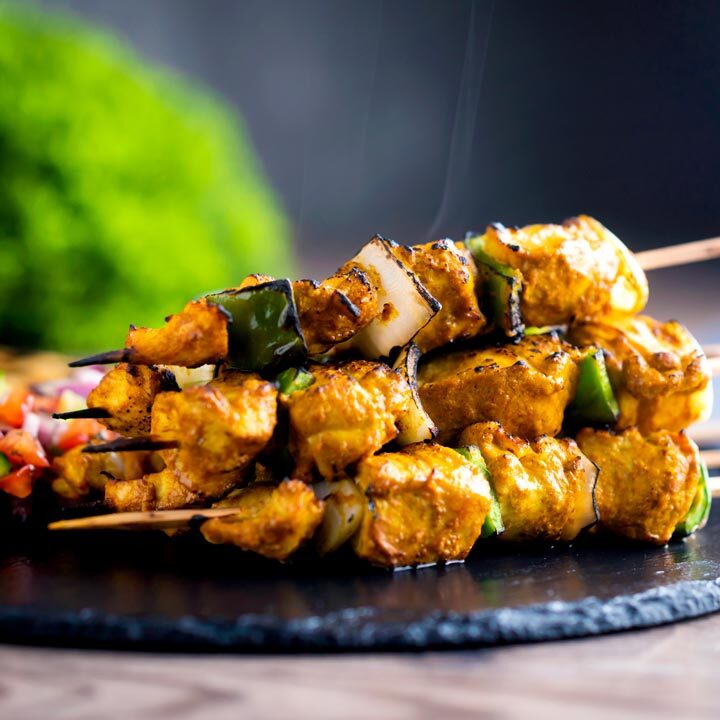 Yield:

2 Servings
Chicken Tikka Kebab Recipe
Prep Time:
4 hours
10 minutes
Total Time:
4 hours
25 minutes
A good chicken tikka kebab should be part of the repertoire of anyone wanting to cook curry house style Indian food at home, and they are super simple to make and taste delicious.
Ingredients
400g (14 oz) Chicken Breast
125g (1 Cup) Natural Yoghurt
6 Garlic Cloves
1 Tbsp Grated Ginger
1 Tbsp Kashmiri Chili Powder
1 Tsp Ground Turmeric
1 Tsp Ground Coriander
1 Tsp Ground Cumin
1/2 Tsp Amchur
1/2 Tsp Ground Fenugreek
1/2 Tsp Coarse Sea Salt
1 Small (100g) Onion
1 Small (150g) Green Pepper
Instructions
Cut the chicken into 2-3cm cubes.
Mash the garlic and ginger to form a paste.
Mix the garlic and ginger with all of the other ingredients with the exception of the onion, pepper and chicken.
Once the mix is thoroughly combined add the chicken and mix well.
Place in a bag or Tupperware tub and then allow to marinate for at least 4 hours and up to 24 hours.
If you are using bamboo skewers soak them for half an hour before you are ready to cook.
Cut the onion and pepper into a rough 2-3cm dice.
Thread the chicken, peppers and onion onto the skewers alternating as you go.
Cooking Under the Grill (Broiler)!
Preheat the grill to it's hottest setting.
Place the kebabs under the grill and cook for 15-20 minutes flipping over halfway through.
Cooking in an Air Fryer!
Spray the basket of the air fryer with oil spray.
Place the kebabs in the air fryer in a single layer and cook at 200°C or 400°F for 12-16 minutes, flipping over halfway through.
Cooking in the Oven!
Preheat the oven to 220°C or 450°F or if you have a fan-assisted oven 200°C or 400°F.
Place the kebabs on a wire rack and then onto a baking tray, cook in the oven for 20-30 minutes.
Cooking on a BBQ!
Get your BBQ nice and hot with a direct heat area and an indirect heat area.
Oil the BBQ grid.
Sear the kebabs over the direct heat for 1-2 minutes per side to get a nice colour.
Move to the indirect heat, close the lid and cook until the internal temperature reaches 73°C or 165°F, this should take between 8 and 15 minutes depending on temperature.
Notes
IMPORTANT! Ensure that the chicken reaches 73°C or 165°F before serving.
Nutrition Information:
Yield:
2
Serving Size:
1
Amount Per Serving:
Calories:

444
Total Fat:

9g
Saturated Fat:

3g
Trans Fat:

0g
Unsaturated Fat:

5g
Cholesterol:

174mg
Sodium:

895mg
Carbohydrates:

20g
Fiber:

4g
Sugar:

9g
Protein:

68g
Calorific details are provided by a third-party application and are to be used as indicative figures only.