Chicken shashlik has a complex history, my version of the recipe is influenced by the delicious Indo-Chinese kebab stick variant & I love it.
It may seem as though this takes a while to make, but mixing the sauce takes minutes, then you just need to let it sit for an hour, cooking takes 15-20 minutes!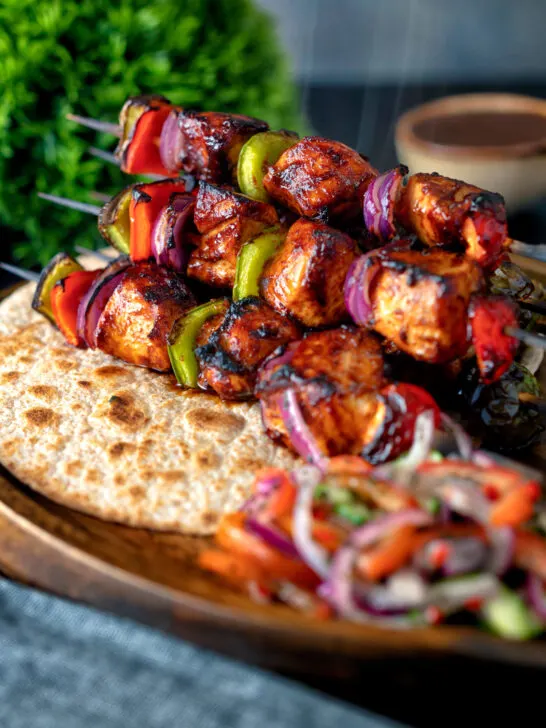 Indo Chinese Chicken Kebabs
Who doesn't love stuff on sticks?
I've got chicken tikka skewers, lamb tikka skewers and paneer tikka skewers already here. And if Indian ain't your bag I've got some sticky BBQ chicken skewers, North African influenced harissa halloumi kebabs and lamb kofta as well as some Thai-influenced pork satay.
But these chicken shashlik kebabs have a pretty mixed "genealogy".
The word Shashlik comes from Turkic Russian and roughly translates as being skewerable.
However, the flavours are very much modern Indo-Chinese, a cuisine that also gave us the wonder that is dragon chicken.
It often fuses modern ketchups with Chinese soy sauces and Indian spices, which is something I have replicated in my take on this recipe here.
It is also a dish that os often prepared and served in many ways. As well as being served on sticks, it is often seen as a curry and also as a "sizzler" style dish with the chicken served on a sizzling tray of charred veggies.
However, this is my favourite style!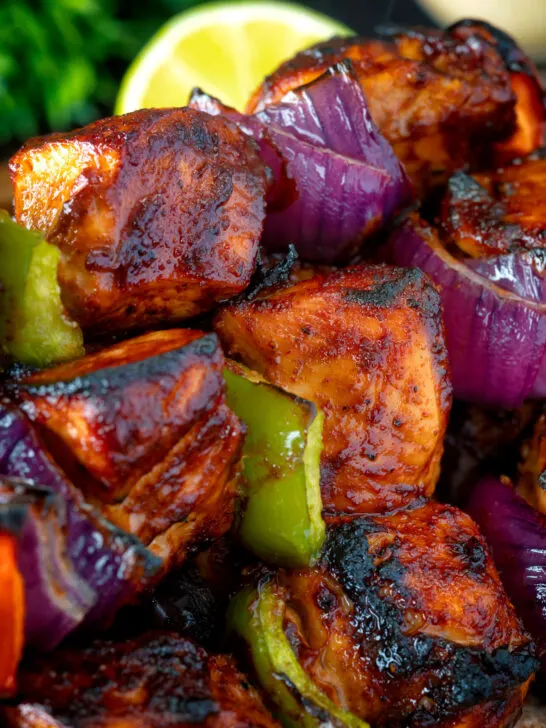 Frequently Asked Questions
Can I cook this in a different way?
Yes, although as far as I am concerned sliding these under the grill or broiler is the best all year round solution.

You could cook them over direct heat on a BBQ which wold be awesome. But if you are cooking indoors you have two other options.

The first is to use a hot griddle pan, it will work and it will be tasty but the charred areas do not have the same flavour or texture.

The second is in an air fryer, this will take about 12 minutes, it is a little better than cooking in a griddle pan. However, again the charred and crispy bits do not have the same "joy".
Can I use chicken thighs?
Yes, in fact, the flavour of the thigh meat is better.

But it is a little more difficult to get larger evenly sized chunks of meat which are needed for consistent and even cooking.
Are bamboo or metal skewers better?
I honestly do not think it makes any difference. You do need to soak bamboo skewers though, which you need to plan for.

What is more important is that your skewers have a square profile and not round because food spins around on round skewers. This makes it far more difficult to flip your kebabs!
Do I really need a meat thermometer?
Need is a strong word, but I do personally swear by using a meat thermometer.

Serving meat at its safe temperature really does improve its eating. The best way to do that is to measure it!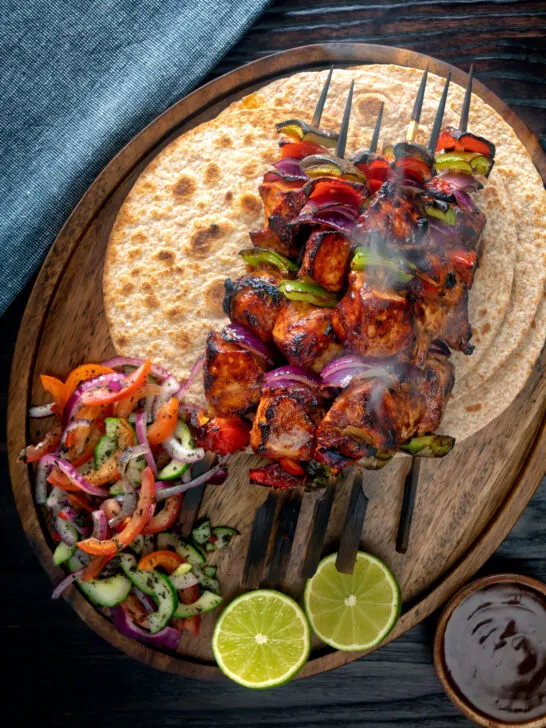 Serving Suggestions
Chicken shashlik kebabs are often turned into a curry with a sauce or gravy containing many of the same ingredients as the marinade.
However, I very much prefer to keep them as skewers! I also like to go in a completely different direction with the sauce.
My usual choice of sauce is an imli or tamarind chutney. Its sweet, sour and earthy flavour rocks the coating on these chicken skewers.
Although on occasion I would add a mint and yoghurt raitia without any cucumber, which is nicely refreshing.
Then I get wrapping because I like to pull off the chicken and veggies, stick it in a chapati pile on some chunky kachumber salad and go to town!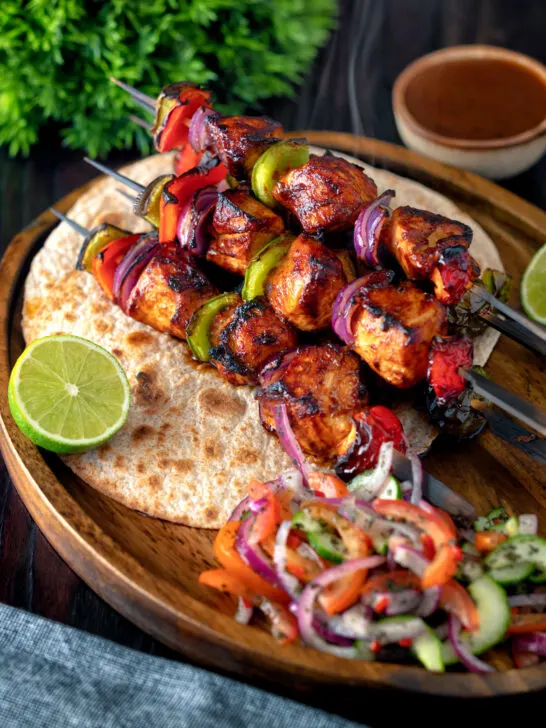 Equipment Used
I only mention specific brands of equipment if I believe they make a material difference to a recipe. if you have any questions as to what I use feel free to ask them in the comments section below the recipe.
Grill or broiler.
Stovetop or microwave (to melt the ghee).
Small saucepan (your smallest) or a bowl to melt the ghee.
6 skewers, I prefer bamboo but metal would be fine.
Mixing bowls.
Kitchen knife.
Chopping board.
Weighing scales and measuring spoons.
Instant read meat thermometer (optional).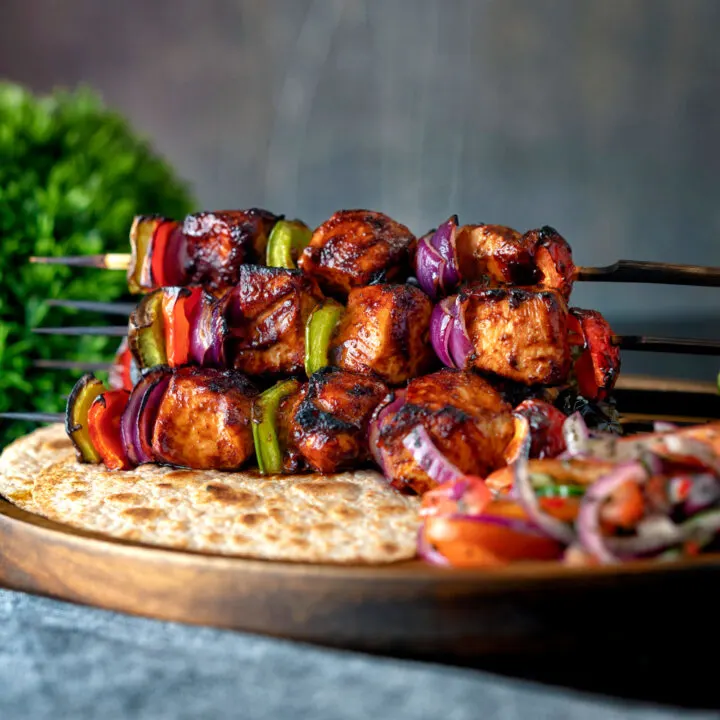 Yield:

2 Servings
Chicken Shashlik Kebabs Recipe
Total Time:
1 hour
25 minutes
Delicious spicy Indo-Chinese chicken shashlik kebabs featuring a wonderful marinade packed with flavours that cook under the grill (broiler) in around 15 minutes!
Ingredients
400g (14oz) Chicken Breast
1 Medium Red Onion
1 Red Pepper
1 Green Pepper
1 Tbsp Melted Ghee
For the Marinade:
1 Tbsp Natural Yoghurt
2 Tbsp Tomato Ketchup
2 Tbsp Dark Soy Sauce
½ Tbsp English Mustard
1 Tsp Garam Masala
1-2 Tsp Kashmiri Chilli Pepper
½ Tsp Black Pepper
½ Tsp Garlic Powder
½ Tsp Onion Flakes
Instructions
Mix together all of the ingredients for the marinade.
Cut the chicken into a 2.5cm (1") dice and then add it to the marinade, mix well and then refrigerate for at least an hour (upto 8 hours).
Half an hour before you are ready to cook soak your bamboo skewers in water.
Remove the stalk and seeds from the peppers and cut them into a 2-2.5cm (¾-1") dice.
Peel the red onion and cut it into a 2-2.5cm (¾-1") dice.
Heat your grill (broiler) as hot as it will go.
Melt the ghee in your smallest saucepan on the stove or in a bowl in the microwave.
Thread the chicken and vegetables onto the skewers alternating between meat and veggies. This will need 6 fairly regular-sized bamboo skewers.
Brush the kebabs with the melted ghee.
Place the kebabs onto a grill tray and cook under a fiercely hot grill and cook for 6-8 minutes, then flip and repeat for another 6-8 minutes.
Check that the chicken has reached at least 73°C or 165°F before serving.
Nutrition Information:
Yield:
2
Serving Size:
1
Amount Per Serving:
Calories:

512
Total Fat:

10g
Saturated Fat:

3g
Trans Fat:

0g
Unsaturated Fat:

6g
Cholesterol:

213mg
Sodium:

1281mg
Carbohydrates:

21g
Fiber:

3g
Sugar:

11g
Protein:

82g
Calorific details are provided by a third-party application and are to be used as indicative figures only.