These pineapple chicken kebabs are simple BBQ fodder and are loaded with the sweet and sour flavours more commonly associated with a Chinese Takeaway!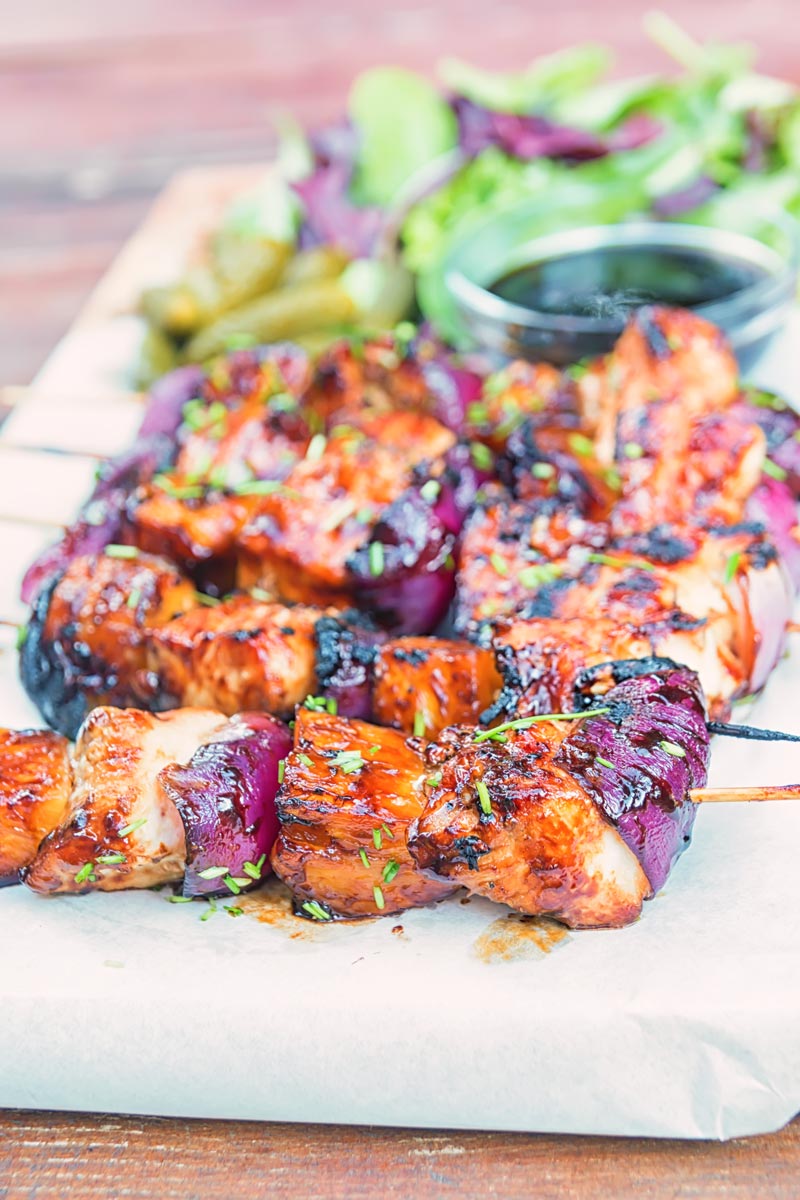 BBQ Pineapple Chicken Kebabs.
Kebab recipes are pretty common fodder when it comes to BBQ food. My BBQ pineapple chicken kebabs take a pretty common theme and puts a slant on them.
Your average pineapple chicken kabab will be loaded with BBQ sauce, now I like BBQ Sauce. I love it, there are a host of recipes here ranging from my BBQ Stuffed Onions through to my meatballs in a beer and BBQ sauce.
This kebab recipe though goes in a completely different direction. When I think pineapple chicken my mind automatically leaps to Chinese food.
More specifically it leaps to sweet and sour chicken (or pork). So these BBQ chicken kebabs are glazed in a sweet ad sour sauce. A sauce tweaked a little from my ever-popular sweet and sour chicken recipe.
So yeah this is like a Chinese takeaway sweet and sour pineapple chicken kebab. Fusion food at its very best, they are wonderfully sticky, tasty and really simple.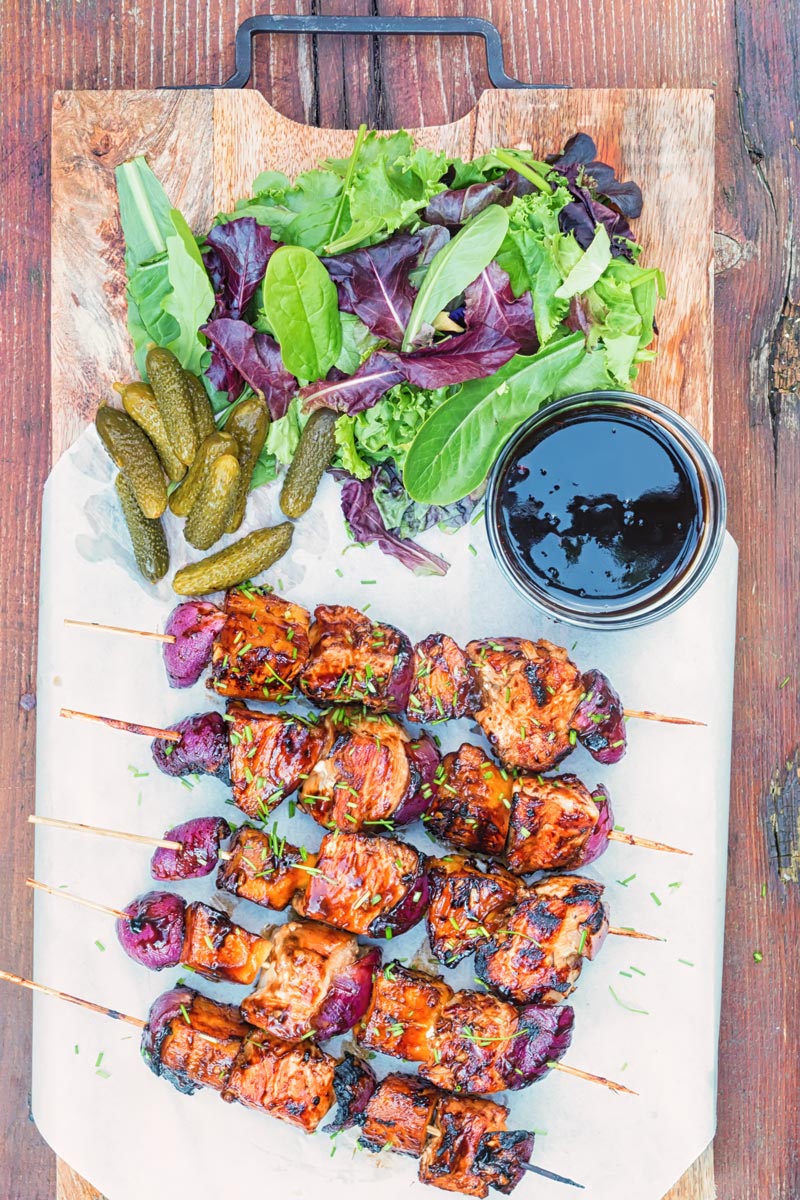 BBQ Kebab Recipes.
Kebabs work so very well on the BBQ, the stick forms a perfect handle, stopping you being the target for wasps. Let's face it those buggers love the sweet sticky stuff!
These grilled kebabs are not the first here on Krumpli and they certainly will not be the last. My favourites are this BBQ duck kebabs with orange, but my friend Whitney also kindly guest posted these Indian Tikka Kebabs.
There is no real secret to cooking kebabs on the bbq. It is a simple matter of making sure you combine things that cook at roughly the same pace.
These pineapple chicken kebabs have large cubes of pineapple that is perfectly softened by the time the chicken is cooked through.
This kebab recipe works a reverse sear approach. Begining to cook the kebabs naked apart from salt and Szechuan pepper over indirect heat. They are then transferred to the direct heat, brushed with the sauce and caramelised.
This gives you complete control over the cooking of the chicken!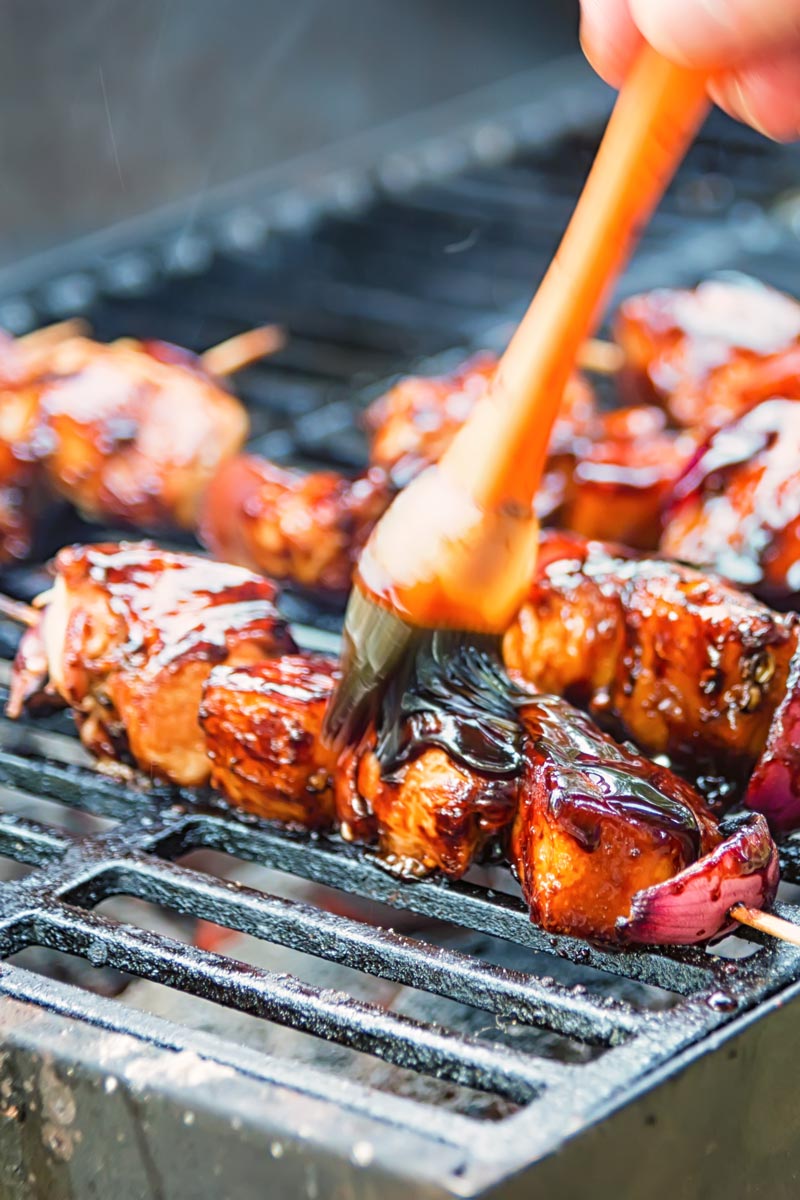 The Sweet and Sour Sauce Recipe.
This sweet and sour sauce recipe is everything you would expect from a great Chinese sweet and sour sauce.
Like many Western sweet and sour sauce recipes, it begins with tomato ketchup.
Then we have the stalwarts of the Asian kitchen, Soy Sauce, Chinkiang Vinegar and mirin. Add a bit of sugar and cornstarch to thicken and you are away.
Of course, you can make this sauce up in advance but it is also really simple to make on the BBQ. Simply add everything to a pan and heat on the BBQ, just be careful of the heat on that handle!
You could easily add big chunks of pepper to these chicken kebabs if you wanted. You will then have the full-on Chinese sweet and sour chicken effect cooked on your BBQ in Kebab form. Cool hey?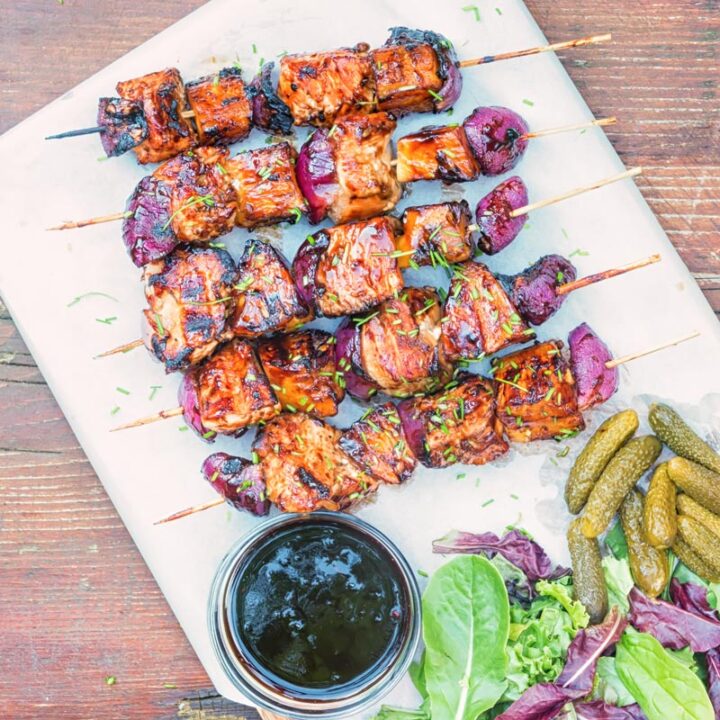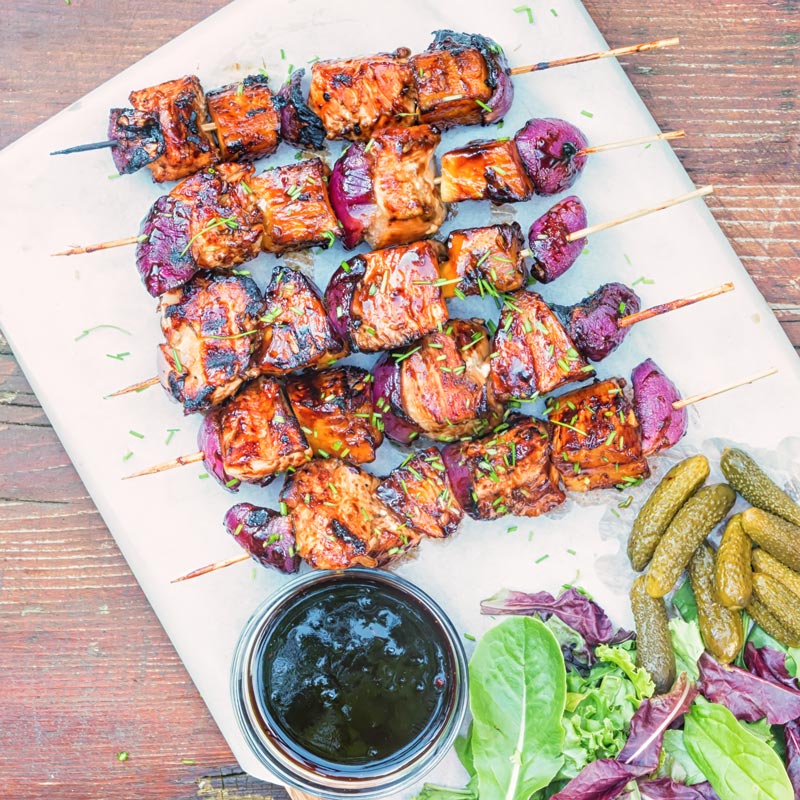 Yield:

2 Servings
BBQ Pineapple Chicken Kebabs
These pineapple chicken kebabs are simple BBQ fodder and are loaded with the sweet and sour flavours more commonly associated with a Chinese Takeaway!
Ingredients
1 Red Onion
1/2 Pineapple
400 g Chicken Breast
1 Tbsp Cooking Oil
1 Tbsp Szechuan Pepper
For The Sweet And Sour Sauce.
2 Tbsp Dark Soy Sauce
2 Tbsp Light Soy Sauce
2 Tbsp Mirin
3 Tbsp Tomato Ketchup
50 ml Water
50 ml Pineapple Juice
1 Tbsp Cornflour, Cornstarch in the US
Instructions
If using bamboo skewers soak in water for 30 minutes.
Cut your red onion into wedges and break into leaves, cut the outer leaves in half to reduce size.
Chop your pineapple into large chunks 2.5-3cm in size.
Cut your chicken breast into the same size as the pineapple.
Place the chicken, pineapple and chicken in a bowl and pour over the oil and Szechuan pepper and mix.
Alternate these onto your skewers and place over the indirect heat zone of your hot barbecue and cook for 10 minutes, flipping over after 5.
Whilst the skewers are cooking combine the water with the cornflour for the sauce and set aside.
Add the remaining sauce ingredients to a pan and stir.
After 10 minutes open your grill and place the pan over the direct heat and bring to a boil.
When boiling add in the cornstarch and water mixture and stir until the sauce begins to thicken.
Transfer the skewers to the direct heat and baste with the sauce.
Keep basting and spinning in order to get a nice caramelised colour and to finish cooking your chicken, this should take another 5-10 minutes.
Serve with the remaining sauce on the side.
Nutrition Information:
Yield:
2
Serving Size:
1
Amount Per Serving:
Calories:

550
Total Fat:

15g
Saturated Fat:

3g
Trans Fat:

0g
Unsaturated Fat:

11g
Cholesterol:

170mg
Sodium:

2351mg
Carbohydrates:

35g
Fiber:

3g
Sugar:

21g
Protein:

66g