Some full-on BBQ indulgence with my Bacon Wrapped Grilled Stuffed Onions. Onions stuffed with meatballs, then wrapped in bacon… AND then glazed in BBQ sauce. You know you want to!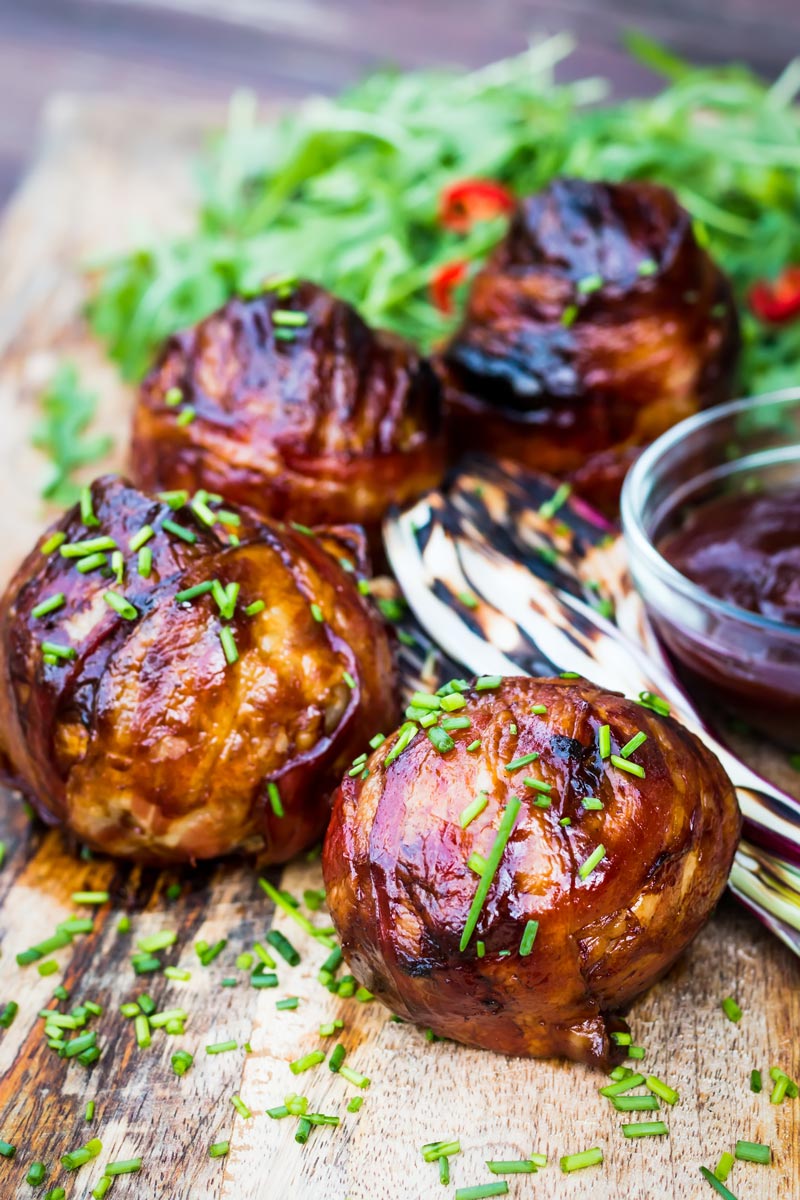 Bacon Wrapped Grilled Stuffed Onions.
Do I have a treat for you with these bacon-wrapped grilled stuffed onions! Where on earth do I start, grilled onions are amazing, smokey, sweet and glorious. But then wrap them in bacon and yowsers.
Hold your horses though these are stuffed onions, stuffed with a fennel and Worcestershire sauce meatball… Then to blow your mind just a little bit more glazed with a BBQ sauce.
So yeah my Stuffed Onions recipe is rather special!
My BBQ is getting a real hammering this year, I'm cooking outside as often as possible.
These stuffed onions already join my grilled Spatchcock chicken, Grilled Mango Chicken Wings and Grilled Rump Steak. We have only just hit June and I have 3 months of grilling left to go before I begin to lock up for autumn!
These Grilled Stiffed onions are scalable, if you have a big party you can prepare these a day in advance. Then throw on as many as your grill can handle, grab yourself a beer and relax.
Because this BBQ recipe slowly roasts the onions you do not need to stand at the grill all day!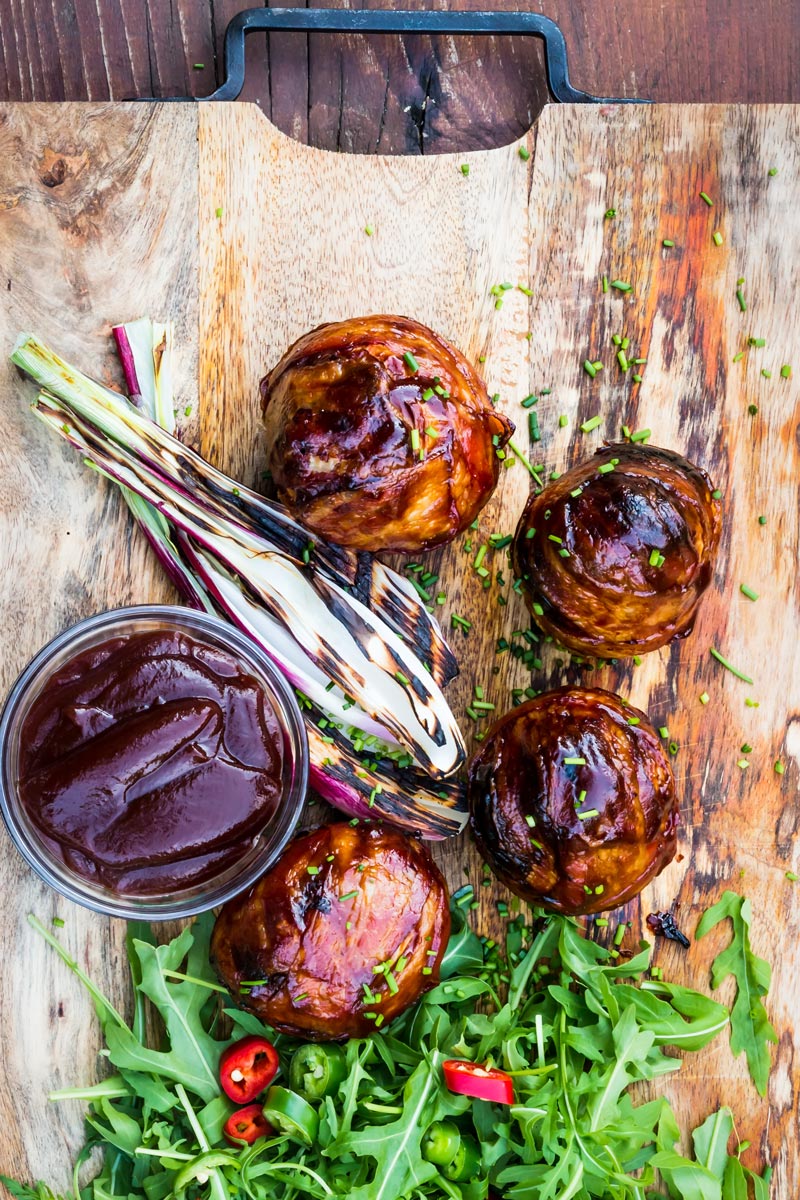 How To Use Indirect Heat Grilling.
I almost always set up my grill for indirect grilling. What does that mean?
In short, it means that you have two zones of heat on your grill or BBQ. It offers the most control over your BBQ cooking as you have both a fierce heat and much gentler heat.
For these grilled stuffed onions I only use the indirect heat grilling section as the recipe is all about slow cooking. It allows you to relax but also allows the bacon to tighten up around the grilled onions.
However, these grilled shrimp use the direct heat only section of the grill. Just for completion this BBQ Tandoori Chicken, uses a combination of direct and indirect heat grilling.
The great thing about indirect heat grilling is that you almost eliminate the black on the outside and raw in the middle curse of grilling recipes. Unless, of course, you consume way too much booze and forget. Not that I would ever do that!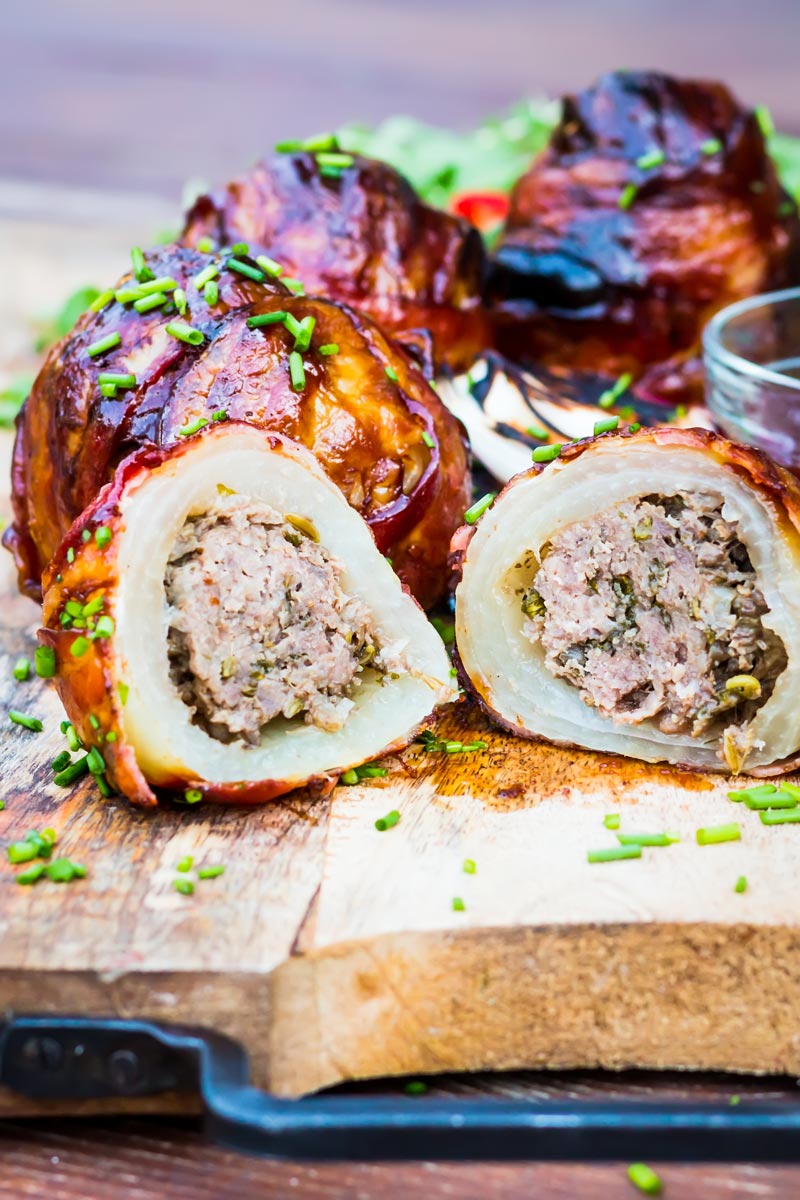 Innovative Grilling Recipes.
I'm certainly not what I consider to be hampered by my choice to cook over coals in the garden.
Obviously, when grilling you have less control over temperature and as a result some of the finer flourishes are more difficult to achieve. However, whilst these grilled stuffed onions are a fairly simple grilling recipe.
Not all of my grilled recipes are and there is no reason that you should be held back by cooking on the grill.
I cook everything from, pizza to vegetarian dishes like stuffed mushrooms or roasted cabbage 'steaks'.
Do not believe that you cannot drop pans on the grill either.
All of my sauces and glazes are knocked up on the grill simply just moving from direct and indirect heat grilling to control the temperature!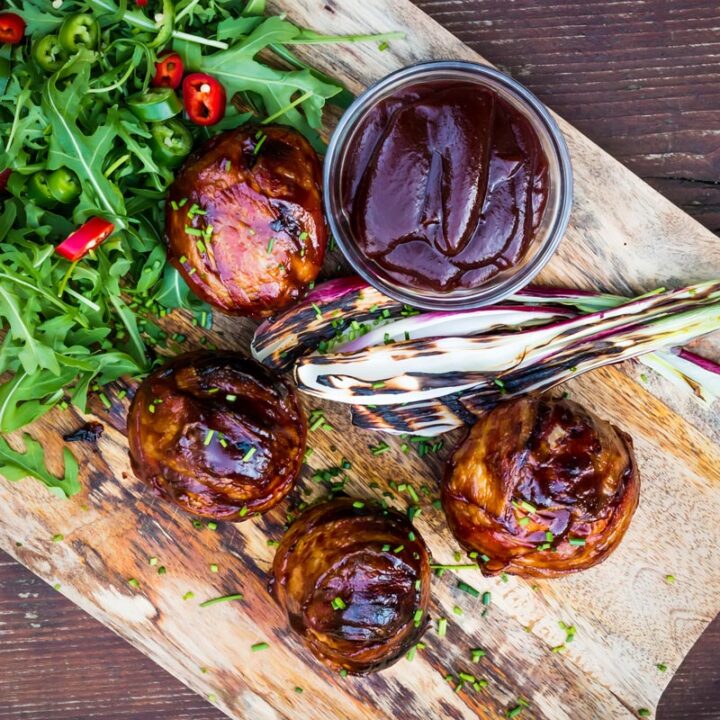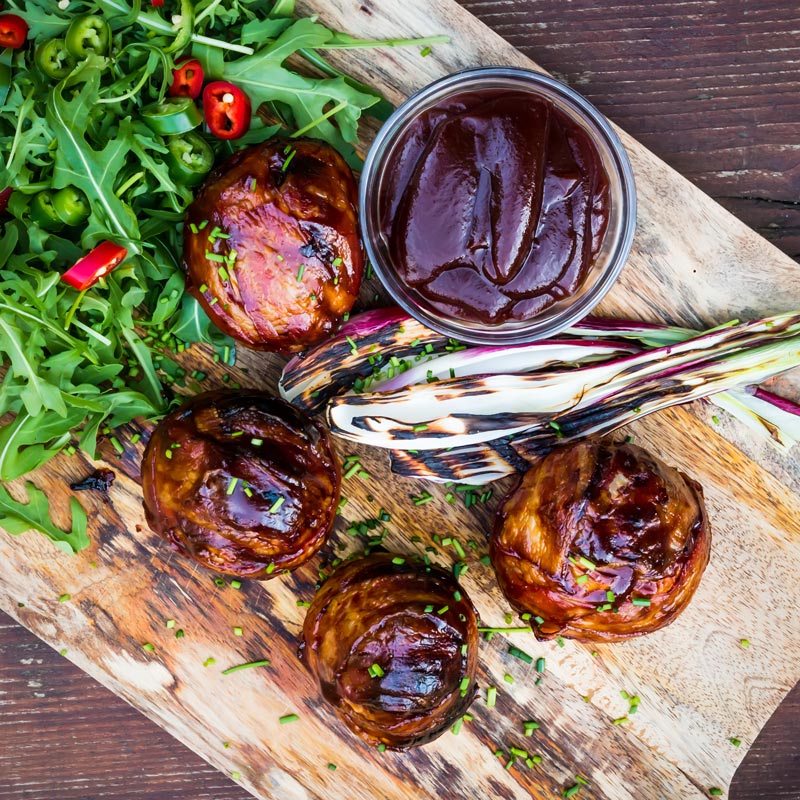 Yield:

2 Servings
Bacon Wrapped Grilled Stuffed Onions
Cook Time:
1 hour
15 minutes
Total Time:
1 hour
30 minutes
These bacon wrapped grilled stuffed onions are insanely good, a perfect beef meatball stuffed inside an onion, then wrapped in bacon. Grilled to perfection then glazed in BBQ sauce!
Ingredients
4 Onions
350 g Ground Beef
1 Tbsn Worcestershire Sauce
2 Tbsp Fresh Oregan
1 Chili, Chopped
1 Tsp Fennel Seeds
1 Tsp Salt
1/2 Tsp Black Pepper
250 g Bacon
100 ml BBQ Sauce
Instructions
Begin by chopping the top and tail off each onion (about 1-1.5cm) and then removing the skin.
Now core each onion. I prefer the method of using a sharp knife as a 'drill', poke into the centre and twist. Repeat from the other cut side, then push with your thumb, the center should pop out.
You can then use your fingers to work around the remaining onion until you leave a shell just 2-3 onions layers deep.
Roughly chop a third of the onion you removed and discard the rest, don't throw it away though, freeze it for stocks, stews or soups.
Mix in the ground beef with the chopped onions.
Throw in the Worcestershire sauce, oregano, chili, fennel seeds, salt and pepper and mix.
Stuff this mix into your onions and then wrap in bacon.
Add these bacon stuffed onions to your grill and cook for an hour in an indirect heat 'zone'.
Then brush with BBQ sauce and grill for another 10 minutes to caramalise.
Nutrition Information:
Yield:
2
Serving Size:
1
Amount Per Serving:
Calories:

1539
Total Fat:

92g
Saturated Fat:

32g
Trans Fat:

2g
Unsaturated Fat:

49g
Cholesterol:

330mg
Sodium:

5105mg
Carbohydrates:

62g
Fiber:

5g
Sugar:

32g
Protein:

111g