Stuffed onions packed with minced beef then wrapped with streaky bacon and slathered in BBQ sauce before being slowly roasted or grilled.
The minced beef stuffing features fennel seeds, thyme, a bit of chilli and Worcestershire sauce and tastes incredible!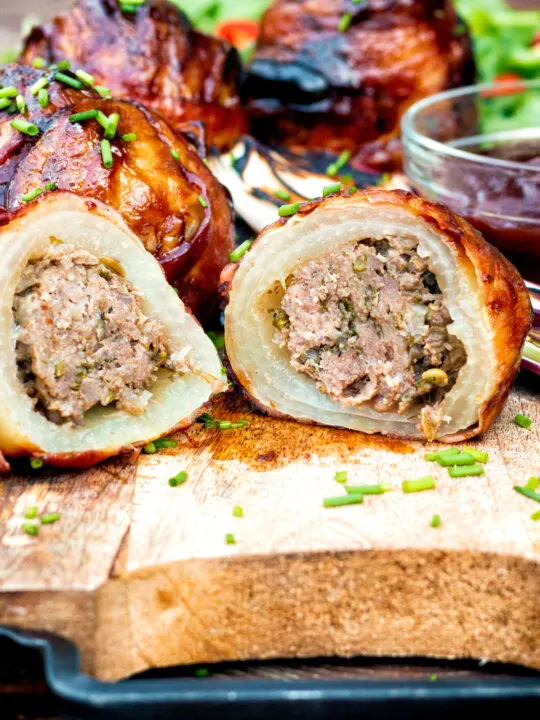 Bacon Wrapped Onion Bombs!
I love these little minced beef stuffed onion bombs of flavour.
Inside you have a glorious beef and onion meatball, featuring fennel Worcestershire sauce and a little chilli.
These are stuffed inside a hollowed-out small to medium onion which is then wrapped in thin cut streaky bacon.
Finally, they get a coating of BBQ sauce to turn those flavours all the way up to 11!
You can slowly roast them or cook them on the BBQ, slowly cooking them helps the bacon tighten up in much the same way as it does on my bacon-wrapped pork tenderloin and bacon wrapped cod.
You could even add a cube of sharp cheddar to the meatball and give it a whiff of a British version of Hunters Chicken.
Frequently Asked Questions.
Are these better cooked on the BBQ or in the oven?
From a pure flavour point of view, I would choose to cook these stuffed onions on the BBQ every day of the week and twice on Sunday.

However, from a practical point of view, I cook them most often in the oven and they still taste superb!
What BBQ sauce do you use?
My favourite sauce for this recipe (at the current time) is Sweet Baby Rays BBQ sauce, I also use it in my slow cooker sausages recipe.
Can I prepare these in advance?
Yes, definitely! In fact, they are better left to sit for at least a couple of hours, but they cook up fine immediately after being prepared.

You can prepare them up to 48 hours in advance without any trouble. Store them in the fridge in an airtight container.
Can I use large onions?
I would avoid using larger onions. Anything larger than 125-150g calls for a larger lump of meat in the middle which needs more cooking. This means that the bacon on the outside overcooks and risks becoming bitter.
Can I use back bacon?
I would not, back bacon cooks differently to thin-cut streaky bacon and because of this, it does not form a nice tight ball.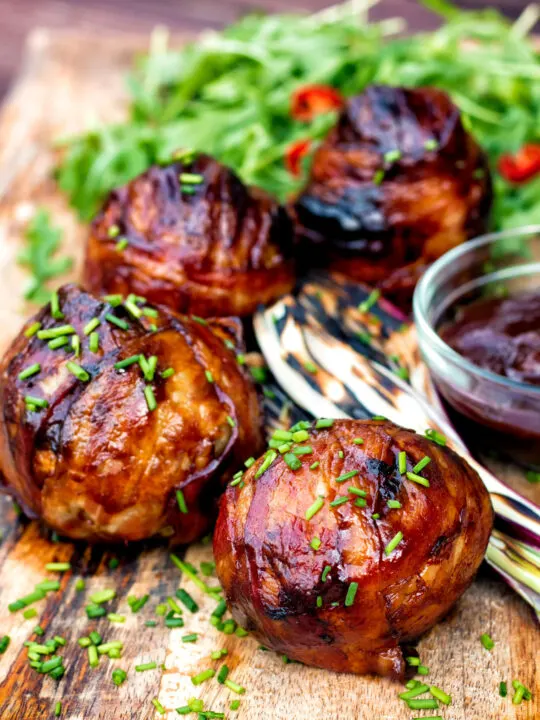 Serving Suggestions.
I tend to serve these with a nice salad, I like them with my lightly pickled cucumber salad. The sharpness and spice bounces off the sweet BBQ sauce really well.
They work just as well with my spicy mango salad for the same reason.
But they are just as good with something like a simple rocket or arugula salad.
If I am cooking this bacon-wrapped stuffed onions in winter then I almost always serve them with some air fryer potato wedges and some extra BBQ sauce.
If you wanted to try something a little different then these sweet potato fries would be perfect.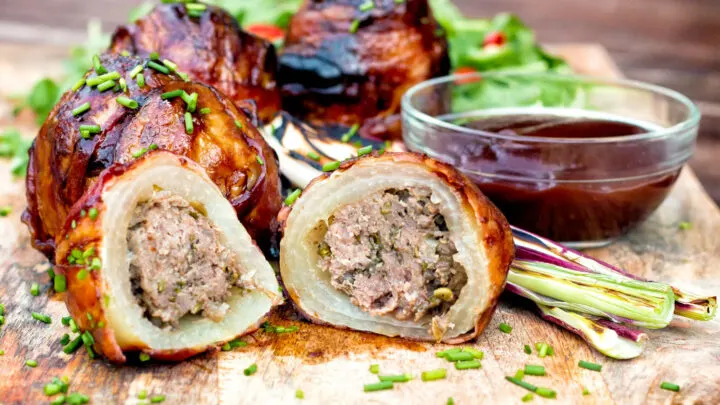 Equipment Used
I only name-check brands of equipment if I think they make a material difference to a recipe. But if you have any questions feel free to ask them in the comments section below the recipe.
Oven or BBQ.
Baking tray if you are cooking these in the oven.
Kicthen knife.
Small paring knife.
Chopping board.
Weighing scales and or measuring cups and spoons.
Mixing bowl.
Pastry brush.
Kicthen tongs.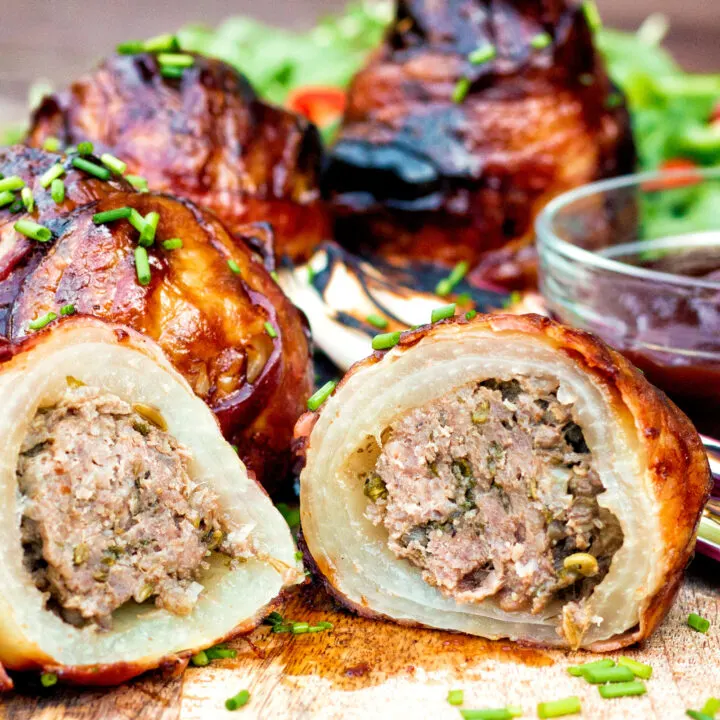 Yield:

2 Servings
Stuffed Onions wrapped in Bacon Recipe
Cook Time:
1 hour
15 minutes
Total Time:
1 hour
30 minutes
These bacon-wrapped stuffed onions are insanely good, a perfect beef meatball stuffed inside an onion, then wrapped in bacon.
Ingredients
4 (125g Each) Medium Onions
250g (9oz) Minced Beef
1 Tbsp Worcestershire Sauce
1 Chilli Pepper
1 Tsp Fennel Seeds
½ Tsp Dried Thyme
½ Tsp Salt
½ Tsp Black Pepper
125g (8 Thin Slices) Streaky Bacon
125ml (½ Cup) BBQ Sauce
Instructions
Top and tail each onion and then remove the skin.
Core each onion. I prefer the method of using a sharp paring knife as a 'drill', poke into the centre and twist. Repeat from the other cut side, then push with your thumb, the center should pop out.
Then use your fingers to work around the remaining onion until you leave a shell just 2-3 onions layers deep.
Coarsely chop a third of the removed onion and discard the rest. (Don't throw it away though, freeze it for stocks, stews or soups).
Mix the chopped onion with the minced beef.
Dice the chilli pepper as finely as you can and add it to the beef.
Throw in the Worcestershire sauce, thyme, fennel seeds, salt and pepper, then mix well.
Stuff the onions with the minced beef mixture.
Wrap each onion with 2 strips of streaky bacon.
Take half of the BBQ sauce and brush it over the bacon wrapped onions.
To Cook on a BBQ:
Add the onions to a hot grill and cook for an hour in an indirect heat 'zone' at around 160°C-170°C or 320°F-340°F.
Brush with the remaining BBQ sauce and move to the direct heat section of the BBQ for a final 5 minutes.
To Cook in an Oven:
Place the onions on a baking tray and place in a preheated oven at 170°C or 340°F and cook for an hour.
Remove the onions from the oven and then turn it up as hot as it will go, flip it to fan mode if you have that option.
Brush the onions with the remaining BBQ sauce and cook for a final 7-10 minutes or until nicely coloured.
Nutrition Information:
Yield:
2
Serving Size:
1
Amount Per Serving:
Calories:

772
Total Fat:

46g
Saturated Fat:

16g
Trans Fat:

1g
Unsaturated Fat:

22g
Cholesterol:

180mg
Sodium:

2928mg
Carbohydrates:

28g
Fiber:

4g
Sugar:

9g
Protein:

60g
Calorific details are provided by a third-party application and are to be used as indicative figures only.