This simple bacon wrapped pork tenderloin recipe is served with a fantastic lentil, pecan nut and cabbage side dish dressed with a mustard dressing.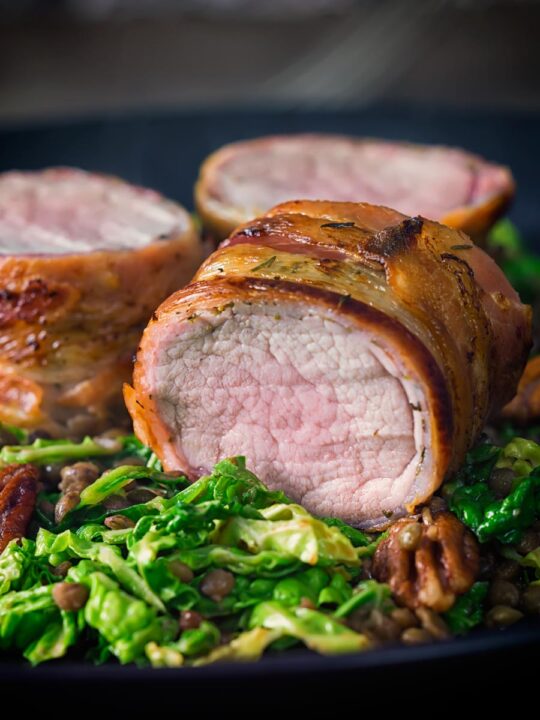 Bacon Wrapped Pork Tenderloin With Cabbage and Lentils.
The bacon wrapped pork tenderloin dish is surprisingly quick for a dinner recipe of this sort.
It features the classic flavour combinations of bacon, cabbage, and mustard, many would say classically Irish. But as a Brit from the heart of the Midlands these are as common to me as roast beef and horseradish.
Now I have a confession to make, I am rubbish at wrapping stuff, just ask my wife.
So when I say this call this a simple bacon-wrapped pork tenderloin, it is because it needs to be. To be honest it is more rolled that wrapped!
Pork tenderloin is a fantastic cut of meat, it is incredibly lean and tender which means it takes really well to quick cooking.
Whether it is bashed flat as in this pork and camembert recipe, or cooked in the oven like my roasted pork tenderloin with apricots or pork fillet with apple puree it never takes long to cook.
In fact, if you cook this for a long time it becomes tasteless and tough as old boots.
And let's face it wrapping anything in bacon makes it special, whether it is bacon wrapped cod or the British version of hunters chicken it is just magic!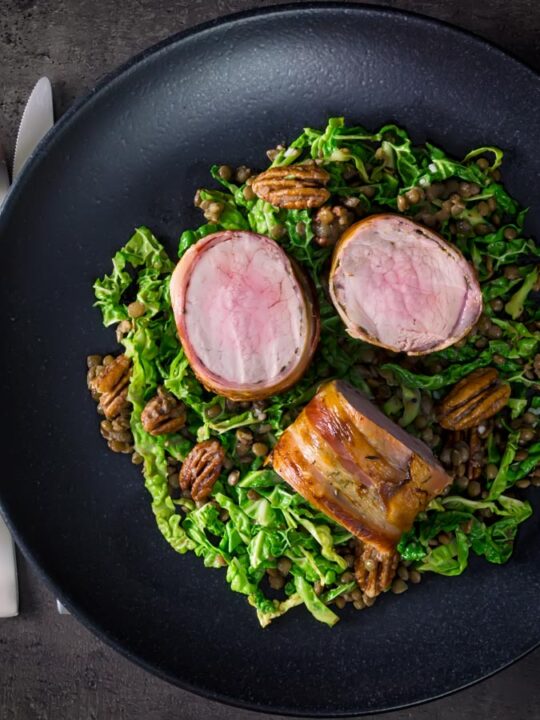 What Temperature Should I cook Pork Tenderloin?
For me that answer is hot! In this particular recipe, I cook at 200°C or 400°F for 20-25 minutes.
If I were to sear the meat as in this roast pork tenderloin recipe then I would cook at a lower temperature for a shorter time.
But as with all cuts of meat, this will vary depending on the specific piece of meat.
As you can see I like a little pinkness in my pork tenderloin when cooked like this.
As a result, I aim for an internal temperature of 63°C or 145°F. Factoring in a resting time I remove from the oven when the internal temperature reaches 60°C or 140°F.
Cooking like this guarantees absolute perfect results every single time, it is not difficult.
A meat thermometer really is one of the most important pieces of kit in the kitchen as far as I am concerned. Buy one, any one, I have no skin in this game! Seriously it will make your cooking better on day one!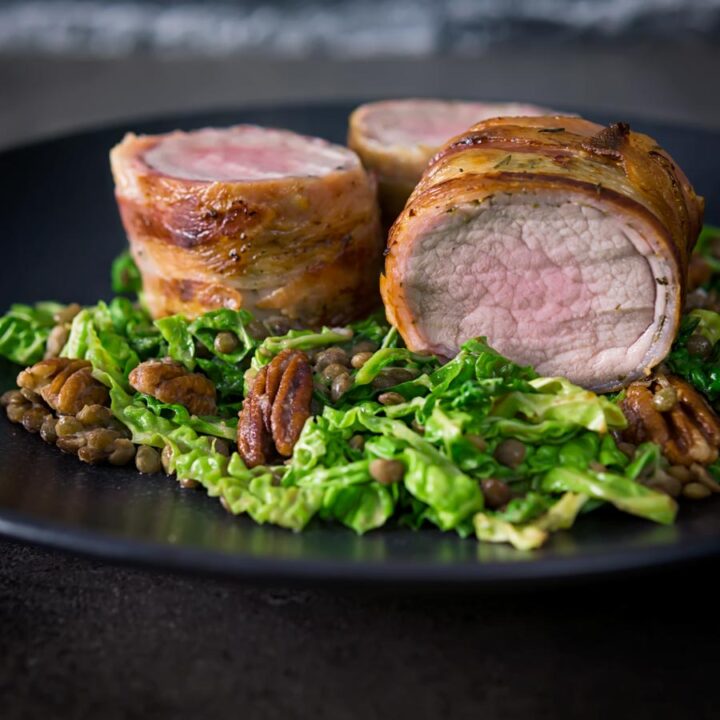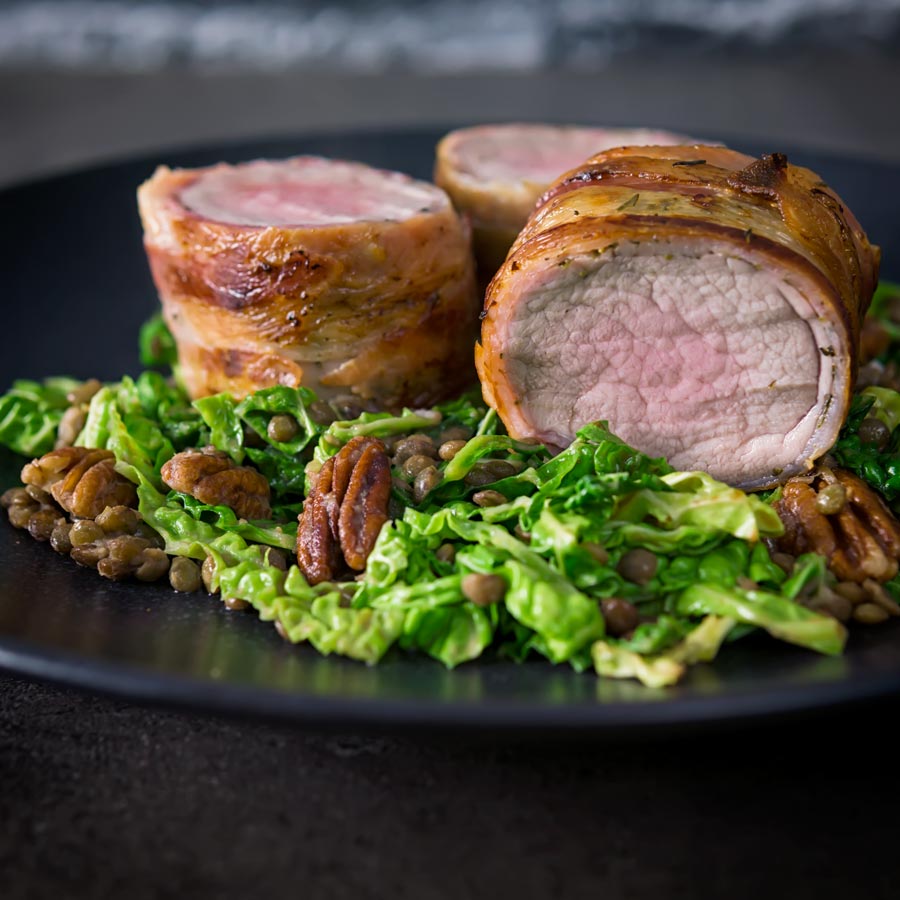 Lentil Side Dishes.
The side dish for this simple bacon wrapped pork tenderloin is a wonderful cabbage and lentil recipe.
It is simple, quick and it is the perfect match for the smokey bacon flavour of the pork tenderloin.
I love using lentils, as a side dish, they are often only seen as fillers for soups and stews. But choose the right lentils and they are earthy and have a great texture.
Like all lentils, you need to dress them whilst they are hot.
This recipe calls for savoy cabbage but you could swap it out for the white cabbage I use in this cabbage pasta recipe with no problems.
If you are looking for other ideas for lentil side dish recipes, check out this herb crusted salmon recipe. Or indeed this goats cheese puy lentil salad which if scaled down would make a fantastic side dish!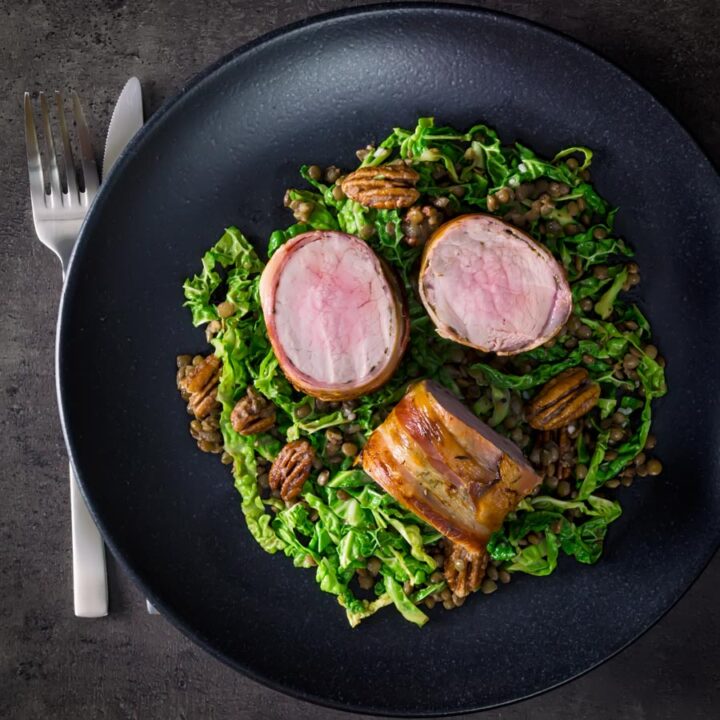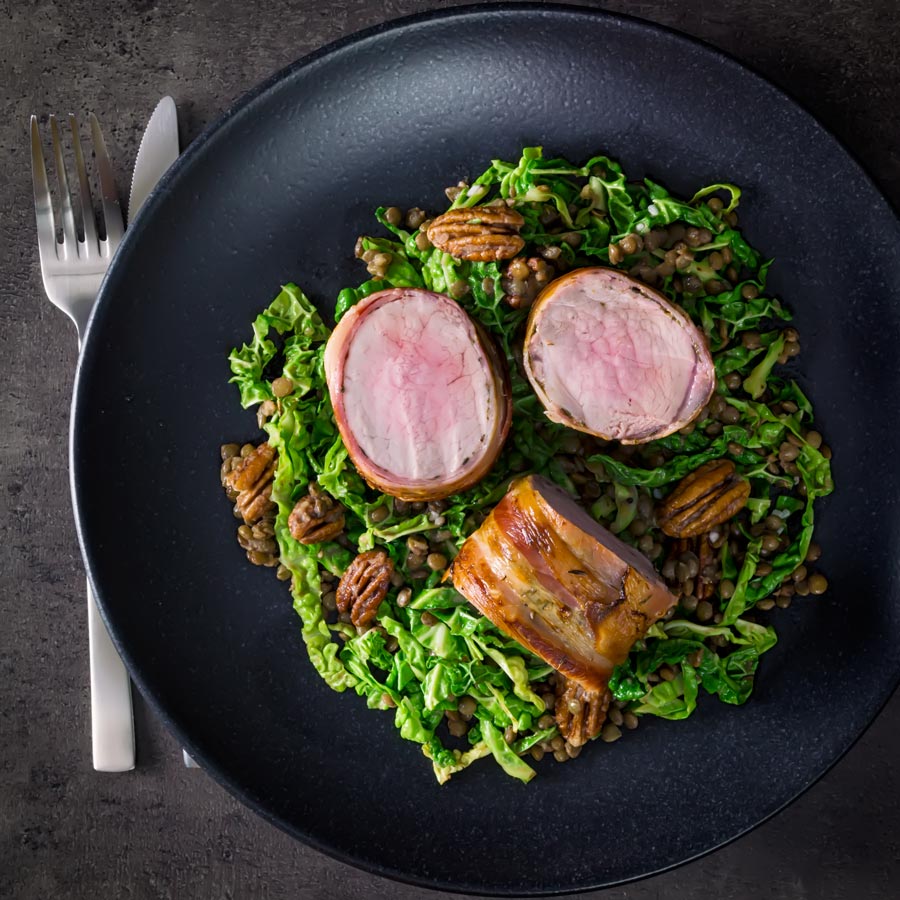 Yield:

2 Servings
Bacon Wrapped Pork Tenderloin With Cabbage and Lentils
This simple bacon wrapped pork tenderloin recipe is served with a fantastic lentil, pecan nut and cabbage side dish dressed with a mustard dressing.
Ingredients
For The Pork Tenderloin:
400 g Pork Tenderloin
1 Tsp Dried Thyme
1 Pinch White Pepper
100 g Smoked Bacon Rashers, Or enough to wrap the pork
For The Cabbage And Lentils:
75 g Puy Lentils, Sub for green lentils if you wish
100 g Savoy Cabbage
50 g Pecan Nuts
Salt and Pepper, To Taste
For The Dressing:
1 Tbsp Lemon Juice
3 Tbsp Olive Oil
2 Tsp English Mustard
1/4 Tsp Sugar
1 Pinch Salt and Pepper, Or to taste
Instructions
Preheat your oven to 200°C or 400°F.
Season the pork tenderloin with the white pepper and dried thyme.
Wrap in the bacon rashers, do not worry about salt the bacon will contain enough to season the pork.
Place the onion, garlic and bay leaf in a pan of water and bring it to the boil.
When boiling add in the lentils and reduce to a simmer and cook for 25 minutes.
Drop the bacon wrapped pork tenderloin in the oven and cook for 20 minutes.
Whilst this is cooking remove the stalk and then shred your cabbage and grab yourself a glass of something nice, we are nearly done!
When the pork is ready to come out of the oven, set it aside under a foil 'tent' to rest.
Pour off the bacon fat into a pan and heat over a medium high heat.
Add in the pecan nuts and toss to coat and then add in the cabbage and cook for 3-4 minutes tossing occasionally.
Now drain the lentils, discard the bay leaf, onion and garlic and add to the pan with the cabbage.
Mix together the ingredients for the dressing and add to the pan, taste then add more salt and pepper as required.
Carve the pork adding any of the resting juices back into the lentils, before serving.
Nutrition Information:
Yield:
2
Serving Size:
1
Amount Per Serving:
Calories:

943
Total Fat:

64g
Saturated Fat:

13g
Trans Fat:

0g
Unsaturated Fat:

48g
Cholesterol:

196mg
Sodium:

1115mg
Carbohydrates:

16g
Fiber:

7g
Sugar:

2g
Protein:

76g