Pork tenderloin is a fantastic lean and subtly flavoured cut of pork, taking just 15-20 minutes to roast this Miso and honey glazed tenderloin makes for a perfect midweek meal. And those quick pickles, you know they are the perfect side!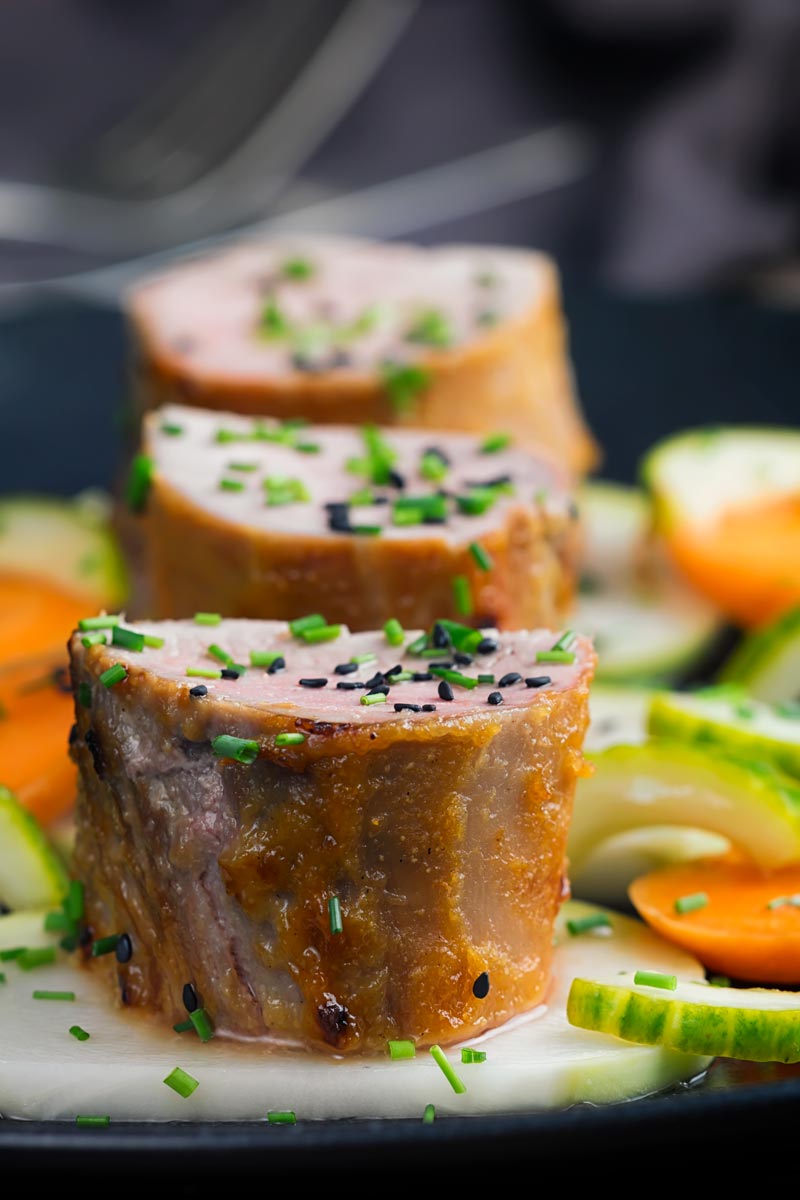 Miso and Honey Glazed Pork Tenderloin.
Pork tenderloin is no stranger here on my site. It is a cut of meat I often use when I am pressed for time as it cooks so quickly.
Like most lean cuts of meat it benefits from quick cooking and as a cut of pork it really does work better when left with a touch of pink.
It is succulent and so tender, but like most lean cuts of meat, it is not blessed with big flavour.
As a result, it is not a lump of meat to pair with big sauces, it can quickly get lost.
The sweet and salty honey and Miso combination here works with it perfectly. The pickles add a perfect sour element to deliver that magical trifecta of flavours, sweet, sour and salty!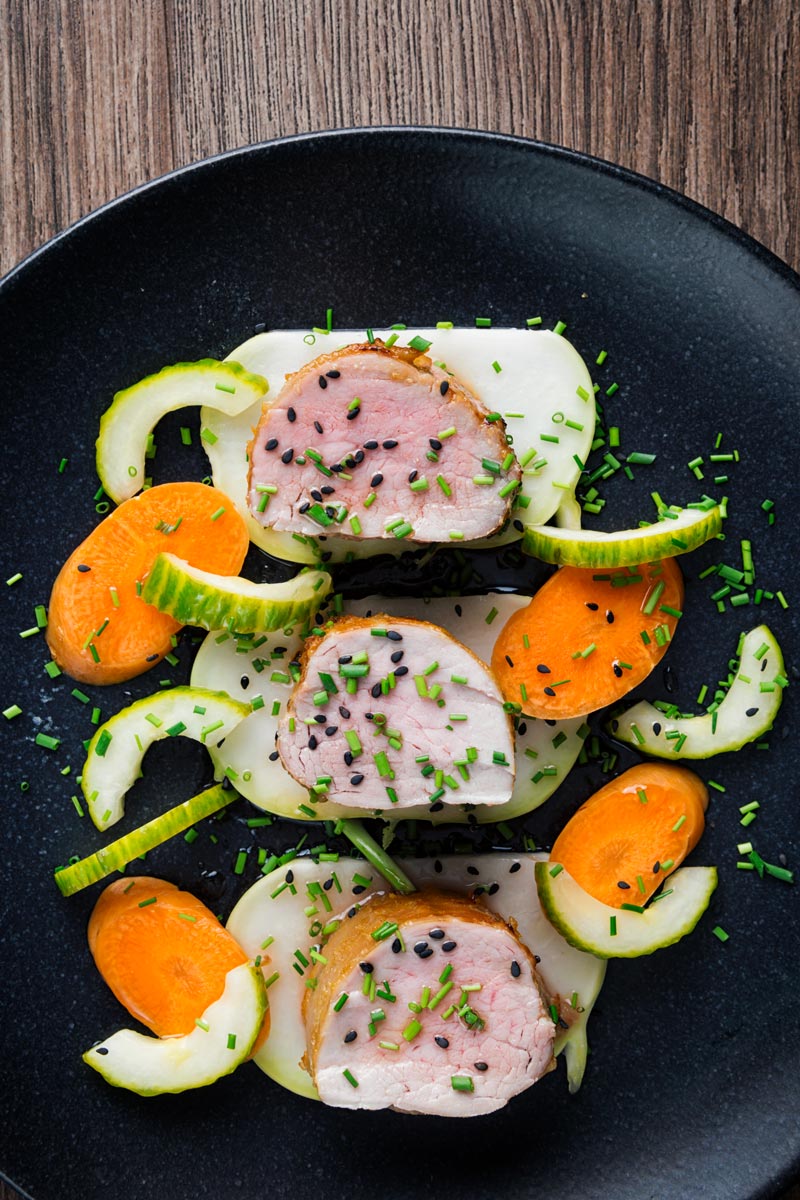 Cooking Pork Tenderloin.
Pork tenderloin is not to be confused with pork loin… The latter requires longer cooking and is the cut of meat used in this maple and mustard roast pork recipe. Tenderloin is also often called pork fillet.
Pork tenderloin will roast in about 12 minutes if seared prior to roasting like in this roast pork tenderloin with apricots and fennel.
Or it will take between 15 and 20 minutes if not seared like this honey glazed pork or indeed this roast pork fillet with apple puree.
As I mentioned above it needs to be served slightly pink as far as I am concerned. An internal temperature of 63°C or 145°F makes it perfect for me.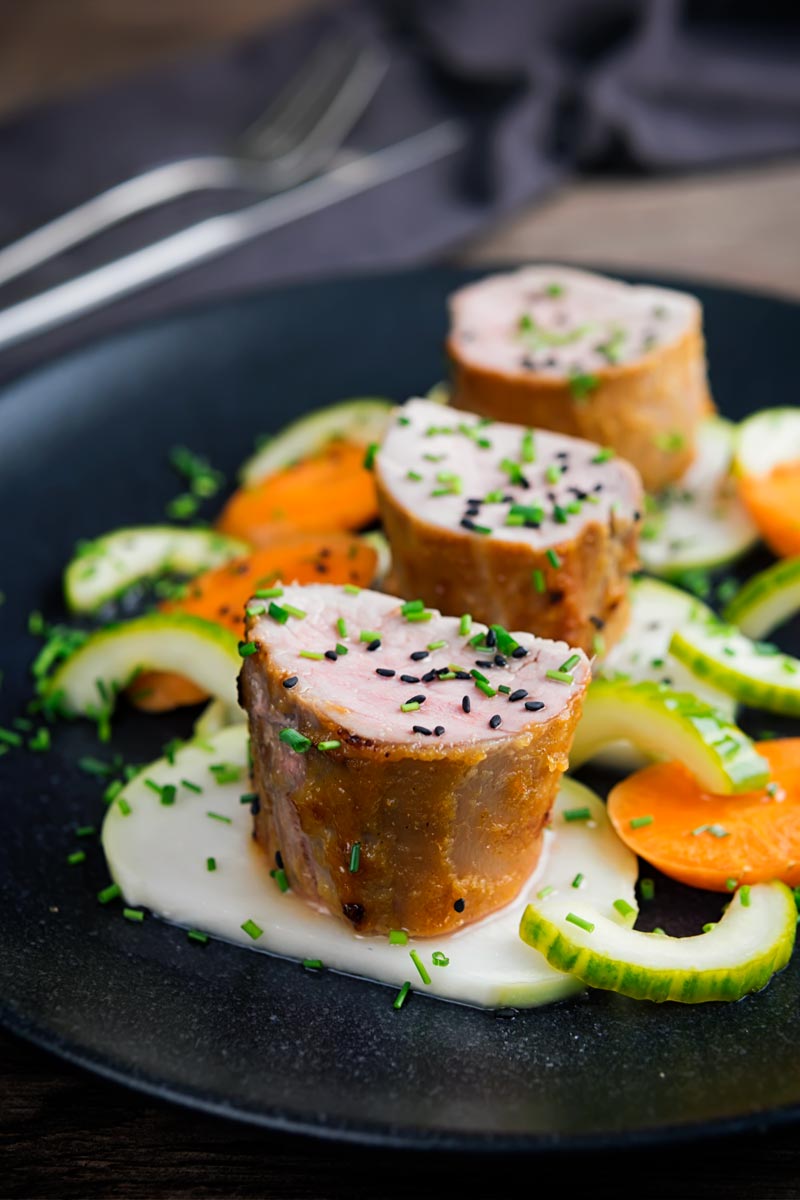 How to Use a Meat Thermometer.
Yes, I am back on the meat thermometer thing again! Buy one, it is not a suggestion but an instruction!
I have no skin in this game and am not going to promote a brand or get a kick back.
But I want to eat the best dinner I can cook, I want you to eat the best dinner you can cook. When it comes to roasting meat like this a meat thermometer offers foolproof cooking.
Simply stick the probe into the thickest part of the meat and take the temperature.
You want to take the meat out of the oven or pan when it is 3-5°C below the temperature you are aiming for as it will continue to cook.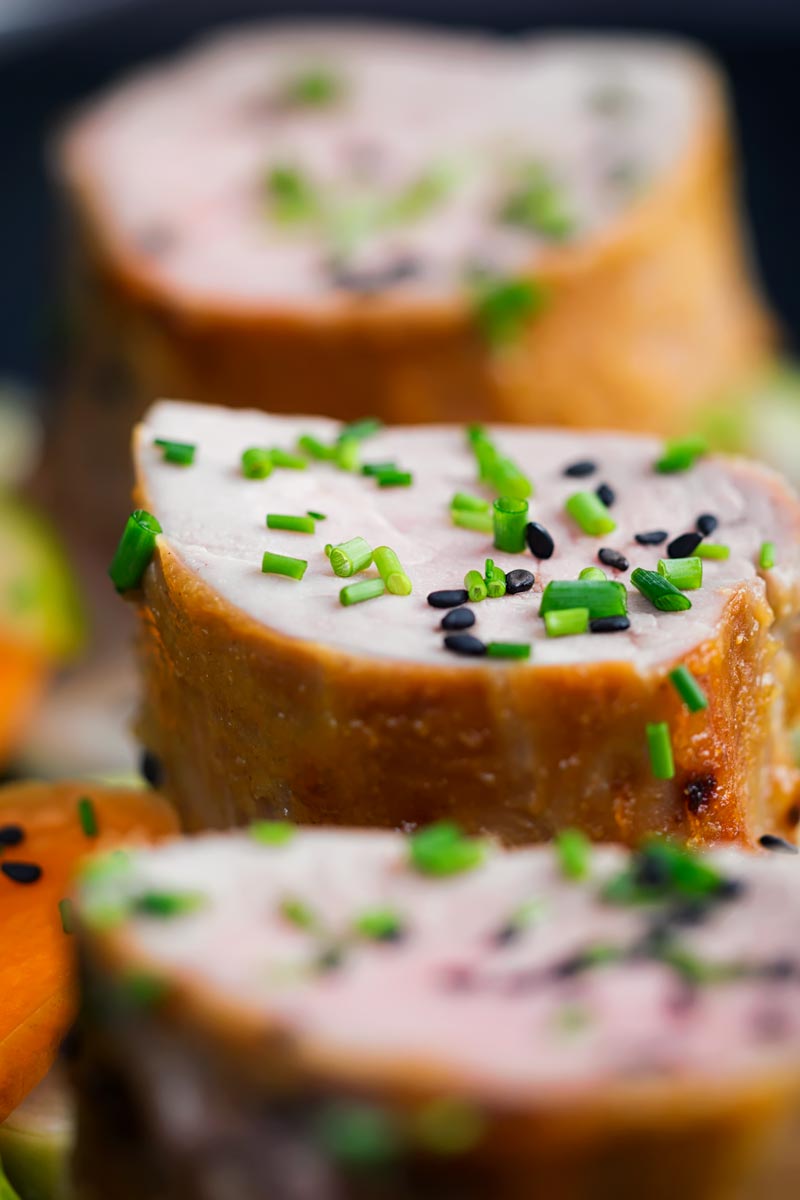 And the Pickles?
The pickles are a quiet star in this recipe. They are the perfect sharp balance to the Miso and honey glazed pork.
I have written at length about quick pickles on my site, so I will not repeat myself.
There are no secrets here, a salty, vinegar and sugar based brine and some good crunchy vegetables.
Carrots are among my favourite vegetables to pickle and if you have not tried kohlrabi you simply must hunt some down.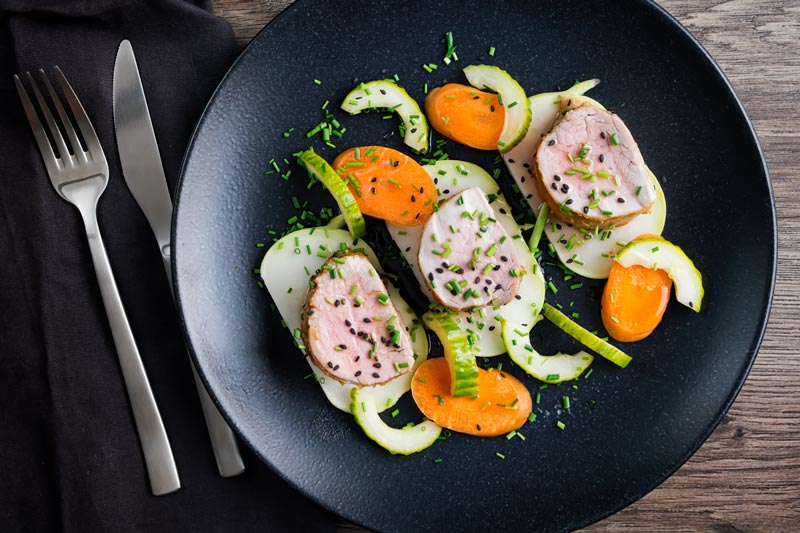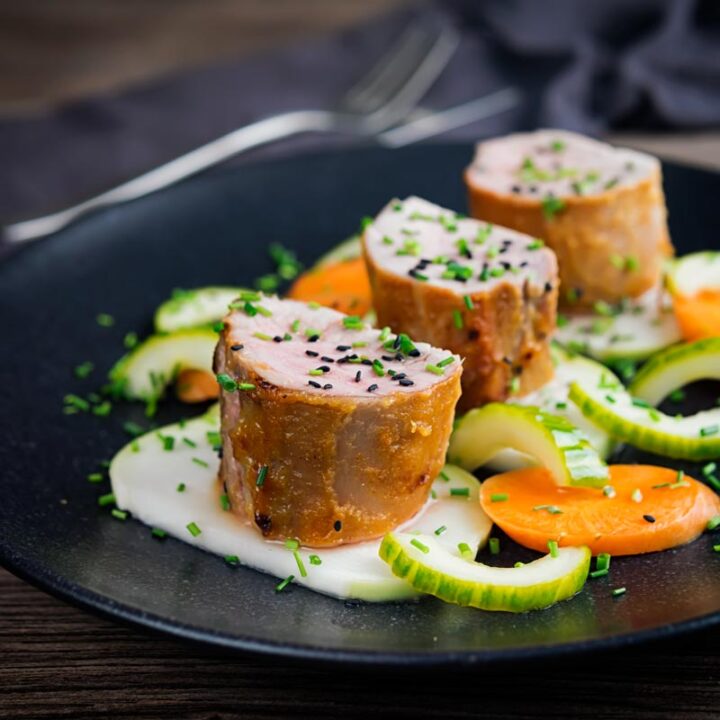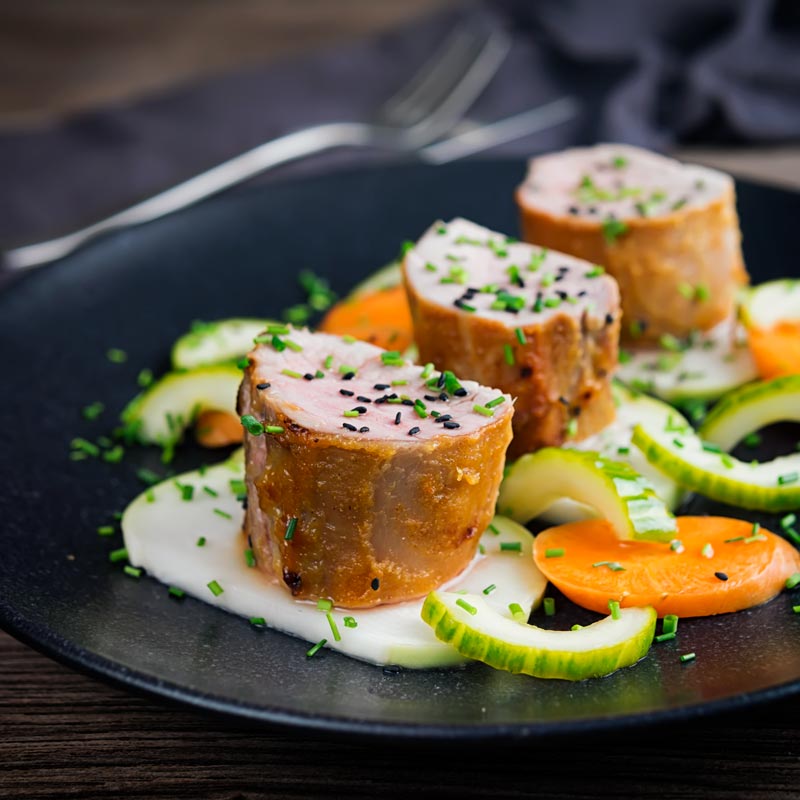 Yield:

2 Servings
Miso and Honey Glazed Pork with Quick Pickles
Miso paste adds a delicious savoury salty note to this simply roasted honey glazed pork tenderloin and it is served with some fantastic quick pickles to create a perfect light meal.
Ingredients
For the Miso Pork Tenderloin:
400 g Pork Tenderloin
50 g Honey
75 g White Miso
1/2 Tsp Garlic Powder
1/4 Tsp White Pepper
Salt to taste
For the Quick Pickles:
300 ml White Wine Vinegar
30g Sugar
1/2 Tsp Salt
200 g Kohlrabi
75 g Carrot
100 g Cucumber
To Dress:
Freshly Snipped Chives
Toasted Sesame Oil
Toasted Black Sesame Seeds
Instructions
Mix together the ingredients for the Miso pork together in a bowl.
Trim up the pork tenderloin removing any sinew.
Lightly salt the pork tenderloin, be careful not to add too much as Miso can be salty.
Spread the glaze over the pork and then start work on the pickles.
Place the sugar, salt and white wine vinegar in a pan and heat to dissolve the sugar. There is no need to boil, just ensure the sugar is completely dissolved.
Pour this mix into a bowl and allow to cool whilst you chop the vegetables.
Take one small kohlrabi and cut into 6 slices approximately 3mm thick.
Slice the carrot into 3mm slices on an angle.
Cut the cucumber in half length ways and then scoop out the seeds.
Cut the cucumber into half moon shapes around 5mm thick and then add to the cooled pickling liquid.
Place the pork tenderloin into the oven and cook at 200°C or 400°F for 15-20 minutes.
You want to remove the pork from the oven when the internal temperature reaches 60°C or 140°F for nice pink pork tenderloin.
When cooked remove the pork from the oven and tent with foil and allow to rest for 5 minutes.
Whilst the pork is resting remove the pickles from their liquid and dry.
After 5 minutes carve your pork into 6 evenly sliced slices and get creative with the plating.
Nutrition Information:
Yield:
2
Serving Size:
1
Amount Per Serving:
Calories:

721
Total Fat:

24g
Saturated Fat:

5g
Trans Fat:

0g
Unsaturated Fat:

17g
Cholesterol:

146mg
Sodium:

2142mg
Carbohydrates:

61g
Fiber:

9g
Sugar:

43g
Protein:

62g
Calorific details are provided by a third-party application and are to be used as indicative figures only.