Cherry Clafoutis is a classic French Dessert dating back to the 19th Century loaded with lovely Cherries I flavour mine with a hint of almond liqueur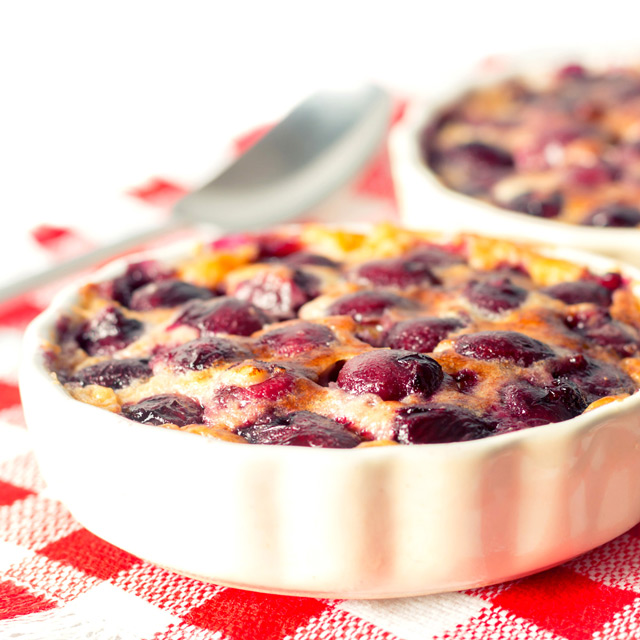 Desserts really are not my forte, I have a repertoire of hundreds of savoury recipes but not many when it comes to sweet stuff, although my Cherry Clafoutis is one that I kinda rock like a good un'. I am not too adventurous when it comes to desserts and tend to stick to fairly classical ideas with just a few twists and this Cherry Clafoutis is no different.
Although rather than rocking the kirsch as the liqueur I favour Amaretto. Because lets face it cherries just love almonds and I think it adds a lovely mellow flavour. Apart from that it is a fairly classical Clafoutis, my preference for serving with vanilla ice cream would be scoffed at by those in Limousin, where the Clafoutis apparently hails.
But it's my pudding and I'll have it as I want it. The batter or custard should be quite light and still have a little wobble when it is cooked, if you over cook it then it does have a tendency to go a little 'hockey puck'esque'.
It is not the first of my rare desserts that is inspired by our three cherry trees, I did a Cherry Bakewell last summer, yes that really is as often as I eat desserts. Thatrecipe also featured very similar flavour profiles.
This recipe calls for 250g of cherries, although if you are anything like me I suggest buying at least 500g… Why, because chefs perks and all that!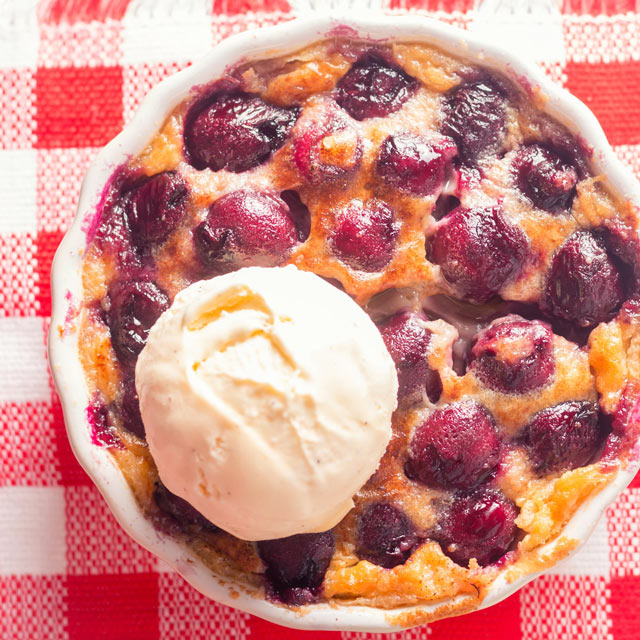 I am a sucker for cherries and will be found nibbling them constantly throughout the day. One of our trees is just 30m from our front door and will grab a handful everytime I take the dogs for a walk and another one when we return. Well they need using and not leaving for the starlings which seem to like them even more than I do!
We often end up with far more than we can use in any sensible way, I naturally make jams and even pickle a few cherries but realistically if you have cherry trees there is always a surplus. What to do with to many cherries, apart from Cherry Clafoutis of course is a major concern. I deal with it in a way that is truly fitting, turn them into wine!
A simple task of crushing, pressing adding a little brewers yeast, allow to ferment and bottle, allow to sit for 6-8 months and consume. I may have lied a little when I mentioned 500g of cherries, I was actually climbing trees today collecting ingredients for todays Cherry Clafoutis recipe. That and a wee drop of Chataux Jones Cherry 2016 as my wife captured in the image below.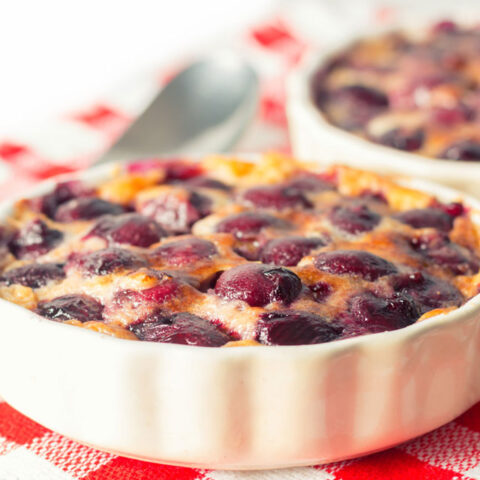 Yield:

2 Servings
Cherry Clafoutis
Cherry Clafoutis is a classic French Dessert dating back to the 19th Century loaded with lovely Cherries I flavour mine with a hint of almond liqueur
Ingredients
250 g Cherries, Cleaned and pitted a traditional clafoutis does not pit the cherries but I can't be doing with spitting at the dinner table, use an olive or cherry pitter
2 Tbsp Amaretto, Many people use kirsh but lets face it cherries lurve almonds
1 Tbsp Soft Brown Sugar, Plus extra to line the bowls
1 Egg
50 g Plain Flour
30 g Sugar
125 ml Milk
1 Tbsp Butter, Melted
1/2 Tsp Vanilla Essence
Instructions
After pitting the cherries mix them with the Amaretto and the one tablespoon of sugar and allow them to steep for a couple of hours.
Now mix together the egg, sugar, milk, melted butter and vanilla essence to form a batter, I have heard of all sorts of complicated ways to do this I find, chucking in a bowl and mixing is fine a few small lumps are not an issue.
Preheat your oven to 180°C.
I use two 12cm individual faln bowls for this dish that are about 3cm deep.
Grease the bowls with butter then sprinkle with brown sugar and spin around to line the bowls with a sugary coating.
Now layer in the cherries with any juice.
Then pour over the batter and place in the oven for between 25-30 minutes, the batter should be cooked with just a little wobble in the centre.
Allow to cool a little before serving.
Notes
Far from being traditional I like to serve my Clafoutis with a scoop of vanilla ice cream, I love that hot and cold dessert 'thing'!
Nutrition Information:
Yield:
2
Serving Size:
1
Amount Per Serving:
Calories:

573
Total Fat:

15g
Saturated Fat:

8g
Trans Fat:

0g
Unsaturated Fat:

6g
Cholesterol:

177mg
Sodium:

188mg
Carbohydrates:

92g
Fiber:

4g
Sugar:

58g
Protein:

13g