Fresh salmon risotto is a delicious and nutritious all year round meal, my version adds fennel seeds for an anise flavour, sweet peas & lemon.
Poaching the salmon in the stock that we use to make the risotto amp up the essence of salmon through the dish and the peas complement that perfectly.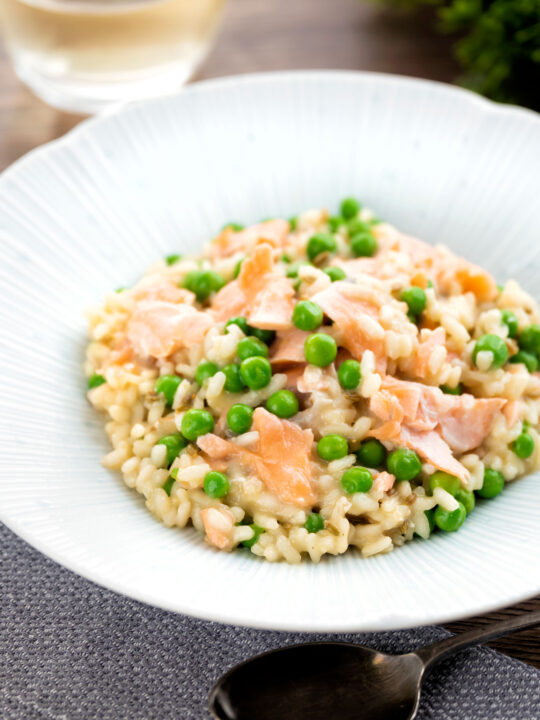 Light Fish Risotto.
If you say fish risotto the chances are pretty high that the first thought leap to seafood, and something like a prawn risotto.
However seafood risotto ain't the only "frutti de mare"!
In the past, I have made a smoked mackerel risotto with peas and chilli to create a bold and punchy dish. Smoked haddock risotto is a pretty well-trodden classic.
This fresh salmon risotto is instead more about simple clean flavours and elegance.
We poach a salmon fillet in the stock that we use to cook the risotto to extract the maximum flavour.
Then we simply add fennel seeds, sweet garden peas and some lemon.
After that it is straight up and down classic risotto making all of the way!
Yes, it takes a little time, but there ain't nothing easier, keep lubricating the rice and keep lubricating the chef.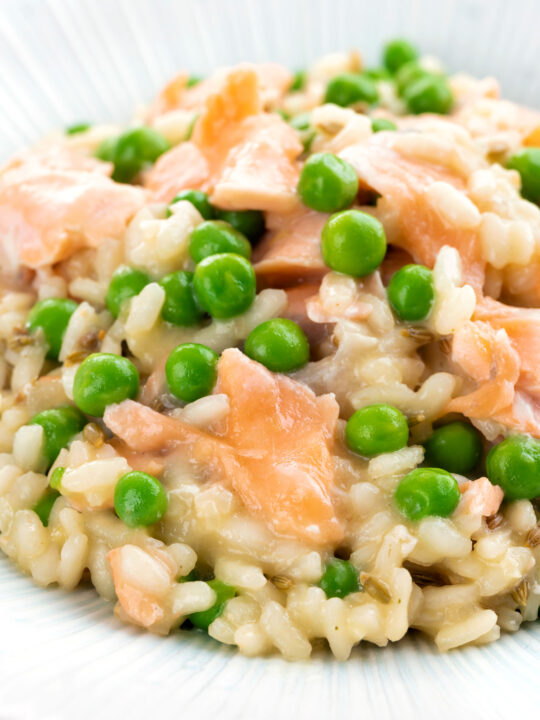 Frequently Asked Questions.
Can I use other types of risotto rice?
Yes. I test all of my recipes with arborio rice because generally speaking it is the easiest type to find.

Many, me included, think that carnaroli is a better variety but much more difficult to source depending on where you are.

As with all risotto recipes you need to play a part in deciding when things are done.
Do I have to use skin on salmon?
No, although it is better if you do.

It adds both flavour and a small amount of oil to the dish.

It also helps hold the salmon together as it is gently poaching, it is a similar technique to the one that I use in my salmon chowder recipe.
The salmon is undercooked after poaching, is that wrong?
No, the salmon is meant to be undercooked in the centre.

We are just giving it a head start, we will flake it and then lay it over the risotto. It will finish cooking very gently during the resting period.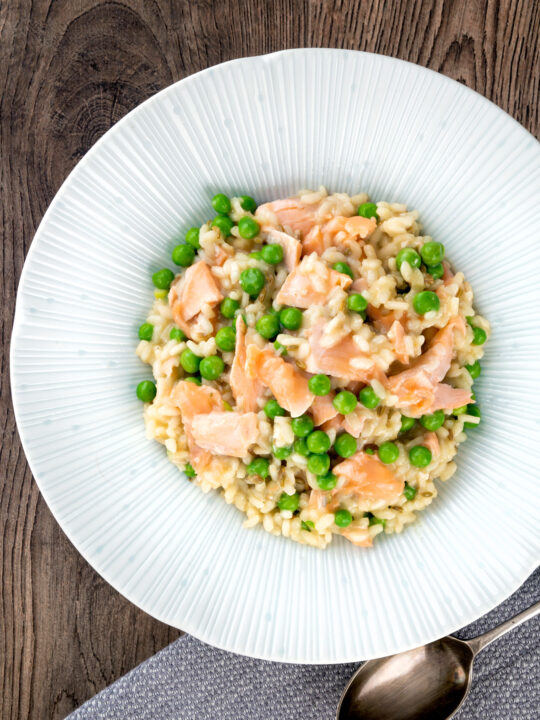 Serving Suggestions.
As far as I am concerned, risotto is a one bowl meal… Nothing else is required, other than a spoon of course.
Many people like to eat it with garlic bread, I think it is a bit too pokey for this recipe. But it is your dinner, you should go for it if it is your mojo!
If I were to add anything to this easy salmon and pea risotto it would be a poached egg, just sit it on top before serving.
Then stir through the yolk after you pop that bad boy open and tuck in.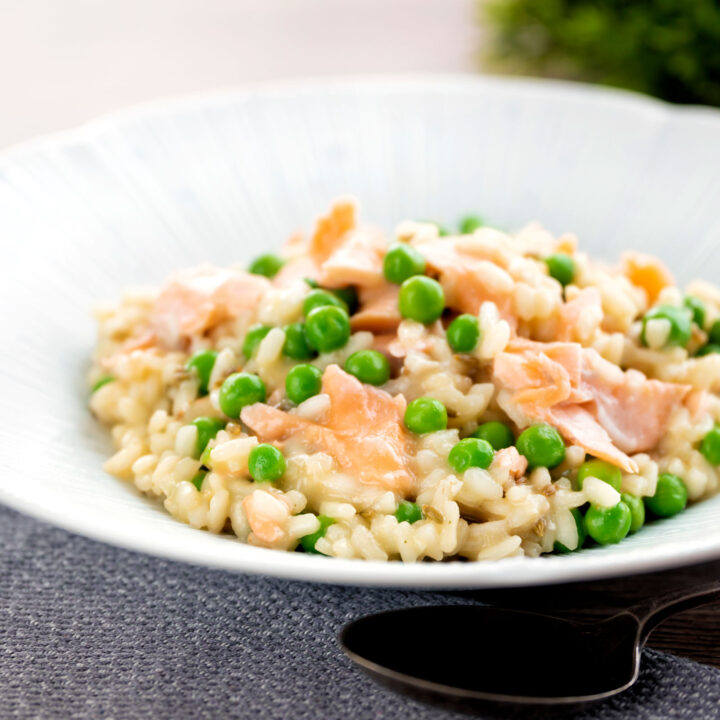 Yield:

2 Servings
Salmon Risotto Recipe
This simple salmon and pea risotto gets a lift from lemon zest and juice as well as fennel seeds to create a delicious healthy meal.
Ingredients
250g (9oz) Salmon Fillet
500ml (2 Cups) Fish or Vegetable Stock
150g (3/4 Cup) Arborio Rice
30g (2 Tbsp) Butter
1 (Around 35g) Shallot
1 Garlic Clove
1 Tbsp Fennel Seeds
125ml (1/2 Cup) White WIne
150g (1 Cup) Peas
1 Lemon
Salt to Taste
Instructions
Bring the stock to the boil and then add a lid and reduce the heat to low.
Taste the stock and add salt if required, your stock should be really quite salty as it is needed to season both the rice and the salmon.
Add the salmon to the stock and poach for 7 minutes, then remove and set aside.
Dice the shallot and garlic clove as finely as you can.
Heat a wide based pan over a medium high heat and add the butter.
When it begins to foam add the shallot, garlic, and fennel seeds and soften for 2 minutes, stirring occasionally.
Pour in the risotto rice and toast it in the butter for 2 more minutes stirring regularly.
Pour over the white wine and stir until almost all of the wine has disappeared.
Reduce the heat to medium.
Add the stock we cooked the fish in a little at a time, stirring regularly adding more once the pan is once again almost completely dry.
Begin with around 75ml of stock, as the rice cooks you can add more stock at a time.
Keep going until the rice is almost cooked and the risotto is creamy. *See note*
Whilst you are cooking the risotto place the peas in a sieve and run under cold water to defrost them.
Remove the skin from the salmon and then break up with your hands into large flakes.
Zest the lemon.
When cooked stir the peas and lemon zest through the risotto and then add the flakes of salmon to the top.
Add a lid and allow to rest for 3 minutes.
Gently stir through the salmon, have a taste, and squeeze in some lemon juice to taste.
Notes
Many people like the risottos a different consistency, I like mine to "flow". That means it should stay separate when you drag through a wooden spoon but it should start to flow back slowly to fill the channel before resting.
Nutrition Information:
Yield:
2
Serving Size:
1
Amount Per Serving:
Calories:

618
Total Fat:

29g
Saturated Fat:

11g
Trans Fat:

0g
Unsaturated Fat:

15g
Cholesterol:

111mg
Sodium:

888mg
Carbohydrates:

43g
Fiber:

6g
Sugar:

8g
Protein:

35g
Calorific details are provided by a third-party application and are to be used as indicative figures only.