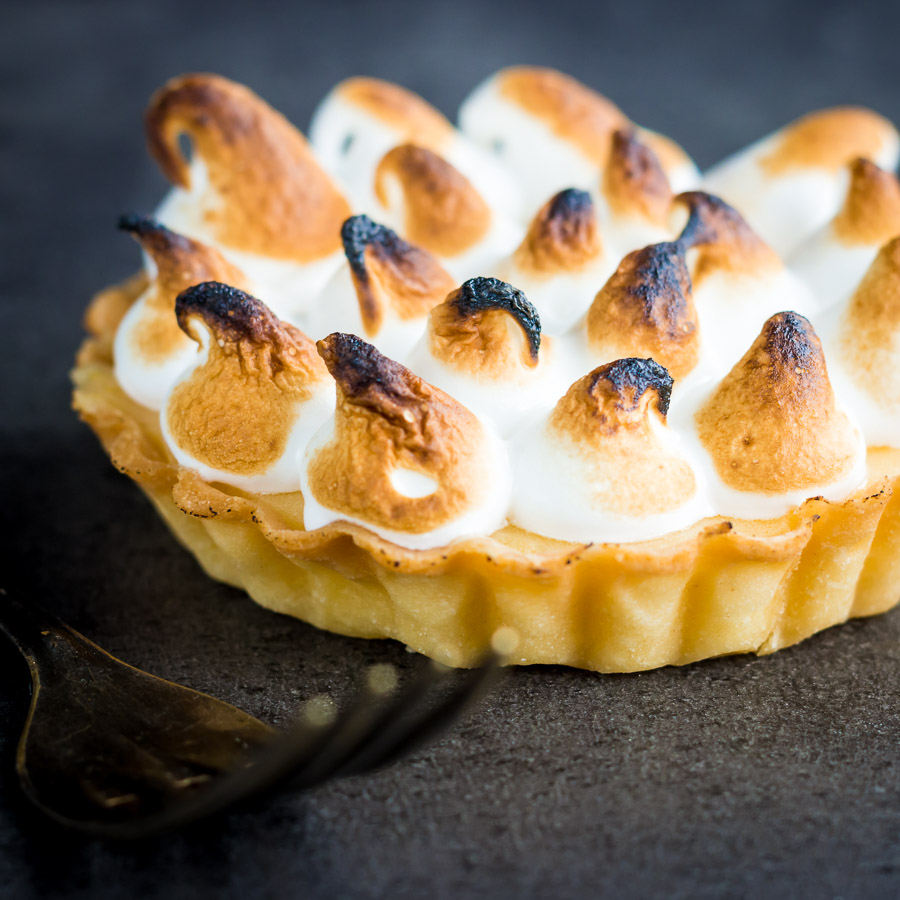 Individual Lemon Meringue Pie.
As a child Lemon Meringue pie was always a special treat and as a result it still very much feels that way today. My version breaks down a classic lemon meringue pie and turns it into individual tarts but by all means you could turn this into a large tart should you wish.
I am often frustrated by dessert recipes I find on line because they are huge, often developed for 6-8 people rarely for four and heaven forbid for two.
Surprisingly this recipe is for four but you can make it an 'ensemble' dish and make two tarts on one day and then make up two tarts on another day. However the key to achieving this is to ensure that you do not leave the lemon mix in the tart case over night as it will go soggy.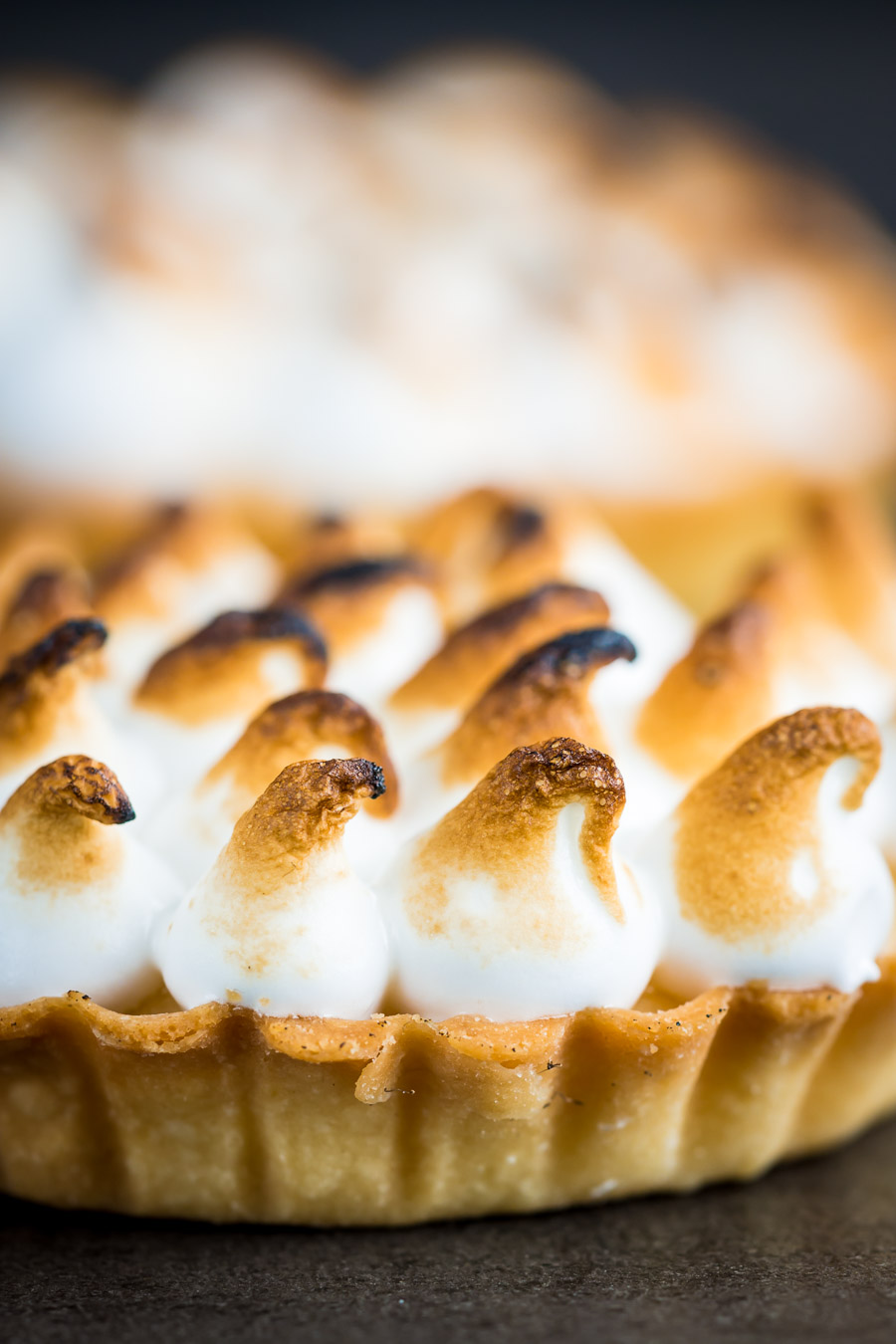 Blow torch and Italian Meringue.
Growing up my Mum would always put the lemon meringue pie in the oven to cook with a classic meringue, however I prefer an Italian meringue. Not least because it means I get to play with my non cheffy blow torch, seriously it is a plumbers torch, but also because it is my favourite.
Italian meringue when done well has that almost melted marshmallow texture, obviously that is a very good thing! But also 'cooking' it with a blow torch means that you get the inevitable scorched parts on the meringue that you just don't get in the oven adding a lovely bitterness balanced against the sweet and sour.
Whilst I am on the subject of balance ever aspect of a lemon meringue pie is equally important, you need the sharpness of the lemon to match up to the sweetness of the meringue.
In fact in many ways each component should be a little 'too much' on their own, relying on each other to create a zen like level of balance in the dish.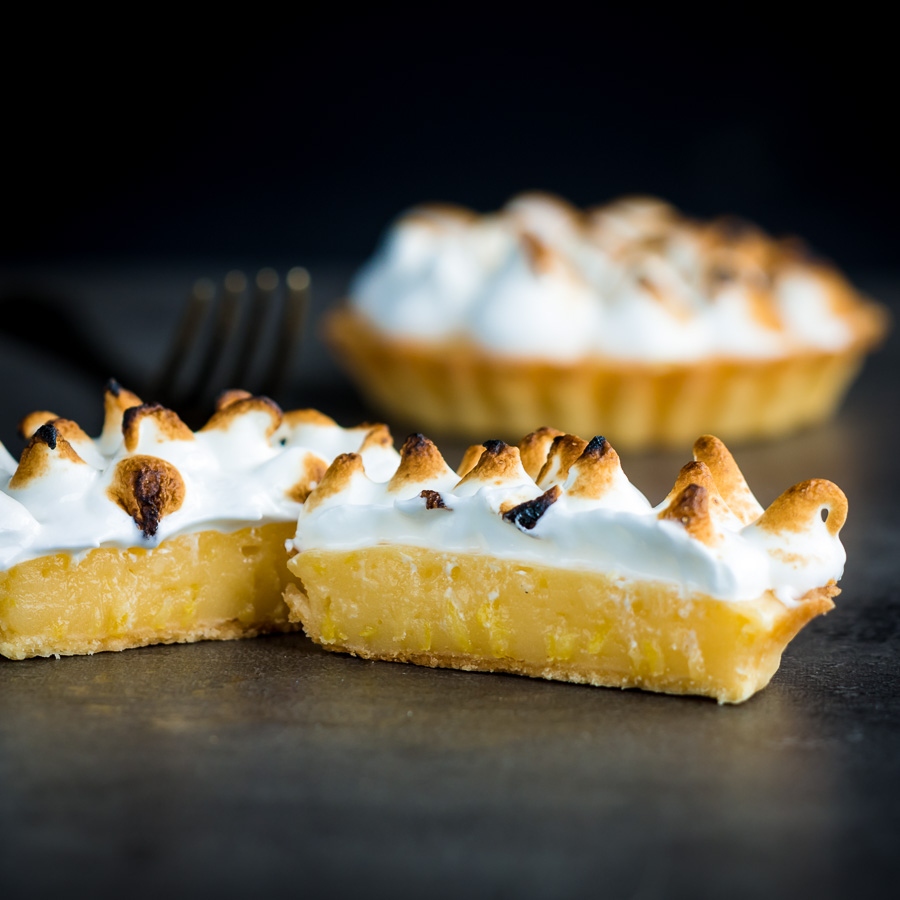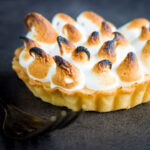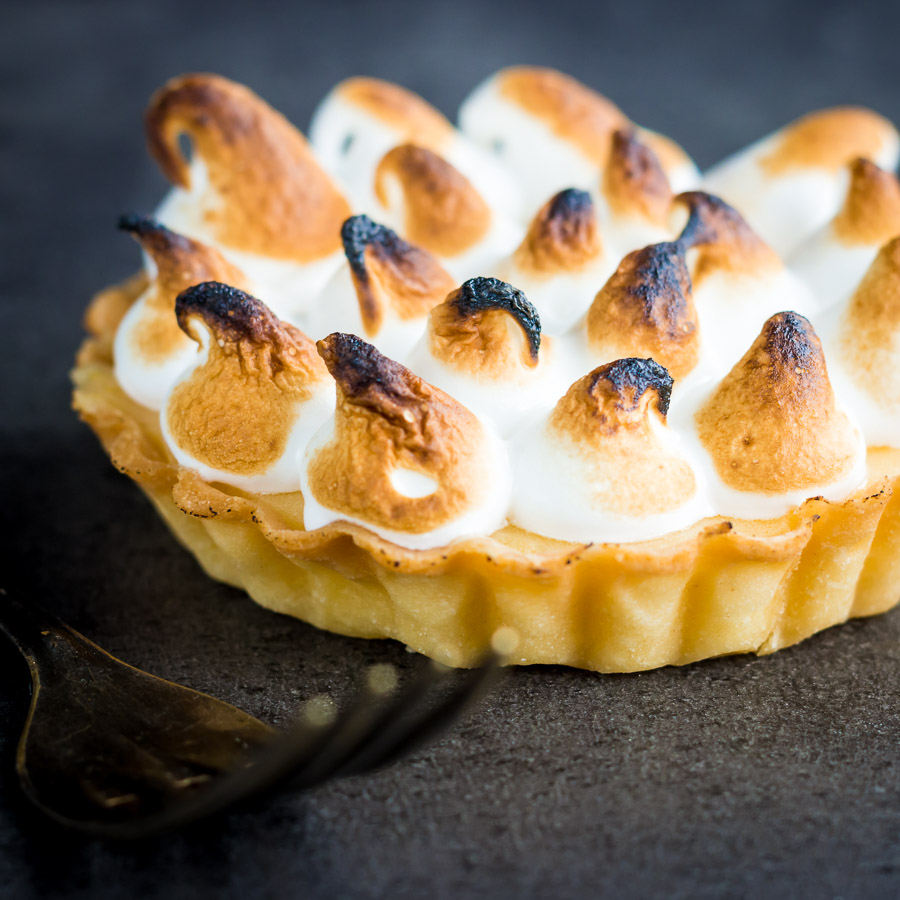 Individual Lemon Meringue Pie
Lemon meringue pie was a real treat when I was growing up and still is one of my favourite deserts, these individual pies are designed for the smaller family or greedy couple... My wife and I are the latter 😉
Ingredients
For the Pastry:
225

g

Flour.

175

g

Butter.

50

g

Powdered Sugar.

1

Large

Egg.
For the Lemon Custard:
3

Egg Yolks.

125

g

Sugar.

3

Lemons.

Zest and Juice.

35

g

Cornflour:

Cornstarch in the US.

225

ml

Water.
For the Meringue:
175

g

Sugar.

90

ml

Water.

3

Egg Whites.
Instructions
Begin by bringing together the ingredients for the flour and butter for the pastry, I find a food processor good for this.

Add in the egg and powdered sugar and blitz until a ball is formed, wrap in cling film and chill for 30 minutes.

After the pastry has chilled roll out to 3mm-4mm thick on a floured work surface.

Cut out a circle wide enough to fill your four tart cases with lots of overhang.

Now line your cases (4X 10cm) using a spare bit of pastry to push into the corners without stretching the pastry too much.

Return to the refrigerator for another 30 minutes to chill.

Heat your oven to 180°C 350°F before lining your pie cases with baking parchment and pouring in some baking beans.

Bake for 15 minutes, then remove the parchment and beans and bake for another 5 minutes.

Remove from the oven and allow to cool for 10 minutes before trimming the excess pastry and turning the oven down to 170°C or 340°F

Bring the 225ml of water to the boil on the stove and whilst it is coming to temperature whisk together the cornflour, lemon zest and lemon juice.

When your water is boiling reduce the heat and whisk in the cornflour and lemon mix until it begins to thicken, this should take 2-3 minutes.

When this is done whisk together the egg yolks and sugar for the lemon custard and pour in a little of the hot lemon mix to loosen.

Now pour the loose egg mix into the the lemon and cornflour mix and keep on whisking for 3-4 minutes.

Decant this lemon mixture into your pie cases and make for 15 minutes or until set.

Finally we are going to make an Italian meringue, put 90ml of water and 180g of flour in a pan and bring to a rolling boil, or soft ball as it is known. You will need a sugar thermometer for this and cook until it reaches 117°C or 240°F.

Whisk this is happening whisk your egg whites.

Once your sugar syrup reaches temperature pour it into the egg whites as they are being whisked and continue to whisk on high until they cool.

Place into a piping bag and pipe onto your pies.

Place under a grill to caramilise or use a blow torch, I prefer the latter because... Well it's a blow torch... RAH!