Balsamic vinegar really does make the flavour of strawberries pop and so this balsamic strawberry crumble is a strawberry delight, try it, seriously!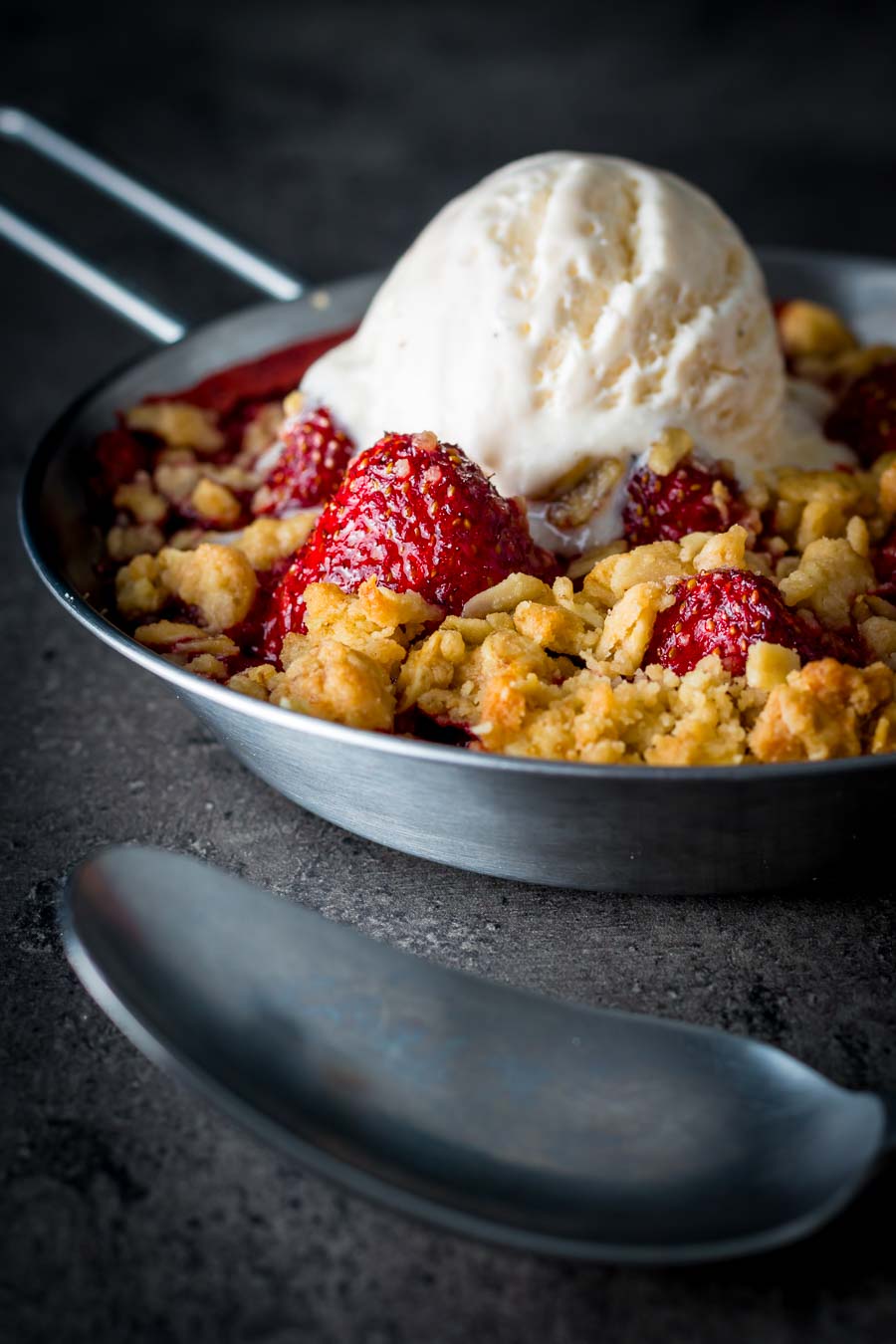 Balsamic Strawberry Crumble.
DESSERT ALERT PEOPLE… Ok so now I have your attention, I present to you a balsamic strawberry crumble recipe!
I am fond of sweet things in my savoury dishes, check out my pineapple curry, but I also quite like savoury things in my dessert recipes too.
In all fairness, the combination of balsamic and strawberries is pretty classic.
In fact, there are two quite surprising ingredients that make the flavour of strawberries pop. The first is balsamic vinegar and the second is black pepper. You really should try them both.
Regular readers will know that I don't share that many desserts here. Primarily because we really don't eat all that many. Because of that, they take a long time for me to work on and as a result, they all tend to be pretty classical.
This Strawberry crumble is a slight leap away from that but boy is it good. The crumble is fanbloodytastic and I may or may not have made more than the recipe required so I could munch it as I was going.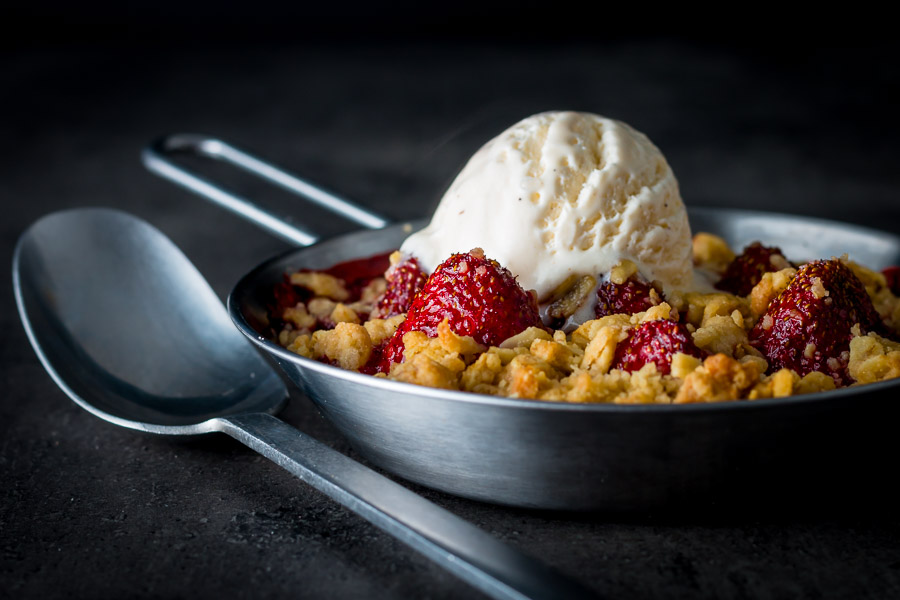 Summer Strawberry Recipes.
I have to say I really am struggling to get on board with the whole strawberries in savoury dishes.
For some odd reason, I am seeing them in all sorts of salads and I even tried a couple at a recent food festival I went to. They really are not for me.
I think strawberries should stick to desserts and sweet treats, even if those desserts have a splash of savoury!
Strawberries are the very epitome of summer if you ask me with this elderflower panna cotta with strawberry coulis being a prime example of that.
This strawberry crumble recipe is perfect for extending summer.
"How" I hear you scream! Well did you know that you can freeze strawberries?
Well, you can! Structurally they kinda collapse after freezing so are best used in jams and sauces. But they also work really well in this strawberry crumble recipe.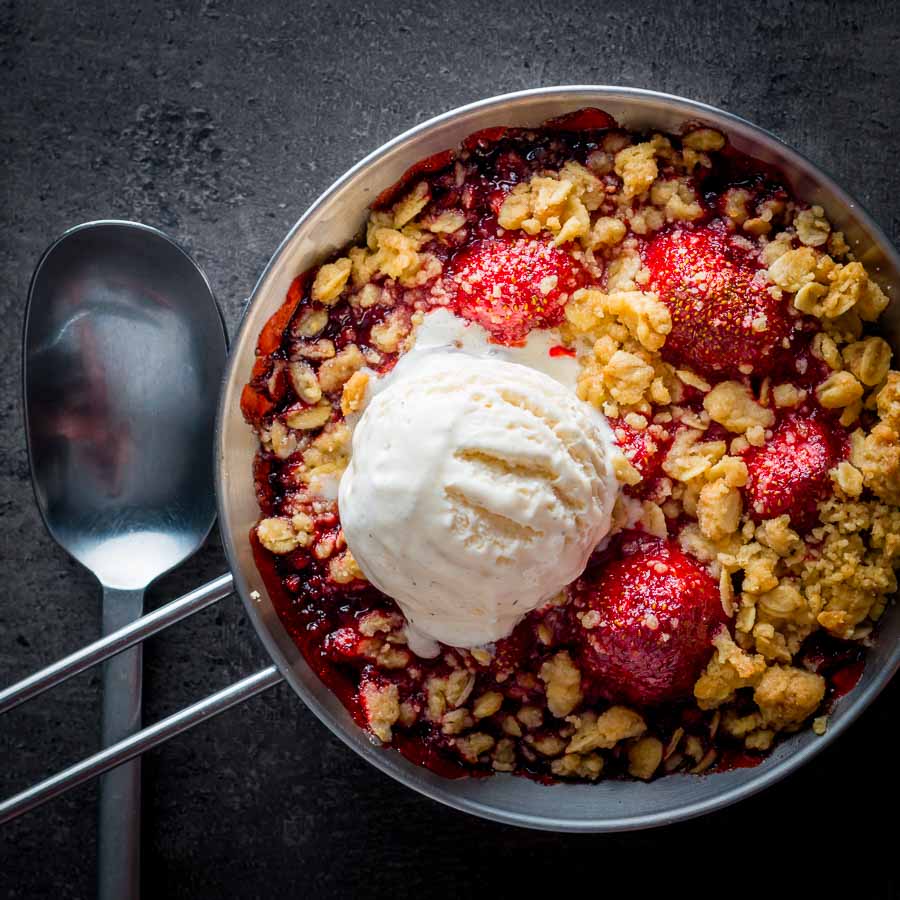 The Perfect Crumble Topping.
I'm not sure about you but a crumble topping when I grew up was a basic affair.
Sugar, butter, and flour, now there ain't nothing wrong with that but I love adding oats. They add a wonderful crunch to the crumble that I love.
This recipe takes a very different approach to cooking a crumble. Rather than combining everything and chucking it in the oven I like to get things going separately.
It adds a little extra time but not a great deal, in fact, the whole thing is ready to rock and roll in less than half an hour. You can speed this up by making the perfect crumble topping in advance. It can even be frozen and kept all winter for quick and easy crumble recipes.
It also works really well from a timing point of view too. With everything dovetailing really nicely together with no stress as you can see in the video…
You can and probably should be enjoying a nice post dinner glass of wine whilst making this strawberry crumble, in for a penny in for a pound!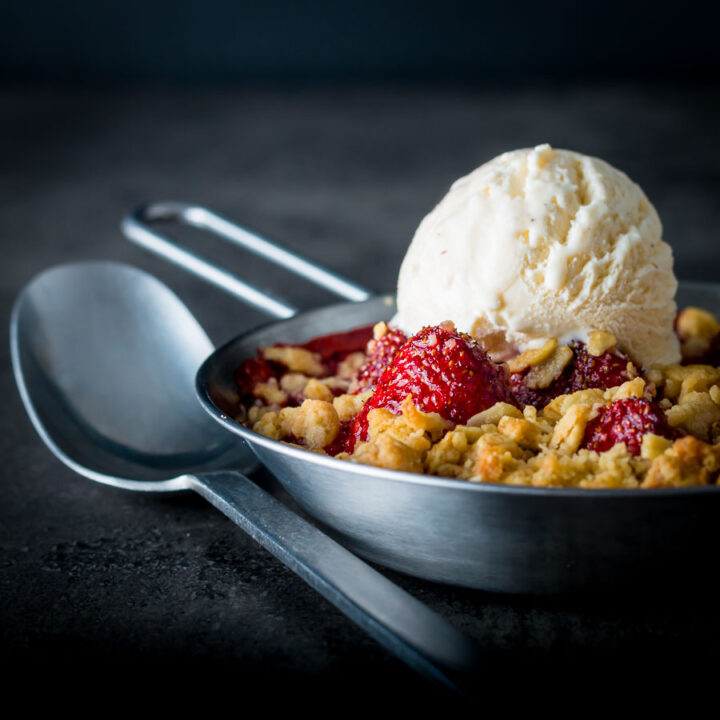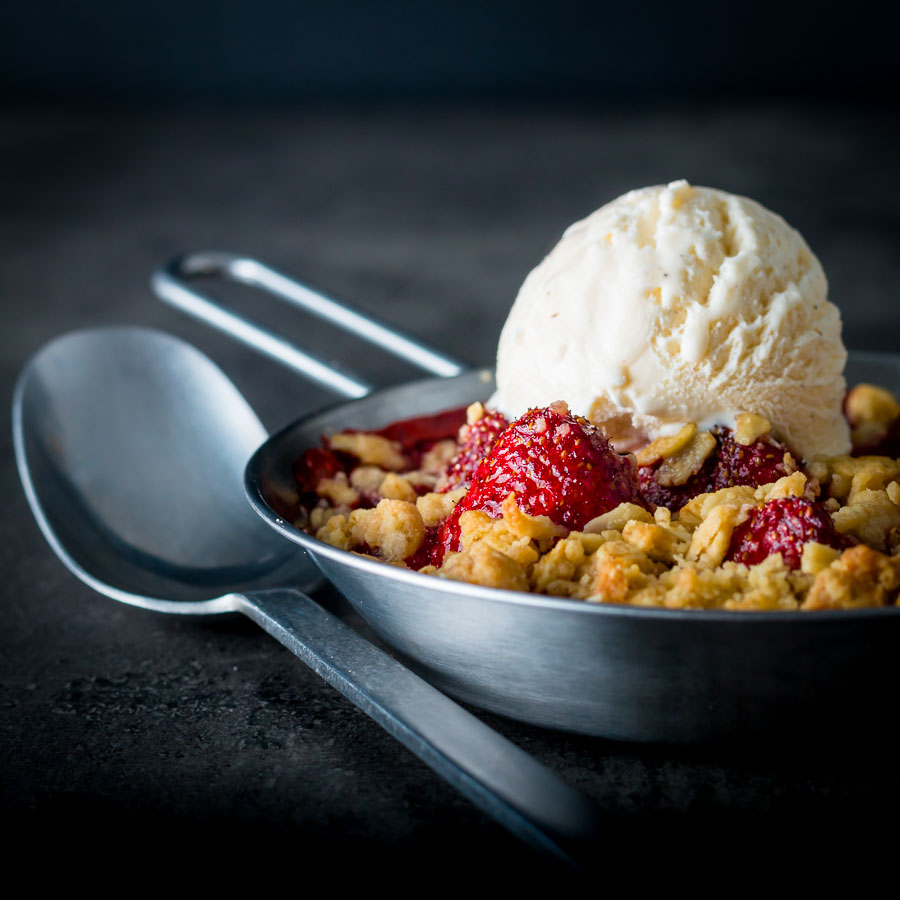 Yield:

2 Servings
Balsamic Strawberry Crumble
Balsamic vinegar really does make the flavour of strawberries pop and so this balsamic strawberry crumble is a strawberry delight, try it, seriously!
Ingredients
For The Crumble:
50 g Plain Flour
25 g Brown Sugar
25 g Rolled Oats
50 g Butter, Diced
For The Filling:
25 g Butter
350 g Strawberries, Hulled and left whole
1 Tbsp Balsamic Vinegar
2 Tbsp Brown Sugar
Instructions
Heat your oven to 200°C.
Add the flour, sugar and butter for the crumble to a bowl and then rub in to form a crumble mix with your fingers.
Add in the oats and mix together, before pouring onto a baking tray and cooking in the oven for 5 minutes.
Meanwhile prepare your strawberries and get them ready along with the butter, brown sugar and balsamic vinegar for the filling.
After five minutes remove the crumble from the oven and fork through it to break it up a little and return for another 5 minutes.
Now heat a frying pan over a high heat and add the butter.
When it ceases to foam and has gone nut brown add the strawberries and coat in the butter for 60 seconds.
Then add your balsamic vinegar and brown sugar and stir until you have a sauce in the bottom of the pan.
I like to serve this as two individual crumbles, this amount should fill two 12cm bowls nicely and then pour over the syrup.
By now your 5 minutes should be up so remove the crumble from the oven and spoon over the strawberries.
Return these to the oven and cook for a further 12-15 minutes.
Notes
You could serve this with custard, it would of course be wrong however you could... Smart money is on some good quality vanilla ice cream though.
Nutrition Information:
Yield:
2
Serving Size:
1
Amount Per Serving:
Calories:

560
Total Fat:

32g
Saturated Fat:

19g
Trans Fat:

1g
Unsaturated Fat:

10g
Cholesterol:

81mg
Sodium:

253mg
Carbohydrates:

65g
Fiber:

5g
Sugar:

33g
Protein:

6g