NEVER MISS A RECIPE: Get your Weekly Update Email!
Krumpli at the movies… Watch the video and if you like it share it 😀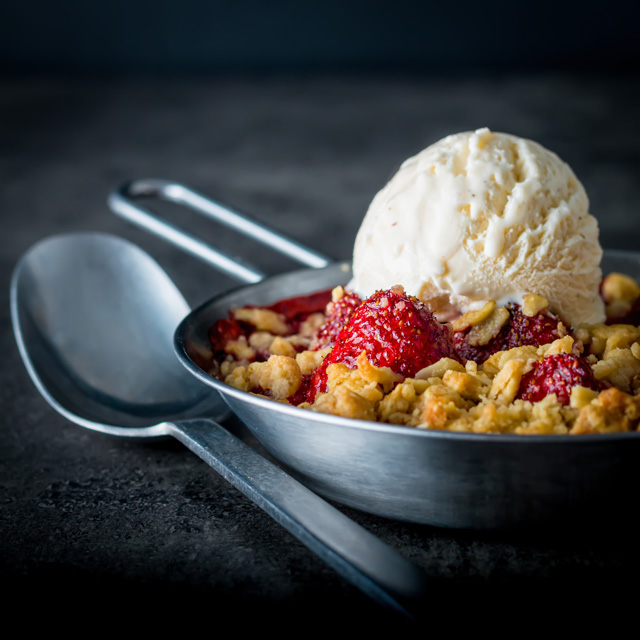 DESSERT ALERT PEOPLE! Ok so now I have your attention, I present to you a balsamic strawberry crumble In much the same was I am fond of sweet things in my savoury dishes, check out my pineapple curry, I also quite like savoury things in my sweets too.
In all fairness the combination of balsamic and strawberries is pretty classical, in fact there are two quite surprising ingredients that make strawberries pop, the first is balsamic, the second is black pepper and you really should try them both… Hmmm if only I knew where you could get a good strawberry and balsamic recipe.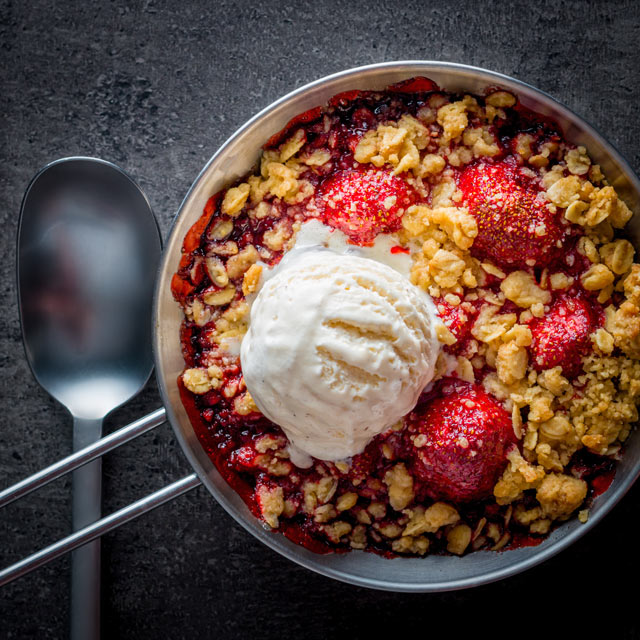 Regular readers will know that I don't share that many desserts here because we really don't eat all that many so they take a long time for me to work on and as a result they all tend to be pretty classical. This is a slight leap away from that but boy is it good, the crumble is fanbloodytastic and I may or may not have made more than the recipe required so I could munch it as I was going.
It also works really well from a timing point of view to with everything dove tailing really nicely together with no stress as you can see in the video… You can and probably should be enjoying a nice post dinner glass of wine whilst making this strawberry crumble, in for a penny in for a pound!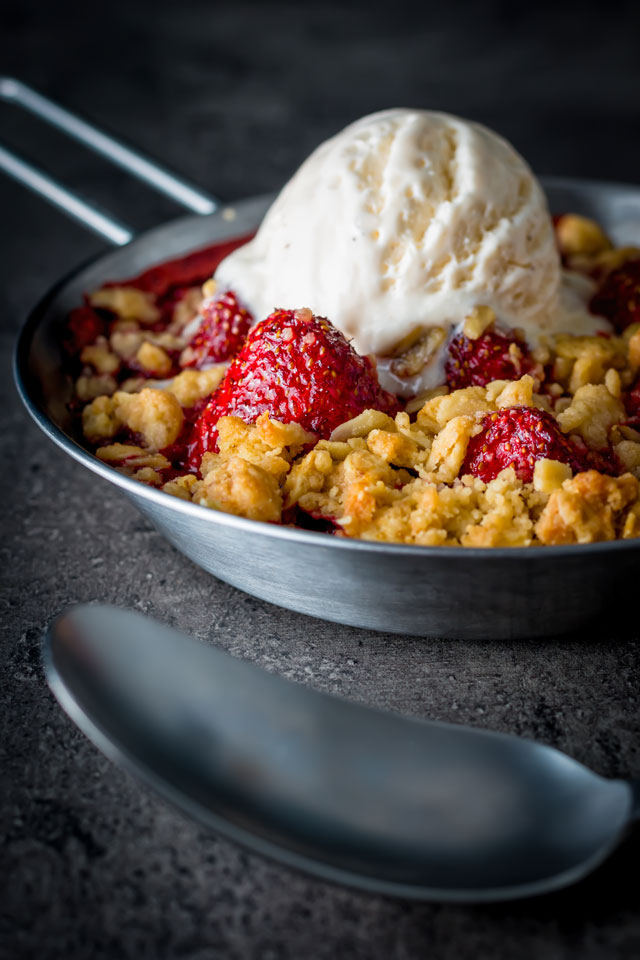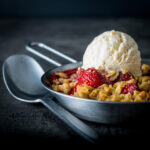 Balsamic Strawberry Crumble
Balsamic vinegar really does make the flavour of strawberries pop and so this balsamic strawberry crumble is a strawberry delight, try it, seriously!

Ingredients
For The Crumble:
50

g

Plain Flour

25

g

Brown Sugar

25

g

Rolled Oats

50

g

Butter

Diced
For The Filling:
25

g

Butter

350

g

Strawberries

Hulled and left whole

1

Tbsp

Balsamic Vinegar

2

Tbsp

Brown Sugar
Instructions
Add the flour, sugar and butter for the crumble to a bowl and then rub in to form a crumble mix with your fingers.

Add in the oats and mix together, before pouring onto a baking tray and cooking in the oven for 5 minutes.

Meanwhile prepare your strawberries and get them ready along with the butter, brown sugar and balsamic vinegar for the filling.

After five minutes remove the crumble from the oven and fork through it to break it up a little and return for another 5 minutes.

Now heat a frying pan over a high heat and add the butter.

When it ceases to foam and has gone nut brown add the strawberries and coat in the butter for 60 seconds.


Then add your balsamic vinegar and brown sugar and stir until you have a sauce in the bottom of the pan.

I like to serve this as two individual crumbles, this amount should fill two 12cm bowls nicely and then pour over the syrup.

By now your 5 minutes should be up so remove the crumble from the oven and spoon over the strawberries.

Return these to the oven and cook for a further 12-15 minutes.
Recipe Notes
You could serve this with custard, it would of course be wrong however you could... Smart money is on some good quality vanilla ice cream though.
NEVER MISS A RECIPE: Get your Weekly Update Email!