Poached pears are a classic dessert recipe for the ever-popular autumnal fruit, this one is poached in the famous Hungarian Dessert wine, Tokaj and cardamom.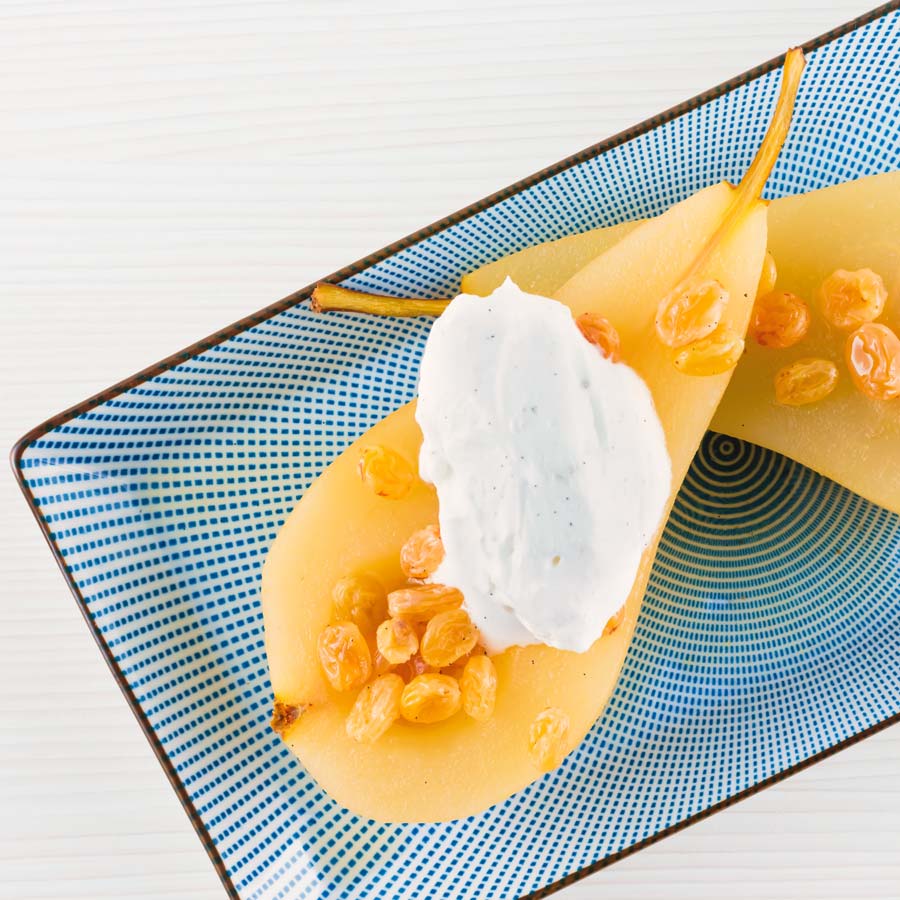 Poached Pears With Chantilly Cream.
Take a seat folks, it is dessert time from me again, number 12 in almost 275 recipesé. Poached pears are a simple, tasty and light dessert.
They are also way more elegant than they should be given how little work it takes to make them.
My dessert recipes usually fall into two categories. Childhood memories, like my sticky toffee pudding recipe, or classic and simple like my cherry clafoutis recipe.
This poached pears recipe definitely falls into the latter.
The flavours are simple but all work really well together. Wonderful autumnal pears are the perfect flavour match with sweet dessert wine.
These are then matched with honey and golden raisins for sweetness. We then add in a little vanilla and cardamom for high notes in the recipe.
Finally, we round it all out with a beautifully simple chantilly cream.
This recipe has no bells and whistles but it screams elegant beauty and will have those who eat it think you are a dessert god!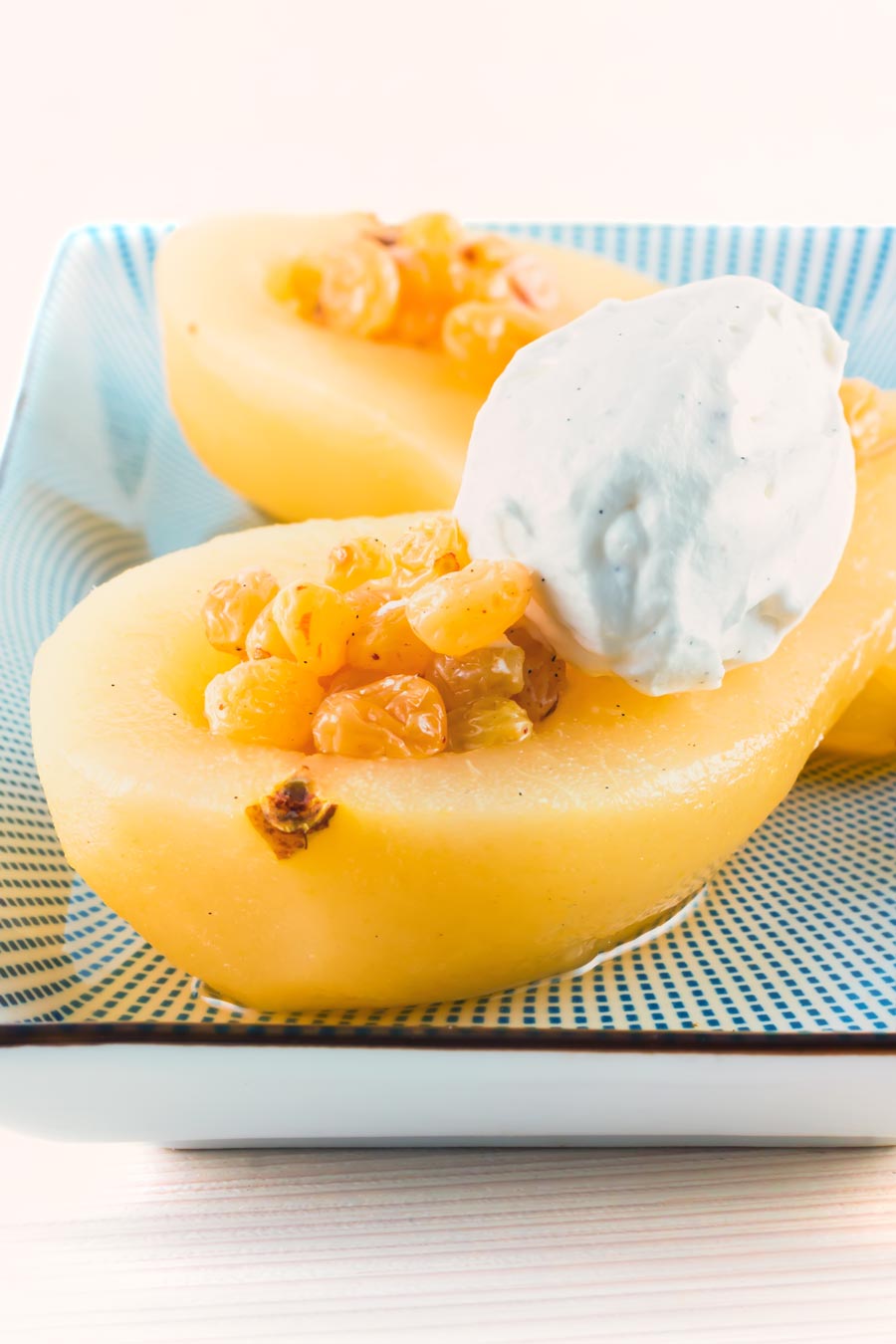 What Is Dessert Wine?
Steady yourself, it is a sweet wine particularly good served with dessert. Often referred to as pudding wines, they are not to be confused with sweet fortified wines.
Like table wine, it comes in both red and white, versions and is often significantly stronger than table wines. They are not quaffing wines, and are often sold in 1/2 litre bottles.
There are three production techniques, the use of raisins, the use of naturally frozen grapes and the use of grapes 'suffering' from noble rot. Don't pull a face the use of bacteria is commonplace in a host of foods!
For this poached pears recipe, I went with a wonderful Hungarian dessert wine called Tokaj Aszu.
It is made not to far from where we call home and if dessert wine is your thing then you need to hunt down a bottle.
It is rated on a sliding scale of sweetness from 3-6, why it does not start at 1 who knows but the unit of measure is the 'Puttonyos'.
Don't take my word for the magic of this wine, Tokaj has been around for, well forever! Famous fans range from Beethoven to Louis XIV and Napoleon to Queen Victoria.
My food is putting you in some serious noble company today, despite the presence of 'rot' in the wine.
If you cannot get Tokaj maybe try and hunt down a Sauternes or a Sémillon.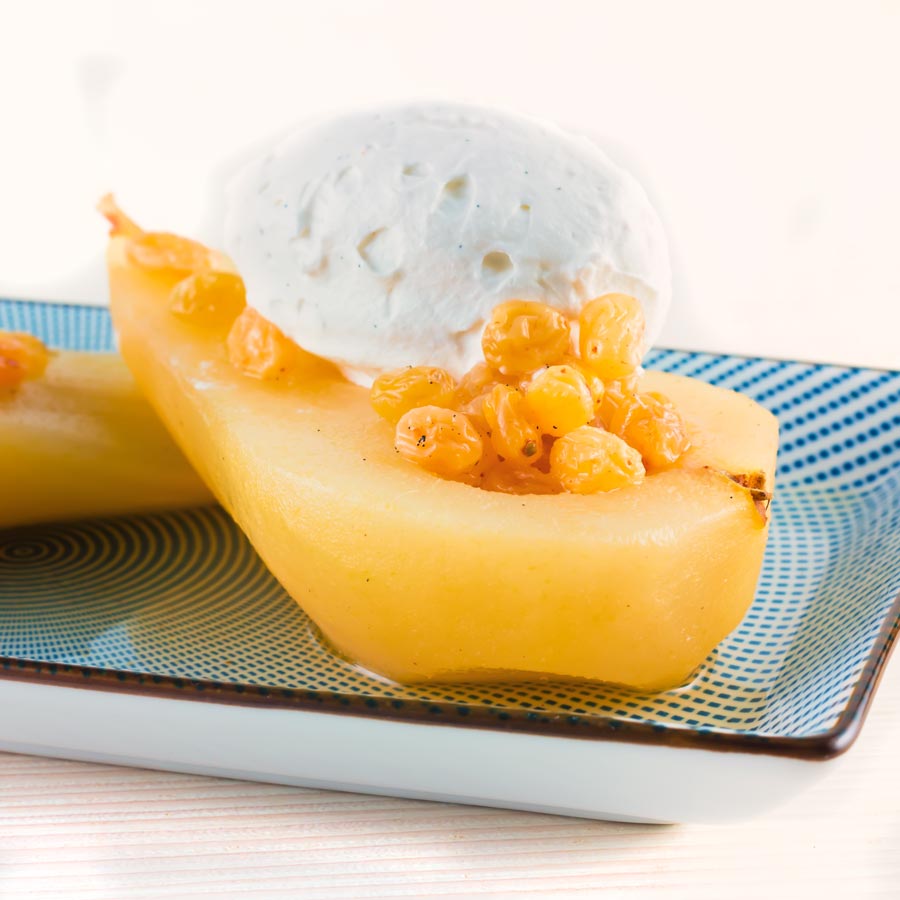 How To Poach A Pear.
The technique of poaching a pear is simple, take some liquid, add some flavouring and chuck in a peeled pear. You can core if you like or not whatever floats your boat.
The amount of time it takes to poach your pear will depend on both the variety and the ripeness.
Choosing a pear that is not overripe really helps and you should simmer until a sharp knife slides in without resistance.
If you have never poached a pear before, what are you waiting for, the season is here right now!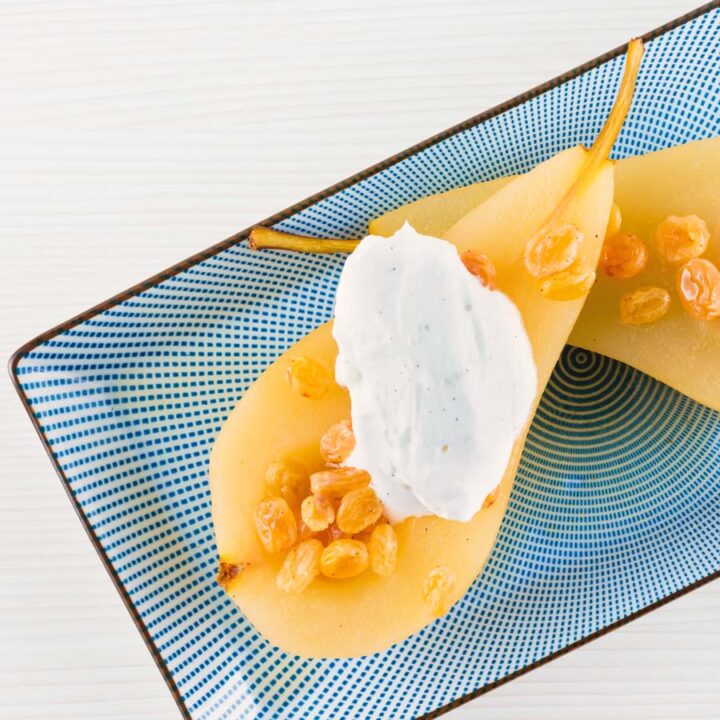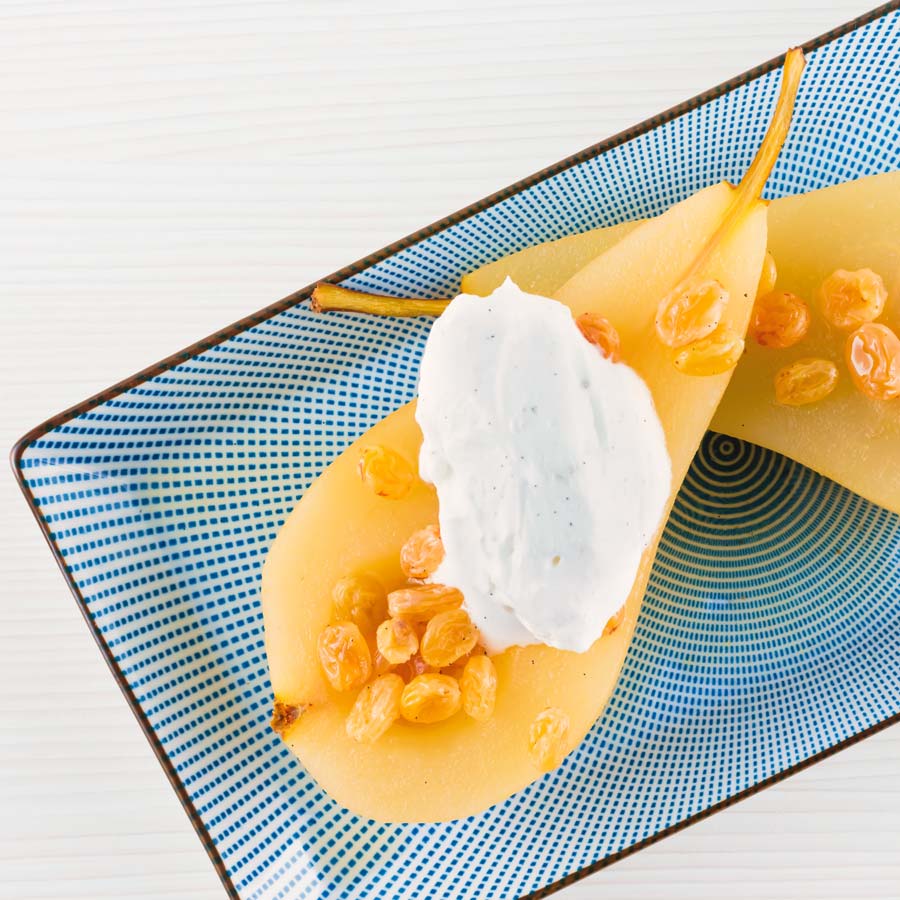 Yield:

2 Servings
Tokaj Poached Pear With Chantilly Cream
Poached pears are a classic dessert recipe for the ever-popular autumnal fruit, this one is poached in the famous Hungarian Dessert wine, Tokaj and cardamom.
Ingredients
2 Pears
500 ml Tokaj Dessert Wine
250 ml Water
12 Cardamom Pods
40 g Honey
1 Vanilla Pod
30 g Golden Raisins
100 ml Heavy cream
1 Tbsp Powdered Sugar
Instructions
Add the wine, water, honey and cardamom pods to a pan and bring to a low simmer.
Meanwhile take a vanilla pod and slit it in half, scrape out the seeds and keep these separate and add the remaining pod to the wine and honey mix.
Take your pears and peel them, cut them in half length ways and remove the core.
Drop these into the wine syrup and allow to gently poach until soft, this will take around 25 minutes.
When the pears are soft, remove from the heat and pour off half of the liquid.
Add the raisins into the pan with the pears and allow to cool with a lid on for 20 minutes.
Reduce the poaching liquid we have just removed by 3/4 and set aside.
5 minutes before you are ready to serve whip your cream and add in the powdered sugar and then the vanilla seeds we set aside earlier.
Serve with the raisins in the cavity left by the core, drizzle with the reserved stock and finally add a dollop of Chantilly cream.
Nutrition Information:
Yield:
2
Serving Size:
1
Amount Per Serving:
Calories:

803
Total Fat:

19g
Saturated Fat:

12g
Trans Fat:

1g
Unsaturated Fat:

6g
Cholesterol:

57mg
Sodium:

46mg
Carbohydrates:

96g
Fiber:

7g
Sugar:

68g
Protein:

3g