Individual bread and butter puddings an old school British recipe that's the perfect way to use up bread a little past its best.
Crispy slightly salty but sweet bread on top, baked raisings and sultanas and soft and juicy custard soaked bread at the bottom. True comfort food heaven for fans of retro desserts.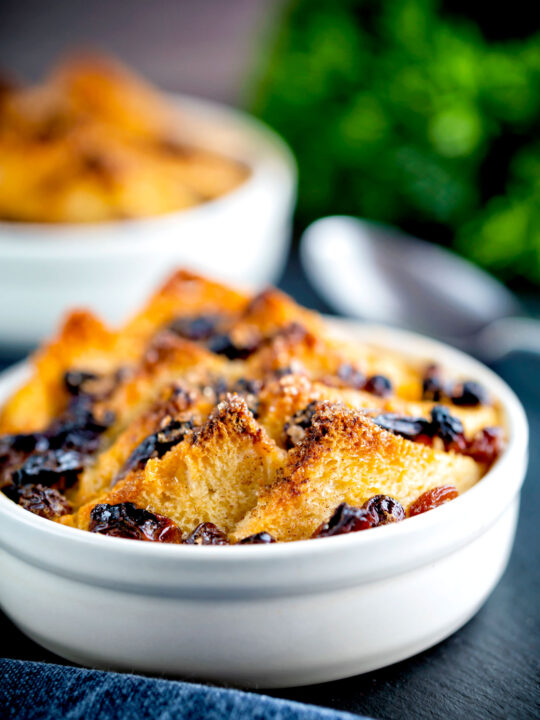 Smaller Portion Desserts.
A rarity here on Krumpli in the form of a dessert. I don't have a massive sweet tooth, but I do like a nice pudding occasionally.
However cooking an old-fashioned dessert for two is a challenge! Bread and butter pudding is something usually made in a big bowl. Great for a larger family but for a couple, it's a challenge.
As a result of this I have created some of my favourite desserts as single serving portions for me and my wife.
These individual bread and butter puddings join similar smaller portion desserts like cherry clafoutis, lemon meringue pie, strawberry crumble, and rice pudding.
This recipe is based on the memories of the bread and butter pudding I was raised with. Desserts for me almost always have to tick some form of nostalgia box.
We have plain old sliced bread, raisins and sultanas baked in a simple creme anlaise and features a wee sprinkle of brown sugar and cinnamon.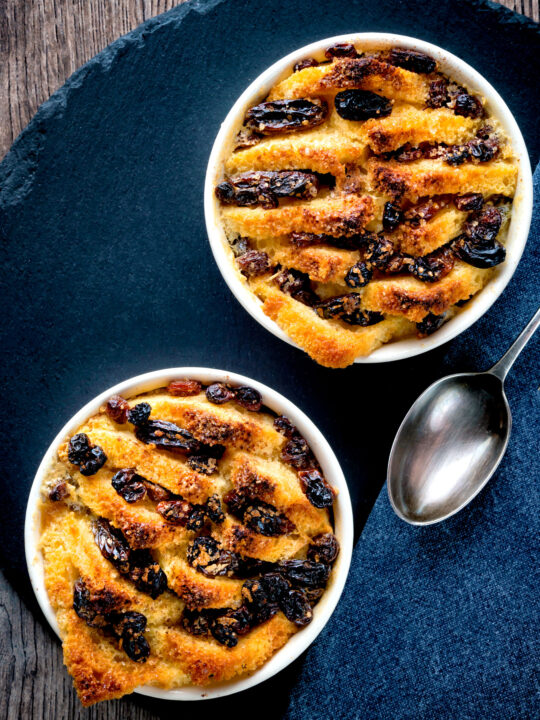 Frequently Asked Questions.
What size bowls do you use?
I use 11cm (230ml or ~1 Cup) brulée pots made by Emile Henry, it's a global brand so should be easy to find.

I have located them on both Amazon UK and Amazon US and I bought them in bricks and mortar store for around £10 or $15 for two.
Should I use salted or unsalted butter?
For me it makes no difference in this recipe. I usually use salted butter because that is what I have at home.
Why do you cook it in a pan of water?
The technique is called a "bain-marie" and it makes the cooking process a little more gentle. It means that the custard or creme anglaise does not turn into scrambled egg in the bottom of the bowl.
Can I use different dried fruits?
Oh gosh yes, throw anything in there! I love baked sultanas and raisins, the ones at the top go almost like fruit gums and are gloriously chewy.

You can even add nuts, almonds are my favourite!
Don't Be Intimidated By Custard.
Growing up my Mom would have made this using Birds custard made quite thin.
But making custard at home for bread and butter pudding is really easy and does not take a kitchen wizard to do it.
As with most things the key is patience, rush it and you will come unstuck.
Start by placing the milk, cream, and vanilla in a pan and heating gently. Do not take it to a boil and heat it slowly because this will prevent it from curdling.
Then whisk the sugar and egg yolks until the colour changes.
The final bit is the most important, slowly pour in the hot milk whilst you whisk.
Slowly is the operative word because doing it quickly will scramble the egg yolks, and that ain't good.
When you pour you want a thin "string" of milk the size of a thin shoe lace. After you have added half you can pour in the milk mix much more quickly.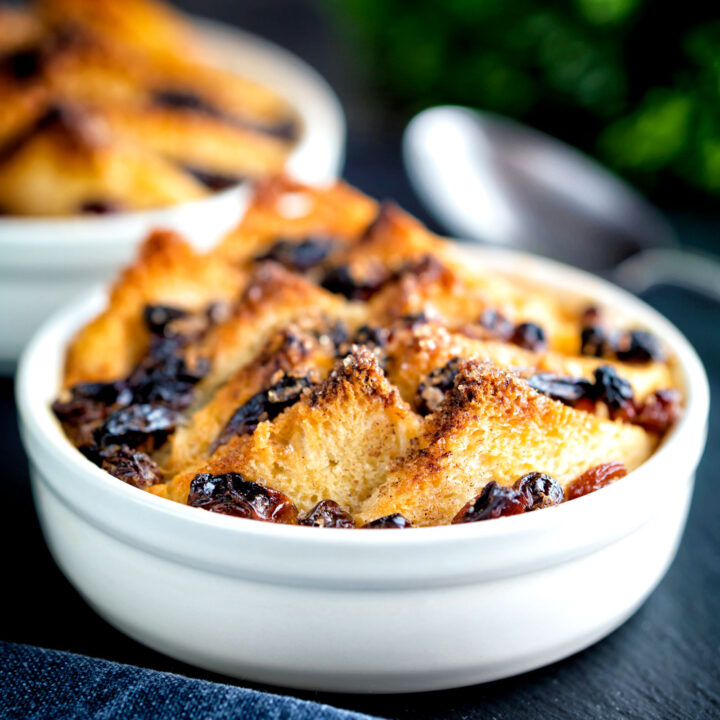 Yield:

2 Servings
Individual Bread and Butter Puddings Recipe
Cook Time:
1 hour
20 minutes
Total Time:
1 hour
30 minutes
Bread and Butter Pudding was the ultimate frugal pudding when I was growing up in the UK, I have tweaked a little and scaled it back into individual servings.
Ingredients
150g (4-5 Slices) Stale Bread
30-45g (2-3 Tbsp) Butter
75g (½ Cup) Mixed Raisins and Sultanas
2 Egg Yolks
50g (¼ Cup) Sugar
125ml (½ Cup) Full Fat Milk
125ml (½ Cup) Double Cream
½ Tsp Vanilla Extract
1 Tsp Brown Sugar
1/4 Tsp Ground Cinnamon
Instructions
Place a baking dish in the oven that can hold both of your bowls, add 1cm of water and then heat the oven to 180°C or 350°F.
Butter the sides and bases of the bowls using butter wrapper.
Spread butter on both sides of your stale bread.
Cut your bread into triangles with a base of approximately 8cm.
Layer in the bread alternating with the sultana and raisins making sure you have the pointy end of the bread pointing out of the bowl.
Sprinkle over the remaining raisins.
Mix together the cream, milk and vanilla and heat until steaming hot but do not boil.
Whisk together the sugar and the egg yolks until it lightens in colour and becomes frothy whilst the milk mix heats up.
Slowly pour the milk mix into the whisked egg yolks whicking all of the time.
Place the bowls filled with the bread into the baking dish with water and pour over the custard or creme anglaise.
Sprinkle over the cinnamon and brown sugar.
Bake for 40 minutes or until crisp and nicely coloured.
Nutrition Information:
Yield:
2
Serving Size:
1
Amount Per Serving:
Calories:

642
Total Fat:

26g
Saturated Fat:

14g
Trans Fat:

1g
Unsaturated Fat:

10g
Cholesterol:

239mg
Sodium:

516mg
Carbohydrates:

92g
Fiber:

4g
Sugar:

47g
Protein:

13g
Calorific details are provided by a third-party application and are to be used as indicative figures only.