Bread and Butter Pudding was the ultimate frugal pudding when I was growing up in the UK, I have tweaked a little but still simplicity at its best.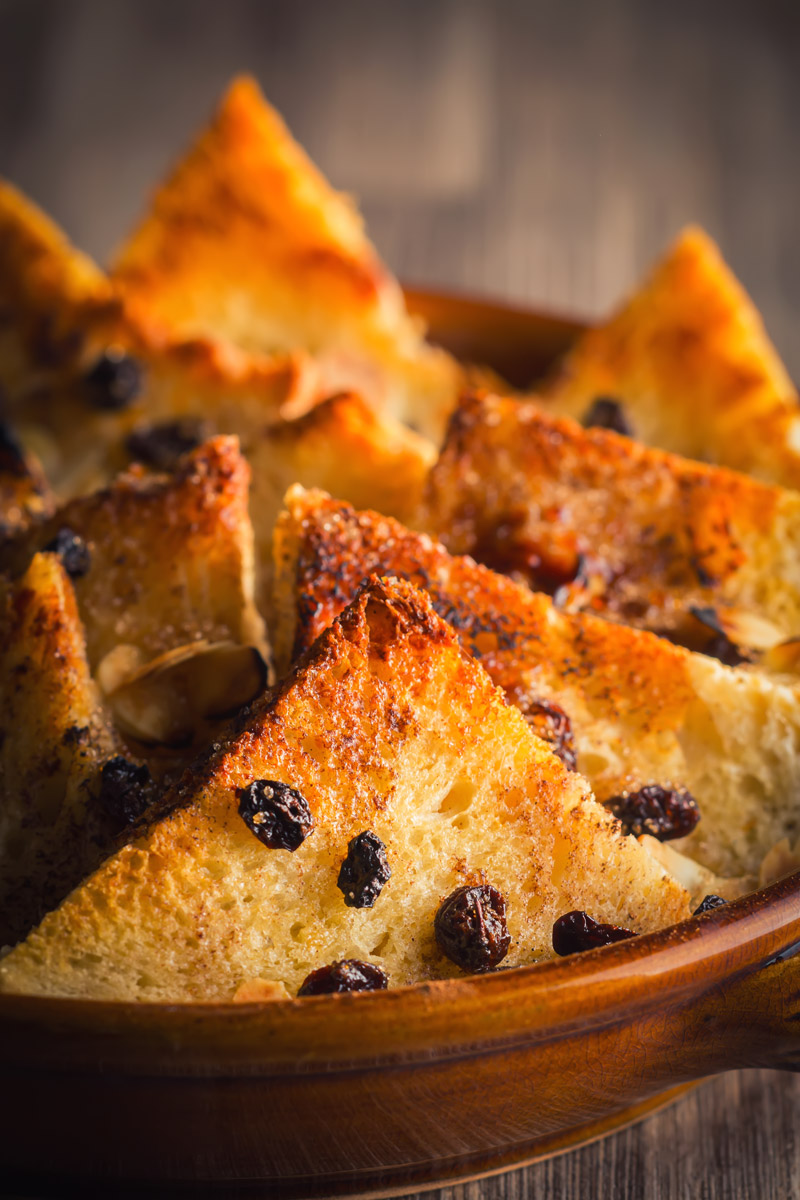 Hold the front page people, my latest recipe is a rare beast in Krumpli, a dessert! I know take a seat and focus on the bread and butter pudding and you will be fine. Myself and my fearless stunt wifey rarely eat desserts, our love of savoury flavours usually massively overwhelms our desire for dessert.
However we are not immune to the odd sweet treat and when we do they are typically really old school, simple and typically British. Bread and butter pudding has really frugal roots and when I was a child this would have been made with birds custard rather than my slightly more fancy 'crème anglaise'. But you should feel free to use ready made custard, let down with a little milk to the consistency twice as thick as double cream if you wish. Let's face it if you do this becomes a dessert so quick and simple it is obscene!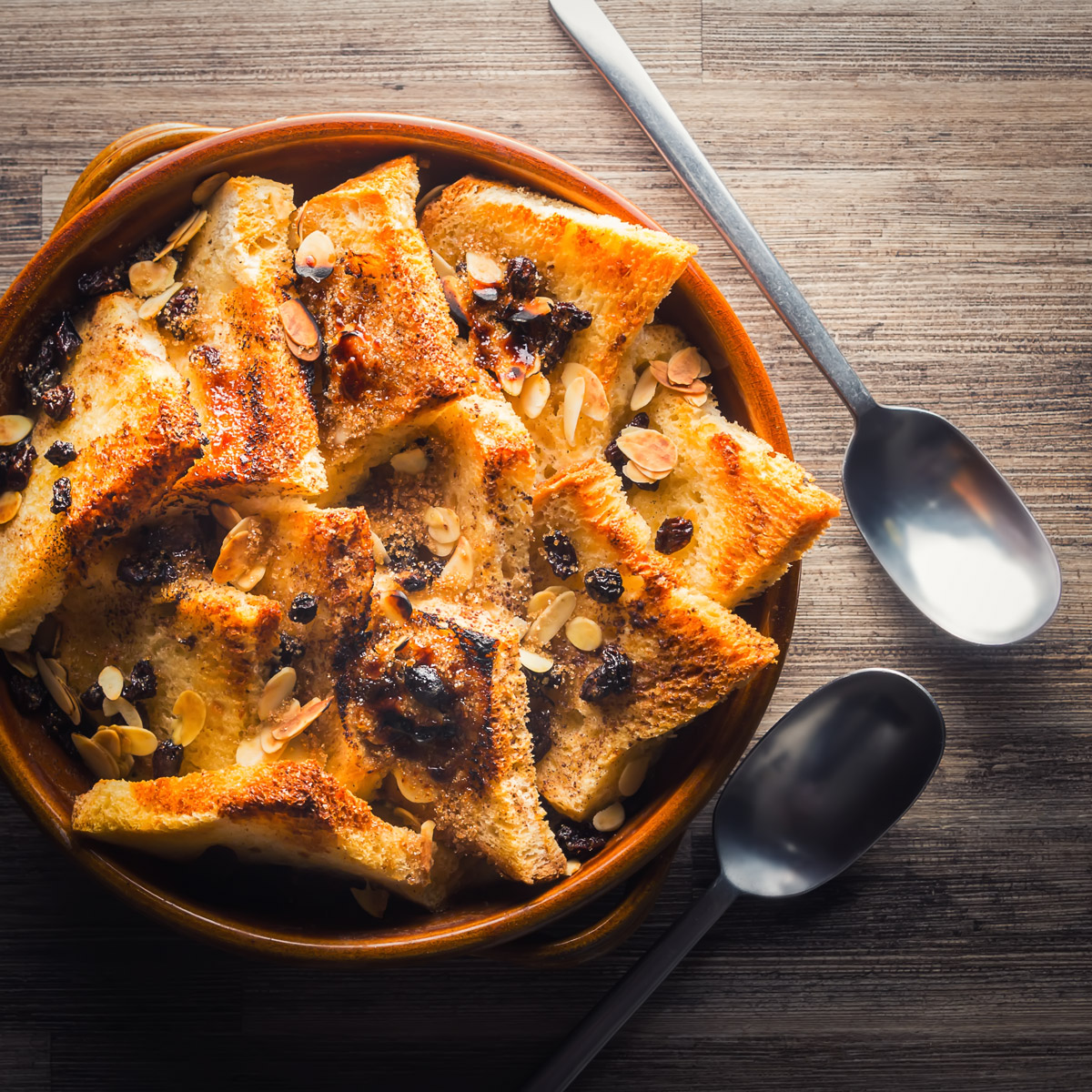 I'm definitely a crust on and bits of bread poking out kinda dude when it comes to this dessert, I know some prefer to soak all of the bread in the custard mix but those people are wrong. Just plain wrong and very bad people you should not listen to them.
Hehehehehe, I love textures in food so for me I like the slightly salty sweet crunch of the bread as it bakes in the oven and the contrast that it offers to the crusts that are soaked in the custard that become almost chewy in the custard that sets as it bakes.
Oh yes there are also philistines that will tell you to cut of the crusts, again these people are bad people don't listen to them.
So skip throwing your slightly stale loaf of bread to the birds for just one week and have a crack at an ancient, simple and really rather glorious British dessert, you won't regret it!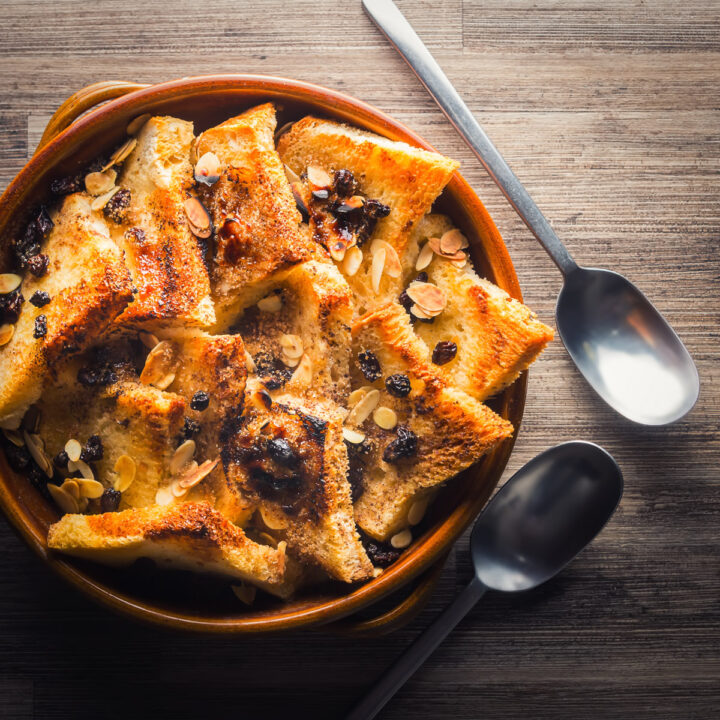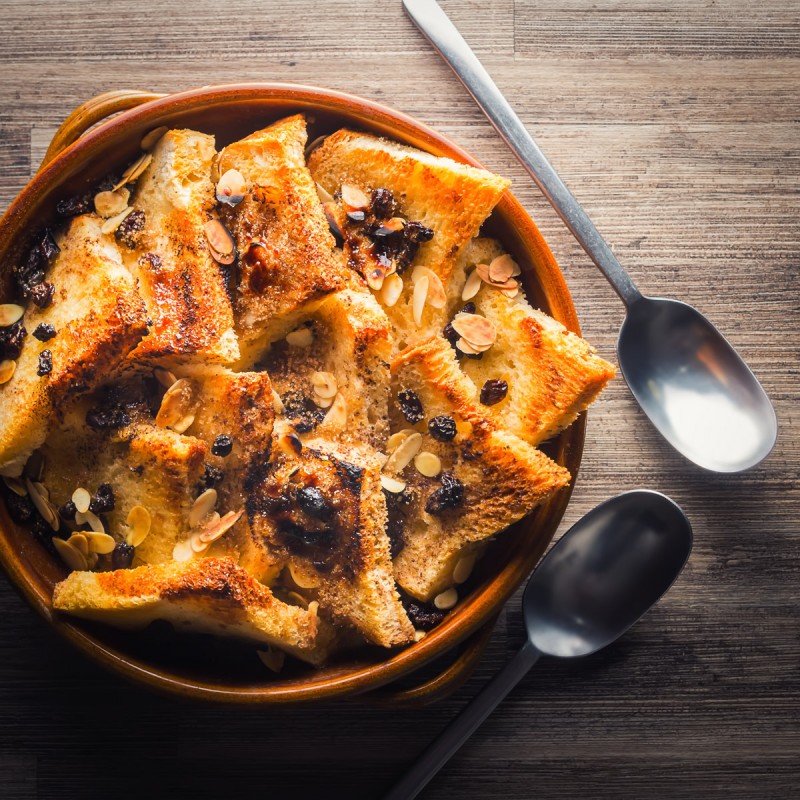 Yield:

2 Servings
Bread and Butter Pudding
Cook Time:
1 hour
20 minutes
Total Time:
1 hour
30 minutes
Bread and Butter Pudding was the ultimate frugal pudding when I was growing up in the UK, I have tweaked a little but still simplicity at its best.
Ingredients
200 g Stale Bread
35 g Butter
25 g Raisins
1/4 Tsp Ground Cinnamon
2 Egg Yolks
30 g Sugar
100 ml Full Fat Milk
100 ml Double Cream
1 Vanilla Pod
15 g Flaked Almonds
1 Tbsp Brown Sugar
Instructions
Butter a 20cm diameter round bowl that is oven proof.
Then spread butter on both sides of your stale bread and layer up your bowl with the buttered bread.
Sprinkle over the raisins and ground cinnamon and set aside whilst you make the custard.
Whisk together the sugar and the egg until it lightens in colour and becomes frothy.
Mix together the cream and the milk and scrape the seeds from the vanilla pod and add them to the milk cream mixture and heat pver a medium high heat.
Do not boil the milk but take to a slight simmer before pouring slowly over the egg mixture whisking as you go.
When a smooth custard has formed pour over your bread, removing the vanilla pod and allow to sit for 20 minutes.
Whilst your bread is soaking preheat your oven to 180°C
Before placing your pudding in the oven sprinkle over the almonds and the brown sugar and bake for 30-40 minutes.
Nutrition Information:
Yield:
2
Serving Size:
1
Amount Per Serving:
Calories:

812
Total Fat:

45g
Saturated Fat:

24g
Trans Fat:

1g
Unsaturated Fat:

18g
Cholesterol:

283mg
Sodium:

692mg
Carbohydrates:

86g
Fiber:

4g
Sugar:

36g
Protein:

17g