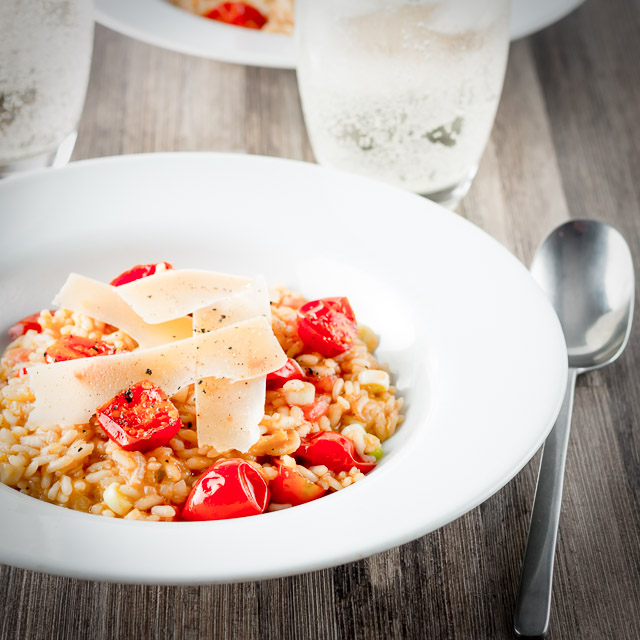 So it's September, how the feck did that happen? But hey at least it means time for a shifting style of food and a perfect excuse to break out a favorite risotto recipe, a tomato risotto! A bit of an unusual recipe and one my lovely wife has been cooking for years, as is usual Julie never writes anything down (neither did I before I started this site) so I started with her idea which started from another idea and put some number against it. This tomato risotto recipe is a corker, yes it takes a bit of time but that time is spent at the stove with a glass of wine in your hand and you can taste the love in the recipe. I have played around in the past with baked risotto recipes and also with Instantpot risotto recipes last spring and they were always disappointing, perfectly edible and quite tasty but to my palate you could always taste the corners that are cut and that is just not what I do. So it is a full on, slow, wine supping tomato risotto and not a quick dump and run risotto!
I'm impressed I have managed not to turn Krumpli into a risotto website, we cook and eat risotto at least once a week during autumn, winter and early spring yet this recipe joins only two others, a balsamic mushroom and leek risotto and a superb pumpkin risotto (my favourite risotto). This one is glorious and all the little flourishes add something to the dish, you could of course just chuck in some tinned tomatoes to some stock and it would be nice, but taking the time to remove the skin from the plum tomatoes means they slowly 'melt' into the stock as it is cooked out and the ones added later retain a little more substance. The roasted cherry tomatoes are little sweet sticky jewels of magic that shout through the soft and creamy tomato risotto and the spring onions add a lovely burst of sharp onion flavour through it all. Cooking for me is all about layers of flavour and texture and if I have to spend a little extra time to really get those textures and flavours then so be it, I'm worth it and so are you 😉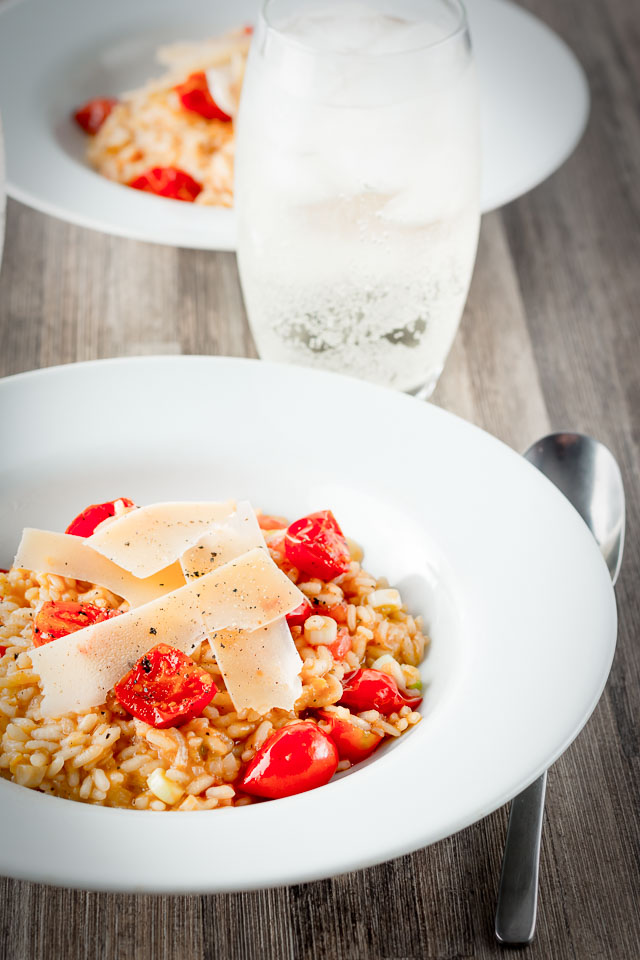 Print
Tomato Risotto
Tomatoes are a main stay of Italian food but a tomato risotto remains something of an unusual dish but a real favourite of mine!
Ingredients
125

g

Arborio Rice.

500

ml

Vegetable stock.

100

ml

White Wine.

Something dry.

200

g

Plum Tomatoes.

100

g

Cherry Tomatoes.

75

g

Shallots:

Diced as finely as you can.

3

Cloves

Garlic:

Finely sliced.

30

g

Butter.

1

Tbsp

Olive Oil.

1/2

Tsp

Black Pepper:

Freshly ground.

15

g

Spring Onion:

Sliced into 3-4mm rounds.

15

g

Butter:

Yes more butter!

Parmesan Cheese.

Shavings for garnish.
Instructions
Preheat your oven to 200°C.

Bring your vegetable stock to a boil and hold it there.

Cut a small cross in the base of the plum tomatoes and plunge into the vegetable stock for 30 seconds and then into ice cold water.

You should now be able to peel the tomatoes easily you can now turn down the heat under the stock to just below simmer point..

Remove the seeds from these tomatoes and cut into a 5mm dice adding 2/3rds of them to the stock and reserving a 1/3rd for later.

Add the butter to a large frying pan over a medium high heat and when it begins to foam add the shallot and garlic and cook for 5 minutes stirring occasionally.

After 5 minutes add in the rice and stir until it goes translucent at the edges and there is a subtle change in the tone of the sizzle, this should take another 5 minutes or so.

Turn up the heat and add in the white wine stirring continuously until at has pretty much all been absorbed or has evapourated.

Now turn the heat down to medium and add the stock a ladle full at a time stirring regularly only adding more stock when the previous lot has been almost completely absorbed.

Whilst you are doing this slice the cherry tomatoes in half.

As you are going test the stock in the rice pan and add salt as required, this will very much depend on your stock.

After you have been adding and serving for 15 minutes add the olive oil to a pan place the cut cherry tomatoes cut side down on it and liberally sprinkle with the black pepper and place in the oven for 10-15 minutes whilst you finish the risotto.

When the rice is cooked add in the the spring onion and extra 15g of butter, add a lid and allow to sit for 5 minutes, this stage is really important for a nice creamy risotto.

Finally stir in the roasted cherry tomatoes trying not to be to rough with them and the remaining diced tomato and serve with Parmesan shavings.