Tomatoes are a mainstay of Italian food but a tomato risotto remains something of an unusual dish but a real favourite of mine!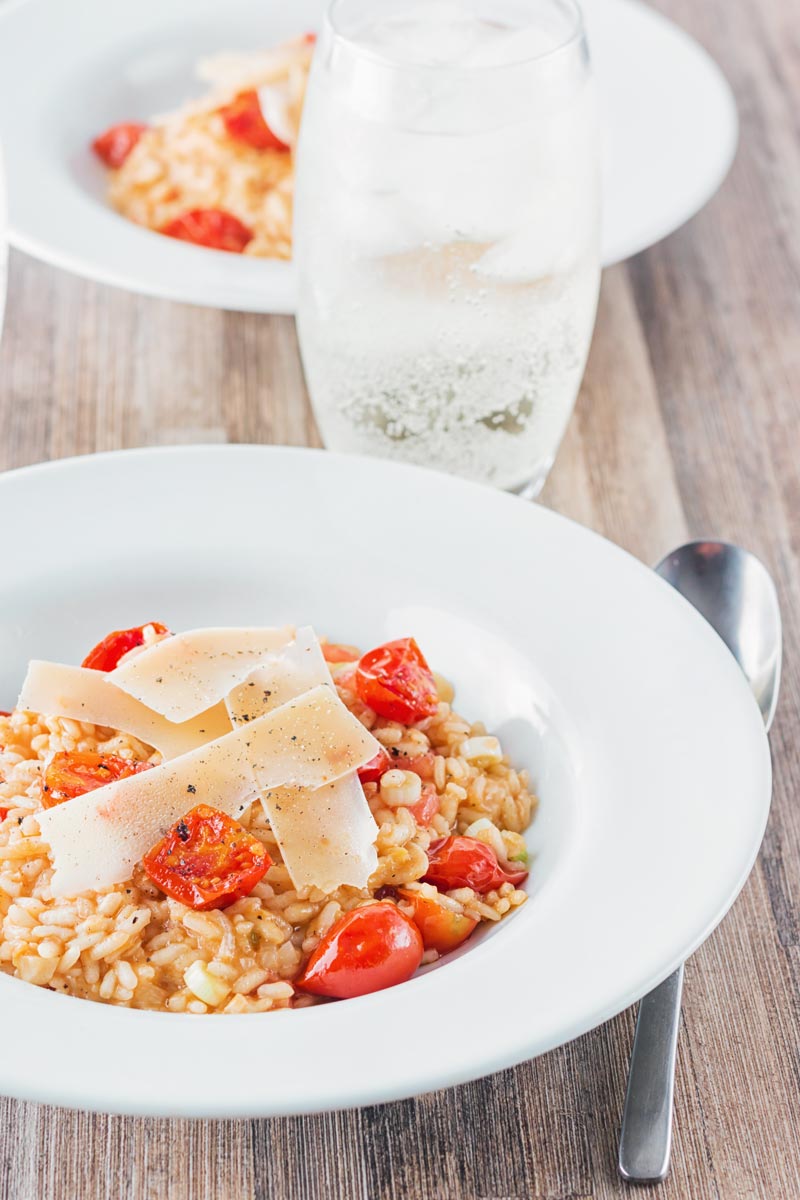 Tomato Risotto
It's September and that means time for a shifting style of food and a perfect excuse to break out a favourite risotto recipe, a tomato risotto.
This is a bit of an unusual recipe and one my lovely wife has been cooking for years.
As with most of my risotto recipes, this one is a vegetarian risotto recipe.
I rarely add meat to risotto and if I do it is as a seasoning rather than a protein source.
My pumpkin risotto, leek and mushroom risotto and mushroom and spinach risotto are all vegetable risotto recipes.
This recipe features tomatoes two ways:
Plum tomatoes in the stock that provide a deep tomato flavour that permeates the dish.
The roasted cherry tomatoes that are little sweet sticky jewels of magic that shout through the soft and creamy tomato risotto.
The spring onions add a lovely burst of sharp onion flavour through it all.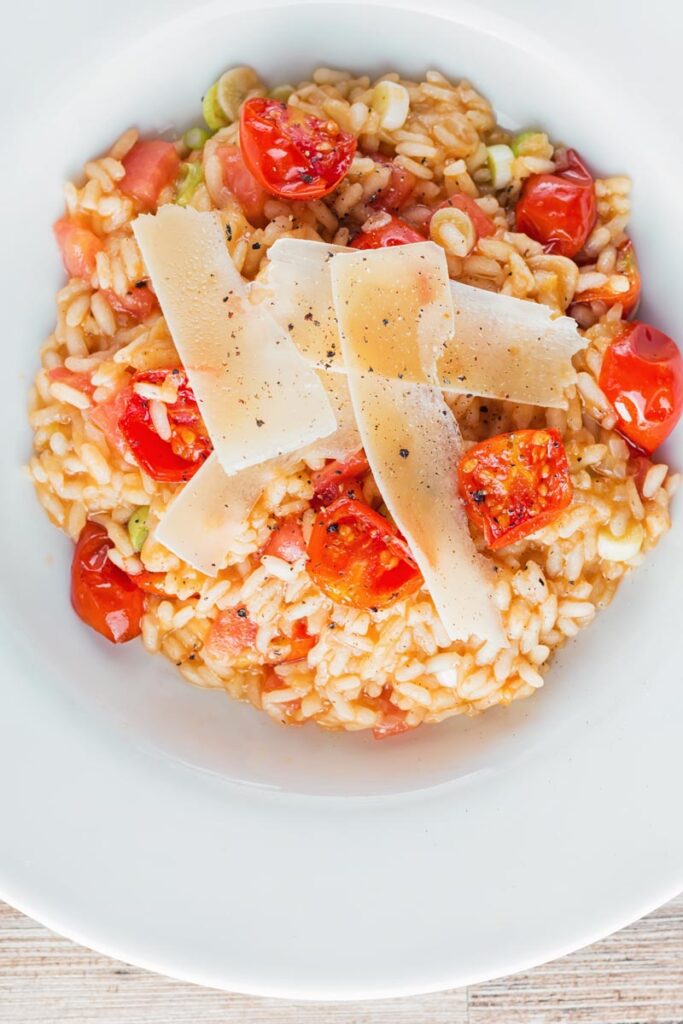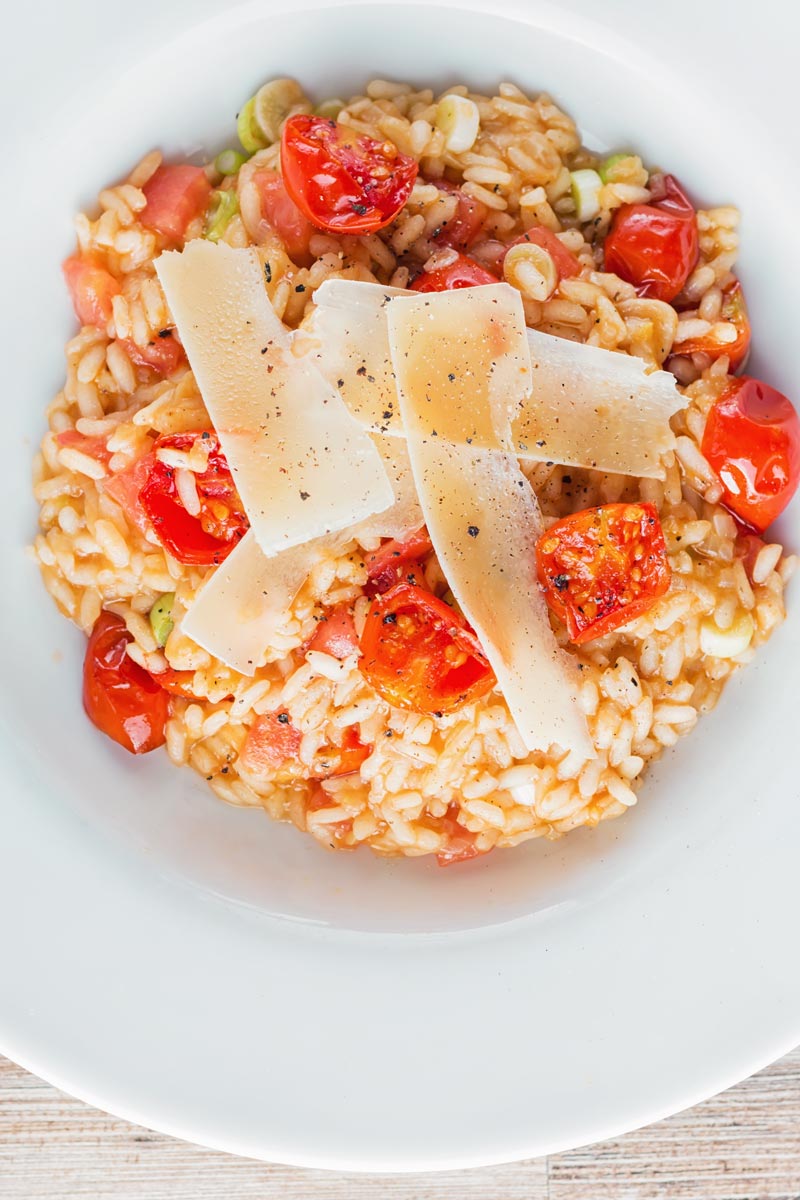 What Sort of Tomatoes To Use?
You could of course just chuck in some tinned tomatoes to some stock and it would be nice.
I use cherry tomatoes and plum tomatoes in this recipe.
Roasting the cherry tomatoes and driving off the moisture means that you can use pretty much any cherry tomato.
Using plum tomatoes with lots of flesh is much more important. We want to get lots of flesh so if all you can get is regular tomatoes with lots of seeds then use more of them
However, taking the time to remove the skin from the plum tomatoes means they slowly 'melt' into the stock as it is cooked.
The ones added later retain a little more substance.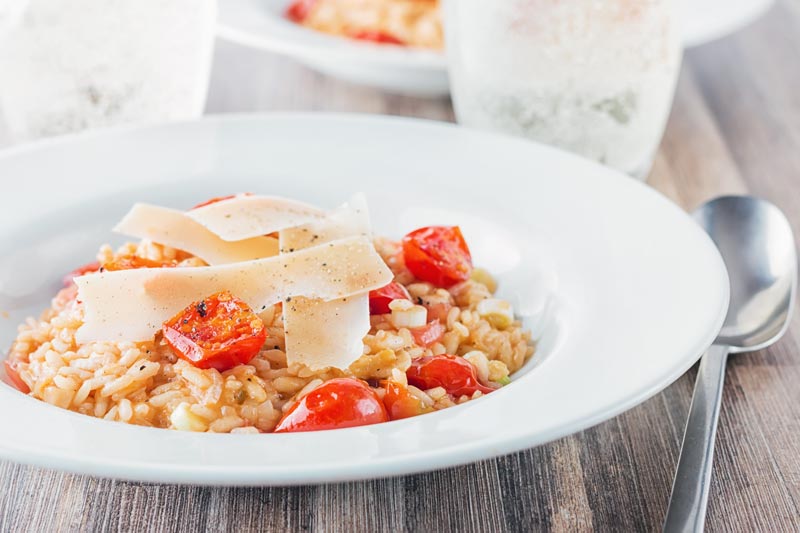 How to Prepare the Tomatoes.
The cherry tomatoes are simply cut in half, seasoned with lots of black pepper and roasted.
The plum tomatoes get a little more attention.
They are both skinned and deseeded which are simple techniques that all cooks should learn. We do this in order to maximise the tomato flavour and improve the texture of the risotto.
How to skin tomatoes:
Cut a cross 1cm in size into the base of the tomato with a sharp knife.
Plunge into boiling water for 60 seconds.
Refresh in ice cold water.
Peel.
Deseeding the tomatoes is even easier because all you need to do is to cut them in half and scoop them out with a spoon.
On that note, I'll leave you with this delicious vegetarian risotto recipe.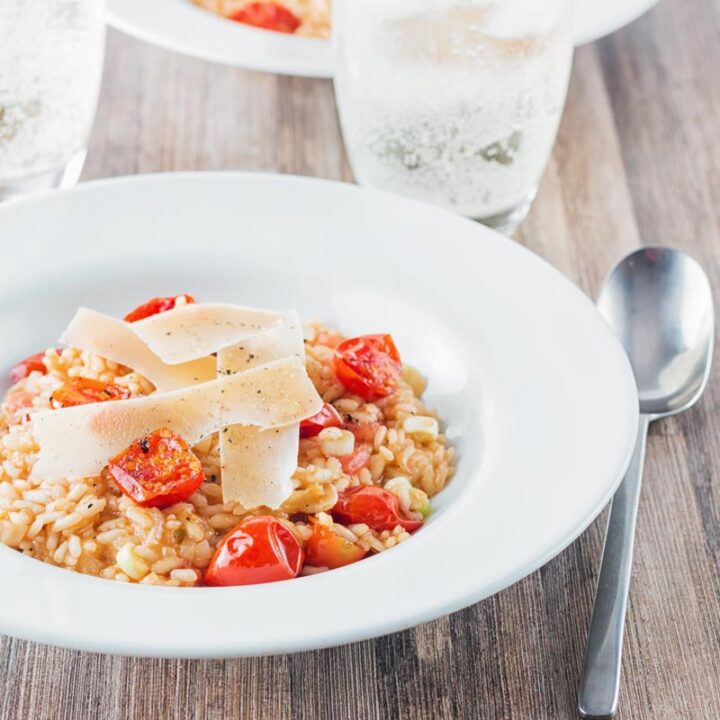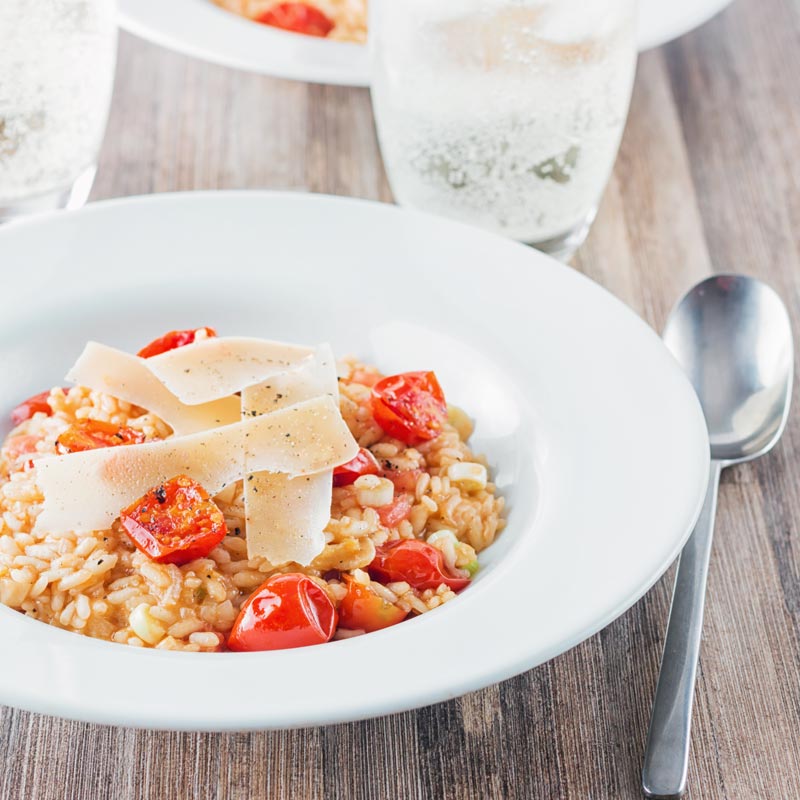 Yield:

2 Servings
Tomato Risotto
A risotto is comfort food heaven and this tomato risotto, whilst unusual is a beautifully simple but fully flavoured mid week vegetarian dinner.
Ingredients
125 g Arborio Rice
500 ml Vegetable stock
100 ml White Wine
200 g Plum Tomatoes
100 g Cherry Tomatoes
75 g Shallots
3 Cloves Garlic
45 g Butter
1 Tbsp Olive Oil
1/2 Tsp Black Pepper
15 g Spring Onion
Parmesan Cheese shavings for garnish
Instructions
Preheat your oven to 200°C or 400°F.
Dice the shallots as finely as you can, finely slice the garlic and cut the spring onions into rounds 3-4mm long.
Bring your vegetable stock to a boil and then reduce to a simmer.
Cut a small cross in the base of the plum tomatoes and plunge into the vegetable stock for 30 seconds and then into ice cold water.
You should now be able to peel the tomatoes easily you can now turn down the heat under the stock to just below simmer point..
Remove the seeds from these tomatoes and cut into a 5mm dice adding 2/3rds of them to the stock and reserving a 1/3rd for later.
Add 30gof butter to a large frying pan over a medium high heat and when it begins to foam add the shallot and garlic and cook for 5 minutes stirring occasionally.
After 5 minutes add in the rice and stir until it goes translucent at the edges and there is a subtle change in the tone of the sizzle, this should take another 5 minutes or so.
Turn up the heat and add in the white wine stirring continuously until at has pretty much all been absorbed or has evapourated.
Now turn the heat down to medium and add the stock a ladle full at a time stirring regularly only adding more stock when the previous lot has been almost completely absorbed.
Whilst you are doing this slice the cherry tomatoes in half.
As you are going test the stock in the rice pan and add salt as required, this will very much depend on your stock.
After you have been adding and serving for 15 minutes add the olive oil to a pan place the cut cherry tomatoes cut side down on it and liberally sprinkle with the black pepper and place in the oven for 10-15 minutes whilst you finish the risotto.
When the rice is cooked add in the the spring onion and 15g of butter, add a lid and allow to sit for 5 minutes, this stage is really important for a nice creamy risotto.
Finally stir in the roasted cherry tomatoes trying not to be to rough with them and the remaining diced tomato and serve with Parmesan shavings.
Notes
Calorific value does not include the Parmesan cheese for garnish.... That is all your fault hehehehe!
Nutrition Information:
Yield:
2
Serving Size:
1
Amount Per Serving:
Calories:

422
Total Fat:

26g
Saturated Fat:

13g
Trans Fat:

1g
Unsaturated Fat:

11g
Cholesterol:

48mg
Sodium:

866mg
Carbohydrates:

36g
Fiber:

3g
Sugar:

9g
Protein:

5g
Calorific details are provided by a third-party application and are to be used as indicative figures only.