Tomato risotto, a delicious midweek vegetarian meal loaded with tomatoes and basil and topped with balsamic roasted cherry tomatoes.
Cooked in the classic way on the stove top whilst the cherry tomatoes roast in the oven cooking this dish could not be easier or more relaxing.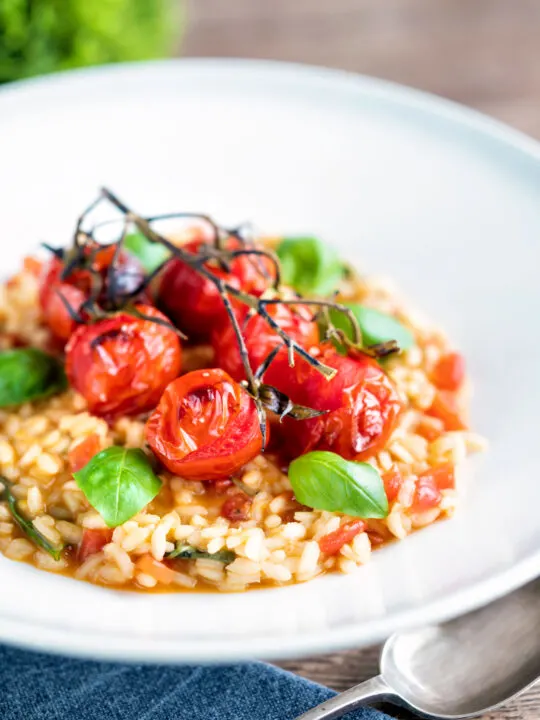 A Perfect Summer Risotto
I typically associate risotto with autumnal or winter food. I often curl up on the sofa with bowl of something like my roasted butternut squash risotto, smoked haddock risotto, black pudding risotto or mushroom and spinach risotto.
This tomato risotto is inspired by my lovely wife who made a dish from our harvest a few years ago.
It was genius, and I loved it! I've added a few bits of me to the recipe but it stays pretty true to her experiments.
It joins other risotto recipes like a salmon and pea risotto and lemon and prawn risotto that have become part of a summer menu.
This recipe infuses a vegetable stock with really ripe plum tomatoes and then it cooks in the time-honoured way. The stock is added little by little whilst the cook is marinated in wine.
If you have been making my tomato consomme with tortellini then try making this with some of the leftover tomato broth, it's heavenly!
Whilst this is happening some vine cherry tomatoes are roasted in balsamic vinegar. These explode with tomato goodness when you cut them open.
At the end lots of fresh basil is folded through with a little parmesan cheese to round out a stunning dish.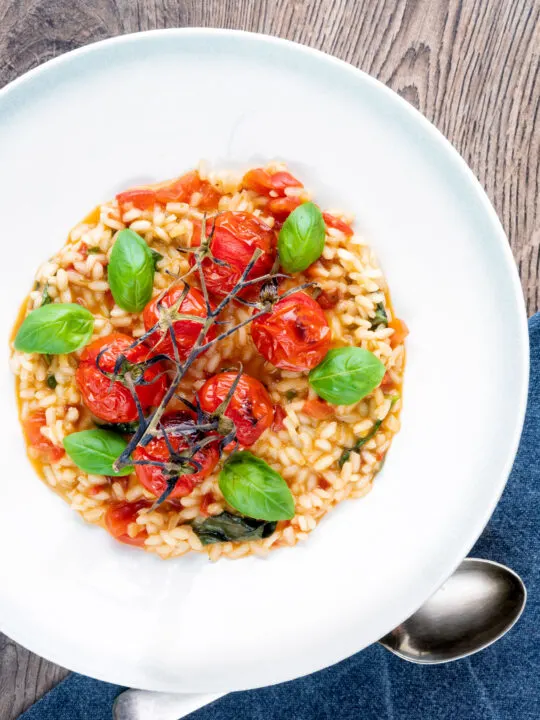 Frequently Asked Questions
Do the types of tomatoes really matter?
Yes and no. You can use any tomato that you like, but in my experiments, these are the types that work best.

This is because plum tomatoes have a higher flesh-to-liquid ratio which means more tomato and less water.

Vine on tomatoes work wonderfully because almost all of the aroma is in the vine and not the tomato. This does not really result in more flavour, but smells are just as big a part in eating as taste.
Do I need to peel the plum tomatoes?
Again, you can skip this step if you like, but it takes seconds and the tomato skin adds nothing positive to the dish other than flecks of skin. So I choose to remove it.
What sort of risotto rice should I use?
I test all of my recipes with arborio rice. This is not my favourite but it is, according to the folk I chat to, the type of risotto easiest to find.

You could use any risotto rice you like with this dish.

My personal favourite is carnaroli, it cooks quicker and has a higher starch content than arborio rice. This leads to a creamier tomato risotto.

Arborio can become "mushy" and "claggy" when overcooked so you just need to be observant.
What does superfino, semifino, and fino on risotto rice packets mean?
This refers to the size and specifically the width of the rice grains and has nothing to do with quality.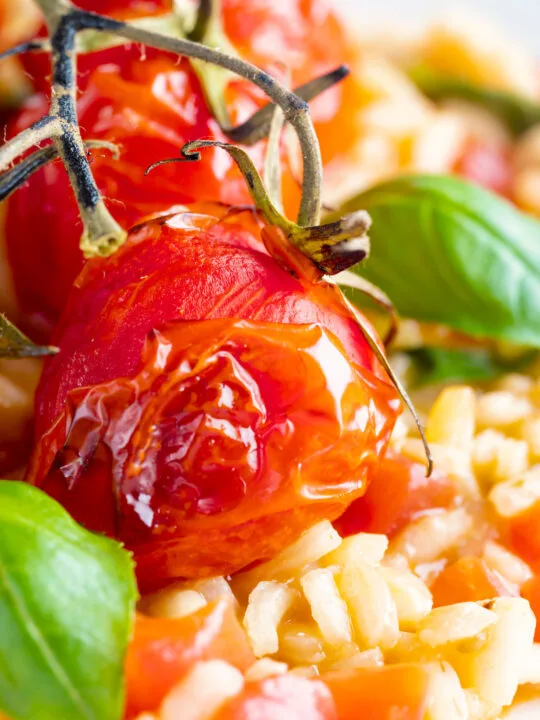 Serving suggestions
I like to keep my sides for risotto really simple, as far as I am concerned this tomato risotto is a wonderful comforting complete light meal in a bowl.
However, I do love to serve it with bread to mop up the bowl when I am done.
I like to use some salty, garlicky and rosemary laden focaccia, my wife loves to serve this with cheesy garlic bread.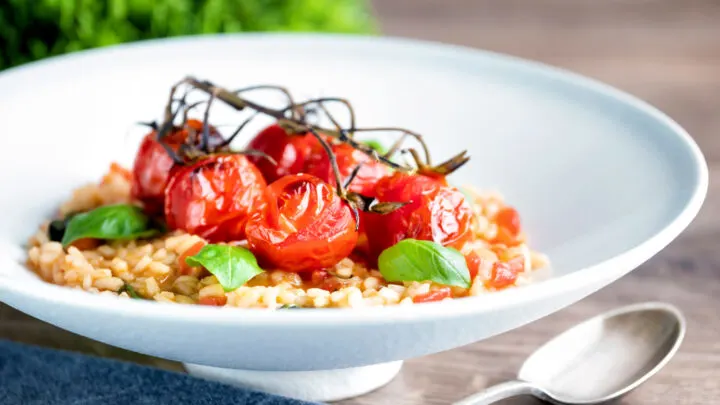 Equipment Used
I only mention brands of equipment if I think that they make a material difference to a recipe. But if you have any questions you can ask them in the comments section below the recipe.
Stovetop.
Oven, this is only required to roast the tomatoes for the topping. This is optional, but it works beautifully.
15cm or 6″ saucepan.
28cm or 11″ frying pan with a lid. You can improvise with foil for a lid.
Stirring and serving spoons.
Ladle.
Kitchen knife.
Chopping board.
Weighing scales and or measuring jug cups and spoons.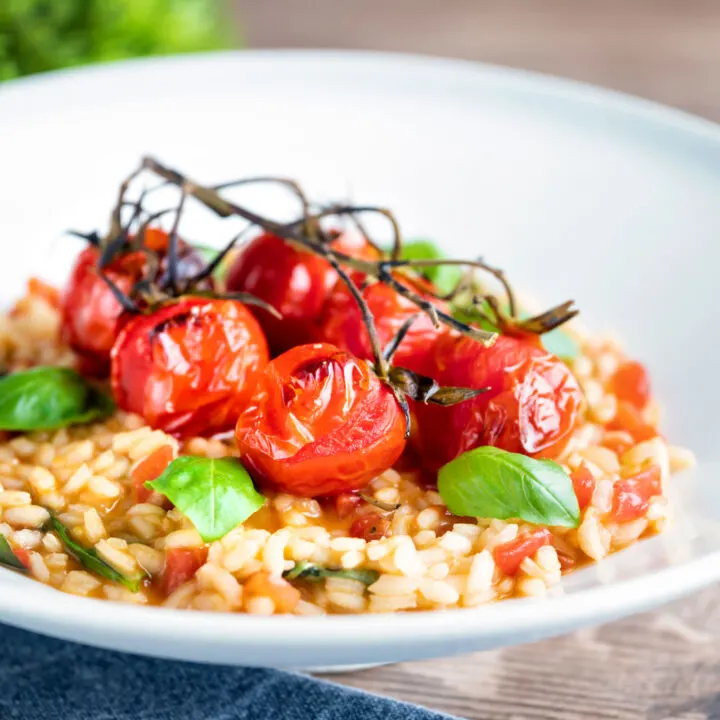 Yield:

2 Servings
Tomato Risotto
A risotto is comfort food heaven and this tomato risotto, whilst unusual is a beautifully simple but fully flavoured mid week vegetarian dinner.
Ingredients
125g (⅔ Cup) Risotto Rice
50g (⅓ Cup) Onions
3 Cloves Garlic
500-600ml (2-2½ Cups) Vegetable stock
125ml (½ Cup) White Wine
2 Medium Plum Tomatoes
45g (3 Tbsp) Butter
24 Basil Leaves (plus more for garnish)
35g (⅓ Cup) Grated Parmesan Cheese
1 Tbsp Balsamic Vinegar
Pinch of Salt
Instructions
Preheat your oven to 200°C or 400°F.
Dice the onion and garlic as finely as you can.
Bring your vegetable stock to a boil in a 15cm or 6" saucepan and then reduce to a simmer.
Cut a small cross in the base of the plum tomatoes and plunge them into the vegetable stock for 30 seconds and then into ice-cold water.
You should now be able to peel the tomatoes easily.
Cut the tomatoes into a 5mm (¼") dice and add them to the stock.
Taste your stock and add some salt if required.
Add 30g (2 tablespoons) of the butter to a 28cm or 11" frying pan over a medium-high heat .
When it begins to foam add the shallot and garlic and cook for 3-4 minutes stirring occasionally.
Add in the rice and stir until it goes translucent at the edges and there is a subtle change in the tone of the sizzle, this should take another minute or so.
Pour in the white wine stirring continuously until it has pretty much all been absorbed or has evaporated.
Turn the heat down to medium and add the stock a ladle full at a time stirring regularly only adding more stock when the previous lot has been almost completely absorbed. There should be a milky starchy residue coating the base of the pan but no "pourable" liquid when it is ready for the next ladle of stock.
Place the cherry tomatoes in a baking tray and pour over the balsamic vinegar.
Sprinkle with a pinch of salt and roast in the oven 200°C or 400°F until the risotto is ready.
When the rice is cooked add in the remaining 15g of butter and parmesan cheese and stir.
Add a lid and allow to sit for 5 minutes, this stage is really important for a nice creamy risotto.
Stir through the basil leaves before serving and top with the roasted tomatoes.
Nutrition Information:
Yield:
2
Serving Size:
1
Amount Per Serving:
Calories:

572
Total Fat:

24g
Saturated Fat:

14g
Trans Fat:

1g
Unsaturated Fat:

7g
Cholesterol:

63mg
Sodium:

1244mg
Carbohydrates:

66g
Fiber:

2g
Sugar:

8g
Protein:

12g
Calorific details are provided by a third-party application and are to be used as indicative figures only.