This recipe will probably taste more of tomatoes than anything else you have ever eaten, the tomato consomme in this simple pasta dish is pure perfection!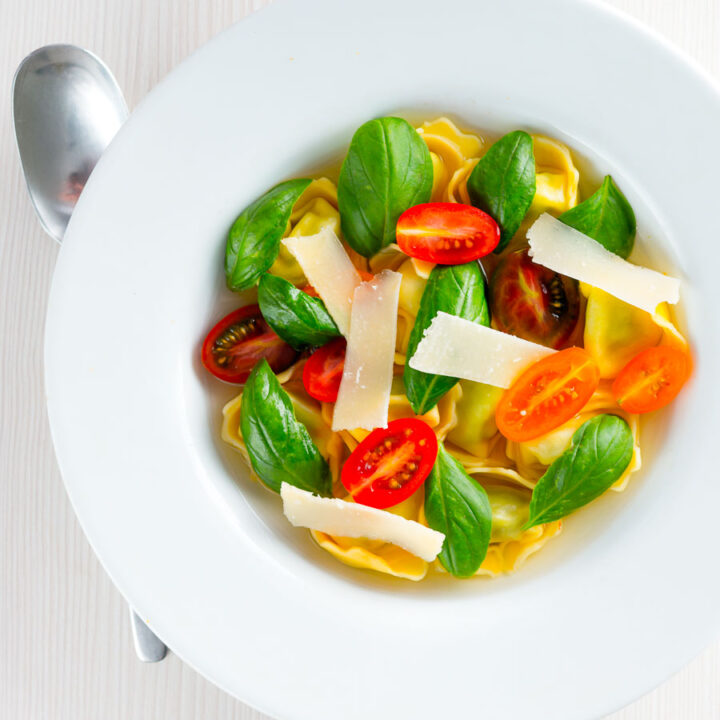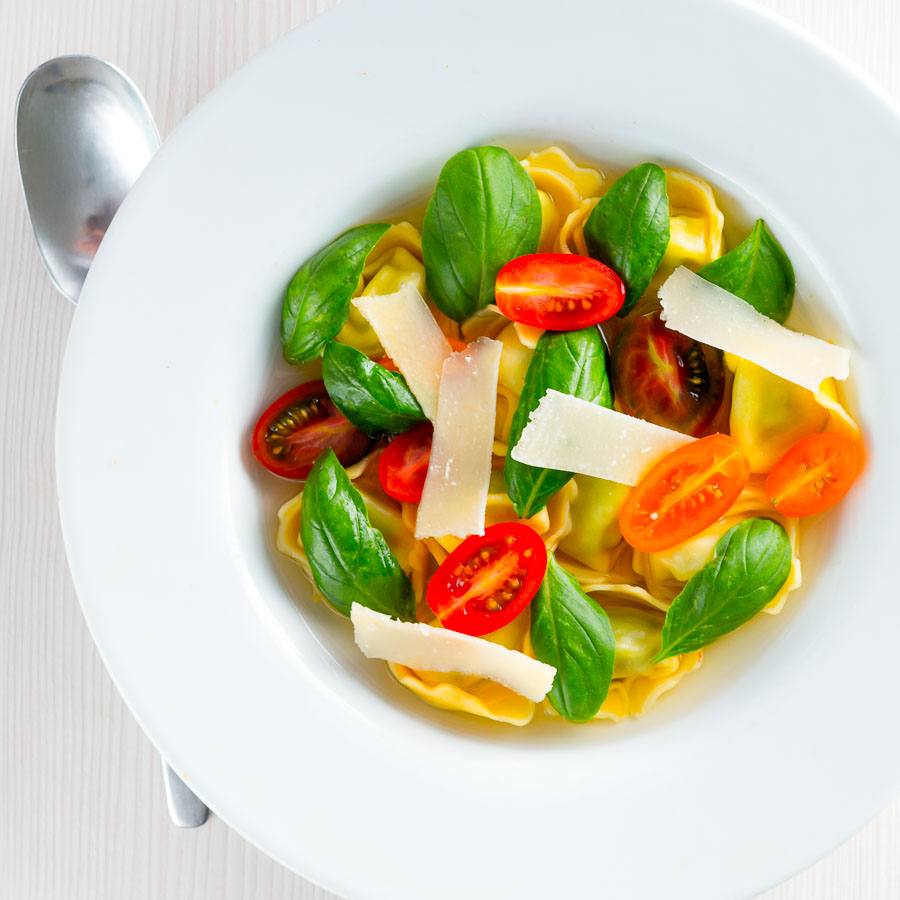 Tomato Consomme with Tortellini.
Whether you call this tomato consomme, tomato broth, tomato brodo, tomato bouillon it will be the most intense tomato flavoured stuff you have ever tried.
Obviously, I skipped calling it tomato stock as it is not 'cooked with tomato bones' so it can't be a stock.
Yes, I do have a bee in my bonnet about this!
Anyway, I digress back to the beautifully simple recipe. I have dressed up some store-bought spinach and ricotta tortellini this time. Is it a pasta recipe? Is it a soup recipe? Who cares it is an exceptionally good recipe!
I have in the past made my own tortellini, however, it is a boatload of work.
This tomato recipe is the epitome of simplicity. Yes, it takes some time and planning but it does not take much work.
It is also seriously blingy, I guarantee everyone will be seriously impressed by both the flavour and look of this recipe.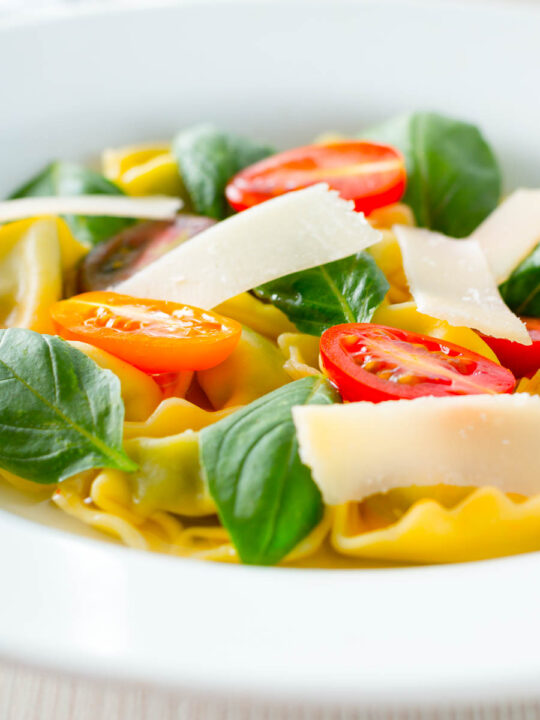 Intense Tomato Flavour!
It is kinda pointless me trying to explain just how intense the tomato flavour in the tomato consomme is.
You have to taste it to believe it. So drag your ass down the to the store and buy a bucket load of tomatoes. You want them as ripe as you can get them so you should be able to get them in the bargain bucket.
They will be the very best tomatoes for this recipe which in reality is a chunky tomato soup. Just a rather elegant one!
I love tomato soup although my love of the canned soup has wained since my childhood. They are wonderful though and this tortellini soup is not either the first tortellini soup here on Krumpli or indeed tomato soup.
If you are ambling across this later in the season and it is a bit chilly outside you should definitely try this wonderful garlic rich roasted tomato soup.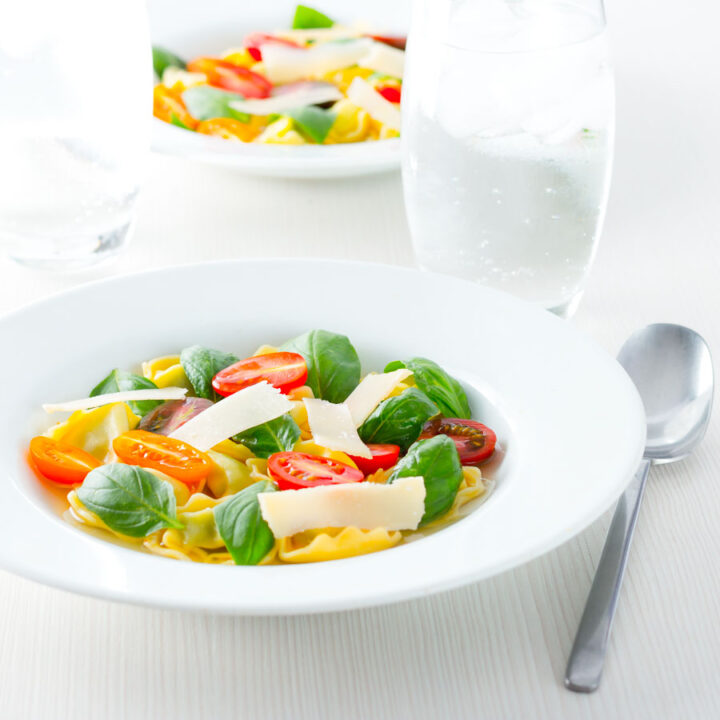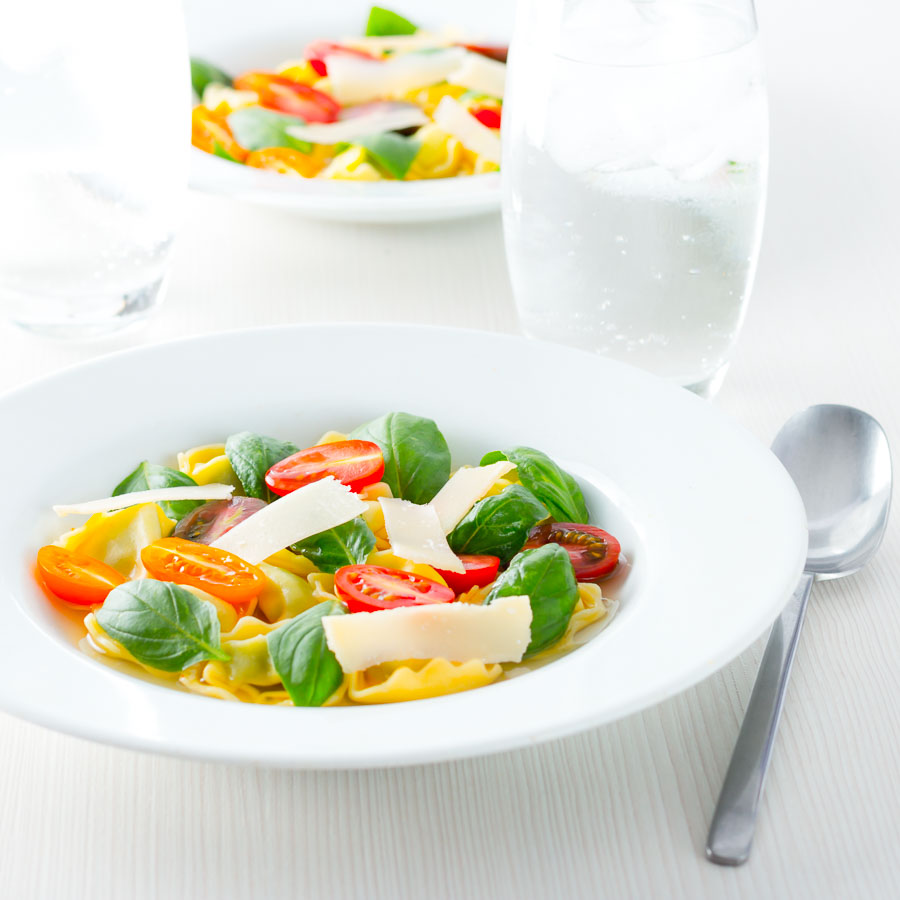 How To Make Tomato Consomme.
The secret to making a good tomato consomme is time. It is time where you do nothing, you are not a slave to the kitchen.
You set it up and walk away, you need to plan this recipe a day in advance.
Whatever you do don't force it. Your yield from your tomatoes will vary greatly, don't worry about it.
Most importantly don't try and mush the tomatoes to get more. You will muddy the consomme and make it cloudy and also dilute the flavour a little.
All the good stuff will drip through all on its own!
Rushing this dish will ruin it, the clean flavours will all disappear. This dish should scream of summer and be as fresh and light as a erm…. Oh I don't know I guess I should have thought that bit out a bit more.
How about we have a competition, bragging rights go to best follow up to. "As fresh and light as…"
Anyway, off to the shop you go, enjoy!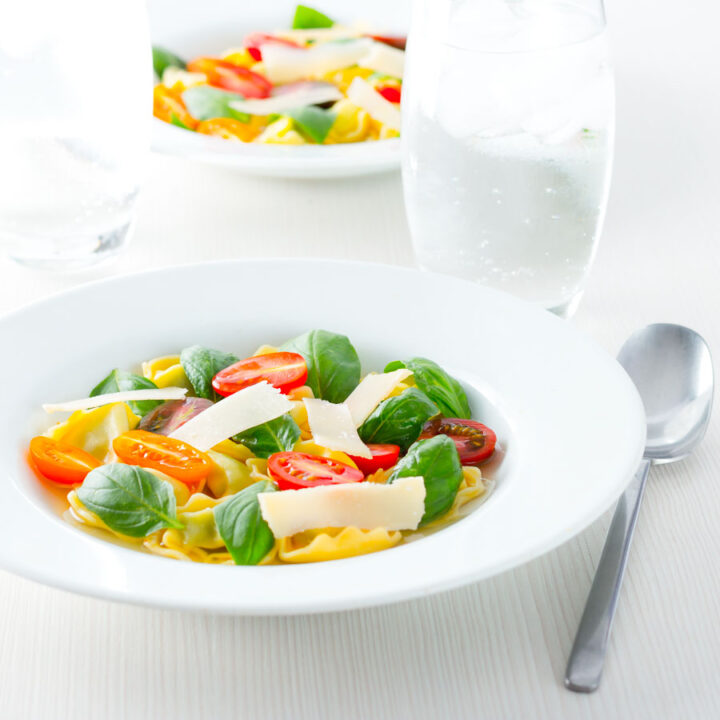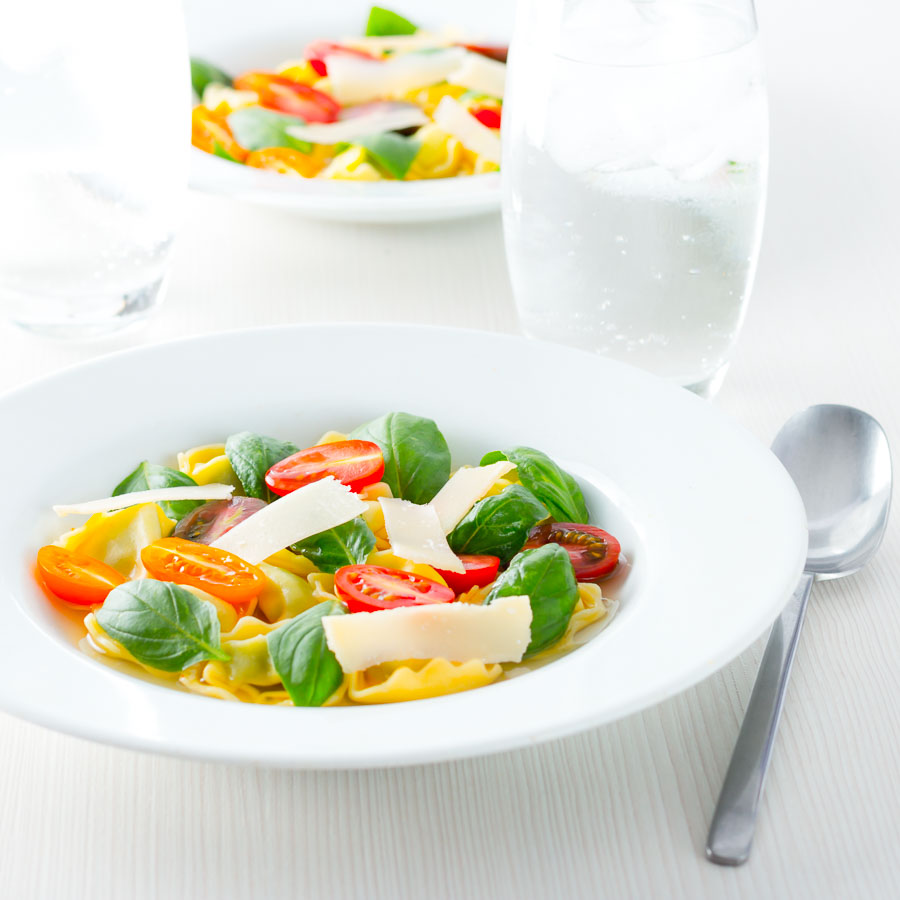 Yield:

2 Servings
Tomato Consomme with Tortellini
Total Time:
1 day
15 minutes
A consomme is a crystal clear stock, this tomato consomme is made by hanging overripe tomatoes and is served with tortellini, fresh tomato and basil. It makes for the most beautiful and elegant soup recipe!
Ingredients
2 kg Tomatoes
1 Tbsp Coarse Sea Salt
250 g Ready Made Tortellini
75 g Cherry Tomato
18 Basil Leaves
Parmesan Shavings
Instructions
Take your tomatoes and roughly chop them and then mix with the salt.
Lightly blitz your tomatoes in a food processor, you do not want to puree them just break them up a little.
Wrap the tomatoes in cheese cloth and place them in a mesh sieve over a pan to collect the liquid for around 24 hours.
This will yield between 750ml and one litre of tomato consomme.
Set aside 200ml of the tomato consomme.
Mix the remaining consomme with enough water to cook the pasta. Add salt to the cooking liquid as necessary and bring to a rolling boil.
Cook the pasta in this liquid according to instructions on the pack, this should take anywhere between 3 and 10 minutes.
Gently heat the remaining tomato consomme in a small pan, do not bring to the boil and 6 seconds before the pasta comes out drop in the cherry tomatoes to gently heat.
Drain the pasta and arrange in the bowl, take the cherry tomatoes and chop in half and add to the pasta with the basil leaves.
Finally pour over the warmed consomme and sprinkle with Parmesan shavings.
Notes
Look for tomatoes that are overripe and choose which ever tortellini you like, I favour spinach and ricotta.
Nutrition Information:
Yield:
2
Serving Size:
1
Amount Per Serving:
Calories:

782
Total Fat:

25g
Saturated Fat:

12g
Trans Fat:

0g
Unsaturated Fat:

9g
Cholesterol:

96mg
Sodium:

4950mg
Carbohydrates:

106g
Fiber:

15g
Sugar:

29g
Protein:

40g
Calorific details are provided by a third-party application and are to be used as indicative figures only.