This tortellini soup is a hearty main course style soup that is crazy quick to make, a perfect midweek pantry "lifesaver" full of great flavours!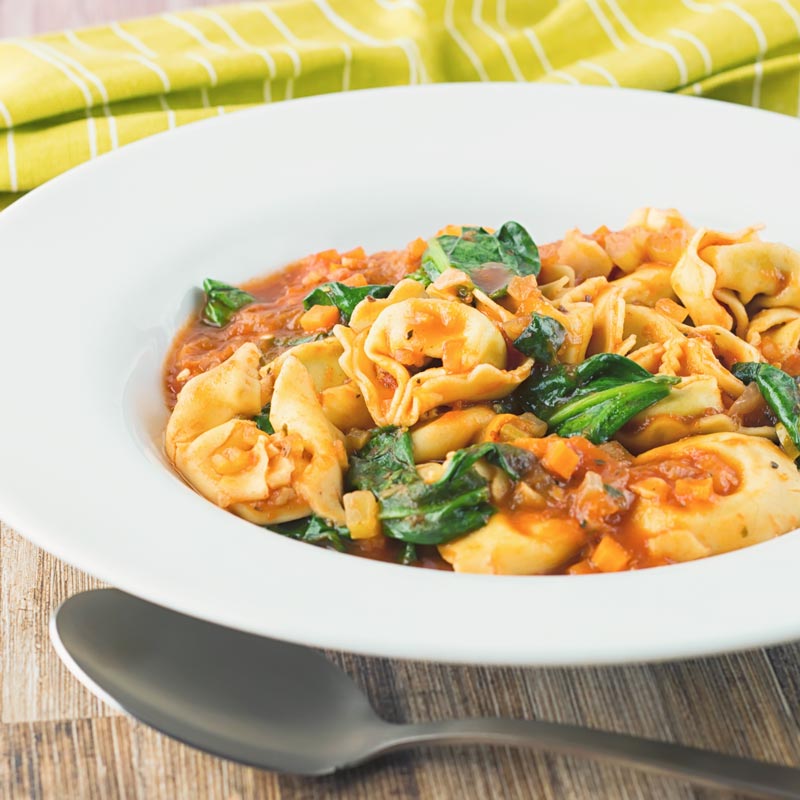 Tortellini Soup.
You all know I love cooking from scratch but sometimes life just gets in the way. This tortellini soup uses one of my favourite freezer/store cupboard products.
Store bought tortellini is something I can always lay my hands on. It is a little more interesting than plain old dried pasta.
Yes, I know that even the expensive stuff ain't as good as homemade.
But you can dress it up real quick and have a fab simple dinner in half an hour without batting an eyelid.
This is the second tortellini soup I have done this year here on Krumpli.
Although this one is a little more "homely" than the tomato consomme I did in the summer. That, of course, does not make it any less tasty.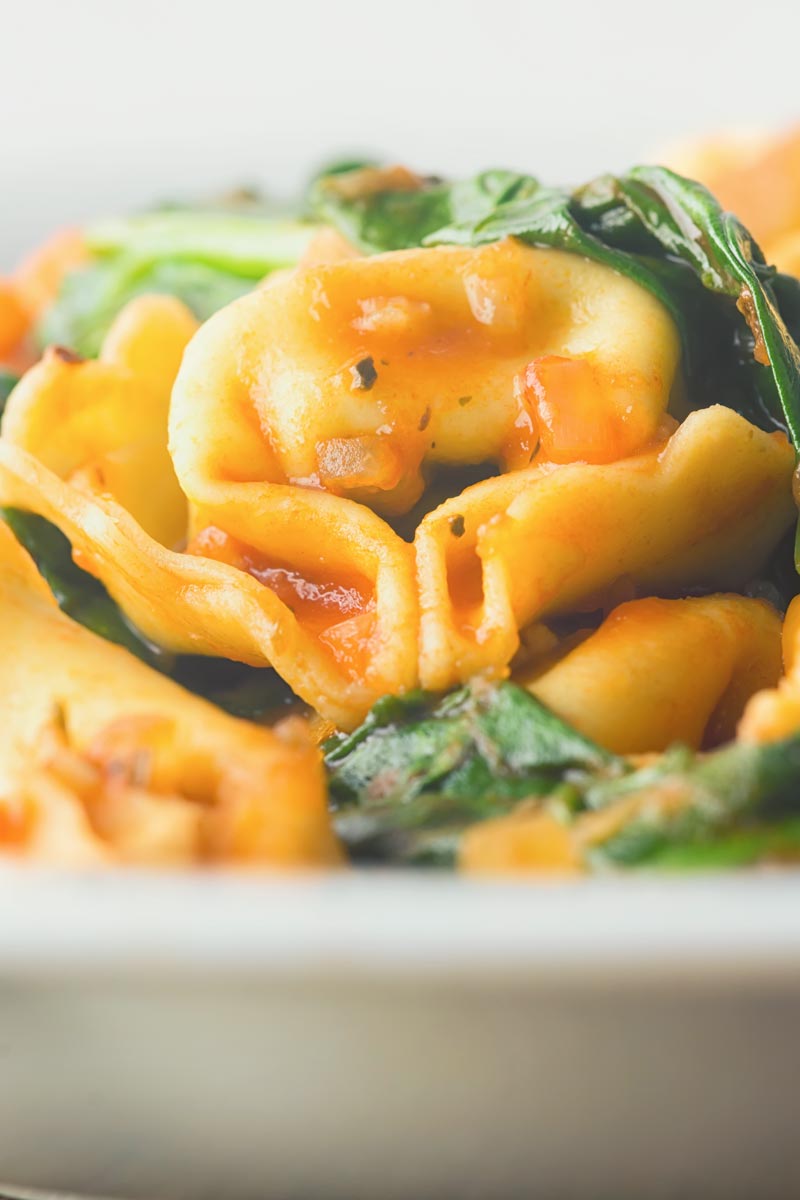 Pasta in Soup.
The pasta in this tortellini soup is at the very heart of the recipe.
I like to use spinach and ricotta as it is my favourite, but you should use what you like.
But pasta in soup is a long-standing way of adding bulk to a store cupboard staple.
As you would expect it is no less common here on my website.
Whether that be in my classic Pasta with peas recipe or indeed my Hungarian goulash recipe…
Yes, a traditional goulash is a soup and yes, it commonly contains pasta!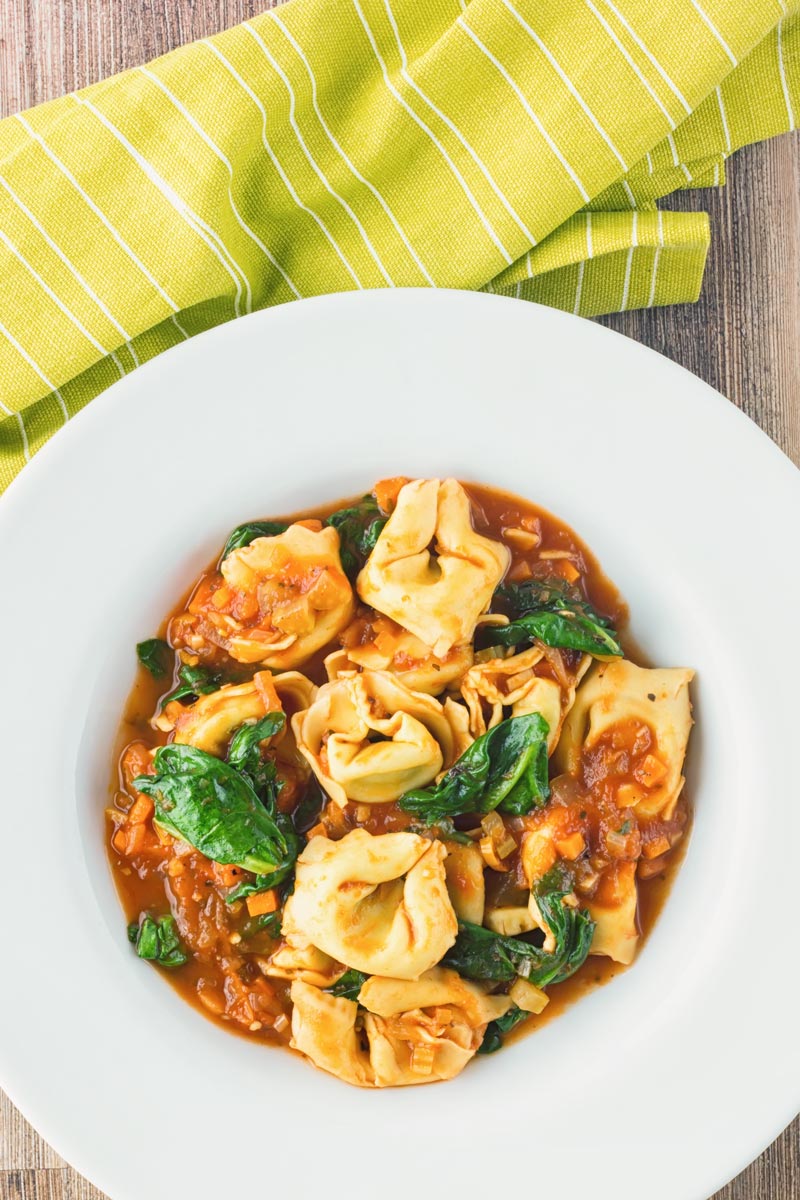 A Taste of Summer in Winter.
I like this recipe as it kinda reminds me of summer, using up some of the produce I had great fun preserving over summer.
Tomatoes always remind me of summer, even on a blustery, grey and wet November day like today.
I guess that kinda happens when you spend summer dealing with on occasions over a quarter of a tonne of the bloody things.
This tortellini soup recipe puts a tiny dent in the homemade tomato passata we made this past summer.
Talking about November, who stole it?
Go on own up, the last thing I remember was my wifes Birthday, next thing I know I'm cooking tortellini soup and my wife tells me we need to go chocolate shopping to stuff our advent calendar.
I don't even like chocolate really, so chocolate for breakfast, great!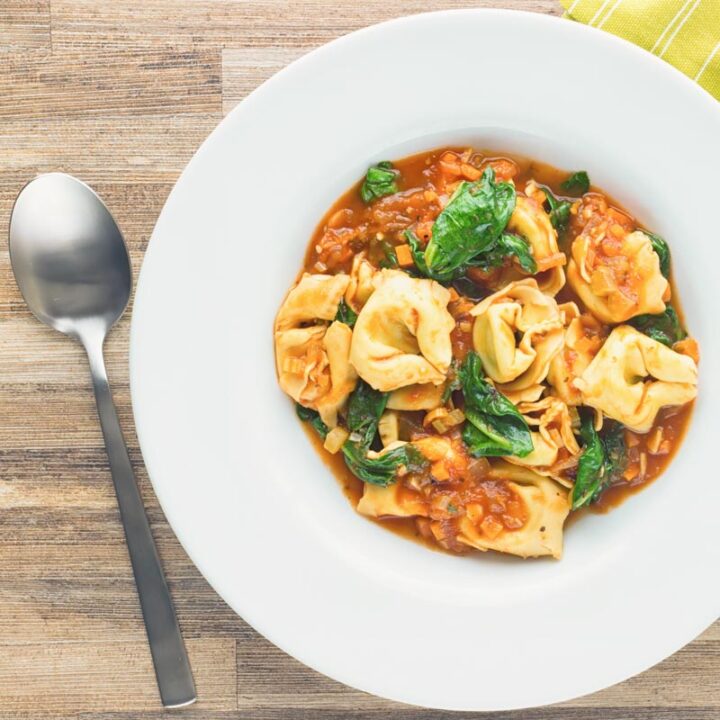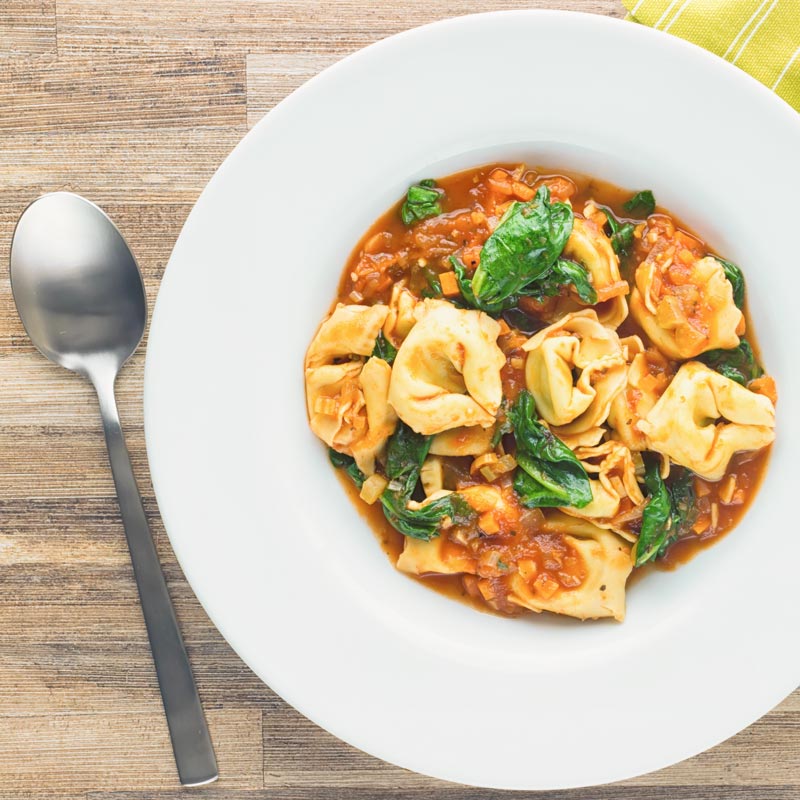 Yield:

2 Servings
Tortellini Soup
This main course soup relies on store-bought tortellini to create a hearty but simple tortellini soup that is cooked in just 30 minutes.
Ingredients
1 Tbsp Cooking Oil
75 g Shallot
35 g Carrot
25 g Celery
3 Cloves Garlic
1 Red Chile
250 ml Tomato Passata
1 Tbsp Tomato Puree
250 ml Vegetable Stock
1 Tsp Dried Oregano
50 g Spinach
200 g Tortellini
Instructions
Finely dice the shallot, carrot and celery.
Finely chop the garlic and slice the chile.
Heat the oil in a deep pan over a medium heat.
Add in the shallot, carrot and celery and cook for 10 minutes or until softened.
Throw in the garlic and chili and cook for a further 60` seconds.
Pour in the passata, and stock along with the tomato puree and oregano and simmer for 10 minutes, now is the perfect time to test for seasoning and add salt and pepper as required.
Now add the tortellini and cook with a lid on for the time it says on the packet, or until cooked to your liking.
Finally add the spinach and stir to wilt, season with salt and pepper and serve.
Nutrition Information:
Yield:
2
Serving Size:
1
Amount Per Serving:
Calories:

453
Total Fat:

15g
Saturated Fat:

4g
Trans Fat:

0g
Unsaturated Fat:

9g
Cholesterol:

42mg
Sodium:

811mg
Carbohydrates:

65g
Fiber:

6g
Sugar:

10g
Protein:

17g