Jerk chicken drumsticks, my take on a Jamaican favourite that sees drummers marinated in a fragrant and spicy paste, then baked or air fried.
Marinade time aside, this spicy drummer recipe takes just 40 minutes to cook and all of it is spent with your feet up!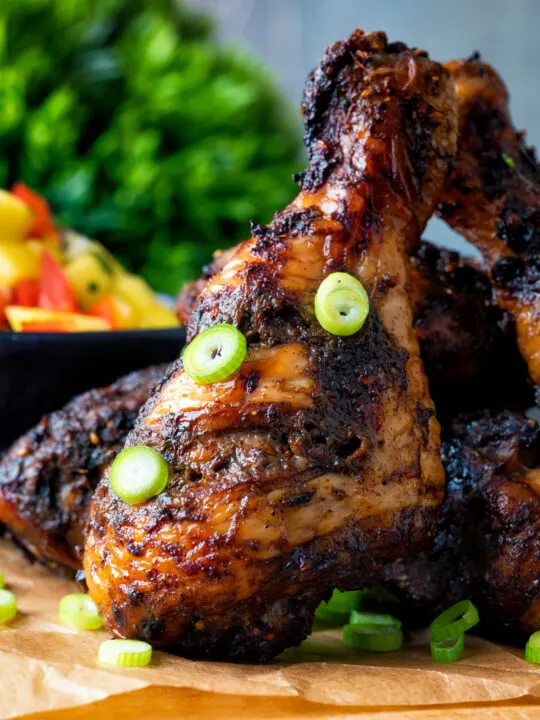 Easy Spicy Chicken Drumsticks
Gimme a bit of spice and I am a very happy chap, and these easy jerk chicken drumsticks certainly pack a punch of spice.
It ain't just heat either the heat of scotch bonnet peppers are complemented by a host of fragrant spices. Allspice, cloves and mace are joined by thyme and cinnamon to create a classic Jerk base.
A base that appears in everything from my jerk chicken burgers to jerk salmon, it also shares many flavours with classic Jamaican curry goat.
But like so many of my recipes, these spicy drummers feature a couple of very definite Krumpli twists.
Rather than using brown sugar to add a touch of sweetness I use treacle or molasses. This gives the crust a bittersweet edge, which is perfect with the fruity sweet flavour of scotch bonnet peppers.
I also replace the much more typical lime juice with malt vinegar.
A delicious, vinegar that has an almost caramel back note, which for me makes it the perfect addition to jerk flavours.
One that is not particularly unusual in Jamaican cuisine, it is a common ingredient in escovitch fish.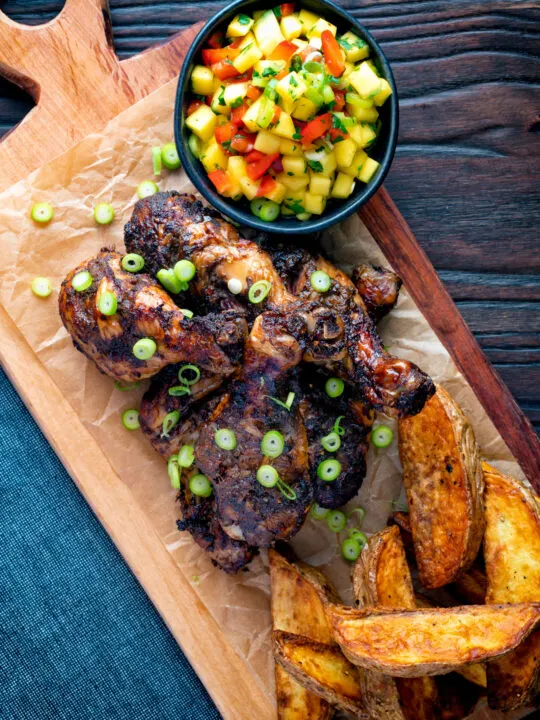 Frequently Asked Questions
What are Scotch Bonnet Chilli Peppers?
Scotch bonnets are a pepper commonly associated with Caribbean food. They are fiercely hot and have a fruity, almost sweet flavour.
Can I use other types of chilli?
Yes of course! I always recommend that you use a chilli type that you both like and can cope with.

Scotch bonnet peppers have a similar heat level to habanero, so if you are struggling to find them, these are a reasonable substitution.

If you want to swap them because you find them too hot then drop down the scale. The next level down for me would be Thai birds eye, then the next level down would be cayenne peppers.

If you really want mild then use jalapeno peppers.
Do I really have to leave the marinade on so long?
No, but if you really want the full effect then you need to marinate for at least 4 hours. Overnight is even better!
Can I make these in advance?
Yes, although I would serve them cold rather than trying to reheat them because they will dry out. But the flavours work do wonderfully when eaten cool.
Serving Suggestions
These jerk chicken drumsticks have a fierce heat and I like to serve them with sides that soothe that.
Here I have served them with some simple air fryer potato wedges and a mango salsa that I lifted from my glorious jerk chicken burger. A pineapple salsa would work wonderfully too!
If you wanted to stick with the Caribbean vibe you could add rice and peas on the side.
Although I personally favour finger food as a side for these spicy chicken drummers.
As a result, I would be more likely to recommend something like sweet potato fries or plantain chips.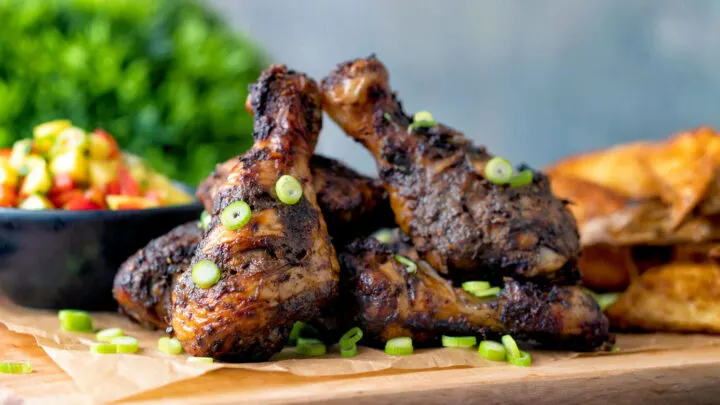 Equipment Used
I only mention specific brands of equipment if I think they make a material difference to a recipe. If you have any questions feel free to ask them in the comments section below the recipe.
Oven or air fryer.
Baking tray if you are using the oven.
Mini blender.
Bag or another item to marinade the chicken.
Knife.
Chopping board.
Measuring spoons.
Quick read meat thermometer. This is optional but I swear by mine!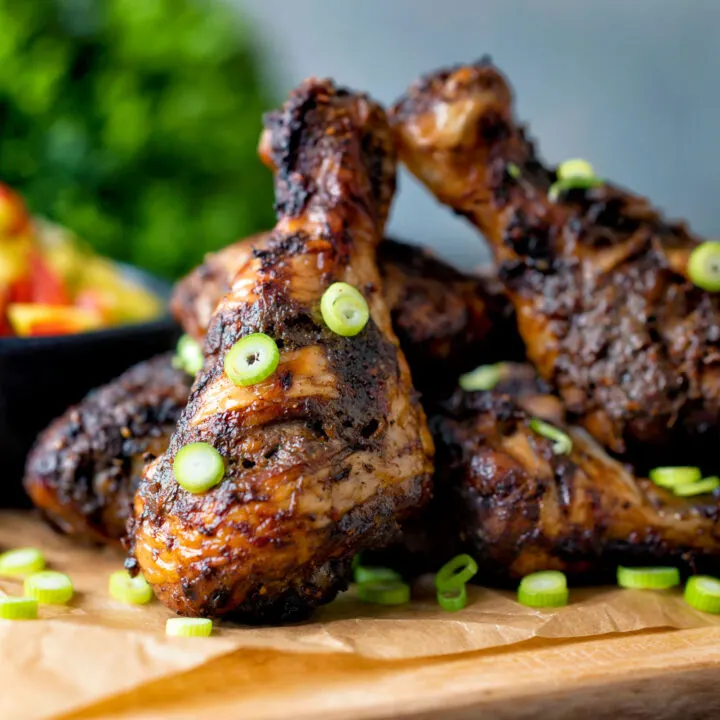 Yield:

2 Servings
Jerk Chicken Drumsticks Recipe | Baked or Air Fried
Total Time:
4 hours
50 minutes
These jerk chicken drumsticks are a wonderfully spicy munch rocking the flavours scotch bonnet chilli peppers, allspice, cloves and thyme and I love 'em!
Ingredients
6 Chicken Drumsticks
2 Scotch Bonnet Chilli Peppers
2 Spring Onions
2 Cloves Garlic
15g (½ Thumb Sized Piece) Ginger
¼ Tsp Ground Cloves
½ Tsp Ground Cinnamon
½ Tsp Ground Allspice
1 Tsp Thyme Leaves
1 Blade of Mace
1 Tbsp Black Treacle, Substitute for molasses
1 Tbsp Malt Vinegar
1 Tsp Salt
½ Tsp Ground Black Pepper
Instructions
Cut 4 X 1cm (½") deep slits into the flesh of the chicken thighs then place them into a bag.
Remove the stems from the chilli peppers and add them to a mini blender.
Roughly chop the spring onions and add them to the blender.
Peel the garlic cloves and the ginger and add them to the blender.
Add the rest of the ingredients to the blender then blitz to form a smooth paste.
Pour the jerk paste over the chicken and then massage it into the chicken thighs using the bag to protect you from getting the chilli on your fingers.
Allow the chicken to marinate for at least 4 hours but 24 hours is better.
To Bake:
Place the chicken drumsticks on a baking/cooling rack and then onto a baking tray, this helps the chicken cook a little more evenly.
Bake the chicken in a preheated oven at 150°C or 300°F for 15 minutes.
Turn up the heat to 200°C or 395°F and cook for another 20-25 minutes. The temperature of the chicken should reach 73°C or 165°F before serving.
To Air Fry:
Spray the basket of the air fryer with a neutral oil.
Air fry at 150°C or 300°F for 12 minutes.
Flip the chicken and then air fry at 200°C or 395°F for another 20 minutes. The temperature of the chicken should reach 73°C or 165°F before serving.
Nutrition Information:
Yield:
2
Serving Size:
1
Amount Per Serving:
Calories:

618
Total Fat:

25g
Saturated Fat:

7g
Trans Fat:

0g
Unsaturated Fat:

15g
Cholesterol:

347mg
Sodium:

1450mg
Carbohydrates:

26g
Fiber:

3g
Sugar:

19g
Protein:

68g
Calorific details are provided by a third-party application and are to be used as indicative figures only.