Jerk Chicken is a West Indian classic, this is my humble take on a fiery fragrant dish that is not for the feint hearted when it comes to chili.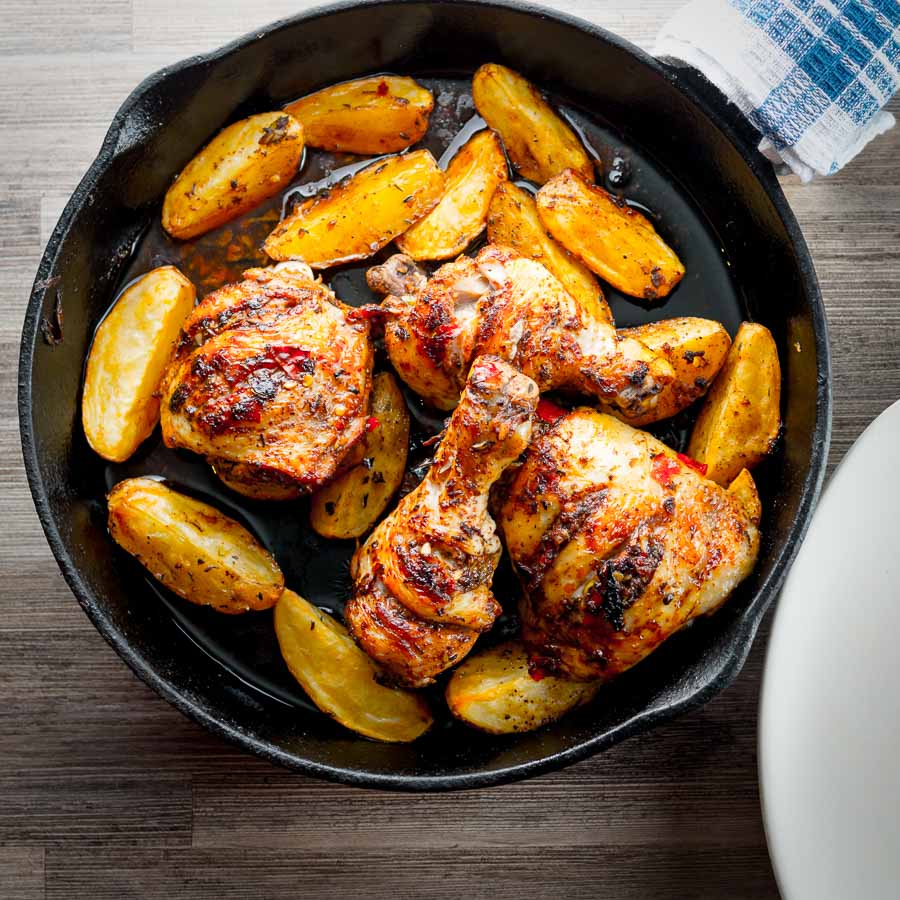 Skillet Jerk Chicken with Potatoes.
He is off again, my skillet Jerk Chicken recipe sees me visit yet another country from my little corner of Hungary.
As with all of my recipes this is far from authentic. But it is my take on the wonderfully aromatic flavours typified in this dish. Not forgetting of course the real 'drop kick' in the face that you should expect from jerk chicken.
Of course you could scale back the heat in the dish by using milder and fewer chilis.
That does seem to defeat the purpose of trying to replicate a dish with such a notoriety for chili burn. But it is your dinner, make it for you!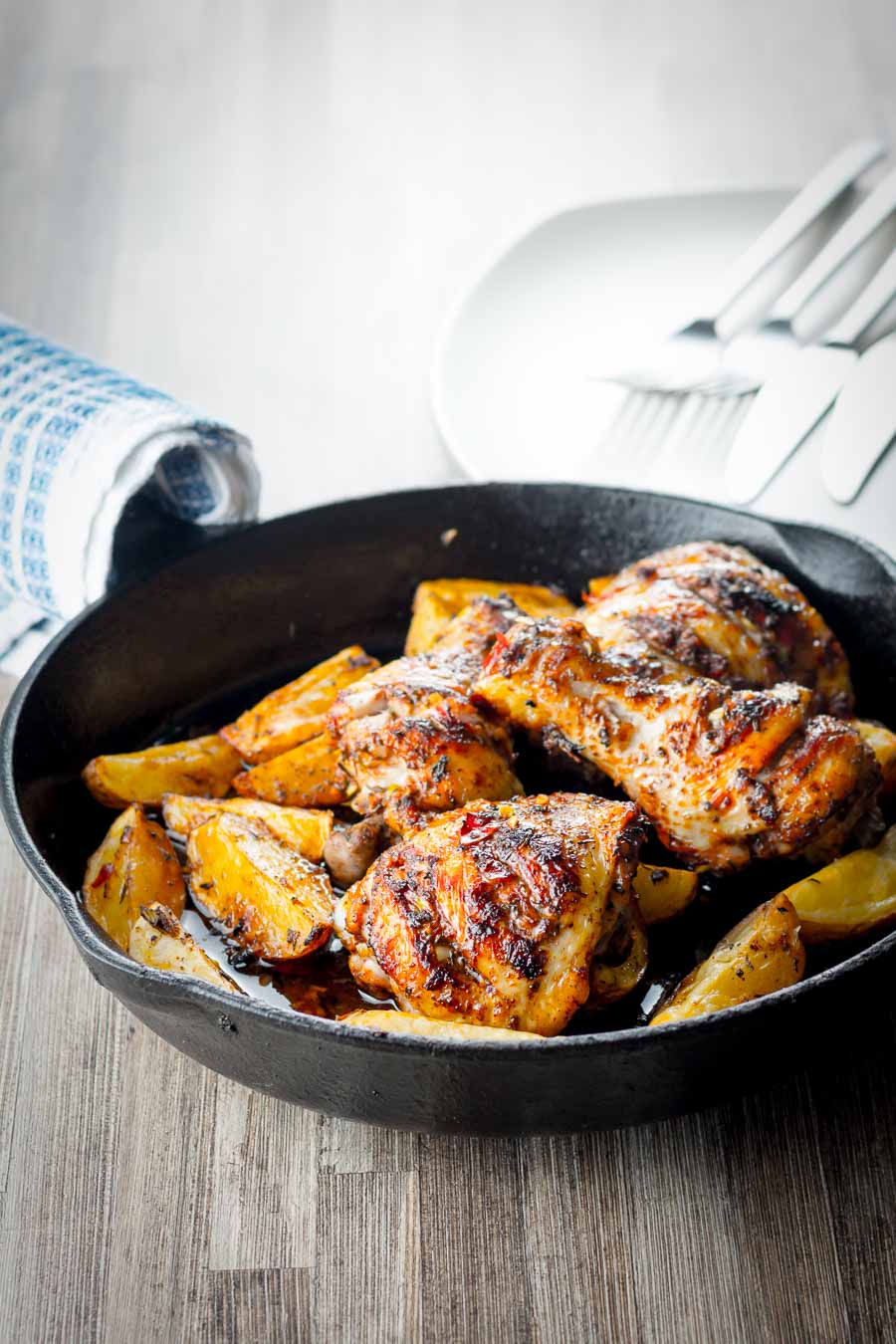 Skillet Recipes.
I spoke about my love of cooking in a cast iron skillet in my stuffed pasta shells recipe, it really is a great and simple way of cooking. Not to mention the lack of washing up.
It is a cooking method I use all of the time, it is so diverse.
Everything from a full dinner like these skillet pork chops with cabbage, through to this breakfast chickpea and tomato recipe. I'm really not one for promoting products and you will get no brand names here, but I find my cast iron skillet a kitchen essential!


Fierce Heat!
Traditionally Scotch Bonnet Chili would be used in this dish. However I don't grow scotch bonnet on our little plot of mud. I don't really cook enough dishes that would require a whole plant full of them. For me the closest match is fresh Cayenne peppers, to me they have a very similar front end heat.
Every time I have eaten Jerk Chicken, either at a friends house or a Caribbean restaurant all of the chili heat has 'drop kicked' you in the face straight away.
However it does not stick around and linger. So for instance the heat from my cherry bomb peppers is not quite so aggressive initially. But it hangs around for a long time.
Cayenne peppers are different they have an almost viscous peppery initial 'bite' but mellow very quickly. They are not as hot but have a very similar 'behaviour' when it comes to heat delivery.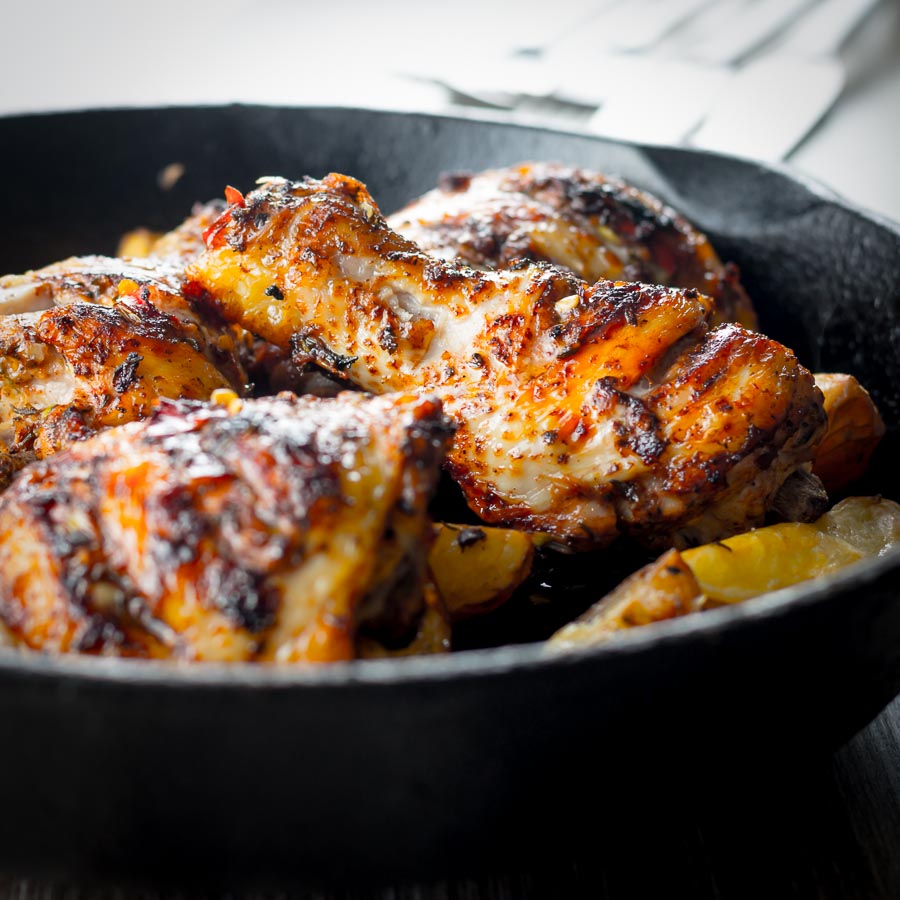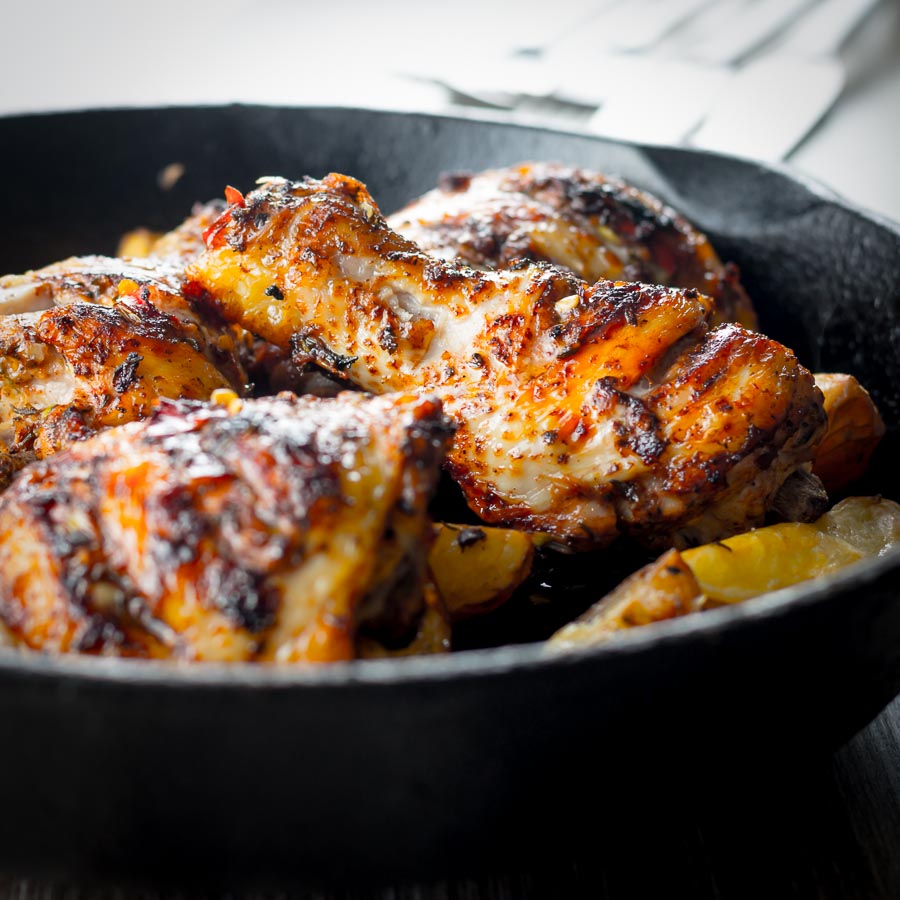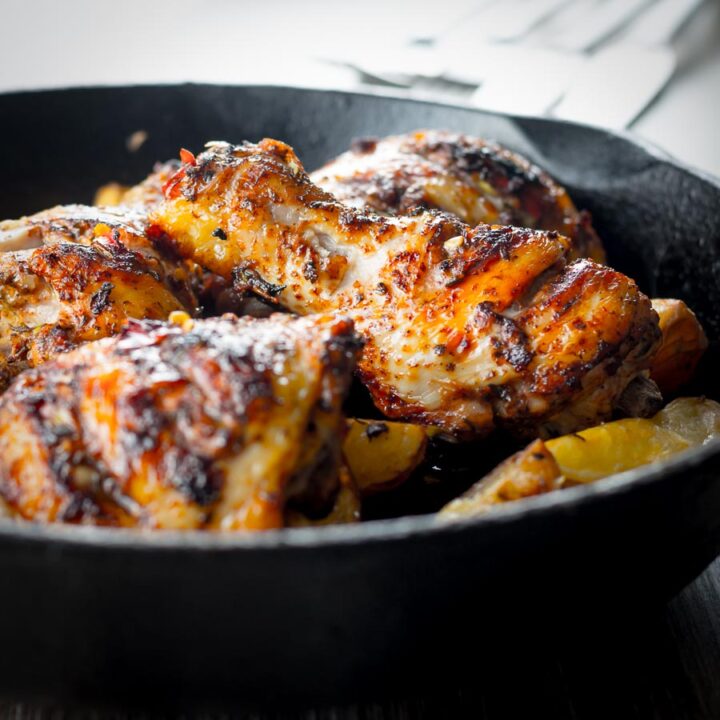 Skillet Jerk Chicken with Potatoes
Total Time:
8 hours
50 minutes
Jerk Chicken is a West Indian classic, this is my humble take on a fiery fragrant dish that is not for the feint hearted when it comes to chili.
Ingredients
For the Marinade
2-5 Whole Chile, Roughly chopped, I use 5 fresh Cayenne Peppers, traditionally Scotch Bonnet Peppers would be used but I don't grow them
2 Spring Onions, Roughly chopped, both green a white parts
2 Cloves Garlic
1 Tsp Ground Black Pepper
1/4 Tsp Ground Cloves
1/2 Tsp Ground Cinnamon
1/2 Tsp Ground Allspice
1 Tsp Dried Thyme
1/2 Tsp Grated Nutmeg
1/2 Tsp Black Treacle, Substitute for molasses
1 Tsp Cider Vinegar
2 Chicken Legs
1 Tbsp Cooking oil, Neutral
350 g Potatoes, Roughly double to size of a golf ball cut into quarters
2 Tbsp Worcestershire Sauce
Instructions
Place the chili, garlic and spring onion in a mini blender and blitz with enough oil to to make a paste then transfer into either a sealable container or a ziplock bag beg enough to hold to chicken legs
Then add the black pepper, cloves, cinnamon, allspice, thyme, nutmeg, black treacle and vinegar and mix to form a paste
Separate the chicken legs into thighs and drumsticks and make two slits diagonally across the thickest part of each drumstick and 2 across the thickest part of each thigh and massage in the marinade paste
Set aside for at least an hour and as long as over night, remove from the fridge about an hour before you are ready to cook and allow to come to room temperature
Preheat your oven to 200°C with a cast iron or heavy based pan in your oven with 1 Tbsp of oil
Generously salt & pepper your potatoes and add them to the pan in the oven and allow to roast.
20 minutes after the potatoes have gone in heat a frying pan over a medium heat and fry the chicken ensuring it is golden on all sides and then transfer to the skillet
De-glaze the frying pan with 50ml of water and the 2 tablespoons of Worcestershire sauce and add it to the skillet and cook for a further 20 minutes
Nutrition Information:
Yield:

2
Serving Size:

1
Amount Per Serving:
Calories:

844
Total Fat:

32g
Saturated Fat:

7g
Trans Fat:

0g
Unsaturated Fat:

21g
Cholesterol:

328mg
Sodium:

459mg
Carbohydrates:

70g
Fiber:

10g
Sugar:

18g
Protein:

71g
Calorific details are provided by a third-party application and are to be used as indicative figures only.