Jamaican curry goat, fall-off-the-bone tender meat cooked in a spicy yet fragrant curry sauce loaded with spring onions, allspice and thyme.
This is very much a slow-cooked dish that benefits from an overnight marinade before a 3-hour cooking time. But it is very easy and most of your time is spent kicking back drinking in the heady aroma.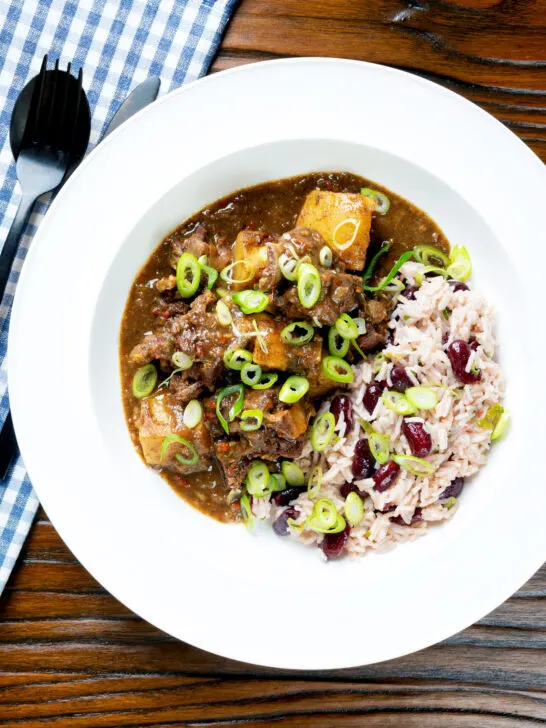 Jamaican Curried Goat
There is no denying that I have a "thing" for curry! This curry goat recipe joins a host of curries from around the world.
I have classic Thai curries like beef massaman curry, Japanese katsu curry of course a British Indian chicken tikka masala alongside more classic Indian Curries like this vegan rajma masala.
I've got somewhere in the region of 100 curry recipes knocking around my website, so you have plenty to choose from.
This curry goat recipe is my take on a classic Jamaican dish, it is fiery with Scotch bonnet chilli peppers but really herb and fragrant.
Despite all of the flavours roughly cut goat meat that is cooked on the bone is the star of this dish.
It cooks slowly in a heavily flavoured broth for a couple of hours before potatoes are added to add substance to the dish. The also act as a thickening agent for the boldly flavoured curry sauce!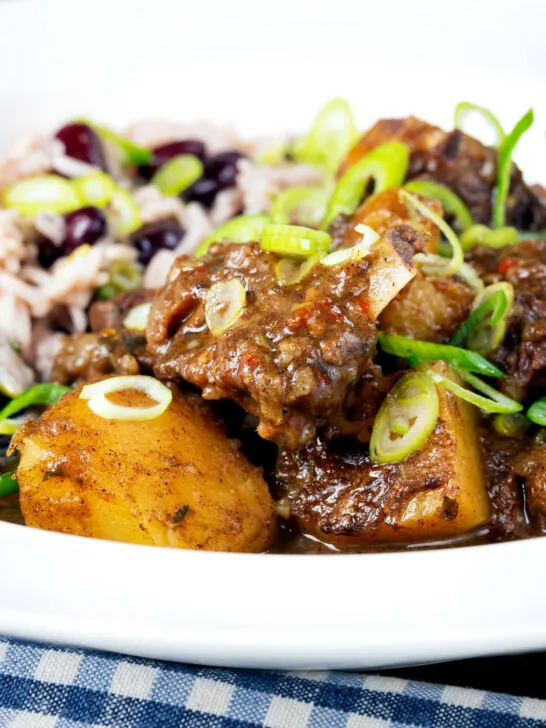 Frequently Asked Questions.
Where can I buy goat meat on the bone?
The obvious answer to this question is a Jamaican or Caribbean supermarket, if you live in a large town city there should be one that you can travel to.
If you are not in a large city then it is readily available on line. If you are not keen on shopping on line for meat then you could use mutton and turn this into a Jamaican mutton curry.

Mutton is readily available in Indian and Pakistani stores as well as Turkish and Greek stores.
Can I use Indian Curry Powder?
Yes, although the flaovur profiles will vary greatly. It is important to use a mild curry powder because Jamaican and Caribbean curry powders don't typically contain chilli.

The heat in this recipe comes from Scotch Bonnet chilli peppers.
What is a Scotch Bonnet Chilli Pepper?
It is a very similar wee beastie to the closely related habanero pepper.

They are both hot, real hot, around 100,000-250,000 on the Scoville scale. To give that some context, Jalapeno ranks at about 5,000 and Cayenne around 50,000! So glove up when chopping your chilli.

The main difference between habanero and scotch bonnet is that the latter has a bit of sweetness that the habanero lacks. You could use habanero in this recipe without any alterations.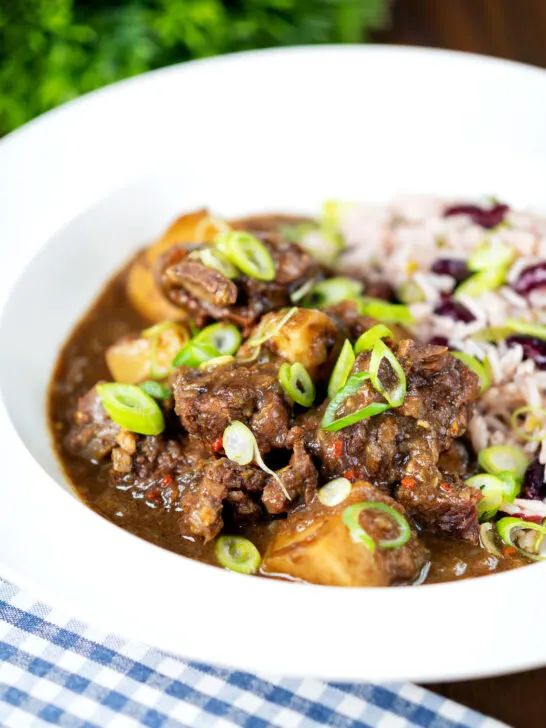 Serving Suggestions
I personally consider recipe to be a complete meal and would often serve it as it is.
If I'm feeling greedy then I'll serve it with rice and peas as I have here. I once ordered curry goat in a restaurant and it came with fried plantain which was really rather good.
Of course, you could serve this dish with any plain rice, brown or white, there is more than enough flaovur to go around.
Another option that I love to serve with this dish is fried Jamaican dumplings, they are usually eaten for breakfast or lunch, but I love them with a curry!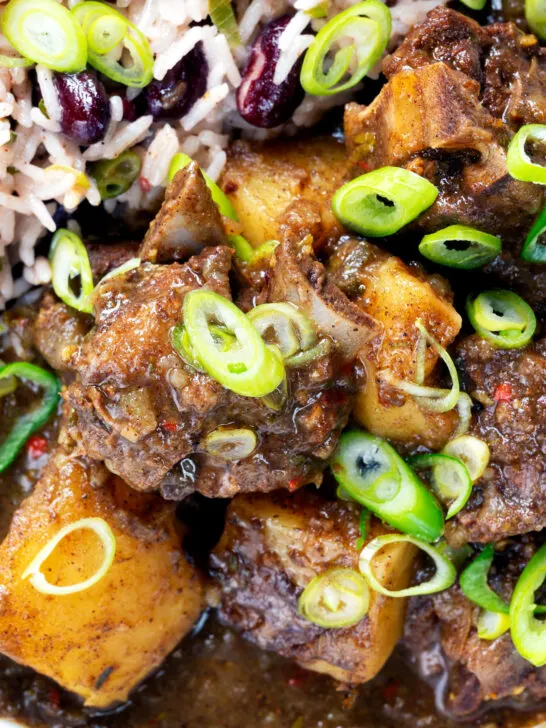 Equipment Used
I only name-check brands of equipment if I think that they make a material difference to a recipe. But if you have any questions feel free to ask them in the comments section below the recipe.
Stovetop.
24cm or 10″ saucepan.
Medium bowl or large bag to marinate the goat meat.
Chopping board.
Kitchen knife.
Vegetable peeler.
Grater.
Weighing scales and or measuring jug, cups and spoons.
Stirring and serving spoons.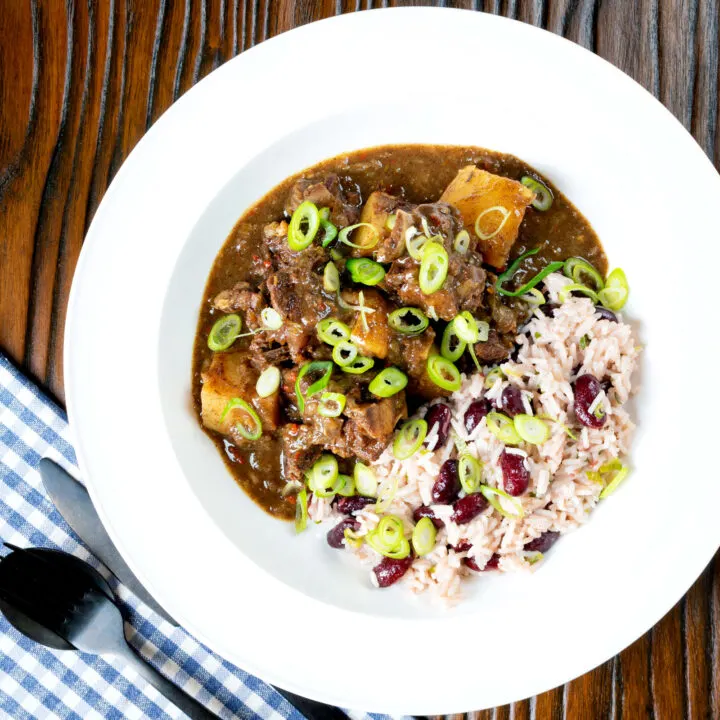 Yield:

2 Servings
Jamaican Curry Goat Recipe
Cook Time:
2 hours
45 minutes
Total Time:
10 hours
55 minutes
Jamaican curry goat is a delicious spicy simple slow slow-cooked curry with a huge flavour thanks to roughly cut, on the bone, goat or mutton.
Ingredients
500g (17oz) Bone-in Goat Meat
150g (1 Cup) Onion
2 Spring Onions (Plus Extra to Garnish)
6 Garlic Cloves
15g (Half of a Thumb Sized Piece) Ginger
1 Scotch Bonnet Chilli Pepper
2 Tbsp Lime Juice
3 Tbsp Jamaican Curry Powder
½ Tsp Ground Allspice
¼ Tsp White Pepper
2 Tbsp Cooking Oil
750ml (3 Cups) Water
3-4 Sprigs Fresh Thyme
1 Tsp Vegetable Stock Powder
300-350g (1¾-2¼ Cups) Potatoes
Instructions
Cut the onion in half, peel it and then cut it into a 1cm dice.
Shredd the spring onions as finely as you can.
Peel and roughly chop the garlic cloves.
Peel and grate the ginger.
Chop the Scotch Bonnet chilli pepper as finely as you can.
Place the goat in a bowl and add the onion, spring onion, garlic, ginger, chilli pepper, two tablespoons of the curry powder, allspice, white pepper and lime juice, then give everything a stir and allow it to marinate for as long as you can. Upto 24 hours!
Heat a 24cm or 10" heavy-based saucepan over a medium-high heat and add the oil.
Throw in the remaining curry powder and give it a quick stir to toast, then add the marinated goat and onion mix. Cook until the goat is nicely coloured.
Pour over the water using just enough to cover the meat, add the stock powder, salt and fresh thyme, give everything a stir and bring it to a boil, then reduce the heat to very low, add a lid and cook for 2 hours.
After the curry has had 2 hours cooking, peel the potatoes and cut them into a 30-35mm or 1¼-1½" dice ad stir them into the curry. You should also have a taste now and add more salt if required.
Increase the heat to medium and cook for another 45 minutes or until the potatoes are cooked through and the curry has thickened a little.
Nutrition Information:
Yield:
2
Serving Size:
1
Amount Per Serving:
Calories:

773
Total Fat:

24g
Saturated Fat:

5g
Trans Fat:

0g
Unsaturated Fat:

19g
Cholesterol:

214mg
Sodium:

340mg
Carbohydrates:

56g
Fiber:

10g
Sugar:

7g
Protein:

85g
Calorific details are provided by a third-party application and are to be used as indicative figures only.