Jamaican curry goat, classic Caribbean fayre featuring slow-cooked fall off the bone, tender goat meat in a spicy fragrant curry sauce.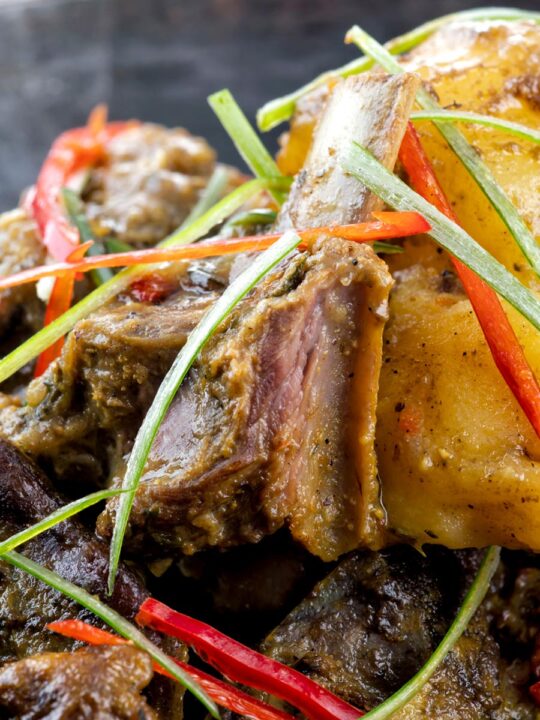 Caribbean Curried Goat.
There is no denying that I have a "thing" for curry! This curry goat recipe joins a host of curries from around the world.
I have classic Thai curries like beef massaman curry, Japanese katsu curry of course a British Indian Chicken Tikka Masala alongside more classic Indian Curries like this vegan rajma masala.
At the last count, I had well over 50 different curry recipes!
This recipe hails from Jamaica and is influenced by a host of recipes and my experiences of British Jamaican cooking.
It features roughly hewn meat on the bone. Yes, it is a bit of a pain to eat and not one for a first date, or indeed your best white frock!
But holy crap does this add so much flavour to the dish and it should not be swapped out!
The marrow and sinew melts into the curry sauce giving it the most wonderful texture and flavour.
Then we add a simple from scratch Caribbean curry powder and cook it low and slow.
Frequently Asked Questions.
Where can I buy goat on the bone?
I know this recipe may involve a bit of a shopping hunt but it is well worth it.
You can find roughly chopped goat for this Jamaican goat curry in both Caribbean and Indian or Pakistani stores.
You may also have some joy in Central European stores like Hungarian, Slovakian or Polish. It is much more likely to be mutton but that is fine turn it into a Jamaican mutton curry, no changes to the recipe are required!
Can I use Caribbean curry powder?
Yup, just swap it out for the seeds and turmeric powder in my recipe. You will need around one table spoon but it will depend on the powder you buy.
I rarely use curry powder and tend to make my own, it only takes a few minutes.
Most importantly whole seeds have a much longer shelf life than ready-made mixes.
There is nothing worse than finding a curry powder in the cupboard and it tasting of nothing!
What is a Scotch Bonnet Chilli Pepper?
It is a very similar wee beastie to the closely related habanero pepper.
They are both hot, real hot, around 100,000-250,000 on the Scoville scale. To give that some context, Jalapeno rank at about 5,000 and Cayenne around 50,000! So glove up when chopping your chilli.
The main difference between habanero and scotch bonnet is that the latter has a bit of sweetness that the habanero lacks.
You could use habanero in this recipe without any alterations.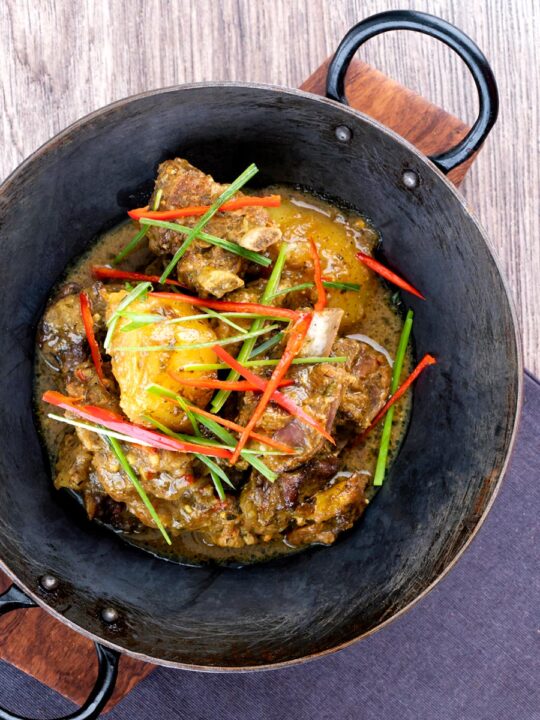 Serving Suggestions.
I personally consider this recipe to be a complete meal and would serve it as it is.
However it is often served with rice and peas, although I once ordered a Caribbean goat curry in a restaurant and it came with fried plantain which was really rather good.
I've also served this with my crispy fried potatoes as a side dish and omitted the potatoes from the curry.
Yield:

2 Servings
Jamaican Curry Goat Recipe
Cook Time:
2 hours
45 minutes
Total Time:
2 hours
55 minutes
Jamaican or Caribbean curry goat is a delicious spicy simple slow cooked curry with a huge flavour thanks to roughly cut on the bone goat or mutton.
Ingredients
500g (17oz) Bone-in Goat Meat
1 Tbsp Cooking Oil
1 Tsp Coriander Seeds
1/2 Tsp Cumin Seeds
1/2 Tsp Brown Mustard Seeds
1/4 Tsp Fennel Seeds
1/4 Tsp Fenugreek Seeds
6 Allspice Berries
1 Tsp Turmeric Powder
75 g (1/2 Cup) Onion
6 Garlic Cloves
1 Scotch Bonnet Chilli Pepper
1 Tsp Turmeric Powder
1 Tsp Dried Thyme
2 Bay Leaves
500 ml (2 Cups) Water
165 ml (2/3 Cup) Coconut Milk
2 Tsp Dark Brown Sugar
1 Tsp Salt
300g (2 Cups) Potatoes
1 Spring Onion
1 Medium Hot Red Chilli Pepper
Instructions
Finely dice the onion as small as you can.
Mash the garlic into a paste.
Finely dice the Scotch bonnet chilli as small as you can.
Heat the oil in a medium saucepan over a medium high heat.
Add the goat meat and sear in two batches before removing and setting aside.
Add all of the whole seeds and allspice berries into a grinder or pestle and mortar, then grind to a powder.
Return the pan to a medium heat and when hot add the ground spices and the turmeric, then cook stirring continuously for 30 seconds.
Pour in enough of the water to form a paste (~100ml) and stir.
Add the onion, chilli, garlic and seared meat then stir to coat.
Pour in the remaining water, coconut milk, add the thyme, bay leaves, salt and brown sugar.
Stir to combine and bring to a boil before reducing the heat and simmering for an hour.
Peel and cut the potatoes into 40-50mm cubes (1 1/2"-2")
Add the potatoes, stir and add a lid then cook for another 90 minutes on low.
Serve with shredded spring onion and chilli.
Nutrition Information:
Yield:
2
Serving Size:
1
Amount Per Serving:
Calories:

1122
Total Fat:

51g
Saturated Fat:

24g
Trans Fat:

0g
Unsaturated Fat:

19g
Cholesterol:

238mg
Sodium:

2428mg
Carbohydrates:

77g
Fiber:

12g
Sugar:

15g
Protein:

95g
Calorific details are provided by a third-party application and are to be used as indicative figures only.