Escovitch fish, is my take on a popular Jamaican dish of fried fish with spicy, almost pickled vegetables flavoured with thyme & allspice.
My version uses whole sea bream and a vinegar mix featuring malt vinegar and is served hot rather than allowing the fish to steep in the pickled vegetables.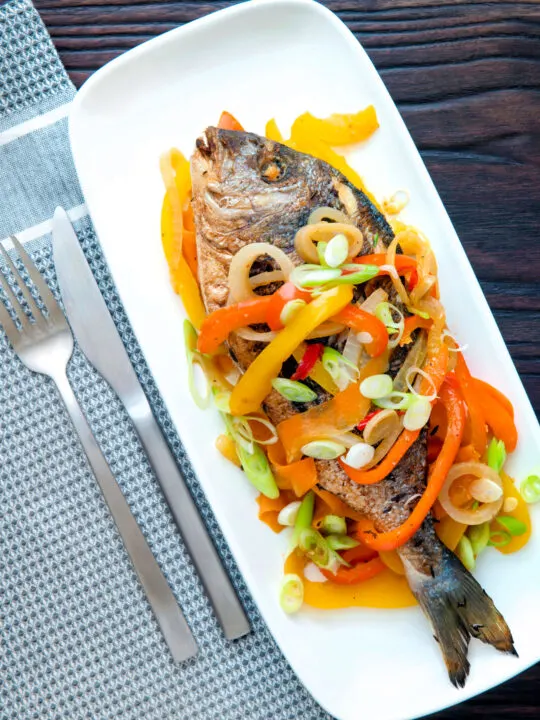 Fried Fish with Spicy Sharp Vegetables
Escovitch fish is a relatively new concept to me but one that I was all over the minute I found it!
It pretty much is a list of all of the things that I love! Some simply fried fish, a bit of spice, and some veggies that are almost pickled.
My fish of choice for this Jamaican-inspired recipe is sea bream, it has the perfect soft buttery flesh and I love it. I use it in this sea bream fillet with a lemon crumb recipe, it is delicious and relatively affordable.
You can also fit two in a reasonably sized frying pan, making it a much more practical option than longer found fish.
The fish is given a nice spicy but not hot seasoning, many of the flavours you will find in jerk recipes.
Allspice, thyme, cloves and nutmeg feature in everything from my jerk chicken drumsticks to my jerk salmon recipe and even in Jamaican curry goat.
The fish is then fried until crispy, then I finish the cooking process in a low oven. This allows me to the same pan to fry the peppers and chillies before steeping them in vinegar.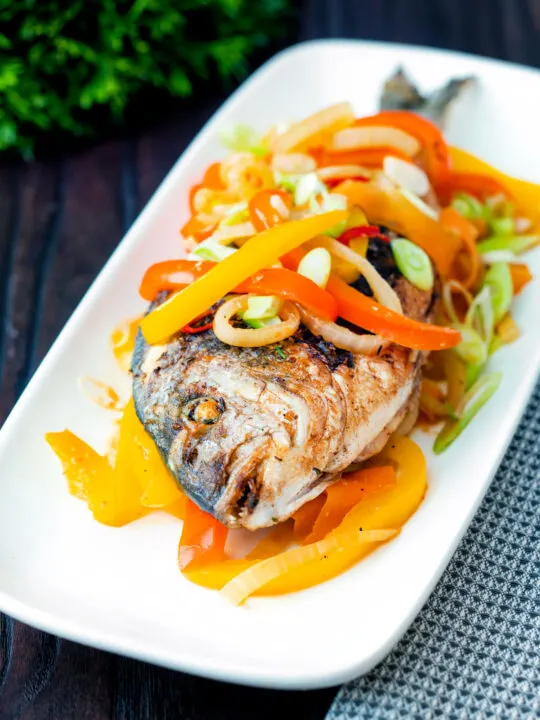 Frequently Asked Questions
Can I use other types of fish?
Yes, snapper is one that I see used all of the time in escovitch fish. I have tested this with sea bass, trout and mackerel and all work well. But you do need a big old pan to cook them in.

But if you have one, try mackerel, it is simply stunning with the lightly pickled veg and the spice!
Can I use fish fillets?
Yes, but you will need to adjust the timing and use two pans because the fillets cook really quickly!
Start by cooking the vegetables! Then when you are at the final 10 minutes should you heat the pan to cook the fish.
Do I have to use Scotch bonnet peppers?
No, as with all use of chilli peppers you should tailor it to your preference to tolerance of capsaicin.
What is malt vinegar?
For those of you from the US, malt vinegar may not be a common ingredient. It shares much in common with the brewing of ale and as a result, it shares some similar flavours of beer.

Its sharpness is contrasted with almost caramel-like nutty flavours. If you are struggling to get some, use a plain white vinegar or a cider vinegar. I would personally avoid wine vinegars.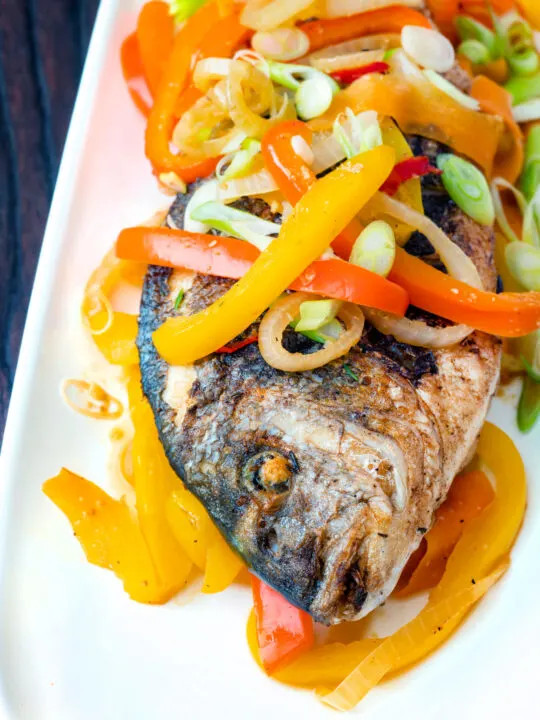 Serving Suggestions
I like to serve escovitch fish with potatoes!
My personal favourite are my quick-fried potatoes, but it does mean using lots of frying pans on the stove.
As a result, I am much more likely to serve this with potato wedges because I can just throw them in my air fryer.
Often escovitch is served with Jamaican bread with bammy, which is made with cassava, being incredibly popular.
A Jamaican roti is probably much more achievable to make unless cassava is regularly available to you.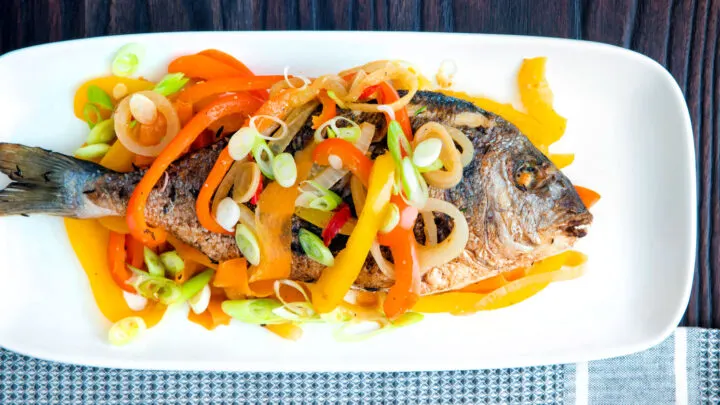 Equipment Used
I only name-check specific brands of equipment if I think they make a material difference to a recipe. If you have any questions feel free to ask them in the comments section below the recipe.
Stovetop.
Oven.
28-30cm frying pan, not nonstick if possible.
Baking tray.
Weighing scales and or measuring cups and spoons.
Grater.
Vegetable peeler.
Kitchen knife.
Chopping board.
Thermometer for measuring the frying oil, I use a sugar thermometer.
Kitchen tongs or fish slice.
Mixing bowls.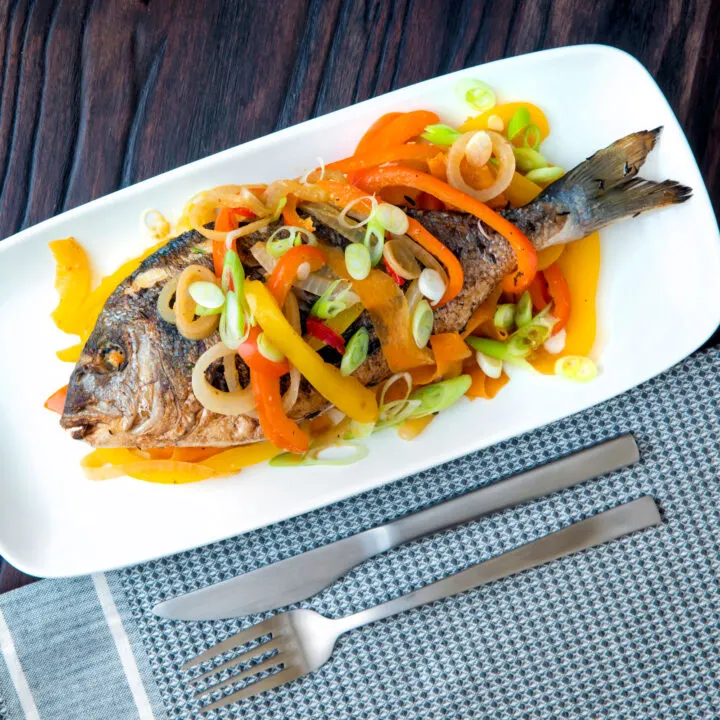 Yield:

2 Servings
Escovitch Fish Recipe
Escovitch fish, originally a Jamaican dish, my version sees a whole seasoned sea bream shallow fried until crispy served with spicy vegetables that are quickly sauteed then steeped in malt vinegar.
Ingredients
2 Sea Bream
½ Tsp White Pepper
½ Tsp Salt
¼ Tsp Grated Nutmeg
¼ Tsp Ground Cloves
½ Tsp Ground Allspice
1 Tsp Fresh Thyme Leaves
125ml (1/2 Cup) Cooking Oil
1 Lime
For the Vegetables:
1 Bell Pepper (I like to use half of a yellow and red pepper)
1 Medium (100-125g) Onion
1 Medium (75-100g) Carrot
2 Spring Onions
2 Garlic Cloves
15g (Half of a thumb sized piece) Ginger
1 Scotch Bonnet Chilli Pepper
1 Tsp Sugar
75ml (⅓ Cup) Malt Vinegar
75ml (⅓ Cup) Water
1 Sprig Thyme
½ Tsp Coarse Sea Salt
6 Allspice Berries
Instructions
Cut 3 slits in the flesh of the fish around 5-7mm deep.
Mix together the white pepper, salt, nutmeg, allspice and thyme and rub it into the skin of the fish ensuring that you rub it into the slits and into the cavity.
Cut the lime in half and squeeze it into and over the fish and set it aside.
Cut the pepper in half, remove the stalks and the seeds and then cut into strips around 4-5mm thick.
Peel the onion then slice it into rings approximately 3-4mm thick, then separate the rings.
Using a vegetable peeler cut the carrot into thin ribbons.
Cut the spring onions into 2-3mm thick rings at an angle.
Mash the garlic into a paste.
Grate the ginger.
Deseed the chilli pepper and cut it into strips.
Mix together the malt vinegar, water, salt and sugar
Place the oil for the fish into a wide, 28cm or 11" (not non stick) frying pan and bring it to a temperature of around 170°C or 340°F.
When the oil is hot add the fish and cook it for 2-3 minutes per side until it is crisp and golden. The fish will naturally release from the pan when it is crisped enough, do not force it.
Transfer the fish to a baking tray and place in a low (130°C or 265°F) oven whilst the vegetables are cooked.
Pour out all but a scant covering of oil from the pan and return it to a high heat.
Add the bell pepper, onion rings, scotch bonnet chilli, thyme and allspice berries and stir fry for 3-4 minutes.
Add the garlic and ginger and cook for another minute.
Throw in carrot ribbons and pour over vinegar and water mix, stir to combine and add a lid and cook for 10 minutes.
Serve some of the vegetables on a plate, add the fish and then add more fish and any cooking juices.
Notes
Try and fish out the allspice berries and thyme before serving.
Nutrition Information:
Yield:
2
Serving Size:
1
Amount Per Serving:
Calories:

599
Total Fat:

33g
Saturated Fat:

7g
Trans Fat:

0g
Unsaturated Fat:

20g
Cholesterol:

82mg
Sodium:

2219mg
Carbohydrates:

50g
Fiber:

10g
Sugar:

16g
Protein:

31g
Calorific details are provided by a third-party application and are to be used as indicative figures only.