Lamb chop curry, succulent, tender and still slightly pink lamb cutlets served in an Indian-influenced spicy hot and sour gravy.
Tamarind and vinegar off the sour notes in this quick curry, how quick I hear you say? Well, marinade time aside this cooks in around 30-35 minutes.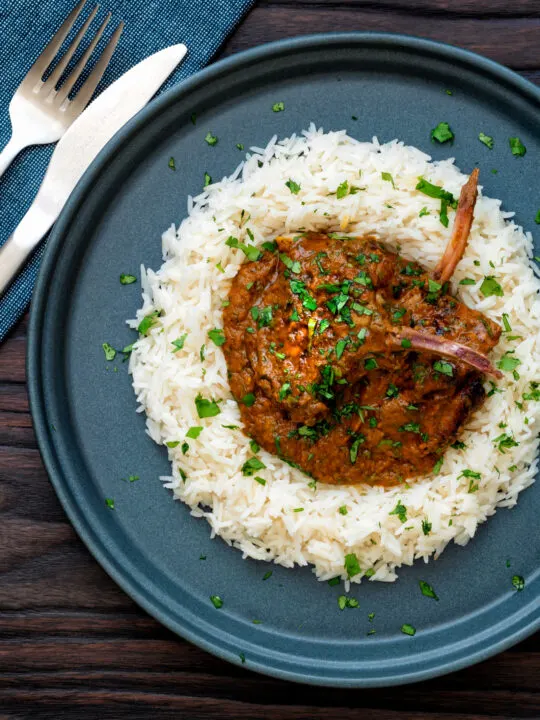 Indian Curried Lamb Chops
My site is no stranger to lamb curries. This Indian-inspired lamb chop curry joins curry house favourites like lamb tikka masala, spicy lamb bhuna, mild lamb pasanda, spicy lamb jalfrezi, glorious lamb shank curry and a stunning lamb rogan josh.
This recipe is a little different, it is built on what I like rather than being inspired by a another dish.
It features the same french trimmed lamb chops that I use in my harissa lamb chop recipe. If lamb chops are your thing you simply must check out my Barnsley chop and minted lamb chop recipes!
Just like those lamb chops they are given a nice marinade. on this instance that comprises of chilli powder, onion powder, ajwain seeds, and dried mint.
I am sure that one day I will cook lamb without mint, but not today.
It is a classic flavour combination that works so well! I use it in everything from my very British minted lamb shanks to my Indian influenced lamb burgers.
The curried lamb chops are finished in a hot and sour masala sauce. The sour vibe comes from a combination of tamarind and vinegar in a nod to my pork vindaloo recipe.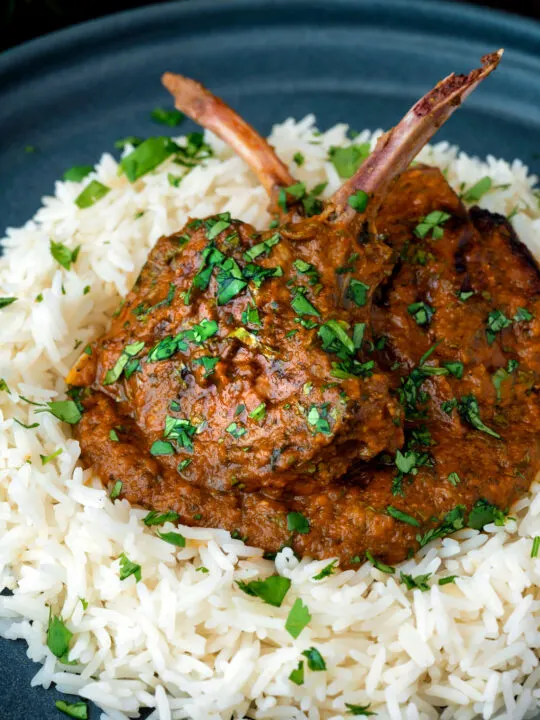 Frequently Asked Questions
Do I have to use French-trimmed lamb chops?
No, not at all, you can use lamb chops with the rib bone removed if you like. They are much more readily available and there is no change in the cooking time.

You could also make this with lamb shoulder chops.
How do I French trim lamb chops?
Frenching lamb chops is really easy, and your butcher will do it for you if you ask.
Using a sharp paring knife slice the through the fat at the bone end of the of meat and around the loin of meat, cut all the way to the bone.
Cut off the thick part of the meat above the bone and set aside. This is great for making stock so keep it aside!
Scrape the remaining meat and sinew away from the bone using a knife until the bone section is clean.
This Youtube video shows you how to French trim a rack of lamb, but most of the process is similar for chops.
Can I make this in advance?
The sauce can be made in advance and will last in the fridge for 3-4 days. It will freeze perfectly for 3 months.

The lamb needs to be cooked when serving, this is because lamb chops are really lean and will become chewy if cooked and reheated in the curry sauce.
Can I marinate overnight?
Yes, but if you are going to leave the chops in the marinade for more than a couple of hours omit the salt.

This is because the salt will begin to drive off moisture and cure the meat and lead to dryer lamb. Just season the meat before cooking.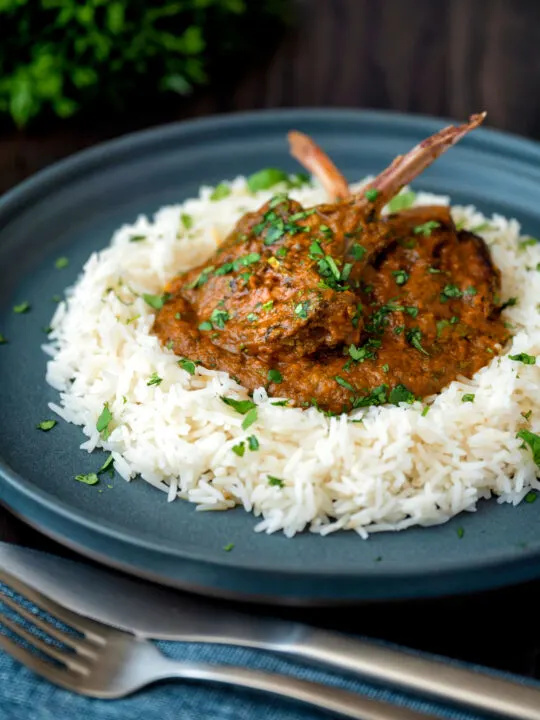 Serving Suggestions
This Indian-inspired lamb chop curry with its spicy sour sauce is perfect for the simplest of side dishes. Some simply boiled or steamed rice is the perfect vehicle to make that flavour go further.
A pilau works just as well too, but don't focus on rice, this pilau cauliflower would be a perfect side dish.
Potatoes are another option that work really well. Both my roast Bombay potatoes and aloo methi (fenugreek potatoes) are fantastic served with this lamb curry.
Don't forget the bread either, I would usually have some chapatis on the side with this dish.
If you want something to cool that chilli burn then give kachumber salad a whirl, it is the perfect contrast and complement to the spicy sauce.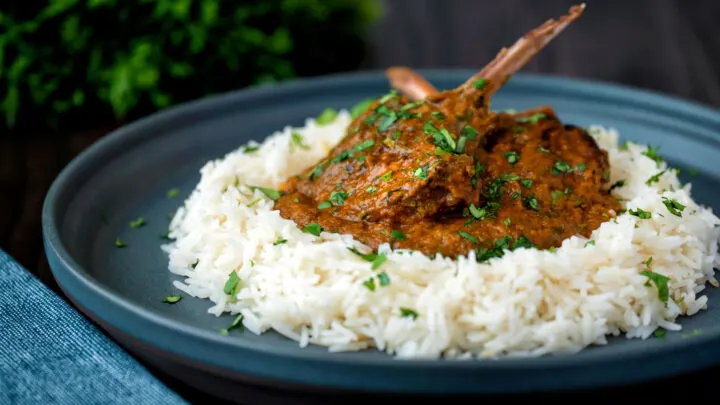 Equipment Used
I only mention specific brands of equipment if I think they make a material difference to a recipe. If you have any questions feel free to ask them in the comments section below the recipe.
Stovetop.
28-30cm or 11-12″ frying pan.
Griddle pan.
Mixing bowls.
Chopping board.
Kitchen knife.
Weighing scales and or measuring cups and spoons.
Kettle for boiling water to soak the tamarind.
Fine mesh sieve.
Mini blender.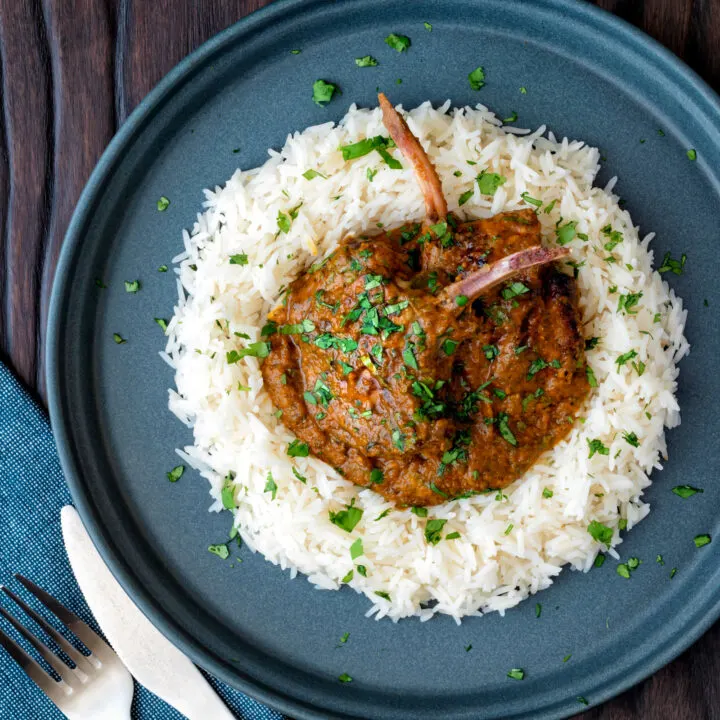 Yield:

2 Servings
Quick Lamb Chop Curry Recipe
Total Time:
1 hour
35 minutes
Indian inspired tender lamb chop curry in a spicy hot and sour gravy featuring tamarind and balanced with a touch of honey.
Ingredients
4 French Trimmed Lamb Chops
1 Tbsp Oil
1 Tsp Dried Mint
1 Tsp Kashmiri Chilli Powder
1 Tsp Onion Powder
1/4 Tsp Salt
1/4 Tsp Ajwain Seeds
For the Sauce:
35g (25mm or 1") Cube Tamarind Pulp
35ml (2 Tbsp + 1 Tsp) Boiling Water
1 Medium (100g) Onion
15g (Half Thumb Sized Piece) Ginger
4 Garlic Cloves
1 Tbsp Ghee
8 Curry Leaves
1 Cinnamon Stick
4-6 Green Chillies
1/2 Tsp Fennel Seeds
1/2 Tsp Cumin
1/2 Tsp Ground Turmeric
1/2 Tsp Amchoor Powder
225g (8oz) Tin Tomatoes
20g (1 Tbsp Honey)
1/2 Tbsp White Vinegar
1 Tbsp Dried Fenugreek Leaves
1/4-1/2 Tsp Salt
1 Tsp Garam Masala
Instructions
Mix together the oil with the dried mint, chilli powder onion powder, ajwain seeds and coarse sea salt to form a paste.
Add the paste to the lamb chops and set aside to marinate for around an hour.
Pour the water over the tamarind, mash it with a fork and allow it to soften for 10 minutes.
Peel the onion, roughly chop it and place it in a mini blender.
Peel the garlic cloves and add them to the blender.
Peel the ginger, roughly chop it and add it to the blender.
Slit the green chillies lengthways.
Heat the ghee in a 28-30cm (11-12") frying pan over a medium-high heat.
When the ghee is hot add the fennel seeds, curry leaves, cinnamon stick, and green chillies, then cook for 60 seconds.
Stir through the cumin, turmeric, and amchoor.
Add the blended onion mix and cook for 5 minutes.
Add the tinned tomatoes, honey, vinegar, fenugreek leaves, stir and reduce the heat to low.
Mash the tamarind again and pass it through a fine-mesh sieve before adding to the sauce.
Have a taste of the sauce, add salt as desired, cover with a lid and simmer for 10 minutes.
I like to discard the cinnamon at this point, blend the sauce and pass it through a fine sieve, this is an optional step.
Whilst the sauce is simmering heat a griddle pan over a high heat.
When the pan is hot add stand the lamb chops on the fat/skin side and cook for 1-2 minutes, you may need to use some cooking tongs to hold them up.
Flip the chops onto the side and cook for another minute before flipping and cooking for another minute.
Add the garam masala to the sauce along with any remaining marinade and mix. Now is a good time to check for salt again.
Drop in the lamb chops and cover them with the sauce and then cook for a final 5-10 minutes (depending on how thoroughly you want the chops cooked).
Nutrition Information:
Yield:
2
Serving Size:
1
Amount Per Serving:
Calories:

618
Total Fat:

38g
Saturated Fat:

16g
Trans Fat:

2g
Unsaturated Fat:

19g
Cholesterol:

115mg
Sodium:

1310mg
Carbohydrates:

40g
Fiber:

7g
Sugar:

21g
Protein:

36g
Calorific details are provided by a third-party application and are to be used as indicative figures only.