Minted lamb chops pan-fried to succulent perfection and finished with a glorious and rich red wine and red currant jelly sauce.
This delicious recipe is nice and easy to cook and will go from your fridge to your table in around 35-40 minutes and is guaranteed to impress.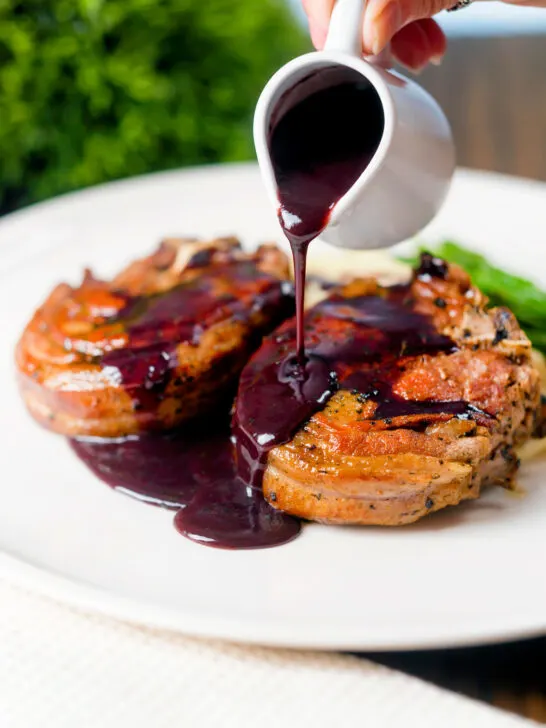 Pan Fried Minty Lamb Loin Chops
Lamb and mint is such a classic British combination and it is a combination that appears here fairly often.
They join a glorious minted lamb shank and some outrageously good minted lamb meatballs.
This is a recipe that uses thick-cut lamb loin chops, each chop is essentially half of a Barnsley chop.
The observant of you may think that these minted lamb chops are a bit T-bone"esque" and you would be completely correct. They come from the same part of the sheep as the T-bone does on a cow.
I simply pan-fry them whilst basting them in butter flaovur with garlic. When the chops are almost cooked I toss in some mint sauce and honey to create a light glaze.
As with most meats, resting time is essential and these lamb chops are no different… which is good because whilst they have been cooking we have been reducing some red wine and stock.
That red wine makes the most wonderful sauce using the leftover butter and fat from the lamb!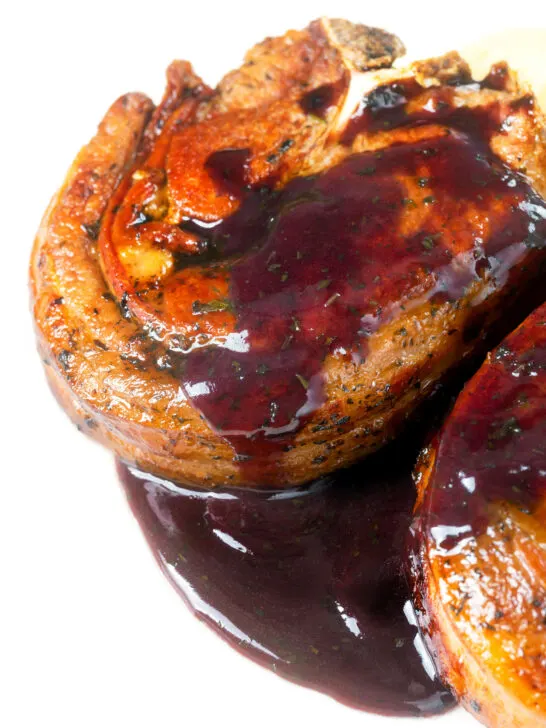 Frequently Asked Questions
What internal temperature should lamb be cooked to?
Well, that really does depend on your preferences, these are lamb loin chops and have a bit of fat. As a result, if you cook them too rare then the fat does not soften or render enough.

Conversely, if you cook them too much the meat becomes chewy and tough to eat.

My timings give a chop that is cooked medium rare with an internal temperature of 57°C-60°C after resting. If you want it cooked well done all the way through aim for 70°C-71°C, if you want it really quite pink aim for 52°C-55°C after resting.
What sort of wine should I use?
I usually use a light to medium red wine for this recipe, something like a rioja or pinot noir. But you could use a more full-bodied wine if you liked.
What is mint sauce?
This a question I am often asked by US readers. Mint sauce is a common British condiment served with lamb, it is a combination of mint, honey and sugar but you can make homemade mint sauce easily.
What is red currant jelly?
Again this is another common British condiment that is popular with both lamb and as an enriching agent for sauces.

Just like mint sauce, homemade red currant jelly is not too difficult to make.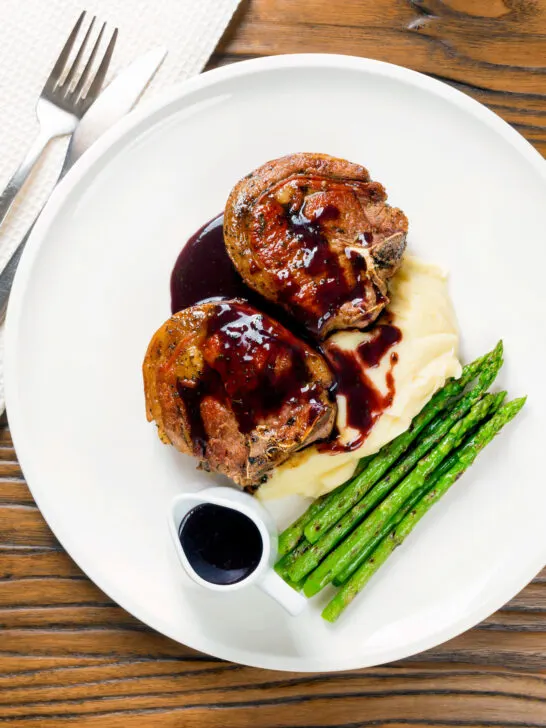 Serving Suggestions
You could serve these minted lamb chops and red wine sauce with a host of vegetable sides.
Here they are pictured served with buttery mashed potato and some air fryer cooked asparagus but you could substitute the mash with a celeriac mash if you like.
If you wanted something wonderfully indulgent you could add fondant potatoes and if you wanted to go lighter then add these buttered new potatoes.
When it comes to greens you have loads of options, buttered cabbage is wonderful as would my braised cavolo nero recipe.
Just to round it all out and turn up that minty vibe to 11 you could add some crushed minted peas.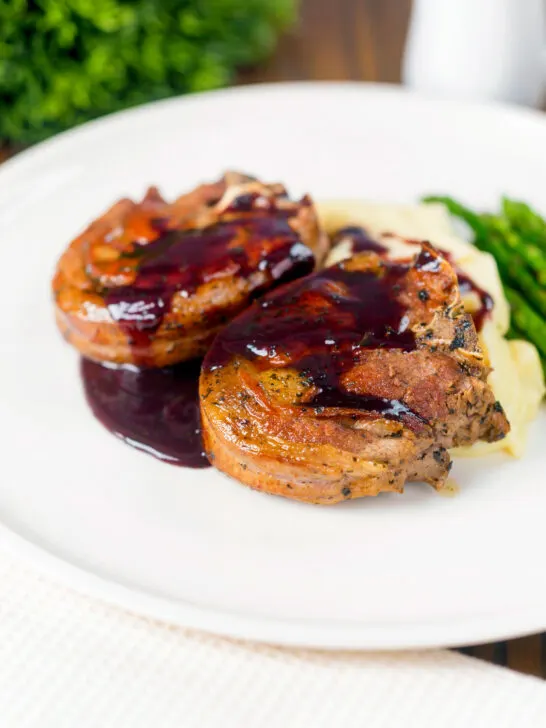 Equipment Used
I only name-check brands of equipment if I think that they make a material difference to a recipe. If you have any questions feel free to ask them in the comments section below the recipe.
Stovetop.
30cm or 12″ frying pan or skillet, not nonstick if possible.
17-18cm or 7″ saucepan.
Chopping board.
Kitchen knife.
Kitchen twine.
Measuring cups and spoons or a measuring jug.
Kitchen tongs.
Spoon for basting.
Quick read meat thermometer, optional but recommended.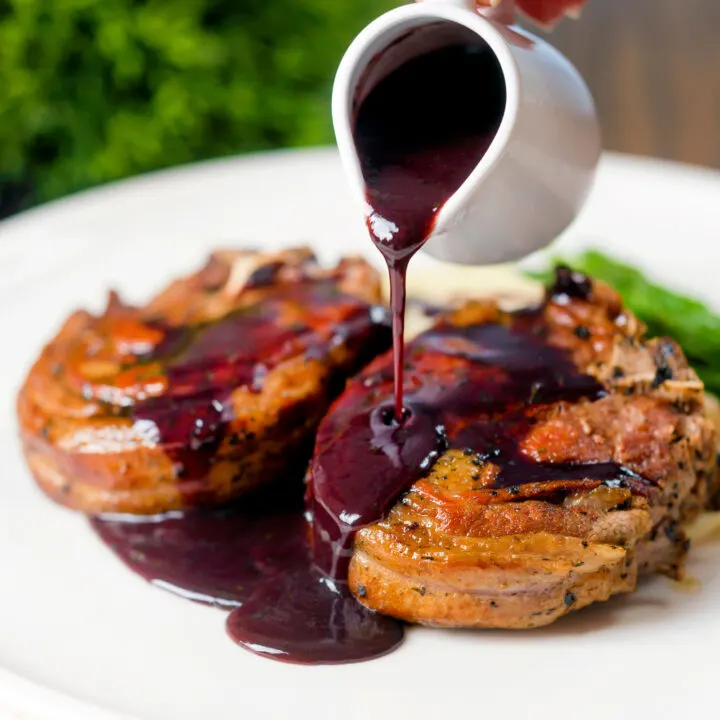 Yield:

2 Servings
Minted Lamb Chops Recipe
These wonderful thick-cut minted lamb chops are quickly pan cooked so that they stay succulent and juicy and are paired with a rich and bold red wine sauce featuring a little red currant jelly.
Ingredients
4 Thick Cut Lamb Loin Chops
1 Tbsp Cooking Oil
½ Tsp Salt
35g (2 Tbsp) Butter
2 Garlic Cloves
2 Tbsp Mint Sauce
½ Tbsp Honey
For the Sauce:
375ml (½ Bottle) Red Wine
250ml (1 Cup) Lamb Stock
1 Tbsp Red Currant Jelly
1 Tsp Flour
Instructions
Heat a 17-18cm or 7" saucepan over a high heat and add the red wine and boil hard until it has reduced to around 175ml (¾ cup), this will take 12-15 minutes.
Pour in the lamb stock and continue to boil until reduced by around half again. This will take roughly the same time and leave you with around 200ml (just under a cup) of liquid.
When the base for the sauce has reduced remove it from the heat and stir through the red currant jelly until it has dissolved.
Tie the lamb chops with a little cooking twine into a compact sound shape.
Whilst the sauce is reducing, rub the lamb chops with the oil and then season with the salt.
Heat a 30cm or 12" heavy-based frying pan or skillet (not nonstick if possible) over a medium-high heat.
Sear the lamb chops, starting with the rind until it has begun to crisp and gets a nice golden colour all along the rind. Then flip it onto the flesh and cook for 4-5 minutes, then flip it to the other side.
Add the butter, crush the garlic cloves with the heel of your hand and throw it into the pan, and cook for another 4-5 minutes or until the chops are almost cooked to your liking, I use a meat thermometer for this. Whilst this is happening baste the chops with the butter constantly.
Add the mint sauce and honey mix and toss the chops to get a nice coating then remove the chops and allow them to rest.
Reduce the heat to low and add the flour to the frying pan and stir for 1-2 minutes, then pour in the reduced wine mix and cook until thickened.
Snip off the twine and serve the chops with the sauce.
Nutrition Information:
Yield:
2
Serving Size:
1
Amount Per Serving:
Calories:

762
Total Fat:

45g
Saturated Fat:

21g
Trans Fat:

2g
Unsaturated Fat:

22g
Cholesterol:

140mg
Sodium:

390mg
Carbohydrates:

20g
Fiber:

0g
Sugar:

11g
Protein:

35g
Calorific details are provided by a third-party application and are to be used as indicative figures only.