Barnsley chops are lamb cutlets turned up to 11, a thick cut double loin chop pan fried in butter & rosemary with a port sauce.
These delicious chops also cook really quite quickly with both the lamb and sauce going from the fridge to table in 35 minutes, which includes preparation and resting time.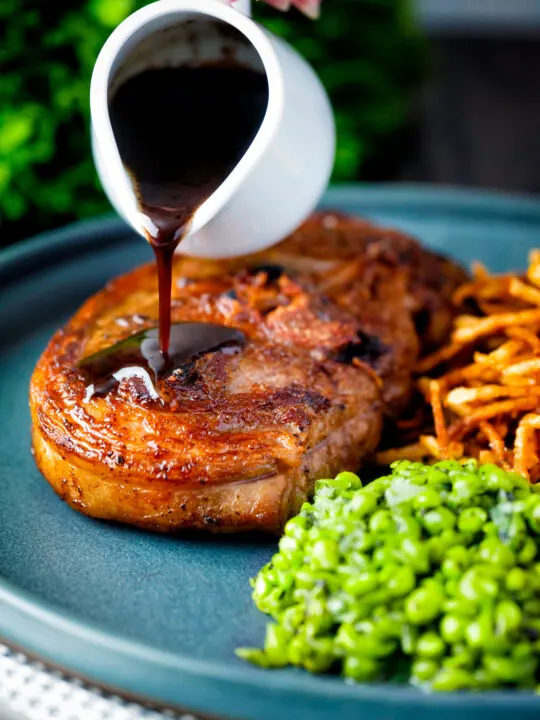 Ultimate Lamb Chops with Port Gravy
My love of lamb has hardly been hidden under a bushel here on my site and my latest recipe is proper special.
Even before I returned to the UK I'd been mentally working on this Barnsley chop recipe.
These thick-cut double lamb chops are the sort of food I dream about, I'd order them over any steak in a heartbeat.
They really are the same chops that I use in both my lamb chop curry, minted lamb chops and harissa lamb chops and should not be confused with lamb shoulder chops.
They are butchered with a little more care and attention and are much thicker.
I choose to cook mine really simply, pan-fried, then basted in butter that is flavoured with garlic and rosemary.
And to distract me during the resting time I make a little port lamb sauce. That's it, my kinda food indulgence!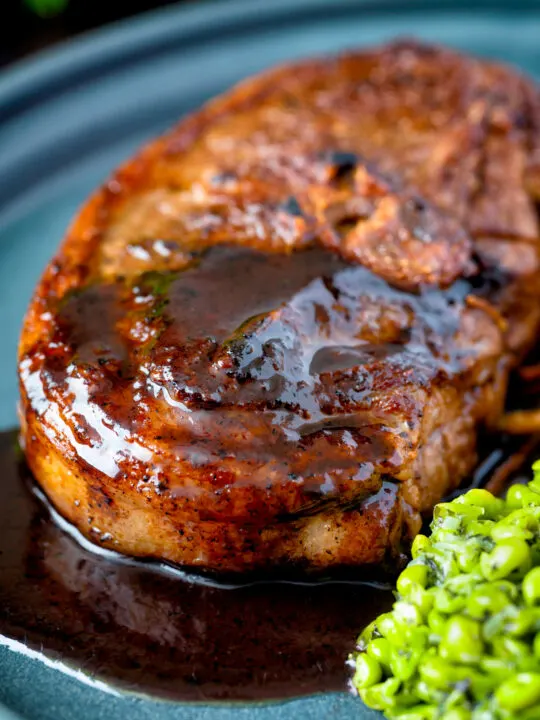 Frequently Asked Questions
What is a Barnsley chop?
Aside from my food naughty dream they are essentially lamb chops. They are also known as lamb saddle chops which will give you an indication of where they come from.

The are two thick cut lamb cutlets cut across the saddle of the lamb.
Do I have to tie the lamb?
No, aesthetics are the only reason to tie the chops. But if I am ging indulgent I want dinner to look good too!

If you do not tie the chops they splay out and look much more like two lamb chops opposite each other.
Can I use something other than port to make a sauce?
You could use something like Madiera or Marsala wine. But I would personally use a bold red wine if I were not to use ruby port.
Can I cook the chops more or less than medium rare?
Yes, of course! It is your dinner and I pass no judgement on how anyone else wants to eat their food.

My timings give a chop that is cooked medium rare with an internal temperature of 57°C-60°C after resting. If you want it cooked well done all the way through aim for 70°C-71°C, if you want it really quite pink aim for 52°C-55°C after resting.

You should remove the meat from the pan before it reaches those temperatures as it will rise in temperature by 3-5°C during resting.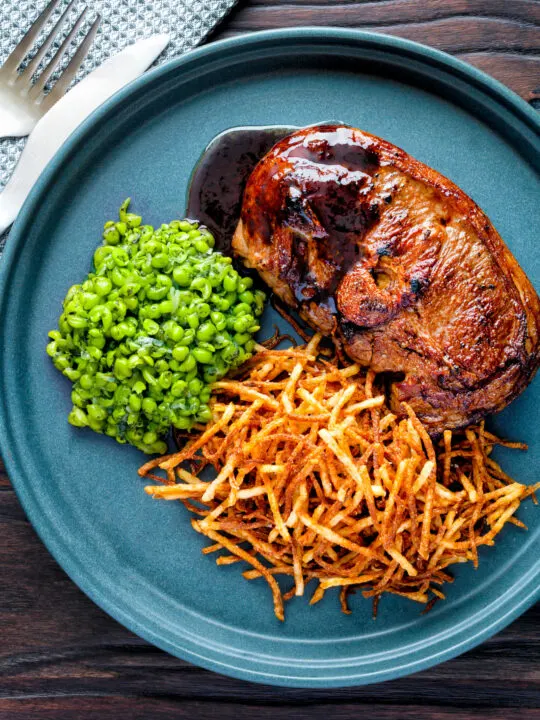 Serving Suggestions
I've served my Barnsley chops here with straw potatoes and crushed minted peas, but they work well with so many side dishes!
Mash is the first thing that springs to mind. Both my classic buttery mashed potato and swede and carrot mash would work wonderfully.
If you really want to get indulgent then you could add a fondant potato or two!
The sweetness of honey roast parsnips and carrots are also superb alongside lamb and this rich and punchy port gravy.
Of course, you should not forget the mint sauce or mint jelly!
If you wanted a much lighter side with this meaty bite then how about a delicious samphire salad?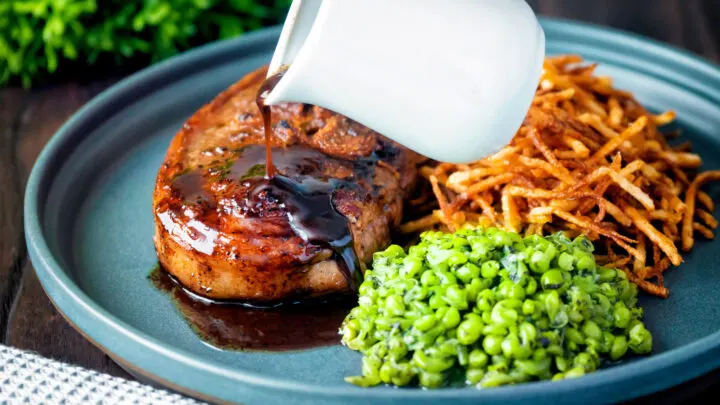 Equipment Used
I only mention brands of equipment if I think they make a material difference to a recipe. If you have any questions feel free to ask them in the comments section below the recipe.
Stovetop.
15cm or 6″ saucepan.
28cm or 11″ frying pan (minimum), not nonstick if possible.
Weighing scales and or measuring cups and spoons.
Kitchen knife.
Cutting board.
Cooking twine or string.
Cooking tongs.
Mixing spoons.
Fine mesh sieve.
Meat thermometer.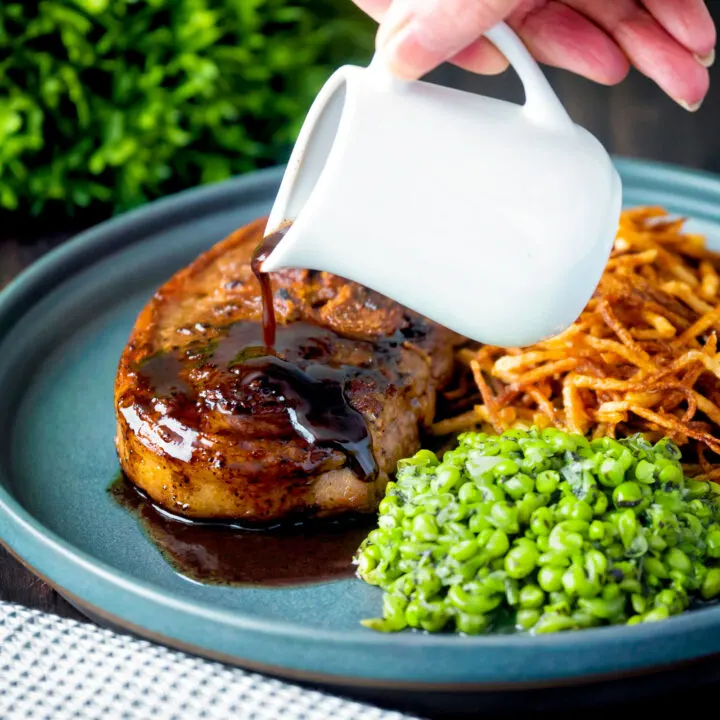 Yield:

2 Servings
Barnsley Chop with Lamb and Port Sauce Recipe
Pan fried Barnsley chops served with a port lamb sauce, truly indulgent lamb perfection that cooks in far less time than you would think!
Ingredients
2 (25-35mm or 1-1½" Thick) Barnsley Chops
1 Tbsp Cooking Oil
1 Tsp Salt
50g (3 Tbsp + 1 Tsp) Butter
2 Sprigs Rosemary
2 Garlic Cloves
1 Tbsp Plain Flour
175ml (⅔ Cup + 1 Tbsp) Ruby Port
250ml (1 Cup) Lamb Stock
Instructions
Take some cooking twine or string and tie the Barnsley chops around the edge to help them hold their perfect round shape. This step is optional and they will cook fine without it.
Run the chops with the cooking oil and season them with the salt paying particular attention to the rind.
Pour the port and lamb stock into a small (15cm 6") saucepan and simmer over a medium high heat until it has reduced to approximately 150ml (just over half a cup). You can do this whilst you are searing the lamb.
Bash the garlic cloves with the side of a knife.
Heat a 28cm or 11" frying pan (not non stick) over a medium to medium high heat and sear the skin/rind of the chops all over until they begin to brown and the fat begins to render out of them. This will take approximately 7-10 minutes.
Flip the chops onto one side and cook for 8-10 minutes, it should be a nice dark colour before flipping.
Flip over the chop then add the butter to the pan, it should begin to foam, if it does not increase the heat.
Add the the garlic and rosemary and then whilst the lamb cooks for another 3-4 minutes baste the top of the lamb with the foaming butter.
Remove the lamb and place it on a board, cover with foil and rest for 5 minutes.
Return the pan to the heat and then sprinkle in the flour and cook, stirring constantly for 1-2 minutes.
Pour in the reduced port mix and cook, stirring constantly for a final 2-3 minutes.
Strain the port lamb sauce before cutting the twine from the chops and serving it with the lamb.
Notes
This recipe aims for medium rare and will cook a 30mm chop to 52°-54°C or 125°-129°F before resting. See the frequently asked questions section for cooking to a different stage of "doneness".
Nutrition Information:
Yield:
2
Serving Size:
1
Amount Per Serving:
Calories:

1196
Total Fat:

88g
Saturated Fat:

42g
Trans Fat:

3g
Unsaturated Fat:

41g
Cholesterol:

321mg
Sodium:

1669mg
Carbohydrates:

14g
Fiber:

1g
Sugar:

3g
Protein:

80g
Calorific details are provided by a third-party application and are to be used as indicative figures only.