A rare side dish recipe from me and one I had to post here as I simply love it. A minted pea salsa, and a recipe that is the epitome of summer.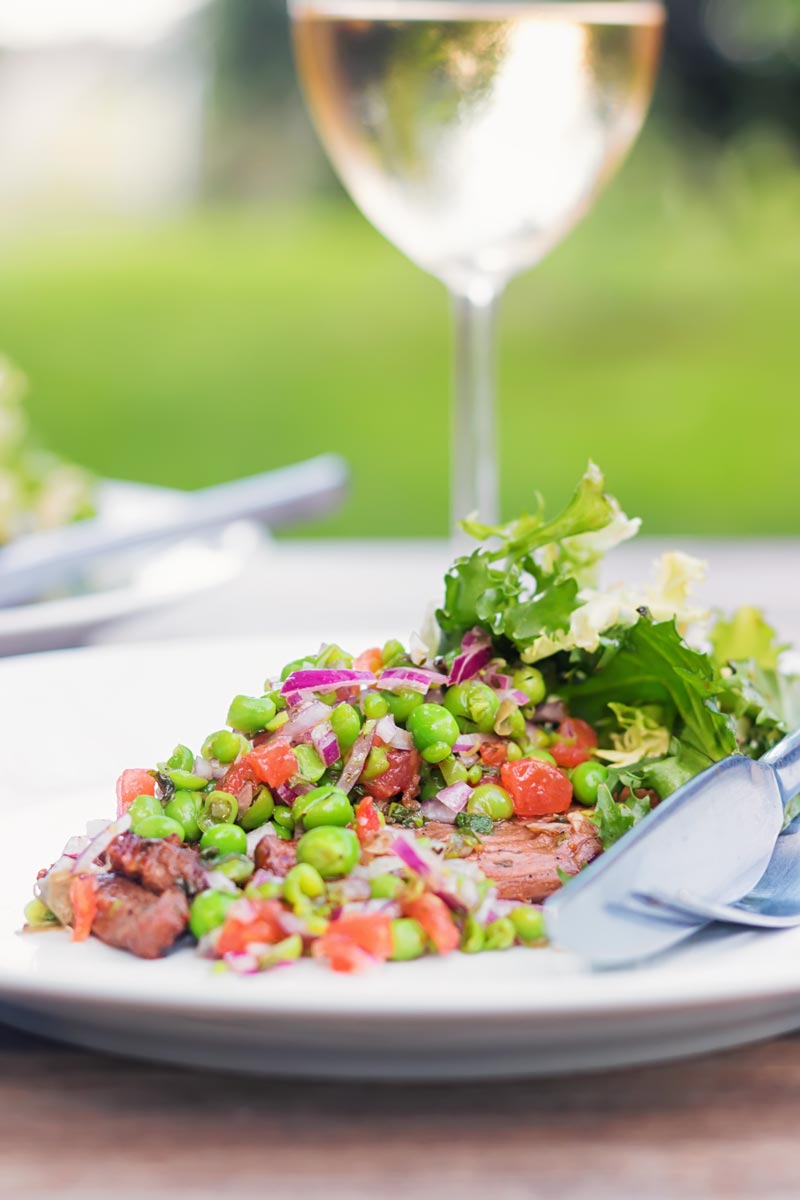 Minted Pea Salsa.
I really am not poetic enough to explain just how much I love peas. They are the archetypal summer ingredient for me, sweet light, fresh and require no real cooking.
The salsa pairs them with mint, which let's face it is a classic combination. Some great summer tomatoes and balsamic vinegar.
It is a recipe that works just as well with a nice piece of grilled lamb as I have photographed it here as it does with a nice piece of poached cod.
If the truth be known I would be happy with a big bowl of this stuff and a spoon.
Just like most of my recipes, this one serves two but you can scale this recipe up as much as you like. It can also be made up to 48 hours in advance although I prefer it fresh.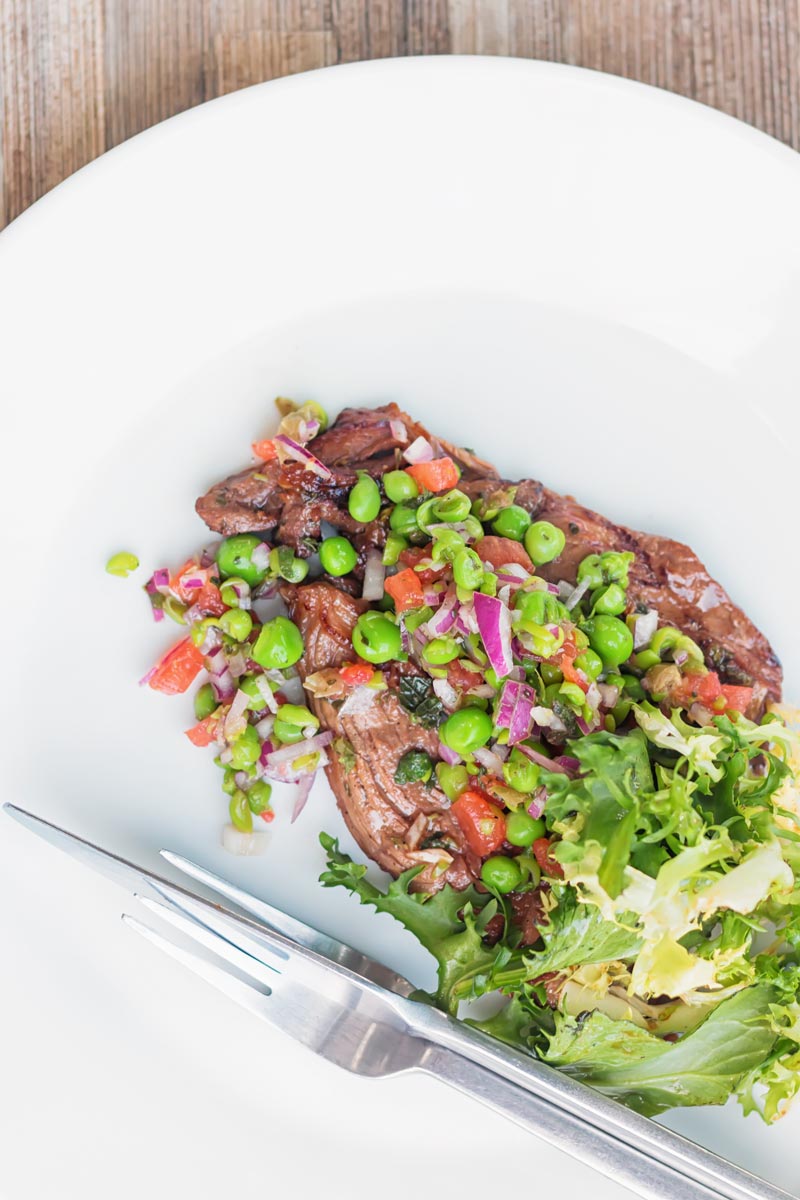 Pea Recipes.
I find peas such a versatile crop and vegetable. One that deserves a whole lot more love than I think it gets.
Principally because they taste wonderful. But also due to the fact that you can pretty much use most of the plant and not just the peas.
If the pods are young and tender they make fantastic Pea Pod Soup, and I use both tender pea shoots and pea flowers in this delightful duck salad.
You also do not have to travel far on my site to find a pea puree. This fried goats cheese recipe is just one place to find one.
Oh yeah, they work really well in pasta like this pesto spaghetti with peas and goat cheese recipe.
Of course, they are also perfectly scrumptious as a simple side as in this braised beef shin dish.
And don't worry if you cannot get fresh peas.Good frozen peas are amazing all year round and work in this pea salsa recipe too!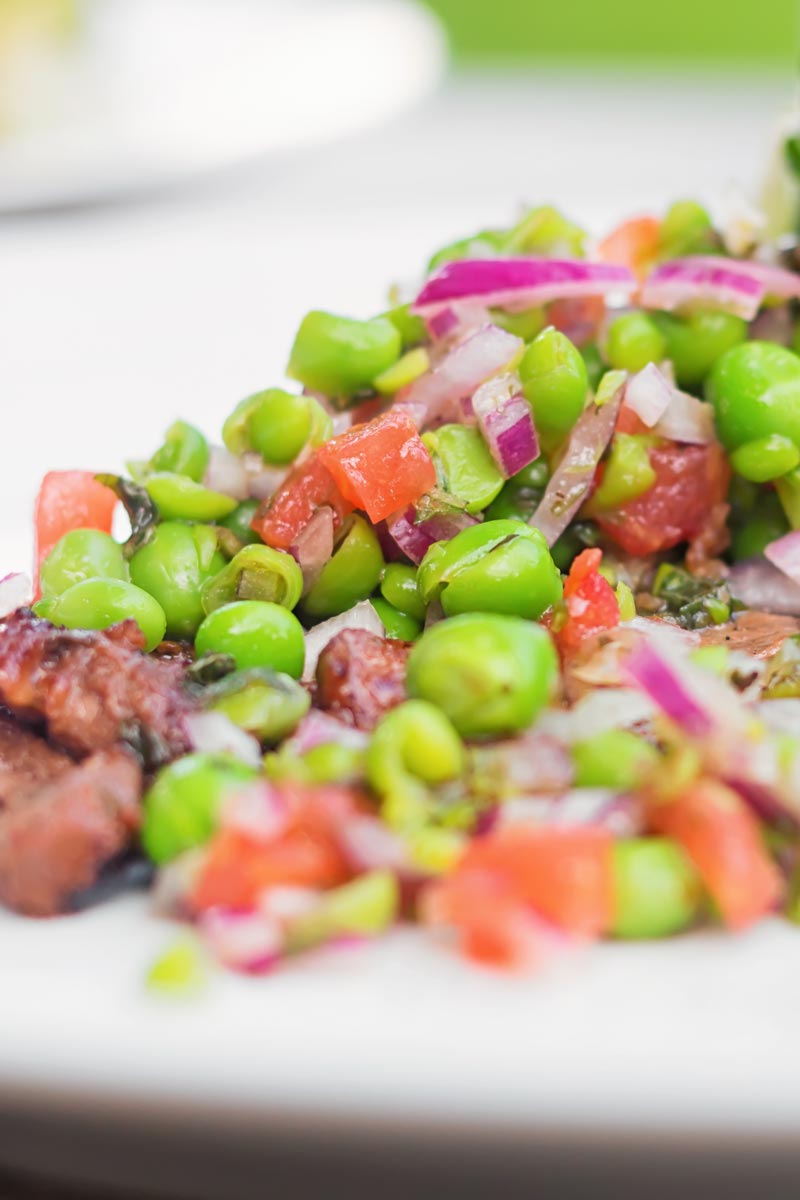 What Else Can I Serve This With?
I have also served this with gammon steaks. Whilst I love gammon, egg & chips a change is as good as a rest and these flavours are a dream with the salty cured gammon!
But give it a try with anything, chicken, pork or even with some baked or grilled cheese.
I have no idea why peas are not used more often in this way!
A pea salsa offers a lovely bright and fresh alternative to a corn salsa, which is, of course, wonderful. But we all love new things right?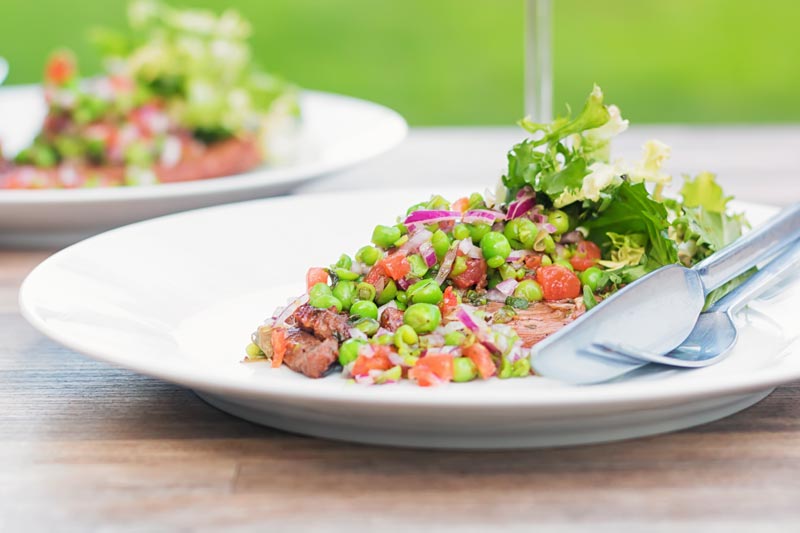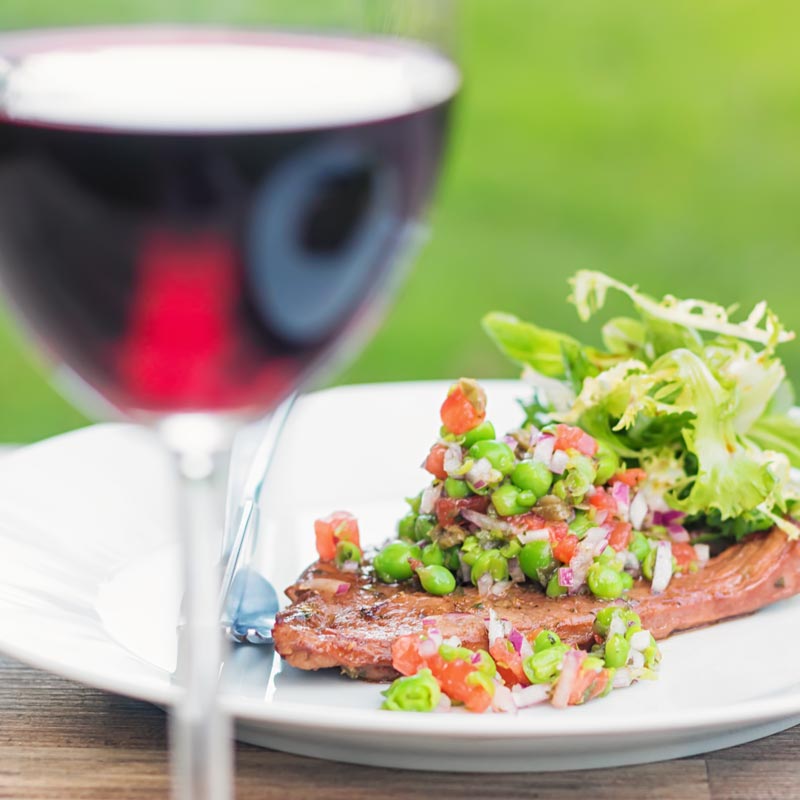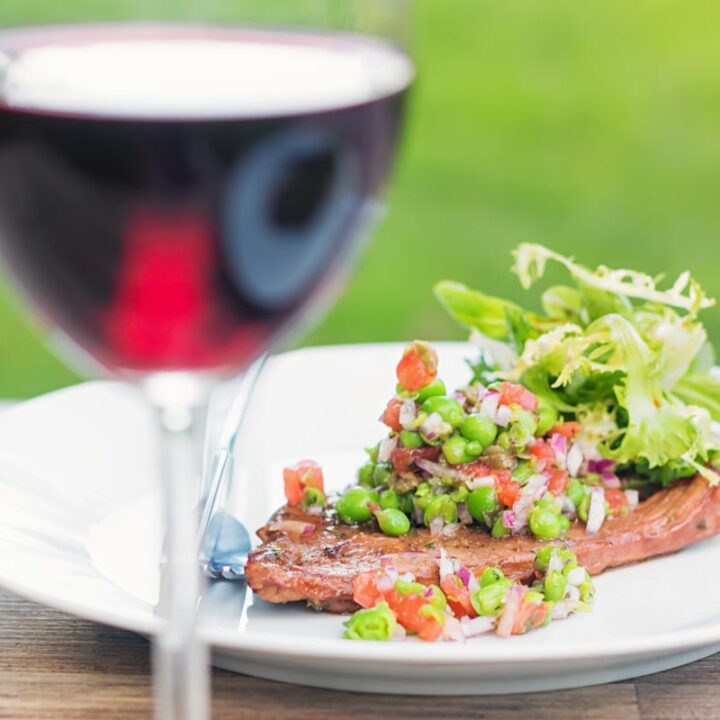 Minted Pea Salsa
This simple minted pea salsa is a fantastic side for a BBQ, but is just as good along side some simply cooked fish and is sublime with gammon!
Ingredients
150 g Garden Peas
1 Red Onion
100g Tomato
20 Mint Leaves
2 Tbsp Capers
2 Tbsp Olive Oil
1 Tsp Balsamic Vinegar
Pinch of Salt and Pepper
Instructions
If you are using frozen peas blanch in salted boiling water for a couple of minutes, if using fresh cut that time in half.
Remove the peas from the water and roughly chop, you don't want a puree so do this by hand. You are looking for a mix of whole, roughly chopped and finely chopped peas.
Now cut your capers in the same way you did the peas and add to the mix.
Now cut a small cross in the base of the tomato with a sharp knife (cutting 2-3mm into the flesh) and plunge into the boiling water for 1 minute.
Immediately refresh the tomato in ice cold water and the skin should peel right off.
Cut the tomato into a fine dice after removing the seeds and mix with the peas.
Finely dice the red onion and again add to the pea/tomato mix.
Take your mint leaves and roll them around in the palm of your hand to bruise them and release some oils before finely chopping and adding to the pea mix.
Finally add in the oil and balsamic vinegar and then salt and pepper to your taste ensuring all the ingredient are mixed together.
Ideally do this about 15 minutes before serving but it will last a couple of days after being made up.
Nutrition Information:
Yield:

2
Serving Size:

1
Amount Per Serving:
Calories:

216
Total Fat:

14g
Saturated Fat:

2g
Trans Fat:

0g
Unsaturated Fat:

12g
Cholesterol:

0mg
Sodium:

246mg
Carbohydrates:

19g
Fiber:

6g
Sugar:

8g
Protein:

5g
Calorific details are provided by a third-party application and are to be used as indicative figures only.