NEVER MISS A RECIPE: Get your Weekly Update Email!
A chicken passanda is a relatively mild 'Mughal' curry loaded with yoghurt and almond and is one of my absolute favourites.
Chicken Passanda.
This chicken passanda recipe was born out of a rather disappointing visit to an Indian restaurant in Budapest. A trip of all things, to get a broken tooth fixed.
It was my first visit to a dentist in 25 years and not one that I relished. I have no issue with dentists. I do however have an irrational phobia of injections.
So after I got all fixed up and things had worn off I was given a big boy treat of a night out in the big city as a result of being a 'brave little soldier'.
My choice for a night out will typically always involve lots of beer. Some loud heavy rock music and a curry.Rather than go to one of our tried and trusted restaurants I figured we would try somewhere new that had decent reviews.
My wife ordered the chicken passanda and me the lamb vindaloo. Both dishes I love cooking at home. You can see a slightly sideways glance at a pork vindaloo here. Or indeed the more familiar beef vindaloo recipe here!
Now whilst I may say our visit was disappointing it was not really that bad my wifes dish was superb. My vindaloo however was all a bit meh.
Really not what it should have been which is astringent and sour pierced with a nice heat and some fragrant background flavours.
What I got was a tomato based sauce that was just chili hot. Not to the extent that it was unpleasant, in fact, it was quite nice, just not a vindaloo.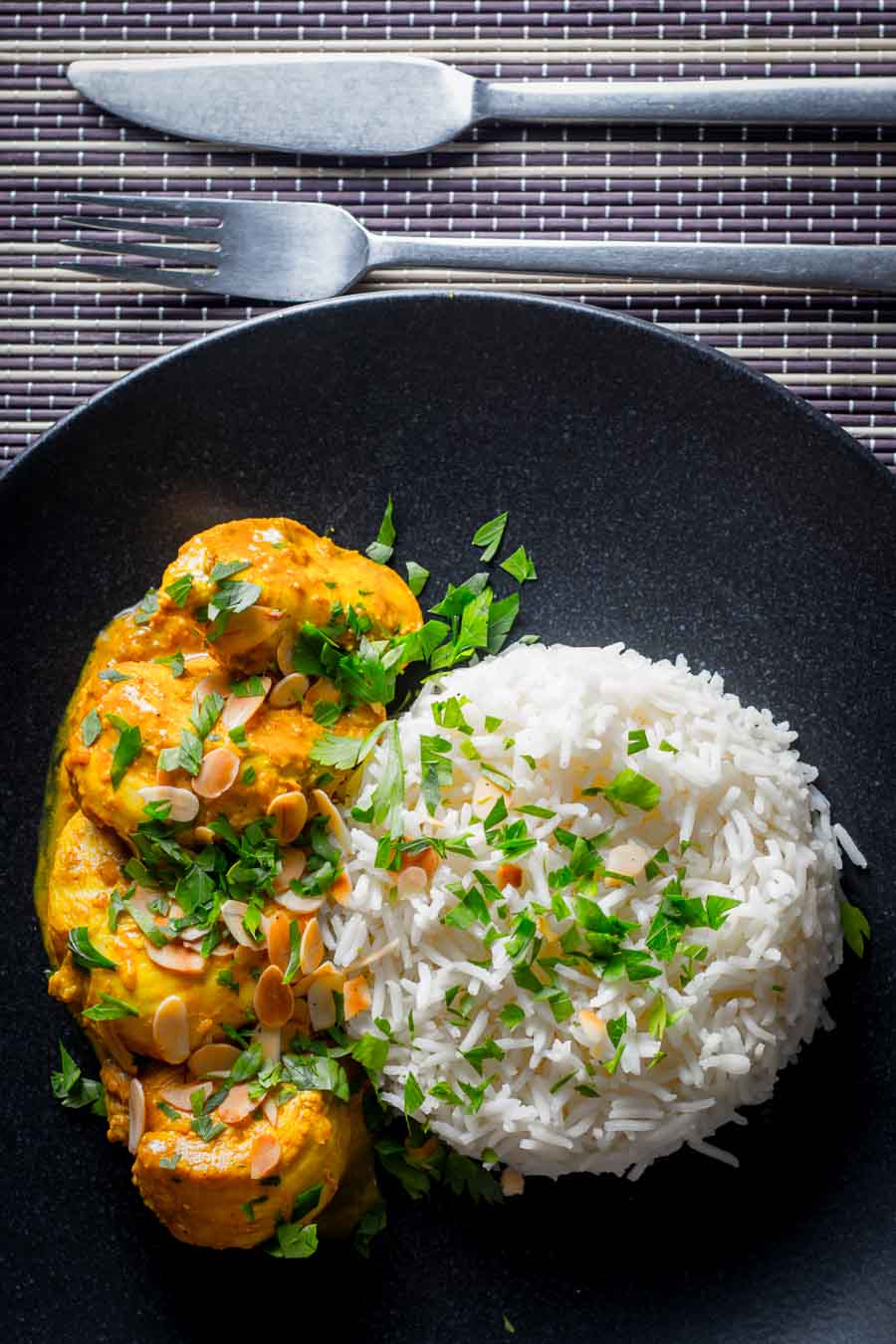 Inedible Garnishes!
The following morning we got up with a thick head and we were discussing dinner on the 2 1/2 hour drive home. My wife kept going on about how great her curry was. As a result, about halfway home we veered off the motorway to pick up some chicken and some almonds. It was time to have my own awesome chicken passanda.
It is a triumph of a dish, loaded with fragrant spices and a lovely mellow hint of almond and punches of fresh coriander. The coriander is by no means a garnish on this dish, it is integral.
I don't do garnish, it has no place on a plate of food for me. Everything on a plate should add something to what I am eating and if it does not, I want to know what on earth it is doing there.
It is one of my food 'hates'! So much so I have on rare occasions complained to waiters in restaurants about it. Not in a particularly rude way.
However, when I am asked if enjoyed my meal I would point out that I did although I found the raw piece of rosemary on my plate particularly inedible.
Yes I really can be that guy!
Anyways, you guys need to be heading the kitchen now to make your own chicken passanda, I have a football match to watch.
England Vs Wales in Euro 2016 no less, this could be a fraught afternoon!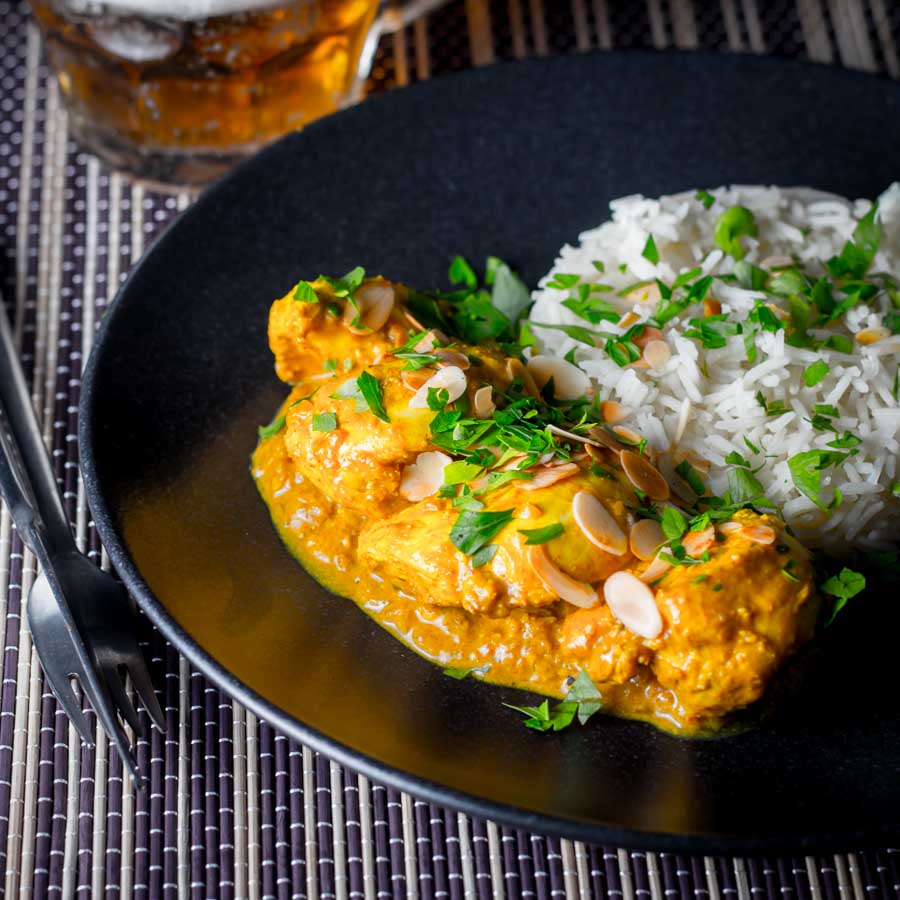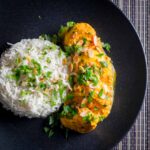 Chicken Passanda
A chicken passanda is a relatively mild 'Mughal' curry loaded with yoghurt and almond and is one of my absolute favourites.
Ingredients
1

Tbsp

Cooking oil

3

Green Cardamom Pods

Bruised with the side of a knife

125

g

Onion

Finely Diced

15

g

Ginger

Grated

3

Cloves

Garlic

Mashed

1/4

Tsp

Ground Cinnamon

3/4

Tsp

Ground Coriander

1/2

Tsp

Ground Kashmiri Chili Powder

1/2

Tsp

Ground Turmeric

1/2

Tsp

Ground Cumin

1

Tbsp

Ground Almonds

100

g

Natural Yoghurt

2

Chicken Breasts

Skinless cut into 4 large pieces each

1/4

Tsp

Salt

2

Tbsp

Water

10

g

Flaked Almonds

Fresh Coriander

Roughly chopped and loads of it
Instructions
Begin by toasting your almond flakes in a dry pan and set aside for the end of the dish, keep an eye on them it is very easy to burn nuts.

Now add the cooking oil to the pan over a medium high heat and fry off the cardamom pods for 30 seconds before adding in the onions and cooking until they just start to brown which should take around 5 minutes.

Add the garlic and ginger and cook on for a further 2 minutes.

It is now spice time, throw in all of the spice powders, cumin, chili, coriander, turmeric and cinnamon and cook out for 30 seconds, stirring continuously.

Add the chicken and stir to coat in the spicy mix.

Now finally add the yoghurt, ground almonds, salt and water then reduce the heat to medium and cook out for 15-20 minutes.

The sauce should thicken nicely and cling to the chicken.

Finish the dish with the flaked almonds and the coriander
Recipe Notes
I favour serving this dish with a plain boiled rice, the subtle fragrant flavours in this dish are easily masked, however a chapati or a naan bread would also work a treat.
NEVER MISS A RECIPE: Get your Weekly Update Email!