A chicken pasanda is a relatively mild curry loaded with yoghurt and almond and it has become one of my absolute favourite curry recipes.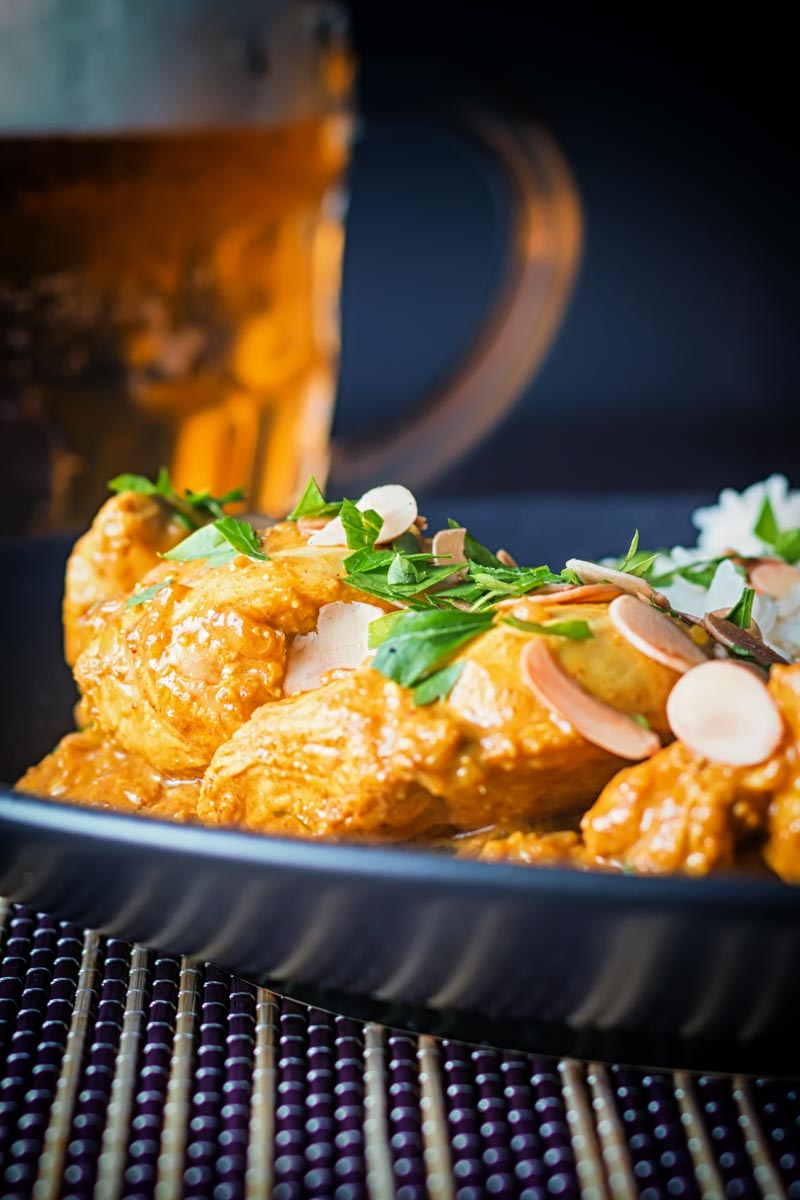 Mild, Creamy & Delicious.
This recipe was born out of a rather disappointing visit to an Indian restaurant in Budapest. A trip of all things, to get a broken tooth fixed.
My reward for being a brave little soldier was a belly full of beer and a curry. This is a true British treat!
I went for a Vindaloo, which to be honest was a little disappointing. I'd much rather have either my beef vindaloo or pork vindaloo.
My wife ordered a pasanda, sometimes called a passanda and it was fantastic. Yes, we share, don't you?
Creamy and with a tart edge from the yoghurt but fragrant with spice and just a hint of heat.
It must have been good because I pulled over on the way home to buy the ingredients to begin work on this recipe.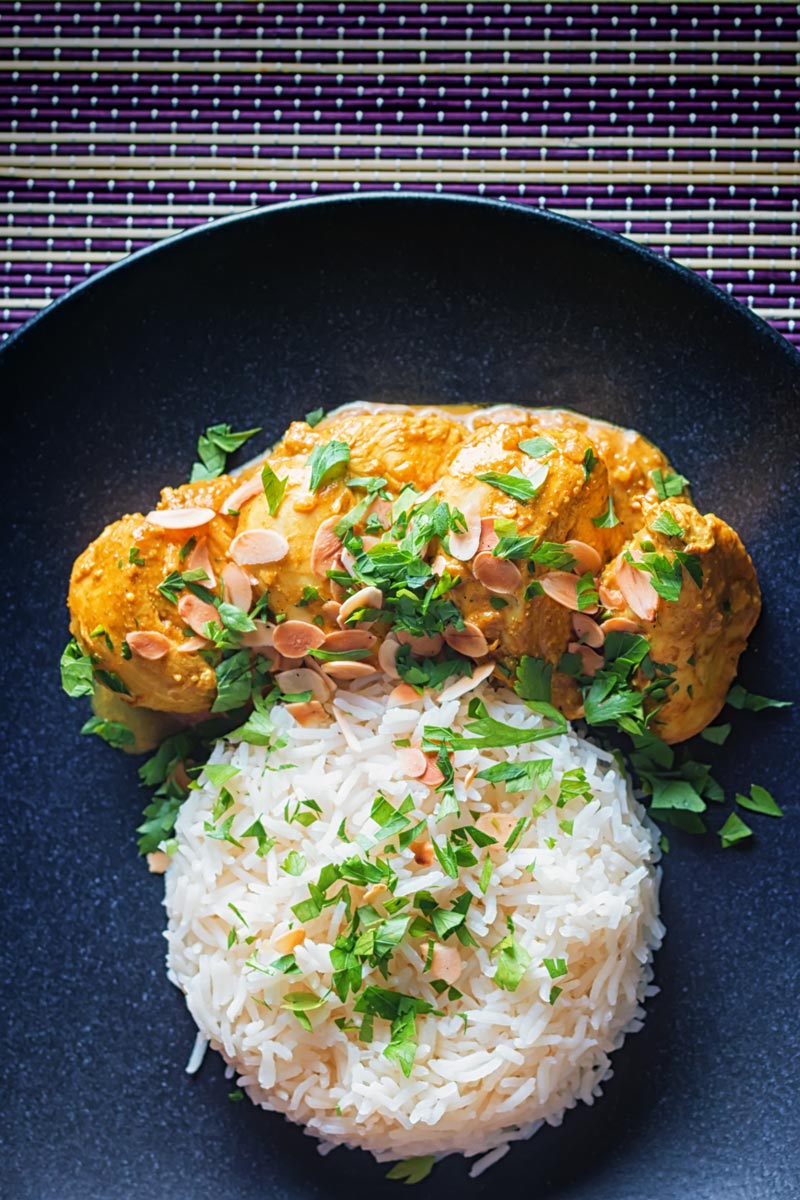 What is a Pasanda Curry?
It is a triumph of a dish, loaded with fragrant spices and a lovely mellow hint of almond and punches of fresh coriander.
The coriander is by no means a garnish on this dish, it is integral to the recipe.
I don't do garnish, it has no place on a plate of food for me.
Everything on a plate should add something to what I am eating and if it does not, it should not be there.
So if coriander isn't your thing then maybe consider something like a chicken korma, another curry at the milder end of the heat spectrum.
If you want something a little more pokey then you should check out the rest of my chicken curry recipes!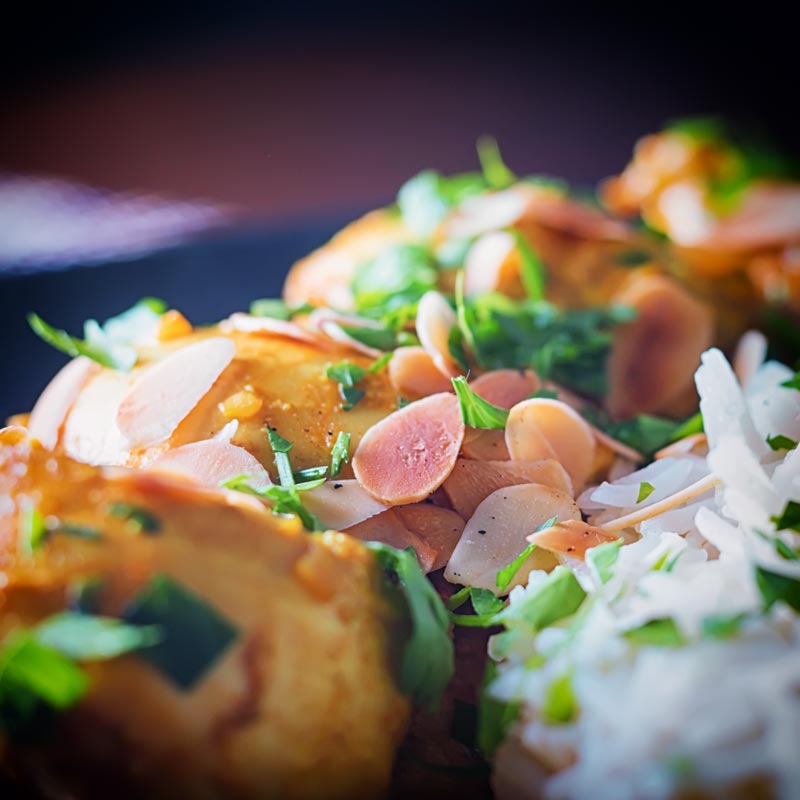 Is it a Spicy Hot Curry?
In short no!
It is very much one of the mildest curries that I make and that I have eaten.
It is spicy, but the spices used are fragrant spices and not 'hot' spices.
We have cumin and coriander leading the way on the flavour stakes. This is supported by turmeric and cinnamon.
The techniques are simple and most importantly there is not an overwhelming amount of spices to confuse the beginner!
Give it a try, you'll love it!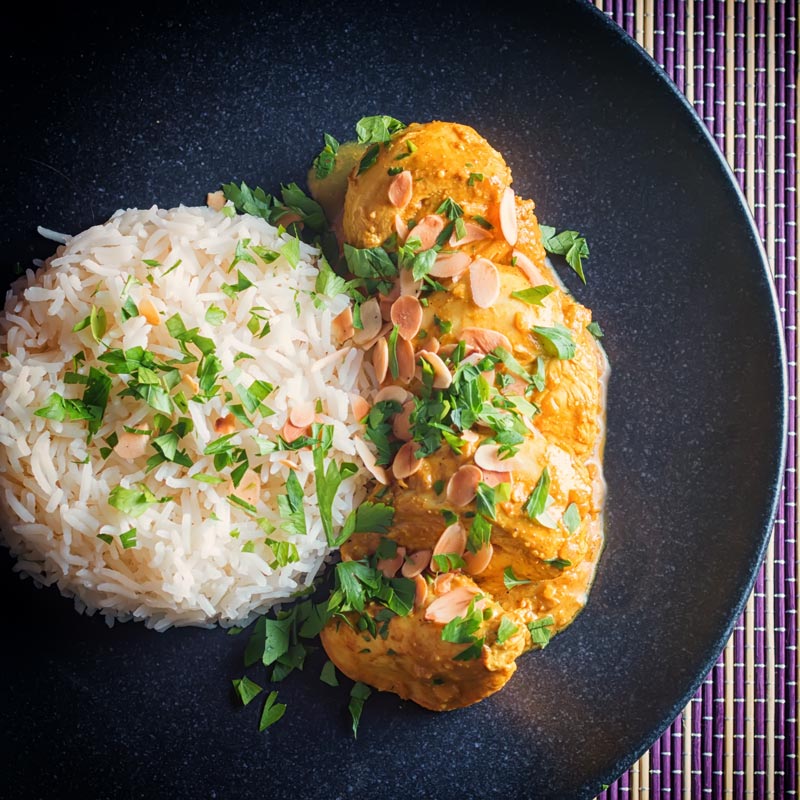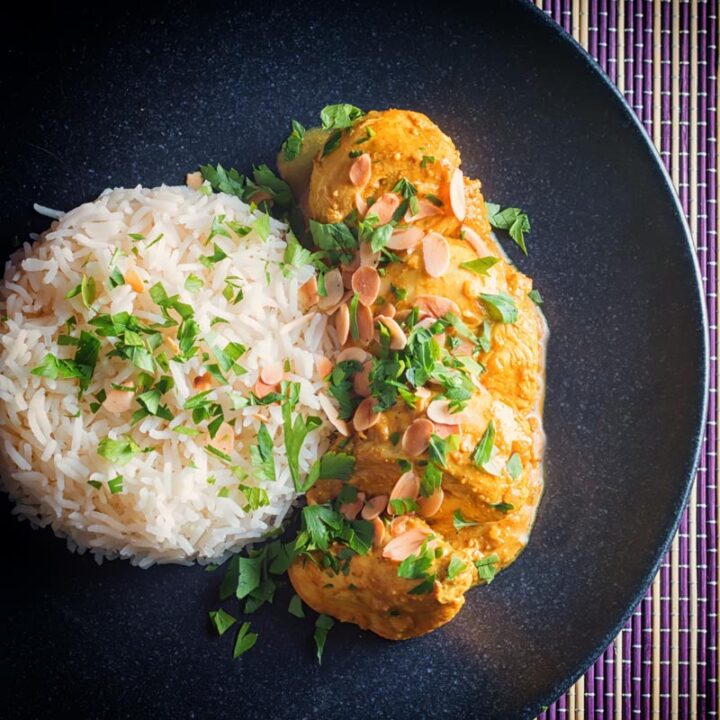 Chicken Pasanda Recipe
This chicken pasanda curry is creamy and tart from yoghurt and fragrant with cumin and coriander. It is one of the milder and more simple Indian chicken curry recipes and a real treat for all the family!
Ingredients
1 Tbsp Cooking oil
3 Green Cardamom Pods
125 g Onion
15 g Ginger
3 Cloves Garlic,
1/4 Tsp Ground Cinnamon
3/4 Tsp Ground Coriander
1/2 Tsp Ground Kashmiri Chili Powder
1/2 Tsp Ground Turmeric
1/2 Tsp Ground Cumin
1 Tbsp Ground Almonds
100 g Full Fat Natural Yoghurt
400g Chicken Breast
1/4 Tsp Salt
2 Tbsp Water
10 g Flaked Almonds
Fresh Coriander
Instructions
Finely dice the onion, mash the garlic and grate the ginger.
Bash the cardamom with the side of a knife to open them up.
Begin by toasting your almond flakes in a dry pan and set aside for the end of the dish, keep an eye on them it is very easy to burn nuts.
Now add the cooking oil to the pan over a medium high heat and fry off the cardamom pods for 30 seconds before adding in the onions and cooking until they just start to brown which should take around 5 minutes.
Add the garlic and ginger and cook on for a further 2 minutes.
It is now spice time, throw in all of the spice powders, cumin, chili, coriander, turmeric and cinnamon and cook out for 30 seconds, stirring continuously.
Add the chicken and stir to coat in the spicy mix.
Now finally add the yoghurt, ground almonds, salt and water then reduce the heat to medium and cook out for 15-20 minutes.
The sauce should thicken nicely and cling to the chicken.
Finish the dish with the flaked almonds and the coriander
Notes
Using low fat or no-fat yoghurt in this recipe increases the risk of the sauce curdling.

I favour serving this dish with a plain boiled rice, the subtle fragrant flavours in this dish are easily masked, however a chapati or a naan bread would also work a treat.
Nutrition Information:
Yield:

2
Serving Size:

1
Amount Per Serving:
Calories:

530
Total Fat:

20g
Saturated Fat:

3g
Trans Fat:

0g
Unsaturated Fat:

15g
Cholesterol:

173mg
Sodium:

546mg
Carbohydrates:

17g
Fiber:

3g
Sugar:

7g
Protein:

68g
Calorific details are provided by a third-party application and are to be used as indicative figures only.