Chicken korma a delicious mildly spiced Indian Curry featuring perfectly cooked chunks of chicken thigh in a thick and creamy yoghurt sauce.
Turmeric, garam masala and a pinch of chilli powder lead the way on the spices, before a tadka featuring coriander seeds, cloves, cardamom and cinnamon is added at the end.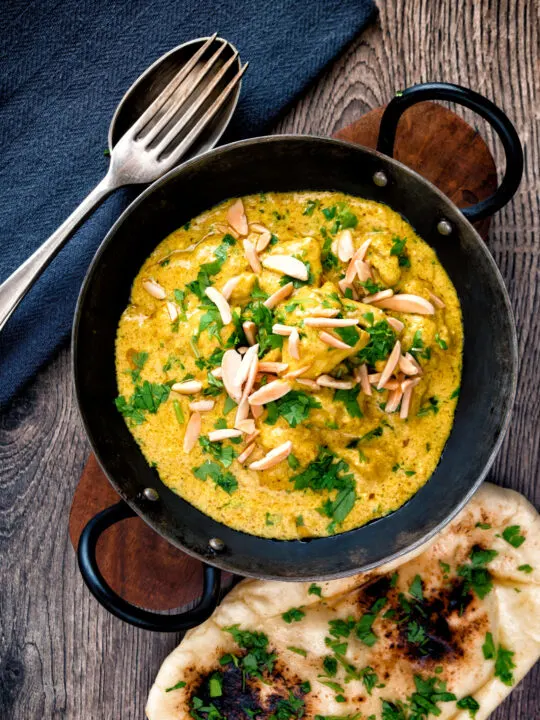 Nobody Puts Curry in the Korma.
The chicken korma is a curry with a but of a bad rep in the world I grew up in. Among many things it was called a curry for people who do not like curry!
The reason for this is that it was the item on the menu that evolved into a dish that a waiter could recommend to British diners that would not be too "spicy".
It is a long way from a garlic chilli chicken, Chicken Rogan Josh, chicken Ceylon and Beef Vindaloo!
My version is NOT that korma! My perfect chicken korma is light and fragrant with a thick tart yoghurt "gravy".
In many ways it is similar to a chicken passanda.
My influence for this chicken korma recipe came from a recipe I stumbled on by Atul Kochhar.
The first Indian chef to receive a Michelin star and the owner of a restaurant that I consider to be one of the best I that have ever eaten in, 'Benares'!
This recipe reduces the amount of cream usually used and sticks with yoghurt. This adds a delicious tartness to the fragrant spices in the silky korma sauce.
My recipe also does not use coconut milk, a common and relatively modern addition to chicken korma recipes.
Frequently Asked Questions
My sauce has started to split what did I do wrong?
There are two things that usually increase the risk of this chicken korma sauce splitting or separating.

The first is using low-fat yoghurt, this increases the instability of the dish. The second is boiling the sauce too hard, keep it on a gentle simmer for best results.
Can I rescue a separated sauce?
Yes, you may be able to bring it back together so long as you catch the dish early enough.

Remove the dish from the heat immediately and quickly whisk in some high fat (30-40%) cream or half and egg yolk.
Can I use low-fat yoghurt?
As I mentioned above, high fat yoghurt is inherently less stable and runs a much higher risk of the sauce separating.

You can whisk flour into the yoghurt which will stabilise it a little, the amount will really depend on the fat content of the yoghurt. I would personally advise against it.
Can I use chicken breast rather than chicken thigh?
Yes, this chicken korma is just as good with chicken breast as it is with chicken thighs because of the mild spicing.
Serving Suggestions.
Soooo, its a curry, a curry with a nice thick "gravy"… so that means only one thing if you ask me, and that is naan bread!
Although a chapati or roti would be a perfectly acceptable bread element for this recipe.
I have mentioned before that I have no qualms about going full carb overload. As a result, I usually go with naan bread and boiled rice with my chicken korma.
But there are other options, both Bombay potatoes and aloo methi pair really well with the thick and creamy sauce.
If you wanted to go with greens then these Indian Green Beans would also work perfectly.
Never let it be said again that the chicken korma is for people that do not like curry!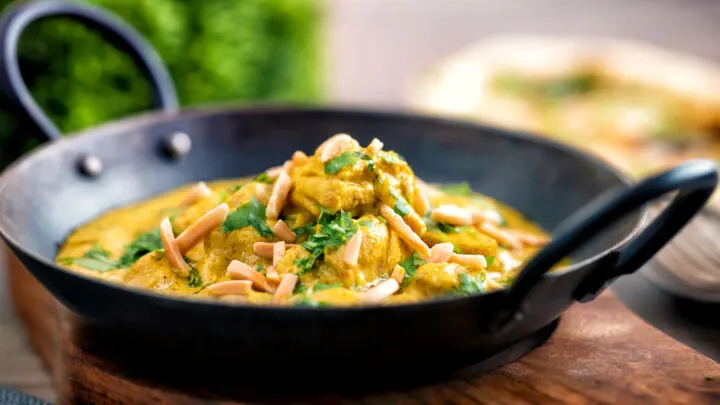 Equipment Used
I only name-check brands of equipment if I think that they make a material difference to a recipe. But if you have any questions feel free to ask them in the comments section below the recipe.
Stovetop.
30cm or 12″ frying pan or skillet.
20cm or 8″ frying pan or skillet.
Mini blender.
Chopping board.
Kitchen knife.
Weighing scales and or measuring jug, cups and spoons.
Small sieve.
Stirring and serving spoons.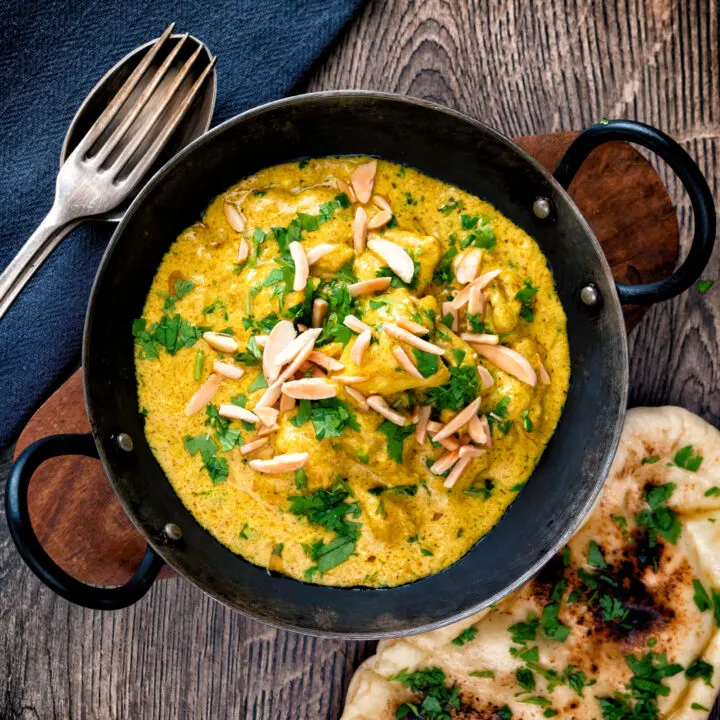 Yield:

2 Servings
Chicken Korma Recipe
A chicken korma is a Mughal Indian curry dating back to the 16th century, featuring a silky yoghurt based sauce and fragrantly spiced it is a winner!
Ingredients
350g (12oz) Chicken Thighs
75g (~½ Cup) Onion
200g (~¾ Cup) Greek Yoghurt
2 Tbsp Cream
15g (~⅓ Cup) Coriander Leaves
1 Tsp Garam Masala
1 Tsp Turmeric
½ Tsp Kashmiri Chili Powder
75ml (⅓ Cup) Water
50g (3 Tbsp + 1 Tsp) Ghee
1 Stick Cinamon
2 Cloves
4 Green Cardamom Pods
1 Tsp Coriander Seeds
½ Tsp Salt
Instructions
Slice your chicken thighs which should be boneless and skinless into bite-sized pieces.
Roughly chop the onion and then blend to a smooth paste adding water as necessary.
Melt 20g (1 tablespoon plus 1 teaspoon) of ghee in a 30cm or 12" frying pan or skillet over a medium heat.
Add in the onion paste and cook until golden, this will take 5-7 minutes.
Sprinkle in the turmeric, garam masala and chilli powder and stir for 30 seconds.
Add the chicken and stir to coat.
Season with salt and add the water and cook for 5 minutes.
Add the cream and yoghurt and simmer on low, for 35 minutes.
Chop the coriander.
Just before serving melt the remaining ghee in a 20cm or 8" frying pan over a high heat.
Add the green cardamom pods, coriander seeds cloves and cinnamon stick.
Stir until they begin to crackle.
Then add the ghee into the curry, discard the seeds and add the coriander and serve topped with the toasted almonds.
Nutrition Information:
Yield:
2
Serving Size:
1
Amount Per Serving:
Calories:

746
Total Fat:

57g
Saturated Fat:

27g
Trans Fat:

0g
Unsaturated Fat:

28g
Cholesterol:

311mg
Sodium:

994mg
Carbohydrates:

16g
Fiber:

3g
Sugar:

9g
Protein:

48g
Calorific details are provided by a third-party application and are to be used as indicative figures only.