With ingredients this good it is best to keep things simple so a little Lemon Chili and Garlic make these Grilled Shrimp sing!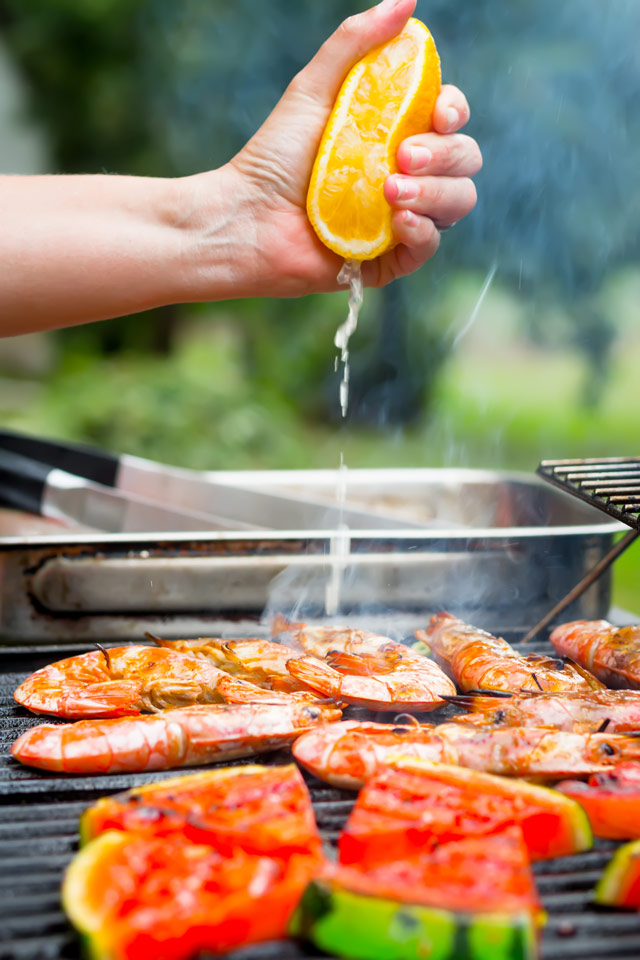 Both myself and my wife were in great need of cheering up last weekend and as far as I am concerned that means great food. So we went and splurged on one of my favourite, if expensive treats and broke out the grill for some grilled shrimp.
Depending where you live I am sure Shrimp varies greatly in price, although lets just say there was a thought of 'really' when I paid for these 8-10 count shrimp it the local market. But hey, sometimes you gotta treat yourself, right?
Now with ingredients this good these is not a lot you need to do, in fact the less you do the better the meal is. Just like my grilled trout dish, this grilled shrimp dish relies on a few great ingredients that add little hints to the wonderful sweet and smokey flavour of the shrimp.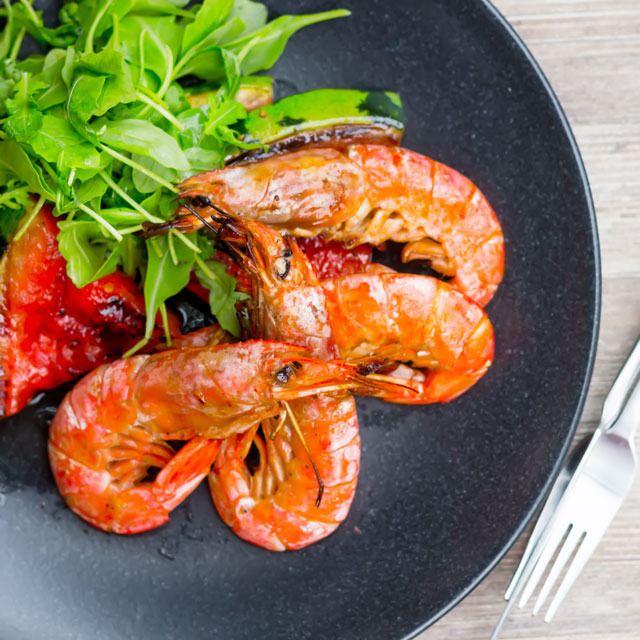 'But water melon' I hear you say, and I respond with a resounding YES. The sweet tartness of the water melon works amazingly with the texture and flavour of the shrimp I think and if you have never grilled water melon then you really must try.
You can go sweet with brown sugar or honey and serve it with ice cream, or go savoury with chili, salt and pepper and serve with seafood or pork.
I can't believe I was absent from the world of al fresco cooking for so long, I am loving it… Sat in my garden with my wife, our dogs and cats a bottle or two of wine, some simple great ingredients and some sunshine is so therapeutic.
Expect much more, I have not even touched ribs, burgers or smoked anything yet, however we do have a couple of months of summer to play with… But I will not be abandoning those of you who don't BBQ, one indoor, one outdoor recipe a week. I promise 😉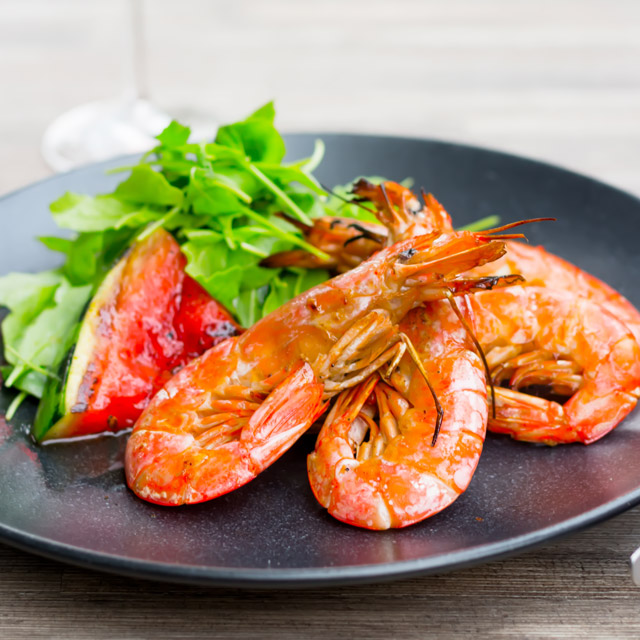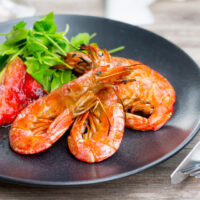 Grilled Shrimp with Watermelon and Rocket
With ingredients this good it is best to keep things simple so a little Lemon Chili and Garlic make these Grilled Shrimp sing!
Ingredients
400 g Shrimp, Buy as big as you can get and frsh is superb but if like me you are using frozen see the note below
1 Chile, Finely chopped, I used a Thai birds eye chile
1 Garlic Clove, Finely chopped
1 Lemon
2 Tbsp oil to coat
Salt and Pepper
Rocket to serve, I dressed mine with a spritz of truffle oil
For the Water Melon
Water Melon, Take a slice across the circumference of the water melon approximately 1.5cm thick then slice that into 6 wedges
1 Tbsp Sweet Chili Sauce
1 Tbsp Oil
1 Pinch Salt
Black Pepper, To Taste
Instructions
When your grill is ready to rock and roll, mix together the sweet chili sauce, oil for the water melon salt and pepper and use this to coat the water melon slices.
Now onto the shrimp, mix together the garlic, chili, salt & pepper and oil and coat the shrimp.
Now we are ready to cook, you will need to work on your own judgement on a little, the water melon takes 10 minutes to be just about perfect. I knew these shrimp would take about 7 based on experience but shrimp cooking time will entirely depend on their size, mine were 50g each, so around 8-10 count).
Add the water melon to the grill, followed by the shrimp, half way through cooking flip over.
Just before serving and whilst still on the grill squeeze the juice of one lemon over the shrimp and serve with the melon and some nice peppery rocket.
Notes
If using frozen shrimp defrost as quickly as you can, stick in a colander and allow cold water to run over them, they should defrost in about 15 minutes, this helps maintain the texture of the meat I find.
Nutrition Information:
Yield:

2
Serving Size:

1
Amount Per Serving:
Calories:

622
Total Fat:

32g
Saturated Fat:

3g
Trans Fat:

0g
Unsaturated Fat:

27g
Cholesterol:

422mg
Sodium:

2118mg
Carbohydrates:

38g
Fiber:

3g
Sugar:

25g
Protein:

49g