As much as I love a good burger, these massive BBQ prawns or shrimp for readers around the world are the undisputed heavyweight champions of BBQ season. They need very little to help them on the way, just a little chili, lemon garlic and fire!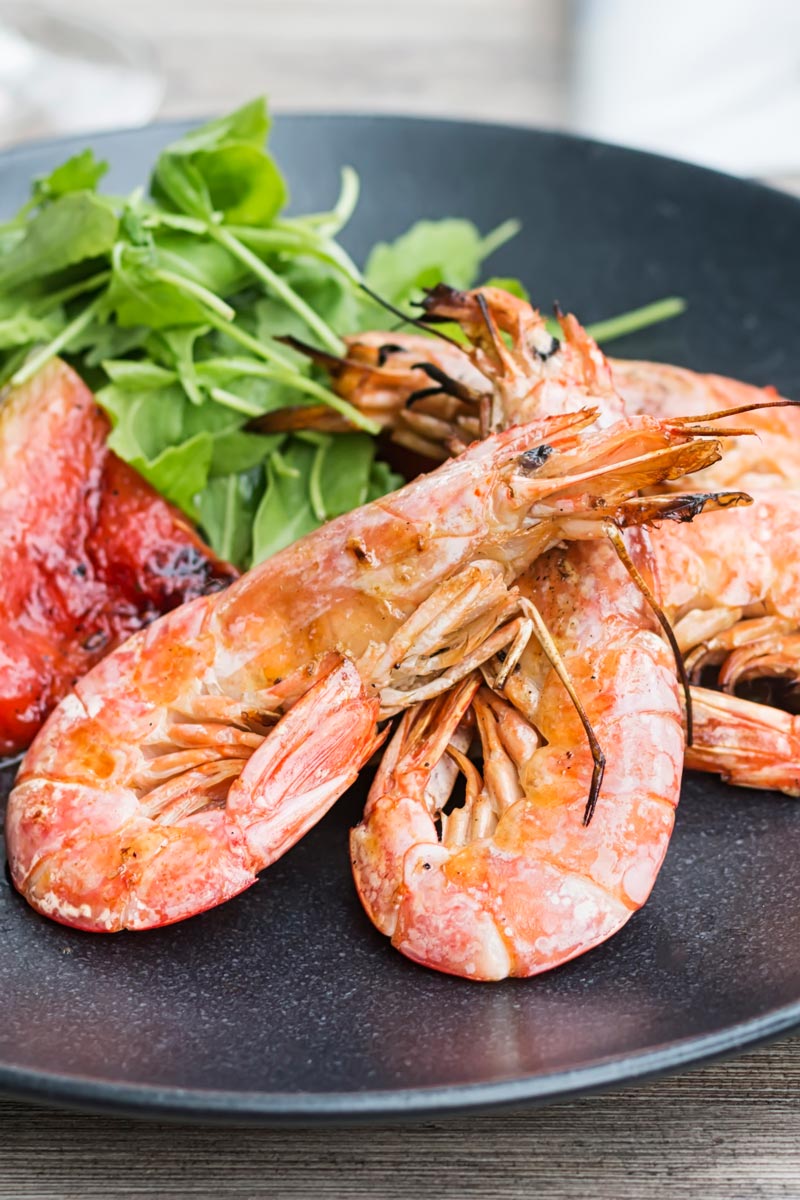 BBQ Prawns or Shrimp.
Both my wife and I were in great need of cheering up last weekend and as far as I am concerned that means great food. So we went and splurged on one of my favourite, if expensive, treats!
Now with ingredients this good there is not a lot you need to do.
In fact, the less you do the better the meal is! Just like my grilled trout recipe, these BBQ prawns rely on a few great ingredients.
Garlic, chili and lemon are all we add apart from salt and for me, that is all they need.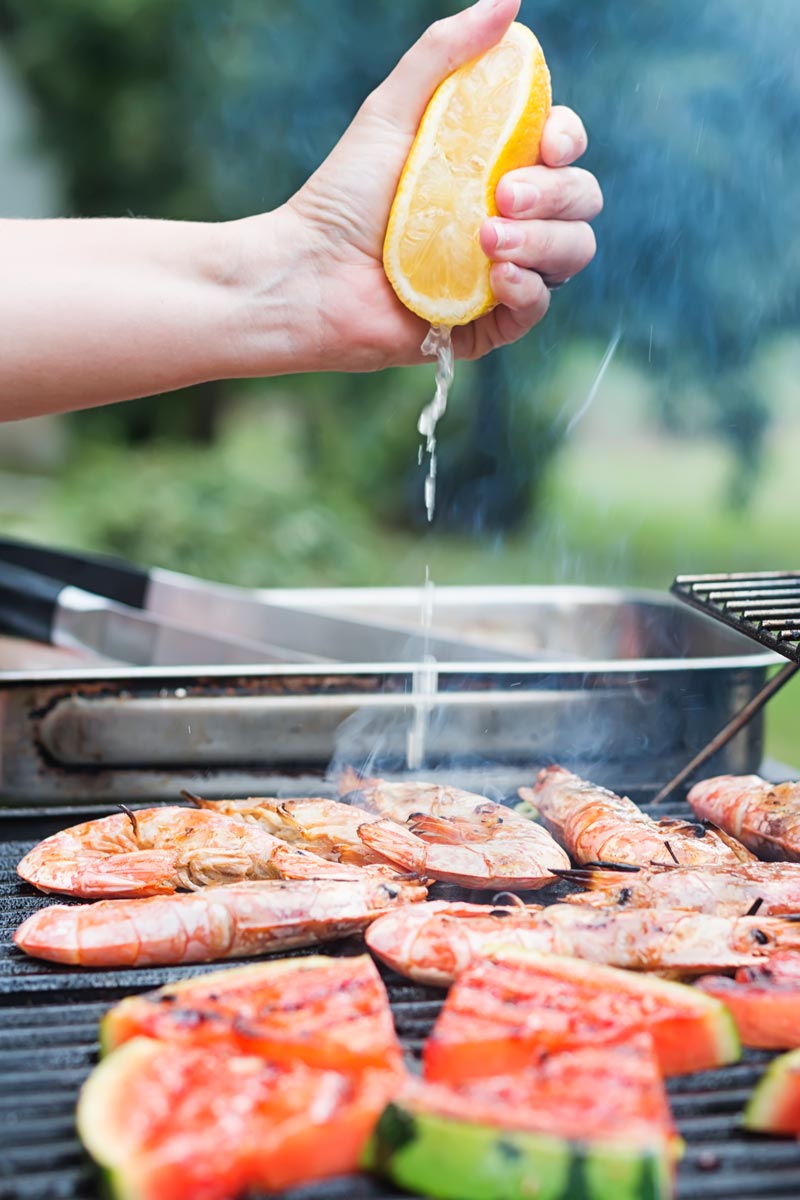 What Size Prawns are Good to Cook on the BBQ?
The simple answer is anything from around 25mm long and upwards.
This meal was a treat for us so I sprung for some 8-10 sized prawns much like these Harissa Garlic Prawns. But here I cooked them in their shells.
The aroma of cooking seafood in this way is one of my favourite smells.
Incidentally, the sizing of shrimp or prawn refers to the number per pound. As a result, the smaller the number the bigger the prawn.
But if you have something smaller then stick them on a skewer (see what I did there). This grilled shrimp recipe is a great example of this.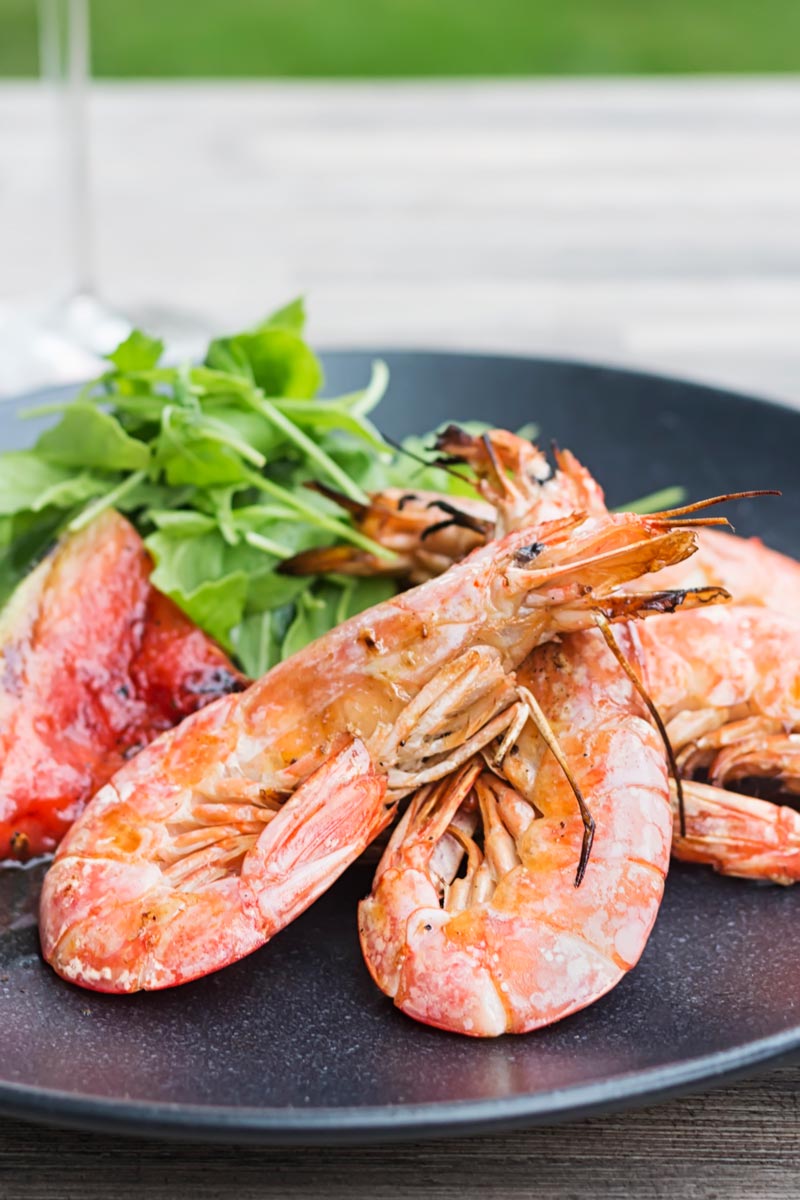 Watermelon on the BBQ?

'But watermelon' I hear you say, and I respond with a resounding YES!
The sweet tartness of the watermelon works amazingly with the texture and flavour of the shrimp.
You can go sweet with brown sugar or honey and serve it with ice cream, or go savoury and serve with seafood or pork.
I have a slightly different take on grilled watermelon in this glazed pork tenderloin recipe.
On that note I will leave you alone, you have shopping and cooking to do!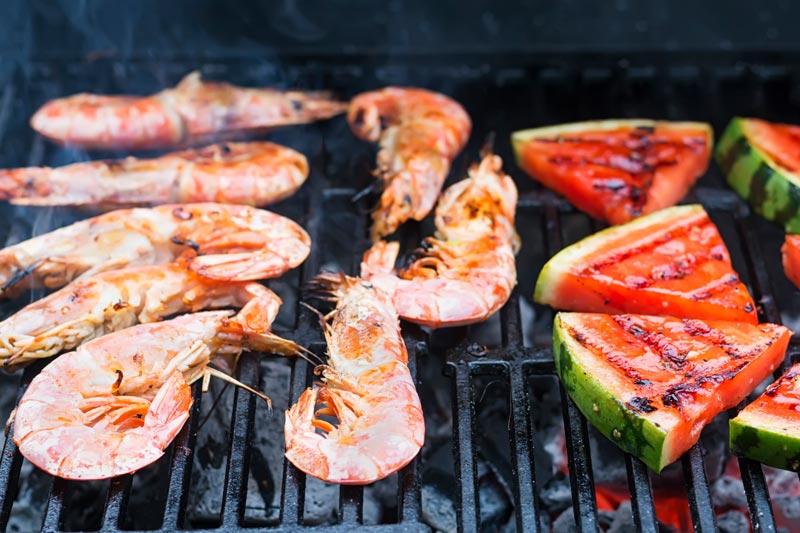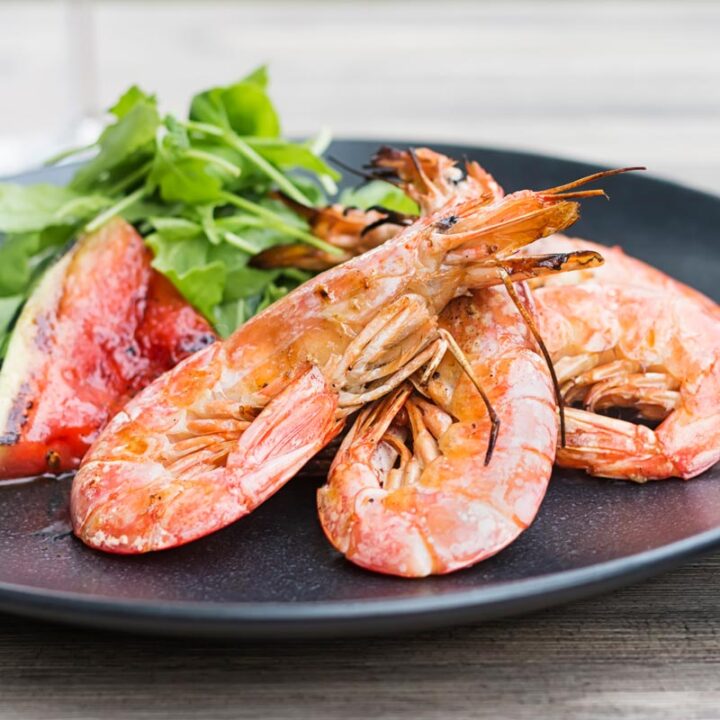 BBQ Prawns or Shrimp with Watermelon
With ingredients this good it is best to keep things simple so a little Lemon, Chili and Garlic mixed with a bit of fire is all that is needed to make these BBQ Prawns or Shrimp Sing!
Ingredients
400 g Prawns
1 Thai Birds Eye Chili Pepper
1 Garlic Clove
1 Lemon
2 Tbsp oil to coat
Salt and Pepper to taste
Rocket to serve
Oil for dressing
For the Watermelon
1 Watermelon
1 Tbsp Sweet Chili Sauce
1 Tbsp Oil
Salt and Pepper to taste
Instructions
Finely chop the chili and garlic.
Take a slice across the circumference of the water melon approximately 1.5 cm thick then slice that into 6 wedges.
When your grill is ready to rock and roll, mix together the sweet chili sauce, oil for the water melon salt and pepper and use this to coat the water melon slices.
Now onto the prawns, mix together the garlic, chili, salt & pepper and oil and coat the shrimp.
Now we are ready to cook, you will need to work on your own judgement on a little, the watermelon takes 10 minutes to be just about perfect.
These prawns take about 7 based on experience but the cooking time will entirely depend on their size, mine were 50g each, so around 8-10 count).
Add the watermelon to the grill, followed by the shrimp, half way through cooking flip over.
Just before serving and whilst still on the grill squeeze the juice of one lemon over the shrimp and serve with the melon.
Finally dress the rocket with some nice oil and place on the side.
Notes
If using frozen shrimp defrost as quickly as you can, stick in a colander and allow cold water to run over them, they should defrost in 10-15 minutes, this helps maintain the texture of the meat.
Nutrition Information:
Yield:

2
Serving Size:

1
Amount Per Serving:
Calories:

637
Total Fat:

39g
Saturated Fat:

4g
Trans Fat:

0g
Unsaturated Fat:

32g
Cholesterol:

426mg
Sodium:

2250mg
Carbohydrates:

26g
Fiber:

2g
Sugar:

16g
Protein:

48g
Calorific details are provided by a third-party application and are to be used as indicative figures only.