These vegetarian balsamic vinegar, cheddar cheese & brown rice stuffed mushrooms are just as good cooked in the oven as they are on the BBQ!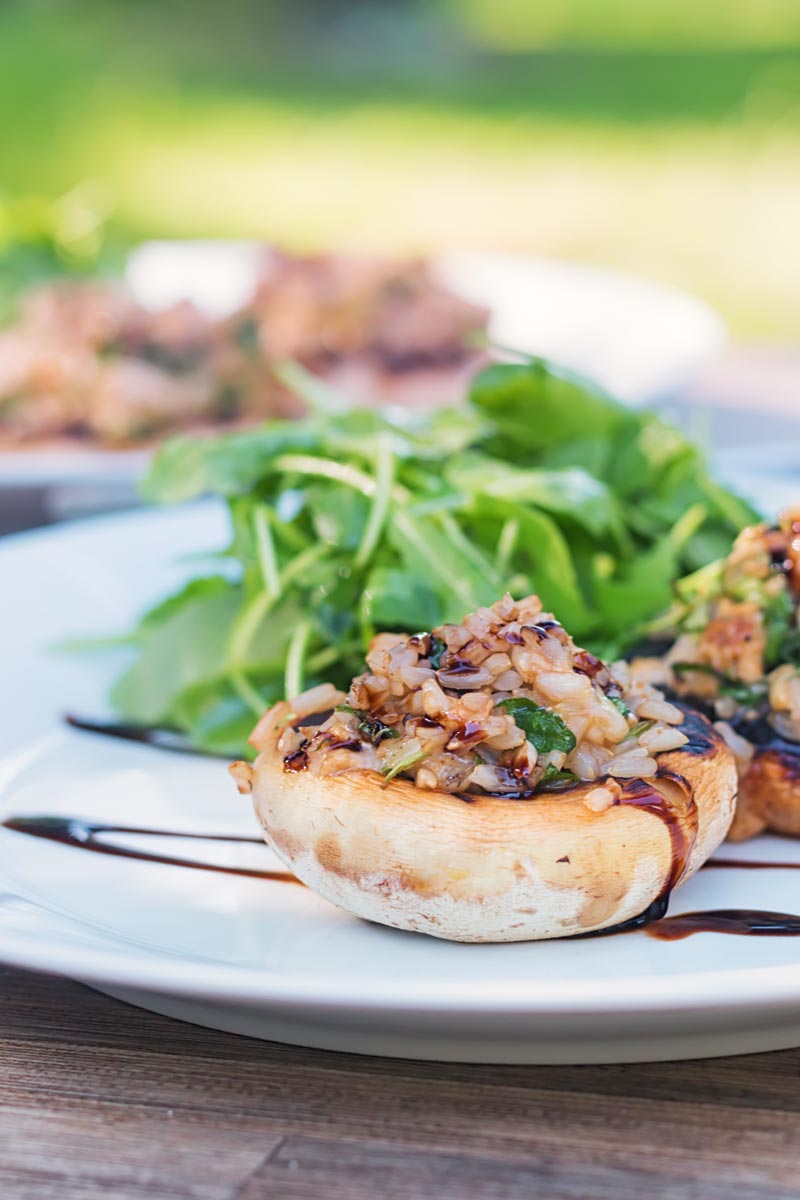 Vegetarian Stuffed Mushrooms.
I love stuffing mushrooms, they are wonderful little flavour sponges. Soaking up whatever flavours you stuff them with and adding a rich meatiness to any dish.
In this case that is balsamic vinegar, but they are just as good with a meaty ragu as in my minced beef stuffed mushrooms.
This recipe started out as the filling for a tart no less, it is simple to prepare and tastes fantastic.
Just like my Welsh Rarebit recipe, the secret to this recipe is your choice of cheese!
There is lots of stuff out there labelled Cheddar that is frankly awful.
Firstly cheddar should be sharp and crumbly. You need that sharp and salty flavour to contrast the almost sweet flavour of the salty balsamic vinegar.
Of course, being a Brit then sharp cheddar cheese needs onions, so we add spring onion to the mix to come up with the perfect light vegetarian meal.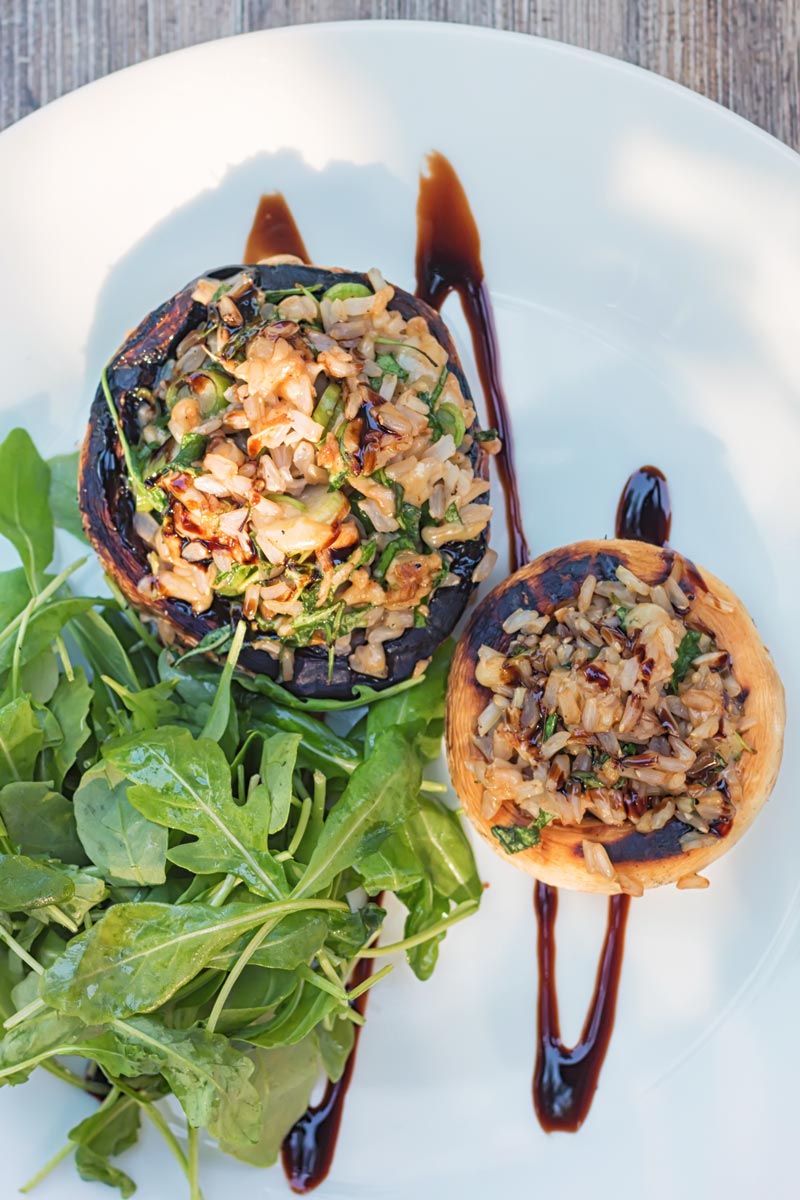 Cooking Methods.
This dish is an all year round winner for me and I have two cooking methods for this recipe.
The first is pretty trad, the ingredients are prepared.
Then they are piled in the shrooms and dropped in the oven and roasted for 25 minutes, just like these red pepper and Roquefort cheese stuffed mushrooms.
The next is probably my favourite and that is to cook them on the BBQ.
Let's face it grill parties tend to be meat feasts. Both this recipe and my BBQ cabbage heart recipe are great ways to change that up!
I love this method because the shrooms just suck up that smokey taste and aroma.
We just give the mushrooms a bit of a head start over the direct heat. Then we stuff them in the same way as we do when preparing for the oven.
Finally slide them over and cook them with the lid on for 12-15 minutes over indirect heat!
It is also important to note that this recipe calls for cooked cooled whole grain rice. This takes around 30 minutes to cook and is not included in the cooking time.
I usually cook mine the night before or in the morning of the day that I am planning to cook these.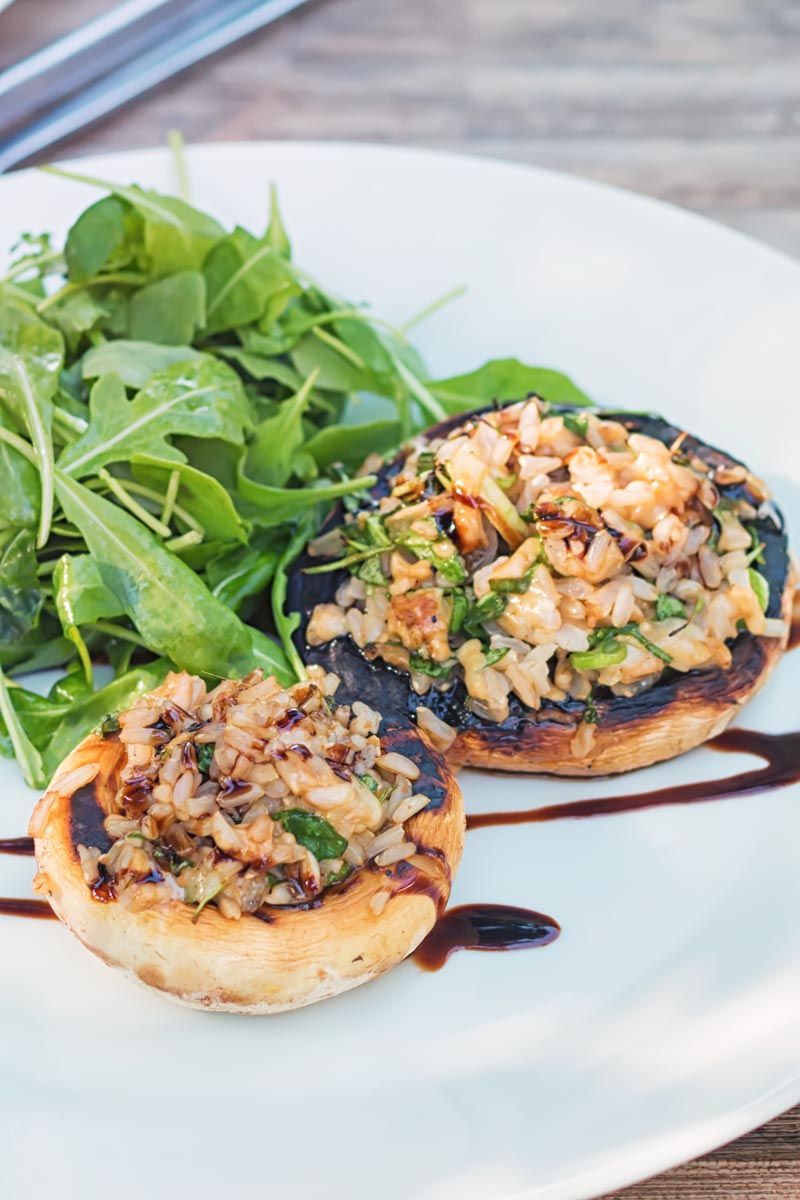 Serving Sizes and Suggestions.
I serve two medium-sized stuffed mushrooms as a single serving with a dressed side salad as light main course.
But these stuffed shrooms also work really well as a side dish.
Serve one of these mushrooms and a side with the accompaniment of your choice.
They are great with pan-fried or grilled pork chops and they are absolutely superb alongside a good steak.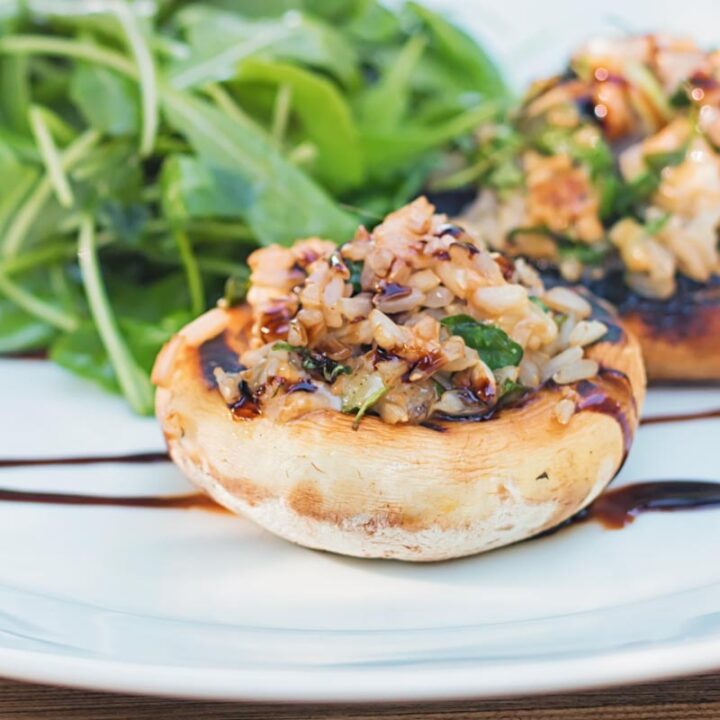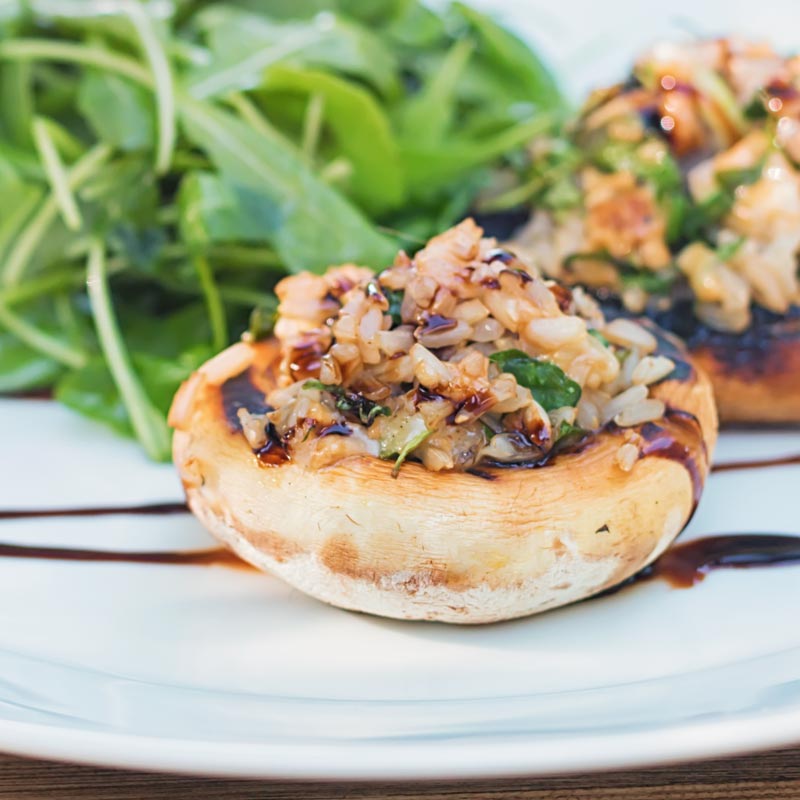 Yield:

2 Servings
Cheddar Cheese & Brown Rice Stuffed Mushrooms Recipe
Nutty Brown Rice, Cheddar cheese and spring onions are the perfect filling for these stuffed mushrooms that cook as well on the BBQ as they do in the oven!
Ingredients
4 Portobello Mushrooms
100 g (4oz) Cooked Whole Grain Rice
100 g (4oz) Mature Cheddar Cheese
4 Tbsp Balsamic Vinegar
2 Spring Onions
2 Tbsp Olive Oil
2 Tbsp Freshly Chopped Parsley
Balsamic Reduction For Dressing
Salt to taste
Pepper to Taste
Instructions
The Preparation.
If you are not using leftover whole grain rice then factor in cooking and cooling 40-45g (1.5oz) of rice into the timing.
Remove the stalks from the mushrooms and cut them into a 5mm dice.
Slice the spring onions into rounds around 2-3mm thick.
Grate the Cheddar cheese.
Place the cheese, cooled rice, mushroom stalks, parsley and spring onions in a bowl.
Pour in the balsamic vinegar and mix well
Cooking in the Oven.
Brush the mushrooms with the oil and season with salt and pepper.
Pile in a quarter of the filling to each mushroom and place on a baking tray.
Cook in an oven at 220°C or 450°F for 15-20 minutes.
Before serving drizzle with some balsamic reduction.
Cooking on the BBQ.
Brush the mushrooms with the oil and season with salt and pepper.
Place the mushrooms cup side down on the BBQ over the direct heat for 4-5 minutes.
Flip over the mushrooms and cook for a further 2-3 minutes until the base is lightly grilled.
Move the mushrooms off the direct heat of the charcoal.
Pile in a quarter of the filling into each shroom and close the lid of the grill and cook for 10-12 minutes.
Before serving drizzle with some balsamic reduction.
Notes
You could use leftover white rice for this recipe but the flavour profiles are far more subtle.
Nutrition Information:
Yield:
2
Serving Size:
1
Amount Per Serving:
Calories:

511
Total Fat:

38g
Saturated Fat:

12g
Trans Fat:

0g
Unsaturated Fat:

22g
Cholesterol:

53mg
Sodium:

775mg
Carbohydrates:

27g
Fiber:

4g
Sugar:

11g
Protein:

17g
Calorific details are provided by a third-party application and are to be used as indicative figures only.