These easy stuffed mushrooms are a great way to use up leftover rice and create a fantastic meal from store cupboard ingredients, these feature roasted red peppers, sun dried tomatoes and Roquefort cheese.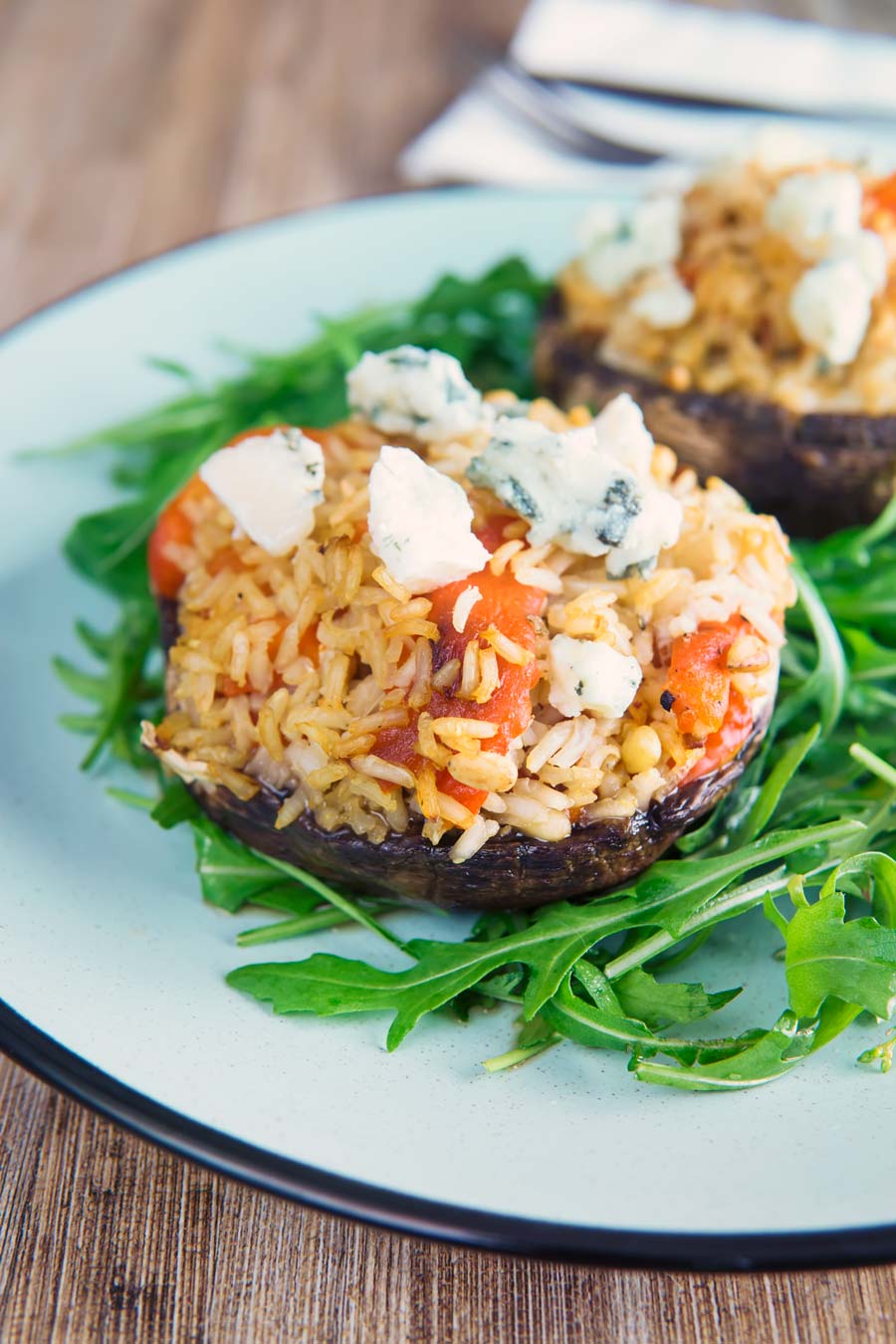 Easy Stuffed Mushrooms.
As is usually the case here, this stuffed mushrooms recipe follows hot on the heels of other mushroom recipes.
This one in the main is designed to be a super quick mid-week chuck it together meal. Unlike my recent mushroom ragu recipe which was very much a low and slow recipe.
This recipe assumes the use of both roasted peppers and dried tomatoes from jars
I personally set all these aside from my summer crop of vegetables which gives me vibrant red peppers and an intense tomato flavour all year round.
Of course, these jars are readily available in shops and make a perfect addition to a bolognese sauce or chili.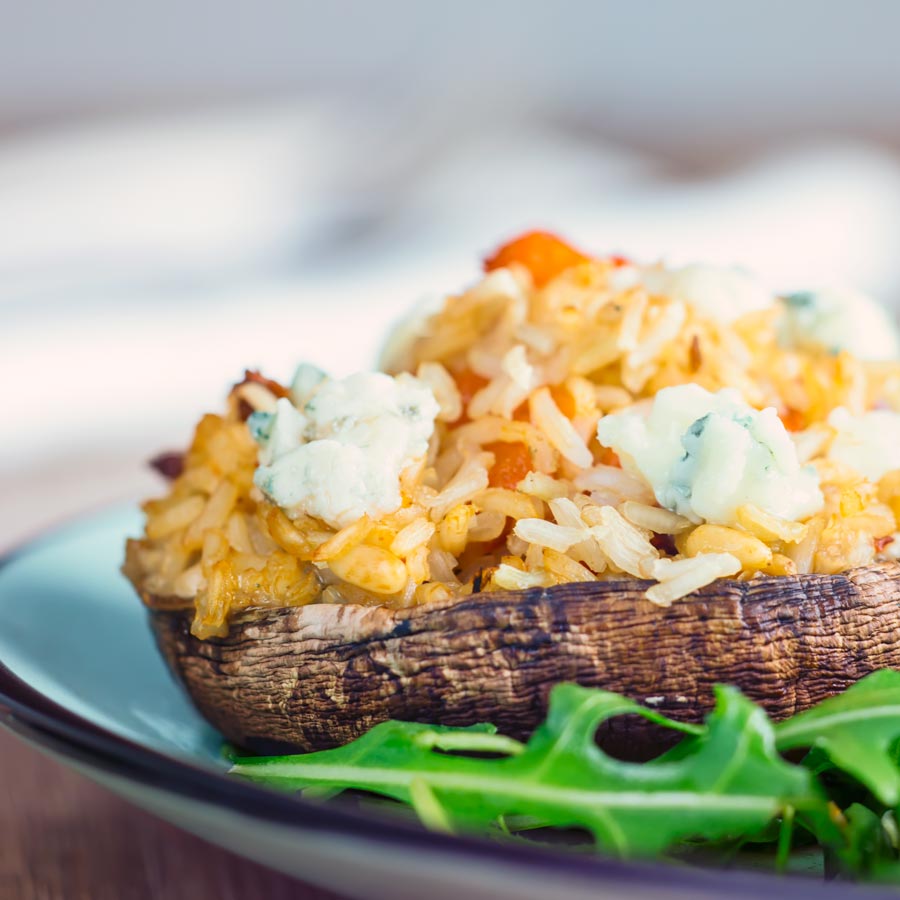 Versatile Stuffed Mushrooms.
This simple recipe for stuffed mushrooms is not the first here on my website. I love the versatility of them, they are so simple to cook and can be thrown together from store cupboard ingredients.
All you need to do is pull together some flavours that work together, although I personally think that cheese is a must.
This recipe was based on Roquefort cheese which is a ewes milk cheese. It has a sharpness similar to goats cheese and a wonderful saltiness.
It pairs superbly with something a little sweet, and roasted red peppers are perfect. Add the nuttiness of some leftover brown rice and some creamy pine nuts and you are done.
But if you have goats cheese, then you could go caramelised onion and goats cheese. If you have plain old cheddar as if there is any such thing, then balsamic and onions make a perfect stuffed mushroom recipe.
If you want to go meaty then look no further than these minced beef stuffed mushrooms.
Vegetarian Stuffed Mushrooms.
You all know how I like to avoid controversy right? Well, as far as I am concerned stuffed mushrooms are better sans meat!
Now I am a pretty committed carnivore, but I do not believe every meal needs meat.
I have played around and experimented with meaty stuffed mushrooms and I have always been underwhelmed. I find that the meat and the mushroom do not offer enough of a contrast to each other.
But gimme a vegetarian stuffed mushroom with some perfectly matched cheese and I am in heaven.
Again avoiding controversy, do not add too much cheese! I don't care how many times I see the 'no such thing as too much cheese' meme on facebook I always whisper "bullshit" to myself.
Food is about balance and blue cheese, in particular, can dominate and obliterate all other flavours very quickly.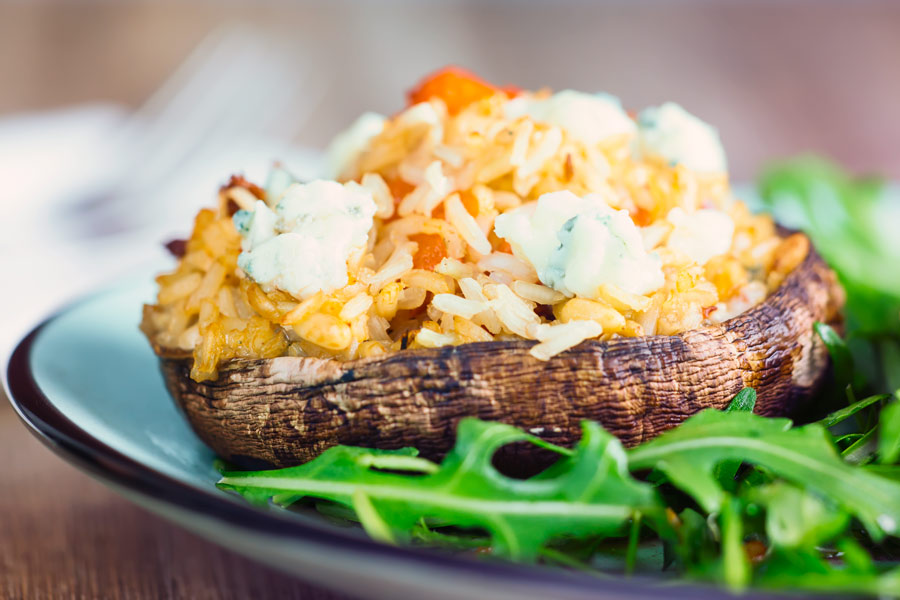 What Is Wholegrain Rice?
As the name suggests whole grain rice has less removed than your typical white rice.
The hull, bran layer and germ are all left in place, making it more nutritious.
You should know by now how important that is to me, not in the slightest. I love using wholegrain or brown rice because it tastes wonderful.
It has a nutty flavour with a much more pronounced texture.
How do you cook brown rice? To be honest I find it a much more forgiving rice to cook than white rice.
It does take longer to cook, typically around 25-30 minutes for straight up brown rice. But plenty of water, lots of salt and a good boil and you are fine, try that with white rice and you will largely be disappointed.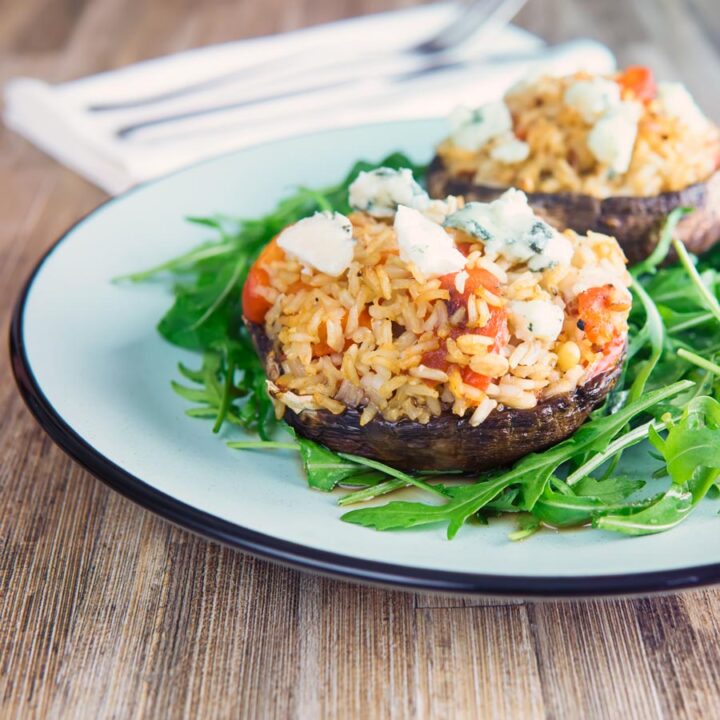 Yield:

2 Servings
Easy Stuffed Mushrooms Roasted Red Pepper
These easy stuffed mushrooms are a great way to use up leftover rice and create a fantastic meal from store cupboard ingredients, these feature roasted red peppers, sun dried tomatoes and Roquefort cheese.
Ingredients
4 Portobello Mushrooms
150 g Roasted Red Pepper
150 g Leftover Cooked Rice, I like to use wholegrain rice
25 g Sun Dried Tomatoes, They type preserved in oil
100 g Roquefort Cheese
25 g Pine Nuts
Salt and Pepper, To taste
Instructions
Remove the stalk from the mushrooms and set aside, save them for something like this mushroom ragu.
Finely slice the sun-dried tomato and then place in a bowl with the rice, roasted red pepper, pine nuts, and half of the crumbled Roquefort cheese.
Have a taste of the filling, if the rice is well seasoned it should not need any salt but give it a good hit of black pepper.
Brush the mushrooms with the oil from the sun dried tomatoes and then season the inside generously with salt.
Fill the mushrooms with the stuffing and bake at 220°C or 450°F for 15-20 minutes.
Crumble over the remaining cheese and serve with some peppery rocket.
Homemade Roasted Red Peppers:
This recipe assumes jarred roasted pepper but they are easy to make at home.
Place two medium red peppers in an oven at 220°C or 450°F and roast for 25-30 minutes.
When they have coloured up and begun to blister remove from the oven and place in a bowl and cover with cling film.
Allow to sit for 30 minutes and then peel off the blackened skin and tear into shreds.
Nutrition Information:
Yield:
2
Serving Size:
1
Amount Per Serving:
Calories:

632
Total Fat:

35g
Saturated Fat:

11g
Trans Fat:

0g
Unsaturated Fat:

20g
Cholesterol:

45mg
Sodium:

1080mg
Carbohydrates:

62g
Fiber:

6g
Sugar:

11g
Protein:

22g