Indian food is well known for vegan and vegetarian fodder and this chickpea and carrot curry is super simple and is packed with big flavours!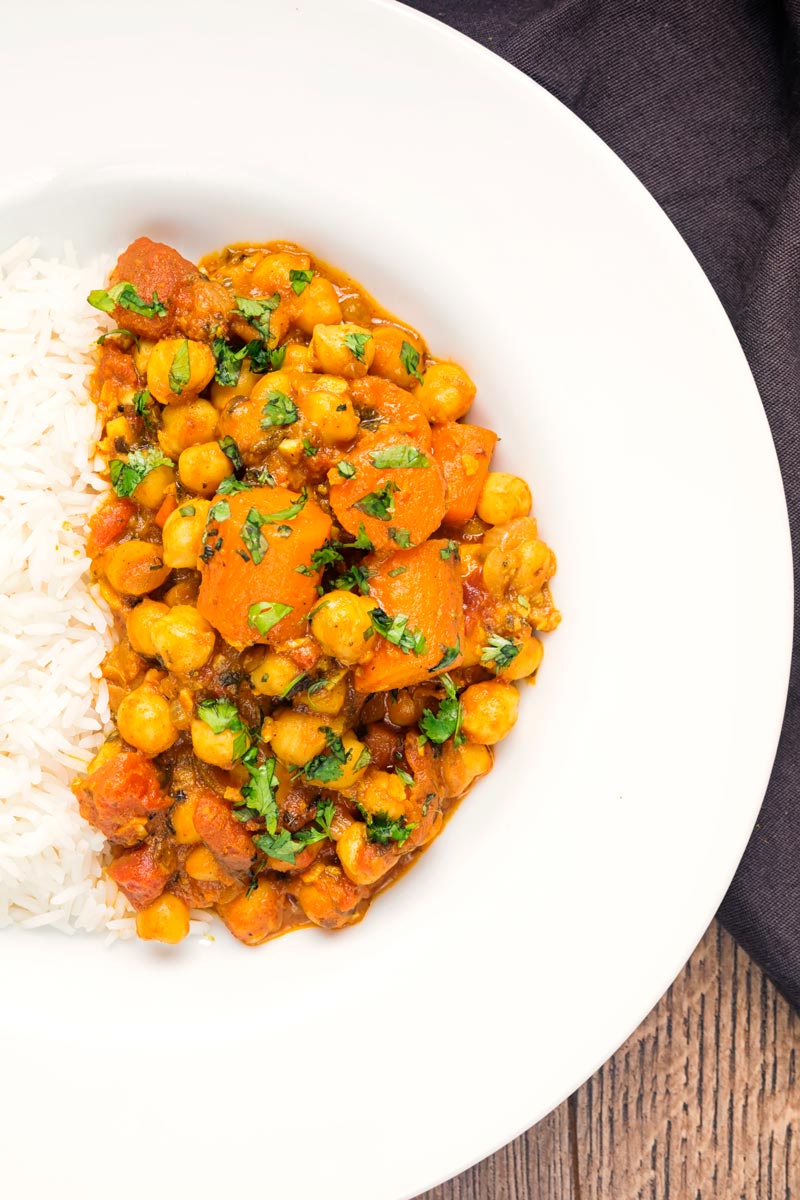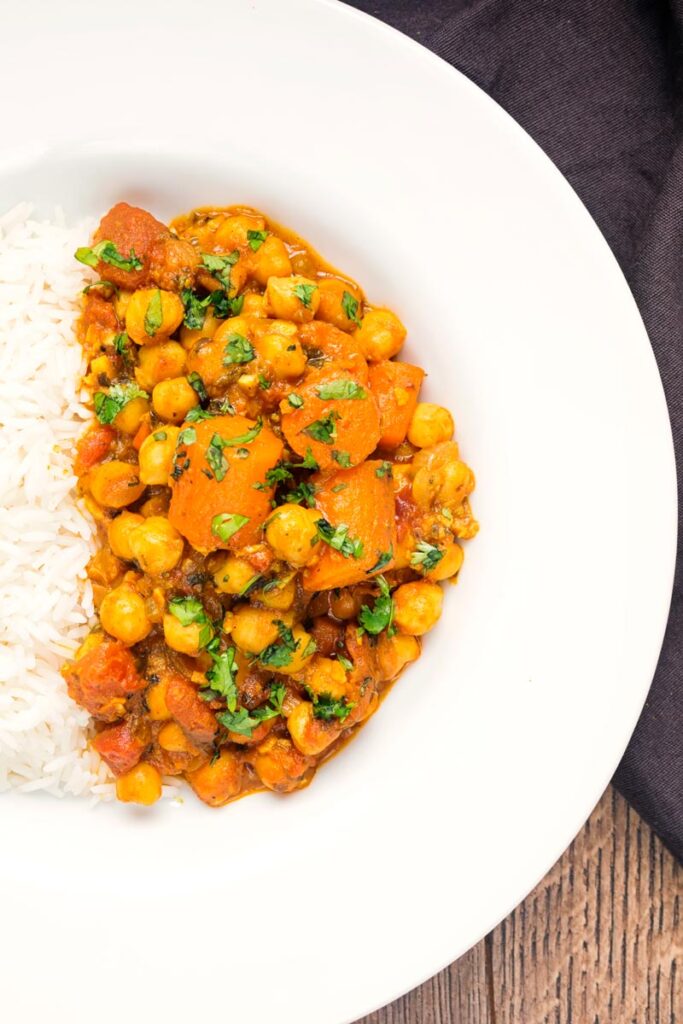 Simple Spicy Vegan Curry.
This curry is a proper corker of a dish that is so simple to make. It was born of the result of a glut of carrots a few years ago.
Seriously we grew tonnes of them, I am not exaggerating, we stopped weighing in at 3,000kg.
We even tried to make carrot wine. Don't do it! Seriously!
This Indian carrot number, on the other hand, comes highly recommended. It features some big Indian flavours and a really thick and unctuous curry sauce.
Again this simple curry recipe uses spices rather than a generic curry powder blend. But don't worry, this is simple stuff!
I already have a pretty traditional Indian chickpea curry here as well as a chickpea and sweet potato curry on my site.
That chole is marvellous, however, my latest recipe is a bit of a conglomeration of influences but no less wonderful.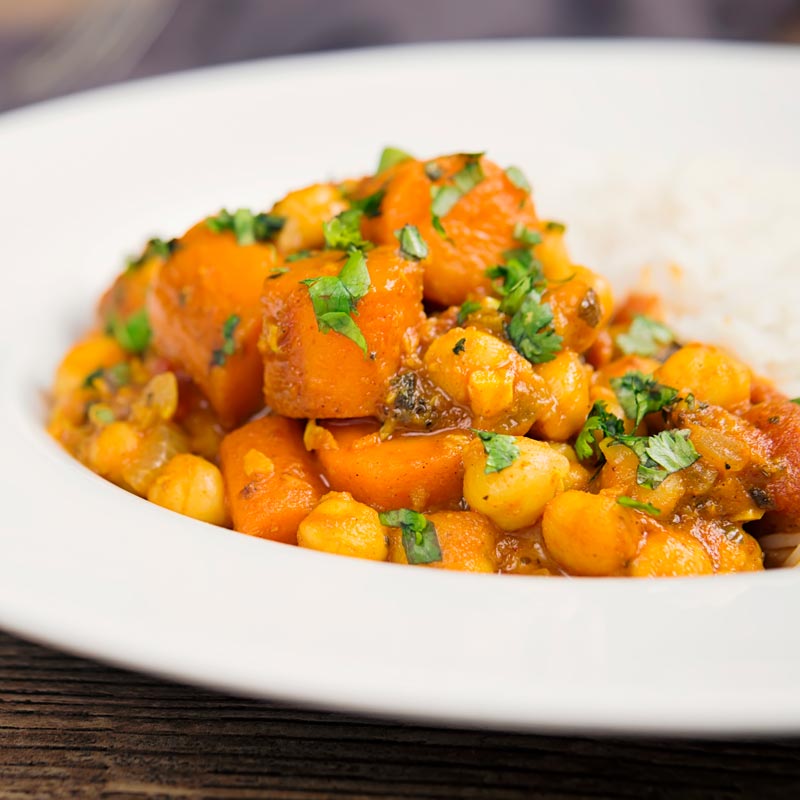 Naturally Vegan Food.
I have not hidden my dislike of vegan or vegetarian substitutes in meals here on my site.
I am neither vegan or vegetarian but I am a lover of good food.
India is well known for a very rich and vibrant meat-free culture and you should all know by now I am fond of Indian flavours.
This curry recipe is vegan because it is, not because I feel it should be. These ingredients, just like those in my aloo gobi and saag aloo recipes are better without animal produce.
If you are a vegetarian rather than vegan then you simply must check out my Matar Paneer recipe!
The sweet carrots are a fantastic foil against the spicy sauce. The chickpeas help carry huge amounts of flavour and provide a great earthiness.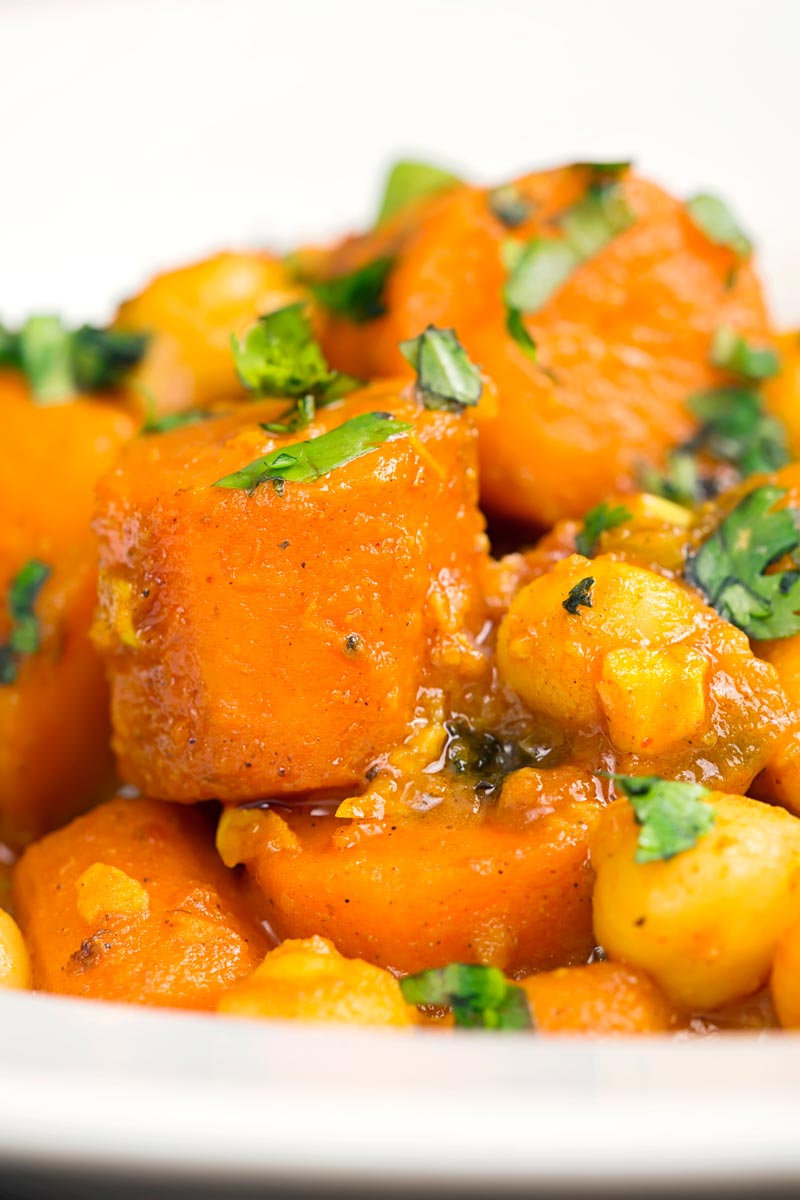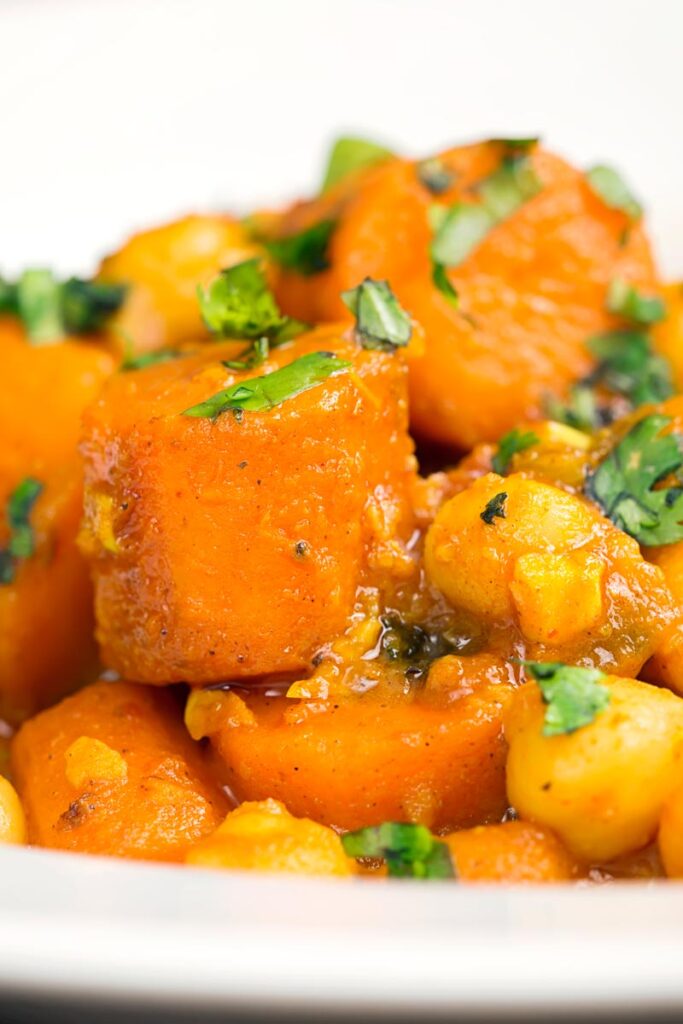 How To Cool Down A Spicy Curry.
To my mind, this chickpea curry is a spicy one. This does, of course, depend on the type of Kashmiri Chili Powder you use.
It does vary massively in heat depending on brand, so you will need to experiment a little at your end.
Naturally, the simplest way to reduce the heat of a curry is to reduce the amount of chilli. Although that has the consequence of reducing the chilli flavour as well as the heat.
My favourite way to cool a curry is with either yoghurt or coconut milk. Both have a wonderful way of tempering that immediate burn.
Of course, a naan bread also helps cool your mouth, so long as you do not dip it in the sauce.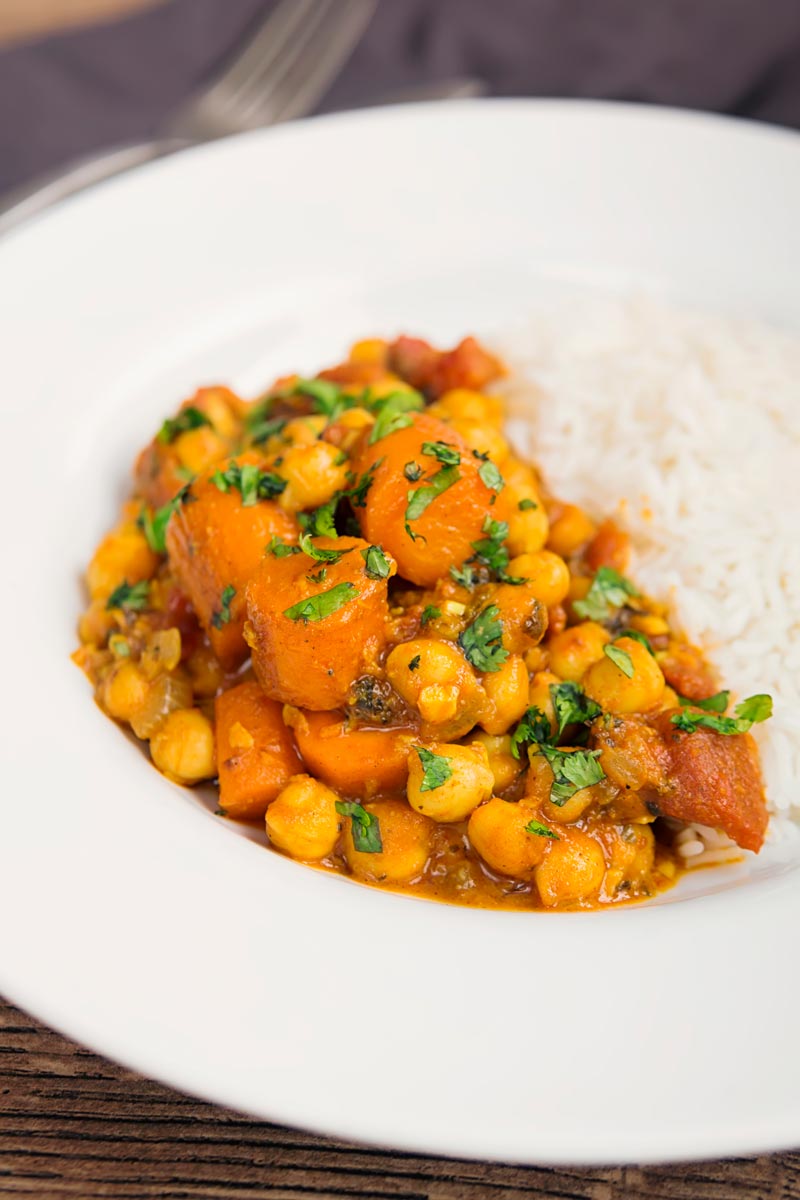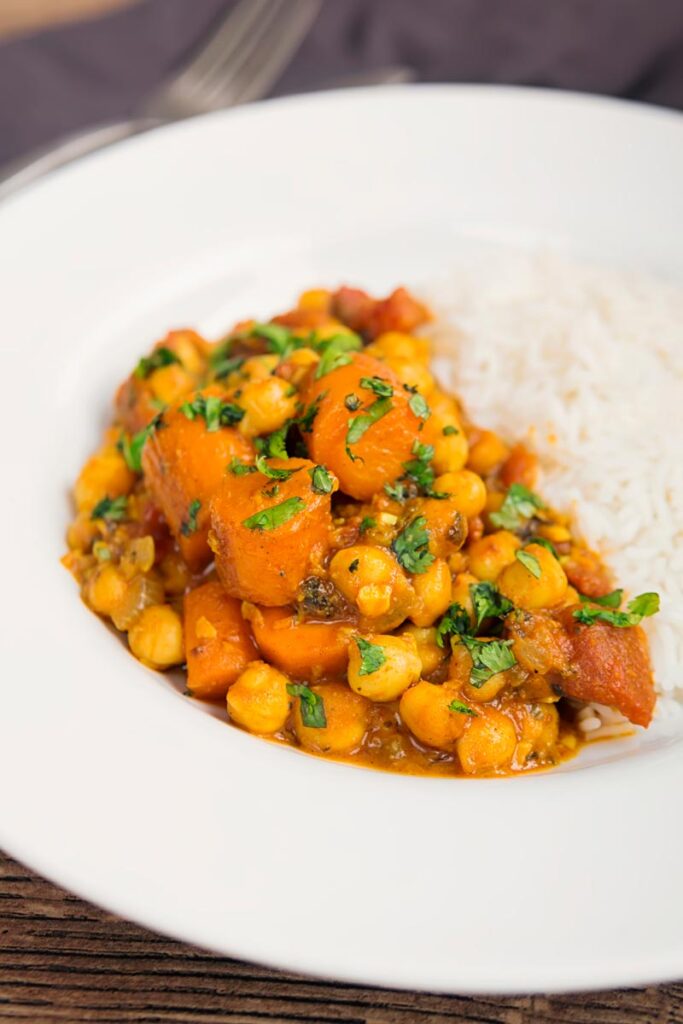 Can I use Tinned Chickpeas?
This recipe gets cooked all of the time and I invariably used Tinned chickpeas.
They are absolutely fine and work really well.
You can cook your own chickpeas and use them but they need soaking overnight. Although if you have a pressure cooker you can speed up that process.
This is not a planned meal for me though, it is one of those "chuck it together" meals that can happen quickly and without fuss.
It reheats fantastically and it even freezes relatively well, although I would not leave longer than a few weeks.
On the carrot front use carrots that are around1.5-2cm thick, if they are thicker cook a little longer.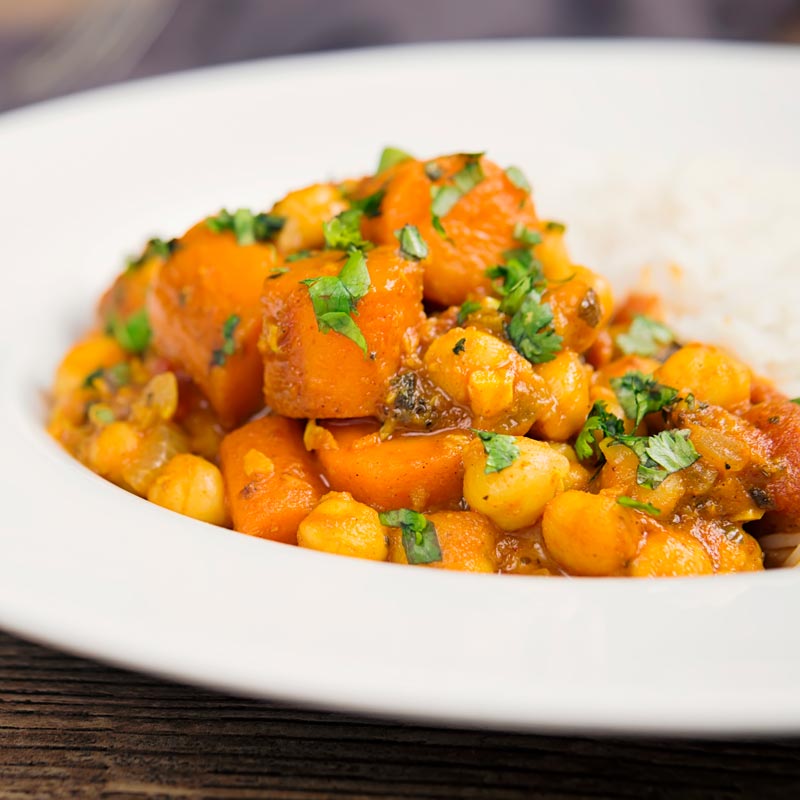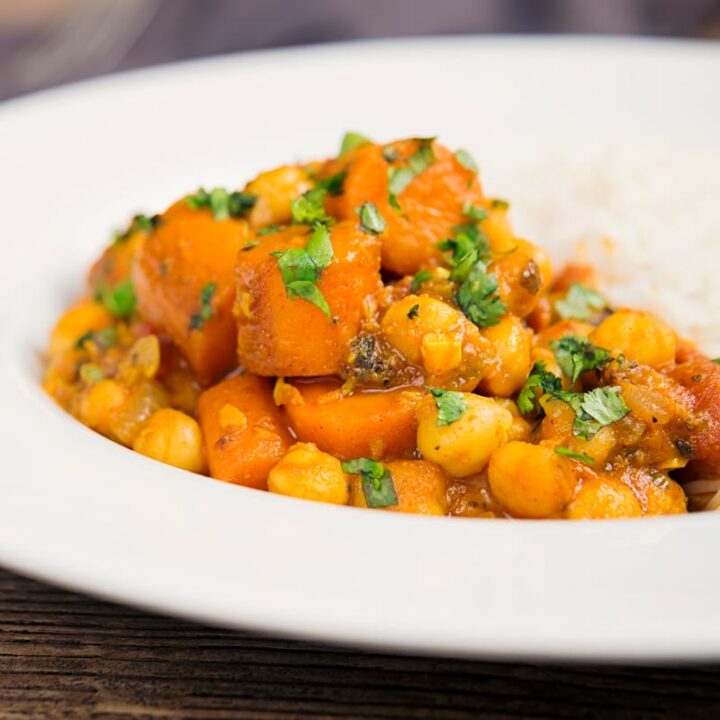 Carrot Curry Recipe with Chickpeas
This simple carrot curry is a big flavoured spicy treat, sweet with carrots, earthy with chickpeas and all-around tasty with Indian spices!
Ingredients
300 g Carrot
250 g Cooked Chickpeas
200 g Tinned Tomatoes
75 g Onion
4 Cloves Garlic
25 g Ginger
150 ml Coconut Milk
1 Tbsp Cooking Oil
2 Tsp Kashmiri Chili Powder
1 Tsp Ground Coriander
1 Tsp Ground Turmeric
1/2 Tsp Ground Cumin
1/4 Tsp Ground Black Pepper
1/8 Tsp Ground Cinnamon
1 Tbsp Dried Fenugreek Leaves
Salt, To taste
Instructions
Peel and cut the carrots into 3cm lengths.
Finely dice the onion.
Grate the ginger and mash the garlic.
Heat a pan over a medium high heat and when hot add the cooking oil.
Fry the carrots in this oil for 10 minutes, you want them to get a little bit of colour.
Whilst the carrots are frying combine all of the spices with the exception of the fenugreek in a bowl.
When the carrots are nicely caramelised add the onions and reduce the heat to medium and fry for 5 minutes until translucent.
Then add the garlic and ginger and cook for 60 seconds.
Increase the heat to medium hight and then sprinkle over the spices and allow to toast for 60 seconds, stirring to ensure they do not burn.
Add in the tomatoes, coconut milk, and chickpeas and then stir to combine.
Finally, add the fenugreek, season to taste with salt, and add a tight fitting lid and cook for 40 minutes on low.
Notes
I like to serve this simple curry with simply cooked basmati rice and a sprinkle of coriander.
Nutrition Information:
Yield:

2
Serving Size:

1
Amount Per Serving:
Calories:

558
Total Fat:

28g
Saturated Fat:

15g
Trans Fat:

0g
Unsaturated Fat:

10g
Cholesterol:

0mg
Sodium:

611mg
Carbohydrates:

69g
Fiber:

21g
Sugar:

17g
Protein:

18g
Calorific details are provided by a third-party application and are to be used as indicative figures only.