This vegan carrot curry is a big flavoured spicy treat, sweet with carrots, earthy with chickpeas and all-around tasty with Indian spices!

This curry is a proper corker of a dish that is so simple to make. It was born of the result of a glut of carrots a few years ago.
Simple Spicy Vegan Curry.
This Indian carrot curry comes highly recommended. It features big Indian flavours and a really thick and unctuous curry sauce.
Again this simple curry recipe uses spices rather than a generic curry powder blend.
But don't worry, this is simple stuff!
Chickpeas make a fantastic curry and I already have a pretty traditional Indian chickpea curry here as well as a chickpea and sweet potato curry on my site.
The chickpeas here help carry huge amounts of flavour and provide a great earthiness.
Then the sweet carrots are the perfect foil against the spicy sauce.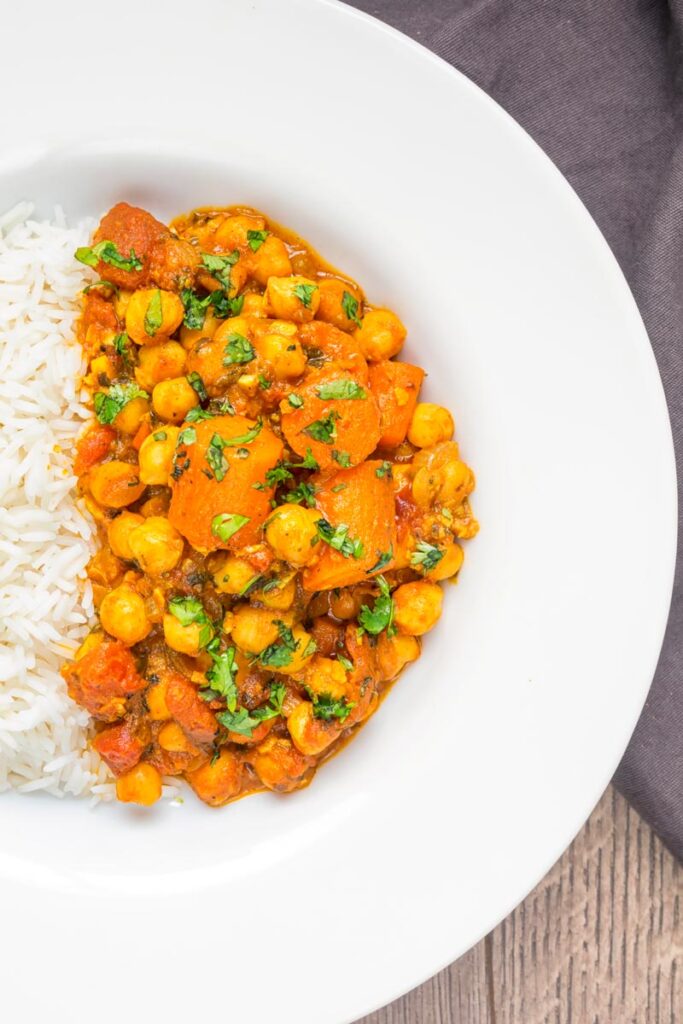 Naturally Vegan Food.
I am neither vegan or vegetarian but I am a lover of good food.
When I am developing a recipe I never consider what should be omitted.
As a result, this carrot curry recipe is vegan because it is, not because I feel it should be.
My site is littered with well-known examples like aloo gobi and saag aloo to completely made-up recipes like my spinach and mushroom curry.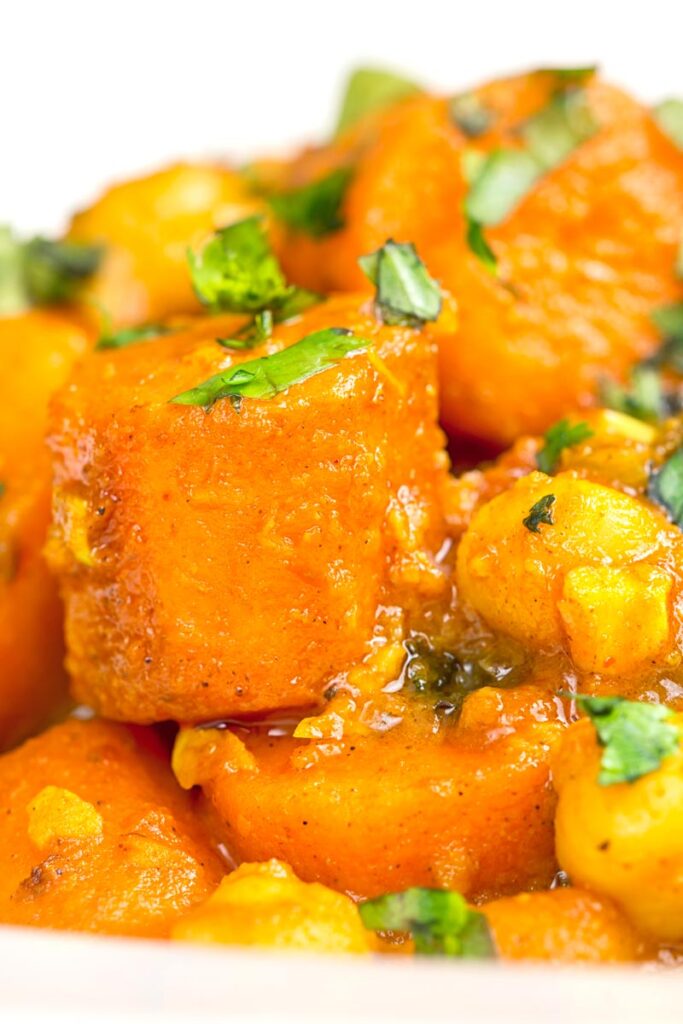 Use Tinned Chickpeas.
This recipe has been adopted by my wife it is one of her favourite store cupboard meals.
As a result of that, it is usually made with tinned chickpeas and they work really well!
Of course, you can cook your own chickpeas but you need to cook them separate from the sauce.
Cooking them in the sauce takes too long and you will end up with soggy carrots.
You can also scale up this recipe and batch cook it.
It freezes exceptionally well, I usually store in thick freezer bags and then reheat and defrost the entire bag in simmer water.
Yes, that makes it a boil in the bag curry!
I like to serve this with either naan bread or chapatis and a generous sprinkling of coriander.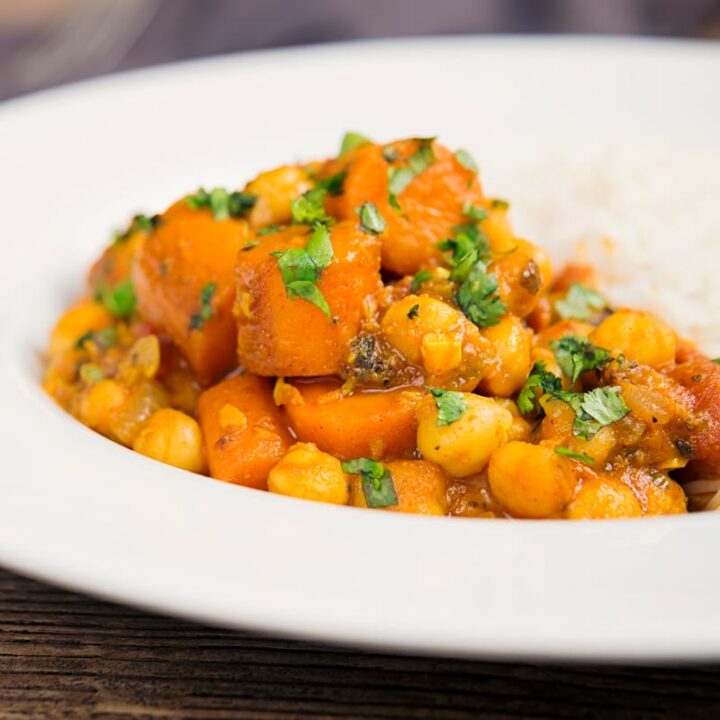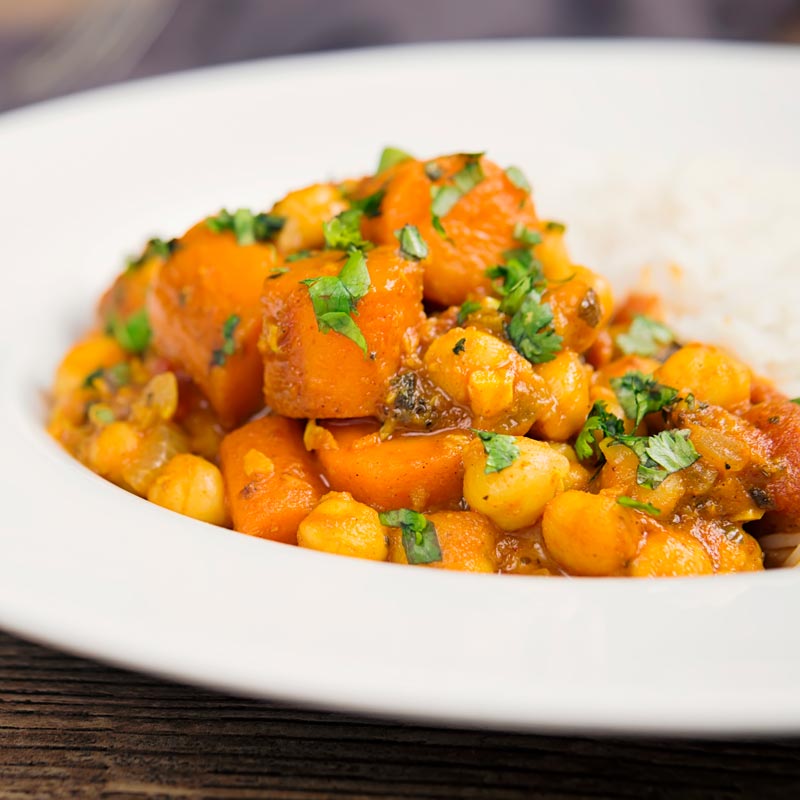 Yield:

2 Servings
Carrot Curry Recipe with Chickpeas
Indian food is well known for vegan and vegetarian fodder and this chickpea and carrot curry is super simple and is packed with big flavours!
Ingredients
300 g (10.5 oz) Carrots
250 g (8.75 oz) Cooked Chickpeas
200 g (7 oz) Tinned Tomatoes
75 g (2.75 oz) Onion
4 Cloves Garlic
30 g (1oz) Ginger
165 g (5.75 oz) Coconut Milk
1 Tbsp Cooking Oil
1 Tsp Kashmiri Chili Powder
1 Tsp Ground Coriander
1 Tsp Ground Turmeric
1/2 Tsp Ground Cumin
1/4 Tsp Ground Black Pepper
1/8 Tsp Ground Cinnamon
1 Tbsp Dried Fenugreek Leaves
Salt to Taste
Instructions
Peel and cut the carrots into 3cm lengths.
Cut the onion into a 3-4mm dice.
Grate the ginger and mash the garlic.
Heat a pan over a medium high heat and when hot add the cooking oil.
Fry the carrots in this oil for 10 minutes, you want them to get a little bit of colour.
Whilst the carrots are frying combine all of the spices with the exception of the fenugreek in a bowl.
When the carrots are nicely caramelised add the onions and reduce the heat to medium and fry for 5 minutes until translucent.
Then add the garlic and ginger and cook for 60 seconds.
Increase the heat to medium high and then sprinkle over the spices and allow to toast for 60 seconds, stirring to ensure they do not burn.
Add in the tomatoes, coconut milk, and chickpeas and then stir to combine.
Finally, add the fenugreek, season to taste with salt, and add a tight fitting lid and cook for 40 minutes on low.
Notes
Use carrots that are around 1.5cm thick, any thicker and you will need to increase the cooking time.
Nutrition Information:
Yield:
2
Serving Size:
1
Amount Per Serving:
Calories:

558
Total Fat:

28g
Saturated Fat:

15g
Trans Fat:

0g
Unsaturated Fat:

10g
Cholesterol:

0mg
Sodium:

611mg
Carbohydrates:

69g
Fiber:

21g
Sugar:

17g
Protein:

18g