Saag Aloo is a long standing favourite curry of mine, the move from spinach to chard adds a depth of iron rich earthy flavour to an already wonderful dish!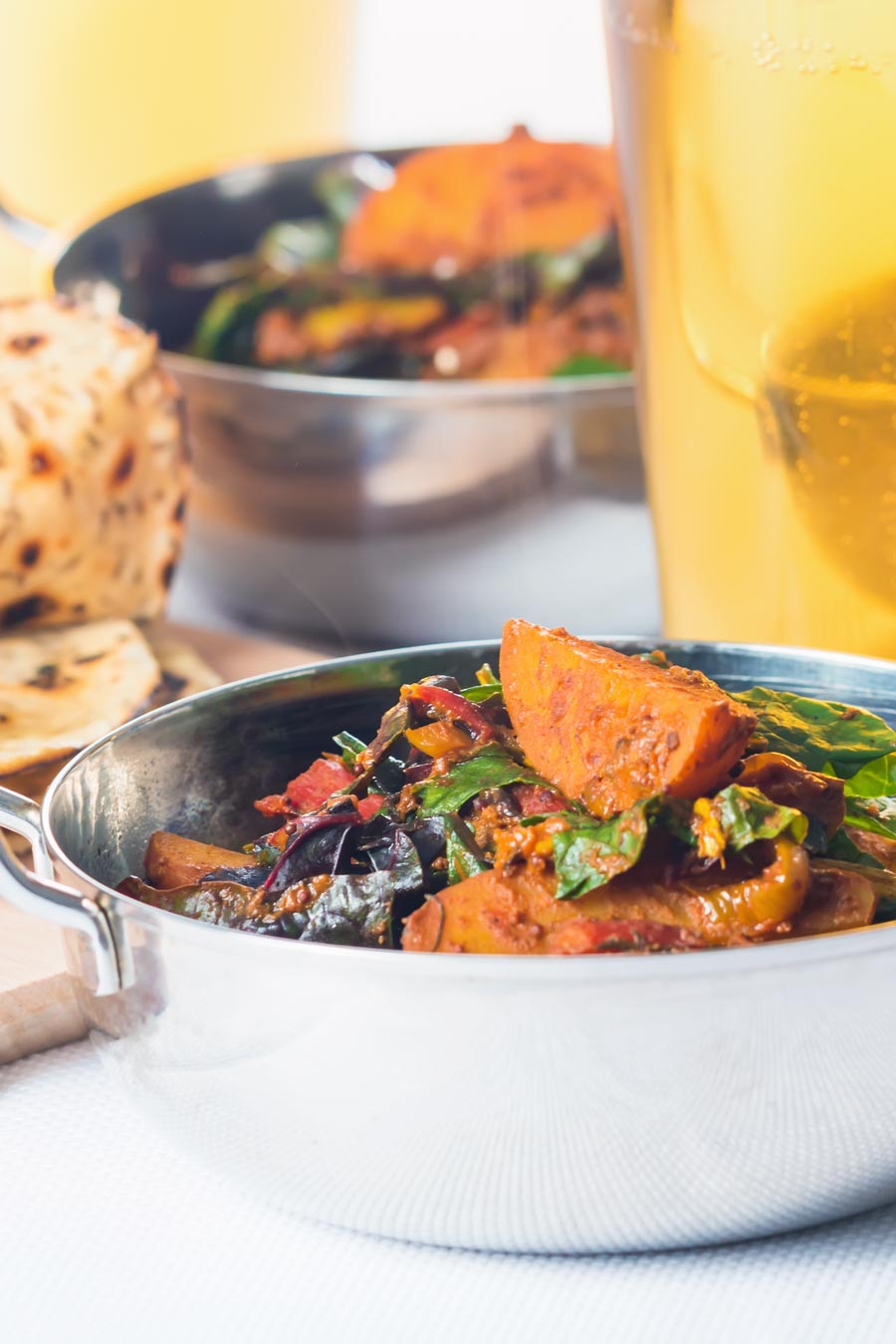 Saag Aloo With A Twist.
This curry is one of my favourites. It is simple and quick to make and is a great introduction to Indian food.
Due to a spectacular failure of my 'saag' or spinach crop a couple of years ago I once traded out spinach for swiss chard.
It transformed one of my favourite dishes into something really magical.
The swiss chard adds an iron-rich flavour that punches through the spices wonderfully. It would work just as well in my chicken saag curry recipe.
My version of saag aloo is a vegan recipe, much like my aloo gobi curry recipe, which is a potato and cauliflower curry and my mushroom curry.
I also have a vegetarian matar paneer if you are ok with consuming dairy which is stunning.
It is a typically a northern Indian dish and literally translates as Spinach Potato.
You could swap out the chard for either spinach or kale in this recipe if you wanted.
You can even make it with savoy cabbage. However, the chard works exceptionally well and the texture from the stalks adds a further dimension.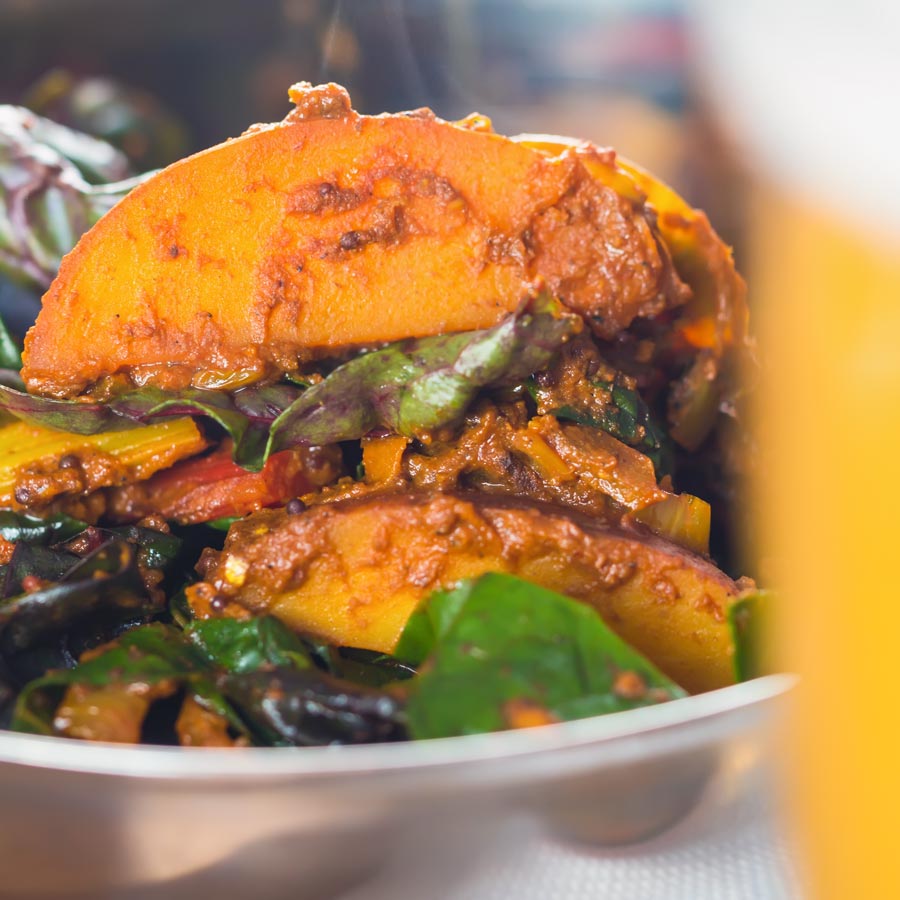 Is Saag Aloo Spicy?
My all-time favourite food is hot and spicy.
As a result, I use a pretty hot chili and use the whole chili, seeds included.
However, you can scale back the heat as far as you like by removing the seeds and membrane of the chili, or using a milder chili.
Hell, you could omit the chili entirely if you wish.
Food to my mind should be made to make the people eating it smile, so if you are not a fan of the chili burn don't do it!
People often think that there are rules when it comes to spice. They are wrong!
You are the cook, you define how hot or spicy a recipe is. make sure you make yourself happy, you have nothing to prove!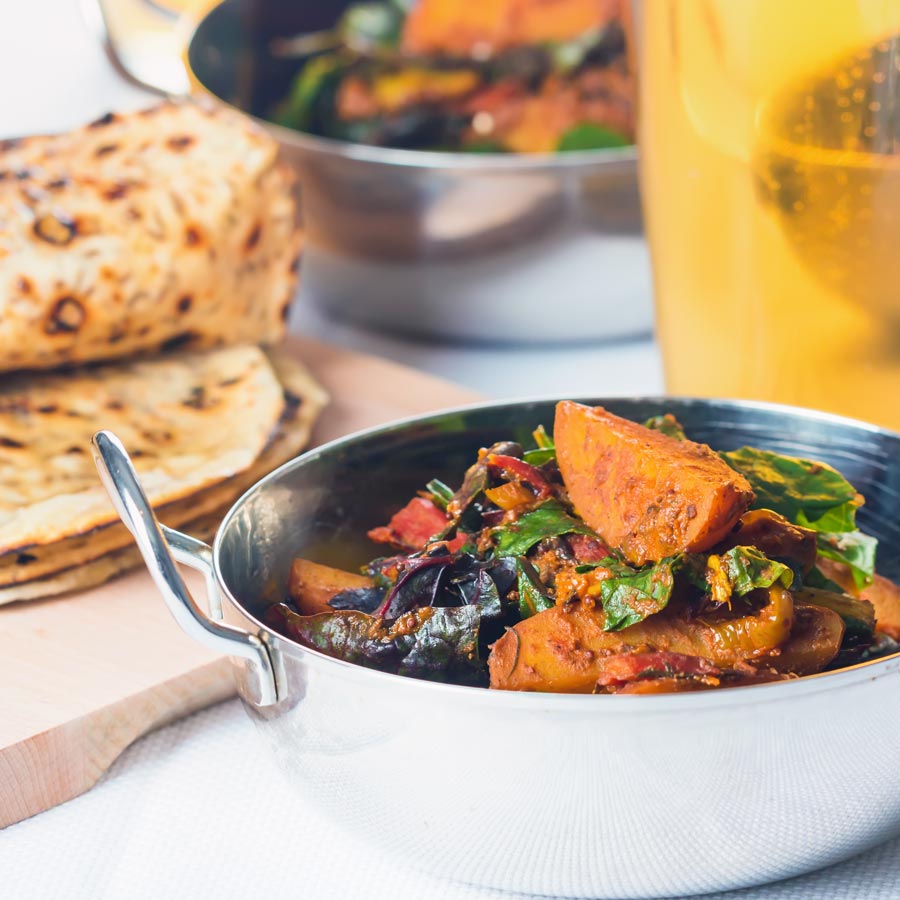 What Goes With Saag Aloo?
Whether you go chili or not one thing I definitely implore you to try as an accompaniment is a chapati.
Indian food loves flatbread and vice versa! For me, part and parcel of the whole experience of Indian food is cleaning your bowl using the last of the chapati.
Indian cuisine has loads of varieties of flatbread. I personally prefer Naan bread you cannot beat chapati for pure convenience and speed.
10 minutes work at most! Then two minutes cooking per bread and you have the perfect side to my Aloo Saag recipe. In fact, not just this recipe any Indian curry!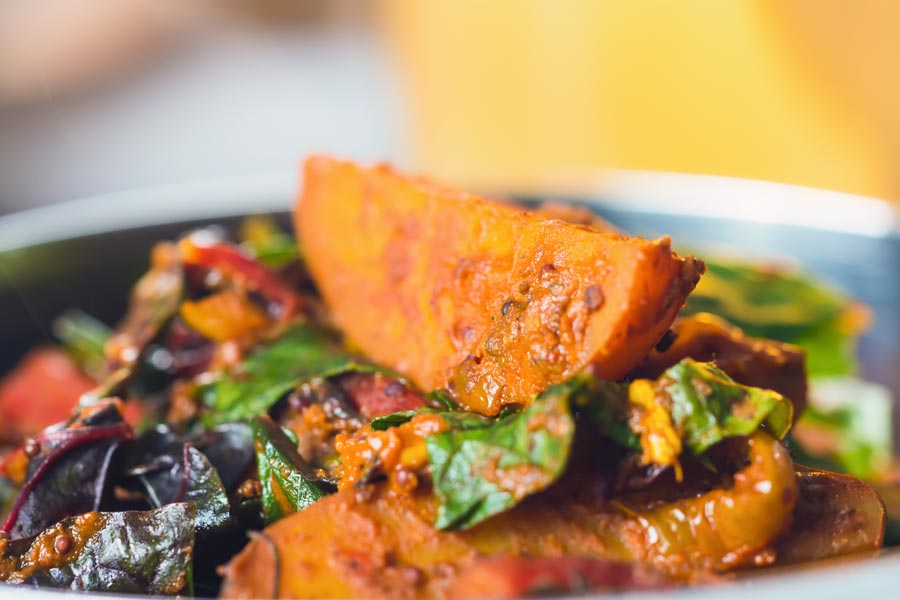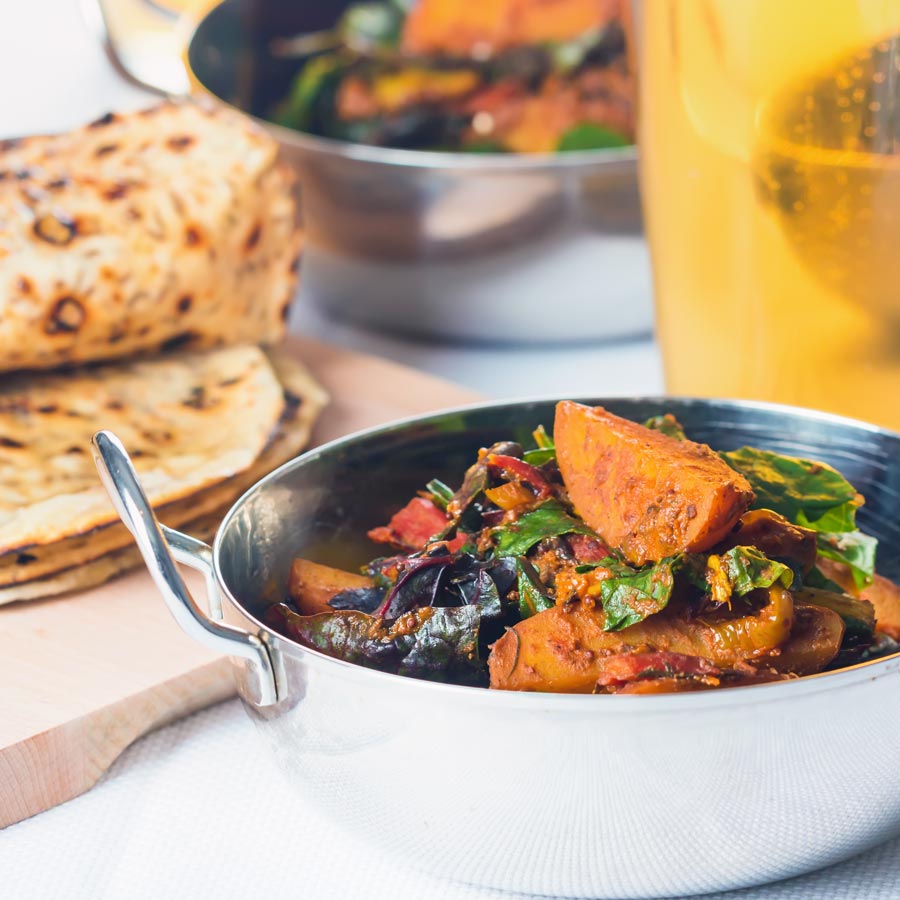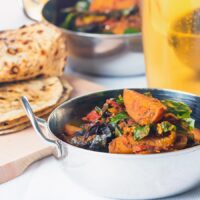 Saag Aloo
Saag Aloo is a long standing favourite curry of mine, the move from spinach to chard adds a depth of iron rich earthy flavour to an already wonderful dish! 
Ingredients
1 tbsp Vegetable Oil
1/8 tsp Asafateoda
1/2 tsp Funugreek Seeds
1 tsp Black Mustard Seeds
125 g Onion, Thinly sliced
2 Cloves Garlic, Thinly Sliced
30 g Ginger, Grated
1 Chile
1 tbsp Turmeric
1/2 tbsp Ground Cumin
400 g Potatoes, Waxy potatoes are ideal so something like a charlotte potato would be ideal
3 tbsp Tomato Puree
100 ml Water
1/4 tsp Salt
1 tbsp Garam Masala
250 g Swiss Chard, Cut out the stems and chop into 2cm lengths and then shred the leaves
Instructions
Add the the Oil to a pan over a medium heat and add the mustard seeds, asafateoda and fenugreek seeds and cook for 30 seconds
Add the onion and cook for 10 minutes until translucent and just starting to brown
Add the garlic, ginger and chili and cook for 2 minutes
Add the cumin and turmeric and stir for 30 seconds before adding the potatoes, stir to ensure the potatoes are coated with the spice mix
Add the tomato puree, water and salt and cook over a low heat for 10-15 minutes with a lid on until the potatoes are almost cooked
Add the chard stalks and cook for 5 minutes with a lid on
Finally add the garam masala and stir and then throw in the chard leaves and serve when wilted
Nutrition Information:
Yield:

2
Serving Size:

1
Amount Per Serving:
Calories:

532
Total Fat:

9g
Saturated Fat:

1g
Trans Fat:

0g
Unsaturated Fat:

7g
Cholesterol:

0mg
Sodium:

574mg
Carbohydrates:

104g
Fiber:

15g
Sugar:

12g
Protein:

15g
Calorific details are provided by a third-party application and are to be used as indicative figures only.