Saag aloo is a classic Northern Indian curry featuring spinach & potato, my version is vegan & fragrantly spiced with a spicy chilli kick!
This is a relatively easy curry to cook and one that takes around 30 minutes to cook, bolting on another 10 for preparation means that it is a relatively quick midweek dinner.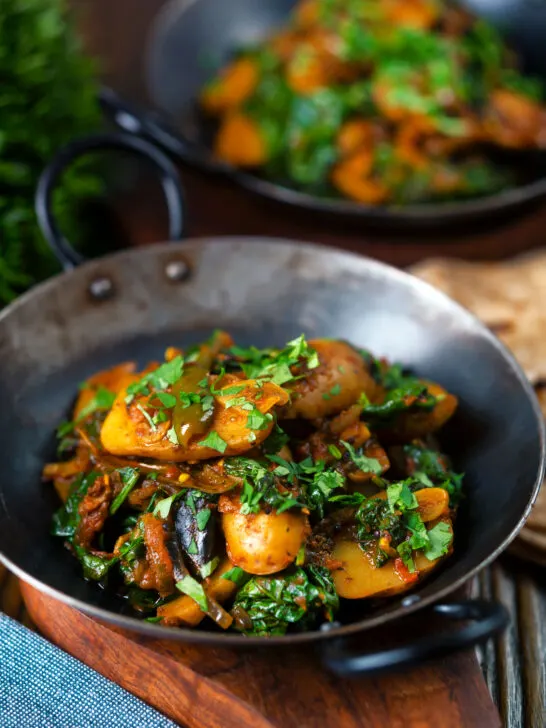 North Indian Spinach and Potato Curry
I am a long way from being either vegan or vegetarian. But when it comes to Indian food you are just as likely to find me cooking or ordering a vegan or veggie curry as you are a meaty one.
Whether it is something classic Aloo Gobi, vegetable bhuna, aloo matar or dum aloo or something completely made up like my mushroom and spinach curry, Indian flavours often negate the need for meat as far as I am concerned!
Saag aloo is one of my favourite curries, it is simple and pretty quick to make and is a great introduction to Indian food.
Like all curries whether it is spicy or not comes down to you the cook. I like mine pretty hot, but you can scale this up and down by increasing or decreasing the chilli powder and or the fresh chillies.
Lots of spinach is joined in the thick and unctuous sauce that rocks a heady and fragrant combination of spices.
You definitely need to add this delicious dish to your fakeaway rotation.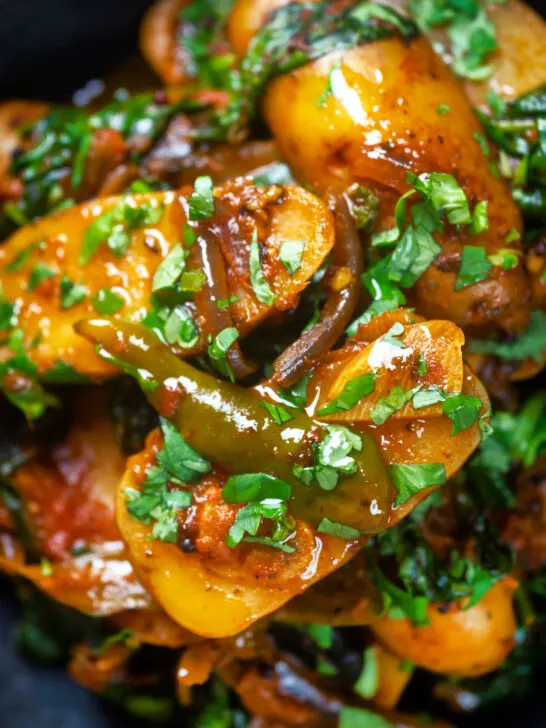 Frequently Asked Questions
Does the type of potato really matter?
Yes and no! The dish will be wonderful no matter what type of potato you use, however, changing the potato type will change the texture of the dish.

Just like my Bombay potato recipe I always go for a waxy potato. This is because they keep their structure better when cooking which I personally prefer.
Can I use something other than spinach?
The name saag just refers to leafy greens in Punjabi. However, for many cooks around the world, it has become synonymous with Spinach.

Palak is the Punjabi word for spinach and is arguably most commonly seen in the classic Palak Paneer curry.

I've made this recipe with all sorts of greens kale, mustard greens, turnip tops and even Swiss chard.
Can this be made in advance?
At one point in time reheating spinach was considered a "no no" by some parties, however, scientific advice was discounted back in 2016 and now, providing that it is stored safely and reheated appropriately it is considered safe.

However, I personally find that spinach can become bitter when reheated. This is mainly because it overcooks, and I am not keen on that in this dish.
Can I use dried curry leaves?
I personally never use dried curry leaves, I don't think that they taste of anything, certainly in comparison to fresh curry leaves.

Fresh curry leave freeze wonderfully and can be picked up in well-appointed Indian and Pakistani stores without a problem. You can also find them already frozen.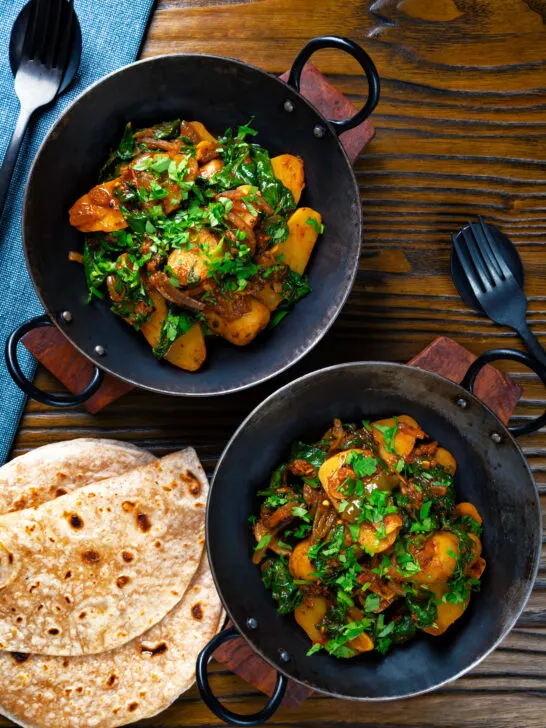 Serving Suggestions
A saag aloo, or the version that I favour, is quite a thick curry without lots of sauce.
My go-to side dish of choice with a thick curry is a chapati or three.
My love of flatbreads and Indian food is well documented here, so I'll not bang on again, but you can also serve this with a Tandoori style naan bread too.
Rice also has a great affinity with Indian food, and this dish works really well with a good pilau rice.
Another couple of left-field options that work really well are either a kachumber salad, the sweet crunch of the veggies is a wonderful contrast or a nice cucumber and mint raita which is wonderfully cooling.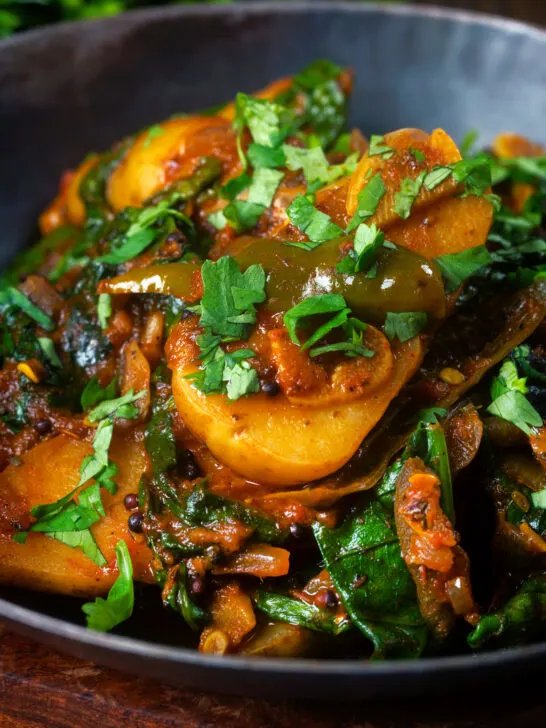 Equipment Used
I only mention brands of equipment if I think that they make a material difference to a recipe. But if you have any questions feel free to ask them in the comments section below the recipe.
Stovetop.
Wok, with a lid, I use a large 35cm (14″) lid from a different pan. You can use a large saucepan if you wish.
Chopping board.
Kitchen knife.
Stirring and serving spoons.
Weighing scales and or measuring jug, cups and spoons.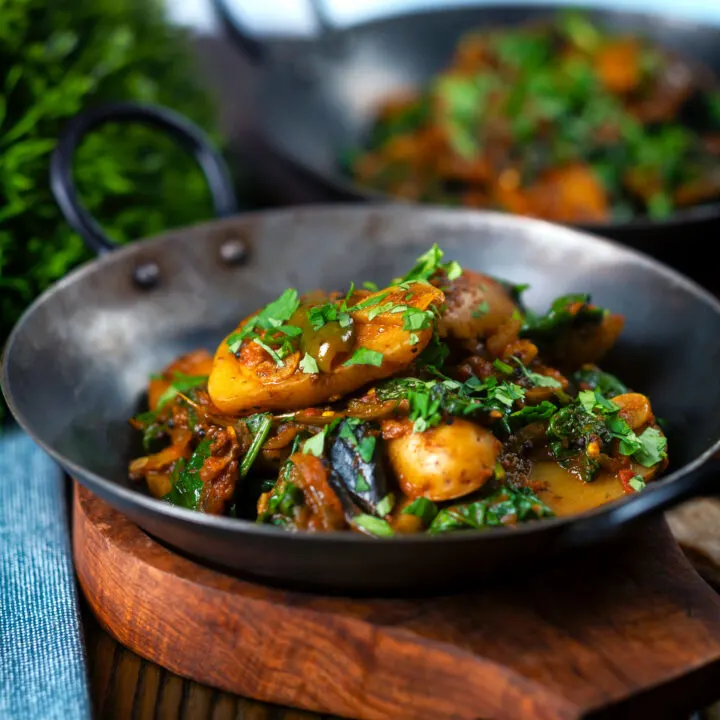 Yield:

2 Servings
Vegan Saag Aloo Recipe
Saag aloo is a glorious and simple vegan curry that showcases potatoes and spinach in a fragrant and spicy hot "sauce" it is a thick dry curry that lends itself perfectly to being eating with chapatis.
Ingredients
400g (2-3 Cups) Waxy Potatoes, I used Anya Fingerling Potatoes
250g (7-8 Cups) Spinach
100g (⅔ Cup) Red Onion
4 Garlic Cloves
35g (Thumb Sized Piece) Ginger
200g (2 Small-medium) Tomatoes
3 Green Finger Chilli Peppers
2 Tbsp Vegetable Oil
⅛ Tsp Asafoetida
12 Curry Leaves
½ Tsp Ajwain (Carom) Seeds
1 Tsp Black Mustard Seeds
½ Tsp Coarsely Ground Black Pepper
½ Tsp Ground Cumin
½ Tsp Ground Turmeric
2 Tsp Kashmiri Chilli Powder
½ Tsp Ground Salt
125ml (1 Cup) Water
2 Tsp Dried Fenugreek Leaves
Instructions
Cut the potatoes in half lengthways.
Remove any tougher stems from the spinach.
Cut the red onion in half, peel it and then cut it into 2-3mm (⅛") thick half-moon shapes.
Peel the garlic cloves then slice them as thin as you can.
Peel and grate the ginger.
Grate the Tomatoes.
Cut the chillis in half lengthways.
Heat a wok over a high heat and add the oil.
When the oil is hot add the asafoetida, slit green chillies, ajwain seeds, black mustard seeds and curry leaves and cook for 30 seconds.
Throw in the red onion and cook for 2 minutes to soften a little.
Add the garlic and ginger and cook for 30 seconds.
Add the salt, black pepper, ground cumin, ground turmeric, chilli powder, grated tomatoes and potatoes and toss everything together to combine.
Pour in the water and give everything a stir, then reduce the heat to medium, add a lid and cook for 20-25 minutes, giving them a stir after 10 minutes.
Remove the lid and test the potatoes, they should be very nearly cooked, if not cook a little longer, if they are crush the fenugreek into the wok between your palms, then throw in the spinach, return the lid and cook for another 2-3 minutes or until the spinach has completely wilted. Then stir it all together and serve.

Nutrition Information:
Yield:
2
Serving Size:
1
Amount Per Serving:
Calories:

457
Total Fat:

16g
Saturated Fat:

1g
Trans Fat:

0g
Unsaturated Fat:

13g
Cholesterol:

0mg
Sodium:

789mg
Carbohydrates:

72g
Fiber:

13g
Sugar:

12g
Protein:

14g
Calorific details are provided by a third-party application and are to be used as indicative figures only.