Malai kofta is a glorious vegetarian dish from the north of India featuring fried balls of potato and paneer in a spicy tomato-based gravy.
This dish has a long old list of ingredients and may seem quite complex, but it is a series of very simple tasks and it cooks in a shade under 1 hour!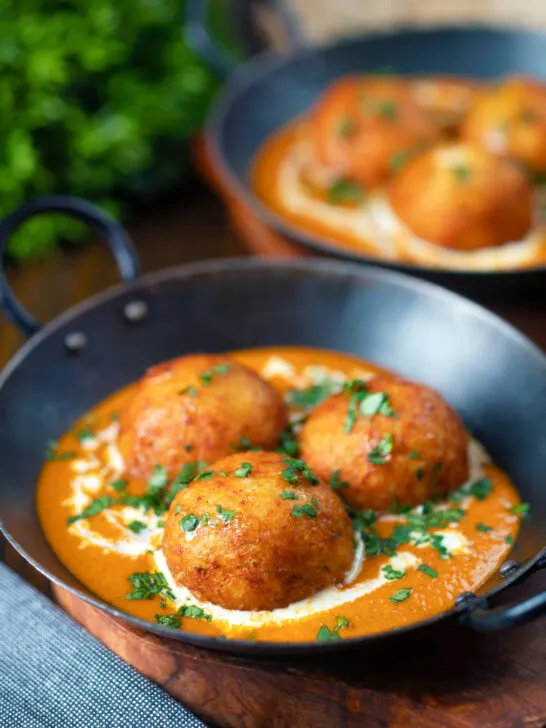 Fried Paneer and Potato Kofta Curry
I have grown to love cooking with paneer, not too long ago I would turn my nose up at it complaining that it tastes of nothing.
It's true, however, that does not mean it has no value, because it carries flavour wonderfully.
Its neutrality is its beauty, it will sit with any flavours you throw at it, and it stars in curry recipes like my shahi paneer and palak paneer.
I've even got a gloriously fun and delicious paneer salad that features poppadoms as a "crouton" substitute!
In this North Indian malai kofta recipe it is crumbled or grated and mixed with mashed potato and spices to form a kofta. A kofta that is stuffed with cashew nuts and raisins, just go with it, it's wonderful.
The kofta are deep fried and served in a rich and generously spiced silky gravy or sauce!
If you like these flavours and ideas check out my take on chanar dalna, a Bangladeshi potato and paneer curry.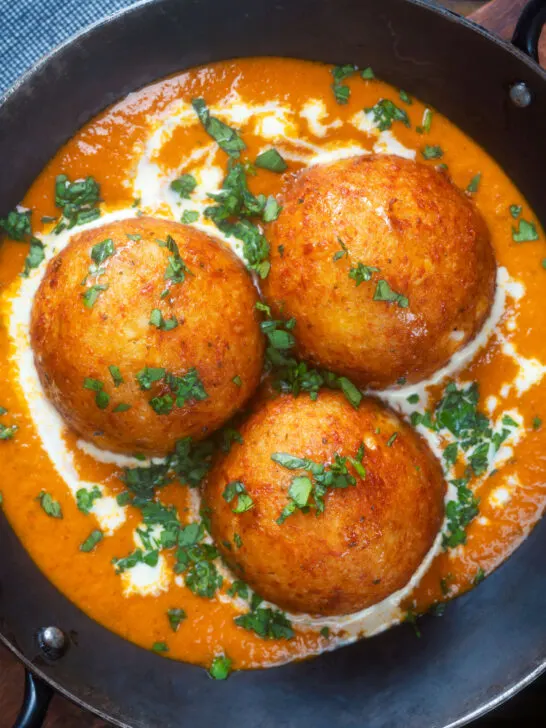 Frequently Asked Questions
Can I shallow fry or air fry Malai kofta?
Yes, my preference is to deep fry these potato and paneer koftas.

You could shallow fry them in around 1cm or ½" of oil rolling them as you cook them. It will take a little longer and the colouring will not be as even.
You could also air fry Malai kofta them at 200°C or 400°F for 10-12 minutes, however, they will not colour up as nicely as the ones pictured.
Why don't you peel the potatoes before boiling them?
It is really important that there is as little moisture as possible in the kofta, peeling the potatoes and boiling them would increase the moisture level.

You could also bake the potatoes, but that does take a lot longer.
Can I make paneer at home?
Yes, homemade paneer is gloriously simple and it works exceptionally well in this Malai kofta recipe.
Is it really necessary to blend the sauce?
No, not at all but if you want a wonderfully silky smooth sauce then I would recommend blending and passing the gravy.
Can I make this in advance?
You can do all of the preparation work in advance. However, I would not cook the koftas until you are ready to serve them.

The sauce will last in the fridge for 4-5 days in an airtight container. The koftas will be fine for 2-3 days in the fridge.

I will often prepare this dish in the morning before I cook it, which means I only have to spend 10-15 minutes in the kitchen at dinner time and bosh, Malai kofta is ready to rock.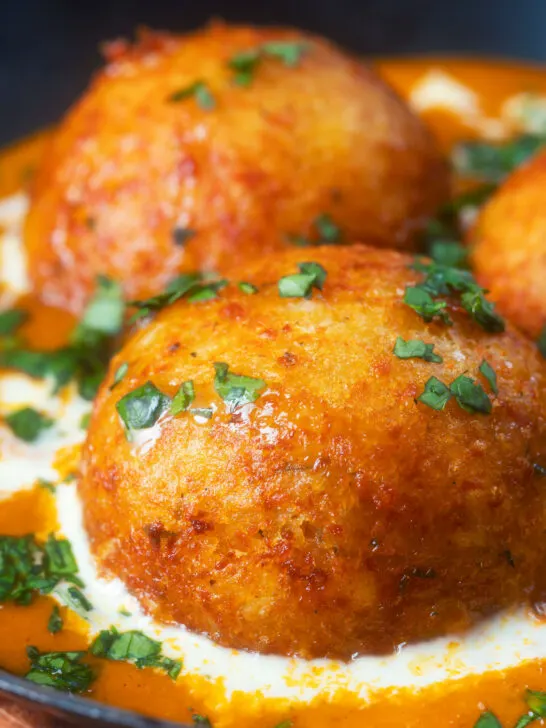 Serving Suggestions
Malai kofta… it's a curry and that means flatbread and anyone who tells you otherwise should not be trusted!
My favourites are either a tandoori style naan bread or some chapatis, paratha and roti work really well too.
Rice is also a solid option as a side for curry! There is plenty of sauce to go around in this recipe and that for me means plain rice, but a nice pilau rice would be superb too.
If you want some veggies to go alongside your Malai kofta that are not quite so carby then how about something like this cabbage poriyal?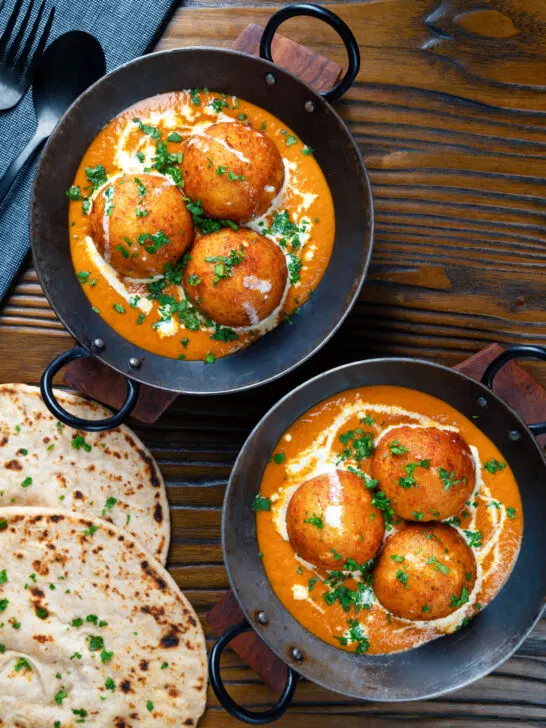 Equipment Used
I only name-check brands of equipment if I think that they make a material difference to a recipe. But if you have any questions feel free to ask them in the comments section below the recipe.
Stovetop.
20cm or 8″ saucepan.
30cm or 12″ frying pan.
Deep fat fryer or a large (30cm or 12″) frying pan to shallow fry the kofta.
Mini blender.
Chopping board.
Kitchen knife.
Weighing scales and or measuring cups and spoons.
Slotted, stirring and serving spoons.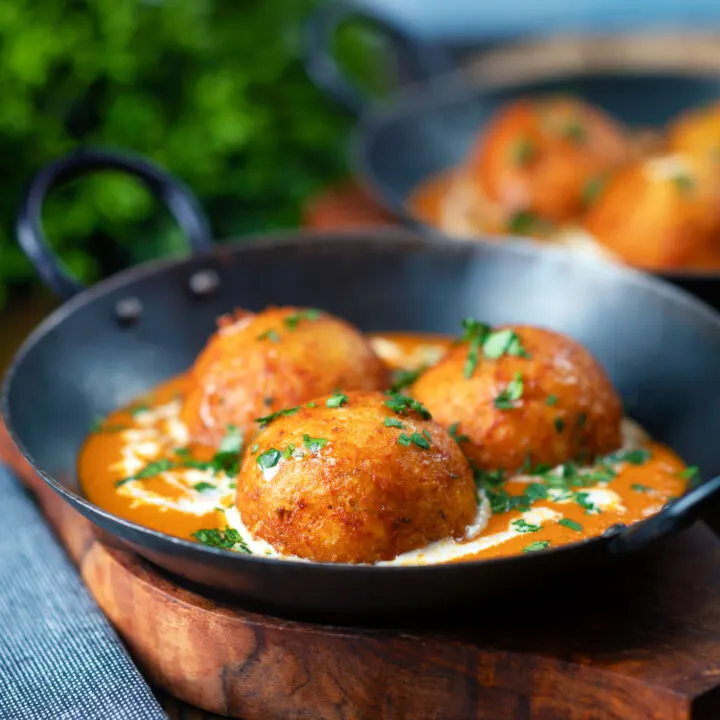 Yield:

2 Servings
Malai Kofta Curry Recipe
Malai kofta is a north Indian curry that features fried golden balls of paneer and potato stuffed with cashew nuts and raisins in a gloriously spicy sauce.
Ingredients
For the Kofta:
300g (2 Medium) Potatoes
150g (5oz) Paneer Cheese
3 Tbsp Cornflour
½ Tsp Garam Masala
½ Tsp Kashmiri Chilli Powder
1 Tsp Dried Fenugreek Leaves
½ Tsp Salt
20g (2 Tbsp) Cashew Nuts
20g (2 Tbsp) Raisins
Oil for frying
For the Masala Sauce:
150g (1 Cup) Onion
4 Garlic Cloves
35g (Thumb Sized Piece) Ginger
1 Tbsp Cashew Nuts
3 Tbsp Water
175g (2 Medium) Tomatoes
2 Tbsp Groundnut Oil
2 Green Chilli Peppers
10cm (4") Piece of Cassia Bark
1 Tsp Fennel Seeds
½ Tsp Brown Mustard Seeds
½ Tsp Ajwain Seeds
4 Cracked Green Cardamom Pods
2 Tsp Kashmiri Chilli Powder
½ Tsp Ground Coriander
½ Tsp Ground Cumin
¼ Tsp Ground Turmeric
250ml (1 Cup Water)
¼ Tsp Salt
1 Tsp Sugar
½ Garam Masala
1 Tsp Ground Fenugreek Leaves
Instructions
For the Kofta:
Place the potatoes (do not peel them) in a 20cm or 8" pan with boiling water and cook until just tender, this will take around 25-30 minutes. Then allow the potatoes to cool for 3-4 minutes.
Crumble or finely grate the paneer cheese, place it in a bowl and add the salt, garam masala, fenugreek and chilli powder for the kofta.
Roughly chop the cashew nuts for the kofta.
Stick a fork into the potatoes and peel them with a paring knife, then pass them through a potato ricer or mash them by hand and allow them to cool completely.
Mix the cooled potatoes and cornflour with the spiced paneer.
Divide the kofta mix into 6, then form each portion into a disc, add some chopped cashews and raisins to the centre of the disc, then wrap them up to form a smooth round ball. Oiling your hands helps form smooth uniform kofta. This will make 6 kofta around 75g or 2½oz in weight.
Heat the oil for the kofta to 180-190°C or 350-375°F and fry the kofta for 3-4 minutes or until nice and golden. I use a deep fat fryer, but if you are using a pan you will need to fry them in 1-2cm (½-¾") of oil and roll them in the oil to get an even colour, this may take a little longer.
For the Masala Sauce:
Peel and roughly chop the onion, place it in a mini blender and blend it to a smooth paste, then transfer it to a bowl.
Add the garlic and ginger to the mini blender with a tablespoon or two of water, blitz it to a fine paste (don't bother cleaning the blender between the following steps) and transfer it to a bowl.
Add the cashew nuts to the mini blender with 3 tablespoons of water and blend until smooth and again transfer it to a bowl.
Roughly chop the tomatoes, add them to the blender and blend until smooth, again transfer to a bowl.
Cut the green chilli peppers in half lengthways.
Heat a 30cm or 12" frying pan over a medium heat and add the oil, slit green chilli peppers, cassia bark, fennel seeds, mustard and ajwain seeds and cook for 30 seconds.
Add the onion puree and cook until they become golden and the moisture has been driven off which will take around 10 minutes.
Add the garlic and ginger paste and cook for 30 seconds.
Throw in the Kashmiri chilli powder, ground turmeric, coriander and cumin and stir everything to combine.
Pour in the tomato puree and cashew water then give everything a stir and bring the sauce to a boil.
Add the salt, sugar and water, reduce the heat to low and simmer for 12-15 minutes or until the sauce thickens.
Remove the cassia bark and chilli peppers, blend the sauce then strain it through a fine mesh sieve, return it to the pan and crush in the dried fenugreek leaves, add the garam masala, stir them in and keep the sauce warm whilst you fry the kofta.
Garnish with cream and fresh coriander
Nutrition Information:
Yield:
2
Serving Size:
1
Amount Per Serving:
Calories:

956
Total Fat:

68g
Saturated Fat:

20g
Trans Fat:

1g
Unsaturated Fat:

42g
Cholesterol:

86mg
Sodium:

1661mg
Carbohydrates:

67g
Fiber:

11g
Sugar:

16g
Protein:

27g
Calorific details are provided by a third-party application and are to be used as indicative figures only.