Hot dog pasta is a playful recipe that pairs spaghetti with frankfurters in a tomato sauce, topped with mustard breadcrumbs & crispy onions.
It may all sound a bit silly, but it tastes delicious and is guaranteed to put a smile on the faces of young and old alike!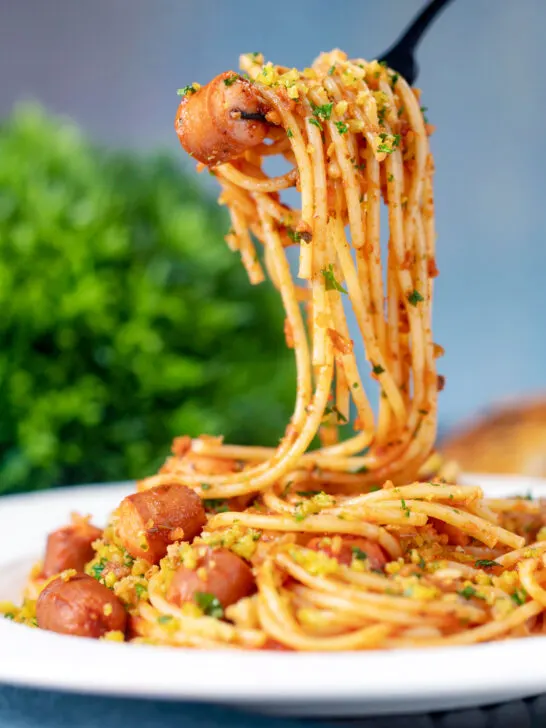 Hotdog Spaghetti with Crispy Mustard Breadcrumbs
All too often food is taken very seriously, and I'm certainly as guilty of it as anyone else.
But on occasion having a bit of fun with grub is definitely needed and this hot dog pasta recipe joins a few others here on my site that very much take a sideways glance at what their name suggests.
I have dishes like gammon salad which is very much a tongue-in-cheek take on gammon egg and chips.
In a similar vein, my fish finger curry is very much a play on my childhood favourite fish fingers and beans, with some loose katsu curry influences.
This recipe very much takes the idea of pairing frankfurters with spaghetti and goes full-on wannabe hot dog!
The tomato sauce gets hints of ketchup with the addition of a touch of sweetness and red wine vinegar.
Hotdogs definitely need mustard… and in this dish, they come courtesy of some crispy mustard breadcrumbs. Which also ticks the bread "box".

Finally, we get some crispy onions and you have all of the hotdog elements in a very different recipe!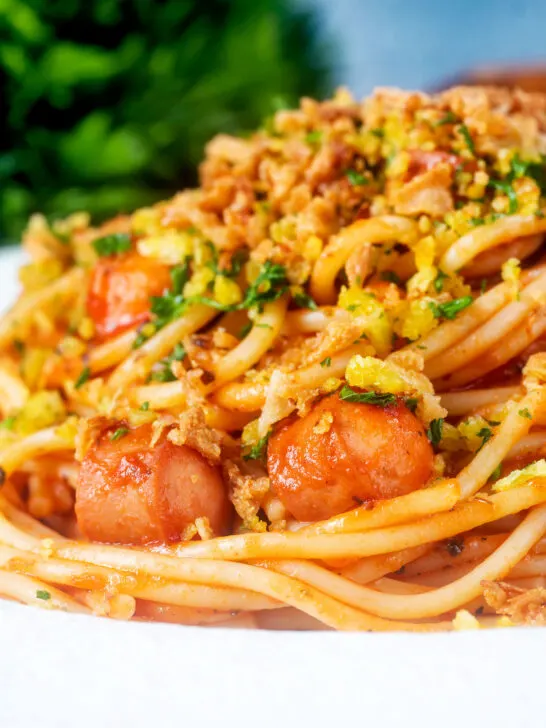 Frequently Asked Questions
Can I use a different type of pasta?
Yes absolutely, I made this hotdog-inspired recipe with spaghetti but you can use loads of different types of pasta.

This would work well with everything from linguini to pappardelle and orecchiette to farfalle.
Can I use different sausages?
Yes, however, the entire dish is designed to be evocative of frankfurter hot dogs. As a result, not using "franks" would be a bit strange.

If you do use different sausages, you must ensure that they are cooked first.
How do you make your crispy onions?
Honestly, I don't, I use store-bought crispy onions, partly because this is meant to be a fun quick recipe, however, the main reason is that both myself and my wife love them!

If you want to make some at home here is a nice simple recipe for crispy onions.
Can I make this hot dog pasta in advance?
I would not make this recipe in advance, not least because the toppings will go very soft and chewy.

But it is also a very quick recipe that comes together in around 15 minutes, meaning you save very little time.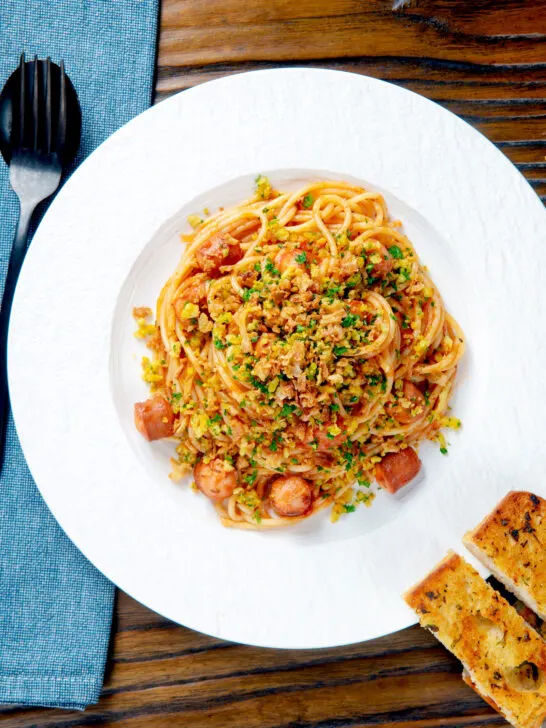 Serving Suggestions
Like most bowls/plates of pasta, I consider this dish to be a light stand-alone meal and this hot dog pasta is no different.
That doesn't mean that I don't add a little "something something" on the side and for me, that is usually bread.
I'd usually choose something like garlic bread or cheesy garlic bread.
But… and you'll need to hear me out here… you could serve this on a big old hot dog bun and it would be delicious. I know because I have tried!
I concede that it sounds a little strange! However, the Japanese serve noodles on hotdog buns and call it yakisoba pan and it is insanely good!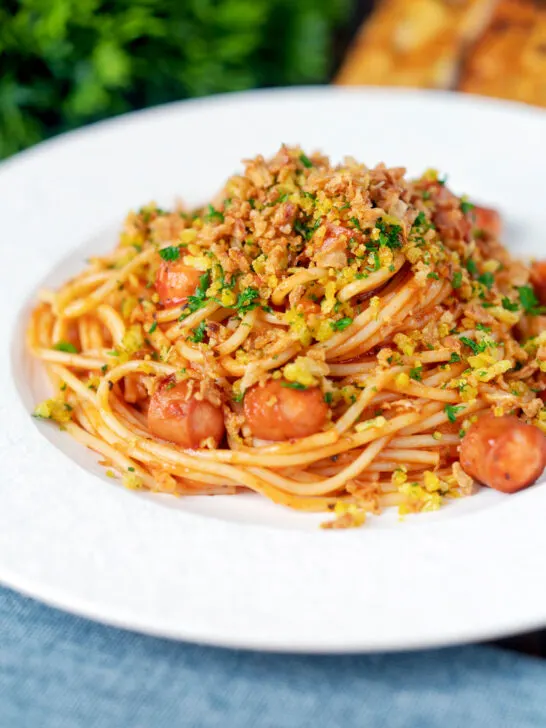 Equipment Used
I only mention brands of equipment if I think that they make a material difference to a recipe. But if you have any questions feel free to ask them in the comments section below the recipe.
Stovetop.
30cm or 12″ frying pan.
20cm or 8″ frying pan.
20cm or 8″ saucepan.
Chopping board.
Kitchen knife.
Stirring, serving spoons and tongs.
Weighing scales and or measuring cups and spoons.
Kitchen paper.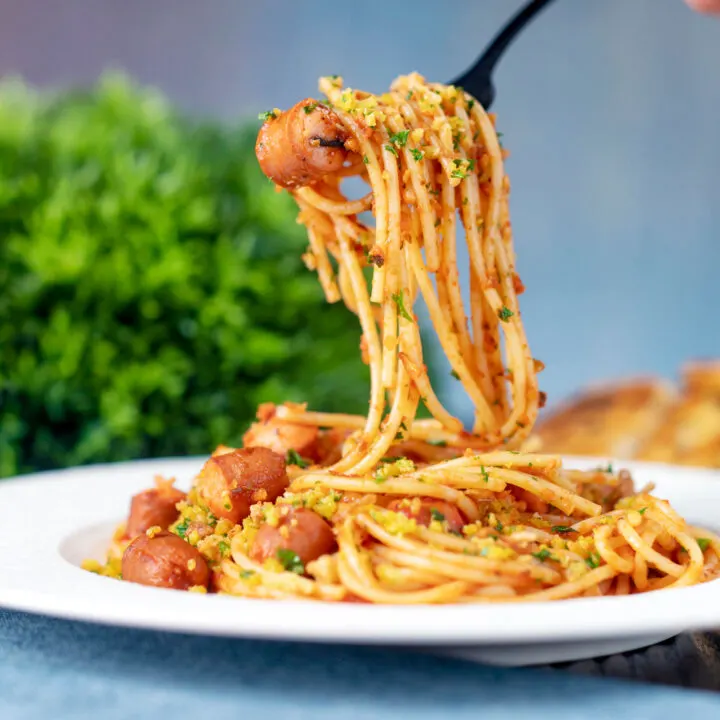 Yield:

2 Servings
Quick and Easy Hot dog Pasta Recipe
My version of hot dog pasta definitely takes a tongue-in-cheek approach to cooking but it is no less delicious, I make a tomato sauce that hints at ketchup, we have a crispy bread crumb mustard crumb and of course some crispy onions... and all served with frankfurters and spaghetti instead of in a bun.
Ingredients
For the Pasta:
150g (4 Small) Hotdog Sausages
200g (¾ Cup) Tomato Passata
2 Garlic Cloves
1 Tbsp Red Wine Vinegar
10g (½ Tbsp) Honey
1 Tsp Dried Oregano
1 Tsp Dried Basil
¼ Tsp Black Pepper
15g (1 Tbsp) Butter
175g (6oz) Spaghetti
Salt for Boiling the Pasta
15g (¼ Cup) Crispy Fried Onions
For the Mustard Breadcrumbs:
20g (¼ Cup) Coarse Panko Breadcrumbs
15g (1 Tbsp) Butter
1 Tbsp English Mustard
Pinch of Coarse Sea Salt
Handful Fresh Parsley
Instructions
Peel and bash the garlic cloves with the palm of your hand to break them up.
Cut the hotdog sausages into 10-15mm (½") lengths.
Heat a 30cm or 12" frying pan over a medium high heat and when it is hot add the butter,
When the butter begins to foam add the garlic cloves and the hotdog sausages and fry for 3-4 minutes.
Pour in the tomato passata and add the honey, red wine vinegar, black pepper, basil and oregano, then reduce the heat to low and add a lid whilst you cook the pasta.
Cook the pasta in a 20cm or 8" saucepan of generously salted water, I use 1½ teaspoons of salt in a pan this size.
Heat an 8" or 20cm frying pan over medium high heat and add the butter for the mustard breadcrumbs.
When the butter begins to foam add the breadcrumbs, mustard and a pinch of coarse sea salt, then cook until it has all combined and the breadcrumbs begin to take on a little colour. Then transfer to some kitchen paper to soak up any excess butter.
Finely chop the parsley and mix it with the breadcrumbs.
Drain the pasta reserving around 75ml (⅓ Cup) of the pasta cooking water and add the pasta to the tomato sauce, mix to combine adding as much pasta water as required to get a nice emulsion.
Serve topped with the mustard breadcrumbs and crispy fried onions.
Nutrition Information:
Yield:
2
Serving Size:
1
Amount Per Serving:
Calories:

761
Total Fat:

40g
Saturated Fat:

16g
Trans Fat:

0g
Unsaturated Fat:

19g
Cholesterol:

80mg
Sodium:

1133mg
Carbohydrates:

74g
Fiber:

5g
Sugar:

11g
Protein:

25g
Calorific details are provided by a third-party application and are to be used as indicative figures only.