Peri Peri Chicken livers are a quick, easy and delicious way to cook liver in a wonderful spicy sauce all the way from South Africa.
When I say that this dish is quick and easy… it takes around 20 minutes from start to finish, and that includes making a from-scratch peri peri marinade!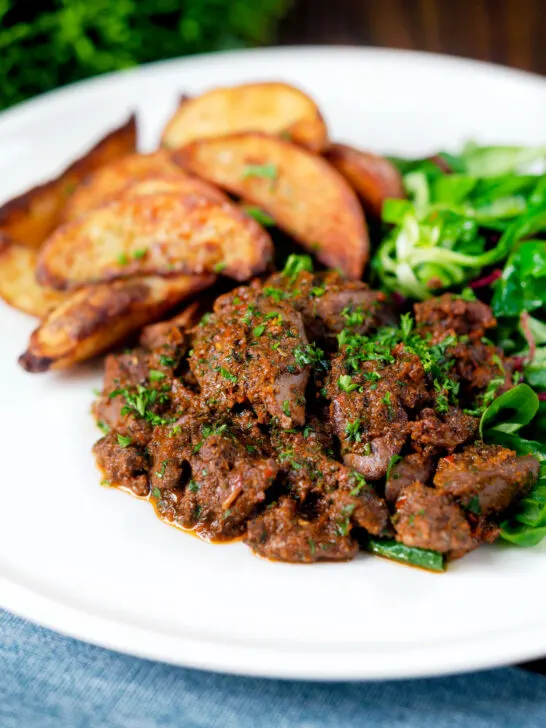 Quick and Easy Spicy Chicken Livers
My site is no stranger to offal, whether it is chicken liver stew, liver curry or kalaji masala, devilled kidneys or my haggis stuffed chicken Balmoral.
Likewise, peri peri recipes with influences from South Africa are not unusual, I have a peri peri chicken burger and peri peri chicken wings.
As a result, this peri peri chicken liver recipe has a natural home in my wee corner of the internet!
I first came across this idea at Nando's, a South African chicken restaurant chain popular in the UK.
This recipe does not aim to copycat their food, like pretty much everything else here it's the result of my playing around in the kitchen.
It's not only delicious but stupidly quick and easy to cook.
The spicy paste that the chicken liver finishes in is a derivation on my previous peri peri recipes… apart from that the chicken livers are quickly sauteed in some butter, and that's it!
20 minutes or so of your time and dinner is served!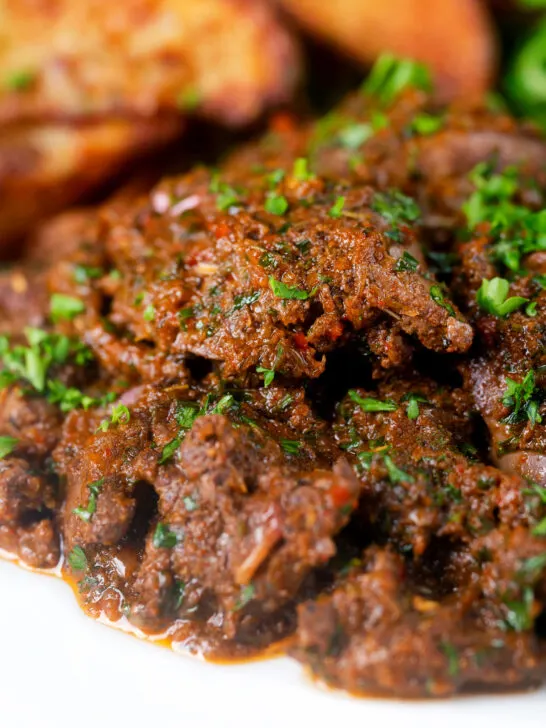 Frequently Asked Questions
Can I use a different type of chilli pepper?
Yes, traditionally peri peri is made with peri peri chilli peppers, hence the name. They tend to fall between 50,000 and 150,000 on the Schoville scale.

I use Thai birds eye chilli peppers which fall at around 100,000, so right in the middle and I do this purely because of availability.

You can use a milder red chilli or go even hotter with something like habanero or scotch bonnet peppers.
What is malt vinegar?
Traditionally malt vinegar begins life as a beer made from malted barley that is allowed to turn to vinegar. It has a bold and unique flavour that adds to this dish greatly in my opinion.

You could use any other vinegar that you have to hand.
Can I make this in advance?
I would say no, reheating the chicken livers risks them becoming tough and chewy.

But you can blend the sauce days in advance, and then cooking would only take 10 minutes or so.

How do I know when chicken livers are cooked?
The safe internal temperature for chicken liver is 70°C (158°F) in the UK and Australia and 73°C (165°F) in the US according to authorities.

There is a trend for cooking them less than this, you can make your own choice. Chicken livers cooked to 70°C will be soft and have just a hint of pinkness, I always use a meat thermometer to check.
Can I use a different type of liver?
This recipe works well with both lambs liver and calves liver, but given the bold flavours, I usually use cheaper chicken livers.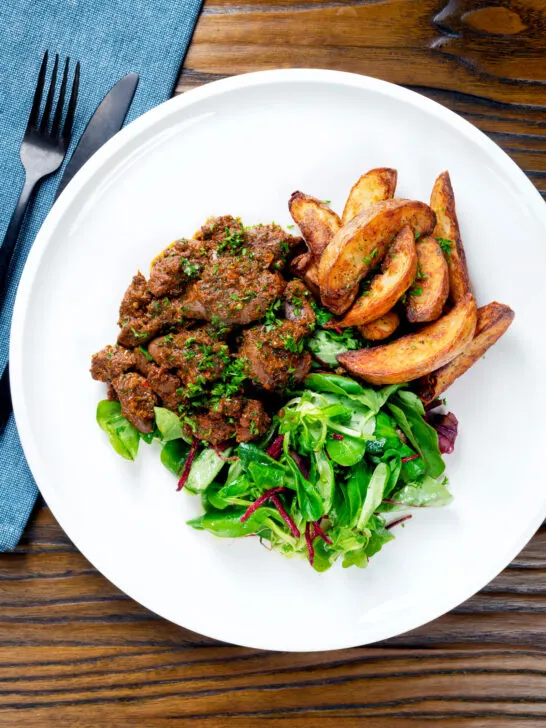 Serving Suggestions
I've served my peri peri chicken livers here with some air fryer potato wedges and lightly dressed salad leaves.
You could just as well serve them with some fried potatoes or even crispy fried polenta chips.
As I mentioned in my intro this dish is on the menu at Nando's in the UK and it comes served with Portuguese rolls.
Bread is a wonderful option with these if you want to forego a potato side dish. You could play around with garlic bread or just a big lump of ciabatta!
They would also be absolutely superb served on a bed of cheesy polenta.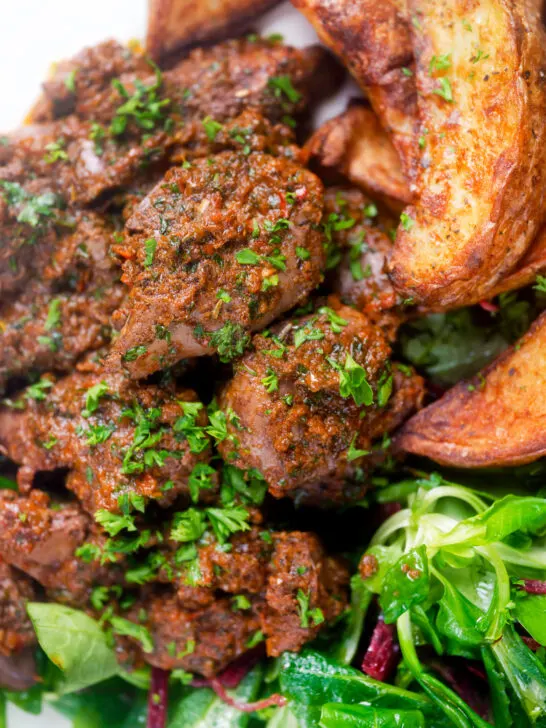 Equipment Used
I only name-check brands of equipment if I think that they make a material difference to a recipe. But if you have any questions feel free to ask them in the comments section below the recipe.
Stovertop.
30cm or 12″ nonstick frying pan.
Kitchen knife.
Chopping board.
Mini blender.
Stirring and serving spoons.
Weighing scales and or measuring cups and spoons.
Quick read meat thermometer, optional but recommended.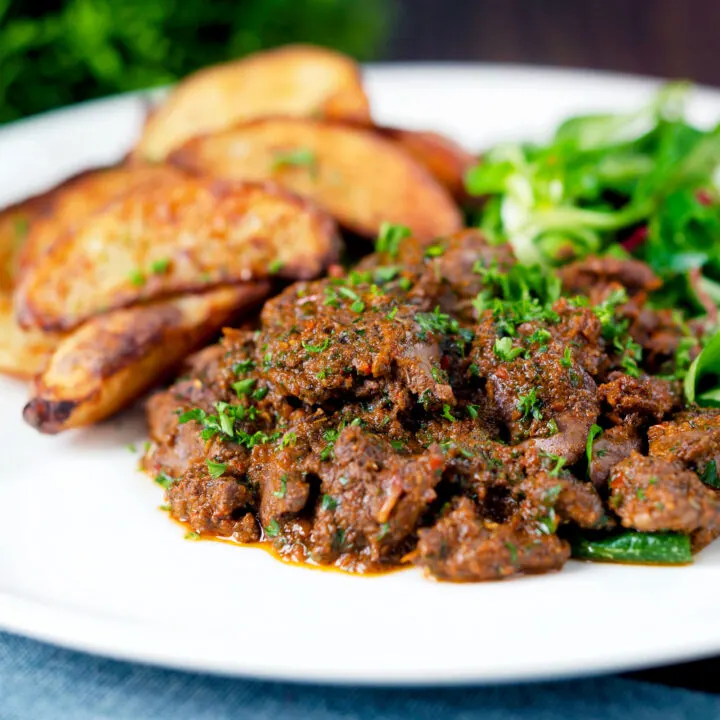 Yield:

2 Servings
Peri Peri Chicken Livers Recipe
Quick, easy and all sorts of delicious, these peri peri chicken livers are quickly fried in butter and then finished with a homemade spicy South African inspired pepper paste.
Ingredients
350g (12oz) Chicken Livers
50g (3 Tbsp) Butter
For the Peri Peri Sauce
15g (6-7) Thai Birds Eye Chilli Peppers
70g (2 Medium) Banana Shallots
4 Garlic Cloves
2 Tbsp Malt Vinegar
2 Tbsp Water
½ Tbsp Lime Juice
1 Tbsp Smoked Paprika
1 Tsp Dried Basil
1 Tsp Dried Oregano
½ Tsp Dried Rosemary
½ Tsp Salt
Instructions
Cut the stems off the chilli peppers and add them to a mini blender.
Cut the shallots in half, peel them and roughly chop them then throw them in the blender.
Peel the garlic cloves and add them to the blender.
Pour in the vinegar, water, and lime juice and add the smoked paprika, basil, oregano, rosemary and salt, then blend to a smooth sauce.
Heat a 30cm or 12" nonstick frying pan over a high heat and when it is hot add the butter.
When he butter begins to foam add the chicken livers and saute for 3-4 minutes getting a nice colour on the liver.
Add the sauce, saute for another 2 minutes and serve hot.
Nutrition Information:
Yield:
2
Serving Size:
1
Amount Per Serving:
Calories:

523
Total Fat:

32g
Saturated Fat:

17g
Trans Fat:

1g
Unsaturated Fat:

12g
Cholesterol:

1039mg
Sodium:

884mg
Carbohydrates:

12g
Fiber:

3g
Sugar:

3g
Protein:

45g
Calorific details are provided by a third-party application and are to be used as indicative figures only.