Fried polenta chips a crispy, cheesy, herby and delicious side dish that are borderline genius and very easy to make.
The polenta needs to be made in advance but once you have done that the fries cook in 4-5 minutes making it a super quick dish too.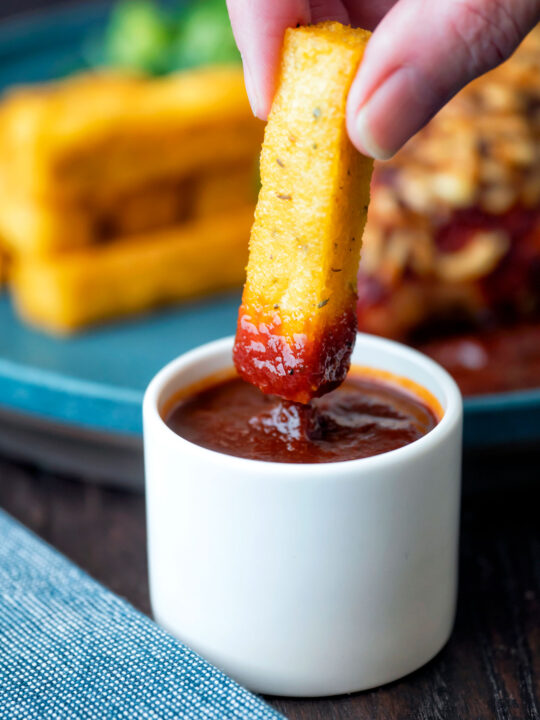 Crispy Polenta Fries
I love polenta, it appears here a lot in the form of a soft, wet and cheesy polenta "porridge". It is a wonderful alternative to rice and it is particularly good with ragus.
But if you make that polenta a little thicker and allow it to cool completely it will set to a firm block.
You will often find blocks of pre-made polenta in the supermarkets.
For me hands down the best way to use it is to fry it and turn it into chips. That's fries to my readers outside of the UK!
They are gloriously crispy and you can tailor the flavour to whatever you are serving them with.
Whether you use vegetable stock or lamb stock and Italian seasoning or rosemary and thyme, polenta fries are a wonderful side dish that you need on your table!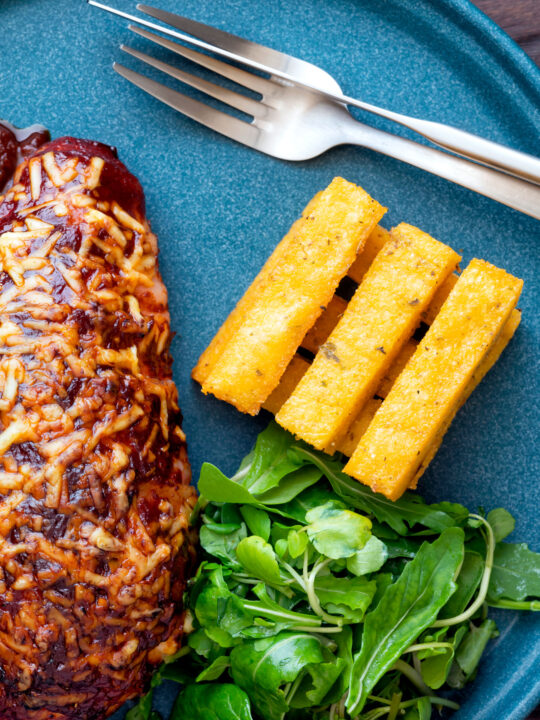 Frequently Asked Questions
Can I just fry firm polenta?
Yes, although you will be missing out on a world of flavour. By making the polenta yourself you can match the flavours to whatever you are serving the dish with.

But skip right to step 10 and get stuck in, it is a great way to try out polenta.
Can I use fine polenta or cornmeal?
For me, it is less than ideal.

It will work though, but the polenta will be smoother and will not have the pleasing outer crispy coating when fried.
Can I make the polenta in advance?
Yes, I've made these with polenta that has been sat in the fridge for a couple of days with no problems.
How long will the chips stay crispy?
They will stay crispy for at least 20 minutes providing you get the oil temperature right. However, as they cool the texture of the filling is less pleasing so be sure to keep them warm.
Can I use regular polenta rather than quick-cook polenta?
Yes, I use regular polenta all of the time and it works in this recipe really well.

But it does take up to 40 minutes to cook, which is fine if you are cooking a meal at the stove. However, it is a little long for my liking when doing prep work.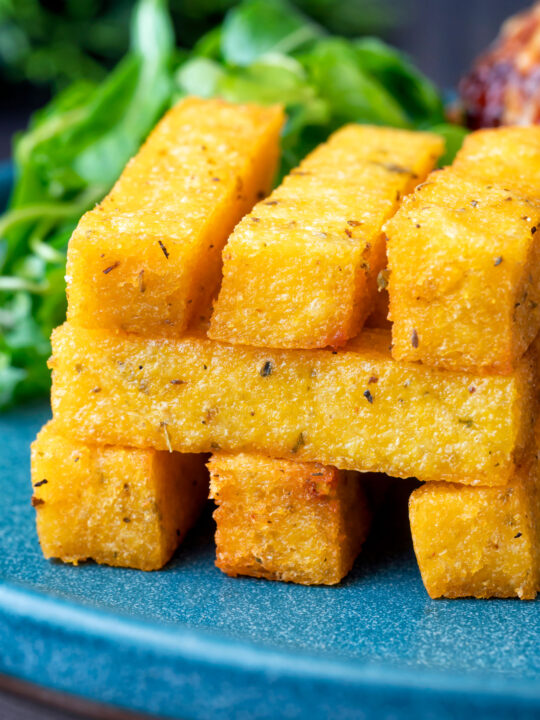 Serving Suggestions
You can serve these delicious crispy polenta chips anywhere that you would serve potato wedges.
Here they are pictured served with my cheesy British hunters chicken.
But they are great with stuff like my venison burger or BBQ chicken drumsticks.
Grab a big bowl of your favourite sauce and serve them with my chicken goujons. It's a fab alternative take on chicken nuggets and chips.
But don't be tunnel-visioned! These polenta fries are also great cut into cubes and fried until crispy then sprinkled through a nice salad.
They work superbly with Caesar dressing, so they are ideal for replacing the meat in a chicken Caesar salad.
You could also sprinkle it through stuff like broccoli salad or to replace the blue cheese in my pear and walnut salad.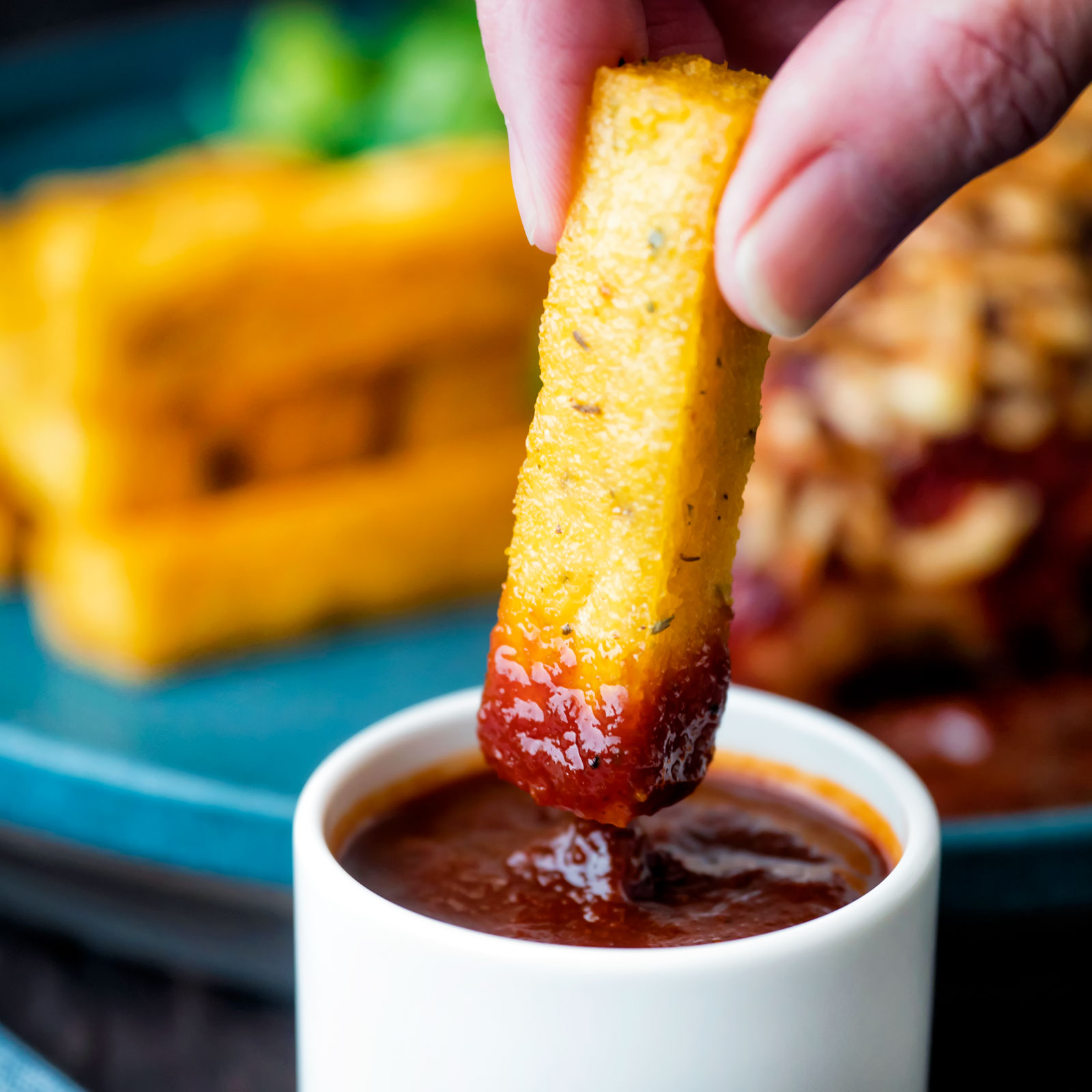 Yield:

2 Servings
Fried Polenta Chips Recipe
Total Time:
2 hours
30 minutes
If you are looking for a wonderful and slightly different side dish you must try crispy fried polenta chips, cheesy, herby and all sorts of delicious!
Ingredients
100g (~1/2 Cup + 2Tbsp) Quick Cook Coarse Polenta
500ml (2 Cups) Stock (I use a stock that matches the accompanying dish)
1 Tsp Dried Herbs (Again use herbs that compliment the accompanying dish)
50g (1/2 Cup) Parmesan Cheese
25g (1 Tbsp + 2 Tsp) Butter
Oil for Frying
Instructions
Bring the stock to a gentle simmer in a medium-small (17-18cm or 7") saucepan, non stick really helps with clean up.
Whisk the stock as you slowly pour in the polenta over 10-15 seconds.
Once the polenta s added turn the heat down to very low.
Cook the polenta for 10-15 minutes whisking every couple of minutes.
Grate the parmesan cheese and add it to the polenta with the butter and dried herbs.
Whisk until all of the cheese and butter has melted and been incorporated. At this stage the polenta will resemble a thin choux pastry.
Line a 15x20cm tray or bowl with cling film and pour in the polenta and flatten it into an even layer.
Fold over the cling film to cover and allow it to cool completely, this will take 2-3 hours. *See Note*
Once the polenta has cooled remove from the tray or dish (this is where you will be grateful for the cling film) and cut it into your desired shape and size. I go for chips about 1.5cm in profile and 7.5 cm long.
Place 0.5-0.7cm (⅕-¼") of oil in the base of a frying pan and bring it to a temperature of 160-170°C or 320-340°F.
Carefully add the chips to the oil and fry for 2 minutes, before flipping to the opposite side and fry for another 2 minutes. It is best to batch fry, I use a 28cm frying pan and this recipe cooks in 2 batches.
Remove from the pan and drain excess oil on some kitchen paper before transferring to a warm oven to keep warm whilst you cook the second batch.
Notes
I usually make my polenta in the morning or on the day before and transfer it to the fridge once cooled.
Nutrition Information:
Yield:
2
Serving Size:
1
Amount Per Serving:
Calories:

270
Total Fat:

20g
Saturated Fat:

12g
Trans Fat:

1g
Unsaturated Fat:

6g
Cholesterol:

54mg
Sodium:

1187mg
Carbohydrates:

11g
Fiber:

1g
Sugar:

1g
Protein:

13g
Calorific details are provided by a third-party application and are to be used as indicative figures only.