A classic lasagna with bolognese recipe is a thing of great beauty. Rich meaty ragu, bechamel sauce and Parmesan cheese layered between pasta, what's not to love?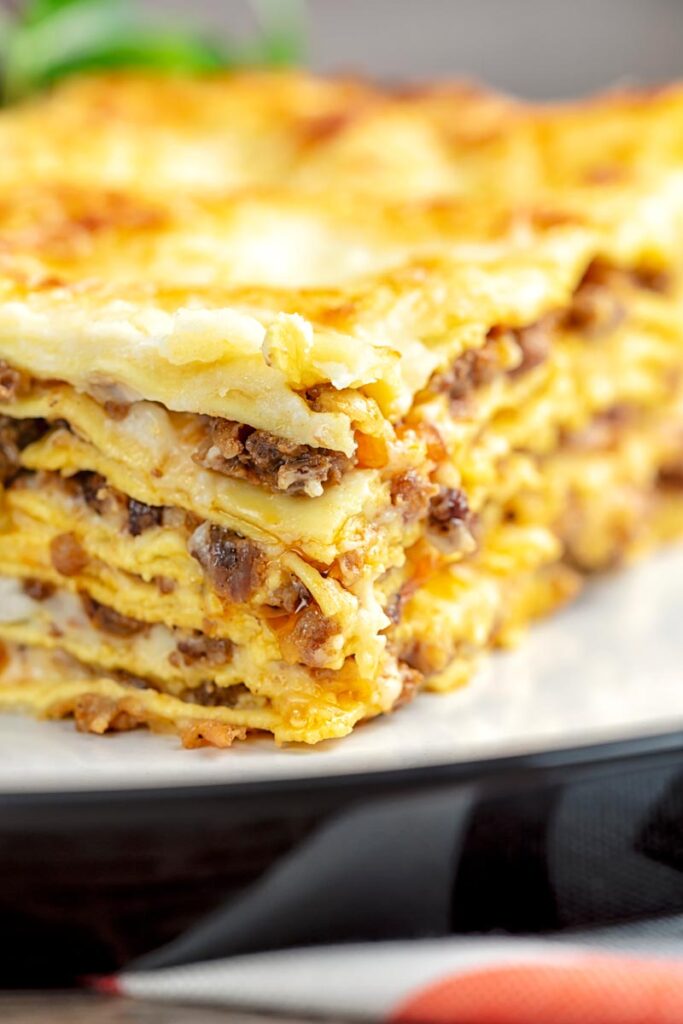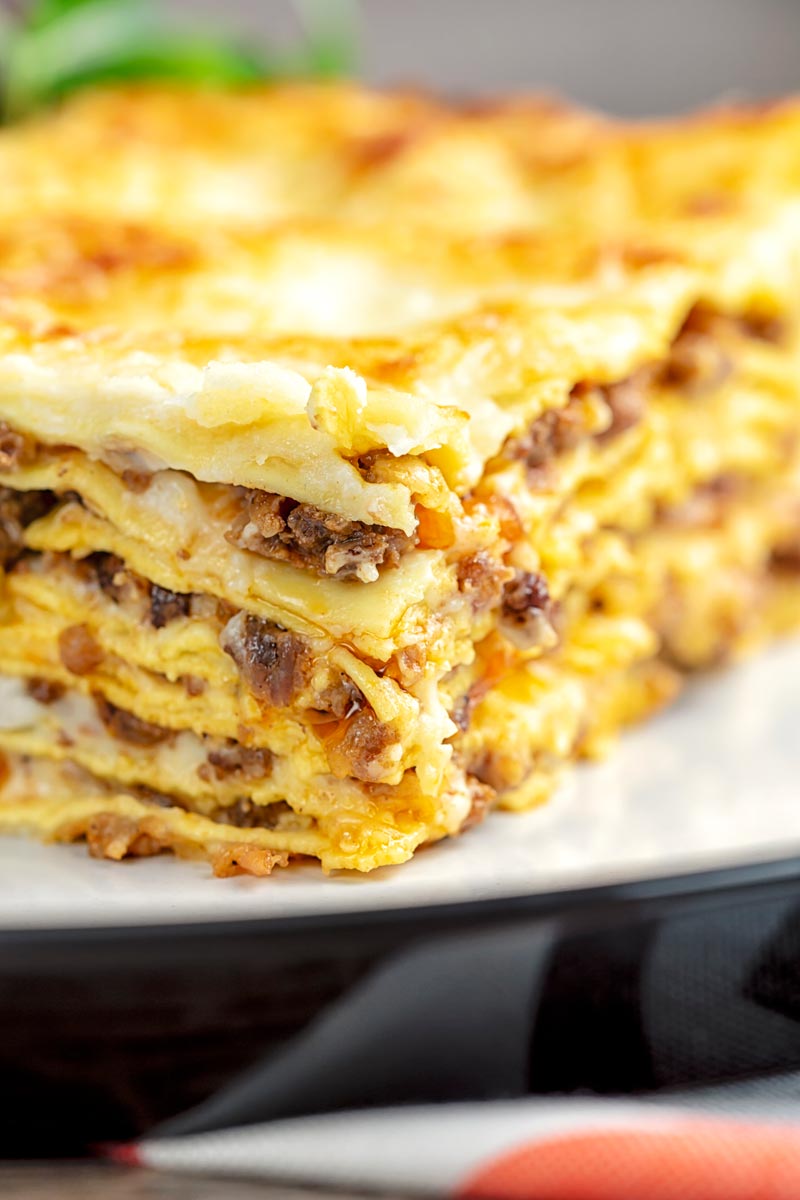 What is a Lasagna?
Well, that is a question that I will not be arrogant enough to try and definitively answer.
There are many Italian Lasagna, some contain boiled egg and some are not even baked, and that is before we consider all the other modern global variants.
I can tell you, however, what my lasagna is. It is pretty close to the lasagne el forno from the Emilia-Romagna area of North Eastern Italy.
It is a delightfully simple affair of 4 very good things, although 3 of those things require a bit of love and time.
Bechamel Sauce: No Ricotta for me, a simple bechamel mother sauce made from flour, milk and butter. Don't worry, you've got this.
Bolognese Ragu: A classic slow-cooked meaty red wine ragu, my video will really help you with this. If you want to go vegetarian you can even use my lentil bolognese!
Pasta: Whether you make it yourself or not this really is the foundation of the recipe.
Parmesan: No effort here folks just a but of grating!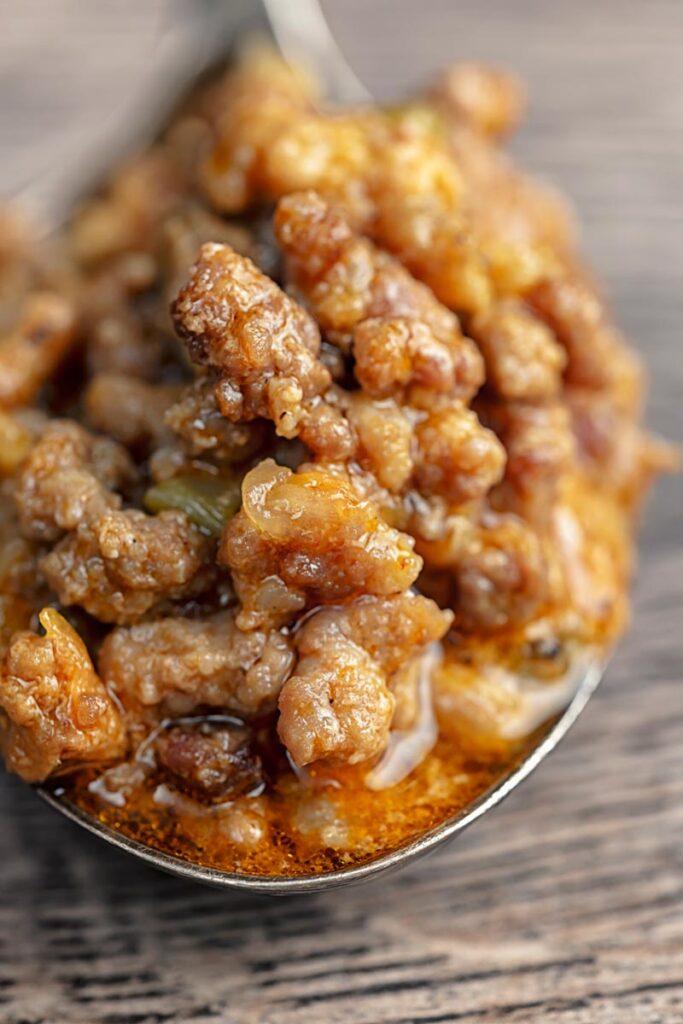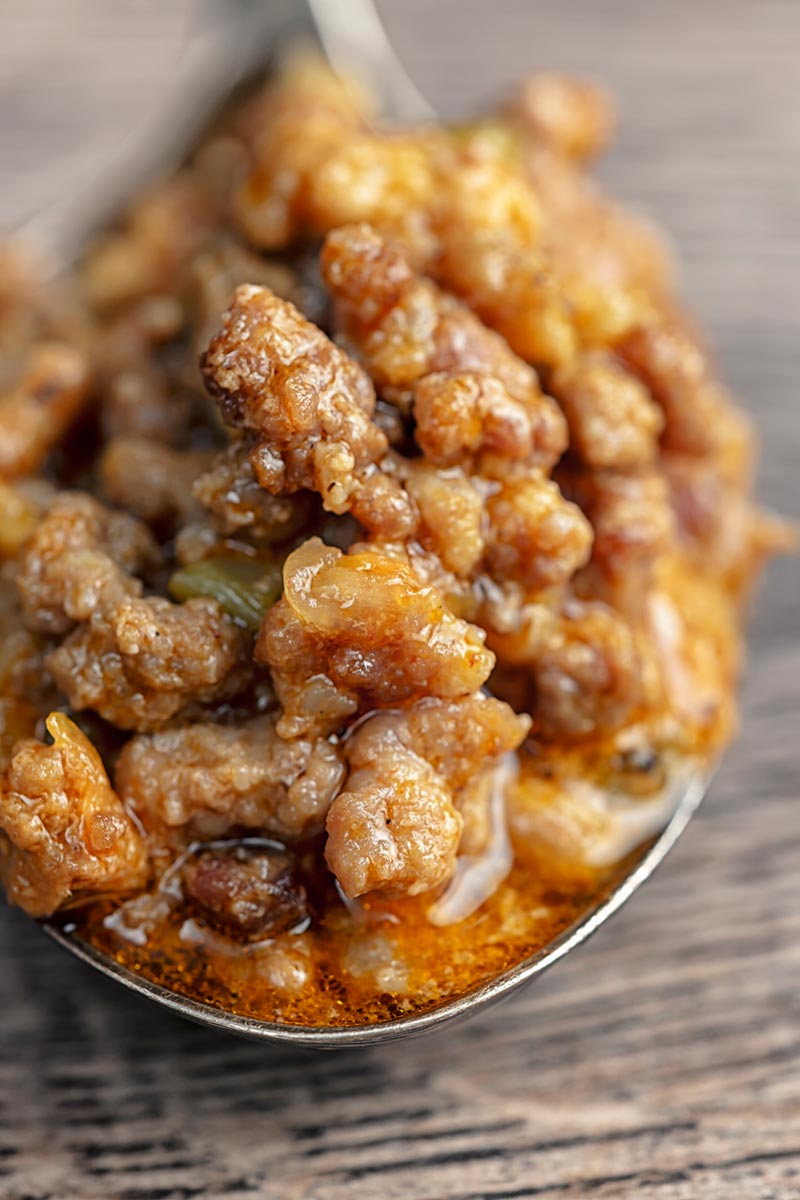 The Ragu Alla Bolognese.
Whilst the pasta is the foundation of this recipe the ragu sauce really is the "bling".
This is where a lasagna gets its flavour and I ALWAYS use my classic Ragu Bolognese recipe.
It is time-consuming but it is relatively low maintenance, I even provide slow cooker instructions.
Not to mention the fact that it is an oversized recipe so you can freeze some and turn it into pasta bolognese.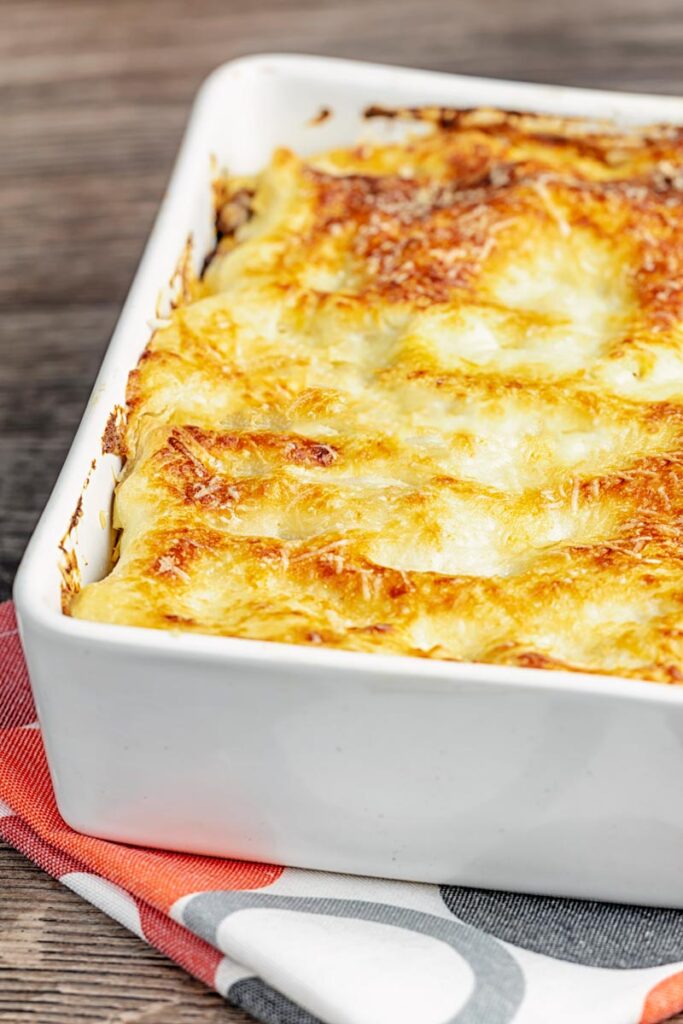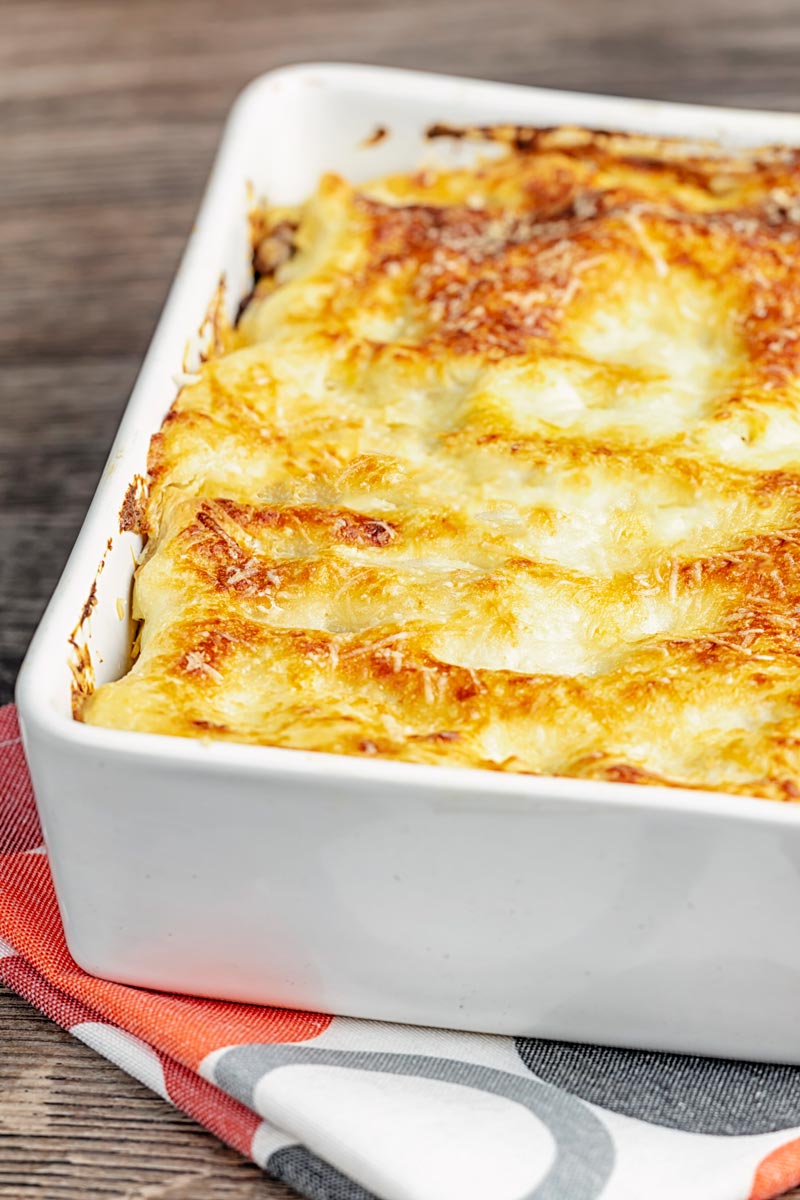 The Bechamel and Pasta.
Almost every "traditional" recipe I have seen says that you should make your own homemade pasta.
Hand on heart it really does make a great lasagna, but if we are honest that simply ain't gonna happen for most people.
This recipe is an indulgence and it is time-consuming and should be a labour of love. But there ain't no shame in taking appropriate short cuts.
In my tests of this recipe, and there have been a few, boxed no-cook lasagna sheets work perfectly well.
No, they are not as good as fresh pasta, but for me it is an acceptable shortcut.
As for the bechamel, then no shortcuts.
Please take the time to make this, it really is not difficult at all and takes no more than 10-15 minutes to get the silkiest of white sauces!
Just keep the heat at a moderate level and cook out the flour and butter mix without adding clour at the start.
Then add the warmed and flavoured milk a little at a time whilst beating vigorously.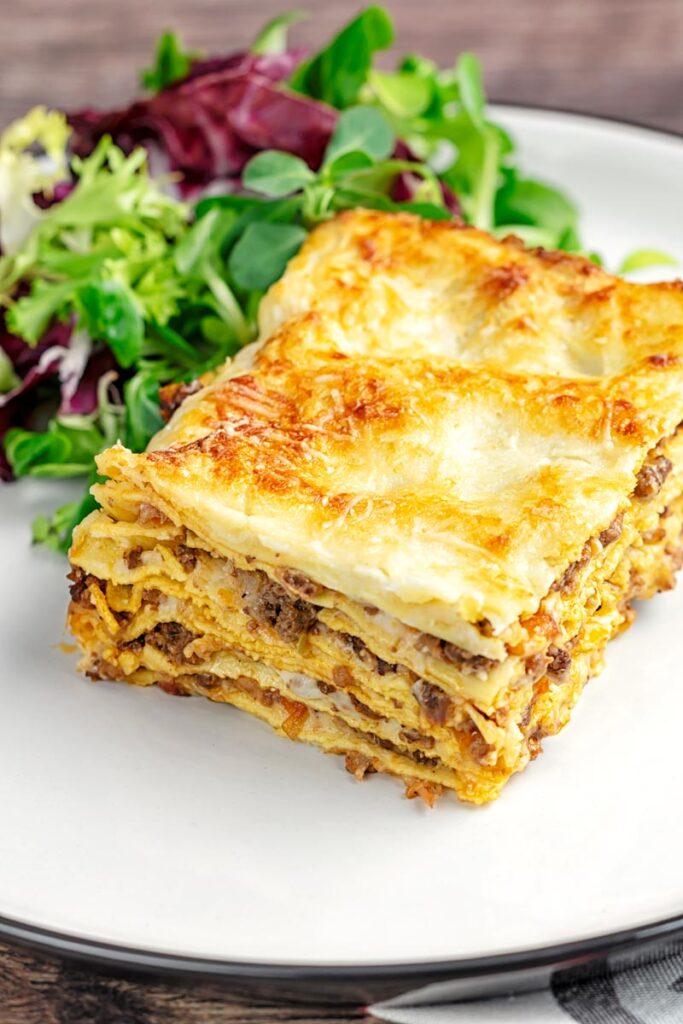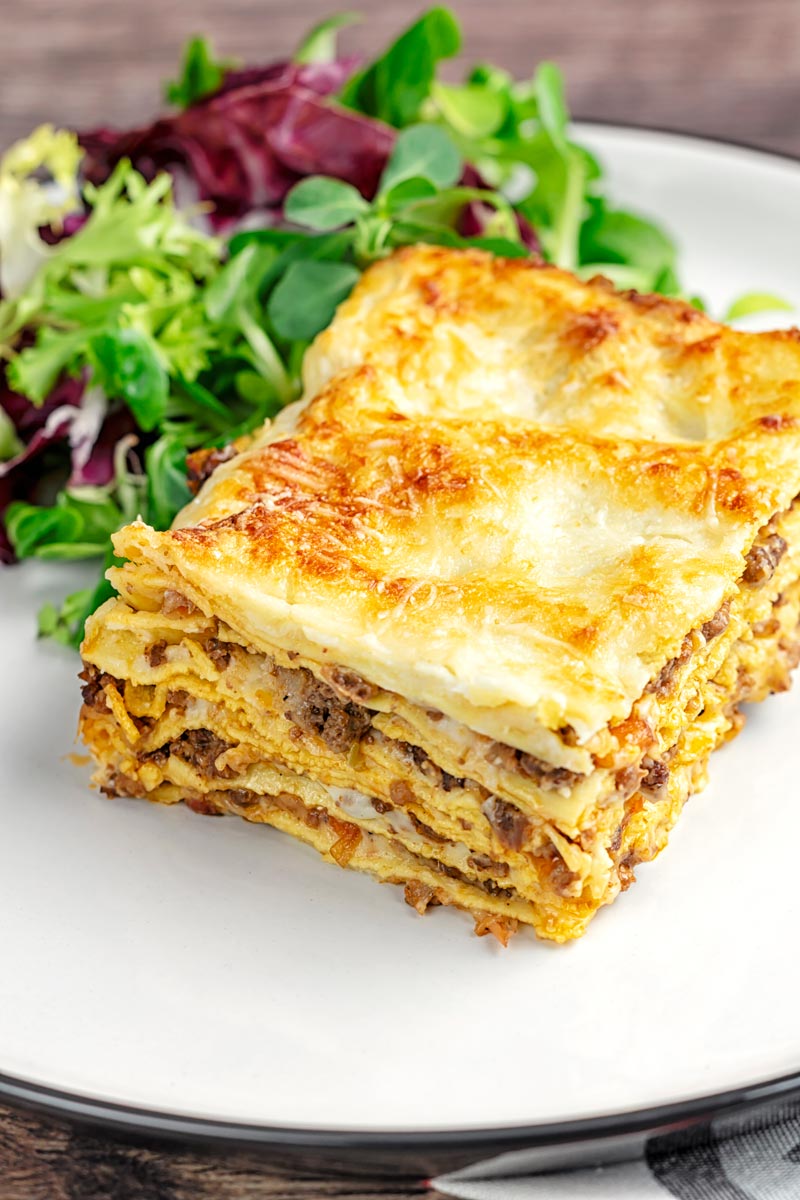 Assembly of the Lasagna.
The great thing about this recipe is that each of the three items can be made in advance.
The ragu will be fine in the fridge for 2-3 days, in fact, it will taste better!
The bechamel sauce will be fine for 24 hours in the fridge. But you need to place cling film on the face of the sauce to prevent a skin forming.
Likewise, the fresh pasta can be made a day in advance, just cut to size and layer between greaseproof paper.
Then all you need to do is assemble, there are just a couple of hints here.
Start with white sauce followed by ragu, if you start with pasta it will stick.
Do not overfill your layers, for me lasagna is at it's best when there is moderation in the filling.
I'll leave you with one final word of advice, let your lasagna sit for 20 minutes before serving.
It will stand up big and tall, serving straight from the oven can resort in 3rd degree burns for your diners and a lasagna that collapses on the plate.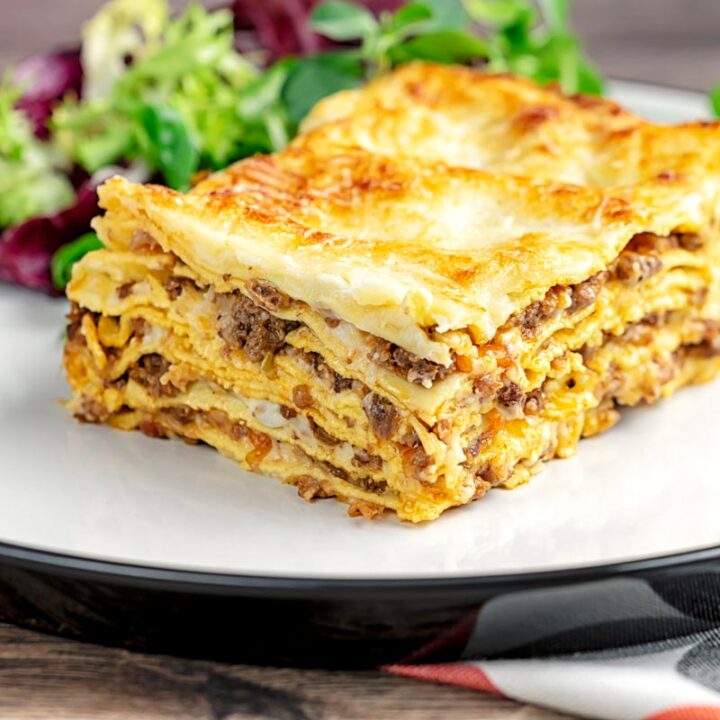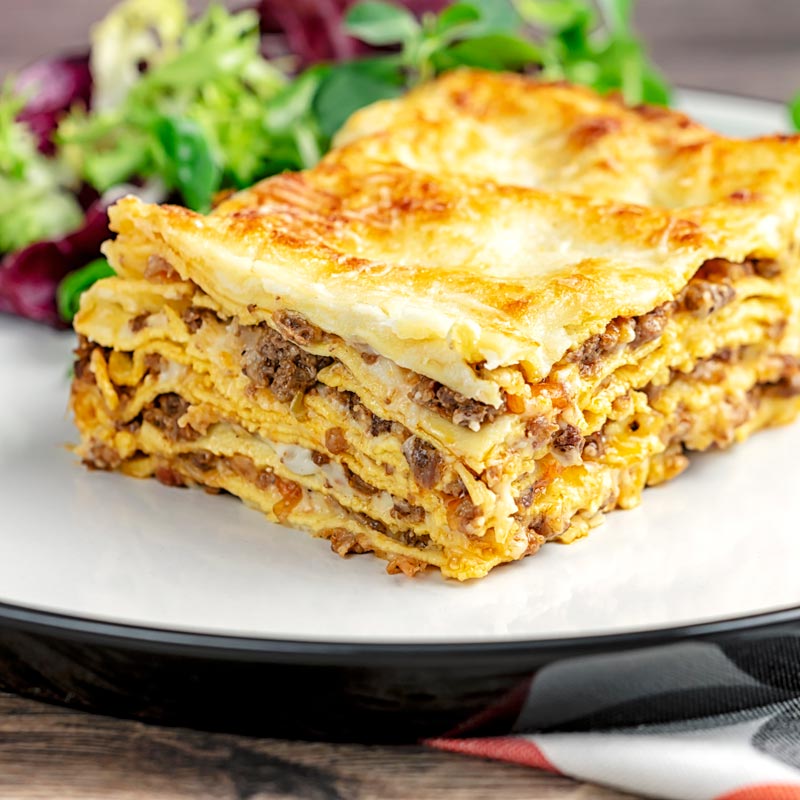 Yield:

4 Servings
Lasagna Bolognese Recipe
Cook Time:
6 hours
30 minutes
Total Time:
7 hours
20 minutes
A traditional lasagna bolognese is nothing short of a masterclass in comfort food, pasta, bechamel, Parmesan and a trad bolognese ragu layered and baked to perfection.
Ingredients
For the Bechamel Sauce:
500 ml Whole Milk
50 g Flour
50 g Butter
1 Onion
12 Black Pepper Corns
Salt to Taste
1 Bay Leaf
600 g Ragu Bolognese
12 Lasagne Sheets
125 g Parmesan Cheese
Instructions
Make your Ragu Alla Bolognese and allow to cool a little (see below).
Peel the onion and cut it in half and add it to the milk peppercorns and bay leaf
Slowly heat the milk for 10 minutes but ensure that you do not boil over.
Meanwhile, melt the butter over a medium heat and when melted stir in flour.
Cook out the flour and butter mix for 3 minutes stirring continuously.
Add a little of the boiled milk into the pan with the butter and flour and mix until the milk is combined.
Repeat this process until all of the milk is incorporated and you have a rich and thick Bechamel Sauce that is lump free.
Add salt to taste and set aside to cool for 10 minutes.
Cut your lasagna sheets to the same size as your bowl. I use one that is 22cm by 15cm by 6cm deep, 10" x 6" x 2.5" for those who work in imperial.
Add a little of the bechamel sauce to the bottom of the baking dish followed by a little of the ragu.
I use 55g of white sauce, 75g of ragu per layer and 10g of Parmesan cheese per layer.
Sprinkle on the parmesan cheese and then add a layer of pasta.
Repeat this process 5 or 6 times.
Top the final layer with the remaining bechamel sauce and Parmesan cheese, there should be more leftover of these than you used in each layer.
Place in the oven and bake at 180C or 350F for 45 minutes.
Allow to rest for at least 20 minutes before serving.
Nutrition Information:
Yield:
4
Serving Size:
1
Amount Per Serving:
Calories:

1080
Total Fat:

145g
Saturated Fat:

70g
Trans Fat:

3g
Unsaturated Fat:

59g
Cholesterol:

671mg
Carbohydrates:

141g
Fiber:

16g
Sugar:

45g
Protein:

178g
Calorific details are provided by a third-party application and are to be used as indicative figures only.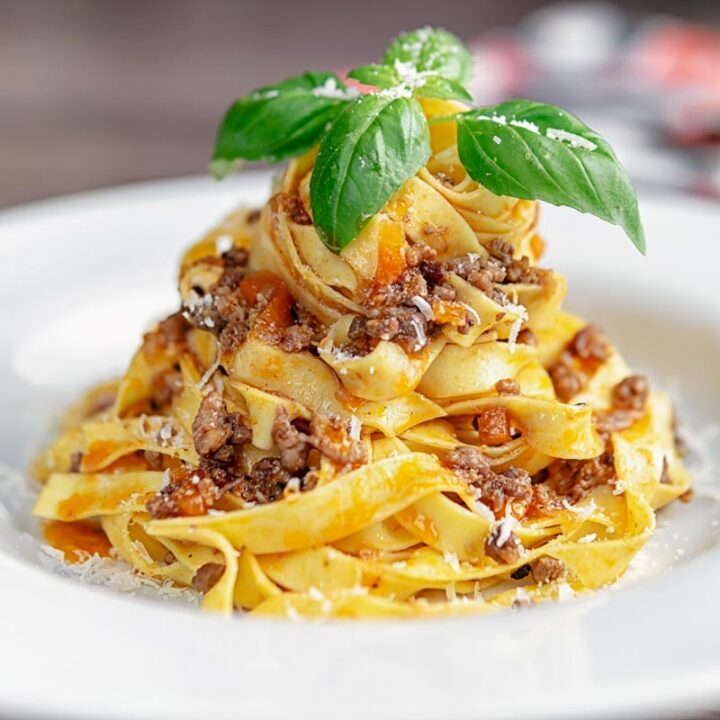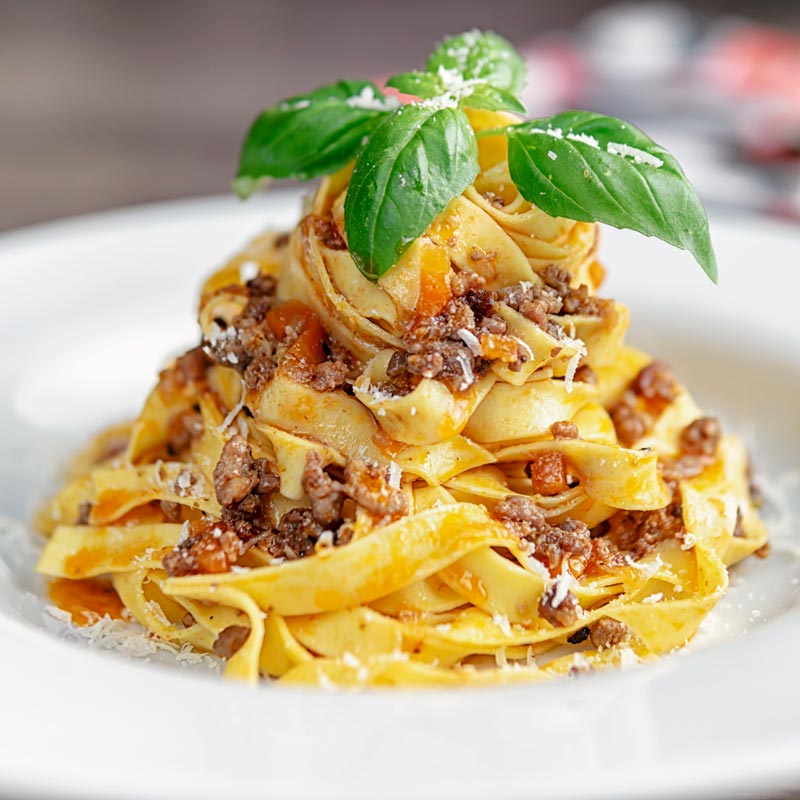 Yield:

10 Servings
Ragu Alla Bolognese Recipe
Cook Time:
5 hours
30 minutes
Total Time:
5 hours
40 minutes
I always make this pretty traditional Italian Ragu Alla Bolognese Sauce in my slow cooker with plenty of extras to freeze!
Ingredients
500 g Minced Beef
400g Minced Pork
150 g Smoked Streaky Bacon
100 g Onion
100 g Carrot
100 g Celery
50 g Butter
250 ml Red Wine
2 Tbsp Tomato Puree
Salt to Taste
Black Pepper to Taste
3 Bay Leaves
125 ml Whole Milk
Instructions
Begin by cutting your celery, carrot and onion into a uniform fine dice approximately 3mm in size.
Cut the bacon into a 7-10mm dice.
Heat a dry pan over a high heat and add the bacon and minced pork and cook for two minutes.
Add the beef to the pork mix and cook until it starts to caramelise, stirring occasionally. This will take around 10-12 minutes.
After cooking season well for with salt and pepper, then add the bay leaves and transfer to a slow cooker or to a bowl if cooking on a stove top.
Return the pan to the heat and add the butter.
When melted add the onion, carrot and celery and cook over a medium heat until softened, this will take about 10-12 minutes. Do not colour the vegetables.
Turn the heat up to high and add the tomato puree and red wine, then mix well.
If you are cooking to a stovetop add the meat and stir, if you are cooking in a slow cooker mix all of the components in the slow cooker.
For the slow cooker: Mix well and then add the lid and cook on low for 4 hours or high for 2 hours.
For the stovetop cooking: Mix well and then add the lid and simmer on low for 2 hours.
After the allotted cooking time, pour in the milk and continue to cook on for an hour in the slow cooker or 35-40 minutes on the stovetop.
Nutrition Information:
Yield:
10
Serving Size:
1
Amount Per Serving:
Calories:

381
Total Fat:

24g
Saturated Fat:

10g
Trans Fat:

1g
Unsaturated Fat:

12g
Cholesterol:

107mg
Sodium:

436mg
Carbohydrates:

5g
Fiber:

1g
Sugar:

2g
Protein:

30g
Calorific details are provided by a third-party application and are to be used as indicative figures only.