Beef cannelloni is the ultimate comfort food, minced meat stuffed pasta tubes, cooked in tomato sauce, topped with bechamel and mozzarella.
Recipes like this may seem intimidating, but they are 3 separate very simple recipes, that are then combined and then baked in the oven… don't worry, you've got this!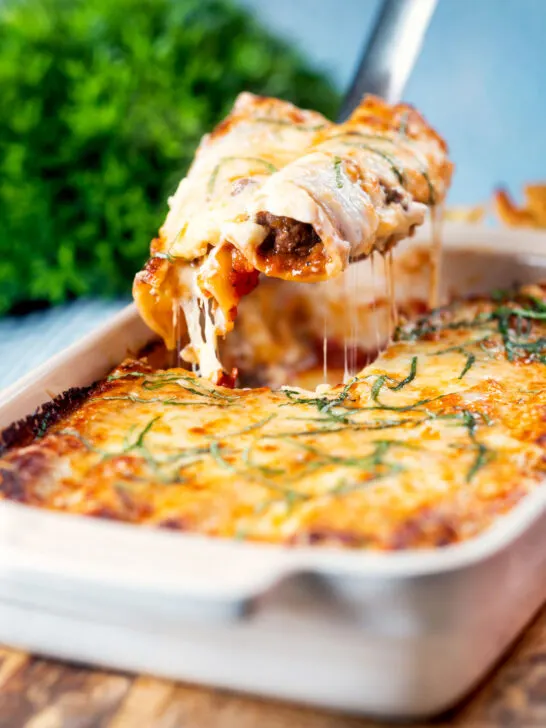 Minced Meat Stuffed Cannelloni Pasta Tubes
Baked pasta recipes seem to be the darling of the "food blogging" world, and honestly I've never really been into them.
At the time of writing this, I have 723 recipes on my site and less than half a dozen pasta bakes.
There are of course notable exceptions, I have a classic lasagna bolognese because lasagna baby!
I also have cannelloni recipes, because they are glorious, there is just something special about tubes of pasta stuffed with… stuff… and baked in a sauce with cheese and bechamel.
I already have a wonderful cauliflower cannelloni and a really foxy goat cheese and spinach cannelloni.
My latest offering is altogether way meatier! The stuffing for my cannelloni is minced beef and soffrito cooked in red wine and garlic, the tomato sauce is the simplest of sauces with even more garlic.
It is topped with some bechamel sauce, fresh buffalo mozzarella, and parmesan cheese and it is cooked until golden and bubbly.
All you have to do is wait long enough not to burn yourself when stuffing this into your face!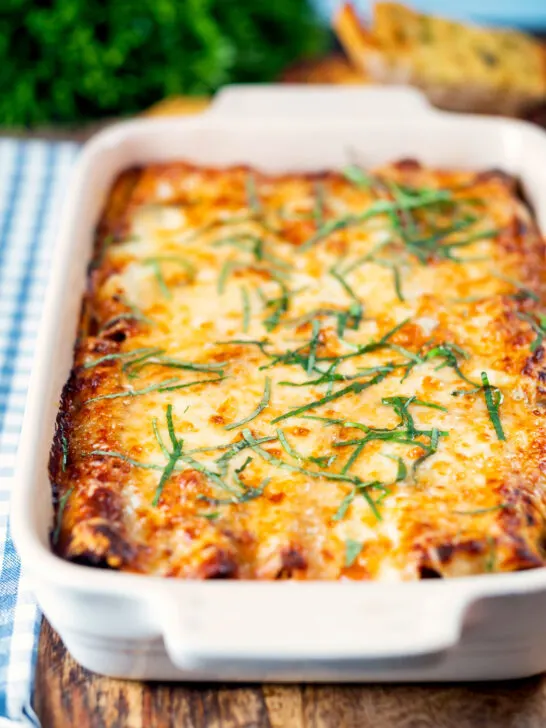 Frequently Asked Questions
My beef is getting stuck coming out of the piping bag, what can I do?
As I have mentioned in step 8 of my recipe, you need to ensure that you have broken down any large chunks of meat when the beef is cooking.
Can I use fresh pasta?
Yes, you can roll your own cannelloni from fresh pasta, cut the pasta into strips 7½-10cm or 3-4″ wide.

Then add some beef and roll the pasta to enclose the beef. Then cut the pasta, transfer it to the baking dish and repeat until you are done.
Can I cook this in advance?
Yes, you can take two approaches. You can freeze the dish either uncooked or cooked and then defrost or cook from frozen.

To cook from frozen but uncooked, cover with foil and cook for 1 hour at 160°C or 320°F then turn the heat up to 200°C or 400°F and cook for another 30 minutes. Finally, slide under the grill for 3-4 minutes.

To cook from cooked and frozen, cover with foil and place the oven for 1 hour at 160°C or 320°F, then turn the heat up to 200°C or 400°F and cook for another 15 minutes. Finally, slide under the grill for 3-4 minutes.

If you defrost the cannelloni, cook the raw version for 30 minutes covered, then 30 minutes uncovered at 180°C or 350°F. If it is already cooked cook for 40-45 minutes covered at 180°C or 350°F. Slide both under the grill to get it bubbling before serving.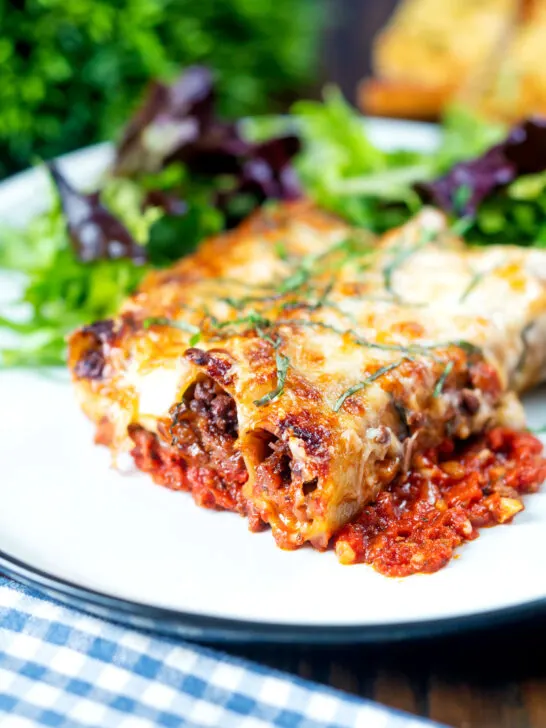 Serving Suggestions
This minced beef stuffed cannelloni recipe is a hearty old meal that you could easily stretch to serve 3, not that I do of course!
As a result, it needs very little on the side, I usually pair it with a simple salad. A simply dressed green salad is ideal.
I'd also usually serve this with some garlic bread or cheesy garlic bread.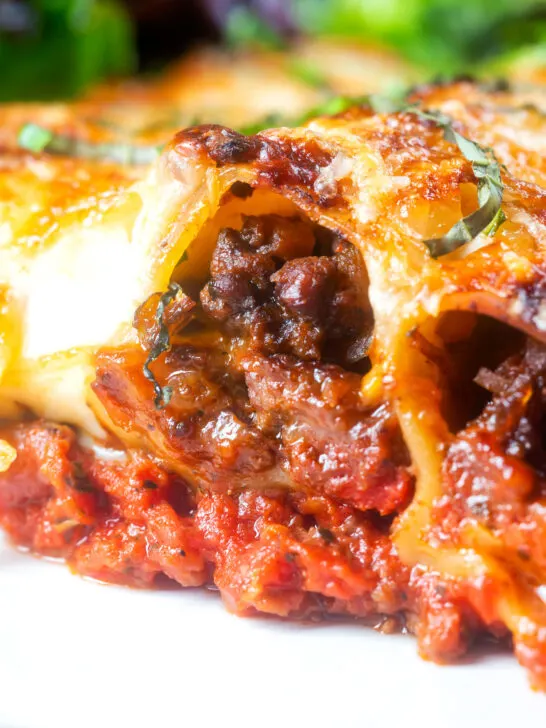 Equipment Used
I only name-check brands of equipment if I think that they make a material difference to a recipe. But if you have any questions feel free to ask them in the comments section below the recipe.
Stovetop.
Oven.
Grill, aka broiler.
28cm or 11″ frying pan, not nonstick if possible.
20cm or 8″ saucepan.
15cm of 6″ saucepan.
25cm by 15cm (10″ x 6″) baking dish
Stirring and serving spoons.
Chopping board.
Kitchen knife.
Weighing scales and or a combination of measuring jug, cups and spoons.
Piping bag with a nozzle a little smaller than the cannelloni tubes.
Flat-bottomed bowl to stand the cannelloni tubes in when stuffing them.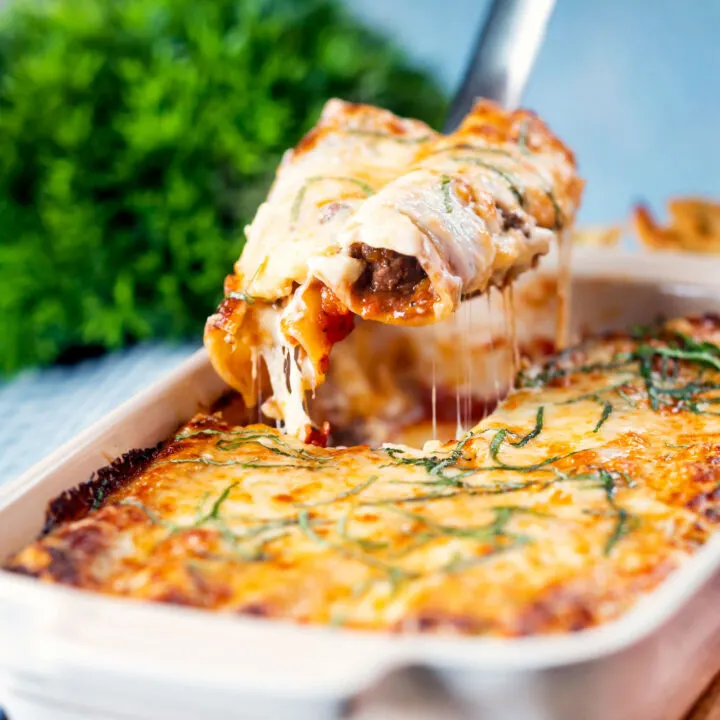 Yield:

2 Generous Servings
Minced Beef Stuffed Cannelloni Recipe
Cook Time:
1 hour
50 minutes
Minced beef cooked in red wine, stuffed into cannelloni tubes and placed on the simplest of tomato sauces, topped with bechamel sauce, fresh mozzarella cheese and loads of parmesan cheese and you have the most wonderful comfort food treat!
Ingredients
10 (125g) Cannelloni Tubes
125g (4oz) Fresh Mozzarella Cheese
35g (⅓ Cup) Parmesan Cheese
For the Minced Beef Filling:
350g (12oz) Minced Beef
100g (⅔ Cup) Onion
100g (⅔ Cup) Carrot
35g (1 Stick) Celery
4 Garlic Cloves
1 Tbsp Olive Oil
4 Anchovy Fillets
2 Tbsp Tomato Puree
½ Tsp Salt
¼ Tsp Black Pepper
175ml (¾ Cup) Red Wine
For the Tomato Sauce:
400g (14oz) Tin of Chopped Tomatoes
1 Tbsp Olive Oil
2 Garlic Cloves
1 Tsp Dried Oregano
½ Tsp Dried Oregano
Pinch Sugar
¼ Tsp Salt
For the Bechamel Sauce
15g (1 Tbsp) Butter
15g (2 Tbsp) Flour
125ml (½ Cup) Milk
Pinch Salt
Pinch White Pepper
Instructions
Cut the onion for the stuffing in half, peel it, then dice it as finely as you can.
Dice the carrot as finely as you can.
Dice the celery stick as finely as you can.
Peel the garlic cloves for the minced beef stuffing and dice them as finely as you can.
Heat the olive oil in a 28cm or 11" frying pan over a medium-high heat and when it is hot add the diced onion, carrot and celery and cook for 10 minutes stirring occasionally.
Add the garlic, anchovy fillets and tomato puree, then cook for another minute.
Turn the heat up to high, add the minced beef, salt and pepper and cook until the beef has nicely coloured up which will take 3-5 minutes. Keep stirring during this process to incorporate the crispy "fond" from the base of the pan.
Pour in the red wine and cook until the wine has been reduced all the way down, make sure you break any large chinks of the meat down with the back of the spoon whilst it is cooking. Then remove and allow to cool a little for 10-15 minutes.
Heat the oil for the tomato sauce in a 20cm or 8" saucepan, add the garlic and cook for 30 seconds.
Pour in the tinned tomatoes, add the dried oregano and basil along with the salt and sugar and cook for 5 minutes to thicken a little.
Stir 3-4 tablespoons of the tomato sauce through the minced beef and set the remainder aside to cool a little.
Take a piping bag with a nozzle just a little bit smaller than the cannelloni tubes and pipe in the minced meat mixture. The easiest way to do this is to stand the tubes in a flat-bottomed bowl and use a spatula to move them when they are full.
Stir any leftover beef and its cooking juices through the tomato sauce (there should not be a lot left) and pour the tomato sauce into a 25cm by 15cm (10" x 6") baking dish.
Layer on the stuffed cannelloni and pour over any juices from the bowl you stuffed them in.
Heat the butter for the bechamel sauce over a medium heat in a 15cm or 6" saucepan and when it has melted add the flour, then cook for 2-3 minutes.
Stir in the milk little by little, making sure that all of the previous milk has been incorporated before you add any more, keep going until you have a nice smooth white sauce and then season with salt and white pepper.
Pour the bechamel over the stuffed cannelloni, there should not be a huge layer just a scant coating.
Slice the fresh mozzarella and place it on top of the dish then sprinkle with the parmesan cheese.
Cover the bowl loosely with tin foil and then bake in the oven at 180°C or 350°F for 30 minutes, then remove the foil and cook for a final 30 minutes.
Slide the baking dish under a very hot grill (broiler) for 3-5 minutes or until bubbly and golden, then allow the dish to cool for 5 minutes before serving.
Nutrition Information:
Yield:
2
Serving Size:
1
Amount Per Serving:
Calories:

1241
Total Fat:

72g
Saturated Fat:

29g
Trans Fat:

2g
Unsaturated Fat:

35g
Cholesterol:

248mg
Sodium:

2242mg
Carbohydrates:

55g
Fiber:

9g
Sugar:

15g
Protein:

77g
Calorific details are provided by a third-party application and are to be used as indicative figures only.