This baked cauliflower cannelloni is a perfect winter warmer, a beautiful cauliflower and ricotta cheese puree baked to perfection with a bechamel sauce.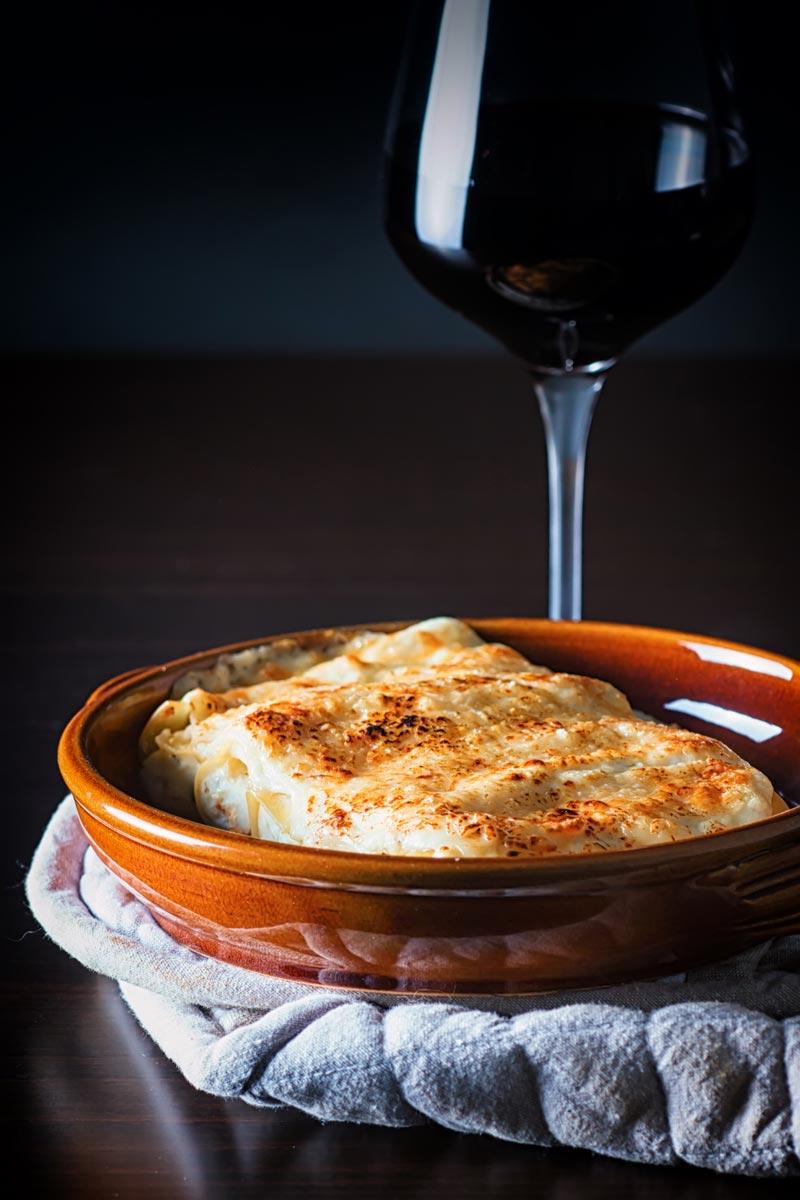 Cauliflower Cannelloni
They say idle hands make light work and this cauliflower cannelloni is definitely a product of my idleness, oh yes and my love of cauliflower.
This cauli centric recipe as a break from my current crush of baking cauliflower. as I do in this sweet and spicy roasted cauliflower recipe or this roast cauliflower steak.
This recipe all started off with an experiment with a simple cauliflower puree. Fooling around with steamed, roasted and boiled cauliflower which then lead to a ravioli and finally to this heartwarming cauliflower cannelloni.
Cannelloni is the king of pasta bakes as fas as I am concerned. Whether it is this cauliflower cannelloni or this more classic spinach cannelloni they are some of my favourite comfort food recipes.
Often vegetarian dishes can be categorised as very worthy wholesome dishes, this one certainly aint one of them. It joins my deep fried Camembert recipe as one of those dishes that will give your cardiologist palpitations.
Cheese joins cheese with a bit more cheese and of course, you gotta have a healthy portion of butter with that cheese.
But hey cauliflower is good for you right?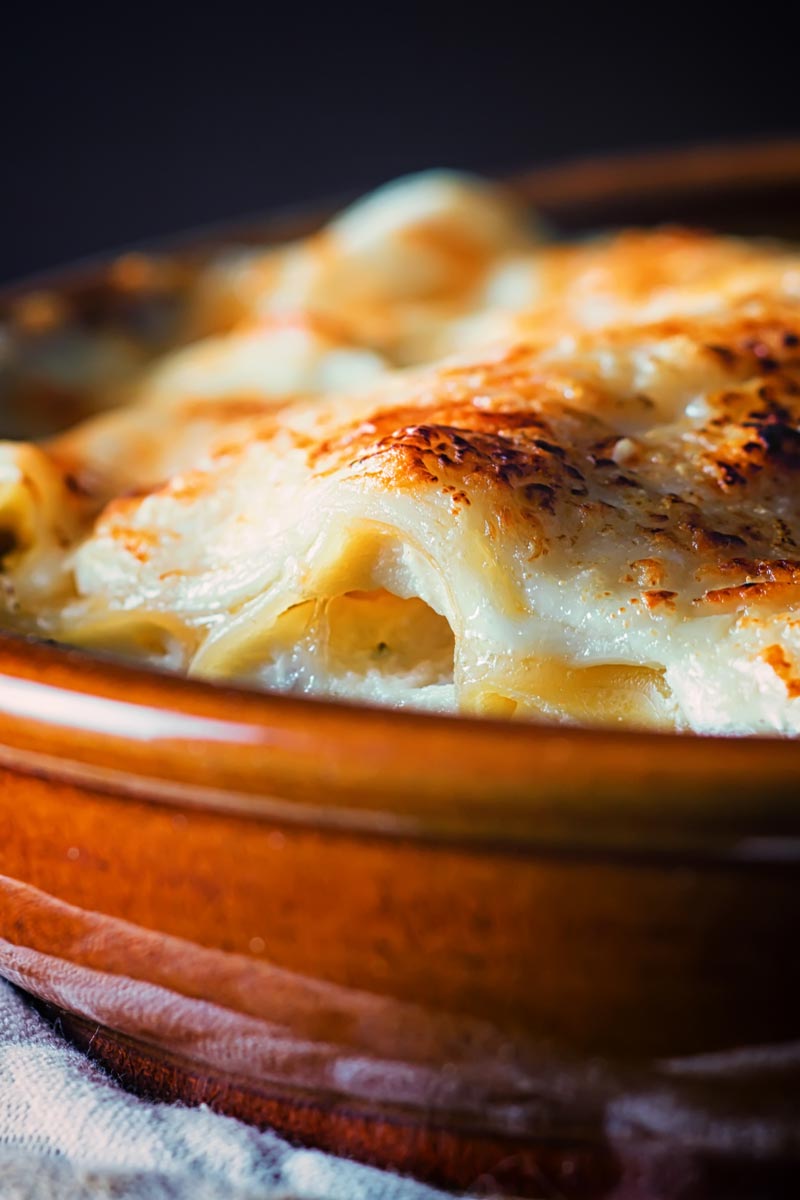 My excuse for this pure indulgence is I need to store up some energy, I've got two tonnes of winter wood to split this weekend before I put my feet up for winter and do nothing but relax. Yes it is an excuse but it is one I am sticking with so there which means I do not care how indulgent this cauliflower cannelloni is!
It is quite remarkable that I do not cook with a great deal of pasta, when I lived in the UK it was a real staple of our weekly diet and I think that had something to do with its pure convenience. To be honest I think we kinda relied on the same dozen or so dishes with the exception of weekends and 3 or 4 of those were pasta dishes.
Our much more relaxed lifestyle allowed much more time to be spent on food and I think pasta was the biggest victim of our freedom, sure we still eat it and it is always in the cupboard but it no longer forms a stable part of our diet.
Odd really as good pasta is a beautiful thing and I am actively now re-introducing pasta in to our diet as I love the stuff, I am just making sure I am not quite so lazy with it as I used to be. This cauliflower cannelloni is certainly not a lazy dish, it takes a little effort but it is effort that is certainly worth the effort.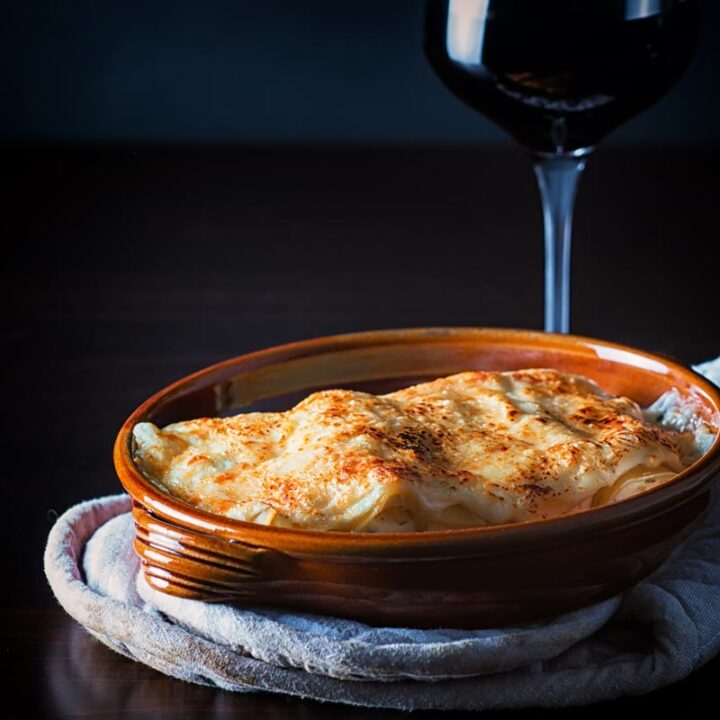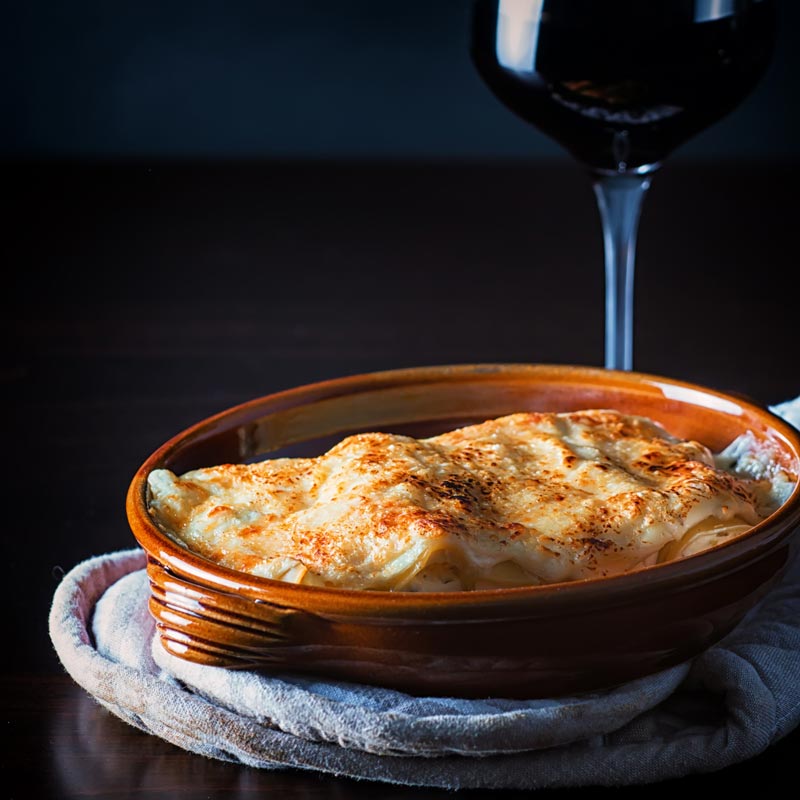 Yield:

2 Servings
Cauliflower Cannelloni
Total Time:
1 hour
20 minutes
This baked cauliflower cannelloni is a perfect winter warmer, a beautiful cauliflower and ricotta cheese puree baked to perfection with a bechamel sauce.
Ingredients
400 g Cauliflower F
50 g Butter
150 g Ricotta Cheese
1 Tsp Dried Oregano
1 Tbsp Cooking Oil, Neutral
100 g Onion, Finely chopped
2 Garlic Cloves, Finely chopped
150 ml Tomato Passata
1 Tomato
250 ml Milk
1 Onion
10 Peppercorns
1 Bay Leaf
4 Cloves
25 g Butter
25 g Plain Flour
10 Cannelloni Tubes
100 g Buffalo Mozzarella Cheese, Sliced
50 g Parmesan Cheese, Grated
Instructions
Bring a pan with an inch of water to boil over a medium heat and then drop in a steaming insert and steam the cauliflower for 15 minutes or until it just gives way under the tip of a knife.
When the cauliflower is cooked place it into a blender with 50 grams of butter and the ricotta cheese and blend, taste this puree and as salt as required.
Now mix in 1 teaspoon of oregano into the puree and set aside.
Heat the oil in a frying pan over a medium heat and fry the onions until soft, which should take around 10 minutes.
Add in garlic and cook for 1 minute before adding in the tomato passata and reducing until almost dry.
Now add the diced tomato and cook on for a further minute and check for seasoning and add salt and pepper as required and set aside.
Stud the onion with the cloves and add to the milk along with the bay leaf and pepper corns and bring the milk slowly to the boil.
Meanwhile melt the butter over a medium heat and when melted stir in flour.
Preheat your oven to 200°C or 400°F.
Cook out the flour and butter mix for 3 minutes stirring continuously, this should form a smooth 'ball' in the base of the pan.
Add a little of the boiled milk into the pan with the butter and flour and mix until the milk is combined, repeat this process until all of the milk is incorporated and you have a rich and thick Bechamel sauce that is lump free, check for seasoning and add salt as required.
Now build your dish by spreading the tomato sauce on the bottom of an oven proof dish, then pipe the cauliflower puree into the ricotta tubes and lay them on the tomato sauce.
Top with slices of mozzarella cheese, an even coating of bechamel sauce and then lots of grated parmesan cheese and bake for 35-45 minutes.
Notes
You may want to leave this to rest for a while when cooked as it is the hottest thing known to man when it comes out of the oven.
Nutrition Information:
Yield:
2
Serving Size:
1
Amount Per Serving:
Calories:

1081
Total Fat:

75g
Saturated Fat:

40g
Trans Fat:

2g
Unsaturated Fat:

28g
Cholesterol:

208mg
Sodium:

1378mg
Carbohydrates:

64g
Fiber:

13g
Sugar:

14g
Protein:

48g