Cauliflower is my favourite winter vegetable and this exotic 'Persian' influenced Roasted Cauliflower Steak is the perfect lighter winter meal.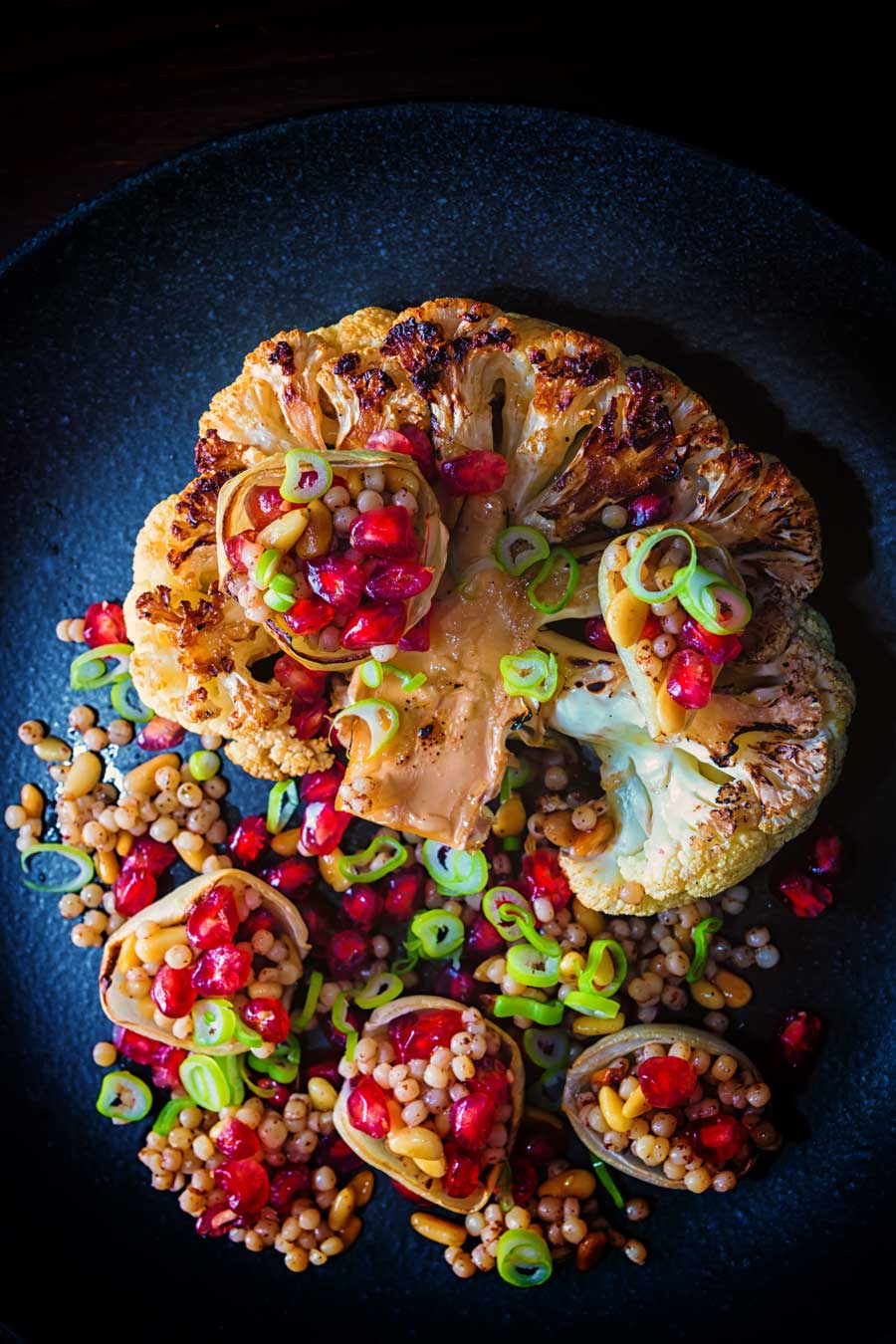 Roasting Vegetable Steaks.
Back at the start of Autumn, I used or first Cabbage of the year to BBQ up a cabbage steak. Now my favourite winter vegetable is being harvested I had play with cauliflower.
There is just something special about the variation in texture you get when you roast cauliflower.
The slightly firmer stalk being my absolute favourite.
Food waste is a bugbear of mine and this dish only uses the very centre of the cauliflower.
To prevent waste I usually steam the remaining cauliflower and then make a cauliflower puree and freeze it up to use later.
The process of cooking is incredibly simple, sear in a hot pan, then roast in hot oven for 40-45 minutes.
You can add flavours you like!
Now I am sure there are thousands of folks reeling at my use of the word steak in the name of this recipe. Guess what, I don't care teheheheehe!
Yes, it is not a t-bone steak, but I have no idea what else to call it. It is a slice of an object, whether we are talking beef or pork we'd call it a steak.
A vegan dinner from a very committed carnivore, and not because I want to jump on a bandwagon… Just because it tastes good!
If you wanna call it something else, go ahead! Whatever you call it, it is delicious!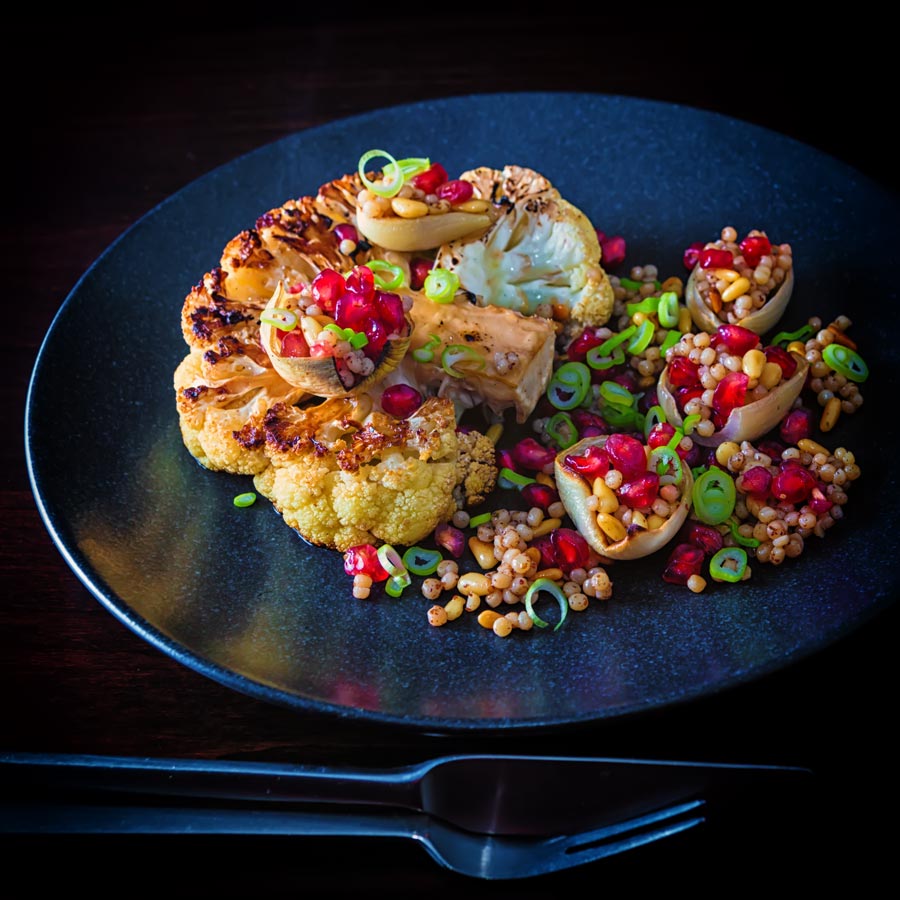 Cooking With Persian Flavours?
This cauliflower recipe gets all exotic, with pomegranate, pomegranate and the fabulous 'Persian' spice, Sumac.
Sumac is a relatively new addition to the spice cupboard of many cooks. But it has been used across North Africa, the Arabic world through to Pakistan and North India for centuries.
It has a wonderful citrus flavour and is actually the dried and ground 'fruit' of a flowering shrub.
This adds a fabulous citrus tartness to sit alongside the sweet pomegranate.
Interestingly the plant that Sumac comes from is from the same plant family of poison ivy. Just look at that magic general knowledge you get here!
Anyway sumac, a wonderful addition to your spice cupboard. It does not need cooking and can be used to sprinkle over food as I do in the crispy chickpeas in my carrot soup recipe.
It is also one of the core ingredients in Zaatar, I use zaatar all of the time. See my roasted zaatar chicken leg recipe or zaatar halloumi cheese recipe for examples.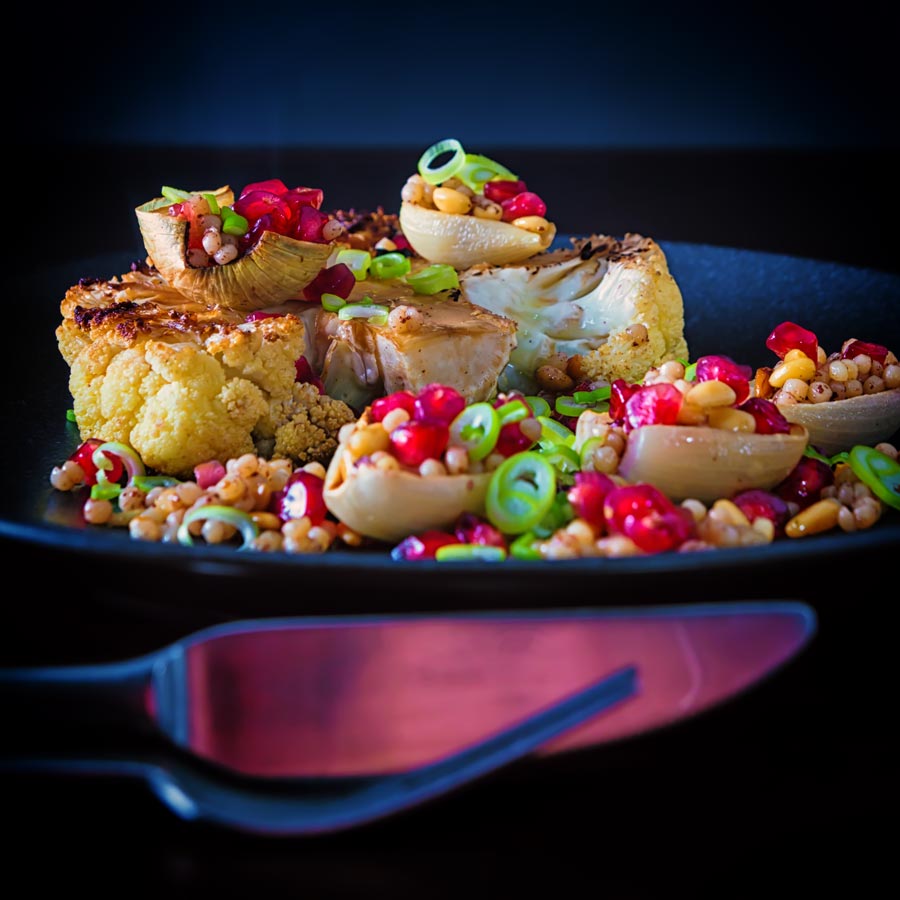 Other Cauli Recipes.
I mentioned my love of cauliflower earlier. It is very much a vegetable I love, it has such a great flavour and it is really versatile.
I also use it in everything from soup as in my cauliflower soup recipe through to my spectacularly tasty Aloo Gobi Curry or even in this other sweet and spicy roasted cauliflower recipe.
There are vast swathes of people that also use it as a rice substitute as in cauliflower rice or even use cauliflower as a base for pizza. I have yet to get behind these two ideas personally, my food evolution is a very slow process.
But the art of roasting cauliflower is very old and well-trodden and one that I love!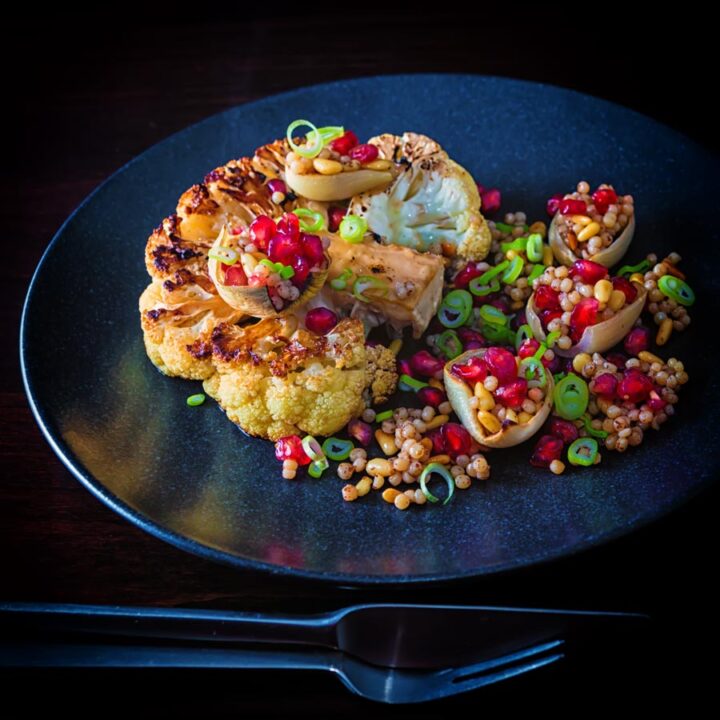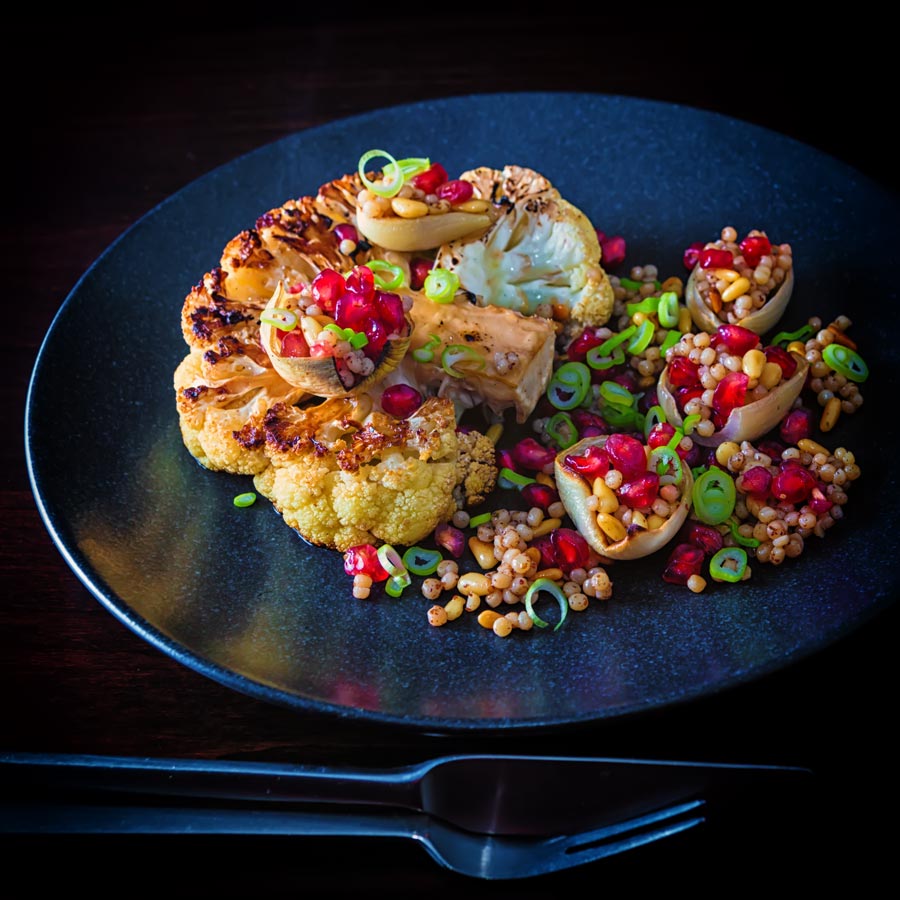 Yield:

2 Servings
Simple Persian Roasted Cauliflower Steaks
Total Time:
1 hour
5 minutes
This roasted cauliflower recipe is a simple and delicious way to put some insanely tasty and colourful food on your winter table!
Ingredients
400 g Cauliflower
2 Shallots
75 g Israeli couscous
250 ml Vegetable Stock
50 g Pine nuts
3 Tbsp Olive Oil
1/2 Pomegranate
1 Tbsp Pomegranate Molasses
1/2 Tsp Salt
1 Tsp Sumac
1 Spring Onion
Instructions
Begin by cooking the cous cous in vegeatble stock, drain and set aside, this should take approximately 8 minutes.
Meanwhile preheat your oven to 220°C or 450°F and bring a cast iron pan to temperature on the stove, if you don't have one use anything that you can transfer from stove top to oven.
Cut in half then take a 2.5cm, steak of each side of the half.
Top and tail the shallots and then separate out into individual leaves.
Mix together the olive oil, pomegranate molasses and salt and use it to brush over the cauliflower steaks on the cut sides.
Reserve the rest of the marinade and use it to coat the shallot leaves.
Now cook the cauliflower in the pan for 5 minutes each side.
Just before transferring to the oven and cooking for 40-45 minutes, add in the shallot leaves.
About 7 minutes before the cauliflower is cooked heat up a dry pan over a medium high heat and toast off the pine nuts and set aside.
Then add a tablespoon of olive oil to the pan and turn the heat up to high and fry off the couscous for 2 minute keeping moving all of the time.
Remove from the heat and then add in the sumac and pine nuts and swirl to coat and the pomegranate seeds.
Serving suggestion as per my picture 🙂
Notes
I usually steam the remaining cauliflower, then puree and freeze to reduce waste.
Nutrition Information:
Yield:
2
Serving Size:
1
Amount Per Serving:
Calories:

555
Total Fat:

40g
Saturated Fat:

4g
Trans Fat:

0g
Unsaturated Fat:

31g
Cholesterol:

0mg
Sodium:

1012mg
Carbohydrates:

46g
Fiber:

11g
Sugar:

19g
Protein:

12g