My Orange and Harissa Salmon with Fennel recipe just screams summer at me, beautiful clean fresh flavours a little heat and sun sun sun!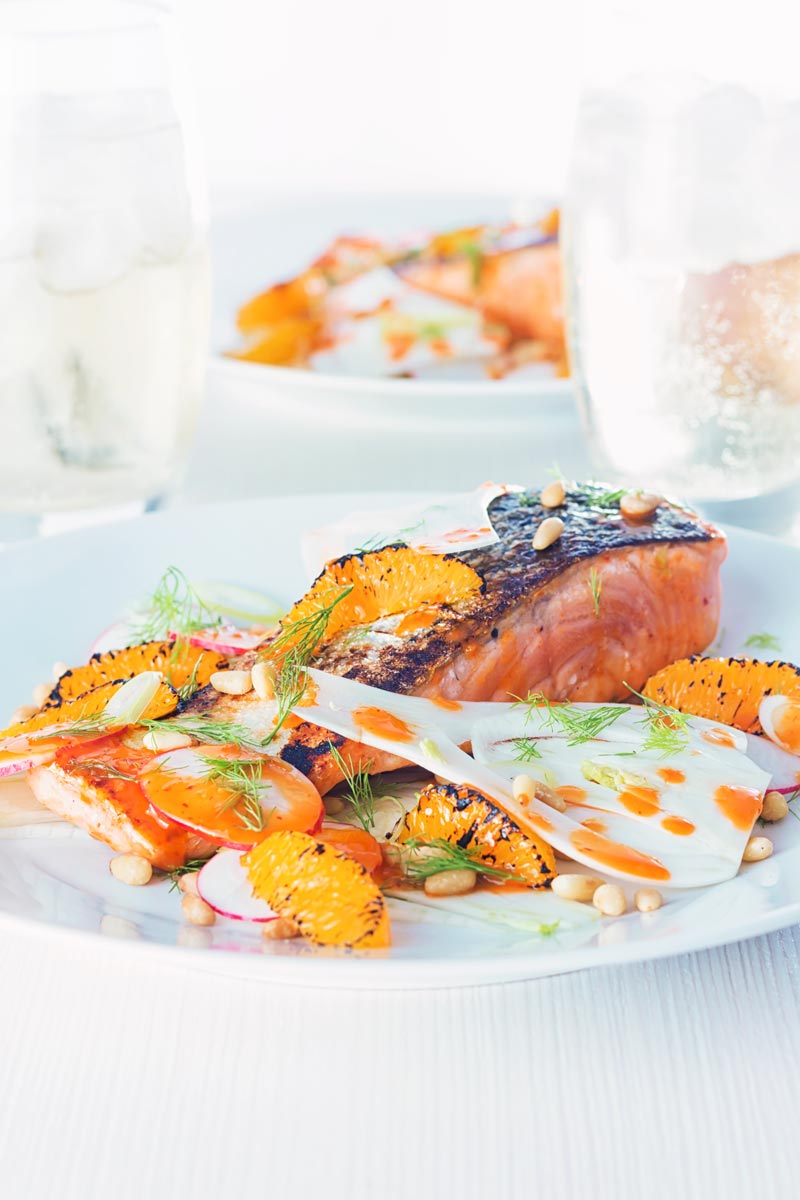 Orange and Harissa Salmon with Fennel.
I have no idea if this harissa salmon with Fennel recipe is a salad or not. But given that I am not much one for labels who cares.
One thing it most certainly is though is a delightfully light yet filling summer dish. It rocks the spicy aromatic flavours of harissa and rosewater mixed with orange and fennel.
Few flavours go together quite like orange and fennel to my mind and having some nice oily fish really pushed this up a notch. It gives a rich roundness to what are pretty classic flavour combinations.
I seem to have finally stumbled on a pretty reliable supplier of sea fish at the moment. I am loving getting back to cooking with one of my favourite 'families' of ingredients.
Salmon recipes are most definitely a favourite with both me and my wife. In fact, my summer salmon pasta recipe has stayed in the top 5 most popular recipes since it was published… In 2015!
Other recipes like my salmon fish cakes and my herb crusted salmon with lentils do not fall far behind.
I hope this fennel Salmon recipe joins them in your favourites as it certainly is one of ours.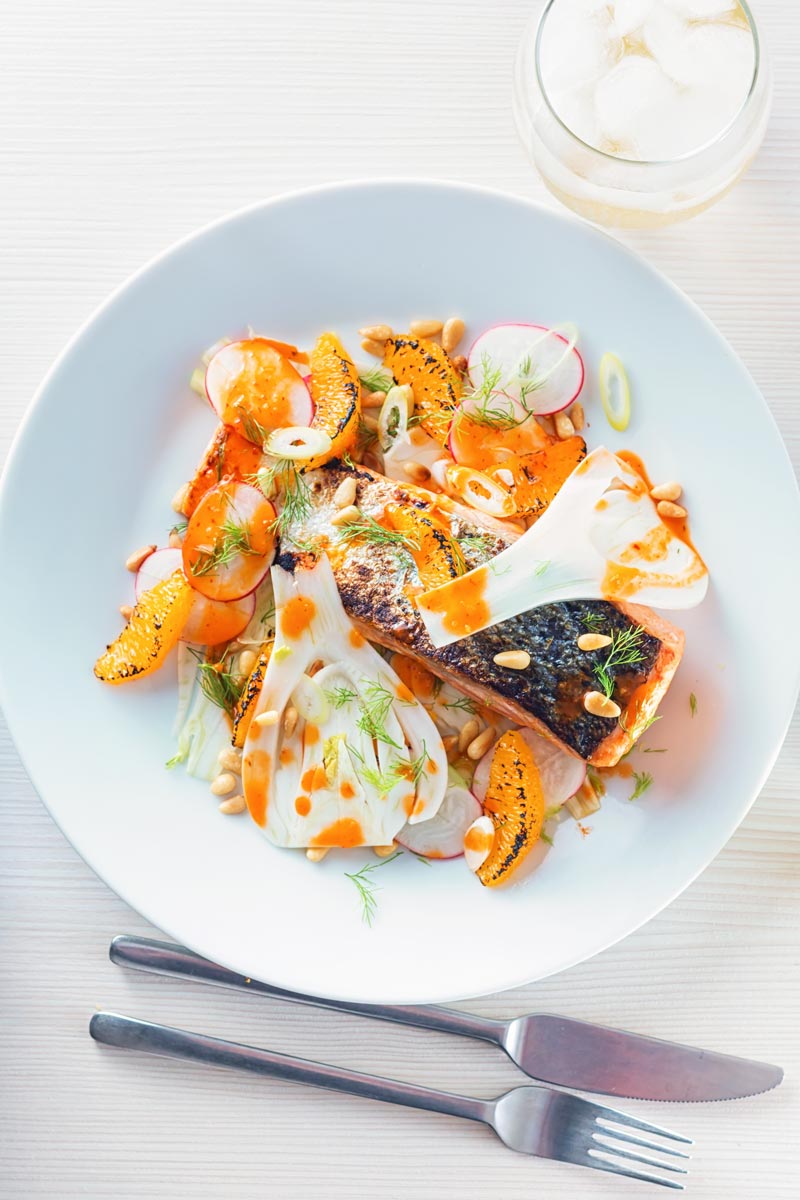 Exciting Salads!
Going back to the whole salad thing, I have no idea what people consider a salad. When I was growing up it was a disparate set of ingredients thrown on the table with some cold meats and cheese that you helped yourself to.
There was absolutely no notion that there should be ingredients that work well together. Or indeed, any notion that it involved any sort of effort on behalf of the 'cook'.
Even a dressing was seen as something that 'lahdedah' folk indulged in.
For me a salad inevitably turned into a sandwich, grabbing a fistful of ingredients, very few of which were vegetables… Who am I kidding, by very few I mean none!
A couple of slices of bread and placing said fistful of ingredients between two slices of bread and eating.
As you can see this salmon with fennel recipe is definitely not 'that' kinda salad. This recipe probably goes some way to explaining why I have no idea what a salad is…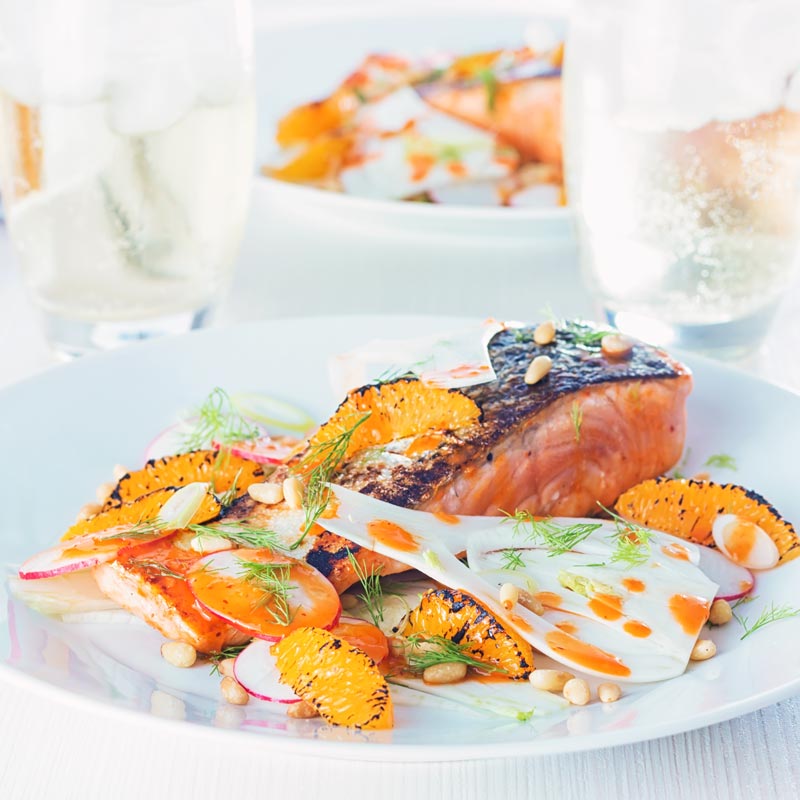 What is Harissa Paste?
Harissa is a spicy paste from North Africa that I simply adore. It is a fragrant spicy number that typically contains a smorgasbord of peppers and chilis along with spices and herbs.
You can make it at home but it is one of the rare store cupboard ingredients that I tend not to make. Trying to find the right peppers and chilis is difficult and it certainly is a sauce recipe that benefits from authenticity.
This harissa salmon with fennel recipe is not the first time harissa has featured here on Krumpli. It features in dishes as diverse as this sweet potato tagine through to these fruity fennel chicken thighs.
As you can tell from the second of those recipes I think that the fiery harissa paste works really well with the aniseed flavour of fennel.
It also has a long shelf life so you can dip in and out as you wish… So give it a try buy some, use it in salmon recipes, salad dressing recipes, meat recipes. Just play with it, it is great stuff!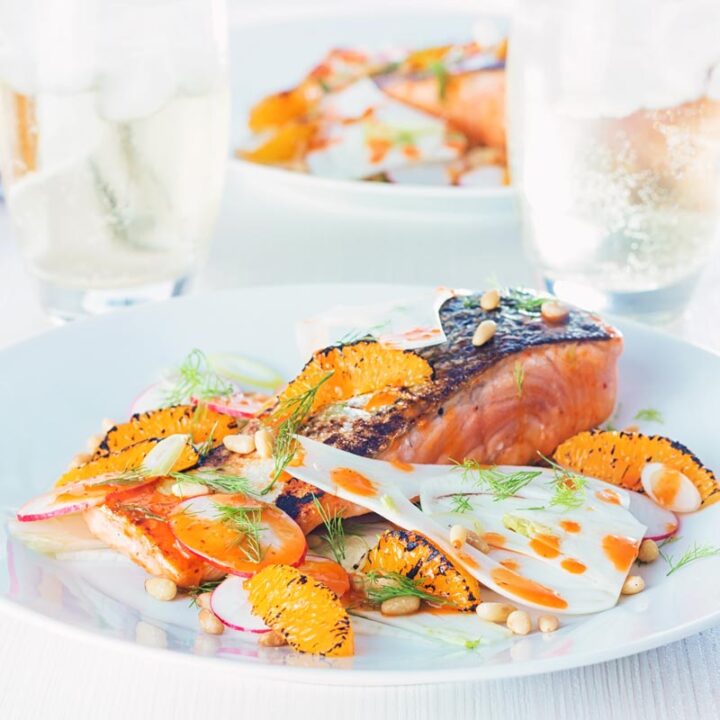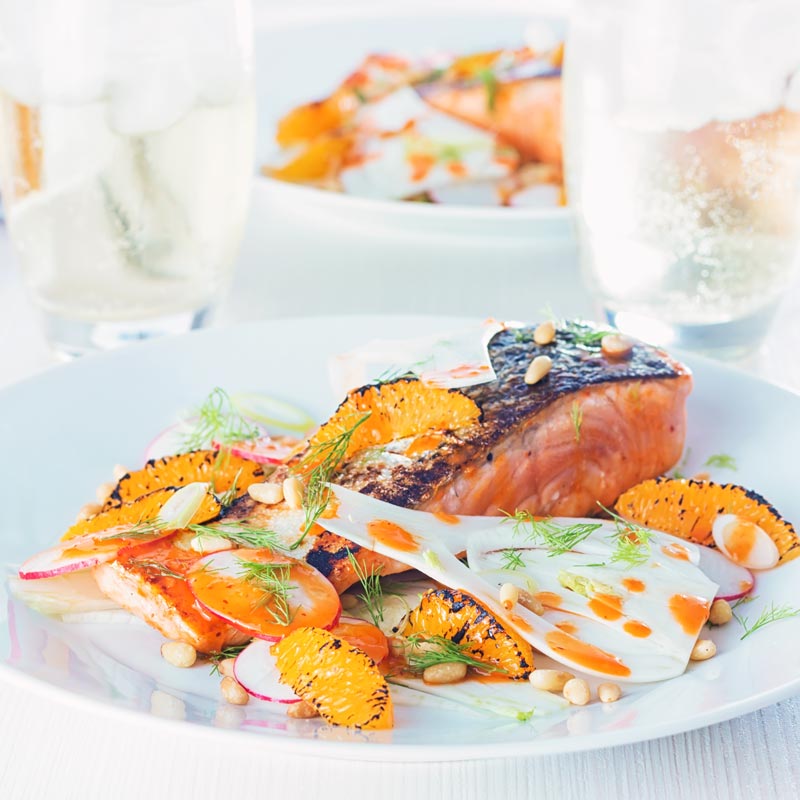 Yield:

2 Servings
Orange and Harissa Salmon with Fennel
My Orange and Harissa Salmon with Fennel recipe just screams summer at me, beautiful clean fresh flavours a little heat and sun sun sun!
Ingredients
2 Salmon Fillets
1 Fennel Bulb
2 Oranges, Cut into segments
50 g (1/3 Cup) Pine Nuts
1 Spring Onion, Finely sliced
2 Tsp Harissa Paste
1 Clove Garlic, Mashed
1 Tsp White Wine Vinegar
1/2 Tsp Rose Water
1 Tbsp Rape Seed Oil (Canola Oil), Use a light olive oil if you like
1 Tsp Honey
Salt and Pepper, To taste
Instructions
Trim up the fennel before slicing as finely as possible, I use a mandolin for this, but mind your fingers.
Cut a thin slice from the top and bottom of each orange before running your knife around to peel. Then cut into individual segments.
With the remaining flesh left over from the orange segments, squeeze out the remaining juice and mix with 1 teaspoon of Harissa paste, and rub into the salmon flesh but not onto the skin.
Take 1 teaspoon of the Harissa paste, mashed garlic, white wine vinegar, rose water, oil and honey and mix together to form a dressing, have a quick taste and add salt and pepper as required.
Heat a dry frying pan over a medium heat and add in the pine nuts and toast until golden.
Finally we are ready to cook the salmon, I like to use baking paper to guarantee no sticking and a crispy skin every time.
Cut two pieces of baking parchment to roughly the same size as the fish, now season the skin with salt and place skin side down on the baking paper before placing in a dry pan over a medium high heat.
Cook for 3-4 minutes on the skin side without moving.
Whilst this is happening char your orange segments under the grill or with a blow torch.
Now season the flesh side with salt and pepper and flip, adding any remaining marinade to the pan and finish cooking, I like my salmon just warm in the middle so another 3-4 minutes at most but you can cook it further if you like.
Finally build your salad and drizzle with the dressing.
Nutrition Information:
Yield:
2
Serving Size:
1
Amount Per Serving:
Calories:

872
Total Fat:

60g
Saturated Fat:

8g
Trans Fat:

0g
Unsaturated Fat:

46g
Cholesterol:

143mg
Sodium:

393mg
Carbohydrates:

29g
Fiber:

6g
Sugar:

18g
Protein:

56g