Batata harra is a simple and delicious and easy Lebanese and Syrian dish of spicy potatoes and red peppers, this version is pan-fried.
This easy potato side dish takes a shade over 30 minutes to cook and it is the perfect accompaniment to everything from grilled fish to a host of tagines!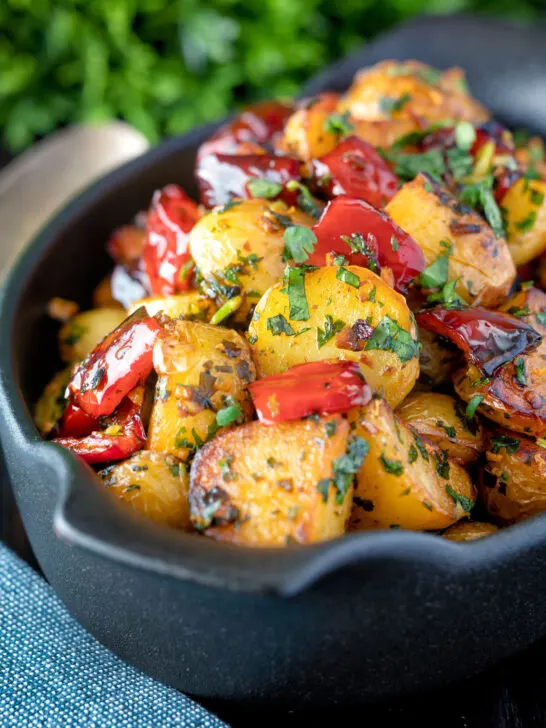 Lebanese Spiced Potatoes
Potatoes get a bad rap when it comes to modern cooking, but I love 'em. In fact, Krumpli is the colloquial word for potato in Hungarian, yes my site is called spud!
This batata harra recipe is Lebanese and Syrian side dish and it is superb.
It joins other potato side dishes like fondant potatoes, Parmentier potatoes and of course chip shop style chips!
I've been kicking around various iterations of this recipe for a while and this is where I have landed.
Most recipes call for this dish to be roasted, which works wonderfully, but I have moved to pan frying because firing up the oven for a side dish is a little too costly.
This technique is a little quicker and as a result cheaper and no less delicious. In fact, I think pan-frying these spiced Lebanese potatoes makes them tastier!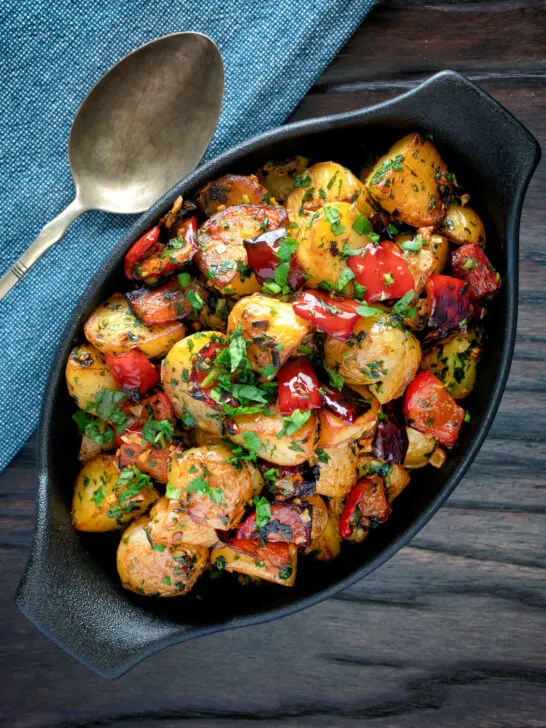 Frequently Asked Questions
Are the type of potatoes important?
Yes and no! Don't you love a non-committal answer? Using a different type of potato will fundamentally change the dish but it will still be glorious.

I prefer the texture of a salad or new potato in this recipe, you could use a floury or mealy potato. It will soak in more flavour but will break up a little more.

If you are going to use a floury potato par boil them for 5-6 minutes rather than 10.
Can I cook this in the oven or air fryer?
Yes, although I prefer to pan-fry batata harra.

Parboil the potatoes and then throw them in the oven for 40 minutes at 200°C or 400°F tossing halfway through. Be sure to add the garlic for the last 10 minutes to prevent it from burning.

To cook them in the air fryer toss them in the oil, then give them 25-30 minutes at 200°C or 400°F shaking halfway through. Be sure to add the garlic for the last 6-7 minutes to prevent it from burning
Do I have to use rapeseed or canola oil?
No, you could use everything from groundnut oil to a lightly flavoured olive oil. Be sure to not use your best "salad dressing" oil because it is a waste to cook with it.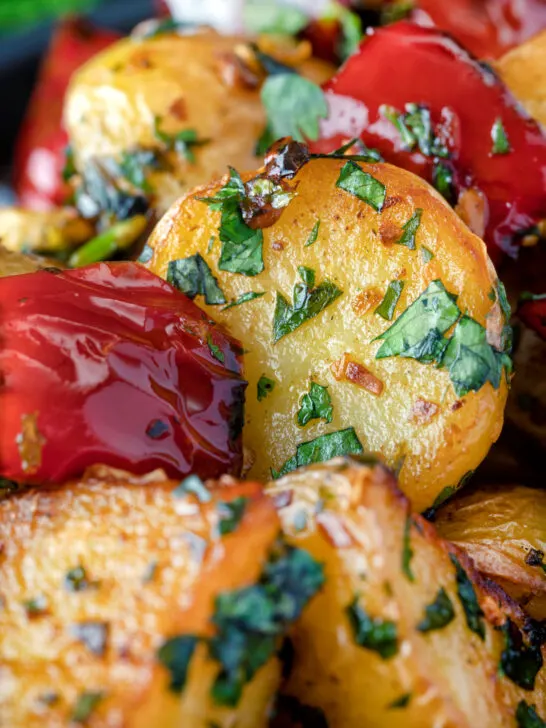 Serving Suggestions
Batata harra is an exceptionally versatile side dish that works wonderfully with a host of meals.
It is pictured below with my zaatar chicken legs.
Keeping with a similar theme it would work equally well with dishes like my harissa salmon fillets and harissa lamb chops or dishes like these pomegranate chicken skewers.
I also love to pair these Lebanese spicy potatoes with North African-influenced stews and tagines.
Everything from a classic chicken tagine to veggie offerings like this sweet potato tagine to this Moroccan chickpea stew.
They are also delicious served with dishes as diverse as my fasolia lamb and bean stew and lamb arayes recipes.
I've even served this with a perfectly cooked steak and it works wonderfully!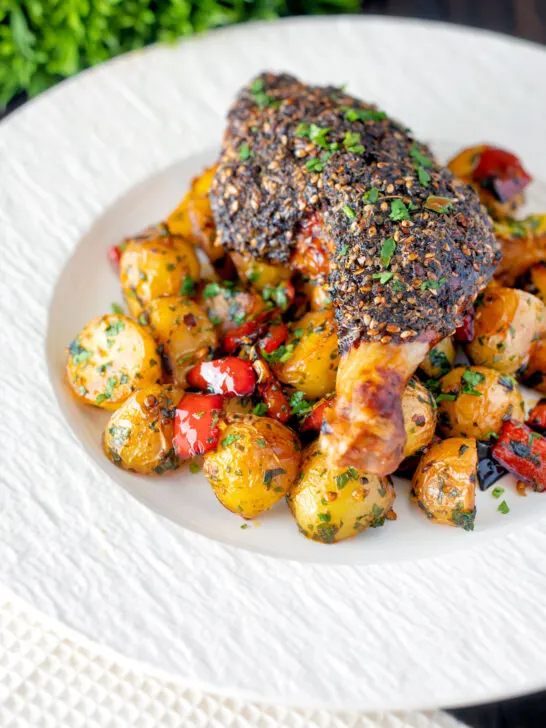 Equipment Used
I only recommend specific brands of equipment if I believe that they make a material difference to a recipe. If you have any questions feel free to ask them in the comments section.
Stovetop.
20cm or 8″ saucepan.
28cm or 11″ frying pan.
Chopping board.
Sharp kitchen knife.
Fine grater or lemon zester.
Sieve or colander.
Weighing scales and or measuring cups and spoons.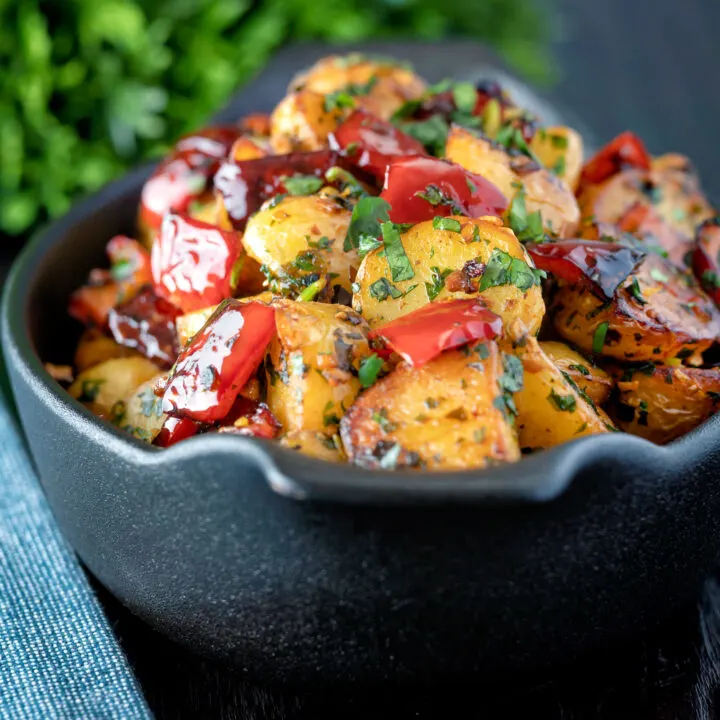 Yield:

2 Servings
Batata Hara Recipe
Spiced potatoes are a well-trodden path around the world of food, batata harra is a Lebanese and Syrian take that features chilli flakes, red peppers and lemon and it is simply delicious!
Ingredients
450g (3 Cups) New Potatoes
1 Tsp Salt
1 Red Pepper
3 Garlic Cloves
2 Tbsp Rapeseed (Canola) Oil
½-1 Tsp Dried Chilli Flakes
1 Lemon
30g (1 Cup) Fresh Coriander
Coarse Sea Salt to taste to finish
Instructions
Bring a medium saucepan (20cm or 8") of water to a boil and season it with 1 teaspoon of salt, add the new potatoes and cook them for 10 minutes.
Whilst the potatoes are cooking deseed the red pepper and cut it into a 1-1.5cm (1/2") dice.
Peel the garlic cloves and chop them as finely as you can.
By now the potatoes should have had ten minutes, drain them through a sieve or colander and allow them to steam dry for 2-3 minutes.
Once the potatoes have rested a minute cut them into 1.5-2cm (1/2-3/4") pieces.
Heat the oil in a 28cm or 11" frying pan over a medium high heat and when it is hot add the potatoes, red pepper and dried chilli flakes and cook for 10 minutes stirring occasionally.
Whilst the potatoes are frying zest the lemon.
Chop the coriander as finely as you can.
Add the garlic to the potatoes and half of the coriander and cook for another 3 minutes.
Check the potatoes are cooked and if they are remove them from the heat and stir through the lemon zest, and the remaining coriander, finally squeeze in lemon juice to taste, then serve.
Nutrition Information:
Yield:
2
Serving Size:
1
Amount Per Serving:
Calories:

373
Total Fat:

15g
Saturated Fat:

1g
Trans Fat:

0g
Unsaturated Fat:

13g
Cholesterol:

0mg
Sodium:

1491mg
Carbohydrates:

57g
Fiber:

7g
Sugar:

6g
Protein:

7g
Calorific details are provided by a third-party application and are to be used as indicative figures only.