Vegetarian recipes can be really exciting and this Sweet Potato Tagine with Carrots and dates is great at breaking down carnivore barriers!
Spicy Sweet Potato Tagine.
After a very meaty Christmas and New Year I am delighted to be back working on a winter project. This wonderful sweet potato tagine is part of my efforts to try and work out whether or not I like sweet potato.
Specifically, I am seeing if I can justify growing sweet potatoes in our plots over summer.
I have to say my experiments are not going wonderfully at the moment.
I have lots of side dishes but very little where the sweet potato really shines. This vegetable tagine recipe is the first where the principle ingredient stands up as the star of the show.
I was in a pretty similar spot last year at this time but regular readers will know I am definitely a Pumpkin convert. You should definitely check out this Burmese pumpkin curry and my pumpkin chili recipe!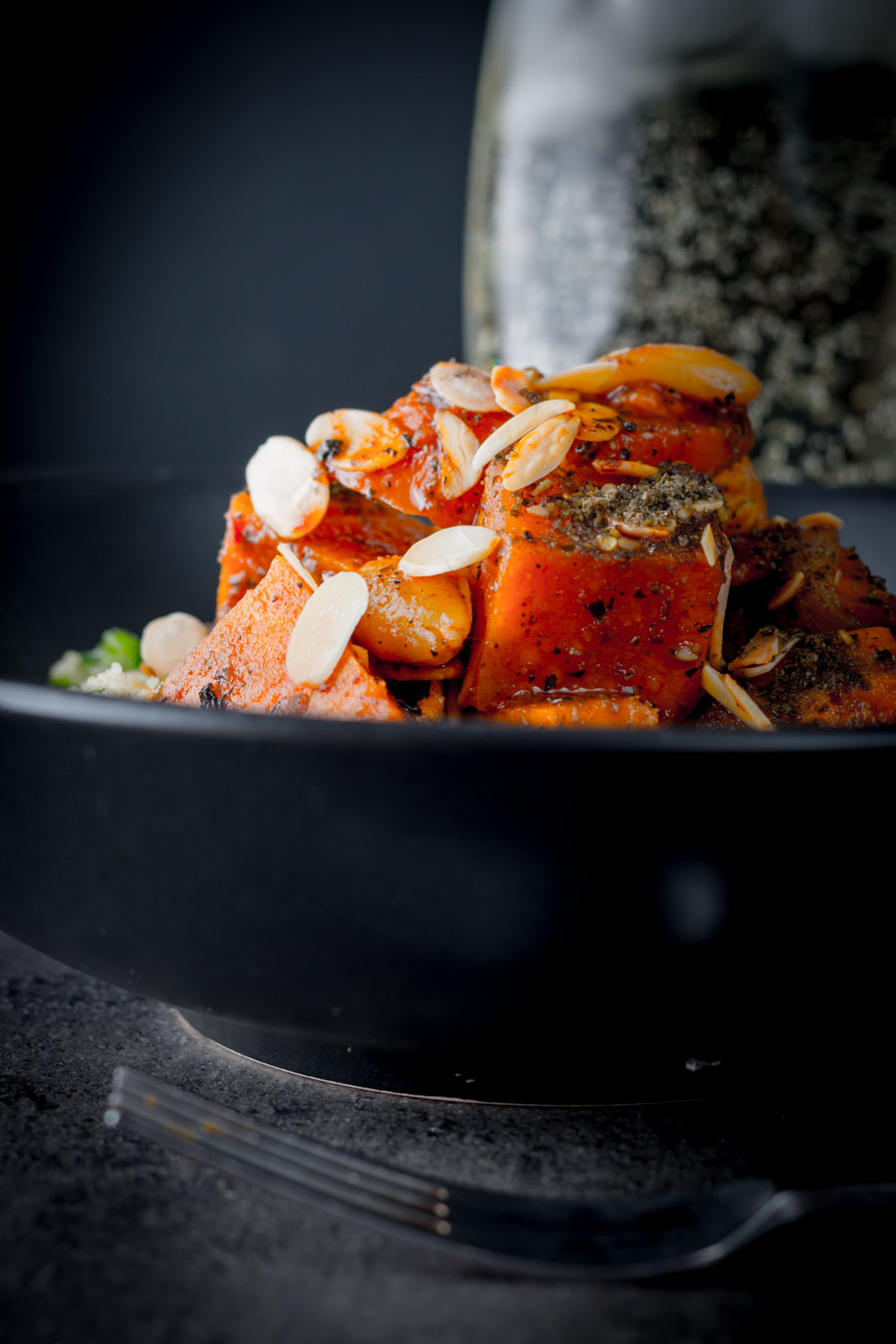 Tagine Recipes.
It always makes me smile that I have an almost insatiable love of a little sweetness in savoury dishes. Primarily because I am completely ambivalent towards sweet dishes nine times out of ten.
One of the reasons I love North African or Arabic food is the wonderful combination of savoury earthy ingredients.
The combination of ingredients like pumpkin, sweet potato or pigeon alongside sweet treats like dates or dried apricots really excites me.
Both my Rabbit Tagine and Butternut squash tagine recipes perfectly deomnstrate the mix of sweet and savoury.

Cooking With Dates.
I did have to make this dish in secret though as if I had announced I put dates in my wife's dinner she would pull a face. But just like with children what she does not know she does not worry about.
She loved it even in its embryonic phase. Now I have made it half a dozen more times over the last few months it is one of her favourite dishes to cook and I get no look in.
Apparently, my job is no longer sweet potato tagine, it is project sweet potato, and I should leave tried and tested to her.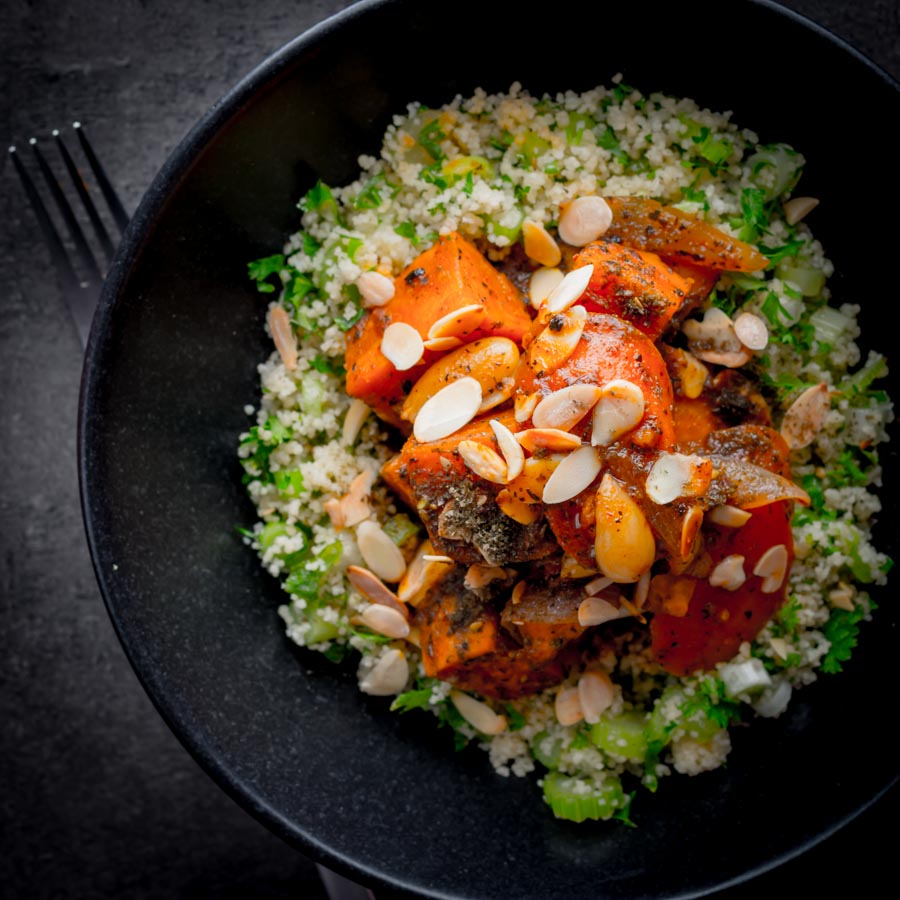 Can You Cook A Tagine Without a Special Pot.
The answer to this is a resounding yes. I am a cook that rejects the collection of pots and pans.
Primarily because I have a tiny kitchen, it is seriously less than 2 meters wide and 5m long. A shade over 100 square feet for those that work in imperial measurements.
Use a pan with a tight fitting lid but like a tagine, you do need the steam to gently escape. You also want some room in the pot so that things are not to tightly packed in.
Food should always be demystified, we all need a bit of North African spice in our food lives.
But back to sweet potato recipes, I am currently working on a couple of soups and a really exciting pasta dish.
But if you have other sweet potato recipes that are not side please shout them up in the comments below.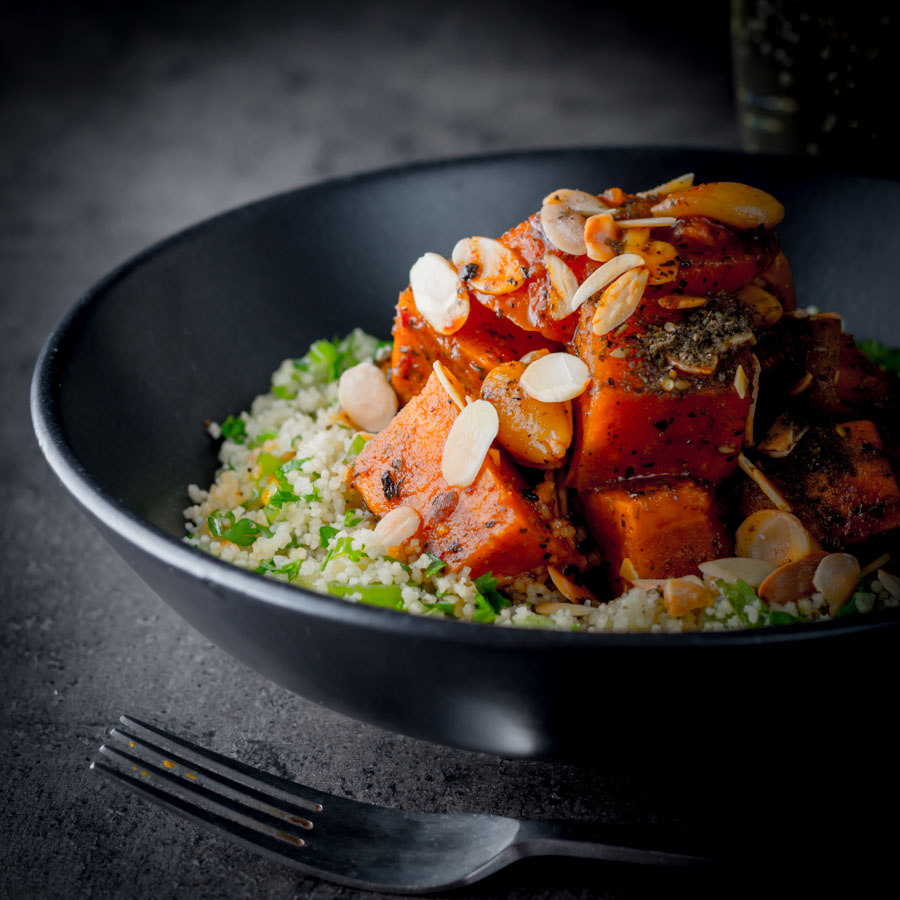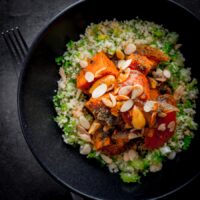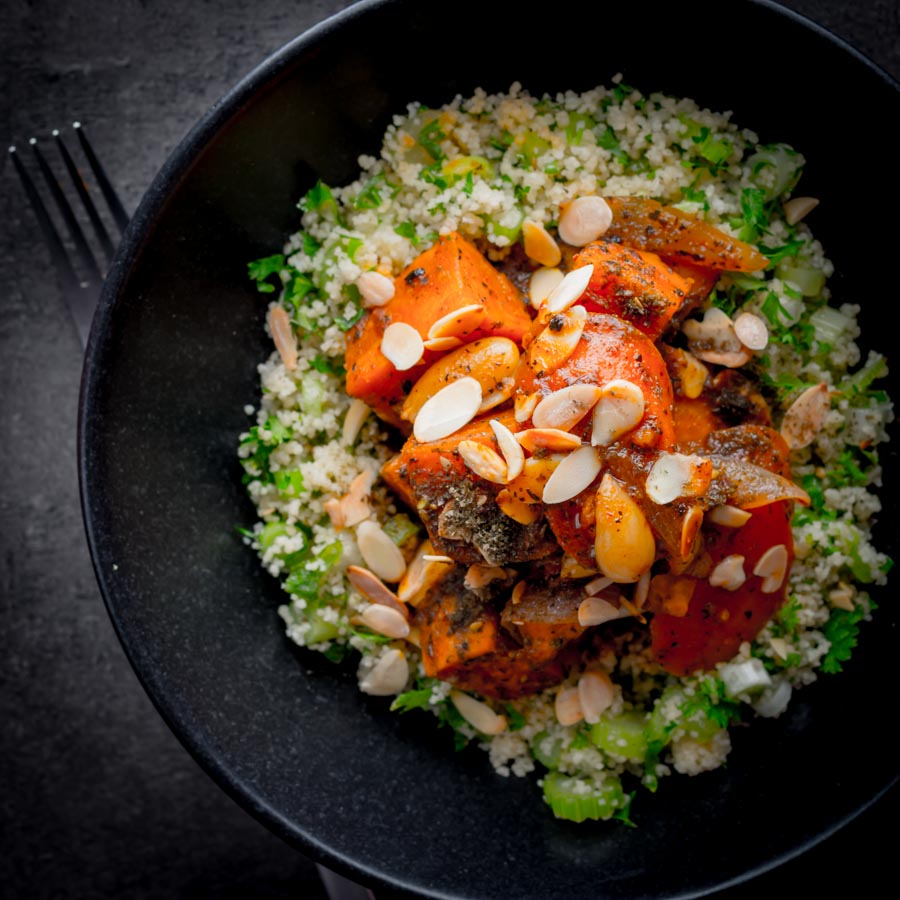 Sweet Potato Tagine
Vegetarian recipes can be really exciting and this Sweet Potato Tagine with Carrots and dates is great at breaking down carnivore barriers!
Ingredients
50 g Butter
1 Tbsp Olive Oil
200 g Onion, Cut into wedges
800 g Sweet Potato, Peeled and chopped into 1.5cm-2cm chunks
200 g Carrot, Peeled and cut into a similar size to the sweet potato
1 Tbsp Harissa paste
100 g Dried Dates, Cut in half
1 Tbsp Honey
2 Tsp Dried Mint
1 Tsp Sumac
250 ml Vegetable Stock
1 Tbsp Lemon Juice
1 Stick Cinnamon
50 g Blanched Almonds
1 Tsp Cumin
Salt to taste,
Freshly Ground Black Pepper, To taste
35 g Flaked Almonds
For the Couscous:
200 g Couscous
100 g Celery, Finely sliced
50 g Spring Onions, Finely Sliced
Parsley, As much as you dare finely chopped
1 Tbsp Lemon Juice
200 ml Vegetable Stock
Salt, To Taste
Za'atar, To taste
2 Tbsp Olive Oil
Instructions
Heat the oil and butter in a heavy based pan or tagine (that you have a lid for) over a medium high heat.
When the oil and butter mix is hot add in the cinnamon stick and onions stir to coat and cook for 5 minutes.
Add in the carrots and sweet potato and stir to coat,
Add the Harissa paste, dates, mint, honey, sumac, lemon juice, cumin and blanched almonds.
Pour in the vegetable stock, season, stir then cover with a lid, rand bake in the oven for 30 minutes. The vegetables should retain some structure but be soft to the tip of a knife.
5 minutes before serving mix together all of the ingredients for the cous cous with the exception of the parsley making sure the stock is boiling and then cover with cling film and set aside.
Just before serving toast off your almond flakes making sure not to burn.
Fork the olive oil through the cous cous and add the parsley.
Serve the sweet potato tagine on the cous cous drizzling with a little of the sauce before sprinkling with some flaked almonds and za'atar,
Nutrition Information:
Yield:

4
Serving Size:

1
Amount Per Serving:
Calories:

707
Total Fat:

34g
Saturated Fat:

9g
Trans Fat:

0g
Unsaturated Fat:

23g
Cholesterol:

27mg
Sodium:

1041mg
Carbohydrates:

97g
Fiber:

15g
Sugar:

41g
Protein:

13g