An easy Moroccan influenced vegetable tagine gets a whack of spice from harissa paste and a touch of sweetness from honey & dried apricots.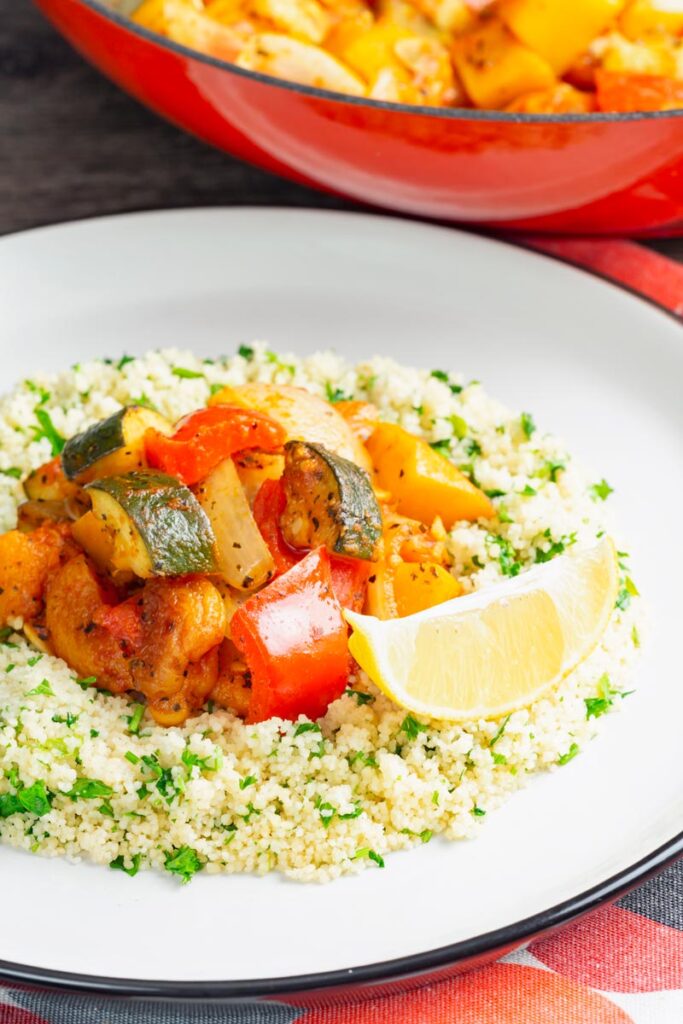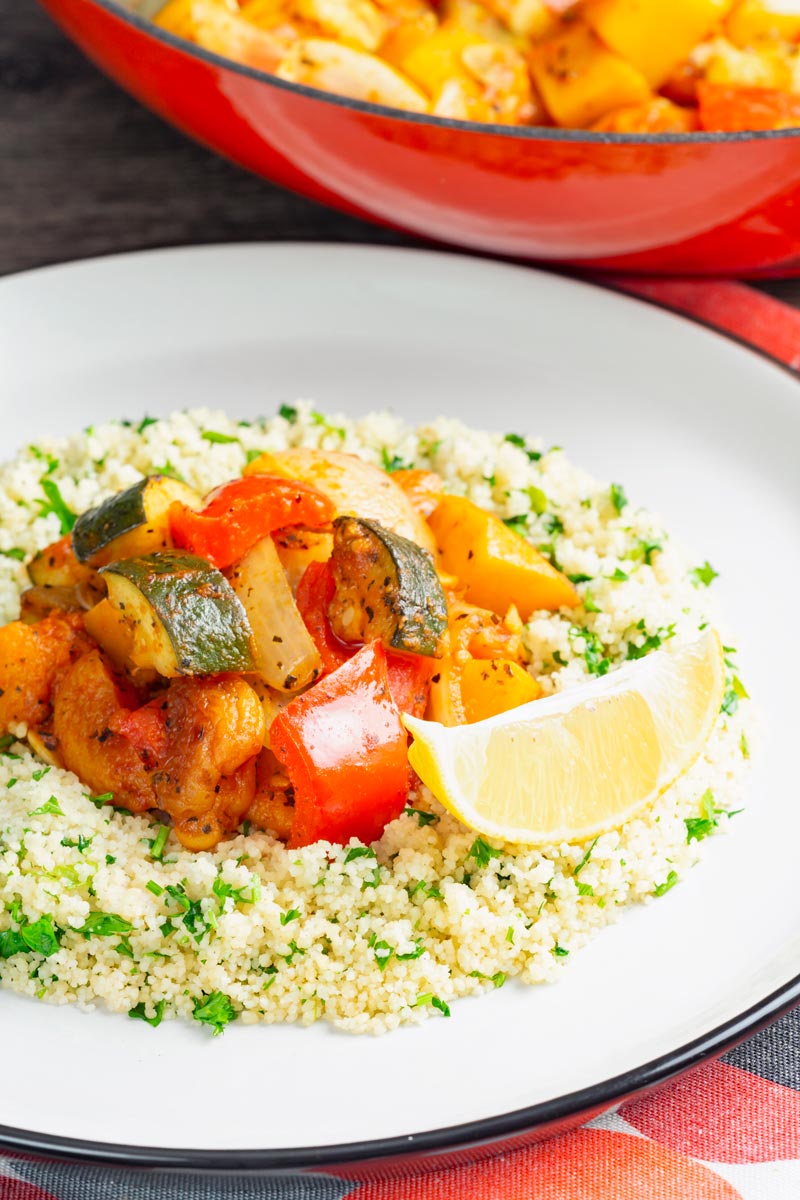 Vegetarian Mixed Vegetable Tagine.
Regular readers will know that I am far from being a vegetarian! But that does not mean I turn my nose up at vegetarian food.
This tasty meatless veggie stew recipe is simply delicious, it is sweet, earthy, has a hint of sourness and a healthy punch of chilli.
It is loosely based on a my Butternut Squash Tagine and Sweet Potato Tagine recipes. But this Moroccan influenced vegetable tagine or stew was born of hating waste!
So it is a mish mash of vegetables that I had leftover one day and they work wonderfully.
This is a very similar approach to the one that I take to my vegetable karahi curry. What ever veggies I have get a look in!
I always have harissa paste and dried apricots in the cupboard so this recipe is a bit of frugal a freebie!
I have discussed harissa paste at length previously, feel free to use store-bought!
I have tried over and over again to make it at home and I have always been disappointed.
This recipe is vegetarian and depending on where you stand on the whole honey thing, vegan.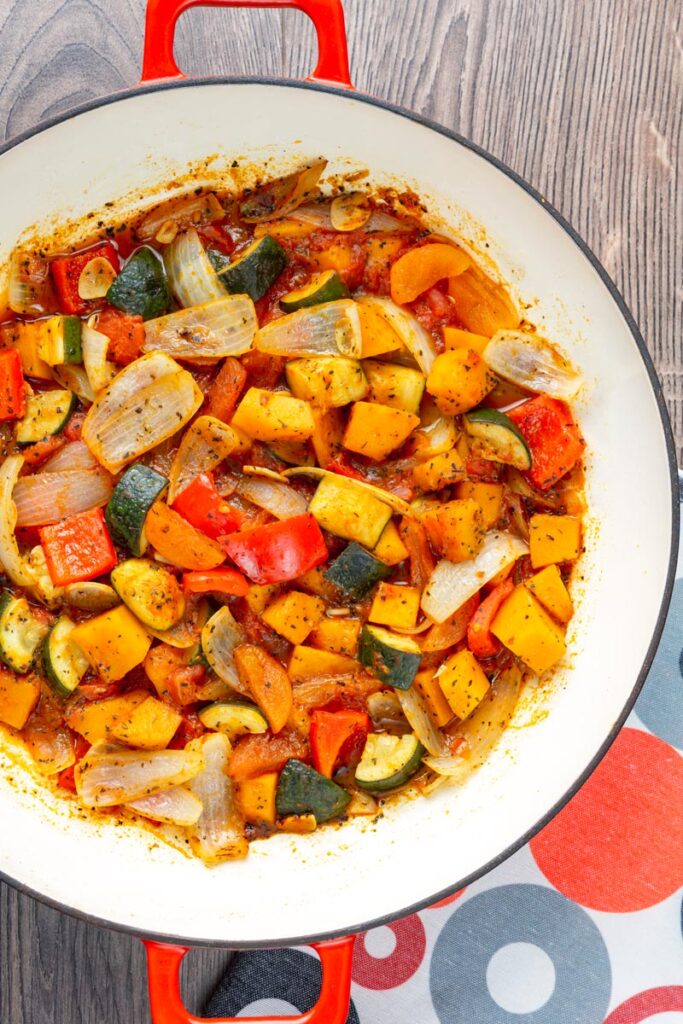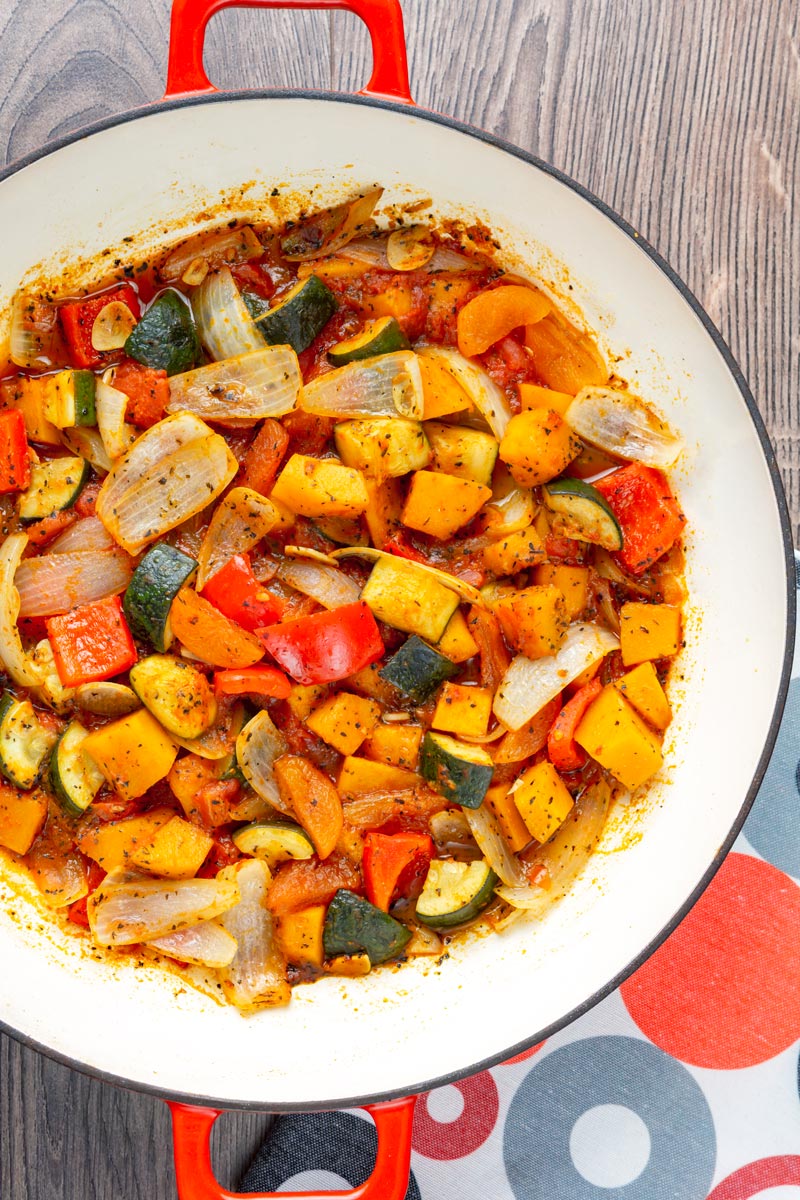 Tagine Free Tagines
This spicy mixed vegetable tagine recipe joins a long list of them here on my site and not one of them has been anywhere near a tagine for a long time!
Ok enough already, here is another one, how about a duck tagine?
I used to cook them in traditional tagine but I broke mine over 10 years ago.
At one point in time, I was one of those people that swore you could tell the difference.
I was an eejit!
There ain't no difference at all. Of course, you want a pot with a lid and you want a pot with some space.
A traditional tagine has a big conical empty space that fills with the glorious steam from whatever you are cooking.
To mimic this you want to ensure that you do not crowd your pot and use a bigger one than you think you need.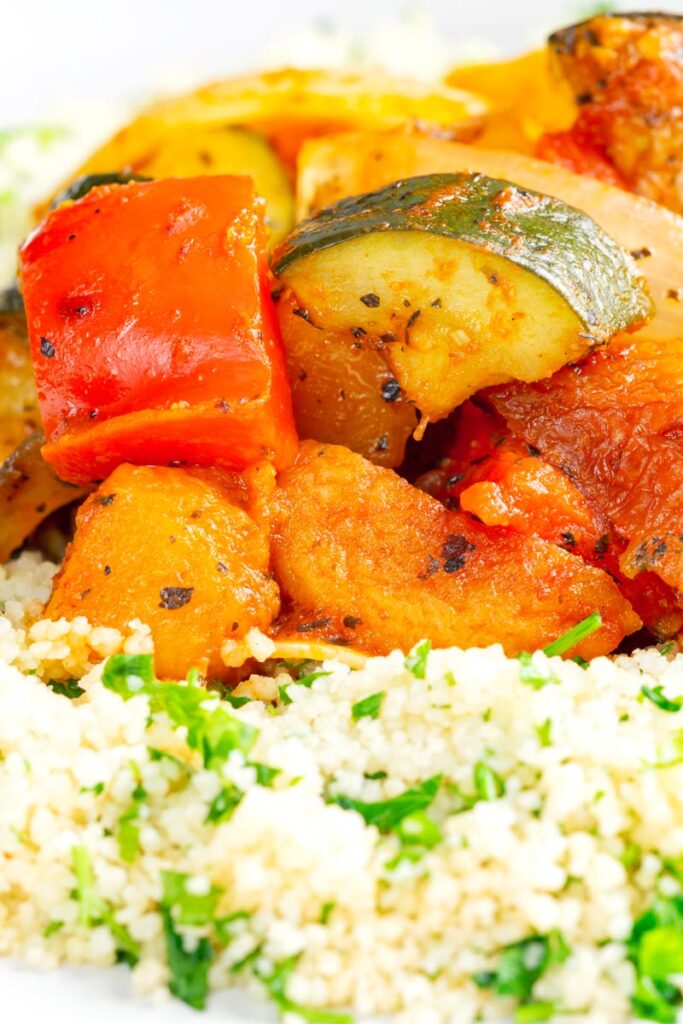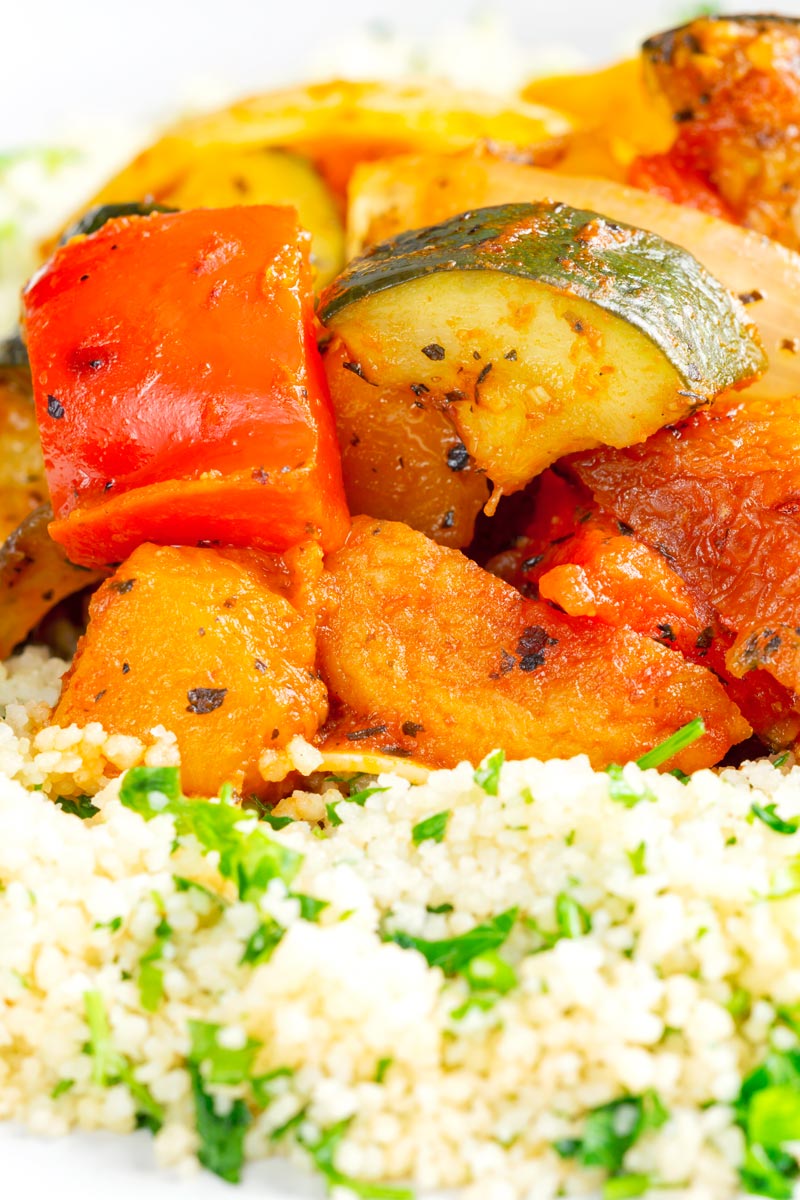 Recipe Hints and Serving Suggestions.
Tagines like this and my more traditional Moroccan lamb tagine are typified by their big flavours. As a result, they do not need anything clashing with them.
In fact, as far as I am concerned what you want is something fairly neutral to carry flavour rather than embellish it.
For me, that means a light and fluffy buttered couscous hit up with plenty of fresh herbs or even some simply cooked bulgur wheat.
It is quick and simple to make and stretches the flavour so far!
When it comes to the vegetables please use this recipe as a guide and not as gospel.
I will throw in whatever vegetables that I have knocking around into this vegetarian stew. Cooking for two means there are always odds and ends that need using up.
Just a word of warning, if you are using harder vegetables like carrots, parsnip or sweet potato you will need to soften them a little.
I usually parboil them in boiling water for 10 minutes. You could cook them for longer but it would need an additional 20 minutes or so.
This would overcook any softer vegetables that you are using.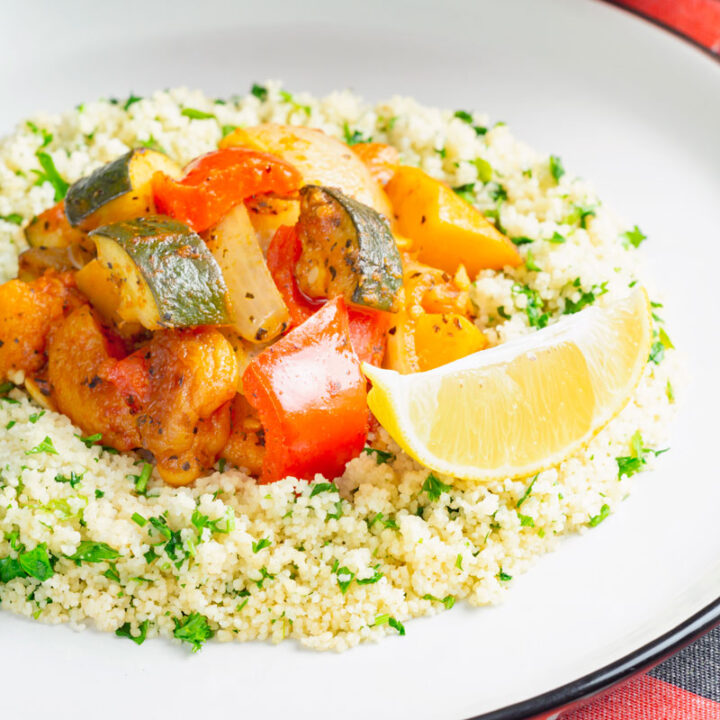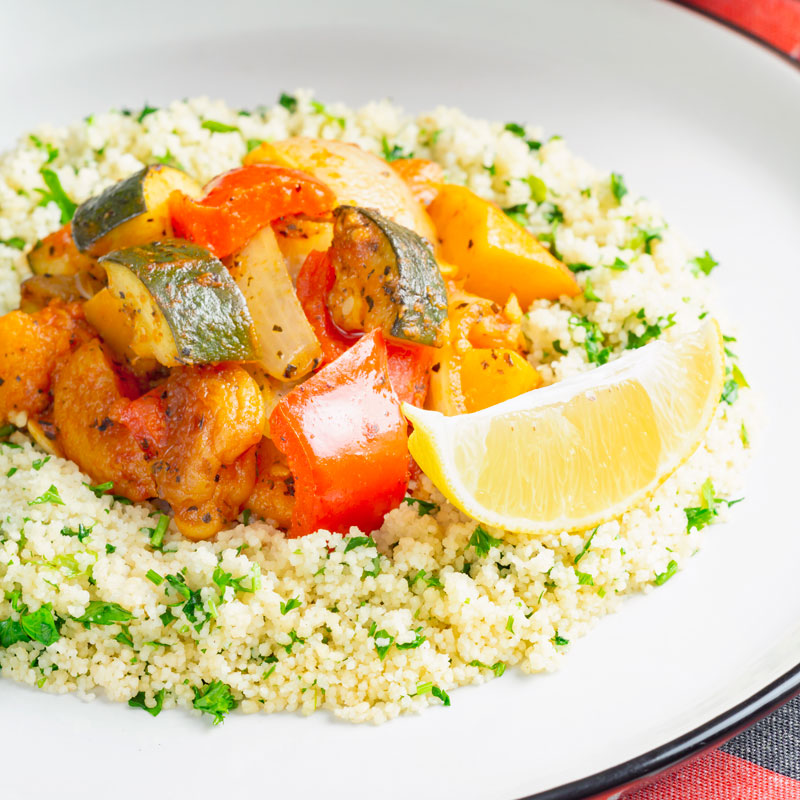 Yield:

2 Servings
Moroccan Vegetable Tagine Recipe
This spicy Moroccan influenced vegetable tagine is the perfect midweek, meat-free easy dinner, chuck it in the oven and knock up some couscous and you have a real low maintenance meal!
Ingredients
250 g (2 Cups) Pumpkin
100 g (2/3 Cup) Onion
1 Small Red Pepper
150 g (1 Cup) Courgette or Zucchini
2 Tbsp Olive Oil
1 Tsp Salt
1 Tsp Dried Mint
3 Cloves Garlic
1/2 Tsp Ground Cumin
1/2 Tsp Ground Coriander
200 g (1/2 of a 14 oz tin) Tinned Tomatoes
1 Tbsp Harissa Paste
1 Tbsp Honey
50 g (1/4 Cup) Dried Apricots
Instructions
Peel the pumpkin and cut into a 1-1.5cm dice.
Peel, top and tail the onion and then cut into 8 wedges.
Cut the red pepper into a 2cm dice.
Cut the courgette into 2 cm dice.
Place the vegetables we have prepared above into a bowl and add the oil, salt and dried mint.
Toss well to coat.
Heat a heavy based pan with a lid over a medium high heat.
Add the vegetables and stir brown for 5 minutes.
Finely slice the garlic.
Add the garlic, ground cumin and coriander, then stir for 60 seconds.
Pour in the tinned tomatoes, then add the honey and harissa paste.
Cut the dried apricots in half and add them to the mix.
Stir, add a lid and place in the oven at 180°C or 350°F for 30 minutes.
Notes
Like many of my international recipes, they are influenced by flavours and are not meant to be authentic reproductions of recipes!
Nutrition Information:
Yield:
2
Serving Size:
1
Amount Per Serving:
Calories:

336
Total Fat:

16g
Saturated Fat:

2g
Trans Fat:

0g
Unsaturated Fat:

13g
Cholesterol:

0mg
Carbohydrates:

49g
Fiber:

9g
Sugar:

33g
Protein:

6g
Calorific details are provided by a third-party application and are to be used as indicative figures only.