Shakshouka or Shakshuka is a wonderful North African tomato stew recipe that often features baked eggs!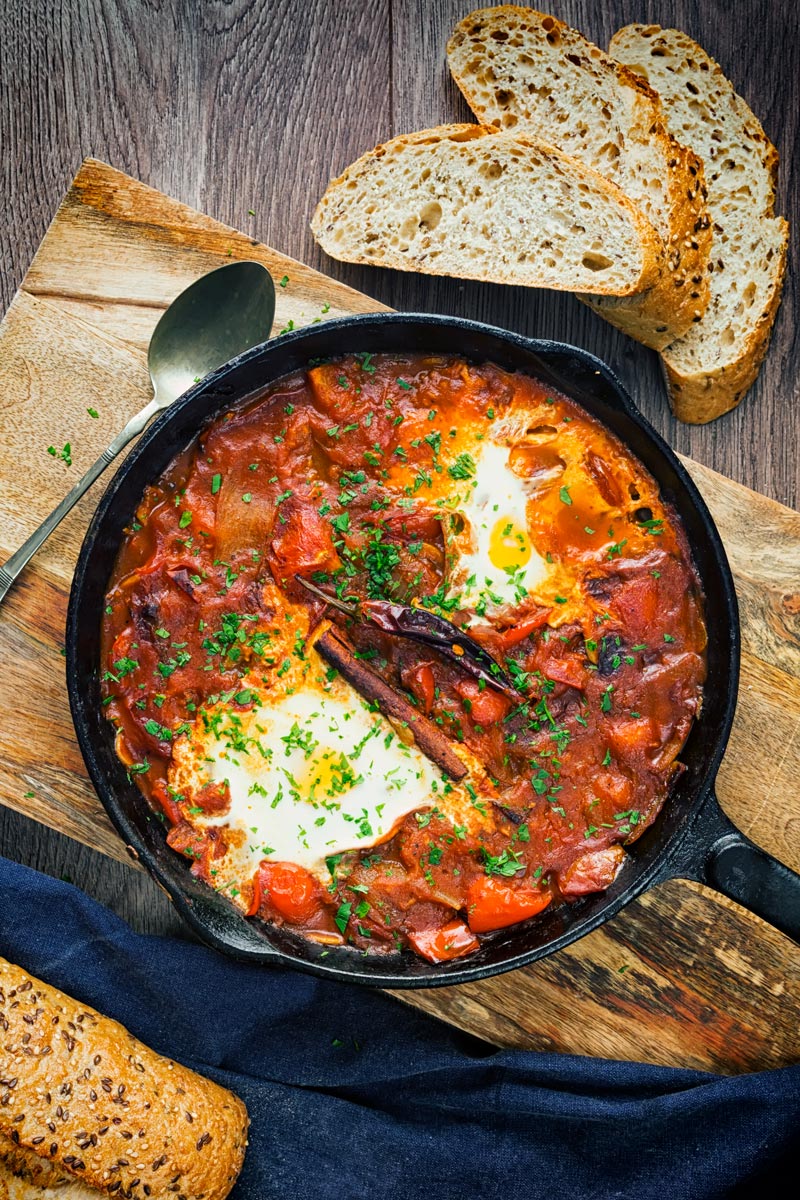 Baked Eggs in a Tomato Sauce.
One-pot dishes are always a fun and simple way of gettign grub on the table. This vegetarian North African tomato stew is one of my favourites.
Also spelt Shakshuka it is an ancient stew that spread across the middle east before taking on the world.
It is often associated with an Israeli Breakfast recipe, but I prefer it as a light dinner or heavy supper recipe.
Eggs baked in a tomato stew is very much global thing. Both Eggs in Purgatory and Huevos Rancheros pay more than a passing resemblance to this recipe.
In fact, I even have a second version that contains chickpeas and chorizo sausage!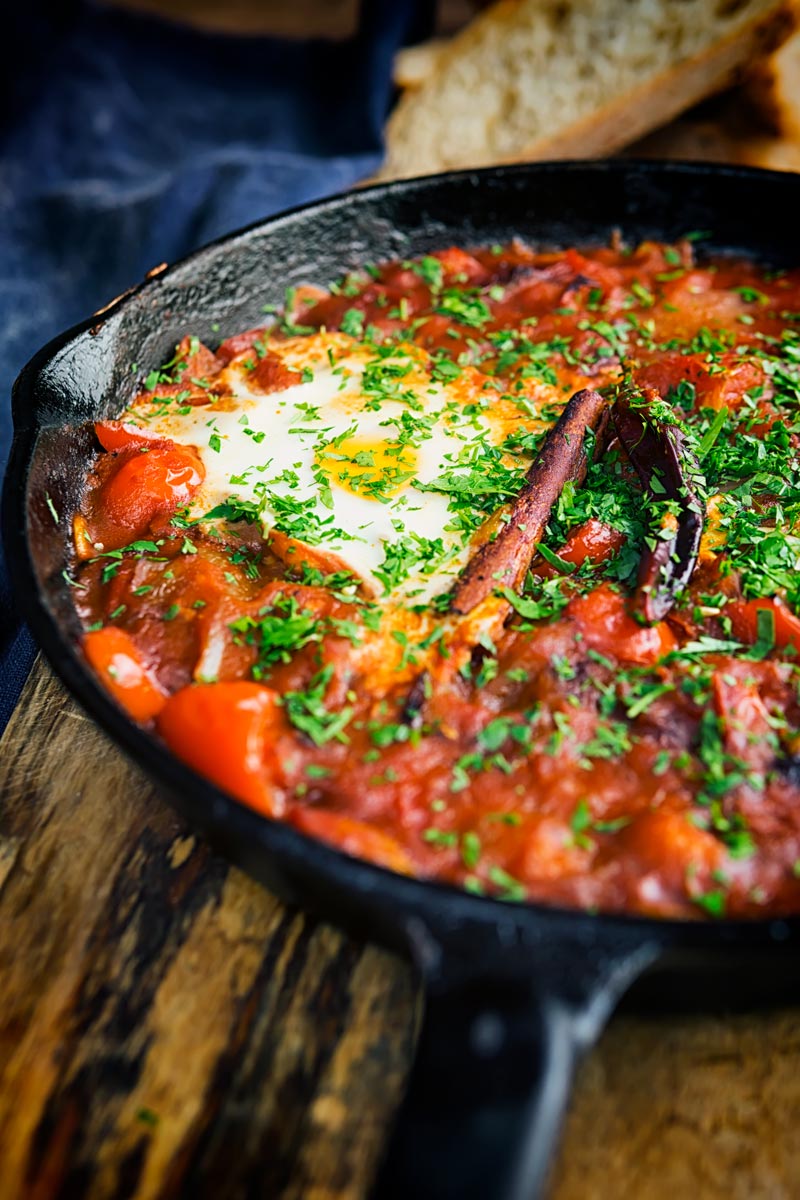 Ingredient Guide.
This stew is absolutely perfect for using up those vegetables that are a little dinged up.
In fact, it is even better if the tomatoes are a little overripe.
This also makes it a great frugal dish, go shopping in the bargain bucket at the supermarket and get the "end of day" tomatoes and peppers.
You can even add vegetables like fennel or leeks which give a completely different flavour profile and texture to the dish.
The eggs, on the other hand, are best as fresh as you can get them. As eggs age, the white of the egg breaks down and becomes more liquid.
This means when you crack them in they will flow everywhere. Not really a problem from an eating point of view but it can look a mess!
If you are not feeling the spice you can omit the chilli and shift to sweet paprika. It works just as well and it is something that I often do.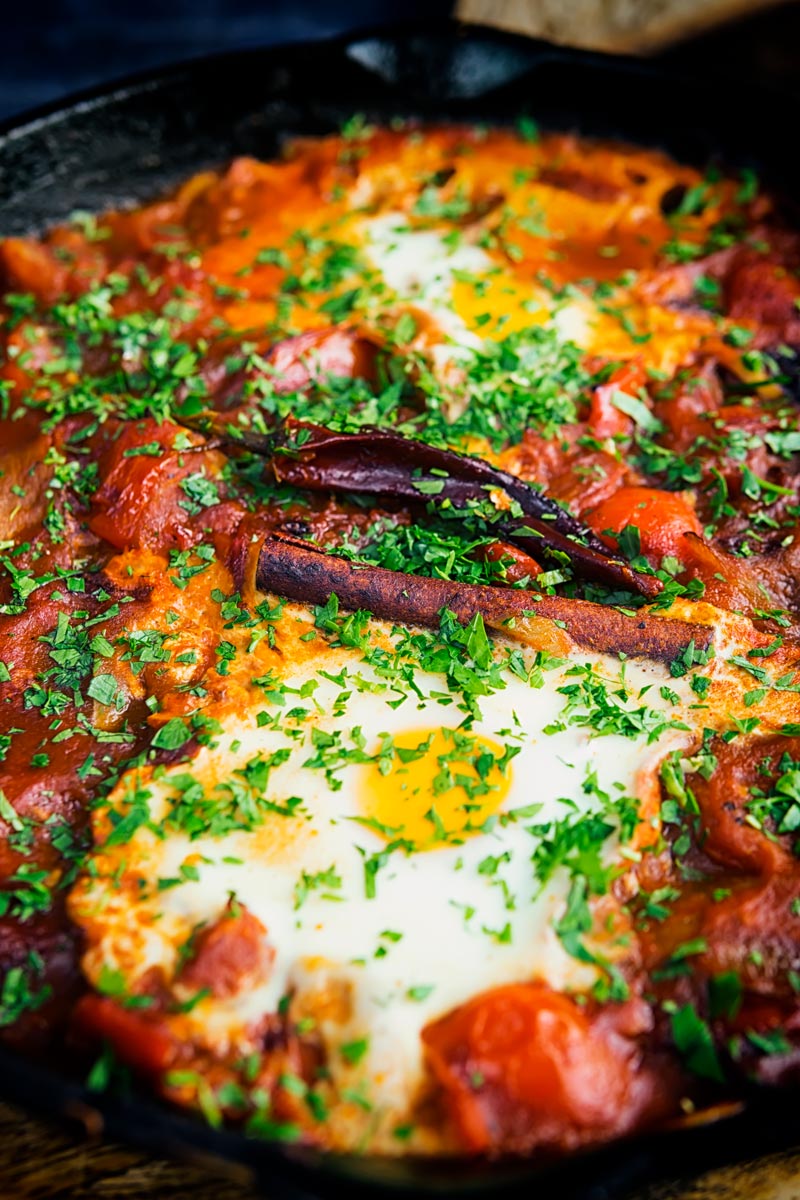 Serving Suggestions.
This dish needs nothing but some crusty bread as far as I am concerned.
Although many folk, prefer this with a flatbread which is another good idea!
If you are a died in the wool carnivore then it can and would serve as a pretty foxy side to a perfectly cooked steak. Although you would need to scale it down in size a little.
The last word from me, this is a "from the pan dinner" for us. I will stick a trivet down in the middle of the table, grab some wine or a beer and some bread.
Then we tuck in fighting for the last of the sauce from the pan whilst catching up with the gossip of the day!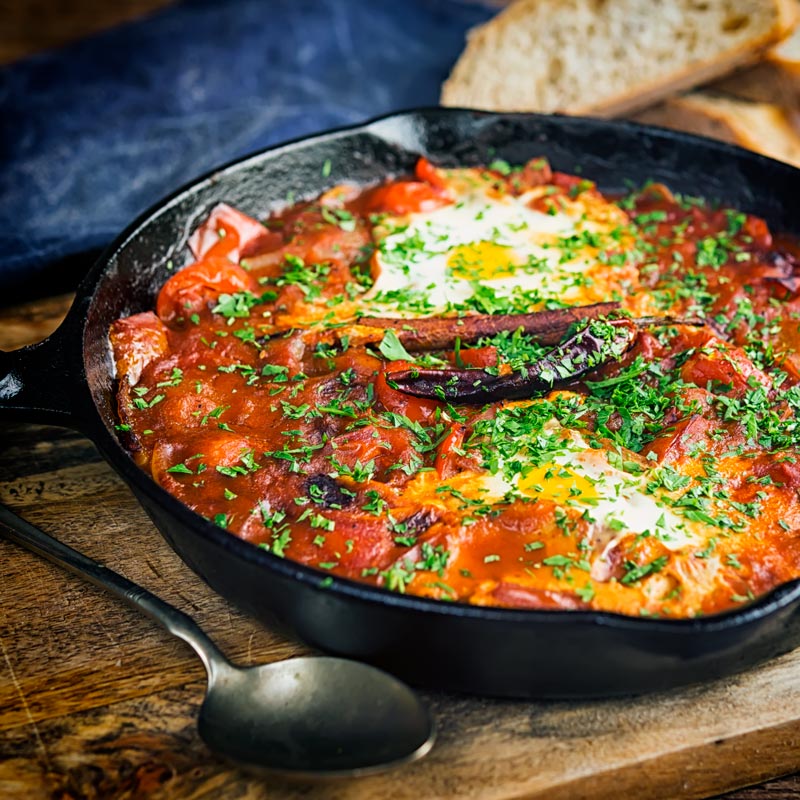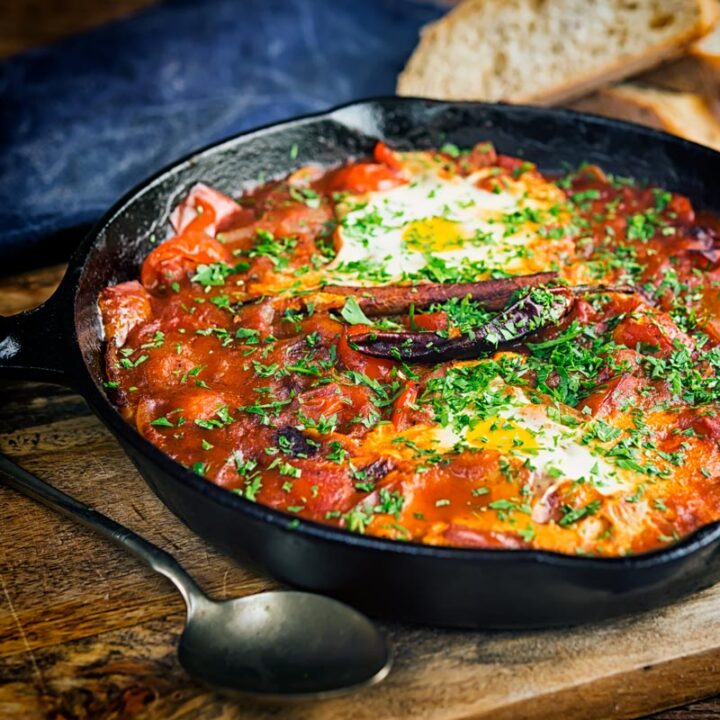 Shakshouka or Shakshuka Recipe
Often considered a breakfast dish, shakshouka or shakshuka is an ancient tomato base stew from North Africa and it is a real favourite light dinner or supper recipe for us.
Ingredients
1 Tbsp Cooking Oil
175 g Onion
4 Cloves Garlic
175 g Red Pepper
400 g Tomatoes
75 ml Tomato Passata
1 Stick Cinnamon
1/2 Tsp Ground Cumin
1 Dried Chili Pepper
1/4 Tsp Spicy Paprika
1 Tsp Sweet Paprika
1/4 Tsp Ground Black Pepper
1/2 Tsp Honey
2 Eggs
Salt
Instructions
Top and tail the onion and cut it into 8 wedges.
Roughly chop the tomatoes and the red pepper into roughly the same sized pieces (2cm dice).
Finely slice the garlic cloves.
Place a heavy bottomed pan over a medium heat and add the oil and the onion, cinnamon and dried chili to the pan.
Then cook for 10 minutes until they begin to soften and start to go golden.
After 10 minutes throw in the peppers and cook for a further 10 minutes.
Add the chopped garlic and cook on for another 2 minutes then add the chopped tomatoes and the Passata and bring to a boil.
When boiling add in the cumin, hot & sweet paprika, ground black pepper, honey and salt to taste and allow to cook on for a further 10-15 minutes until the tomatoes have broken down.
Crack in the two eggs into the mix and transfer into a hot oven at 200°C or 400°F.
Cook until the eggs are cooked which should take about 5-7 minutes.
Notes
Garnish with lots of fresh parsley and serve with crusty bread.
Nutrition Information:
Yield:

2
Serving Size:

1
Amount Per Serving:
Calories:

261
Total Fat:

13g
Saturated Fat:

2g
Trans Fat:

0g
Unsaturated Fat:

10g
Cholesterol:

186mg
Sodium:

381mg
Carbohydrates:

29g
Fiber:

6g
Sugar:

16g
Protein:

11g
Calorific details are provided by a third-party application and are to be used as indicative figures only.