Duck has such an affinity with plum sauce and this recipe uses the cold pan method to cook a rosy pink duck breast before being served with a homemade plum sauce!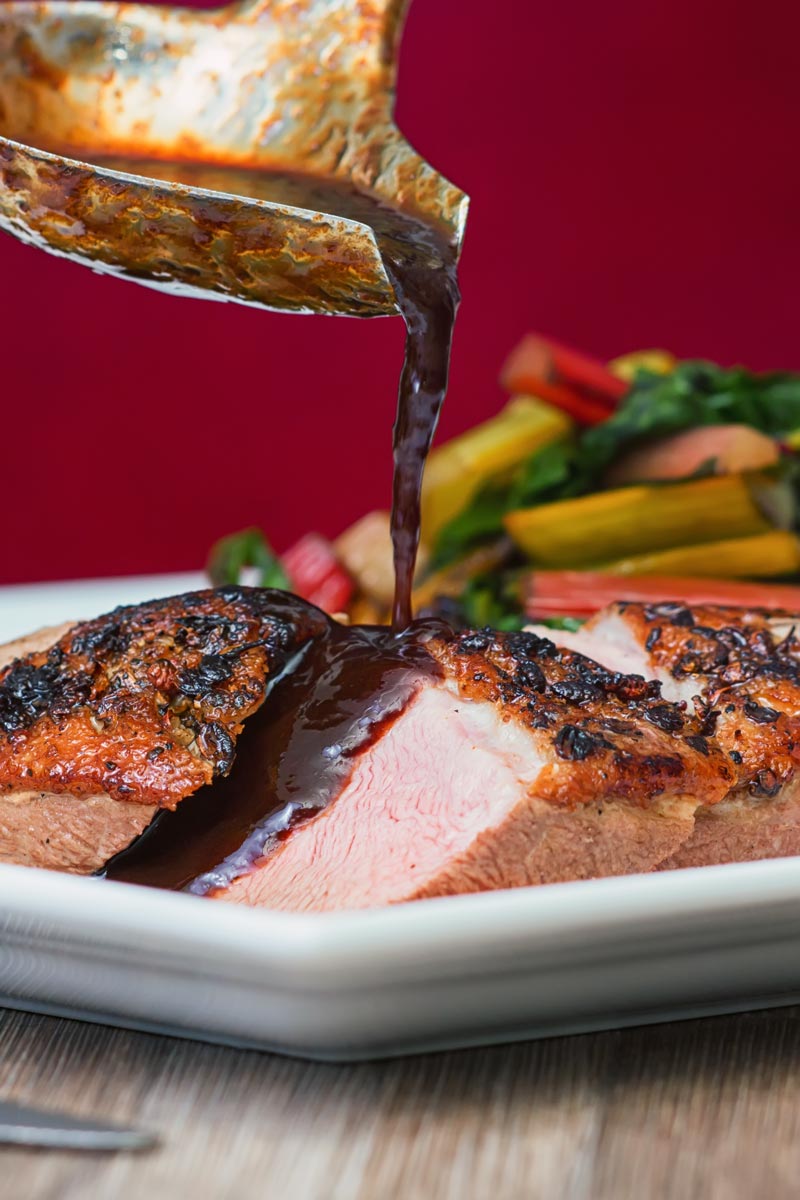 Szechuan Duck Breast.
If you spend any time digging around my site you will discover that I have a thing for duck.
I think it is a beautiful meat, it has so much flavour and versatility, it is also sadly underrated.
My whole roast duck recipe has featured as my Christmas Day meal on many occasions. I make a duck ragu for pasta and I use the confit legs to make fancy duck bonbons, I even have a duck stir fry and duck curry.
Oh yeah, burgers, I make duck burgers too.
Yes, I am obsessed!
But the way eat it the most often is some form of simply pan-cooked duck breast.
This version uses Szechuan peppercorns and a bit of Chinese five-spice.
Couple that with my homemade plum sauce and you have a fancy meal that is far more simple than those you serve it to will believe!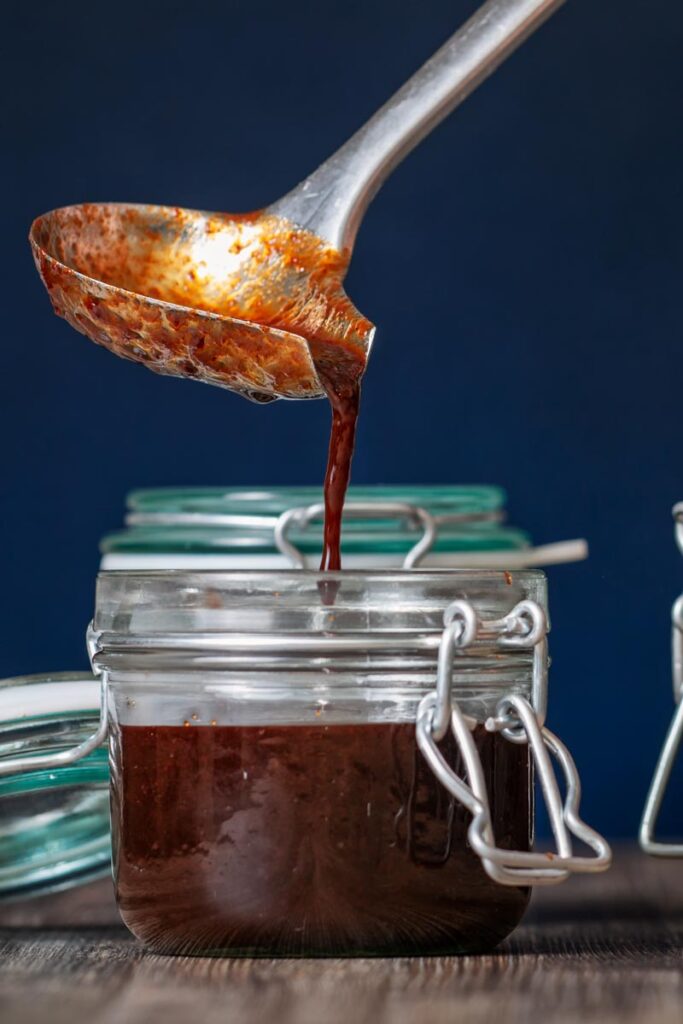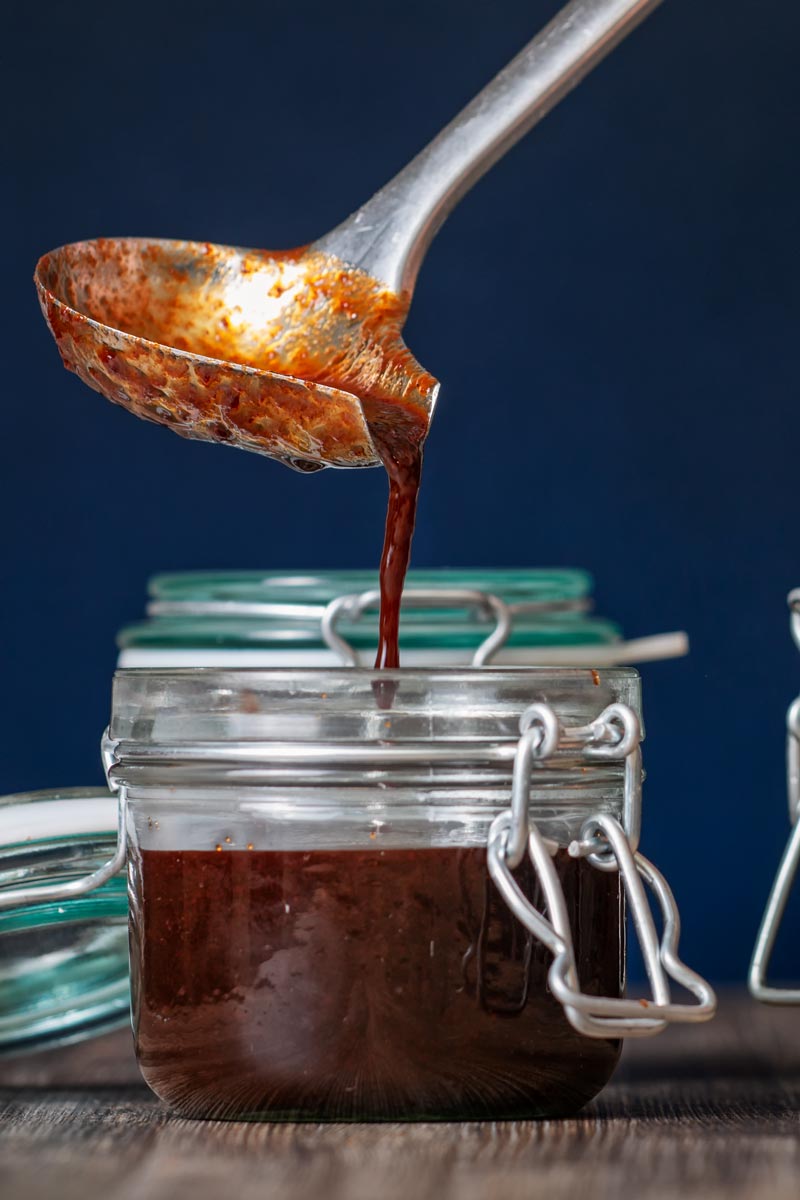 Substituting for Store Bought Plum Sauce.
This recipe calls for my unthickened plum sauce. It is a simple recipe that makes around 500ml of sauce.
You can use store-bought plum sauce if you like, however much of it is far too sweet for my tastes.
It is also often thickened which makes it gloopy, great for a dipping sauce, less so for a gravy type of sauce.
If you want to use a dipping style sauce, transfer it to a small pan and add 75-100ml of chicken stock.
Heat and taste for seasoning, adding a little lemon juice to balance the sweetness if it is all too sweet.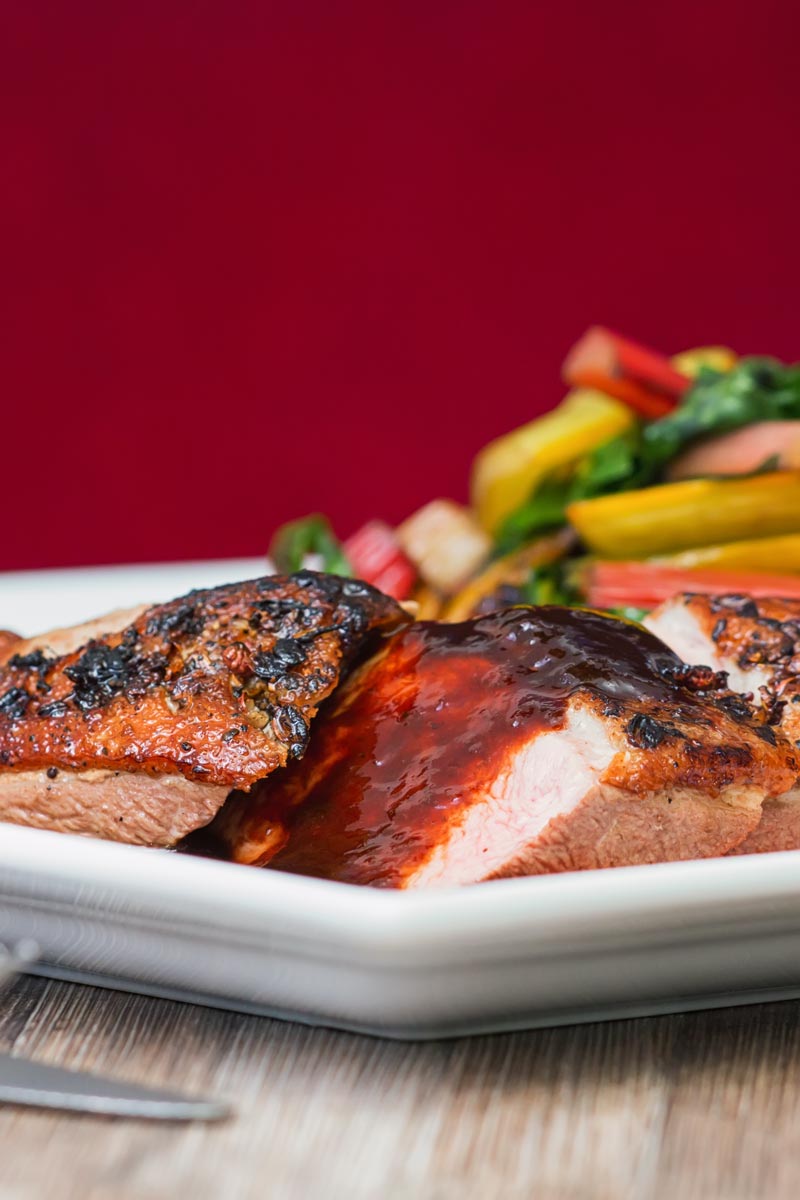 Buying and Cooking Duck Breast.
First of all, all of my recipes for duck breast use farmed duck. Wild duck is great but requires a little more experience and understanding to buy.
Farmed duck is a great product, it is consistent and tastes wonderful. Look for breasts that are around 175-225g in size with a nice thick layer of fat under the skin.
Then you want to bring it up to temperature before cooking, this is important!
The next step is to score the meat, you want to work in a crosshatch pattern about 1cm apart.
You can see the for this and cooking the duck breast in my Duck a l'Orange video above. the flavours are different but the technique is identical.
Season the breast and then into a cold pan… Yes, a COLD pan and turn on the heat, you want a medium to low temperature and let it sit for 12-15 minutes.
Do not touch do not mess with it for at least 7 or 8 minutes, then all you want to do is drain off the fat. Of course, you keep it for roast potatoes!
Finally, flip and cook for the last 5 minutes.
Most importantly buy a meat thermometer, they do not cost much and will make you a better cook!
Stick the probe of the thermometer into the thickest part of the breast and remove 3-4 degrees below the target temperature.
The duck will continue to cook on whilst it rests.
Cook your duck how you like it, I ain't gonna tell you what is right or wrong, your dinner is yours to enjoy!
Rare: 57°C
Medium: 62°C
Well Done: 67°C
If you are cooking on to well done I would transfer to an oven at 180°C or 350°F after flipping the duck to finish cooking. It will take another 10-12 minutes.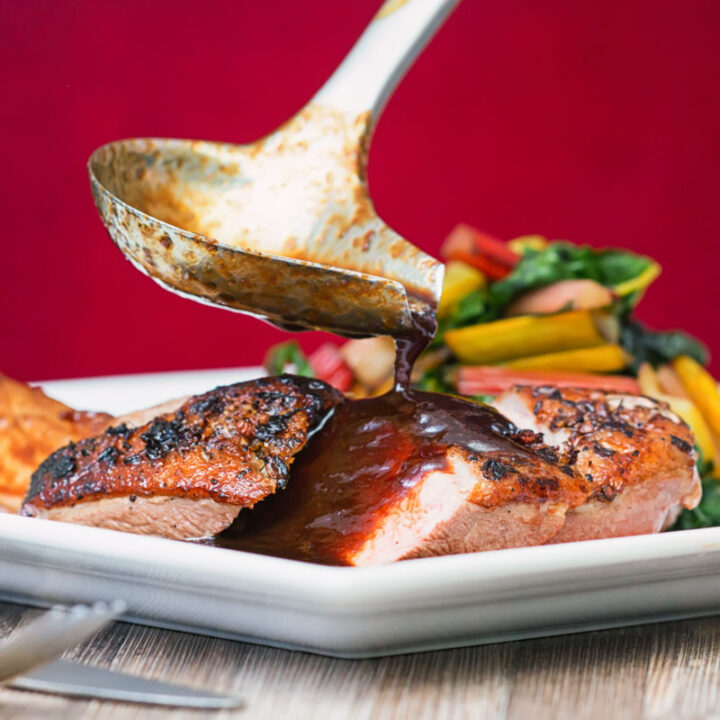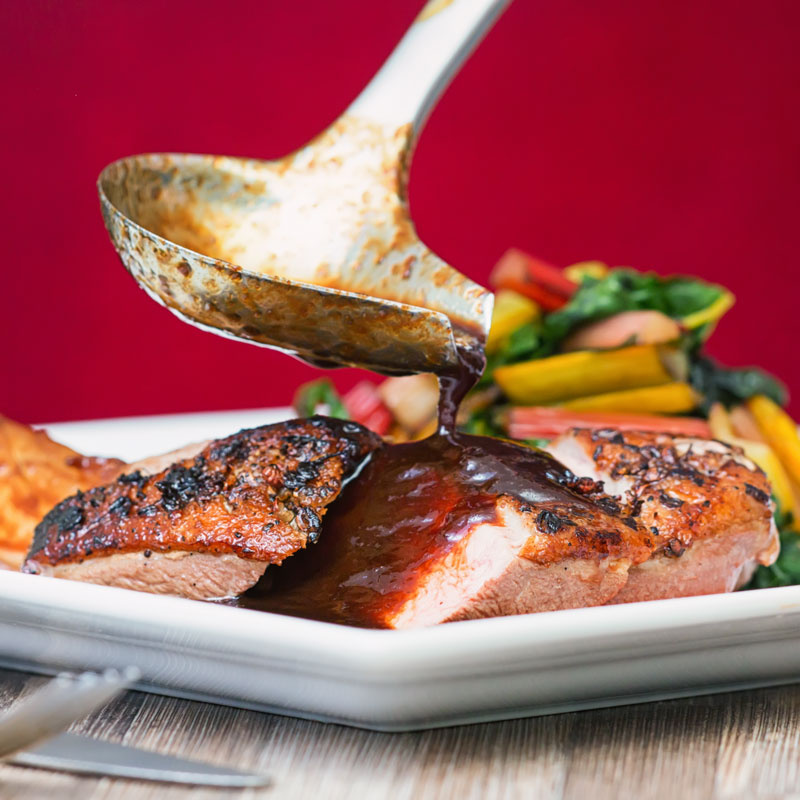 Yield:

2 Servings
Szechuan Duck Breast in Plum Sauce
This rosy pink duck breast recipe with a plum sauce is a play on a classic combination that is stupidly quick and easy to cook and is always a bit of a crowd pleaser.
Ingredients
2 Duck Breasts
125 g Onion
1/2 Tbsp Szechuan Pepper Corns
1/2 Tsp Chinese Five Spice
1/4 Tsp Coarse Sea Salt
6 Black Peppercorns
150 ml Plum Sauce (see below for my homemade recipe)
Instructions
Cut a cross-hatch pattern into the skin of the duck breast. This should be at 1cm intervals and be careful not to cut through to the flesh.
Crush the Szechuan peppercorns, sea salt and black pepper in a spice grinder or in a pestle and mortar.
Rub this into the duck breast paying special attention to the skin side rubbing it into the slashes.
Place the duck skin-side down into a cold pan and then turn on the heat to medium to low.
Allow the duck to sit for 12-15 minutes, draining off the fat after 7-8.
Whilst the duck is cooking peel the onion and cut off the top and the roughest part of the root.
Then cut the onion into 8 wedges.
After the duck has had 10-12 minutes flip the duck and allow to cook for a further 5 minutes or so.
Remove the duck from the pan and tent under foil and rest for 5-6 minutes.
Drain most of the fat from the duck pan and return to a high heat.
Add the onion wedges to the hot pan and sear for 90 seconds on each side.
Pour over the plum sauce and allow to bubble for a minute or two.
Slice the duck and add any resting juices into the sauce and stir.
Nutrition Information:
Yield:
2
Serving Size:
1
Amount Per Serving:
Calories:

756
Total Fat:

28g
Saturated Fat:

7g
Trans Fat:

0g
Unsaturated Fat:

18g
Cholesterol:

326mg
Sodium:

1016mg
Carbohydrates:

63g
Fiber:

5g
Sugar:

5g
Protein:

63g
Calorific details are provided by a third-party application and are to be used as indicative figures only.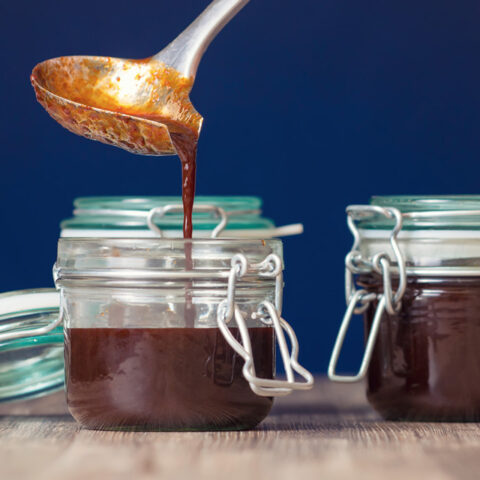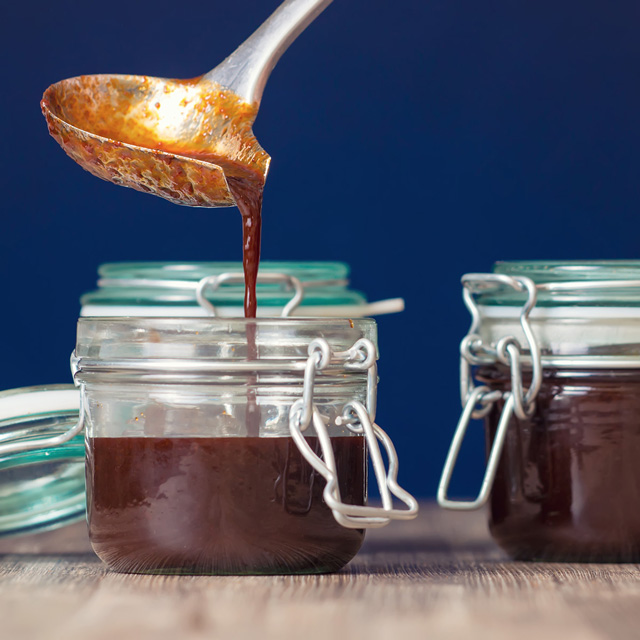 Yield:

Loads
Chinese Plum Sauce Recipe
Cook Time:
1 hour
40 minutes
Total Time:
1 hour
50 minutes
At the right time of year plums are both cheap and plentiful, I love to make this simple Chinese style plum sauce and keep it around all year.
Ingredients
750 g Plums
250 ml Red Wine Vinegar
1.5 Tsp Chili flakes
1 Stick Cinnamon
3 Star Anise
1 Tbsp Szechuan Pepper Corns
6 Garlic Cloves
75 g Ginger
35 ml Dark Soy Sauce
35 ml Light Soy Sauce
50 ml Mirin
100 g Honey
75 g Light Brown Sugar
Instructions
Heat the plums and red wine vinegar in a pan and bring to a boil.
Whilst this is coming to the boil, roughly hack apart the ginger and crush the garlic cloves with the heel of your hand.
Add all of the remaining ingredients and stir until the sugar and honey have dissolved.
Reduce the heat and simmer for 90 minutes
Alternatively, you can just throw everything into a slow cooker and cook on low for at least 6 hours, stir once as soon as it gets hot to distrubute all of the ingredients.
Pass the cooked plums first through a rough sieve to get rid of the solids and then through a fine sieve to refine.
You should now have approximately 750ml litres of plum sauce.
If you have cooked this in a slow cooker you will need to reduce the sauce by half before bottling.
Notes
The calorific value for this recipe refers to the full amount that the recipe.
Nutrition Information:
Yield:
1
Serving Size:
1
Amount Per Serving:
Calories:

1360
Total Fat:

6g
Saturated Fat:

1g
Trans Fat:

0g
Unsaturated Fat:

3g
Cholesterol:

0mg
Sodium:

4712mg
Carbohydrates:

318g
Fiber:

19g
Sugar:

258g
Protein:

19g
Calorific details are provided by a third-party application and are to be used as indicative figures only.