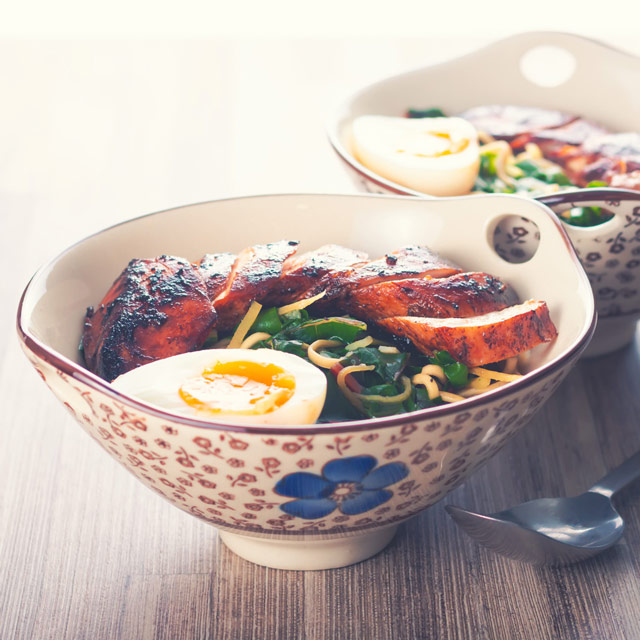 After 10 days of eating out in overly generous Hungarian Restaurants it was nice to settle down to a bowl of simple Hoisin Chicken Noodle Soup for dinner this evening, particularly as this style of food is one of my favourites and I have yet to post something like this as yet on my wee little blog.  I have to say I am refreshed and ready to 'rock & roll' again after 10 days of relaxing in thermal spas, consuming a little too much beer and generally schlepping around the Hungarian countryside.  Although I may have been a little too lazy as the 4 1/2 hours it took me to mow the grass in our garden today nearly killed me, so this light but still substantial chicken noodle soup really ticked all the boxes.
This dish was inspired by many a lunch or early evening nosh downs in a chain restaurant in the UK called Wagamama, it was a canteen kind of affair with shared tables and food being delivered when it was cooked.  But the thing it did exceptionally well was superb quick and relatively affordable Asian food and they specialised in lovely bowls of noodle soup and a glazed hoisin chicken noodle soup was always my favourite so I kinda too a punt at making myself years ago.  After a little experimentation and some trial and error I came up with this dish, in the UK I would have cooked it with Bak Choi but as I have been unsuccessful in my attempts to grow it over here I substituted with chard which has a beautiful iron rich flavour, but you could add spinach or kale.
I have to confess to cooking this fairly regularly but the reason I have not posted it here on my blog is because I really did not have anything appropriately photogenic to serve it in.  However whilst we were in Budapest on Saturday we needed to stock up our 'Asian & Indian' supplies and noticed these bowls and thought I could do something with them and I think they work superbly.  In fact we managed to splash out more than 50% more of our fixed monthly outgoings in my favourite Asian store so expect plenty more stuff from a similar place to this chicken noodle soup in the near future.
This may sound odd, but as we enter September I am really looking forward to the change in seasons and some new food to cook and eat and of course a bit of a break from the blistering heat that has been far too common this summer.  There comes a time during every season where I have had enough and want it to change and move on and I can categorically say that I am done with summer now and am looking forward to chopping our wood in a few weeks time and putting my feet up of a weekend and not spending all of our time maintaining, harvesting and preserving crops…  Of course I have the wee matter of 80 litres of wine to make before that day arrives.
On that equally exciting and daunting note I will leave you with my hoisin chicken noodle soup whilst I ponder what else exists on my to do list with a much needed beer!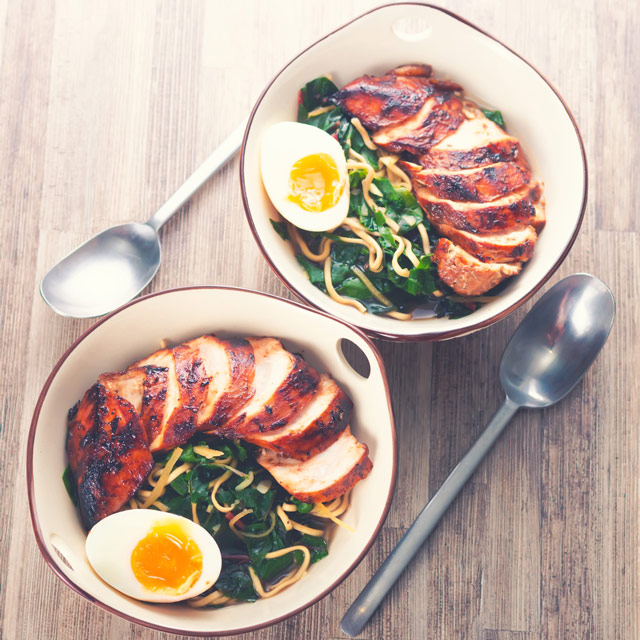 Print
Hoisin Chicken Noodle Soup
This dish is a bit of an homage to Wagamama a place I liked for quick and simple food in the UK, an Asian inspired hoisin chicken breast in a simple broth
Total Time
1
hour
20
minutes
Ingredients
2

Tsp

Hoisin Sauce.

1

Tsp

Dark Soy Sauce.

1

Tsp

Fish Sauce.

1

Tsp

Mirin.

2

Chicken Breasts:

Small

500

ml

Chicken stock.

20

g

Ginger:

Peeled and sliced into thin batons.

4

Garlic Cloves:

Minced.

1

Star Anise.

1

Egg.

Boiled

1/2

Tbsp

Miso paste1

75

g

Swiss Chard Leaves:

Roughly shredded

100

g

Egg Noodles.
Instructions
Mix together the hoisin sauce, Dark Soy, Fish Sauce and mirin to form and use it to coat the chicken breasts and allow to marinade for 1 hour

Bring together a standard chicken stock with the ginger, garlic and star anise and allow the flavours to infuse on a low heat whilst the chicken is cooking

When marinaded cook the chicken breast over a medium high heat in a frying pan with a touch of oil until cooked which should take about 10-12 minutes, naturally longer if you have a larger piece of meat, when cooked set aside to rest

Bring a pan of water to the boil and add one egg and boil to just beyond soft which should take 6 minutes

Whilst the egg is boiling stir in the miso paste into the stock mixture and remove the star anise

Add your egg noodles to the simmering stock and after 1 or 2 minutes stir in the swiss chard leaves

To assemble slice your chicken fairly thinly and then spoon out the chard, noodle and stock mix into a bowl, then lay on the chicken breast and finally add half a boiled egg into each bowl
Recipe Notes
I usually batch freeze my chicken stock in 250ml servings and if I want an Asian style broth I will infuse with flavourings at a later date. Adapted from Wagamama